Turkey's tourism industry is worth over $30 billion each year, making it one of the most preferred tourist destinations in the world.
Turkey is one of the largest countries in the Middle East. It has a great history full of thousands of years of prosperity, culture, intellectual achievement, and empire. Every part of it has fascinating sights to see and learn about, so if you want to see them all, you need to know how to get around.
Istanbul is the largest city of Europe and the former capital city of both the Ottoman and the Byzantine empires. It is a perfect tourist destination with attractions like the unmatched Hagia Sophia.
Cappadocia is another of the most popular destinations in Turkey. It is famous for monasteries, and other buildings carved out of the solid rock, as well as for its fairy chimneys and other unique geological features.
A direct flight from Istanbul to Cappadocia may be the easiest way to get from one to the other, but there are many different options for travel, each with their advantages.
Brief History
Turkey lies between Asia and Europe. For thousands of years, European conquerors went through Turkey to get to Asia, and Asian conquerors did the same to get to Europe.
Turkey passed through the hands of the Hittites, Alexander the Great and the Greeks, the Romans, the Byzantines, and the Ottomans. After the Ottomans involved Turkey in the losing side of World War I, the people revolted and formed the modern Republic of Turkey.
Over thousands of years of being defended and conquered, Istanbul became a highly coveted city, both practically and symbolically. It received the nickname "the Second Rome," and was used as a site for empires to build their most magnificent structures.
The Two Great Buildings of Istanbul
Having been possessed by both the Christian Byzantines and the Muslim Ottomans, Istanbul contains some of the greatest Christian and Muslim architectural achievements in the world.
The Hagia Sophia is a glorious Christian edifice. Built in 360 AD, this gem of Istanbul was destroyed and rebuilt multiple times. It was used to store and defend some of the most priceless Christian relics of all time. These include milk from the Virgin Mary, the shroud from Jesus' tomb, and stone from Jesus' tomb.
In modern times, you can take a tour through this fantastic work of art and view the countless stained glass windows and endlessly detailed wall and ceiling designs.
The Blue Mosque is the most significant Muslim architectural creation in Istanbul. It is far younger than the Hagia Sophia, having been built in 1616 by the ruler Ahmed I. It was used as Ahmed I's tomb, like the pyramids of Egypt were used as tombs for the Pharaohs.
The Blue Mosque is a splendid building, constructed of a shining blue-white stone with towers and domes reaching for the heavens. Many visitors consider the Blue Mosque to be even more beautiful than the Hagia Sophia.
Visitors must be prepared to visit the Blue Mosque respectfully, wearing long pants or long skirts. Women will often be turned away unless they have some kind of head covering as well.
The Rocky History of Cappadocia
Cappadocia is a place full of ancient geological features. Filled with volcanic rock, much of the geology has eroded over time to create Cappadocia's famous "fairy chimneys," great stone pillars, and other strange rock shapes. The fairy chimneys come in striking shades of yellow, pink, green, and more.
Adding to the wonders of the geology of the region, ancient people carved buildings right out of the mountains and rocks. You'll find caves, monasteries, an impressive rock castle, and more to explore. Every geological marvel has its own story to tell.
Location
Istanbul is located far to the west in Turkey, almost all of the way to the borders that Turkey shares with Bulgaria and Greece. Istanbul sits on either side of a narrow channel that connects the Sea of Marmara with the magnificent Black Sea. Cappadocia, on the other hand, lies right in the middle of Turkey, inside the Central Anatolia Region.
Cappadocia is a geographically-named region, not a single place. There are four cities in Cappadocia that attract almost all of the tourist attention. They are Nevsehir, Kayseri, Aksaray, and Nigde.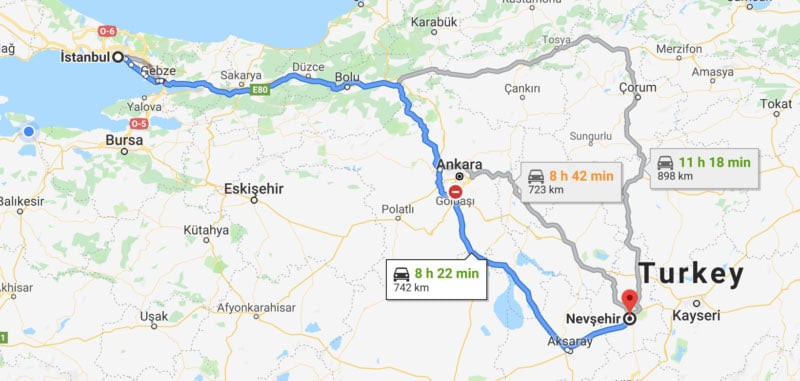 Istanbul to Cappadocia Flight
How far is Cappadocia from Istanbul? Travel times vary according to your preferred mode of transportation. A plane flight will take about an hour and fifteen minutes.
You can usually find direct flights from Istanbul Airport and Sabiha Gokcen Airport to the cities of Nevsehir (NAV) Kapadokya Airport and Kayseri (Erkilet) Airport in Cappadocia. If you want to visit Aksaray or Nigde, you'll have to find another way to travel the rest of the way there.
Other Ways of Getting There
A trip by car to Cappadocia from Istanbul travels over about 500 miles of road, taking a little more than 8 hours. As a tourist, you may be quoted an exorbitant price for a car rental. If you have the haggling skills to handle it, though, it can be a great option that works whether you want to drive from Istanbul, or just pick it up from Ankara.
Bus travel from Istanbul to Cappadocia can take around 11 to 13 hours. Prices can be quite cheap, tending towards $20 or $30 United States dollars. While some prefer to save the overnight cost of their trip, it is mostly a big mistake as once you get to the destination, you will be feeling exhausted, and you will have lost most of the day.
An Istanbul to Cappadocia train journey can only get you a little more than half of the way from Istanbul to Cappadocia. Since the closest railway is in Kayseri, you need to get another public transport from there to the heart of Cappadocia. (around 2 hours extra ride after the train itself)
A high-speed train runs from Istanbul to Konya. Total travel time by train can be about 5 hours and cost under $10 per person. This might be ideal if you are not heading to the coast after Cappadocia and if you are interested in Rumi.
Once you're in Konya, you'll have to proceed to Cappadocia another way. A car rental can work, or you can take one of the buses that leave every four hours or so. From Konya, the bus trip to Cappadocia will take 3 or 4 hours and cost between $10 and $20.
Fortunately, there are buses from Konya that take you straight to Goreme, Urgup, or Uchisar, which is the part of Nevsehir city that contains some of Cappadocia's most spectacular fairy chimneys.
If you've taken a flight into Kayseri Airport or Nevsehir (Kapadokya) Airport, then make sure the bus company has options that will take you to any of the other major tourist cities in the region.
Pros and Cons of Traveling by Plane
Naturally, a plane trip to Cappadocia will be the fastest mode of transportation. Unless you have other sites on your wish list to visit on the way, such as Ankara or Hattusha, it will also be the safest and most comfortable.
While the cost of a plane ticket will be higher than traveling by car or bus, the domestic air is pretty much reasonably priced compared to the US and many other countries. Additionally, you will be enjoying the dramatic landscape changing from Istanbul to Cappadocia.
Pros and Cons of Traveling by Car
Traveling by car is the second fastest way to get to Cappadocia. Because your private rental car doesn't have to stop to pick up or drop off passengers, it can take you to Cappadocia a little faster than a tiring bus trip.
That's if you travel without stopping, though. Another of the beautiful advantages of traveling by a rental car is that you can stop and go as you please. You'll have plenty of sights and restaurants to tempt you to take a break from your driving.
About halfway between Istanbul and Cappadocia, you'll pass through the capital city of Turkey, Ankara. Traveling by car will give you the freedom to stop and enjoy the fantastic attraction of Ankara if you wish.
The Anatolian Civilizations Museum in Ankara is world-class and includes artifacts thousands of years old. Turkey has been at the center of an incredible amount of world history, much of which continues to shape the world as we know it today.
At the Anatolian Civilizations Museum, you can see how Turkey has passed from one civilization to another, including civilizations of incredible creativity and artistic innovation. Their artifacts can show you how humanity's artistry and tool-making built up over time, much of that innovation occurring in Turkey.
Considering that the drive to Cappadocia is about eight hours, you'll probably want to get some food on the way. Don't miss out on this chance to make another fantastic memory to take back home with you! For example, while there are many options, you might like Haci Arif Bey, which is an excellent restaurant in Ankara that serves Gaziantep cuisine.
Aside from the attractions and restaurants in cities along the way, the land itself is gorgeous between Istanbul and Cappadocia. You'll be able to marvel as you watch the land transform from an immense dry landscape into lush forests and soaring mountains.
After you leave Ankara for Cappadocia, another great stop is Lake Salt (Tuz Golu) on which you can walk a long distance and enjoy a sip of Turkish Coffee watching the sunset.
While you're on the road, keep your eyes open, especially for Opet. It the best choice for filling up your tank, stretching your legs if needed, and using the cleanest restrooms that you would not expect to see at a petrol station. Their fantastic service is known for their meticulous attention to cleanliness. At Opet or any other gas station, keep in mind that Turkish gas stations do not run on self-service. Instead, a gas station attendant will fill up your car for you, then you simply pay at the desk inside mostly the supermarket of the petrol station.
Pros and Cons of Traveling by Bus
The bus trip to Cappadocia is not only long (about 11 hours), it is also grueling. While there's no doubt that it's a highly reliable and extremely affordable option, there's also no getting around the discomfort of traveling this way.
Many young tourists and backpackers find the bus to be the ideal way for them to travel. On the other hand, if there's an older member of your party, or you prefer to prioritize comfort, it may not be the best choice.
If you're up for the journey, you won't be able to stop and go as you please to enjoy some of the attractions along the way. However, you'll still be able to take pictures of the many different beautiful landscapes between Istanbul and Cappadocia.
While it can complicate your itinerary, you can take a bus from Istanbul to Ankara, and then either bus, drive, or fly from Ankara the rest of the way to Cappadocia. The attractions of Ankara are worth a little extra trouble!
Getting Around
Once you're in the region, you'll need a way of getting around. Turkish cities in the area have a network of "dolmus" rides you can use to get to any nearby tourist destinations.
A Dolmus is sort of like a bus, as it travels along pre-determined routes and picks up and lets off passengers wherever it stops. They are smaller than buses and usually classified as a "share taxi" rather than a proper coach.
The fare to use a Dolmus is the same wherever you get on or off as long as you stay in the city; you simply pay the fare in cash when you enter the Dolmus. If you find longer Dolmus routes that travel to villages or between cities, the fee may be higher, but you can still just get on and pay in cash without any need for a ticket.
For the most exceptional convenience, a car rental is hard to beat. With the flexibility of a car, you'll be able to travel between cities and to all the tourist stops on your itinerary with maximum efficiency and a minimum of hassle or planning.
Finally, we don't book bus or train tickets, yet these are all different ways of getting from Istanbul to Cappadocia, and once you reach any of these destinations, we would instead fill in the gap with our private tours.
The Beautiful Country of Turkey
We hope you learned something helpful about how to get from Istanbul to Cappadocia by plane and other modes of transportation you can use to explore this beautiful country. Every part of Turkey has something magnificent and unforgettable you can enjoy.
Click here to opt for a wonderful package for 2 days in Cappadocia tour from Istanbul and let us know if you need any customizing.
To learn more about the sights worth seeing in Turkey or all the ways you can travel to and between them, contact us now!
Source: https://madeinturkeytours.com/how-to-get-from-istanbul-to-cappadocia/