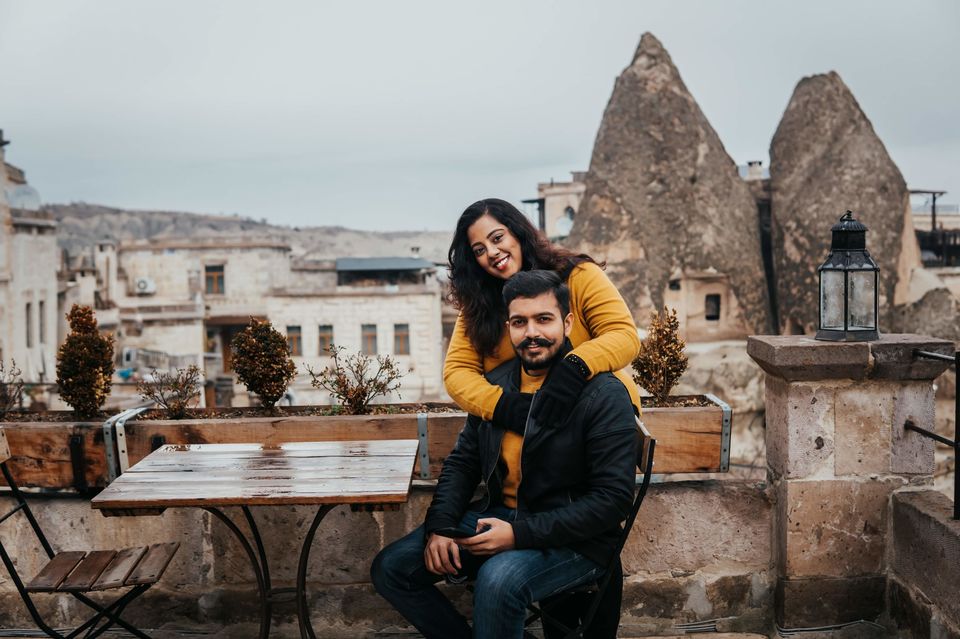 It was five months since our last vacation and we were starting to itch! After our adventure to Iceland in May, 2019, my wife and I wanted to do something different from a landscape adventure. Something that involved a lot of cultural discovery, perhaps. We zeroed in on Turkey after some research for the wide variety of experiences it has to offer. It was also probably the best time and place to take my parents along as it's not too extreme and aligns well with their interests around culture and architecture.
Thus began the planning which my wife and I enjoy the most. Probably more than the experience it self sometimes. Haha! One thing we were clear from the beginning was that the trip should be done in 9 days (Saturday to next Sunday), thus minimizing the leaves needed. Given the size of Turkey and the diverse experiences it had to offer, it was a challenge to come up with an itinerary. I believe the itinerary we did would give the right balance between relaxation and discovery without being too rushy or too laid back. Now, hop on to find out!
First, the TL;DR version
Our journey began in Hyderabad where we took a flight to Delhi on 6th, December, 2019. Our flight to Istanbul was on early hours of 7th December, 2019. Let me just say that the flight from Delhi to Istanbul was the worst ever international flight I took or could imagine. It was basically a domestic plane made to fly to Istanbul by Indigo. I should've known better. I'd highly suggest looking for other alternatives even if it costs a bit more. The hospitality was mediocre and they didn't even include a meal or entertainment system on an 8 hour plane. Mind you it's not a cheaper flight to begin with either. Just a cheap airline!
We landed in Istanbul around 10.30 AM and we changed some Euros we carried into Turkish Lira. Our pickup arrived very late but when it arrived, we were just happy with the thought that we could catch some sleep and rest our backs once we reach.
It was a good 2 hour drive from the airport to the hotel. So, we used the time to plan what we wanted to do for the day. First and foremost, some sleep and then Grand bazaar and if time permits, catch a sunset. To make things easier, we booked a nice little boutique hotel in the middle of Sultanahmet, which is the old part of Istanbul. This falls on the European side and is at walk-able distance to many major attractions in Istanbul.
Once we reached our hotel, the first thing we observed was how nice and friendly the staff were. They welcomed us with warm smiles and hot Turkish tea. Great! The second thing we observed was that my passport was missing! Not Great! Saying it was a shock is an understatement. It was a disaster that probably couldn't get any worse. We only noticed it was missing when the staff asked for identification for their records. We searched all our bags (Usually, my wife keeps both our passports in her handbag). My wife started breaking down and I was still in shock. We had no clue where to look. Once we informed the hotel staff, they were quick to assure us that they'll provide whatever support they could to help get the passport back. After calling up the driver who picked us up, searching around the premises, it was clear that we lost it in the airport. The hotel arranged us a cab to the airport with a known driver assuring us that he'll take care of all the communication and make sure we return safely back to the hotel with our passport in hand. To save some space in the blog, I'm going to redirect you to read up what happened next on my instagram post instead.
I guess it was 4pm or so by the time we got back and we were exhausted by all the journey and stress, hence dropped all our plans for the day and decided to rest for a bit. We finally got out around 7pm and went on a stroll to get some dinner. On the way out, the hotel manager pitched us the whirling dervishes show. We had planned for it initially but thought of skipping it as we were very tired. In the end after a bit of back and forth we decided to go for it. Glad we did it as it's an experience not to be missed. The coordination among the dervishes is impeccable. (Mind you, they don't let you take photos/videos during the show)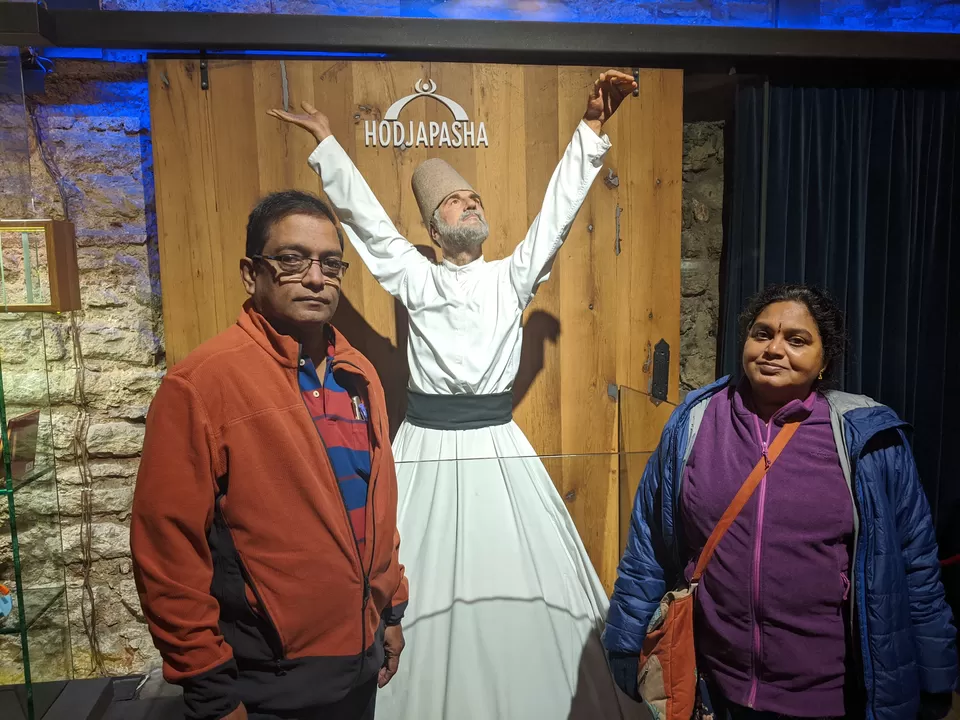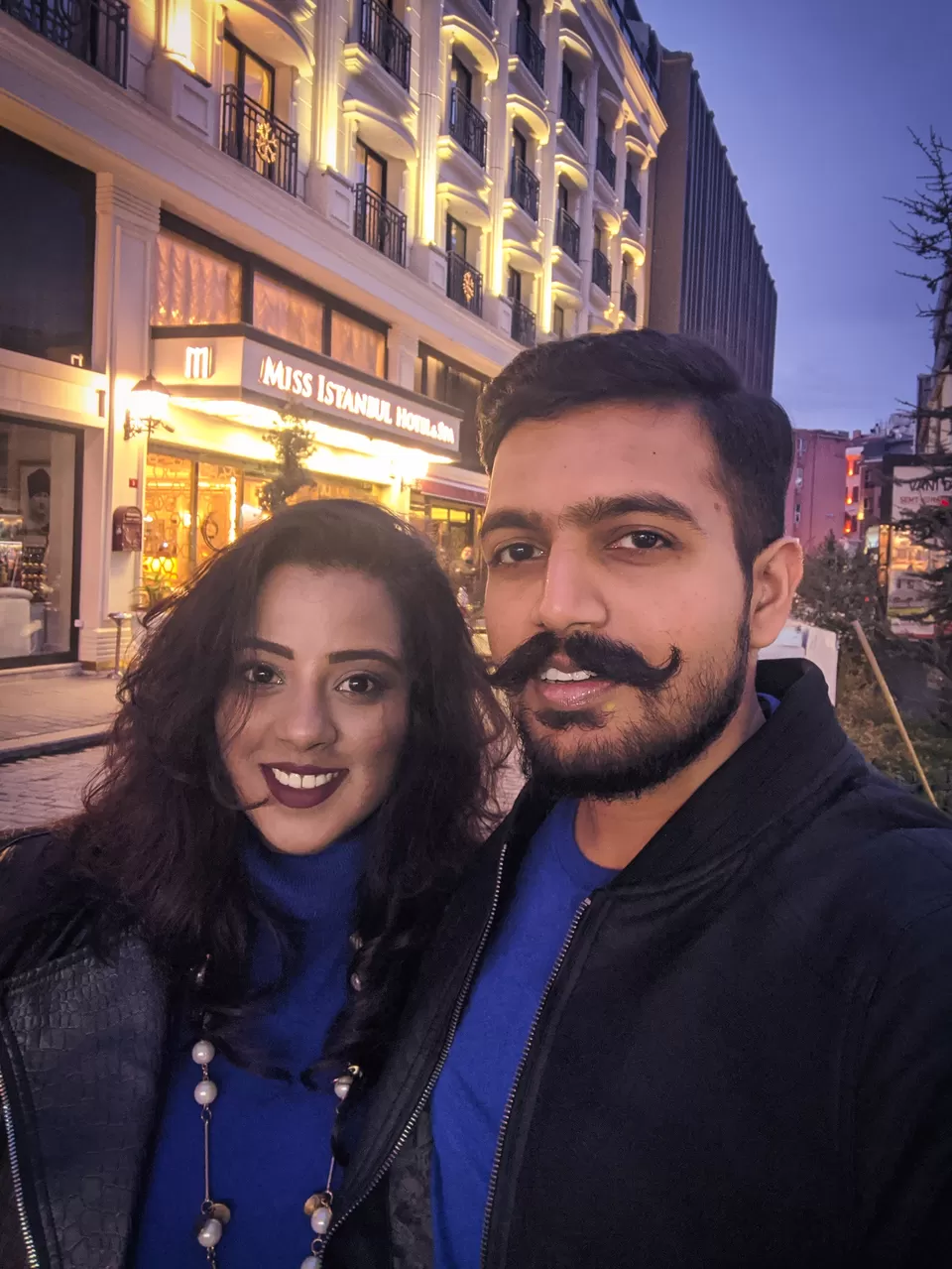 After reaching the hotel, we freshened up swiftly and set out to explore near by attractions for the day. Ibrahim, the guy who picked us up in the morning, drove us to the Lower Duden falls first. This is a unique waterfall where the water falls directly into the sea. We reached just past noon and it was sunny as expected. We spent some 20 minutes taking some pictures and hurried onto our next spot as we wanted to be at Aspendos theater at sunset.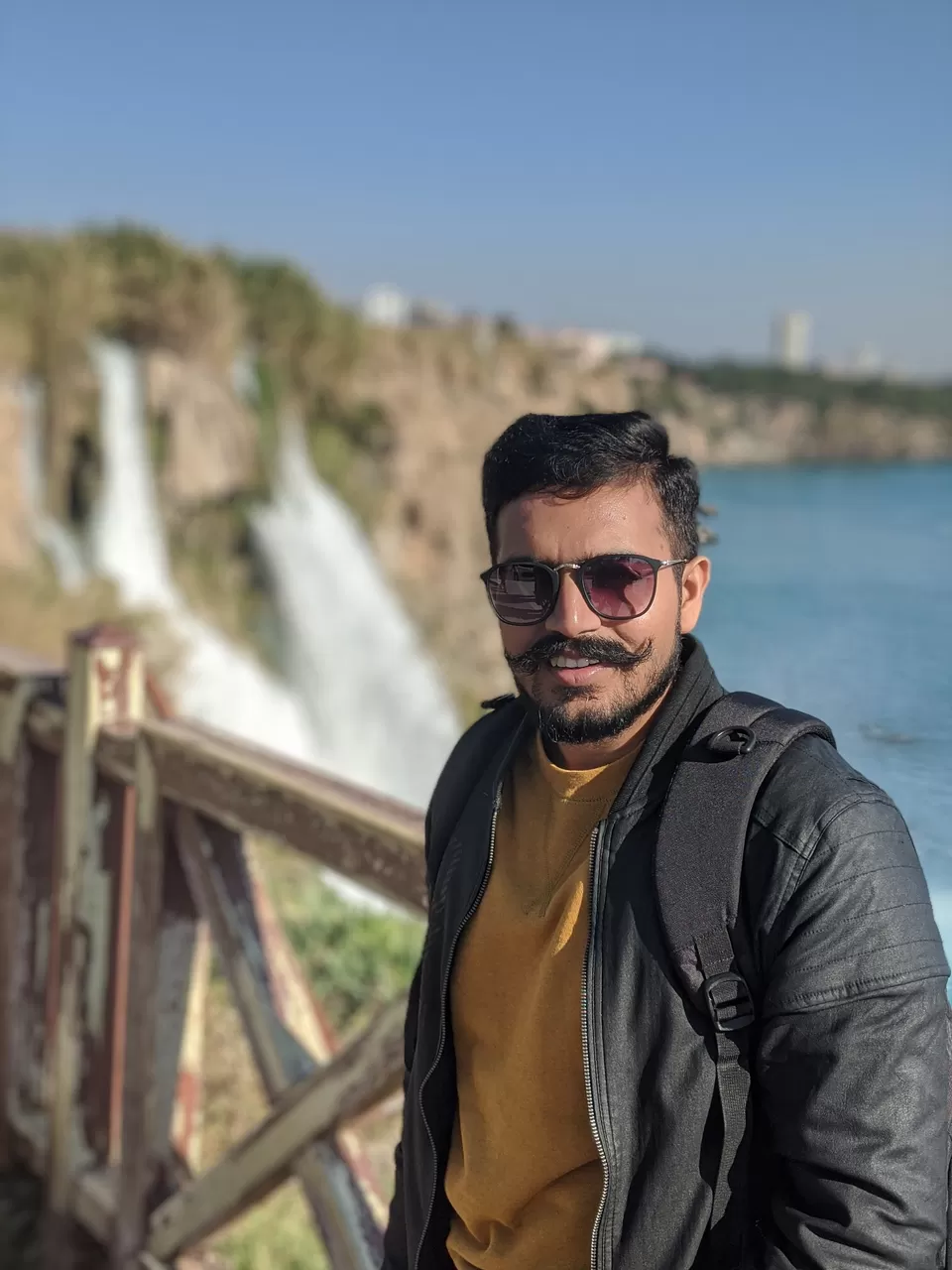 Next spot was the Upper Duden falls. Another location we wanted to skip based on many underwhelming videos on Youtube. Never have we been so wrong. The place is simply beautiful. You enter a park where you go in and slowly descend to the waterfall using stairs and walk ways. The entire way is filled with autumn colors and you hear an increasingly loud waterfall as you keep descending. We entered the park telling ourselves that we have 30 mins here but we ended up spending close to 2 hours. This turned out to be one of our favorite places in Turkey and wish we had more time.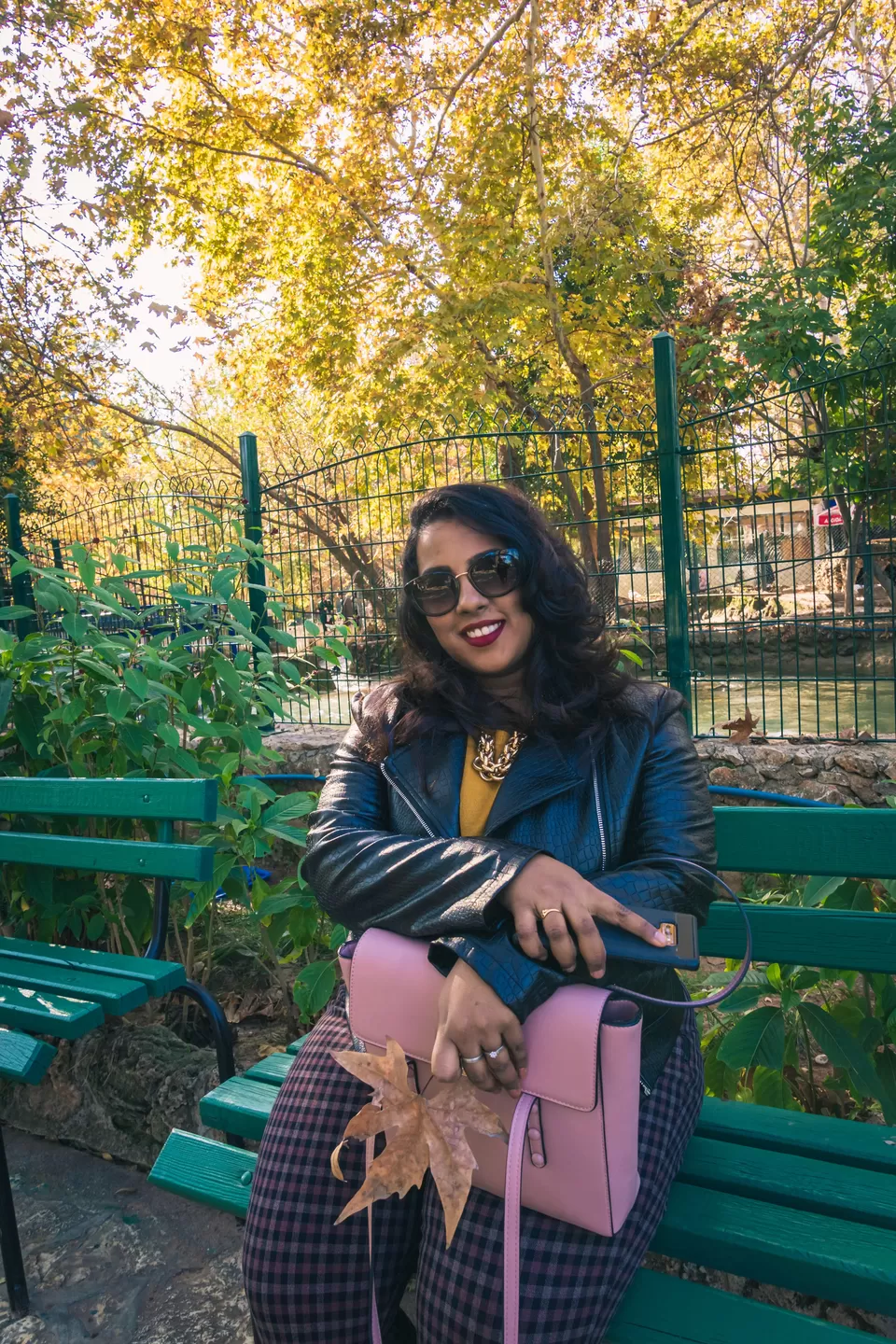 Alright! So, we got our passport back thanks to the staff at Hotel Enderun and more importantly our saviour, Orhan! That's him in the photo above. Some Heroes truly don't need capes!
Our Day 2 began very early as we had to fly out to Antalya. Fret not, we have 2 days at the end of the trip to explore Istanbul. Coming to Antalya, given the limited number of days we had at hand, we had to choose between Antalya and Izmir. Glad we chose it over Izmir as the vibe of Antalya is entirely different from other parts of Turkey. It's a quaint little town with a laid back approach to life. Much different from a bustling Sultanahmet, Istanbul. We booked a nice little guest house in the old town of Antalya which is very narrow but has a great European vibe to it. The guy who drove us happened to be the reception manager and gave us loads of information on our way to the hotel. While we already had plans about what to do in Antalya, he definitely made it easier by telling us what can be done together and what would be the best time to visit certain locations.
We then made it to Apollo's temple in Side where we enjoyed a late sunset/ blue hour. We came back to the hotel thinking we had underestimated Antalya and should've had more days here as we felt hurried at every location we went.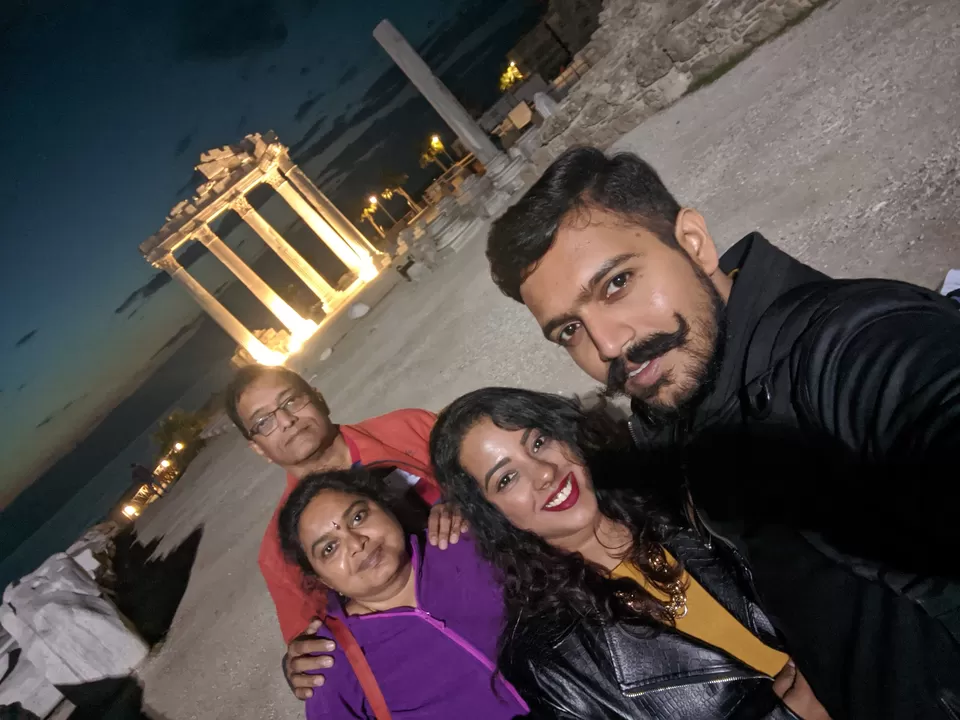 Before we get to Pamukkale, I have to get this out of the way. One defining feature of Antalya, the town is the abundance or orange trees on sides of the road everywhere. You'd find many oranges just lying on the ground. However, Ibrahim clarified us that these are not Orange but Toranges. Yes, we had to google that too. They look very much like Oranges but are not usually eaten. They are used in making marmalade. Antalya is also famous for Oranges and we had the best fresh orange juice of our lives here. No sugar needed. No exaggeration! And the other defining feature of Antalya (Turkey in general) is the number of cats you find here and the loving relationship they share with humans. During an interaction with a local, he told us that the Turkish believe that they will not experience heaven in the after life if they don't care for cats/dogs when alive. That stuck with me. You witness this everywhere here with people feeding and looking after stray cats like their own.
Next stop - Aspendos Theater. I was personally most excited for this. I've a deep passion and respect for Greek/Roman history, thanks in large to a childhood spent playing hours and hours of Age of Empires. It definitely lived up to my expectations and we spent couple of hours here just imagining what all this amphitheater had witnessed in it's prime.
We booked our stay for the 3 nights in Cappadocia at Sultan Cave Suites in the town of Goreme. Goreme is a small but popular town in Cappadocia where most of the tourists choose to stay. It is a 2 hour drive from one of the nearest airports(Kayseri). While Kayseri airport offers bus transfers to Goreme, it is better to book a taxi or pickup by hotel if you are a group of 4 or more like us. We did the latter and reached the hotel by 11 am. We didn't have anything planned for the day, so, we just spent the day exploring the town of Goreme and taking random short hikes.
Coming to Pamukkale, it is probably the most popular destination in Turkey famous for it's turquoise blue hot spring waters in limestone beds. It's a common misconception that the white beds are snow but in reality it is limestone. As the water is warm, we can spend time relaxing like we'd in a pool. We did exactly that for about 4 hours. And took pictures, of course. There is another amphitheater here - Hierapolis but we didn't have time to check it out and Aspendos is definitely in a better shape. We also checked out the archaeological museum on the premises to get a glimpse into the history of Pamukkale and ancient city of Hierapolis.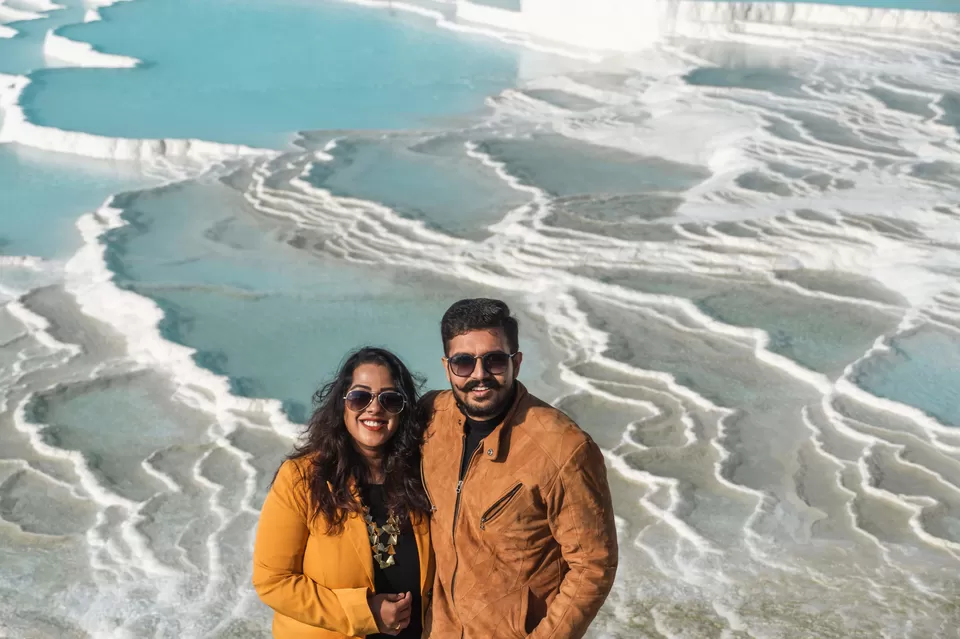 We spent the evening exploring the city centre, eating some local food and taking pictures of cats.
We woke up feeling bad about leaving Antalya . But we had to go through with it as our flights and hotels were pre-booked in the next location. We were also happy partly because we will be reaching the part of Turkey we were most excited about since the planning phase - Cappadocia. Cappadocia is home to one of the most diverse landscapes.
We went to a popular sunset point. It's a bit of a hike up a cliff. My parents found it difficult but they didn't want to stay back either. While the sunset wasn't impressive, I did snatch some good blue hour photos. The view nevertheless was amazing. You get to see all of Goreme at a glance.
We called it a night, as we had the most exciting thing planned for next day - Hot air balloon ride.
Cappadocia, besides the out of the world landscape is also famous for one of the most picturesque Hot-air balloon rides in the world. Truth be told, December is probably not a great time to do it as the weather can be unpredictable and flights often get cancelled. In fact, the balloons didn't go up the previous day and we weren't sure we would get to fly either.
We booked our flight with Butterfly Balloons who are one of many providers you'd find here. They picked us up at our hotel and took us to their office where we waited for the bus transfer. They set us up with a good breakfast buffet while we waited. The go ahead for the flights is given by a governing body through a website. A flag which starts in red turns green if we are allowed to fly for the day. We kept looking at the screen in anticipation. The vibe wasn't particularly positive from the staff given the number of cancellations in the week leading up to it. However, as luck would have it, it turned GREEN! Soon, we boarded the transfer and in no time reached the take off area. As words wouldn't do justice to the experience, I'm going to ask you to watch the video I attached above for your viewing pleasure (Cappadocia starts half way but I recommend you watch it fully).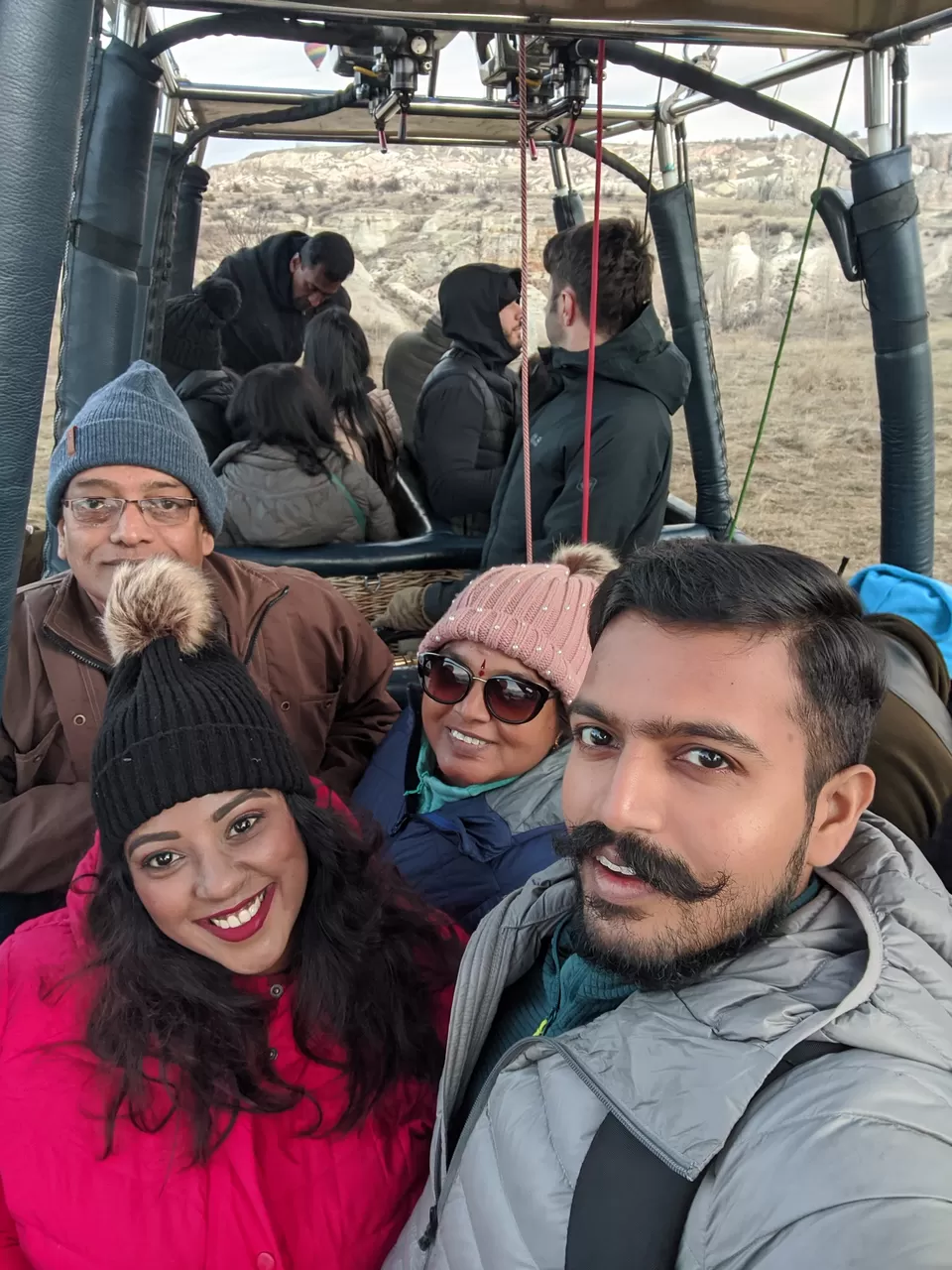 Once we landed our pilot, Ali Rhiza re-iterated how lucky we were to fly today as the authority had almost cancelled flights for the day. We also flew in a route that's not usually taken. After landing they conduct a small celebration where they give away a certificate and medal along with some champagne.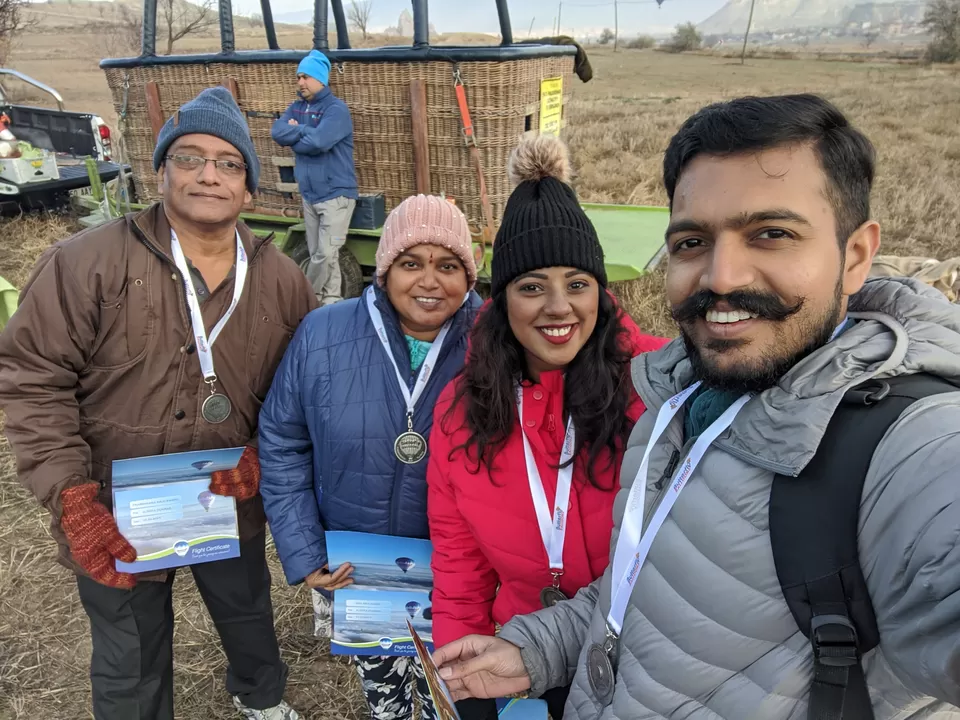 Post the exhilarating and humbling experience, we were back at our hotel and in no time were out again on the Red tour with Kelebek travels. Red Tour covers some major attractions in North Cappadocia region. And we couldn't have asked for a better guide to show us around. Mr. Ali from Kelebek travels is so knowledgeable and passionate about the history, geology of Turkey.
We first visited the Love Valley which was a quick 30 minutes stop.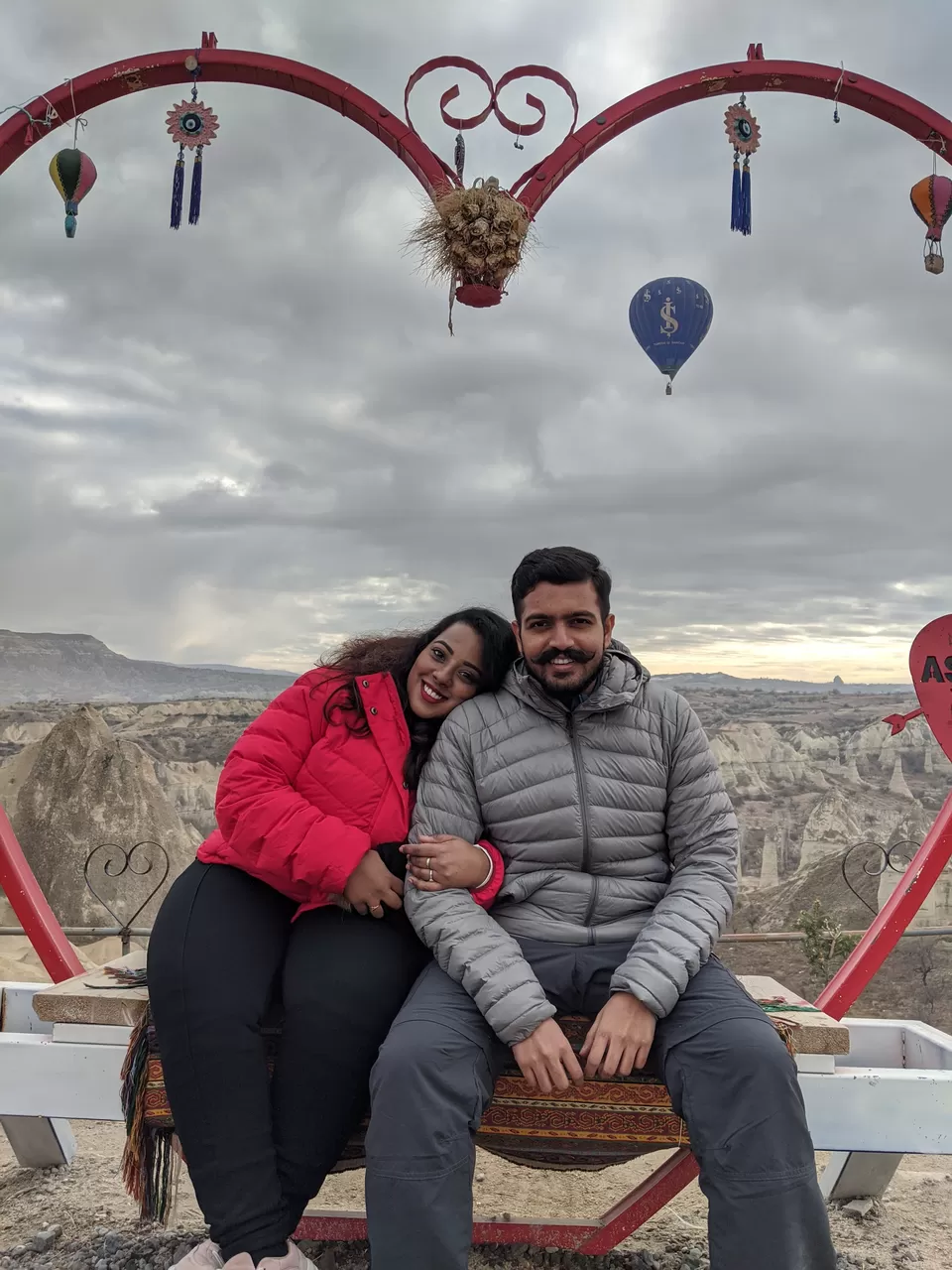 From there, we went to the Pasabag valley also know as the Valley of Monks. It is famous for mushroom shaped rocks where Monks lived in caves dug into the rocks.
Third stop was Dervent valley open air museum where we get a peak into ancient churches carved into muschroom rocks. The native dwellers carved holes into the caves for pigeons. Their excretions were collected and used as fertilizer in agriculture.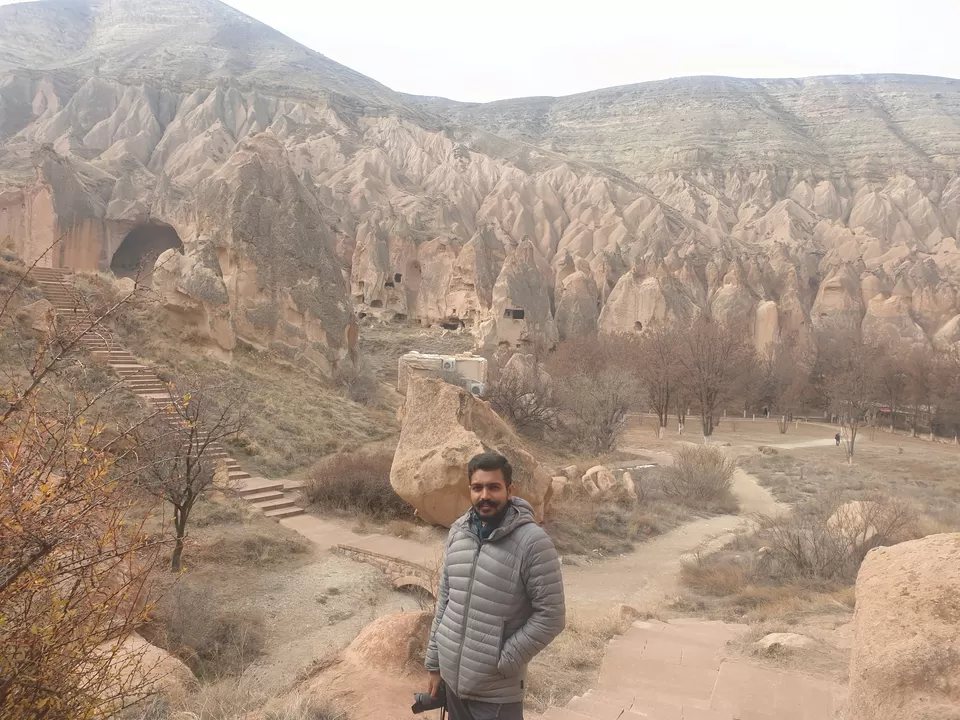 We then visited a Pottery museum in Avanos where we witnessed the kicking wheel used for pottery by Hittites, in action. This is also a good place to buy cheap souvenirs or even expensive china.
The last stop for the day was Imagination valley which is basically a quick photo stop. The main attraction is a rock resembling Hen or Camel.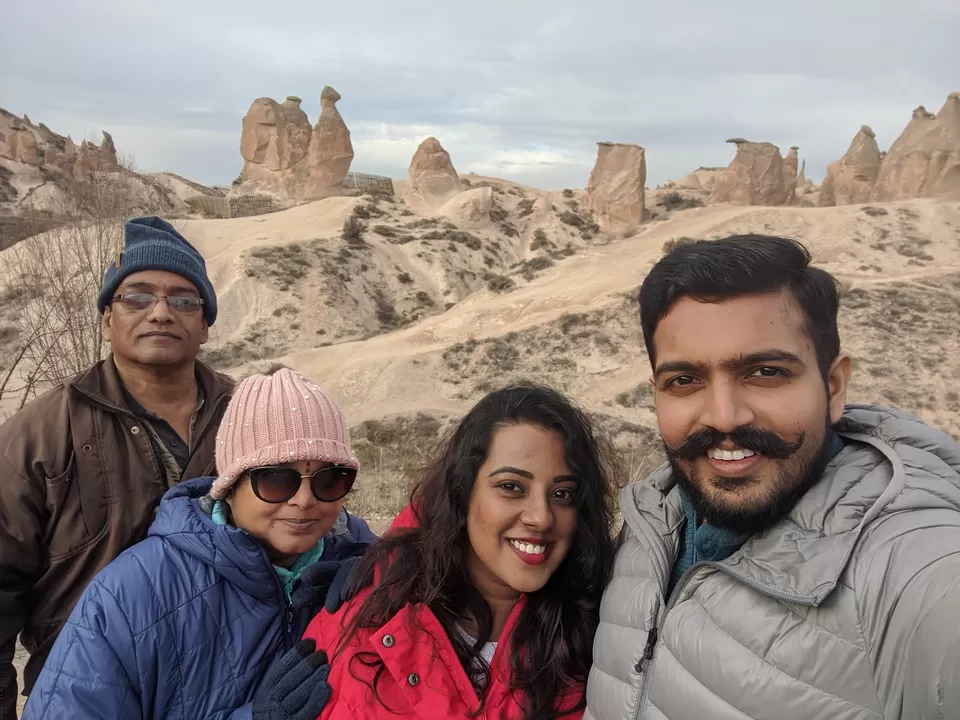 We woke up early in the morning hoping to witness the balloons flying over our terrace. After all, the hotel we were staying in - Sultan Cave Suites is famous for it. But it wasn't our day. Balloon flights for the day got canceled due to bad weather. On one hand while we were disappointed about it, we were also happy that we got to fly the previous day. So, we quickly got over it and spent the morning taking pictures around the property.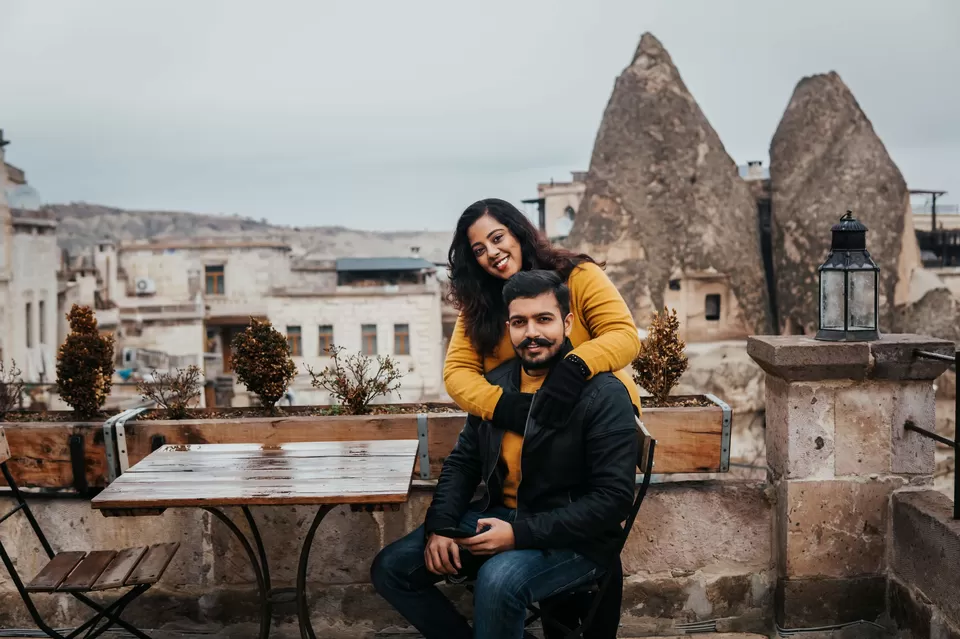 After chilling at the hotel the entire morning, we took a cab ride to Ortahisar castle. Boy, it was a very steep climb. My mom stopped half way while the 3 of us including my dad chugged along. It's totally worth it though. The view is amazing with cold winds blowing into your face.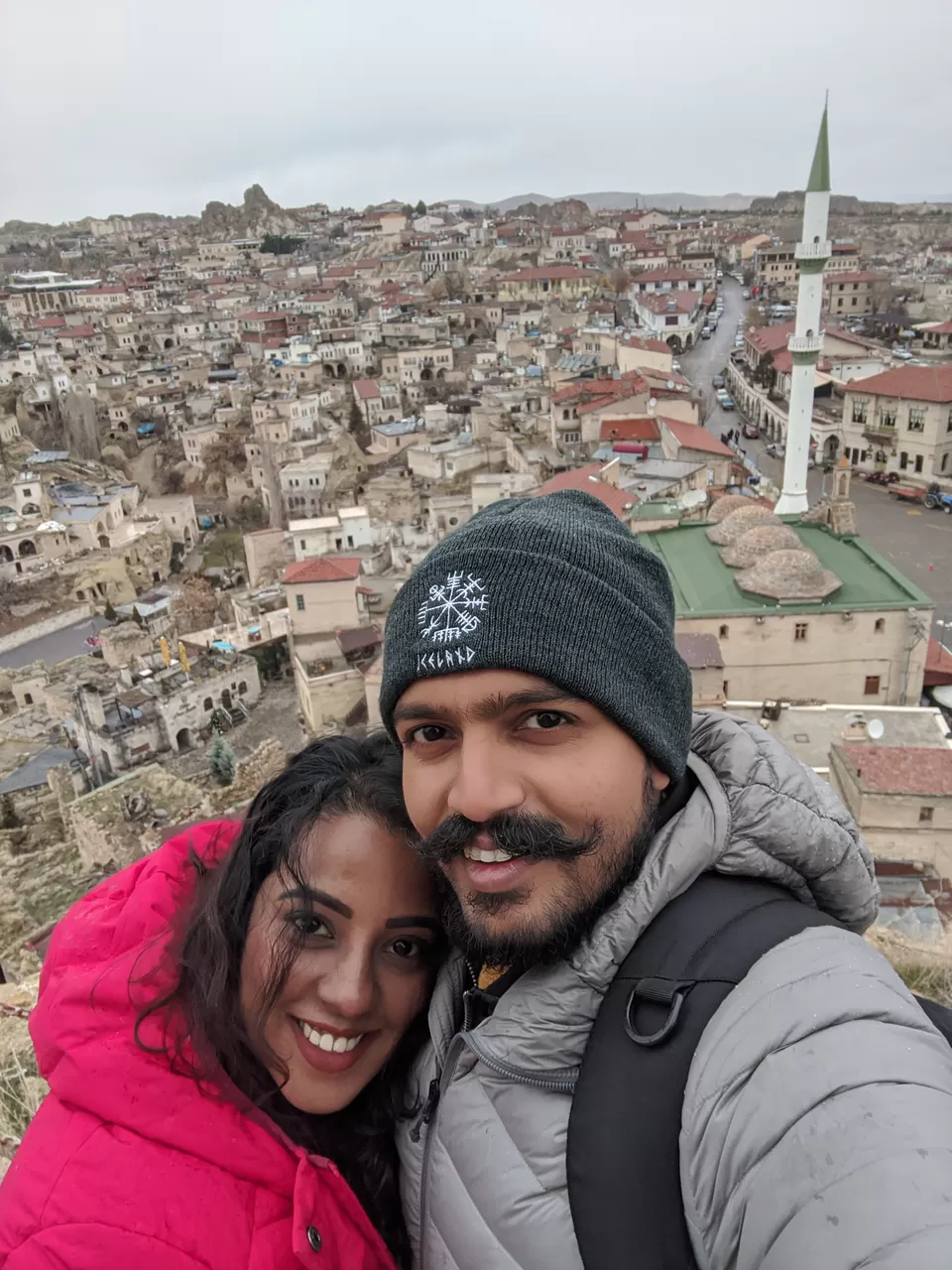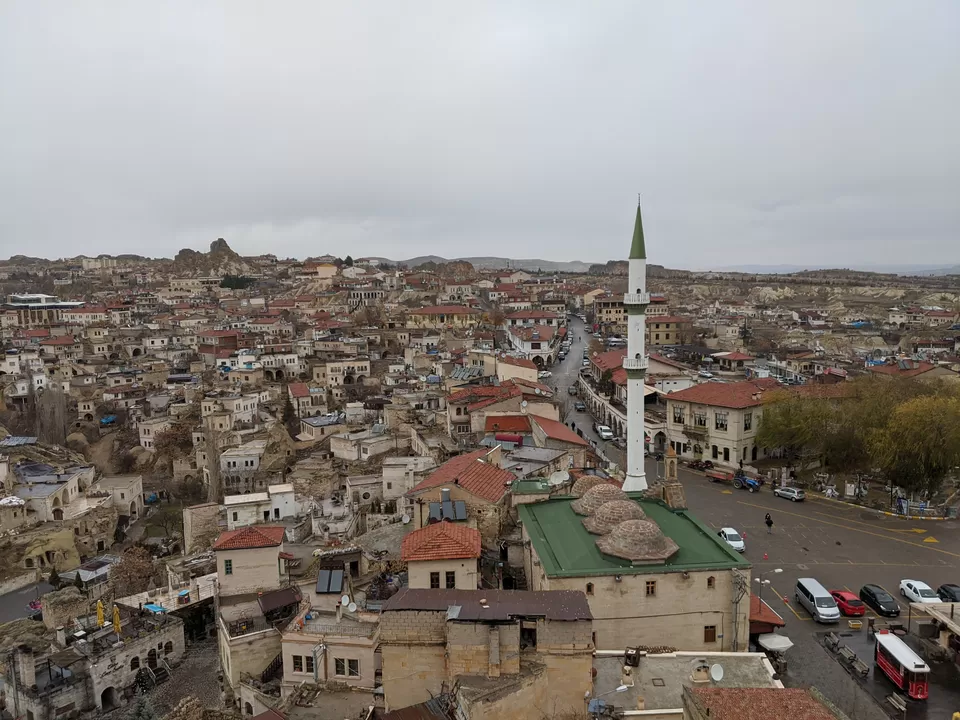 After Ortahisar, we went to Goreme open air museum where we got to see even bigger caves and churches carved into these caves. This is a little more mainstream. So, we found more people around but it was still a good experience.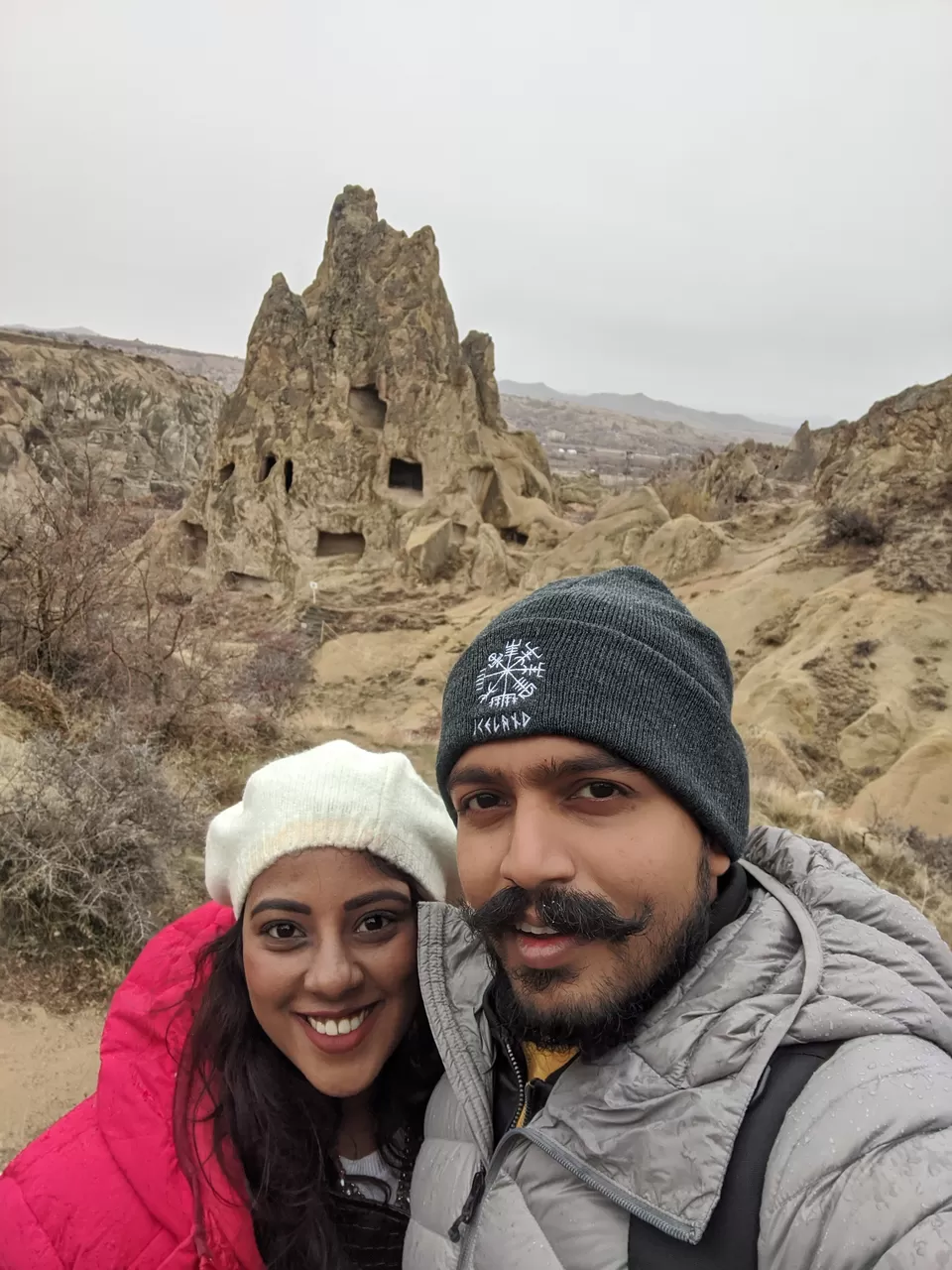 We came back to hotel before it was dark. While my parents relaxed, my wife and I went to Galerie Ikman which is probably the most famous carpet shop in entire Turkey. It's popularity exploded thanks to many travel bloggers taking pictures here. So, we too went in the hope to get some cool pictures. Unfortunately it rained earlier and they removed most of the carpets to keep them dry. We didn't get much but still took some pictures and continued to stroll across the town for some street shopping and dinner.
We woke up early again and the balloons didn't show up. They were yet again canceled due to bad weather. That's 3 times in the 4 days we were there. And we flew the only day the flights were on!
On our request, the staff arranged the breakfast table (which they do only when flights are on). We took some pictures before heading to our last tour in Cappadocia - The Green Tour.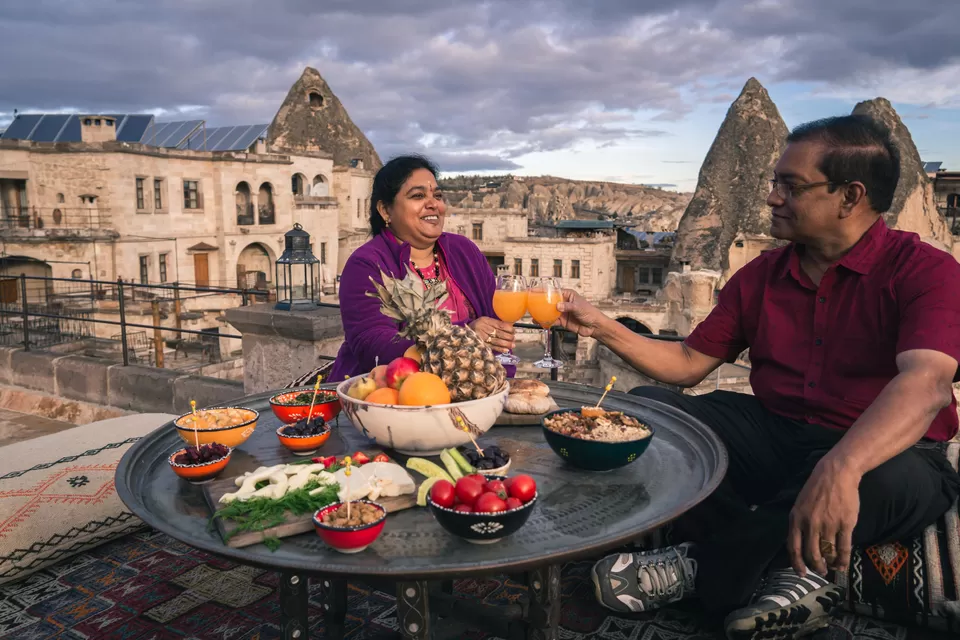 The main attraction for the day was Ihlara Valley. It was quite a bit of drive from our hotel and involves considerable amount of walking. Like 2-3 hours. This is the experience I enjoyed the most in Turkey. Pleasant weather, surrounded by fall colors and dried trees, walking in a valley with no target in mind. There's a stream of water always right next to you. Felt peaceful and soothing.
After Ihlara we went for tour of another interesting feature of Cappadocia - Underground cities. While there are quite a few to choose from, we went to the Kaymakli underground city. It's just astonishing how people lived here 4 to 5 floors beneath earth with such ancient ways.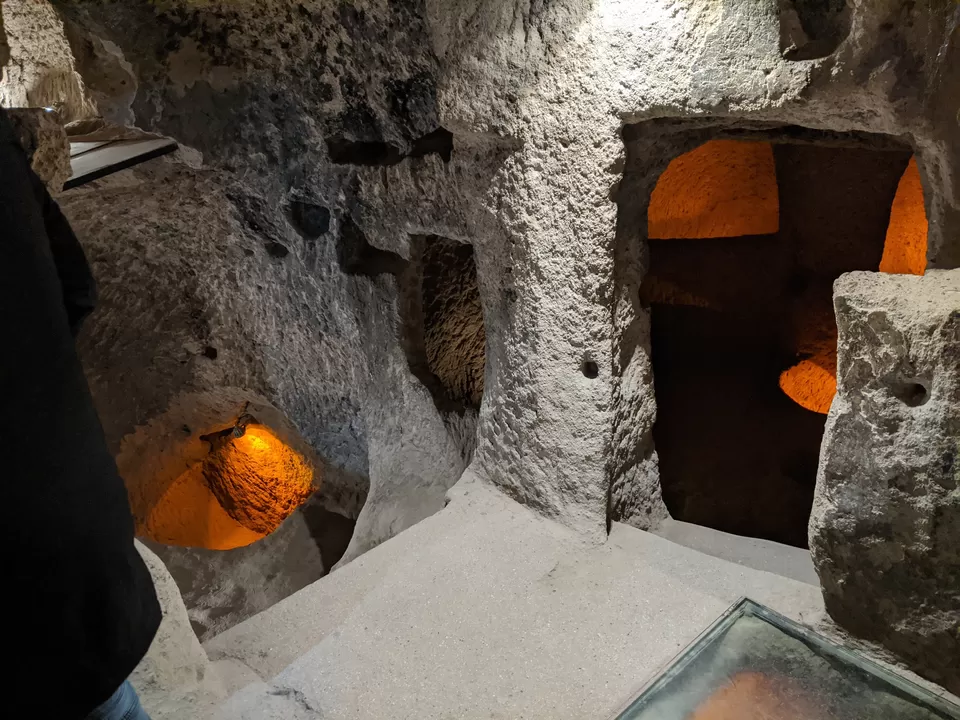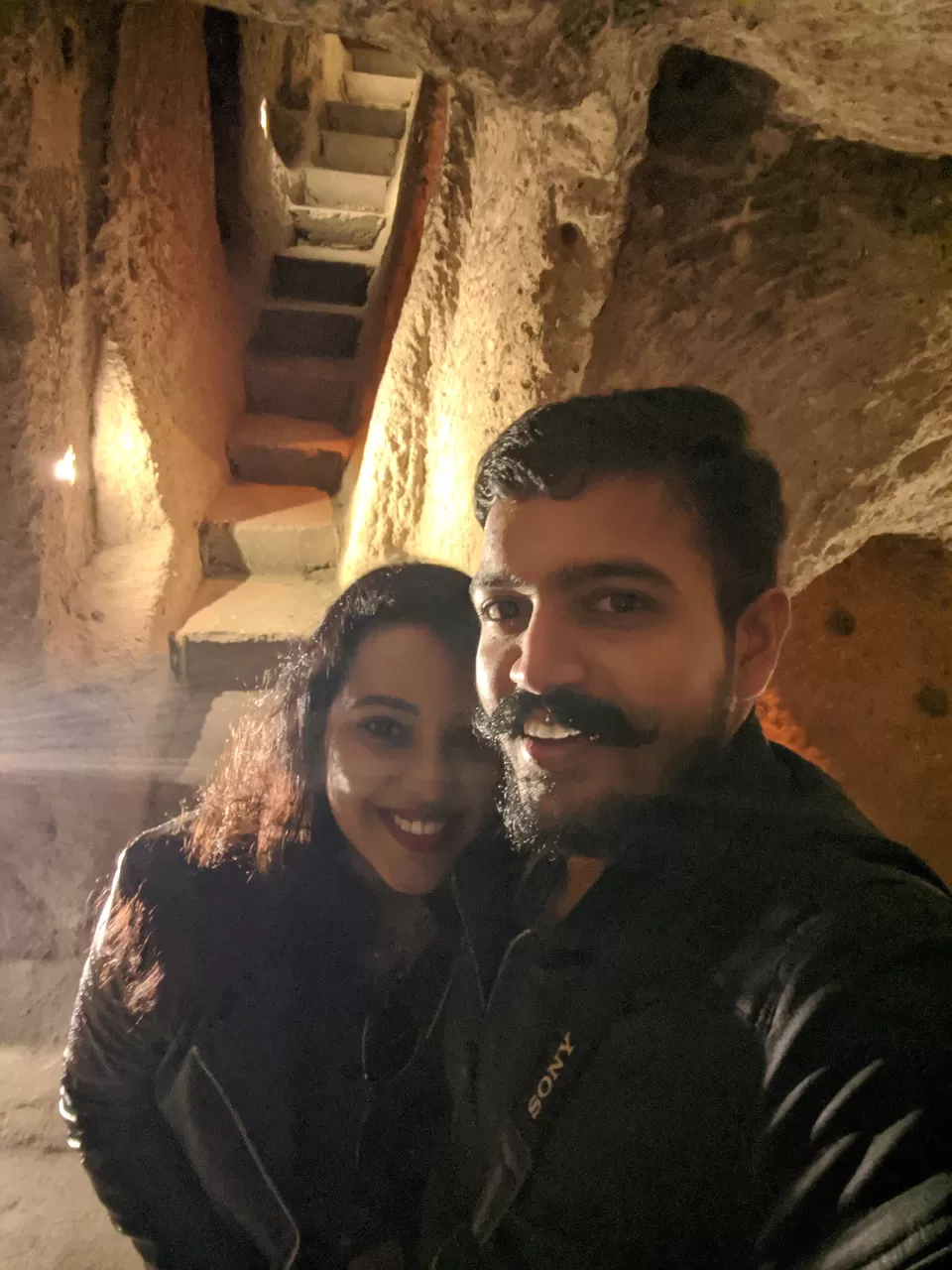 Last stop for the day was Pigeon valley where we quickly got some pictures and headed back to our hotel.
We left for Kayseri the same day where we had to catch an early morning flight to Istanbul.
The last 2 days of our trip was reserved for Istanbul. We did Istanbul last so that we don't have to deal with any internal flight issues that could land us in soup when returning back to India. This way we could end our trip on a peaceful and happy note.
We spent the entire afternoon on Day 8 at Grand Bazaar, world's most ancient bazaar. If you are here, don't forget to buy the apple tea. It's amazing. And if you are going after reading this blog, please bring back a pack of apple tea for us. Haha ;)
Also do checkout the famous mosaic lamps.
My wife and I began the day very early to capture the sunrise at the Blue Mosque and Topkapi Palace. Unfortunately I couldn't find a good spot initially. So, we instead went to Seven Hills hotel for breakfast which offers terrific sunrise views of Blue Mosque, Topkapi Palace and the Bosphorus river. Forget the views, the breakfast it self is totally worth the visit.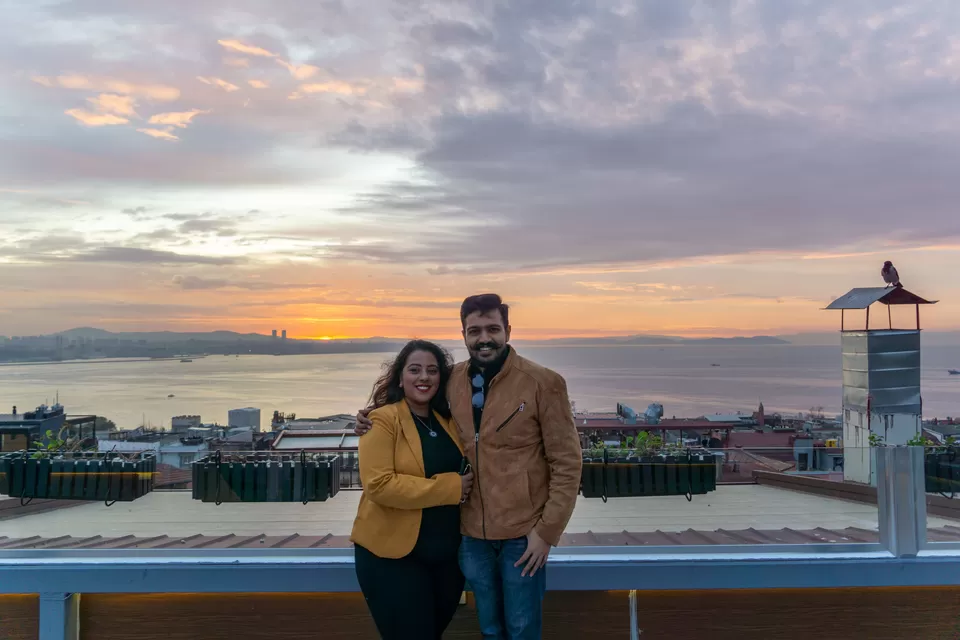 After breakfast, we caught up with my parents and went to the Bluemosque and Basillica Cistern.
Unfortunately we couldn't do Topkapi palace as it easily takes 2 to 3 hours and we wanted to go to Kiremit also and spend our last couple of hours in Istanbul trying out local Ice cream and other delicacies.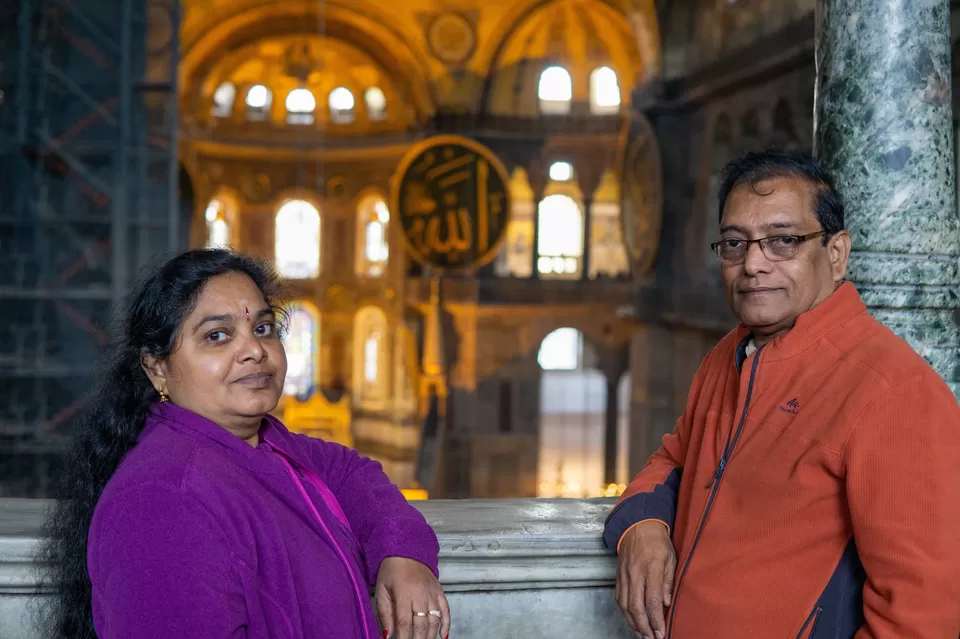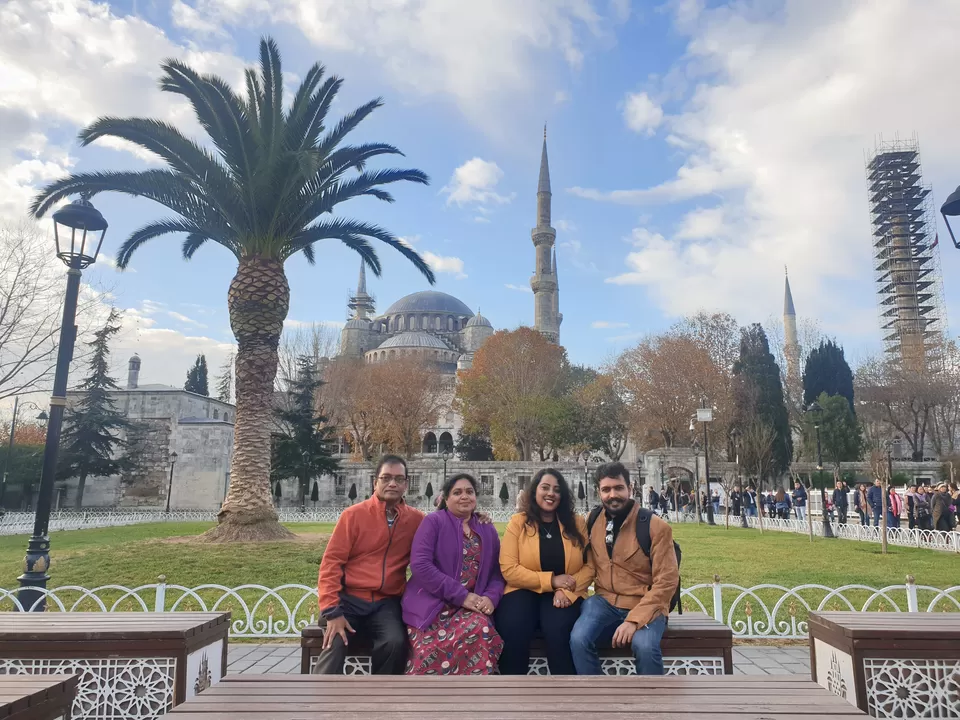 Next stop Kiremit, a popular colorful street with a very European feel to it.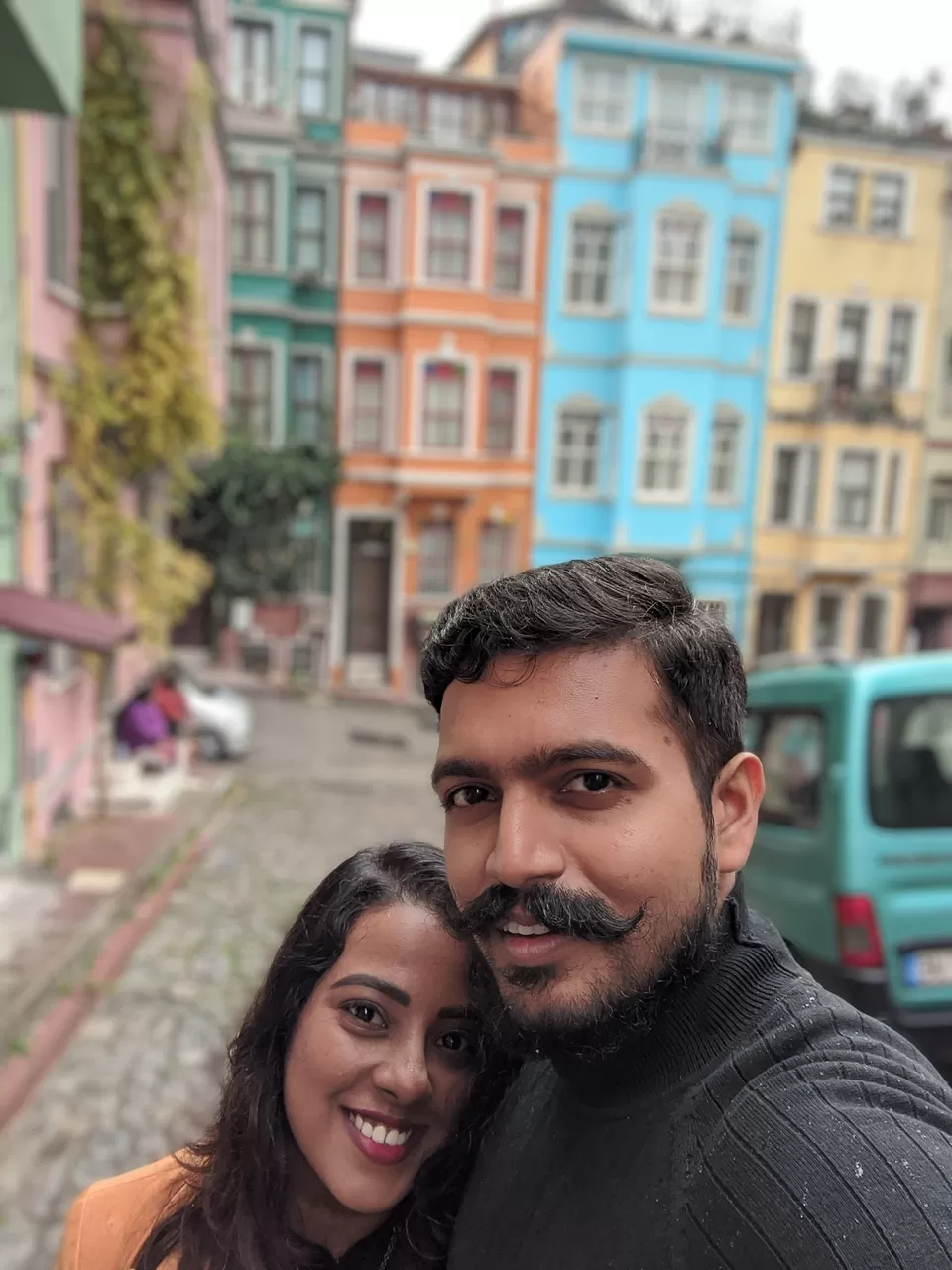 Post lunch, it was time for us to bid adieu to Turkey as we embarked on our way back to India from Istanbul IST Airport.
I hope you guys enjoyed reading this blog and do reach out to me on Instagram if you need any help in planning your vacation to Istanbul.
Hotels we stayed at
1. Hotel Enderun, Istanbul
2. Bacchu's Pension, Antalya
3. Sultan Cave Suites, Goreme, Cappadocia
4. ibis Kayseri (just night stay)
5. Hotel Kupeli, Istanbul
Other Recommendations
1. Turkish Coffee
2. Apple Tea
3. Turkish Tea
4. Pot Kebab
5. Full Turkish breakfast at Seven Hills
6. Hot Air Balloon Ride
7. Use the tram as much as you can when in Istanbul. It's fun and cheap.
8. Whirling Dervishes show in Istanbul.
9. Ice cream in Istanbul.
10. Old Ottomans cafe in Istanbul
11. Cappadocian Wine which is stored in stone houses instead of wooden barrels