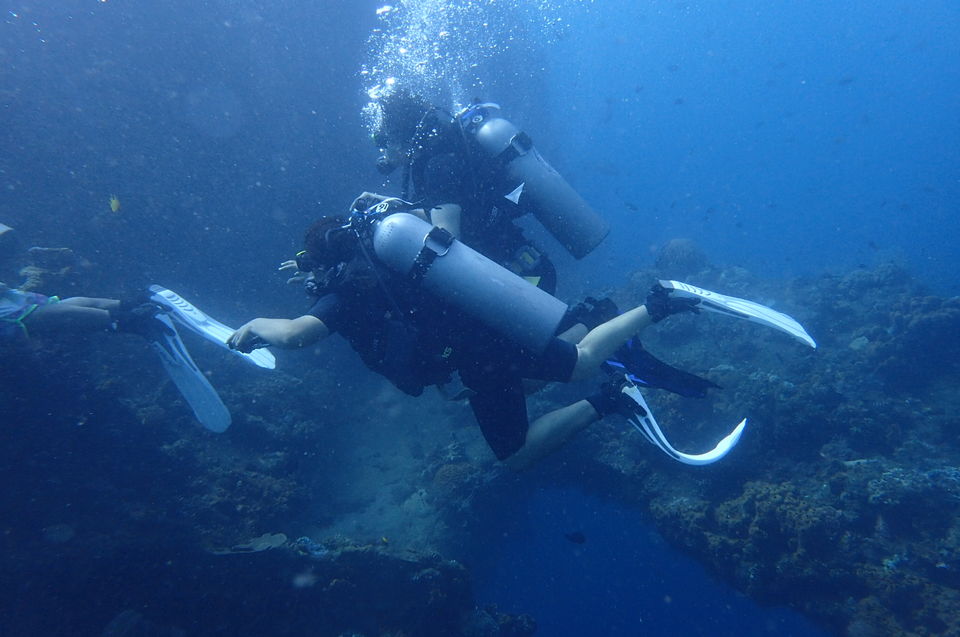 Think Bali, and what comes to mind is an azure-blue tropical paradise and a relaxed escape sipping on multi-hued cocktails. Or perhaps one conjured images of the verdant rice fields in the rustic – Ubud the cultural centre of Bali. Bali sure does cater to the lazy vacationer and the culture-curious traveller, but there is a high energy side of Bali which pulls crowds. Bali boasts of some of the best diving sites in the world, with its tropical marine life and untouched waters.
And the best part is that for most of them, you need not even venture far out to sea! One such serene saga can be witnessed at the USS Liberty Shipwreck Dive in Tulamben, North Bali !
Meeting of the worlds - man and nature
This unique diving experience is especially cut out for those who dread the sea sickness that often accompanies journeys far out to sea. In Tulamben, you can simply wade/swim up to where the wreck is, and then take the plunge! What creates the real thrill is the chance to explore a World War Two cargo ship, unfortunately wrecked at sea decades back (but thankfully with no casualties)! The ship was originally torpedoed by Japan in Lombok way back in 1942, and was rescue-steered by the captain to the Tulamben shore.
More drama unfolded when Mount Agung volcano erupted in 1963, creating huge land-upheavals, and pushed the wreck underwater! What results is a 120-metre long, 30-metre deep part man-made underwater wonder. Over the years, the ship has been assimilated into the marine ecosystem, serving as a substrate for colourful corals and a shelter for tropical fish!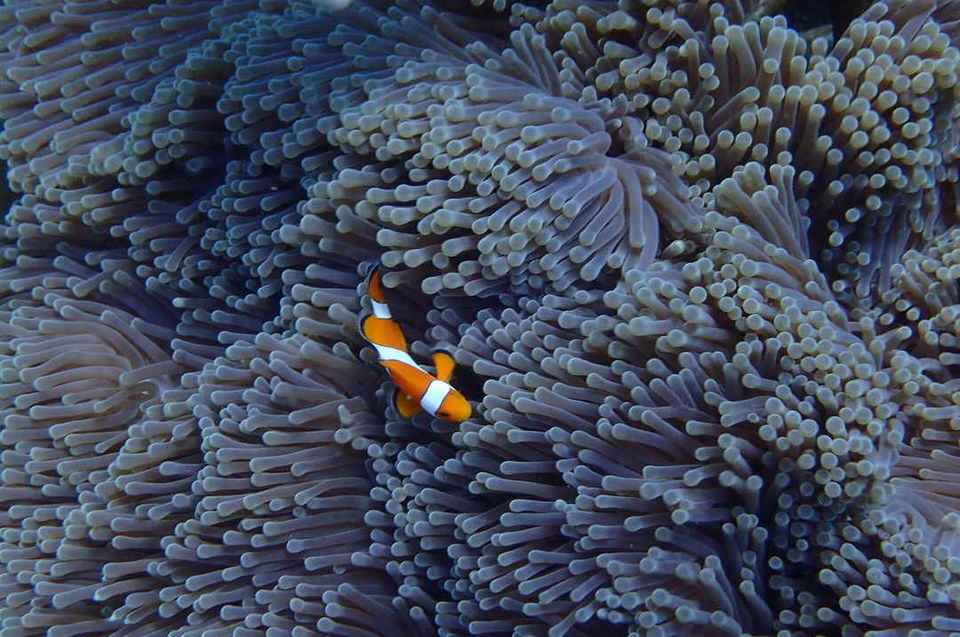 A whole new world unfurls
What makes Tulamben so attractive is that anyone can dive the wreck! No special certifications or trainings needed. Yes! This, coupled with the walk-up-to-the-dive site arrangement leaves you with no excuse to not dive or snorkel in these pristine blues!
The ship's structure shelters aquatic animals from strong currents, making it home to more than 400 species of reef fish and 100 species of visiting ocean-dwelling fish. Some of the common species you can see here are surgeon fish, common barracudas, jack-fish, sea squirt, glass fish, trumpet fish, and many more! As one takes the plunge, everything else is forgotten. Gliding in and out through the enmeshed structures of the ship, one gets lost in the world of stark silence and flashes of colour that flit about. Diving has often been likened to a meditative experience, for all you can hear is the in-and-out of your own breathing.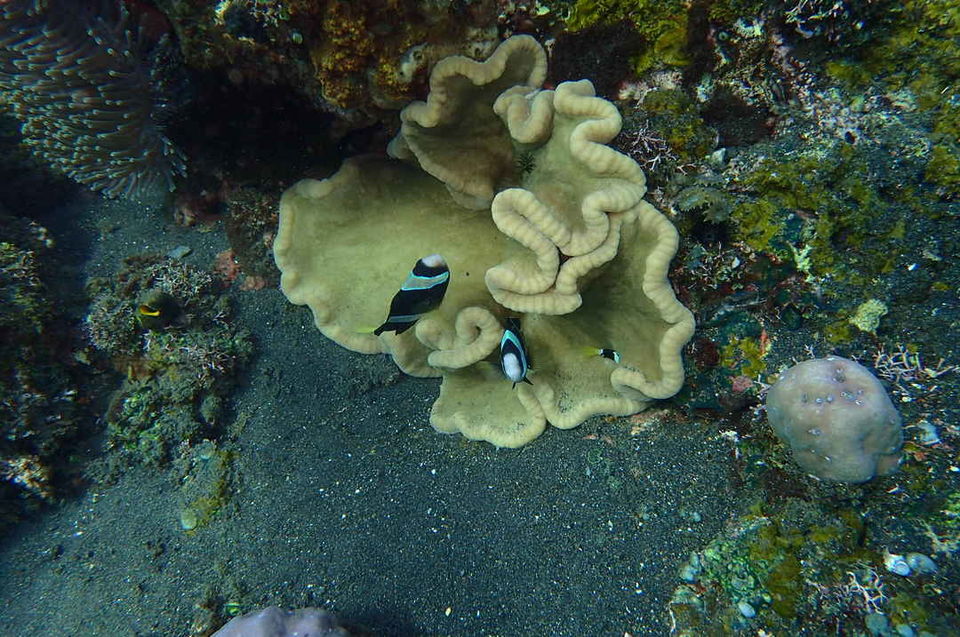 Must-do things at Tulamben
Get scuba-certified
Have you dreamed of becoming a scuba-dive instructor, helping other people witness the beauty of the underwater vistas? Now is your chance! Tulamben is the perfect place for its variety and versatility of dive sites and marine life! Take out a couple of days to get your PADI Open Water basic certification done, and begin a wonderful journey of diving, and who knows, a possible alternate profession!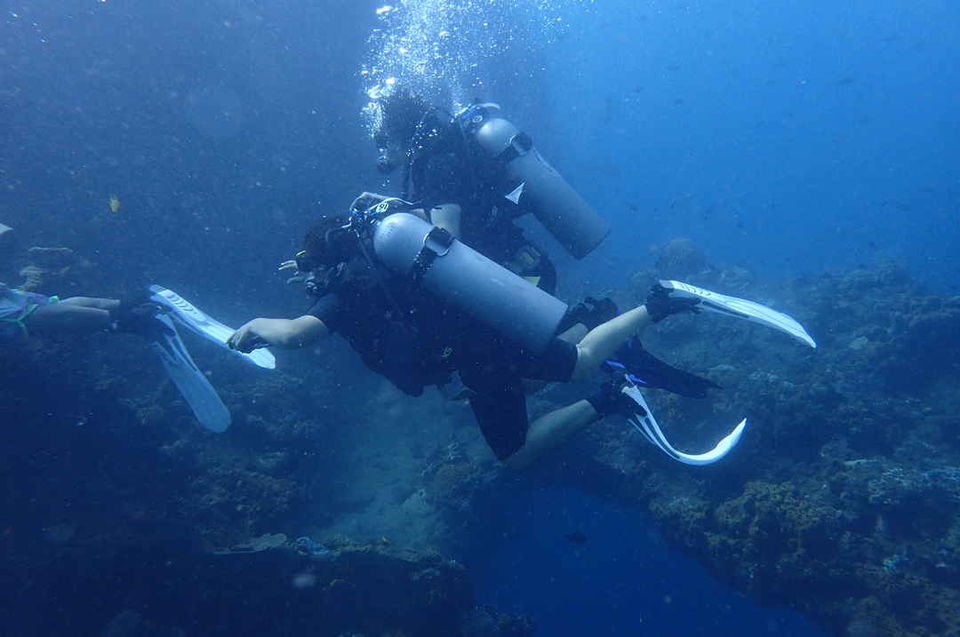 Witness a night dive
Witnessing the marine abundance with beautiful rays of light streaming in is one thing, but for the adventure-junkie, Tulamben has the ultimate experience on offer–night diving! You can see nocturnal creatures like the common lion-fish in predatory mode, and the marigold-cup corals shining off your beam. Night diving requires special night-diving certification apart from the PADI advanced certifications.
Explore the Tulamben wall
The eastern part hosts a famous dive site - the Tulamben Wall. It is an underwater drop-off to 60 metres, with an overhand of 18 metres. If you love marine flora, look out for large barrel sponges and the famous purple gorgonian fan which stands almost 3.5 metres tall and is a spectacle to behold.
Take a walk on the black beach
Unlike many dive sites, Tulamben has a black gravel-and-rock beach, a very different look compared to the pristine white beaches one usually expects! Wake up to a refreshing sunrise while taking a walk, or get yourself clicked in that Insta-worthy beach-yoga pose!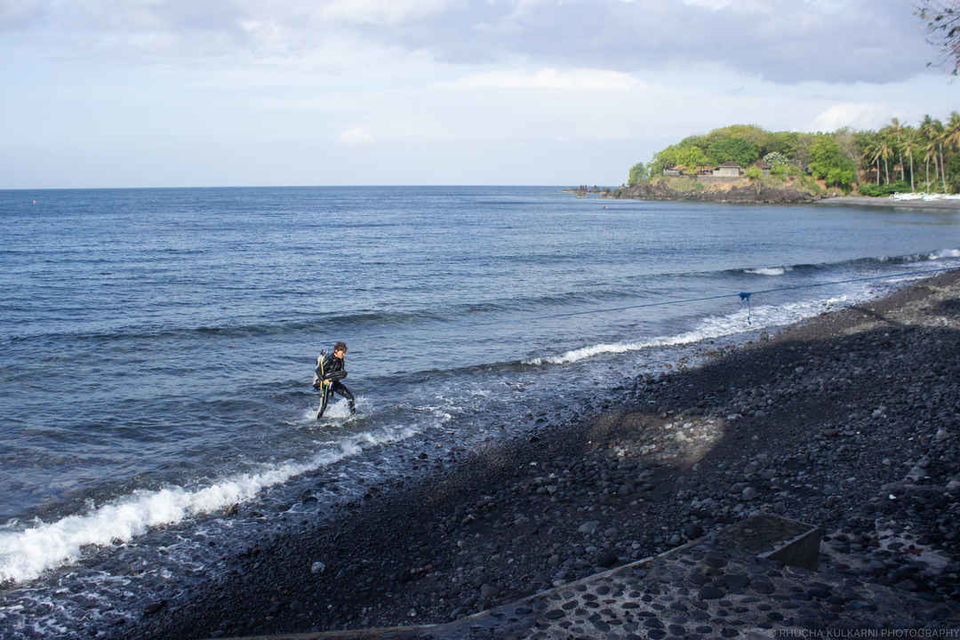 Photograph the marine wildlife:
Photographing marine flora and fauna in its natural habitat is a great way to capture memories of your trip. Explore blackwater diving, wherein bright lights are suspended so as to attract bizarre nocturnal creatures and get that perfect glowing capture! What's more, you can learn a lot about the local wildlife and conservation culture from the locals to understand the delicate ecosystem that these people have been subsisting on for generations! So much food for thought!
Experience the local fishing culture
Away from the touristy hustle-bustle of mainstream Bali, Tulamben is primarily visited by serious divers, and is a great escape from noise and din. If you want to experience Bali the local way, it cannot get better than this. A quiet fishing village with simple, warm village folk, Tulamben is the perfect getaway for busy city folk. So what if you dread diving, you can always snorkel and laze around, or just enjoy a song-and-dance with the local folk!
The best part about Tulamben is the plethora of options that it offers to everyone. Those who prefer being above water can snorkel around, or chill in one of the beach resorts with a relaxing massage!
Best time to visit
April to June
How to reach
Located on the North East of Bali, this mini-heaven it is a 2-hour journey by road from Ubud.
Diving level:
Beginner to Advanced
Get travel inspiration from us daily! Save our number and send a Whatsapp message on 9599147110 to begin!
Explore the best of travel inspiration on Tripoto Instagram!