Hello Everyone :)
This post is all about a productive day from our Bali trip. Sleepless night, an active volcano, green rice fields and an introduction to coffee farming...sums up our day!
The idea of Mt. Batur trek was brewing on my 'to-do" list since the time we started talking about the possibility of travelling to Bali. Reason? My unquenchable thirst for sunsets/sunrises and my love for trekking. Mt Batur is a active volcano. I checked several websites on offers related to Mt. Batur trek but we did not book any. Once I reached Ubud, I talked to KoMang (my host) about it and got a great deal. After Ubud, we had shifted to Seminyak and it was decided that KoMang would pick us up from the hotel, drive to Kintamani and once done with the trek, we would spend some time at the Rice Fields (basically get some pictures) and try our luck with Kopi Luwak.

We were supposed to start the trek at around 2.30AM so that we reach the sunrise point a little ahead of sunrise. To stay in line with the plan, we were picked up at around 12.30 AM from Seminyak. It was raining and I haven't slept. Prateek slept for around 30 mins. I was weary and my face was pale. There was still a twinkle in my eyes whenever I thought about the sunrise. Oh! How beautiful it must be!
We hurriedly got dressed and tied the laces of our trekking shoes. Please wear comfortable shoes with a good grip. It will help you complete the trek without any injury as you will be required to walk through slippery terrains and walk past huge rocks while it rains.
We reached the starting point of the trek at around 2 AM. Very soon, we were done hiring our guide (Wayne) and preparing our bags. KoMang decided to trek with us (I am so glad he did) and insisted on carrying our food, raincoats and water bottles. We were handed our individual torch lights and we ventured out in the dark, following the footsteps of Wayne, talking about whatever came to our mind. It was extremely dark out there and only on our way back we realized that we were walking along colorful tomato and onion farms. It was windy and we saw flashes of lightning far away. I carried a light sweater to stay warm. An hour later, we started climbing rocks and very soon we could see the city lights gleaming.
We were moving up the mountain though the sunrise point looked far away. Soon we reached a deity where Wayne offered prayers and lit incense sticks. The fragrance mixed with the smell of the mountains, gave birth to something so pure and soothing. Wayne said that it is the deity of the Mountain God and they offered prayers to the God every day to keep everyone in the area, safe and smiling. I joined my hands in awe and respect, said my prayers and started walking towards the sunrise point. The city lights looked majestic. It was a wonderful feeling. Of course, we were a bit tired and with a little help from one another, we managed to keep moving. We would walk for a while, rest for a while and in the middle of all that, Wayne shouted, "You did it".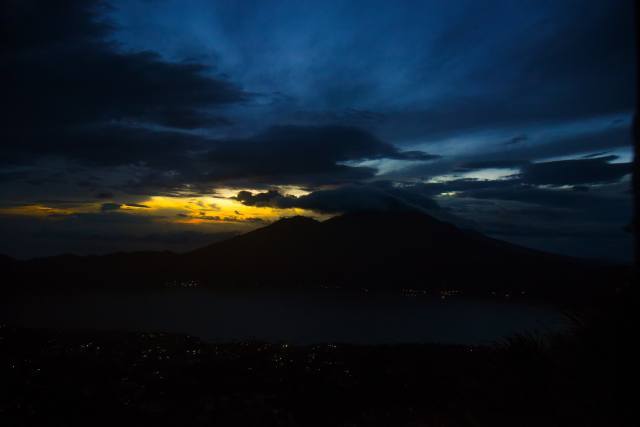 I looked around. Indeed, we were right there. Several others joined us soon. We had a cup of coffee and secured a spot to watch the sunrise. In right about 10 mins, the sky started glowing. I could see the sky painted in several colors, just like a painter's canvas. The clouds added more beauty to the entire scene. Being a sky chaser, it like seeing my happiest dream come alive. Never had I seen the sky dressed in such magnificent colors and splendour. Everyone was mesmerized. There was a flow of good energy and spiritual vibrations, I could feel it. We all did. All our physical and mental endurance looked so tiny in front of the majestic view of the morning. This is my favorite thing about climbing mountains. Overcoming the challenges of the body and the mind, pushing yourself harder and overcoming situations you never thought you could. My spirit grows tenfold every time I climb a mountain.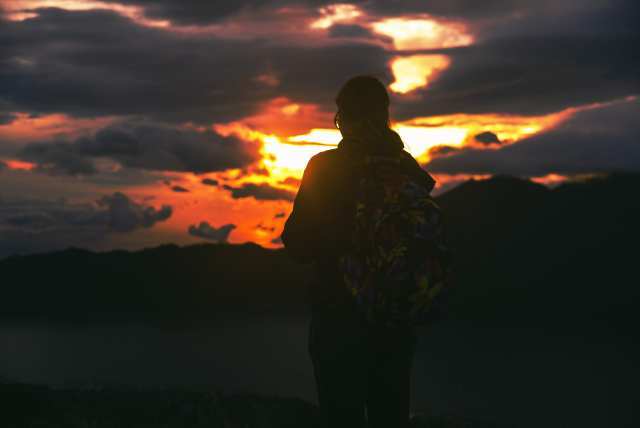 I took tons of pictures. Pictures of happy people, the glittering sky, the crater, the grass, the leaves, the city below, the suspended clouds...I could not come back without not clicking enough pictures of all that made way to something so beautiful, so royal. We spent hours at the top and had our food that comprised of boiled eggs, fried bananas and Danish (KoMang got them for me knowing how much I love Danish during my stay at his place). How can I ever thank that man for his wonderful hospitality!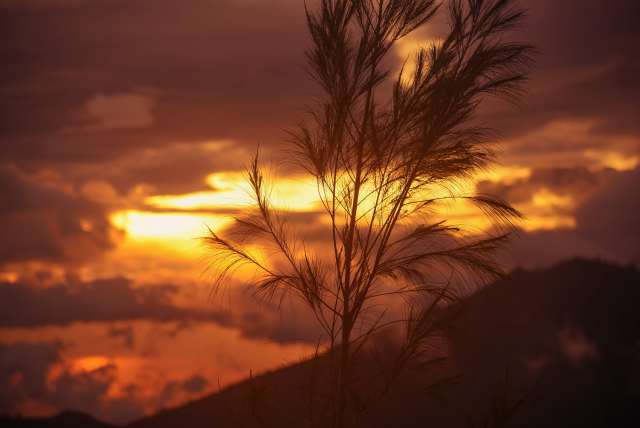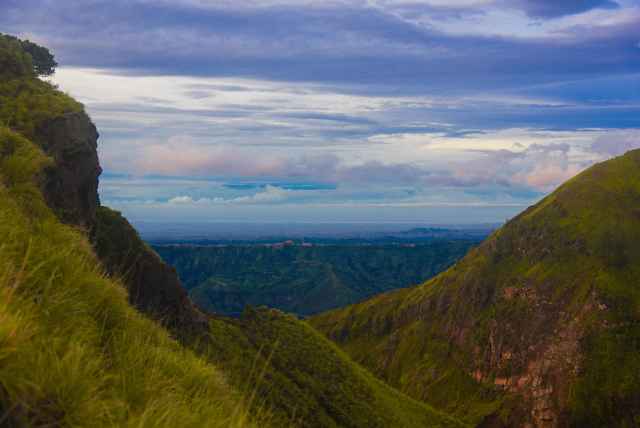 Walking back to the parking area took an hour approximately. This is where you would realize how important shoes with good grip are, when you trek/hike. The day has been full of activity so far and knees hurt, but the ecstasy was too big a feeling to realize the trivial things. Very soon, were boarded our car and I could see Mt Batur smiling at us from afar, bidding us goodbye. "I hope to see you again, sometime", I said as I smiled and drove away with a heart full of gratitude and happiness.
Our next destination was the famous Tegalalang Rice Fields. We saw so many pictures of this place that we had to go and see the place. These rice terraces are famous for their dramatic views and the irrigation system. We did not walk down to the terraces and managed to take some pictures from the roadside. The area is swamped with art and crafts stores, cafes and boutiques.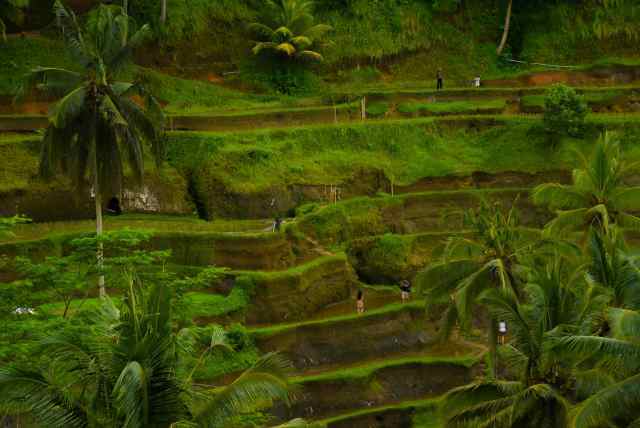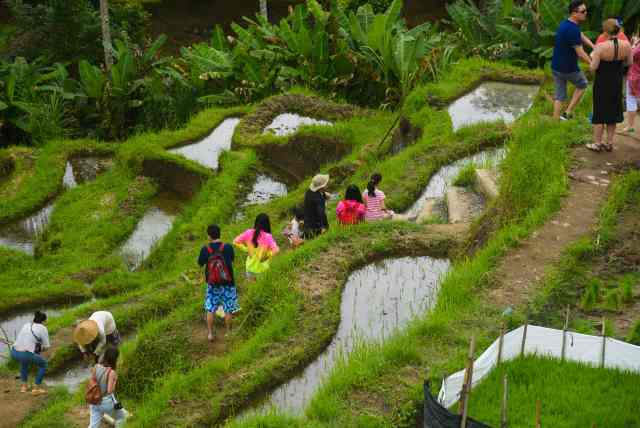 The final stop for the day was a Kopi Luwak Coffee Farm in Ubud. Though we are not coffee addicts, the idea of drinking the most expensive coffee in the world lured us. We gave into it once we read about the process of preparing the coffee (heads-up: some of you might find it disgusting).
We entered the gates and were warmly welcomed by the staff and were explained the process of preparing Kopi Luwak Coffee. The civet cat snacks on the ripest coffee beans in the farm. The cat eats the berry but doesn't digest the hard stone, which is then excreted in its poop. The feces are collected and the beans are processed to make Kopi Luwak. The process involves cleaning/washing, drying, roasting and grinding the beans while adhering to hygiene and quality standards. It is not an automated process and still done manually by farmers.
We were offered a sampling of 8 teas and coffees which did not include Luwak coffee. Luwak coffee could be sampled for $5 per cup. Prateek, KoMang and I decided to try Kopi Luwak as well along with the other 8. Of course, none of us would have been able to try all the 9 coffees and teas individually, so we asked for the 8 cups for the table and 3 cups of Luwak Coffee. The other 8 included Lemon Tea, Ginger Tea, Ginger Coffee, Ginseng Coffee, Chocolate Coffee, Pure Cocoa, Vanilla Coffee and Pure Bali Coffee along with some potato chips. I loved my chocolate coffee. Luwak Coffee was nothing extraordinary when it came to its taste, but the entire process added to the curiosity. I will never drink it again for sure. I would better stick to my teas and cappuccinos ????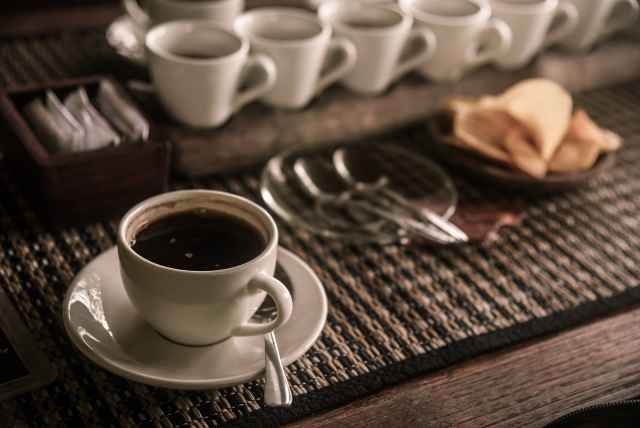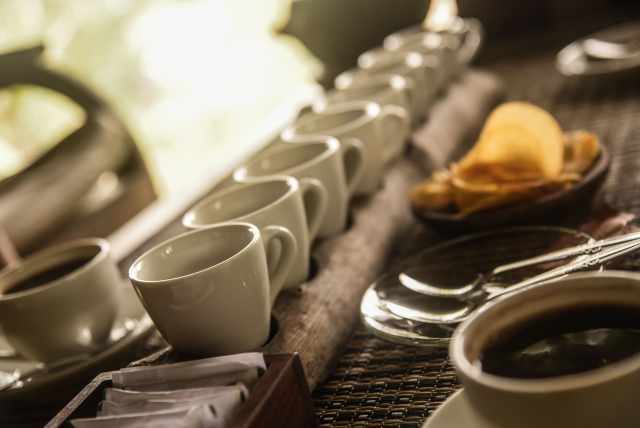 Once done with the 3 things on our list, it was time to come back to our hotel. We spoke the entire way home. It is our last meeting with KoMang (he hosted me during my stay at Ubud). We all grew emotional while saying our goodbyes, and hoped that we will meet some day, maybe in Bali or India or maybe a new place altogether. It has been a long and productive day. We will all remember this day as our best day in Bali.
The lust for the unseen continues ????
Hope you enjoyed the post and the pictures. In case you want to read more of our Bali experience, please join us at www.amillionvoicesinside.com
Shanta