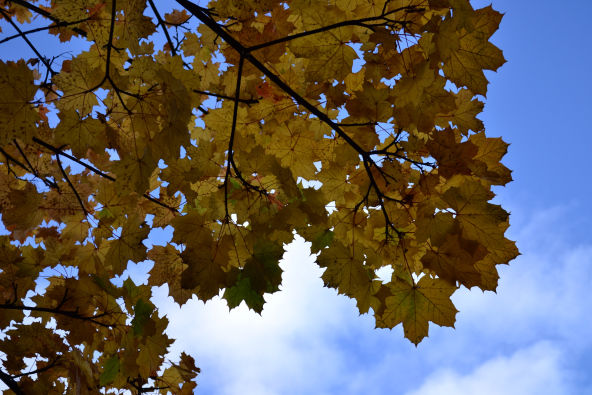 October 2015, Manchester (England).
I never thought a season called fall could be so uplifting. It is beautiful! The red, yellow and orange trees with the refreshing chilly winds just fill the atmosphere with this sense of freshness. Besides the extremely exciting fashion options (when else could I wear a summer dress with a leather jacket :D) in addition to the sweet cinnamon lattes (pumpkin lattes are really not my thing!) just make this time of the year even more wonderful!
This was my first autumn. Yup, really. We don't really have this season back in our country. And I never thought it could change so much-not only how a city looks but also how it feels. I was literally collecting maple leaves in all colors. They are so pretty! I even tried rolling-jumping-creating a mess of myself in them. And truly, it was great fun! It did bring out the kid in me. I stayed on for a month in manchester with my friend (who is attending college there-pretty cool & astoundingly beautiful uni) who told me there is not much to do there. But being a history buff, it was a treat for me. Manchester is the home of industrial revolution (so many museums!!), it has one of the oldest LGBTQ communities in the whole of UK (and the hippest gay village), the exquisite John Ryland Library and of course, Old Trafford (Go United!). I got through all the touristy places in the first week, with lots of shopping! Long furry fall coats and ankle length heel boots just gives you the feels.???? Even the night party scene is pretty chill here. Majorly hanging out with the college folks give you a chance to crash many house parties. But even otherwise, due to such a huge student population it is a pretty safe city to travel at night- at least wherever the magic bus takes you!
After the first week it was discovering the northern quarters with pretty English cafes, shopping at the colossal Trafford centre, having waffles from the cart in the city centre, reading Purple Hibiscus under a huge tree in the Witworth park, having amazing food on the curry mile, attending a concert at the Manchester arena, having cider at a 500 year old bar and so much more. But these are not the only things I enjoyed in the city. It was the mere feel of the city. There was so much culture, so many people from different nationalities and mostly this sense of freedom that prevailed the city.
Manchester has this way of letting you be and leaving a bit of itself when you leave it. And this English autumn was quite exhilarating too.