My first trip to Paris was on a college tour while I was studying my Masters in England.
This was a long due one. 
I had always loved Paris. It was my dearest wish to visit the Eiffel tower. But I could not go earlier even after winning a competition whose price was a trip to Paris. That really broke my heart. Since that day, I decided to change my laptop wallpaper to the Eiffel, which was only to be changes once I'd visit Paris. And this happened in Feb 2016.
Now, Paris is really magical. It's like a modern day fairytale, with a beautiful city, carved to perfection. Where there is art in every corner, from live painters to the famous Louvre. Where there is music throughout, from the Opera to the street players. 
Now Eiffel is a dream. It stands tall, singularly triumphing its might throughout the city. Yes, you can see the Eiffel from practically anywhere in the city ! I visited it on the 2nd day of the trip.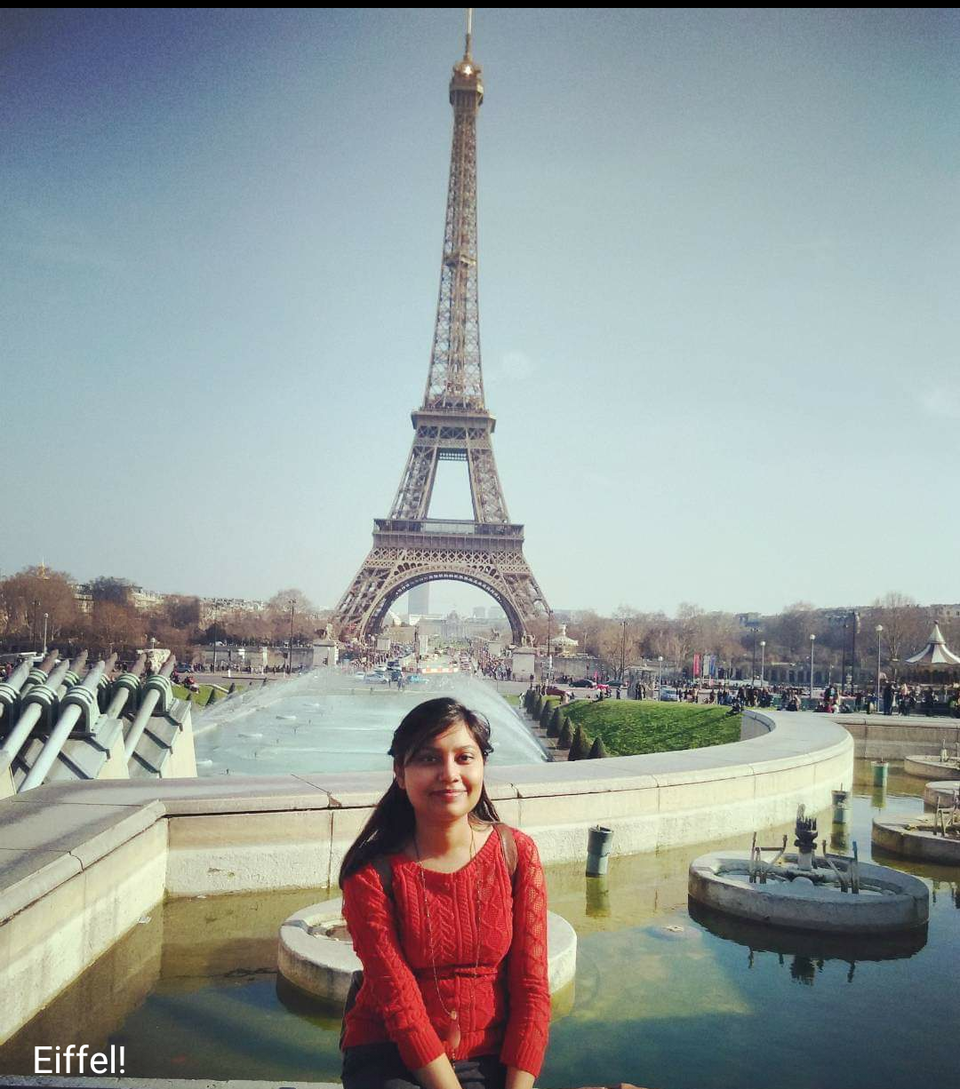 Well, my first definitely was worth it; was worth the wait !
Now, after an awesome tour of Paris, we were to return back to London. We were clicking the last of our pictures right outside our hotel. When I went a little astray clicking others & my worst nightmare came true. 
My bag got stolen ! Yes, the one bag which contains all important documents, the one which should never be lost, got stolen !
Our train to London was in next 4 hours. All our luggage kept packed & everyone ready to leave. And I was a mess ! Thankfully, I had my two sets of document copies kept safe in my travel luggage. I took those & first went for a police complaint (being without any identification documents is more dangerous in foreign land, so always do your FIR first). To my dismay, only one officer could speak/understand English & he was going to take another 30 minutes to start onto my report. Sadly I returned back to my hotel. My crying won't stop. And just when I was about to call my parents from the reception, somebody from the staff handed me a bag asking me if it was mine? And yes, of course it was mine ! And with everything in it intact !! So, as they say, dreams and wishes do come true !
Why I started this article with my first trip is because I would visit again. Yes, I would anyday want to visit Paris again. Because even the houses & apartments in Paris are so beautiful. The doorknobs are beautiful ! All of art seems to come alive in this one magical place. And believe me or not, I feel fairy tales do, too !