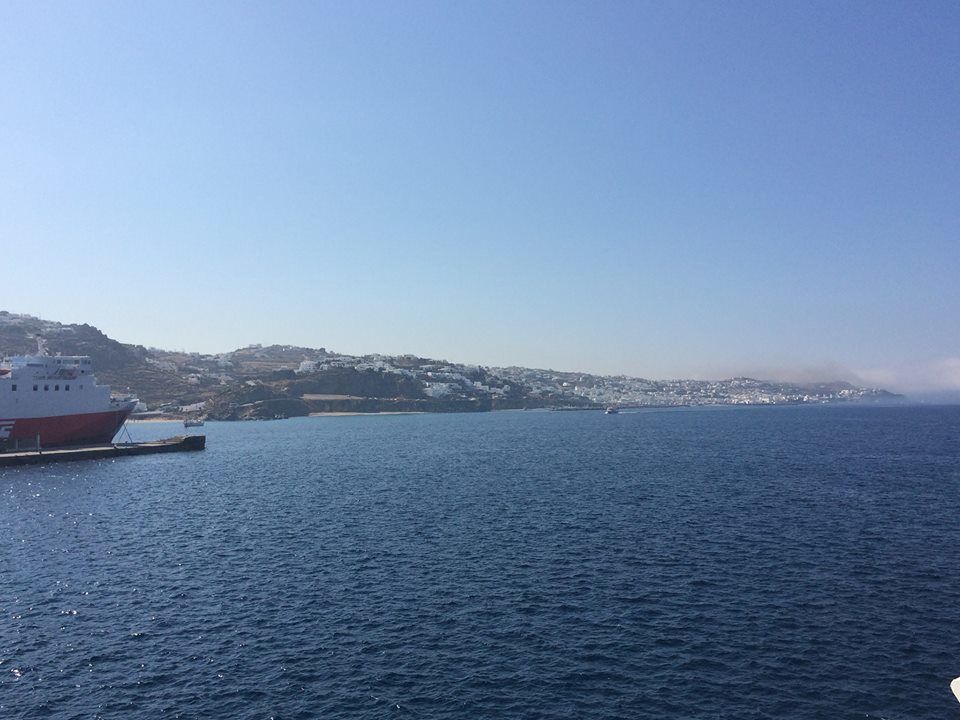 With sweet memories of Athens, we headed to the next Greek paradise… the romantic island, Santorini…
https://neerjakapadia.wordpress.com/2015/10/09/greece-athens/
SANTORINI
Early next morning we trudged our way to the port to catch our ferry to Santorini. It was an expected 5 hour journey so we were all set to sleep it off in the ferry. After some initial confusion about which ferry to get in and which category to be seated in, we made it to our seats. The ferry was unlike any ferry I have ever traveled in before. Large, furnished, air-conditioned and had different classes of travel!!! (first class, coach, etc.) This was such an exhilarating experience compared to any ferry I might have traveled in back home where even a working toilet is a luxury. The idea of sleeping was scrapped and we spent our 5 hours chatting in excitement with each other as well as other fellow travelers about the new destination, exploring the ferry and taking pictures of islands we crossed on the way.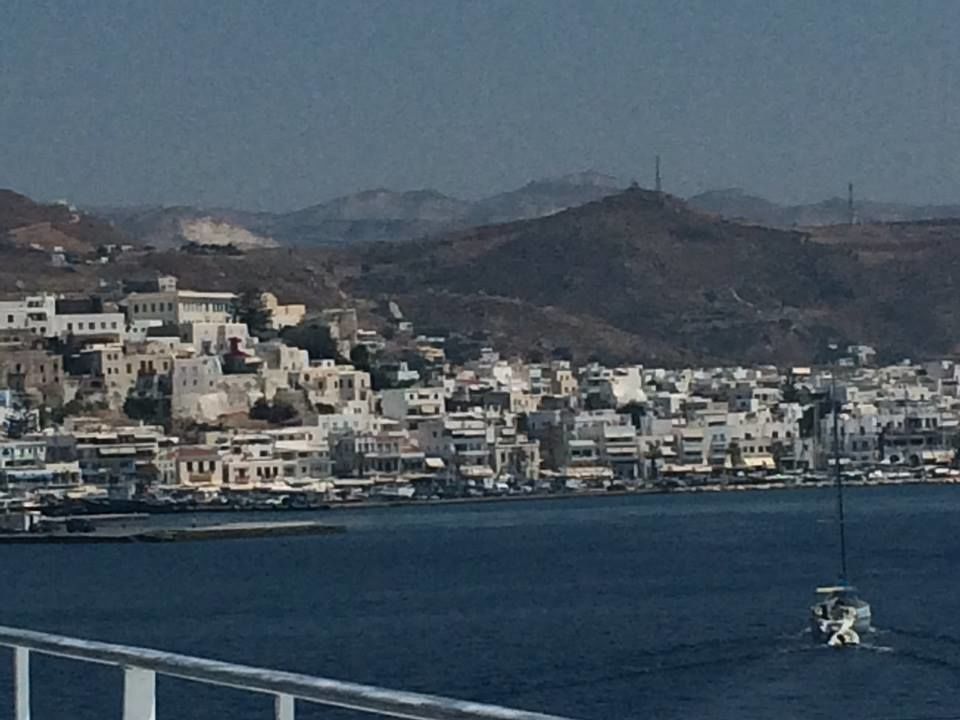 Once we reached our hotel in Santorini after a short bus ride to Fira from the port and a 10 minute walk from Fira to our hotel, we settled in after a smooth check in. Villa Gianna Hotel was a beautiful little boutique hotel with a nice swimming pool and a courteous staff. After we were given the free wifi password and some friendly advice on what to do around Santorini we went in to freshen up. We had only 1 day in the city (last min addition to our itinerary) and we wanted to pack up as much action as we could.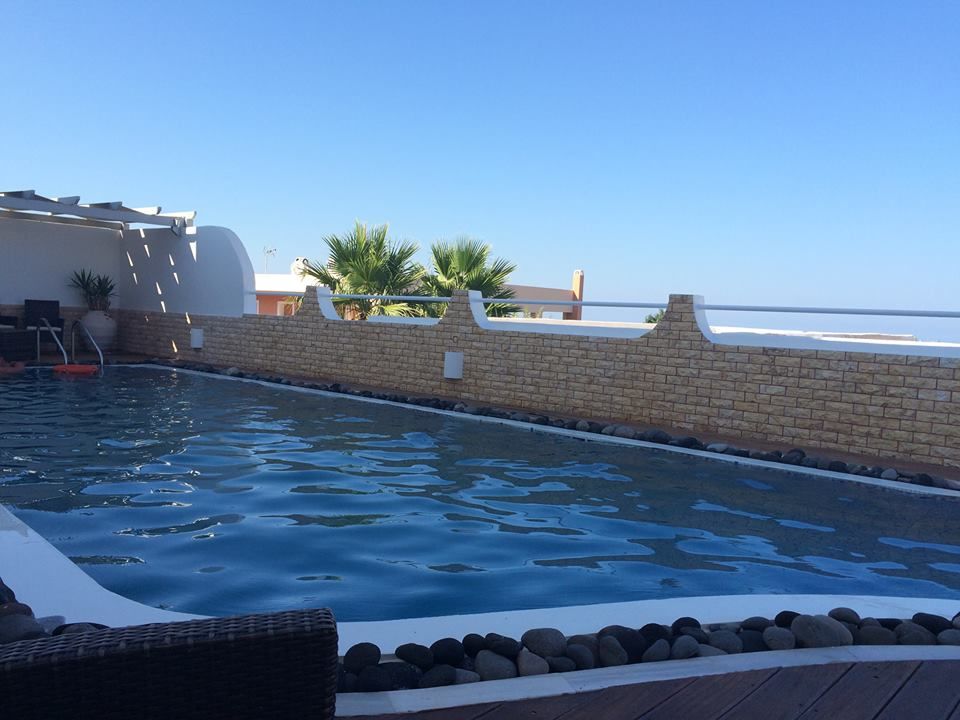 We decided that we definitely wanted to visit Oia for the sunset as it is alleged to be one of the most beautiful sunsets of the world. (That would have been almost true but for the hoards of tourists due to peak season). I thought of renting and ATV instead of a car and so come late afternoon, we headed to Oia. The ATV idea was gold!!! We had the time of our life riding to Oia from Fira looking onto the picturesque Agean sea along the way. Once in Oia we were mesmerized at how beautiful it was. Online images don't do it remote justice. Pristine blue waters sparkling in the sunlight make the caldera a dazzling gem. The white cave hotels, bars, cafes' make the perfect side dish along with the ever so delicious main!!! It was positively heavenly. Walked around there, grabbed some coffee and did a little shopping in the main stretch of Oia. One of the best decisions we made was to book ourselves a nice table in one of the restaurants and grab a scrumptious dinner. Some wine and some Calamari with fries was a mouth tingling experience to change to our usual "grab a gyro on the go" scene.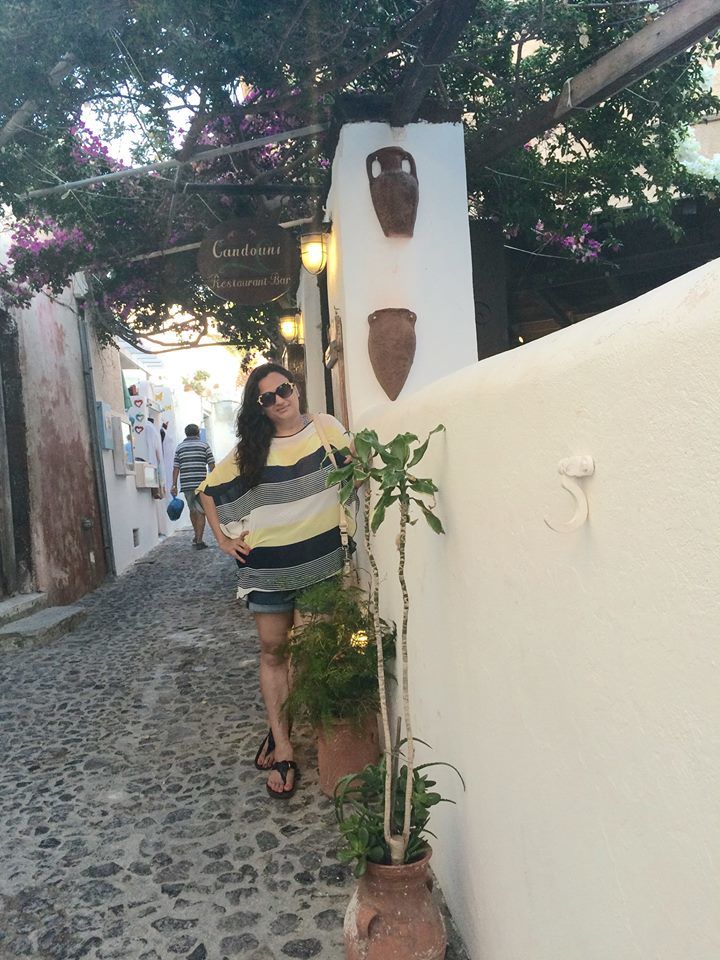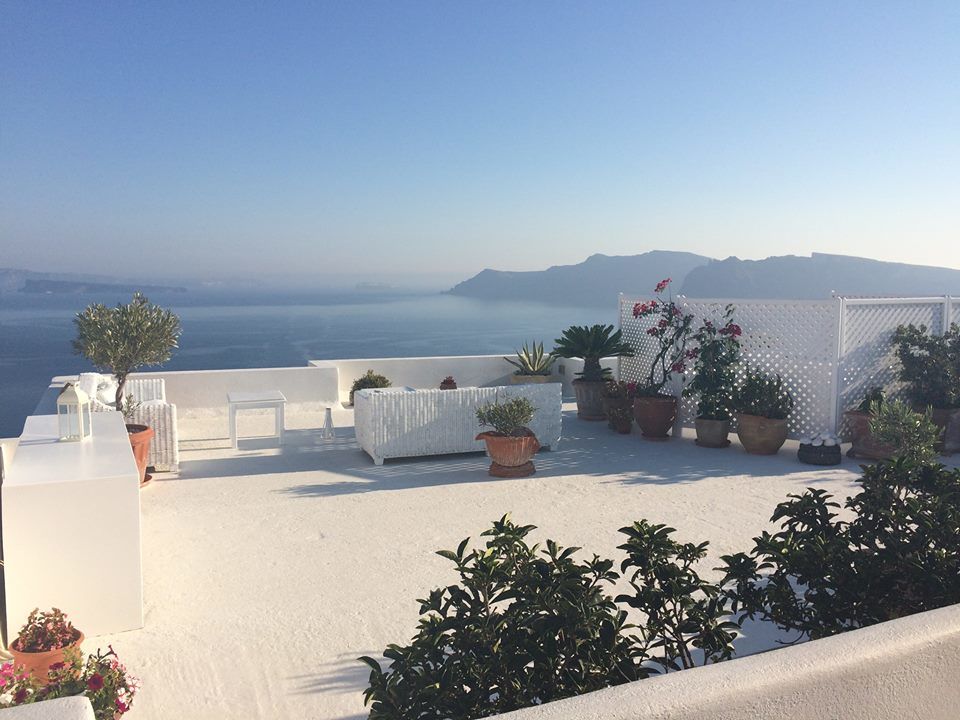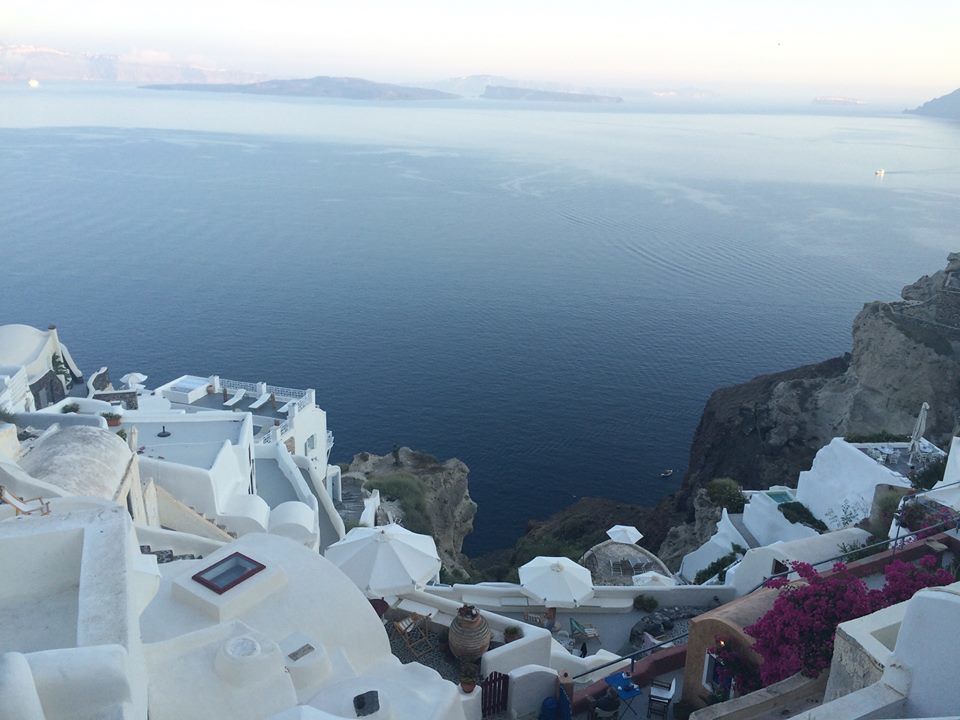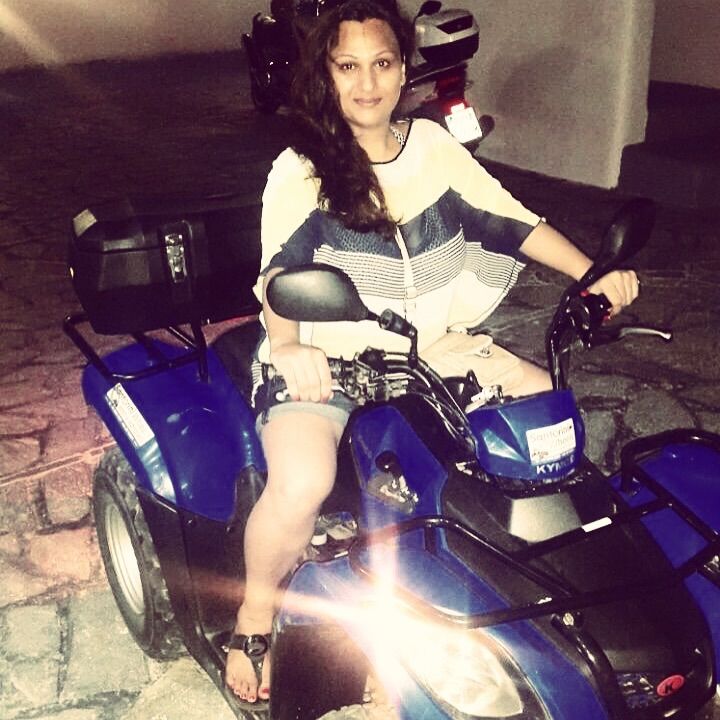 Back from Oia after a stimulating experience, we decided to explore Fira which is the central hub of Santorini. All dressed up after an eventful day we headed out to Thira/Fira. Following reviews from previously traveled friends and our hotel receptionist Maria, we decided to go to a few bars. We went to Murphys, Tango bar among another few on our bar crawl but the one that stood out for me, was Tropical bar. It's location is priceless with a view of the Caldera at night and popular music plays till wee hours of the morning. Friendly bartenders with a cute sense of humor and no entrance charges, this place is an easy win. The drinks are a little expensive… but then again I'm Indian! Everything is expensive to us with the rate our currency is dwindling away! Anyway, it's small and cozy but the dance floor is always raging!!! A must visit for anyone who likes to party a little bit every now and then!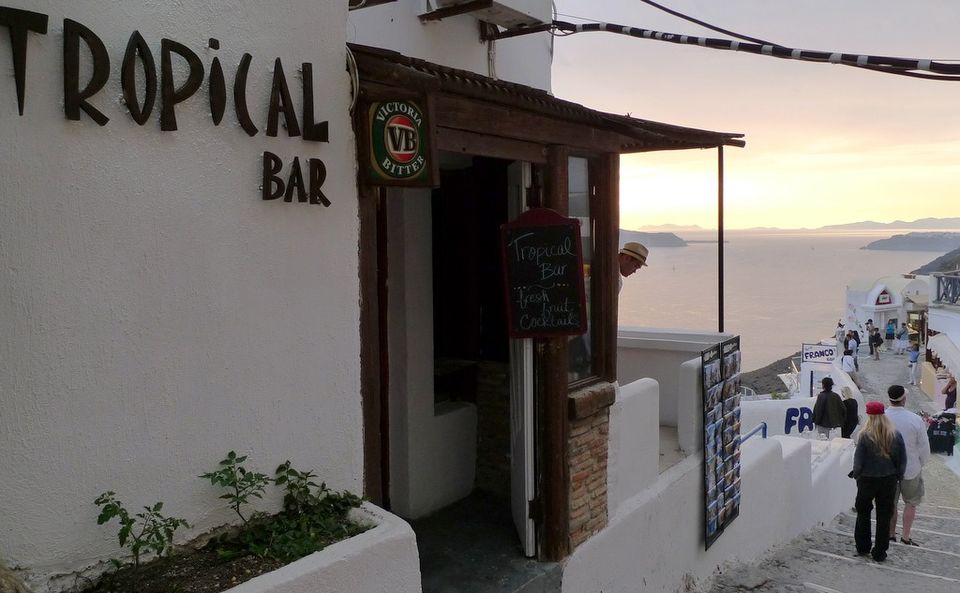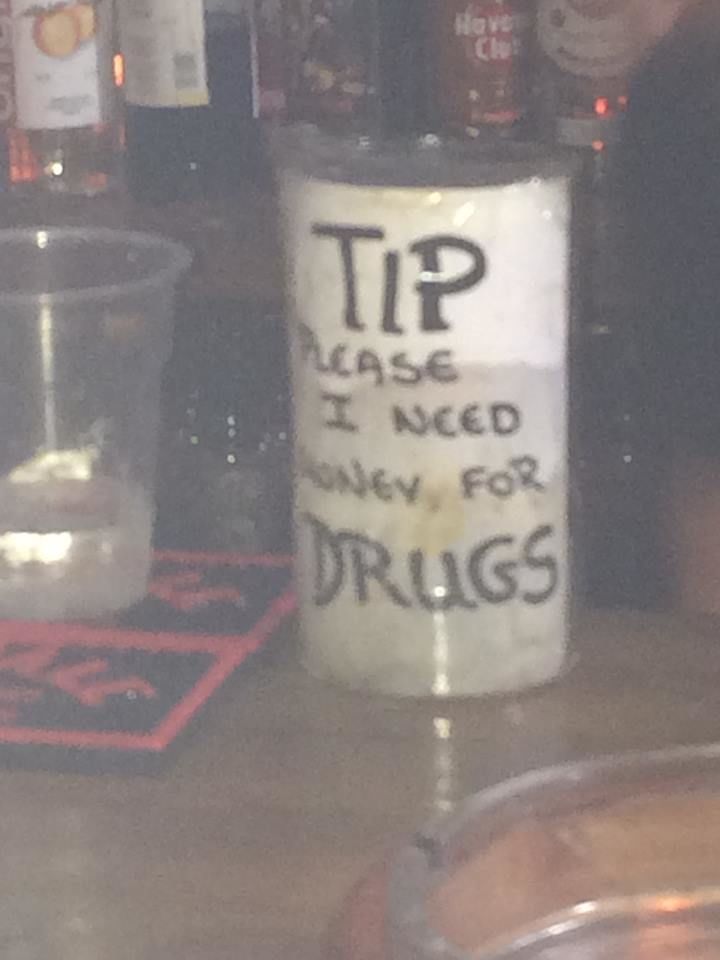 Santorini surprised me! With the idea that it is a romantic and couples' place, I expected it to be chilled and relaxed (the option to do that is there as well) but it was a complete rocker. Beaches, waterfronts, shopping, bars and clubs that don't close before dawn, lots of activities combined with a vibrant vibe and a beautiful outlook make Santorini the perfect destination for just about anyone for any age…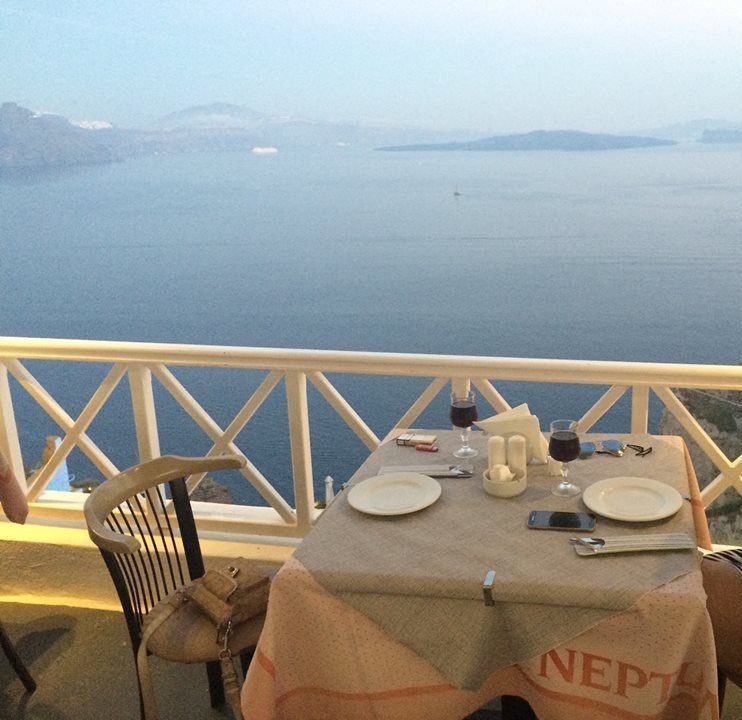 Not having had enough time in Santorini, we headed sullenly but super excited to hit the next destination… Mykonos!!! It's party time…