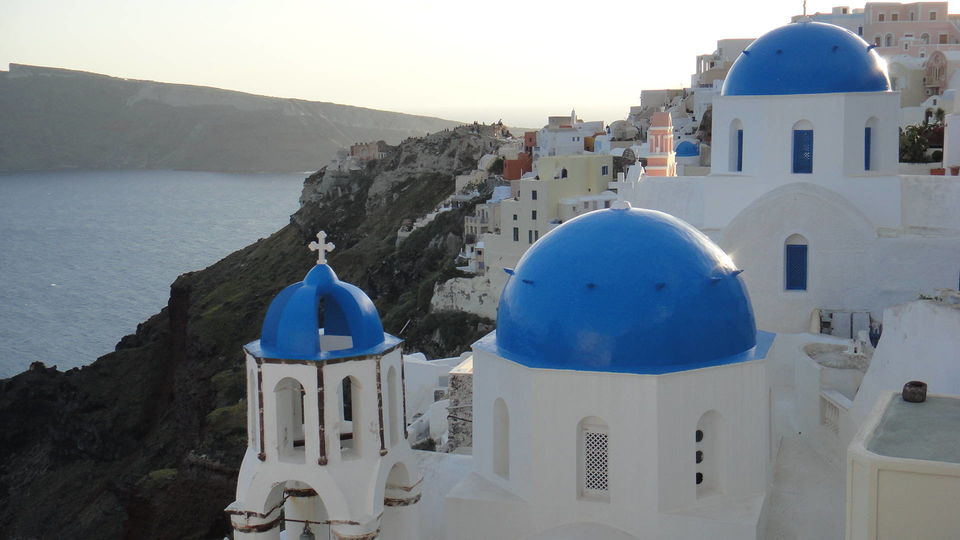 Why Greece - An Accidental Holiday!
Long background! I took a trip to Leh (aha the memories just flash back... will need another blog for this) with couple of friends sometime back and to relive the experience we decided to take another holiday together with the same group to Sikkim! For some strange reasons, I seriously still can't figure out why, we all developed a cold feet at the last minute and called off our plan to Sikkim! The search for next destination begun..... toying with the idea of Turkey! While researching on Turkey I accidentally stumbled on an itinerary to Greece with a cruise covering Greek islands and captivating pics of Santorini. I instantly fell in love with blue and white domes and started checking flight options to Athens! As luck would have it an airline which I had never knew existed, Royal Jordanian, was offering a round trip to Athens for about INR 29.5k between 16 April 2011 to 24 April 2011! I just couldn't resist and booked the tickets and everything else followed!
Visa - Long Live Schengen Sates!!
Greece is part of Schengen Sates. I planned the trip at very last minute and could not apply for visa from Greek embassy as they take at least 2-3 weeks to process the visa application as told to me by travel agents. Greece being part of the Schengen agreement I could apply from any of the other member states. In Mumbai Belgium Embassy is the fastest to process the application. It took them just three days to grant the visa and courier it at my doorstep. As a thumb rule for Schengen visa you can always apply from any of the member state for access to the Schengen block as long as it's going to be the port of entry or a stay for the maximum length in the country. Later I had to explain immigration officer at Athens why I obtained visa from Belgium, his face turned fuming red to hear the Greeks were slow in that matter! The visa costs about €60 for a short stay category.
Accommodation - Location, location, location!!
A quiet hostel located in Monastiraki area with comfortable beds and clean "common" hot showers! It's only a few minutes walk from Plaka, Acropolis and Monastiraki metro station (this station would connect you to direct train to port of Piraeus to catch the ferry to Mykonos in only €1.40 in 20 minutes)!. It cost me €40 a night when I booked it online for my first night stay but to my surprise when I got back from Santorini to stay back I only paid €35. So booking online in advance may not be the best thing to do always!!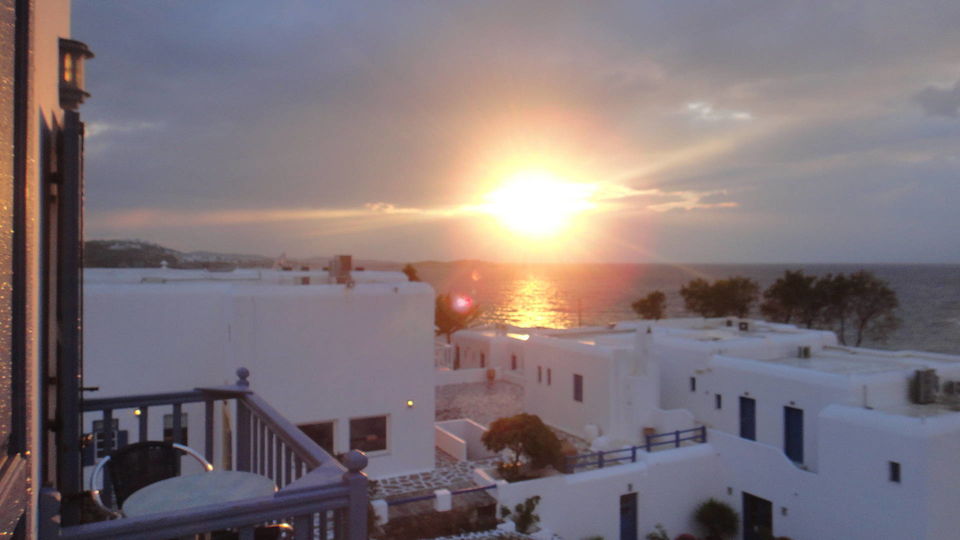 Poseidon Hotel is located very close to the Mykonos Town area and at a five minutes walk to the bus stop of Fabrika in southern part of the town. The spacious rooms are very tastefully done in shades of aqua and sea green with little detailing as side lamp with cats on it, my own music system in the party town of Mykonos, personal jacuzzi and views of the sea and the sunsets! I got this hotel on a super deal with Expeida at a steal of €40 a night for such a luxury, breakfast included! The hotel is located at some distance from the new port of Mykonos where most ferries stop these days, so I had to take a taxi to hotel setting back €8 located in the main town... later I got to know hotel could have arranged for a free pick up on a prior request. So it's always good to check with hotel if these things can be arranged at no extra cost.
In all the hurry I didn't have time to do my bookings in Santorini! Thought will take it as it comes and just go with the instincts. When I got down from ferry to Santorini I looked around a bit for the tourist information center and an old man approached me. He took me to his booth and showed a couple of options based on location (you can either stay at Fira or Oia two towns in Santorini) and price ranges. Hotel Golden Star was very conveniently located near Fira Square, the bus stop and cafes and clubs overlooking Caldera (inactive volcano). I was merry happy to choose them as the this family run hotel was pretty friendly and had location as a major advantage at a price of just €40 a night!
Itinerary - Get Up and Go!
Day 1 : Athens - Flea Market, Monastriaki Area
I took an early morning flight from Mumbai to Athens via Amman (red eyes flight, I hate them!) reaching at my final destination around 3 PM. Extremely pleased to choose Royal Jordanian as service on the flight was impressive and loads of option to choose from on in flight entertainment on my small little personal screen. There is a direct metro line from Airport to main city for €8 taking about 40 minutes to reach heart of the Athens. Being April the city was bit wet and chilly. Finding hotel in narrow lanes of Athens was not a big trouble as Greeks are good with giving directions and speak manageable English. I had a nice view of Acropolis from my hotel room. After quickly freshening up I took a walk around the city gazing through colorful district of Plaka with numerous tavernas (Greek cafes) and high street shops and the flea market. Nothing like soaking in the smell and sounds of a new city! Thinking of calling it an early night on my way back to hotel I was passing by Monastriaki square and found bunch of young Greeks having party of their own! Local music and local dance blended with cheerfulness of the youth made me fall in love with Athens instantly. Had a an early ferry to Mykonos next morning, so I asked the hotel reception can you give me a wake up call?, they gave me a sweet little alarm clock! ????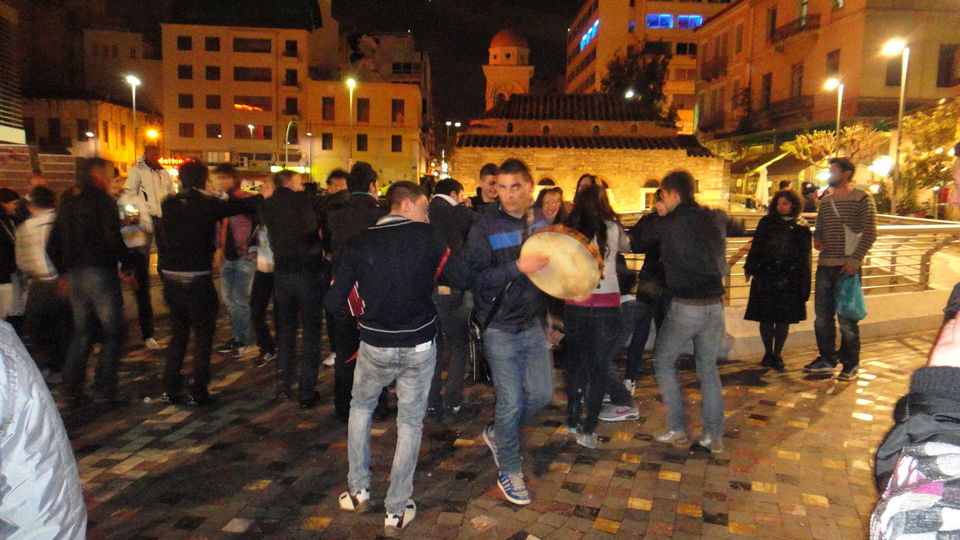 Day 2 : Mykonos - Walk into Chora
Ferry to Mykons leaves from Piraeus port in Athens at about 7:35 in the morning. It's a five hours journey costing €34 on Economy Class operated by Blue Star Ferries with two stops before final arrival to Mykonos. I took green metro line to get to Piraeus taking about 20 minutes from Monastriaki. Ferry ride was fabulous, cutting the waters to get my location at fastest possible speed! There was an ATM machine, a coffee shop on the sun deck and a burger chain outlet, Goody's, on the ferry! I reached Mykonos in the afternoon and to my greatest disappointment it was all gloomy and rainy with Mr. Sun playing hide and seek. Nonetheless, my awesome hotel room with great view of the Mykonos town and sea cheered me up and my own music system was a great ++++ for a music maniac like me! It was time for getting lost into narrow alleyway and maze of white houses of Mykonos town. Walking around the town I bumped into a Pakistani whose way of greeting me was "Aaare yaar hara diya hum logoon ko!!". It took me a moment to register it was the Cricket World Cup 2011 Semi Finals he was recalling. It made me even more BLEED BLUE!
Day 3 : Mykonos - Little Venice, Paraportiani and Windmills
After eluding for most of the previous day sun emerged in its full glory bringing the whiteness of Mykonos even more striking to contrasting blue skies, waters, windows and doors. Took a climb to top of the town to take the aerial view of Mykonos town and the old harbor. Roamed around the windmills and paraportiani waterfront. Set in a trendy cafe to experience the postcard perfect sunset in Little Venice area.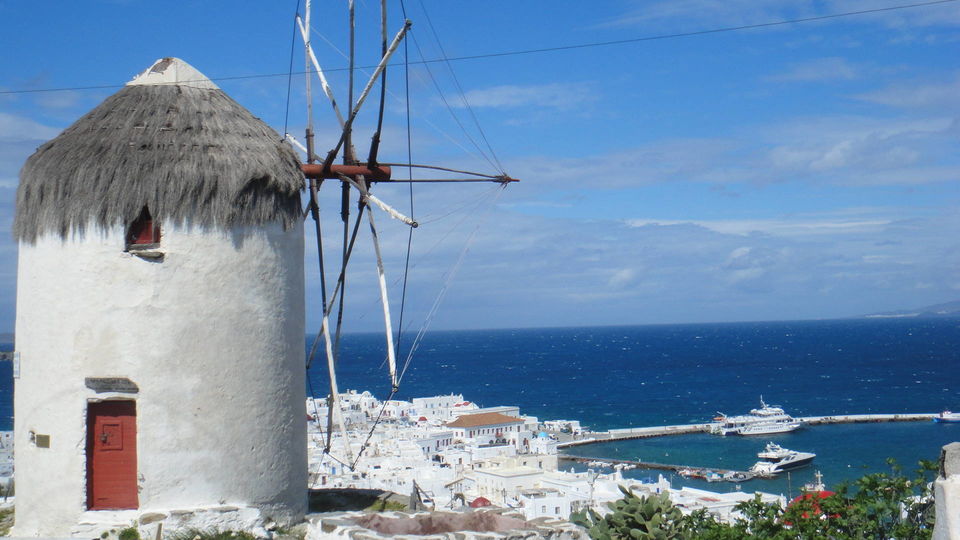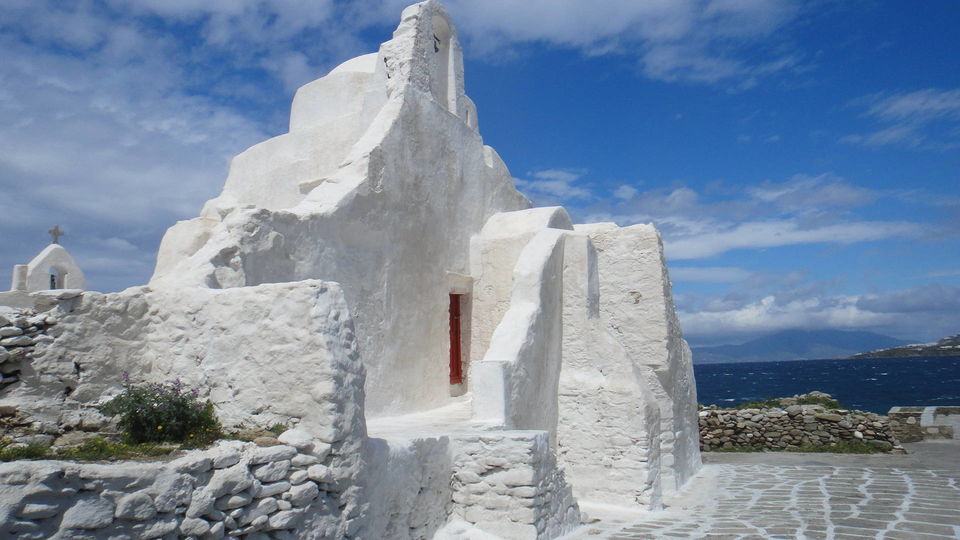 Day 4 : Mykonos - Paradise!
Well I didn't know you can take a bus to Paradise ???? Today was the day to hit the beach not the perfect weather with cold winds to plunge in the water. Took a quick 20 minutes bus ride from Fabrika bus stop to Paradise beach. One of the most beautiful beaches I have seen with all the possible shades of blues and greens! Listening to Saibo (Shor In The City) in Shreya Ghoshal's captivating voice while leaving my footprints in moist soft white sands to be washed away by clear waters of Paraidse beach was a perfect day off! Whoever said "Life is a beach"!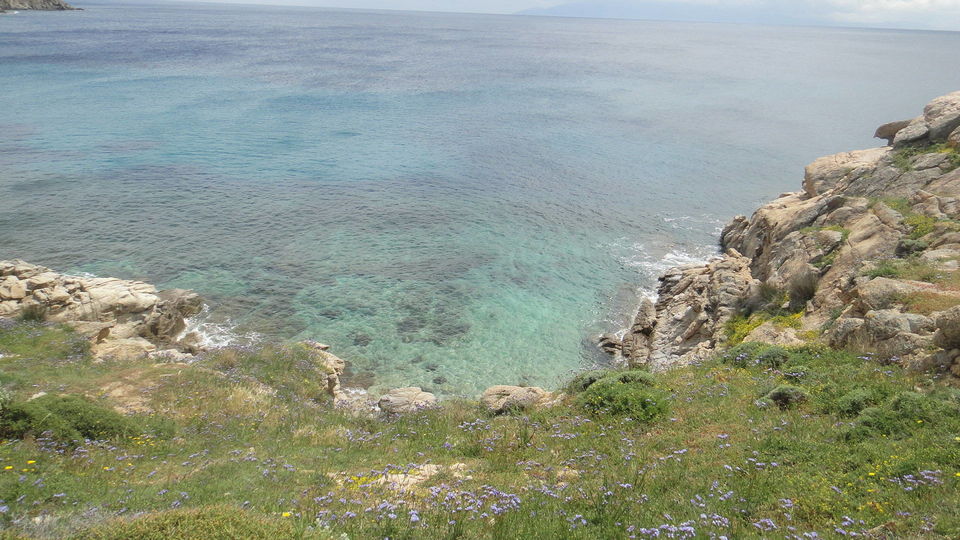 Day 5 : Mykonos to Santorini
Post a kingsize breakfast at my hotel's kitchen I headed to book my ferry tickets to Santorni and explore the old port area of Mykonos. The ferry was in the afternoon with journey of little more than 2 hours 30 minutes to reach Santorini operted by Hellenic Seaways costing about €50 (freaking expensive). The gushing winds were splashing water on me as I walk on the old port of Mykonos. There are lot of interesting cafes around the square overlooking the old harbor with wi-fi access just in case you need the feel to get connected to the outside world! With a hot chocolate I started reading the book "The Beach" at one of the cafe's. The book is travelers delight. After bidding my goodbyes to Mykonos I boarded the ferry. I like catching up on movies when I am travelling, had "Hangover" on my iPod so two hours went pretty quickly. Zach Galifianakis is hilarious, his questions to the receptionist at Caesars Palace in Vegas (BTW the destination I have been dying to go) "Is this hotel PAGER friendly?" and "Did Caesars live here?" makes me giggle even as I type this. Reached to the cloudy and cold Santorni in the evening. Went off for a walk around ally overlooking Caldera and the Fira Square after "checking in" to my hotel. There are numerous cafes with brilliant views of Caldera and the sunset. Just picked up one with a terrace, great Greek seafood and house wine. Santorini offers sumptuous seafood, fried Kalamari will be my top pick!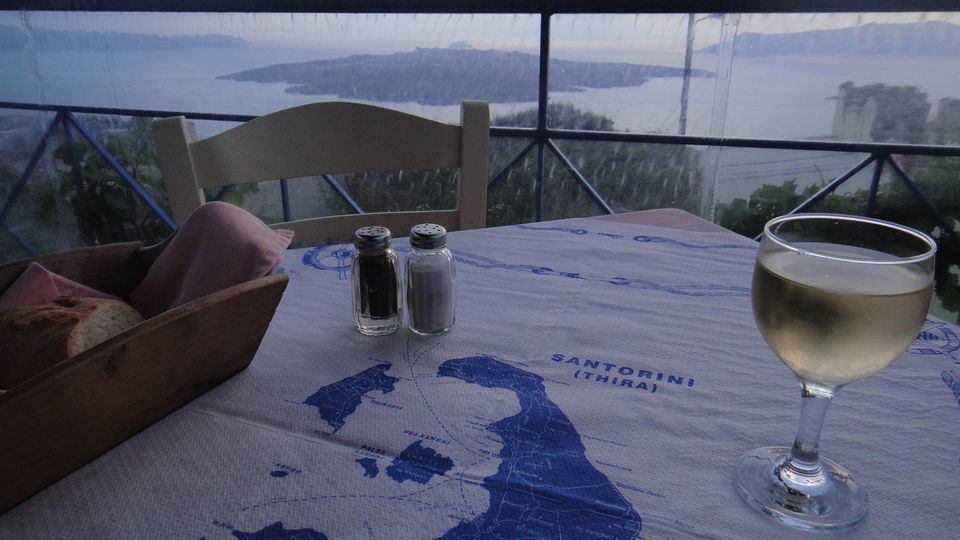 Day 6 : Santorini - Trek, Oia
There is small little hill adjoining 400 meters high rock on which Fira is inhabited. It makes a good 3-4 hours round trek around the hill with panoramic view of volcano and Fira with bit steep climb on the rocky stairs. I bumped into an American family on that almost deserted trek, the Father won't stop talking, an enthusiast photographer daughter in her twenties and a mother with great sense of humor! On the other side of the hill we reached discovered a small little church that was marked as Private Property, I made the American proudly stand next to the signboard posing as they are the owners of the property for a Kodak moment. Later I took a bus to Oia the village for world famous Santorini sunsets! I reached too early for the sunset, days in April were really long with sunsetting at around 7.30 PM, so found a nice little cafe, Bluesky Restaurant, that served exquisite house white wine and pastas the Greek way. Got on with The Beach, Alex Garland, so aptly describes my philosophy of travel "You keep planning Borneo forever. Book a ticket, get the visa, pack a bag for yourself. And things will happen". The sunset at Oia was majestic and the white buildings turned into pastel shades of purple and pink after sun submerged in the waters.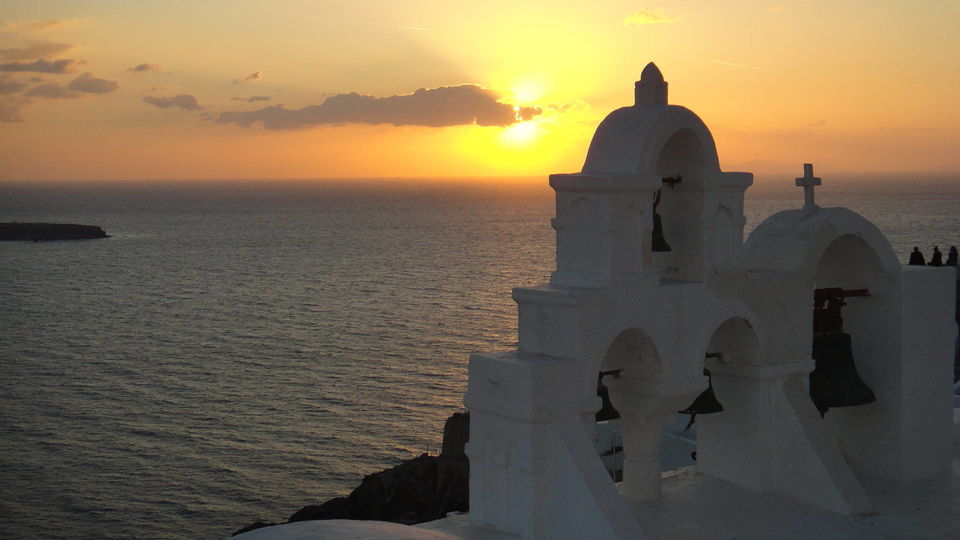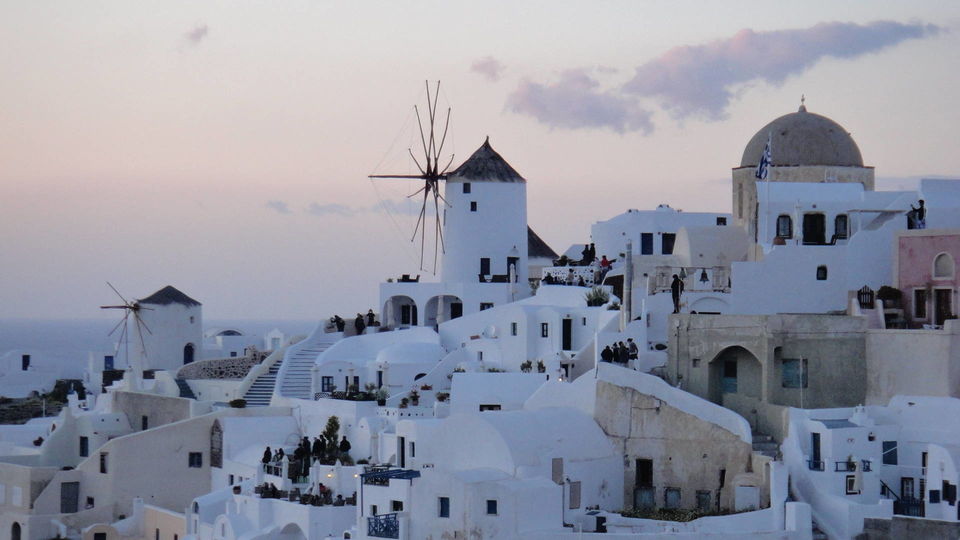 Day 7 : Santorini - Black for Beaches and Caldera
After breakfast at Corner Restaurant, gorging best waffles in town with strawberry banana and Nutella, bought few postcards to be sent to near and dear ones. Now this a new trait I have developed after few pals insisted on writing to them from my holiday destinations. I thought it was stupid to start with but when I took the pen to scribble small notes on the postcard, parking myself on the bench with the view of volcano in middle of huge blue ocean, I created fond memories forever, capturing the whole moment so deep in my mind that I am going to remember it with nostalgia! Then I took the state run bus to Kamari from Fira bus station, the ride took about 20 minutes costing €1.60. There are frequent buses running between different locations in Santorini with time table available at the Fira Square bus stop. Bit strangely in Santorini same places had two different names in English and Greek, like Fira will be English for the Greek Thira and English name Kamari will be Kampi in local language, so good to remember both names if you want to get to right destination! Kamari has a long stretch of black pebbled beach, a visual retreat. The blackness of land and blue waters create a sight I hadn't seen anywhere else before. It was so therapeutic to walk on those black pebbles. Afternoon I took a pirate-sailor-boat ride to inactive volcano that gave birth to Santorni Island in a half-day trip for €20 covering one hour stop on the volcano and dip into the hot water springs created because of lava. Volcano land was covered with black lava rocks. The trip to hot water springs was super exciting for me. Due to cold winter month waters were at temperature of 14 degrees and hot water was more of warm water at 19 degrees. The springs are in a bay so the big boats could not get there and we had to swim some 50 meters in the wild Aegean waters to reach to springs! Jumping in those cold water is something crazy that I hadn't done in long time. Being not a very good swimmer I was advised to get back on the boat as quickly as possible! I ended the day with another awe-inspiring sunset from the terraces at Fira square. In all the travelling I totally forgot it was Good Friday. The lady at cafe where I was dining told me I should look at the hill, Pyrgos, in far-sight that was illuminated with candles, looked like whole hill was decorated with thousands of diyas! Than I briefly joined a procession moving towards church, a scene from movie like "End of Days" where everyone is trying to say their last prayers before the Armageddon.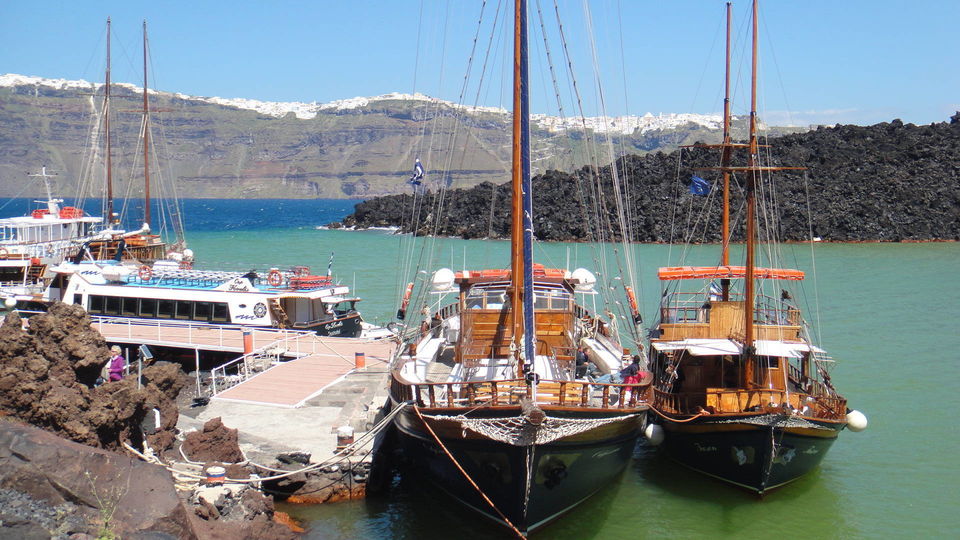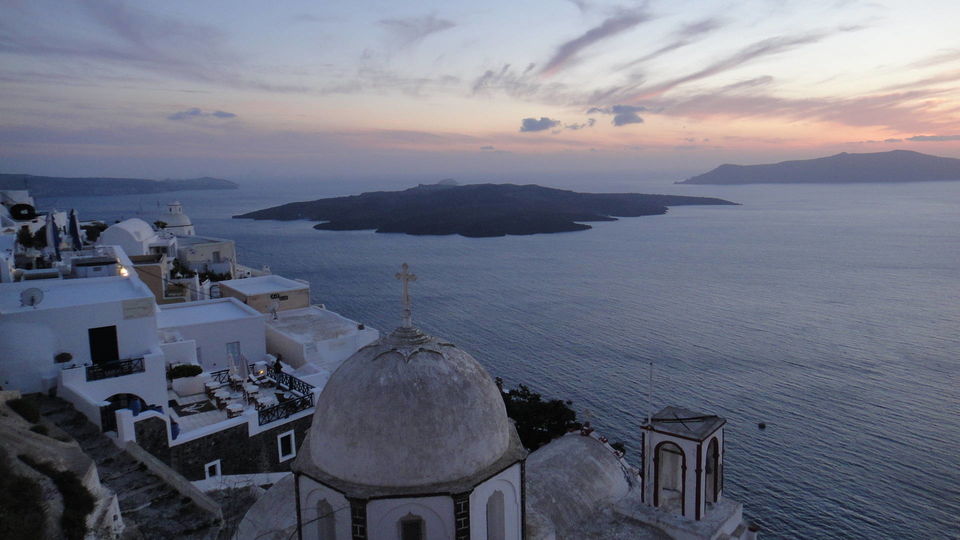 Day 8 : Santorini - Red Beaches
Today was my last day in Santroni and had to leave for Athens in the afternoon. I booked the tickets with Blue Star Ferries from Santorini to Piraeus port in Athens for €35. After white beach of Mykonos and black beach in Kamari I thought I had seen it all, that's when nature surprised me yet again. In the village of Akrotiri, accessible by state run buses by a 45 minutes ride costing €1.80, I reached a beach enclosed by the slabs of red and black volcanic rocks behind it. This is truly hidden gem, requiring bit of a struggle to find the place and a rocky climb. Guess if there was a beach on Mars it would look something like this. While I was waiting for bus back to Fira I set in a cafe where few kids were teasing another kid by almost singing "What's your name.... what's your name?" reminding me of our dahling Sheila! The ferry leaves for Athens at around 3.30 PM from Santorini. My hotel owners were kind enough to drop me to the new port which is about 20 minutes ride from Fira town through mountains of Santorini. What I was about to board on was the longest ferry ride of my life, eight hours to get to Athens. First few hours I spent on sun deck with Richard, Étienne, Françoise and Sal (characters from the Beach) curiously reading how long the alternate world that they had created for themselves will last! Why do we need to have a world of our own, isn't the reality of the world around us so very amusing in its all strangeness? The ferry reached to Athens to in 11.30 PM! There were no metro available at that hour so hailed a cab to get to core of the town and stay near Acropolis area. I shared the cab with two young American girls, brave I must say, teenage girls totally on their own exploring the world at leisure.
Day 9 : Athens - City Tour and Plaka
Last day of my holidays and too many things to be covered in huge Athens! I had a flight to catch to India, how reluctantly is a different matter, leaving just few hours to explore the city. Eureka moment, as I was walking by one of the main squares in Athens of Syntagma, I saw a City Sightseeing hop-on-off bus! From my previous experiences with the bus company I immediately decided to take the bus setting me back €8. In 90 minutes I was narrated with history of Athens and key spots to see in most educating and entertaining fashion. We toured around Plaka, Acropolis, Temple of Zeus, National Gradens, Panathenaic Stadium, National Library and Omonia Square. On every Sunday at 11.00 AM there is a change of Guard ceremony performed at Parliament House, interesting to see those guards changing positions in white skirts with some 400 pleats! After that I headed to Acropolis, only to find out the last entrance was closed at 12 in the afternoon on occasion of Easter! There is a small hill very close to entrance of Acropolis from where I saw the views of the mega city of Athens. Later roamed around in Plaka, actually got lost for sometime and could not find my way back to Monastriaki from where I was to catch metro to the airport. I took the direct train to airport listening to Joni Mitchell humming "I am on a lonely road and I am traveling, Traveling, traveling, traveling..... Looking for something, what can it be.........". It was movie time again with Royal Jordanian... Due Date... Accidental Husband and Morning Glory... after one stopover, two and a half movies, I was back home feeling totally blue!
Things I Would Have Done Differently!
The excruciating long eight hours ferry ride from Santorini to Athens! Flying now seems a lot better option as frequent flights are operated by Aegean or Olympic airlines. The cost would be slightly higher but that would given me more time in Athens and respite from the dizzy head I got after such a long time on ferry.As I flew by Royal Jordanian via Amman to Athens, I could have done stop over to Amman for two days and visited magnificent sites of Petra and floated in Dead Sea. In Jordan on arrival visa is available for Indian Citizens at JRD 20!