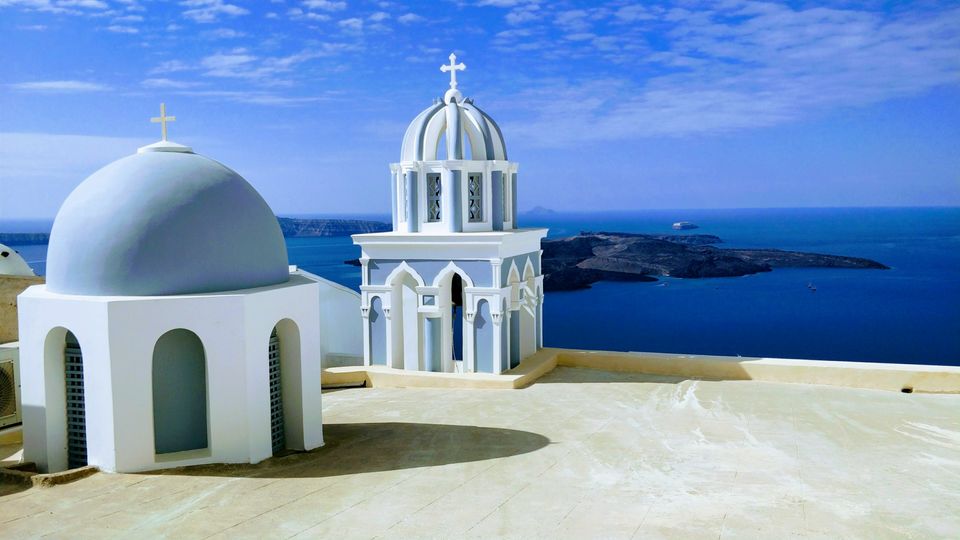 A sneak peek into history....marvelling at the cradle of civilization....breathtaking beaches....the all unique Caldera....eclectic mix of traditional and contemporary cultures....a party paradise...a food and wine lover's dream......GREECE is all this and much more!!
So, we decided to tick this heavenly paradise off our bucket-lists and went on our sojourn across Athens, Santorini, Naxos and Mykonos.
As is with most of the travellers, we kept Athens as our base for inbound and outbound flights, while ensuring to taste the flavours of all that Athens has to offer.
Our flight to Athens got terribly delayed and we landed in Athens quite late in the afternoon.
We took the metro from the airport to come to our hotel in Plaka. Be sure to take care of your belongings while in Athens, especially while using public transport.
Acropolis and Acropolis Museum:
After reaching the hotel, we quickly went on a tour of the iconic sites that the city has to offer, Acropolis (be sure to reach at site before 5 post which tickets will not be issued for entry), the Acropolis Museum (this is open till 8 pm on usual days).
Plaka: In the shadow of the Acropolis and its ancient temples, we have the hillside Plaka neighborhood having a village feel, with narrow cobblestone streets lined with tiny shops selling jewellery, clothes and local ceramics. Sidewalk cafes and family-run tavernas stay open until late here, I highly recommend trying your hands at the many authentic Greek desserts in one of the cafes here.
Come evening and the lanes here are a vivacious lot with live music; lip-smacking Greek delicacies, the famous gyros, souvlaki, moussaka and amygdalota to name a few. The Greek cuisine is a Mediterranean cuisine and is considered as one of the best in the world. This makes generous use of fresh veggies, meat, olive oil, chickpeas, wine and bread and changes with seasons and geography, so to say you will find a different flavour of the same dish in Athens vis-a-vis Santorini or any place else. I recommend everyone to try your hands at as many varieties of this delectable cuisine as possible.
Monastiraki: We then proceeded to Monastiraki which is a lively neighborhood of Athens dotted with iconic landmarks like the ruins of Hadrian's Library, the Ancient Agora and the rebuilt Stoa of Attalos, with a museum exhibiting Athenian artifacts. We also visited the lively Monastiraki Flea Market which is like a jumble of shops selling exquisite items like artisanal soaps, handmade sandals and souvenir T-shirts to name a few.
After satiating our stomachs with the lovely dinner and our souls with even lovlier vibe, we took a cab back to our hotel nearby for our ferries early next morning.

Accommodation - Athens Heart in Attika
Conveyance - Metro; you can also take taxis for short distances, these are not too expensive.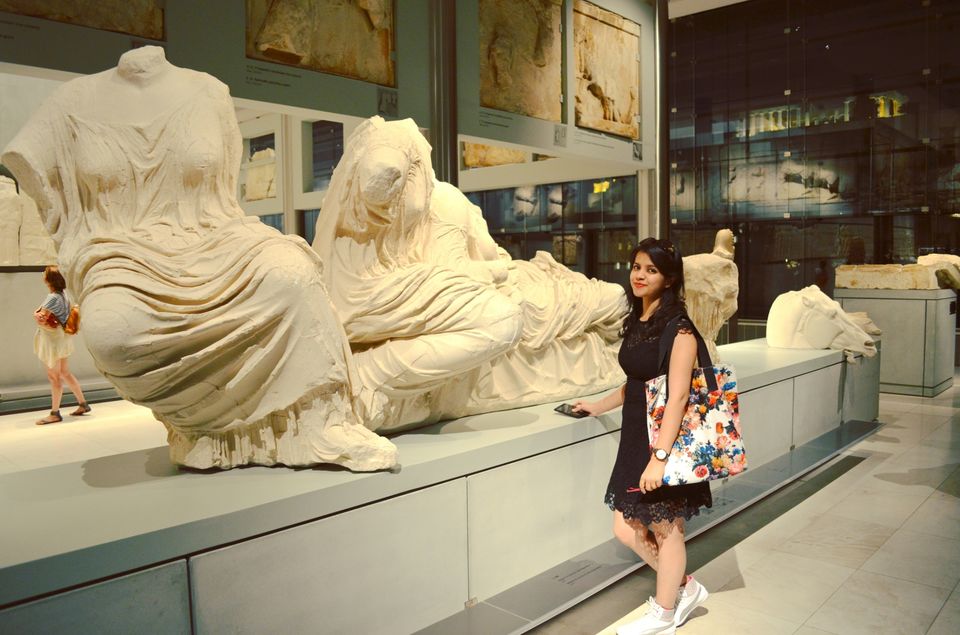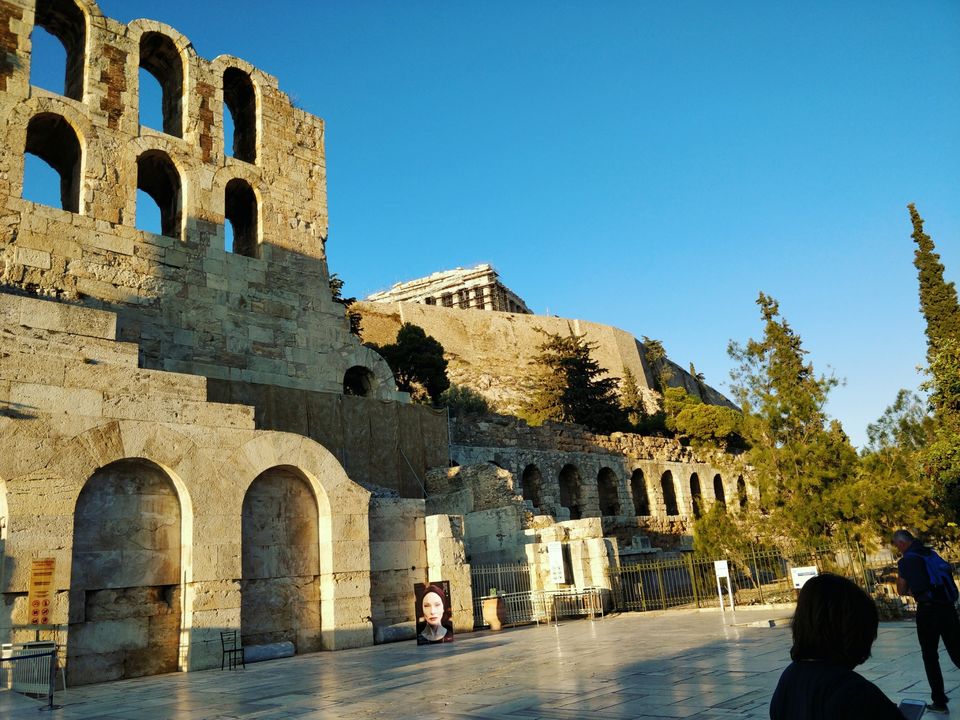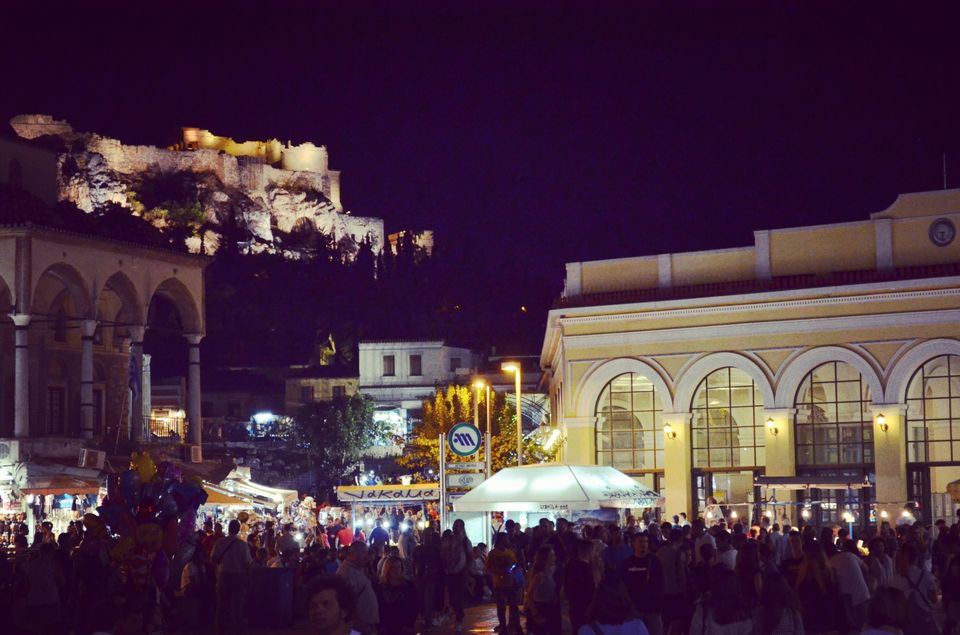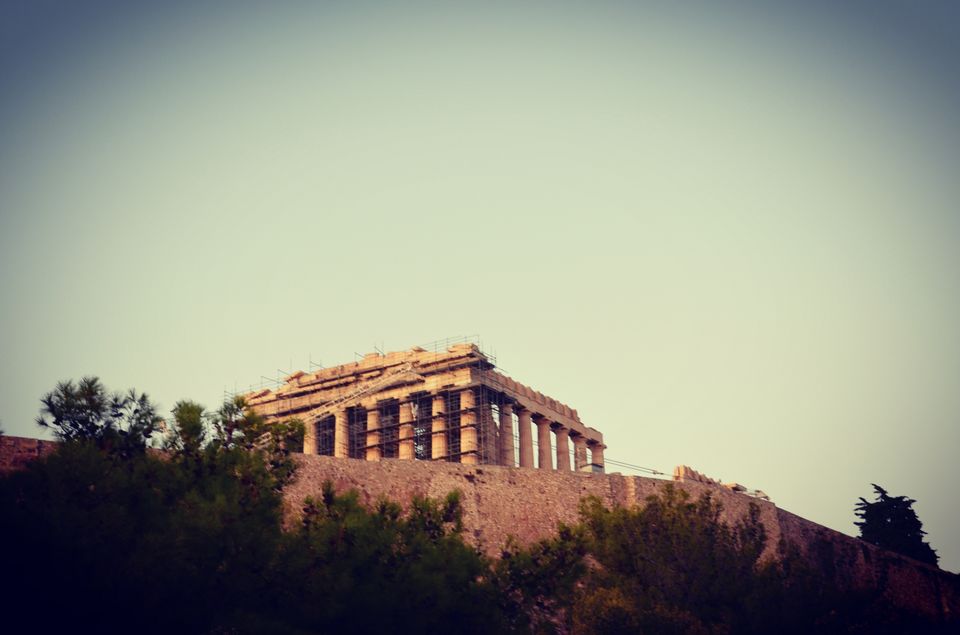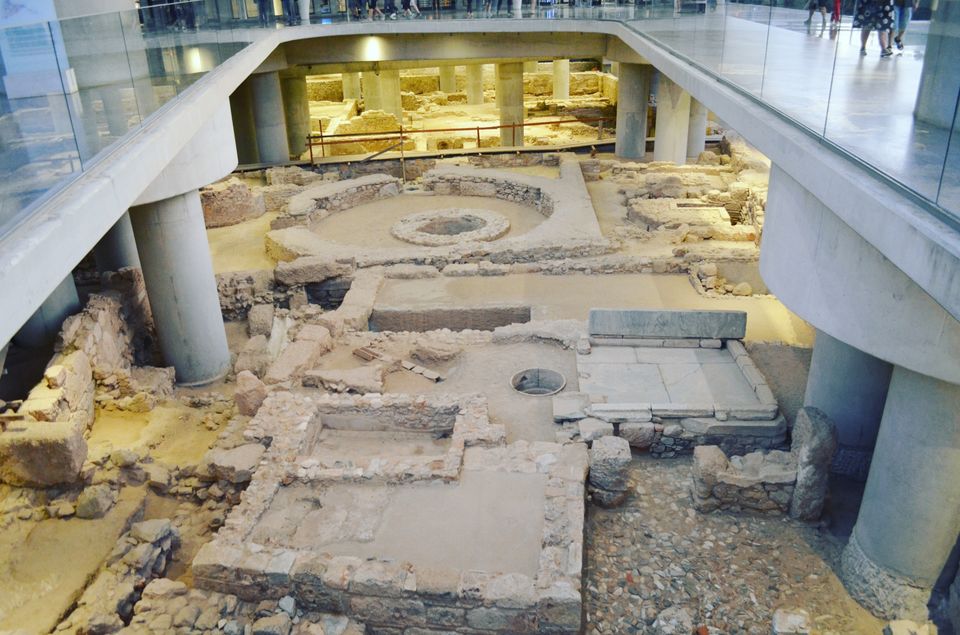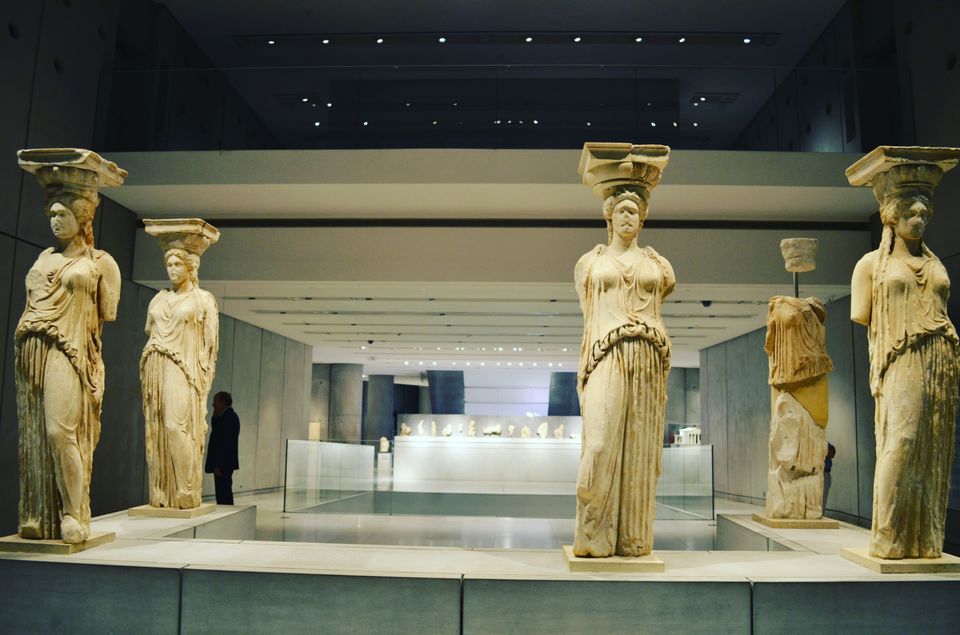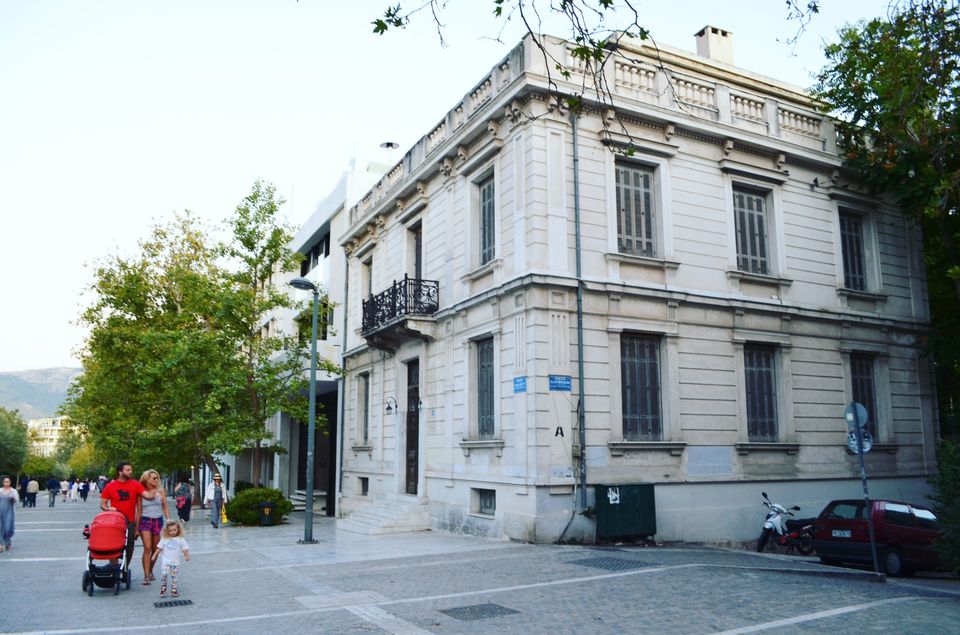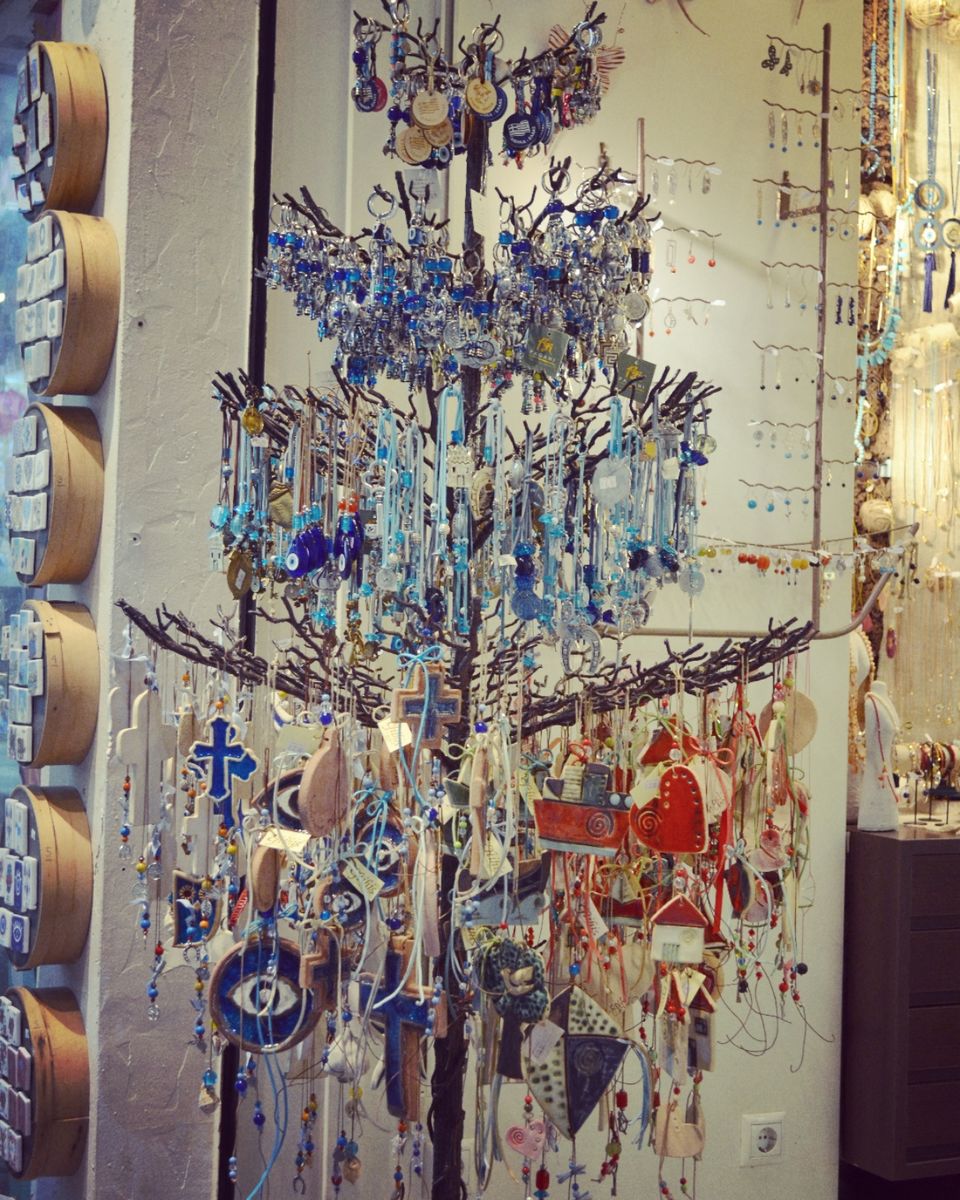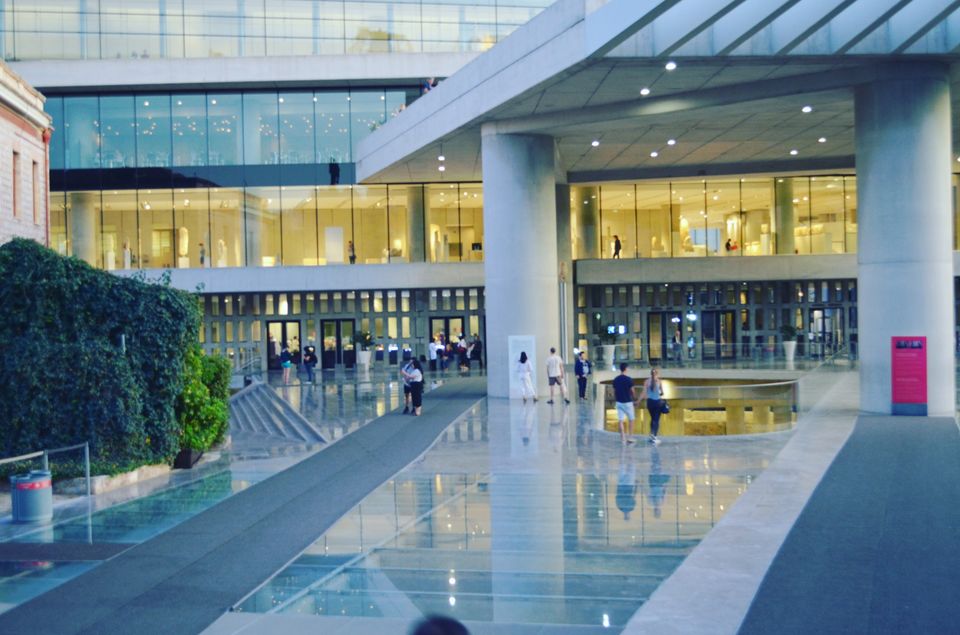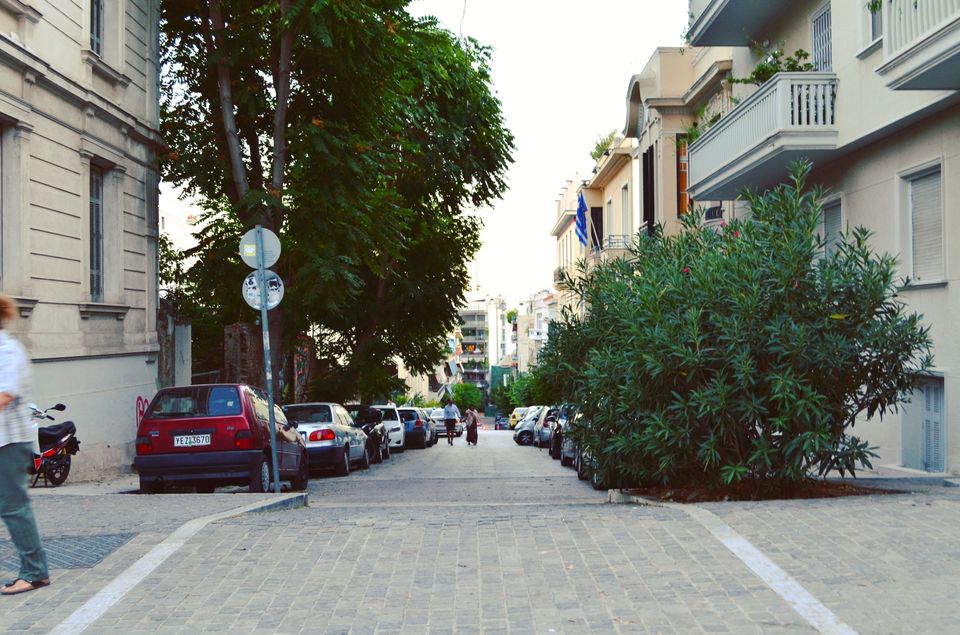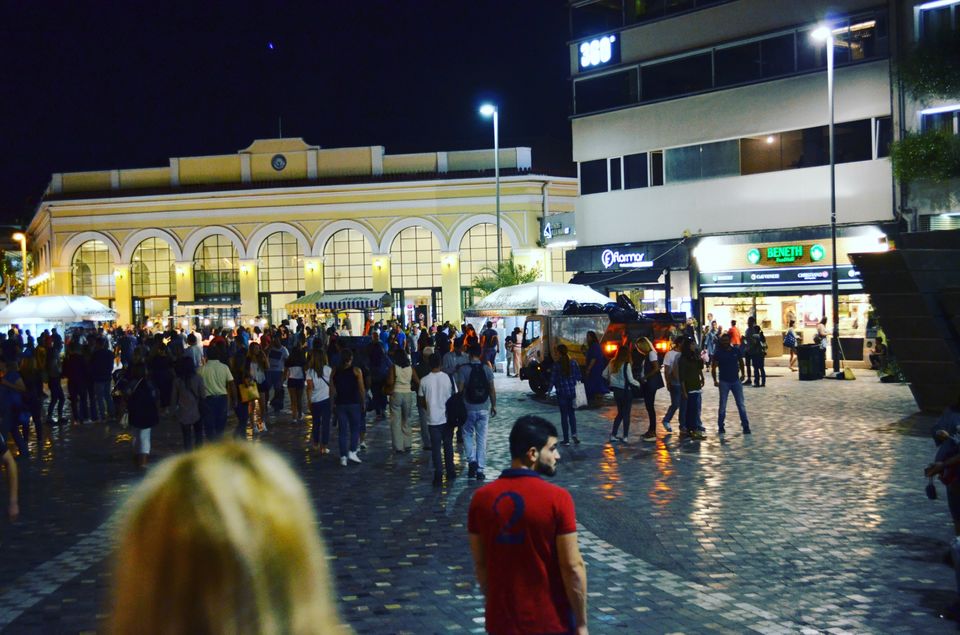 Athens to Santorini - We took a cab from our hotel to the Athens port(Piraeus) for our ship to Santorini. Greek islands are well served by ferries; some of which are like big ships offering a cruise experience like the Hellenic Seaways and Blue Star Ferries, these take a little longer than the smaller faster ferries like Superrunner and seajets (I recommend taking the bigger ones for people with sea sickness). We took the Hellencic Seaways for our journey to Santorini and completely enjoyed the experience. It was like a typical cruise ship with well laid-out seating areas for lounging, dining, relaxing and were allowed to go on deck whenever the ship stopped in between to dis-embark passengers at other greek villages on the way. They also have small cafes and restaurants inside to have a seamless travel experience. I recommend everyone to do this ateast once while being in Greece.
Santorini (Thira Port) - After reaching Santorini (Thira port), we took a bus which brought us to our hotel in Firostefani, meandering through the most amazing sights in the world. The whole of Santorini is served by a network of excellent bus service, whether be to and from the Thira port or within the town.
Firostefani (The Postcard Village) - We got down at the Firostefani bus-stop; my vocabulary fails me to even describe the beauty I encountered the moment I stepped down. The sight that my eyes beheld was nothing but extraordinarily heavenly, jaw-dropping and can't be compared to anything in the world.
Since we were famished by the journey, we decided to stop by for a quick lunch at Aktaion, a traditional Greek themed restaurant bang opposite to the bus-station at the entry point of Firostefani overlooking the iconic caldera. Must say it was a delight for all our senses as we savoured the most amazing Greek salad and the authentic hummus-pita, while being in the sea of visual delight of the boundless sea and caldera in front of us.
We then checked into our gorgeous hotel making our way through the beautiful cobbled path leading up to it.
The Breathtaking Caldera - This is right at the top of the bucket lists of most travellers and one of the main reason for people flocking to Santorini all year round. We thought, why not stay right in front of it to bask in the glory throughout. Firostefani boasts of many amazing boutique hotels built on the cliff overlooking the caldera, we chose Smaro Studios for our stay in Santorini keeping all this in mind. This is a beautiful boutique hotel run by a Greek lady, with some really outlandish views. We stayed in Georges Caldera room, which had the most beautiful balcony/patio with the best views of caldera and firostefani all around. It is like a white and blue wonderland. We were greeted with the traditional Santorini Wine on arrival , recommend everyone to taste it while you are in Santorini.
Three Bells of Fira: After freshening up a bit, we set out on our exploration of the magical village. We walked up the way from our hotel up to the Three Bells of Fira and were greeted by a riot of colors at each and every nook throughout. Quaint corners, with colorful doors adorned with beautiful bougainvillea, blue-white houses, the iconic blue domed churches, and breathtaking views of the sea in front; I wished time could just stop for me then and there and envelope me with the dazzling beauty around forever. I am being dramatic here, but can't help it, that's what Greece does to you;)
Sunset in Oia - We then took a bus upto Oia ( please note the bus network in Santorini is seamless and you can travel to most of the places with a flat rate of 1.8 Euros per person). Hiking from Firostefani to Oia is also a great idea but since we were short on time that day, we decided to take the bus this time.
There is a lot of hype around witnessing the sunset in Oia (which is northern side of Santorini on the caldera cliff) and must say we weren't disappointed, but there is more to Oia than just the sunset. The beautiful meandering narrow lanes dotted with cute little boutique cafes and fashionable souvenir shops, please your senses like no other. There are a lot of beautiful cafes where you can sit and witness this miracle over a cup of authentic Greek coffee and baklava.
Also, don't miss the amazing performance by friendly uncle on Accordion, making the cheering crowds dance to his tunes, the vibes are just inexplicable.
The Scrumptious Dinner - Santorini is every foodie's paradise. Firostefani is abundant with many beautiful restaurants right at the caldera cliff, with some real lip-smacking delicacies and traditional greek beverages (santorini wine and ozuo). We decided to dine at the pretty Vanilla hotel and were floored over by the view, food and hospitality. Special mention about their extremely courteous staff who not only recommend the best on the menu but make sure to bring a personalized dining experience like never before.
Accommodation - Smaro Studios in Firostefani
Conveyance - Convenient bus service throughout the town, charging flat rate of 1.8 euros on most routes; though encourage everyone to explore on foot as much as possible.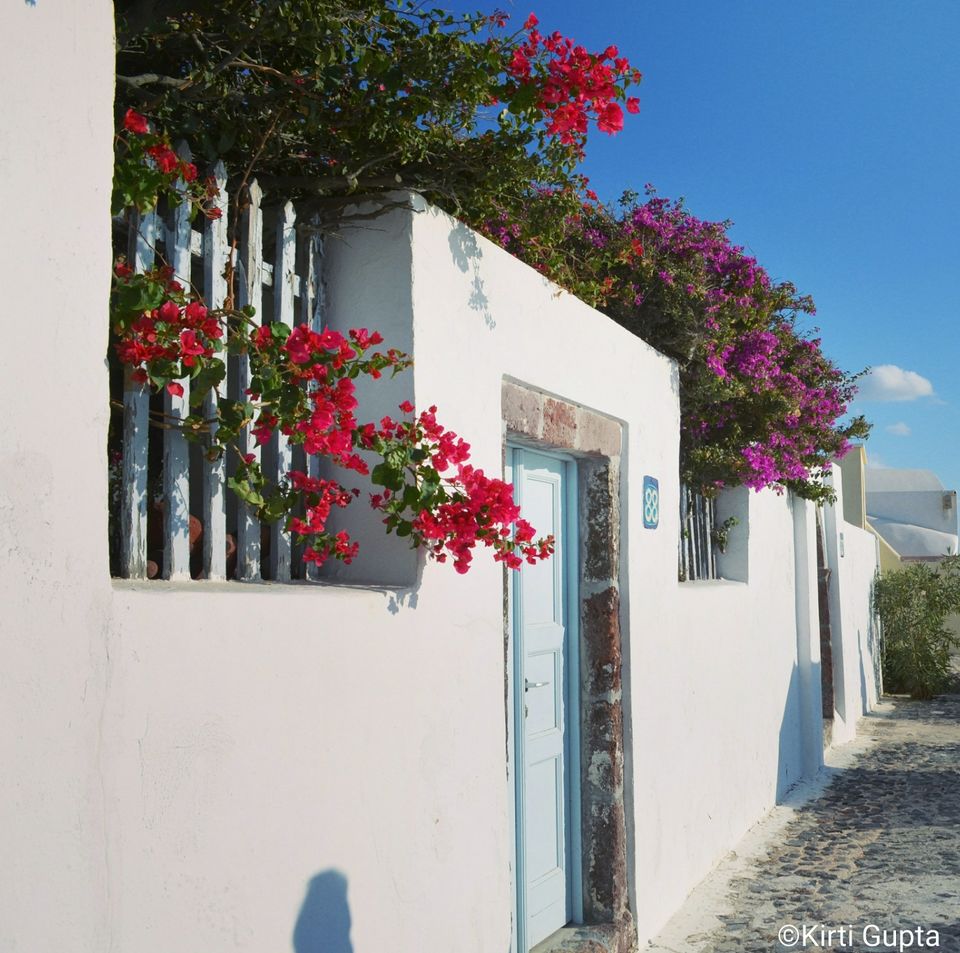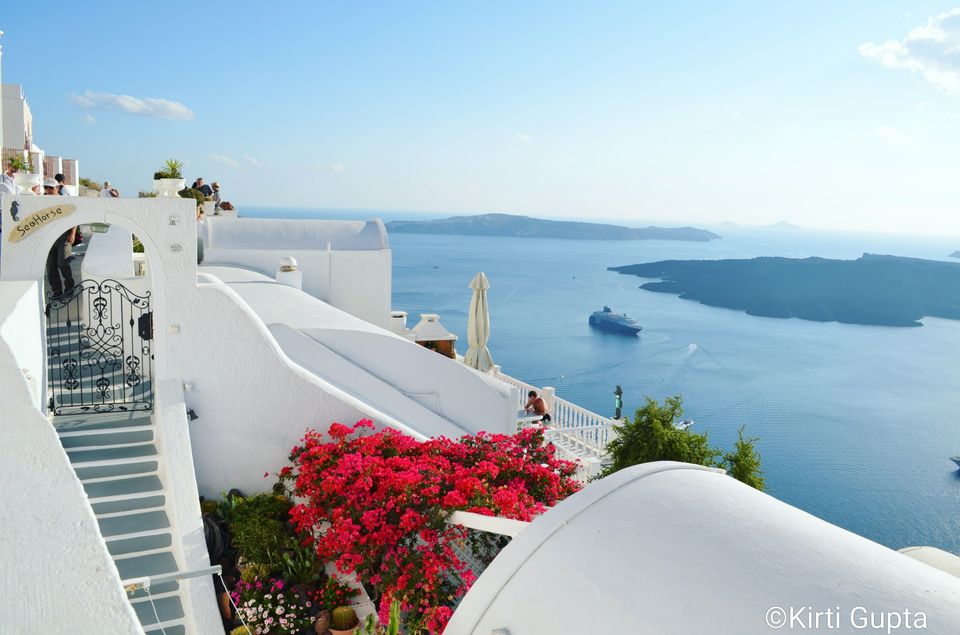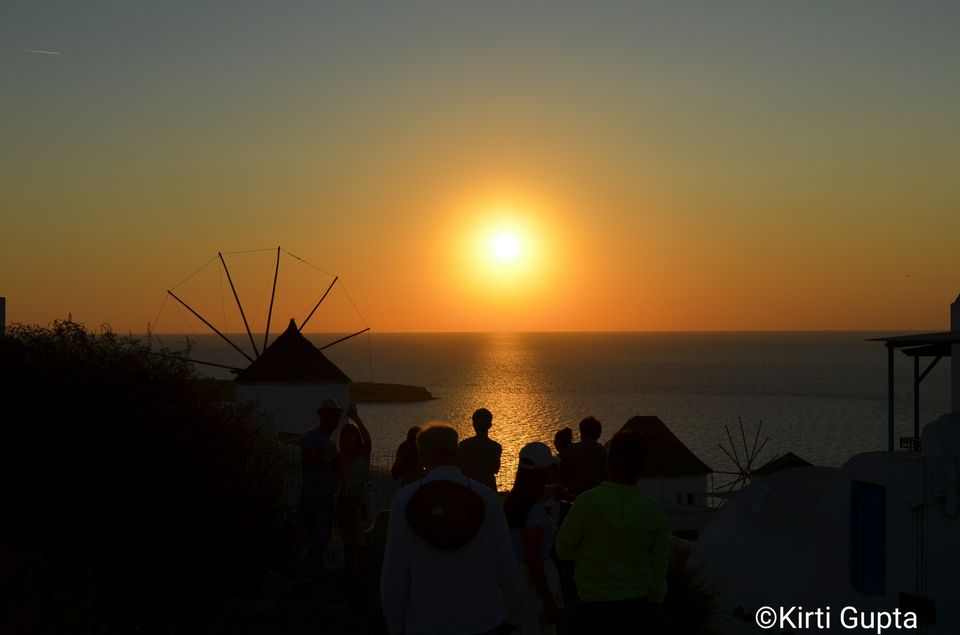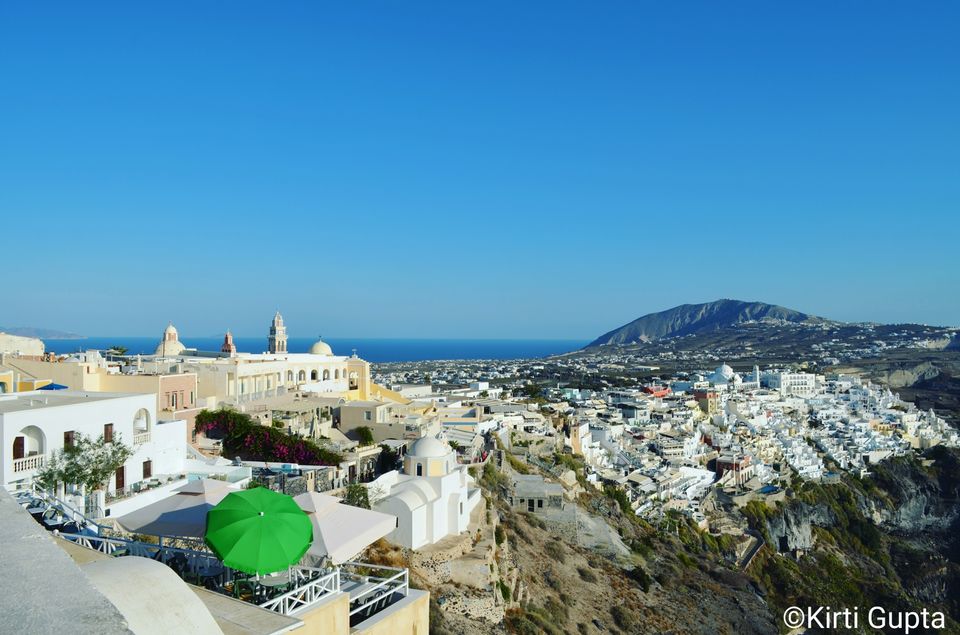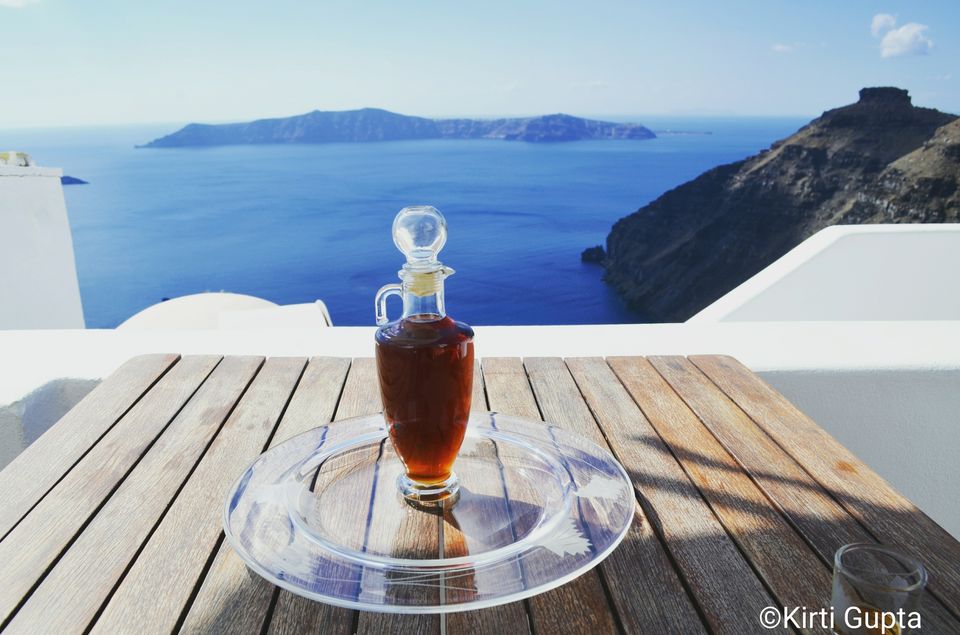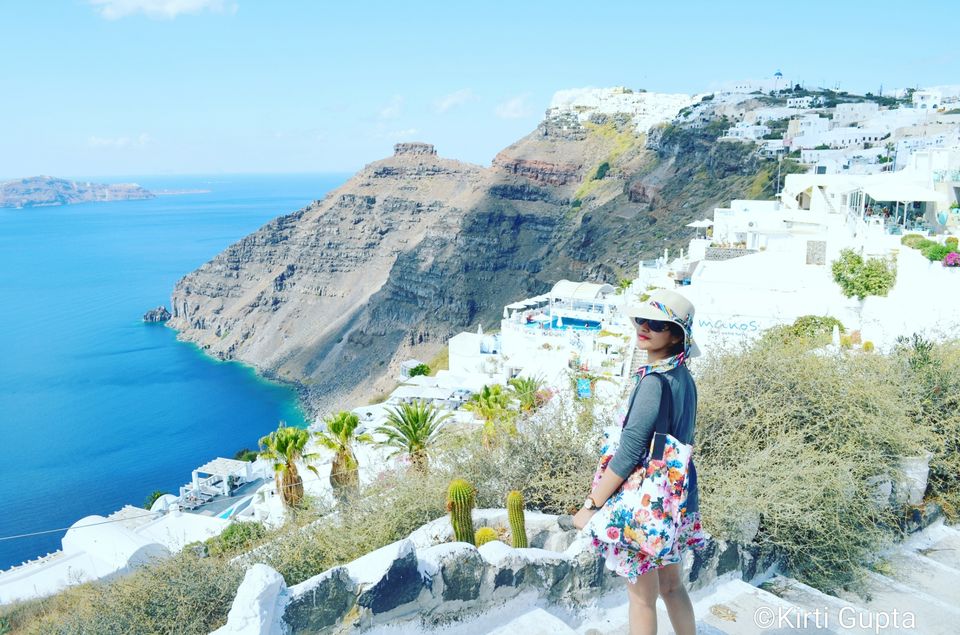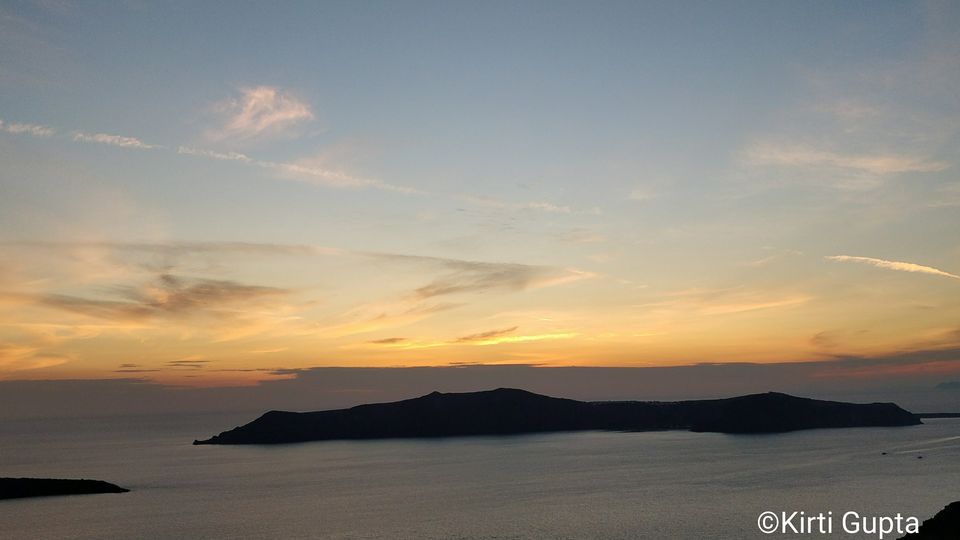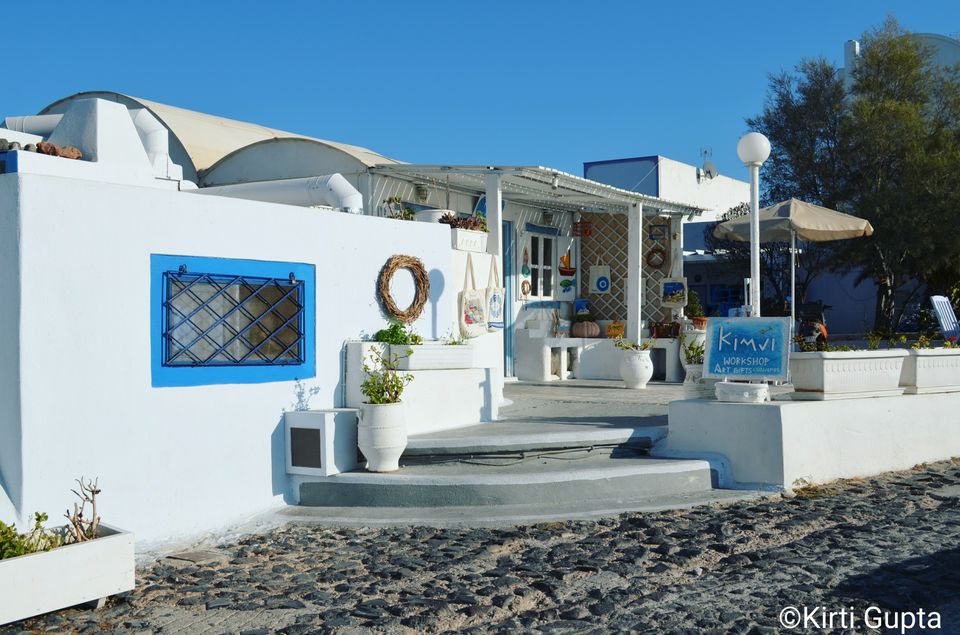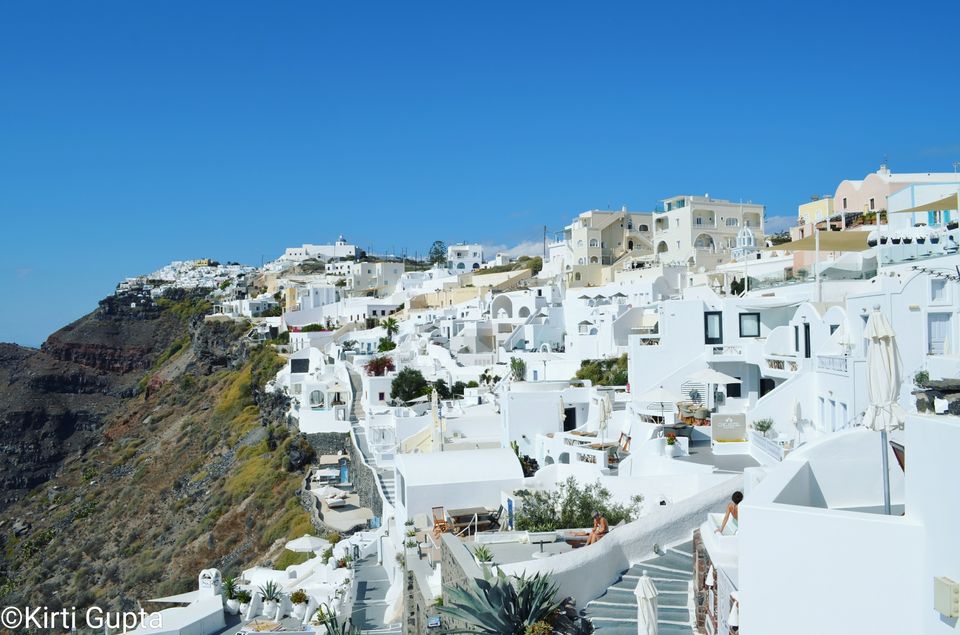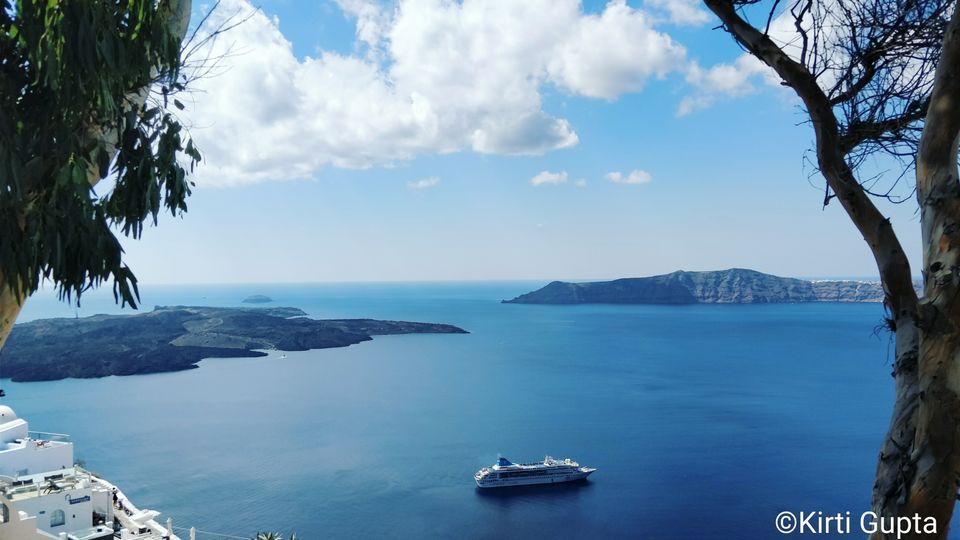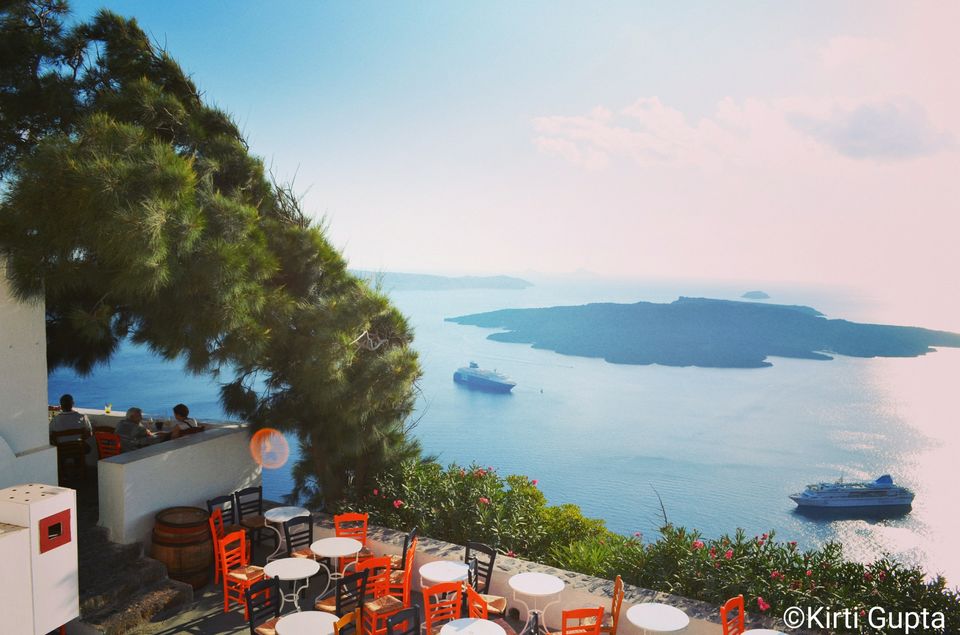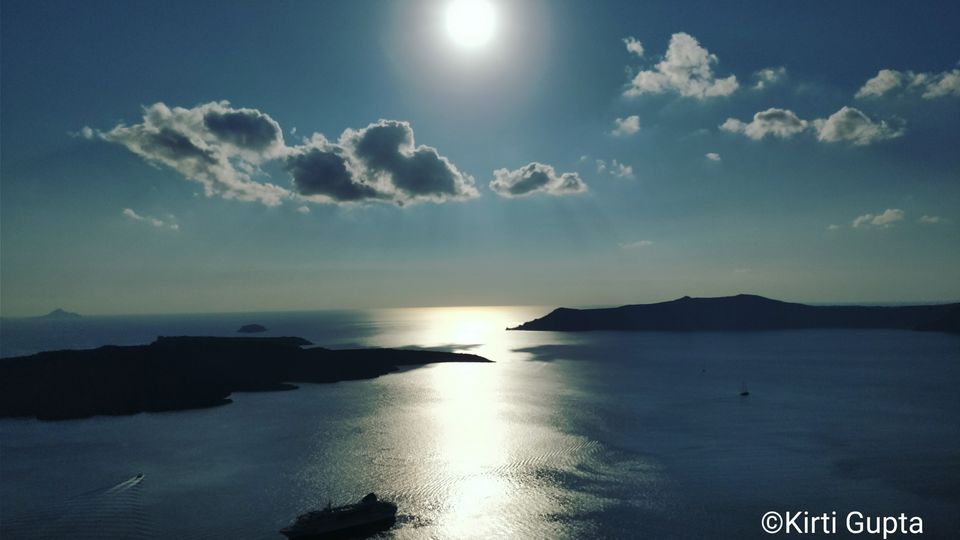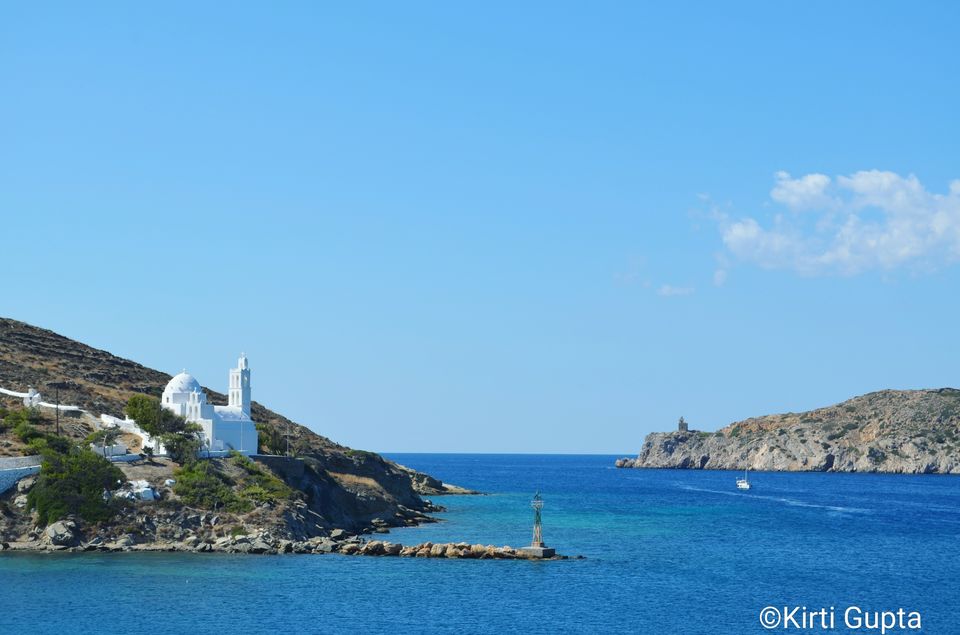 We woke up next day, stepped outside in the patio and were literally floored over by the heavenly sight we saw, the boundless beautiful sea in front dotted by cruise-ships, the breathtaking Caldera, the pretty Firostefani landscape of white and blue houses. We spent the morning leisurely satiating our souls with the breathtaking beauty around and extremely delicious breakfast served at our doorstep (must say it was one of the best breakfast I had till date).
Akrotiri - We then set out for our expeditions for the say, starting with the historic Akrotiri Ruins, situated near the Red Beach. Akrotiri is a Minoan bronze age settlement, was a flourishing town in historic times owing to it's trade relations in the Aegean and is thought to be one of the possible inspirations for Plato's story of Atlantis This is a beautiful site giving a sneek peak into the Greek prosperity in the days of yore. The entrance fee to the site is 9 euro but we were lucky to visit it on some festive day because of which it was complimentary for that day. After all who doesn't like pleasant surprises;)
Red Beach - We then walked up till the Red Beach, savoring the sites of cute little blue-white houses on one side and the boundless blue sea on the other. Red Beach is considered to be one of the most beautiful beaches in Santorini. On many days, the beach gets too crowded and many visitors choose to admire the unique volcanic red and black landscape from the headland itself. We also admired the traditional Greek melodies being played by some freelance musicians there on Accordion and savoured the authentic Greek grapes (which are quite big in size and extremely sweet) at the beach.
Emporio Village - We then decided to take a bus to visit the off-beat Emporio Village. Emporio is the largest settlement of Santorini located 12 km from Fira on the foothills of Mount Prophet Elias and has a strong medieval character with a beautiful vintage feel, getting reflected in it's well-preserved houses. At the entrance of the village stand two lovely, blue domed Cycladic churches with impressive bell tower that dominate Emporio. We roamed around at leisure marvelling at the cute little colorful houses, boutique cafes, beautiful churches and the panoramic views of Santorini from various locations in Emporio. We then decided to let our hair down with a steaming cup of traditional Greek coffee (called Ellinikos Kafes) and lip-smacking Baklava topped with Vanilla ice-cream at the extremely cute looking "To Kafenedaki tou Emboriou" cafe right in front of another iconic site in Emporio called "Castelli of Emporio". The entire experience was absolutely overwhelming for us and we strongly recommend Santorini visitors to must visit this uber cute and vintage village and stop by this cutest cafe.
Mount Prophet Elias - We then decided to walk uphill to Prophet Elias, but stopped midway because the sun was about to set and we weren't sure about our way back from there. We then instead decided to grab a quick late lunch of gyros and Greek sandwich sitting at the footsteps of one of the many beautiful blue-domed churches on the way, my taste-buds relishing the taste of the delicious sandwhich and eyes the extremely beautiful site that lay in front of it.
Already missing our good old desi Khana, we decided to have our dinner at the famous Indian restaurant in Santorini called "Jaipur Palace" today, recommend all Indians looking for authentic Indian taste to try out this one for sure. This also has a branch in Mykonos overlooking the pretty Paradise Beach.
The days ends with a ear-to-ear smile and a warm heart filled with treasure of beautiful memories of the day.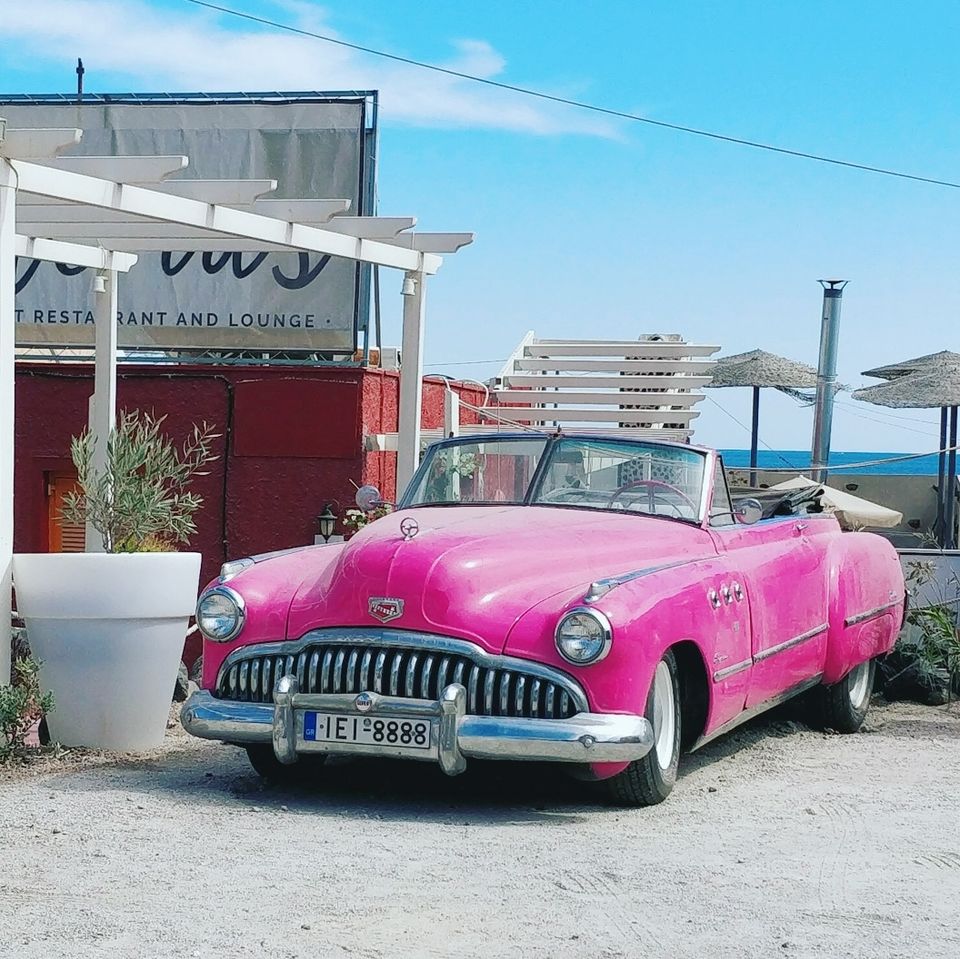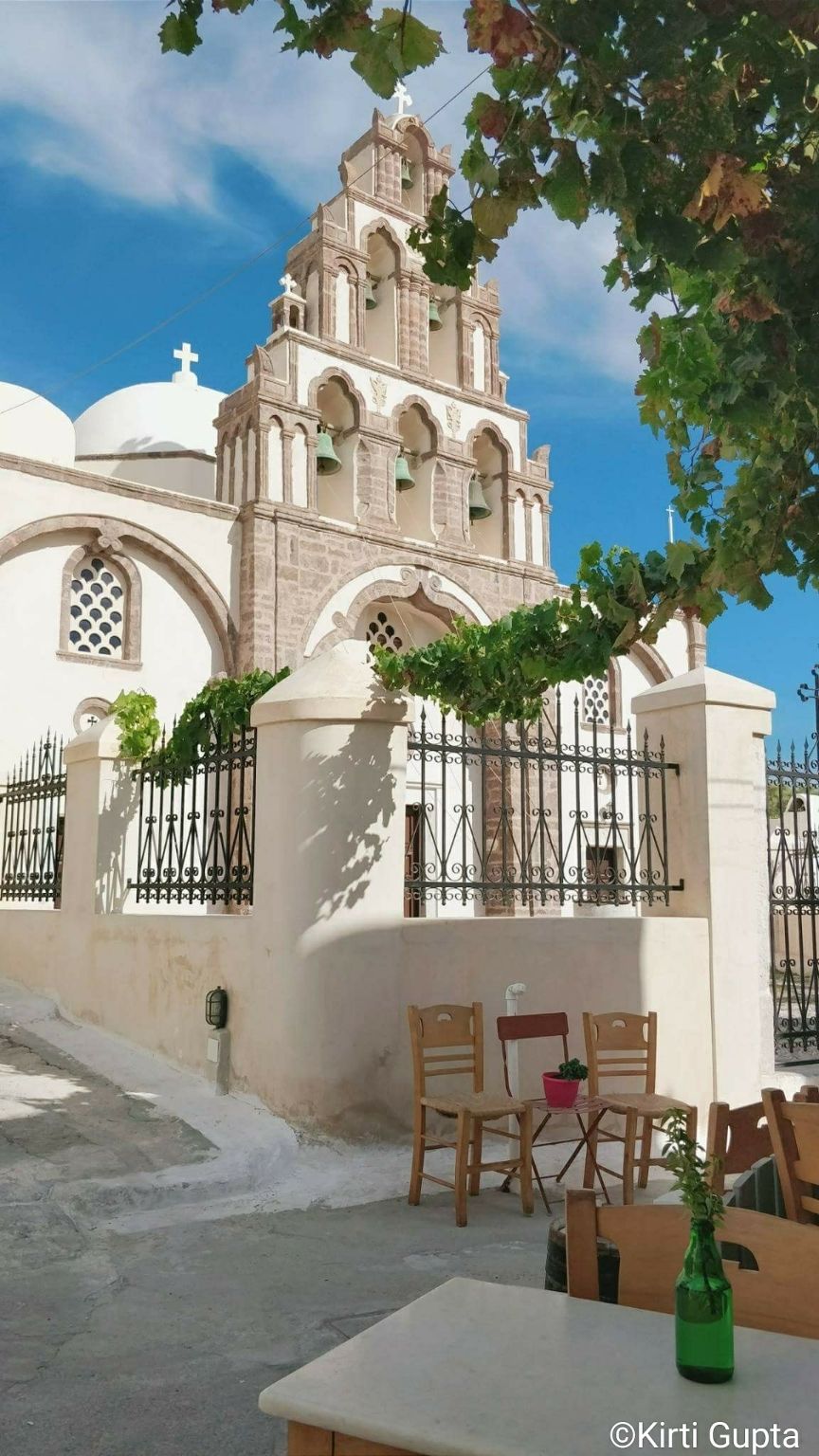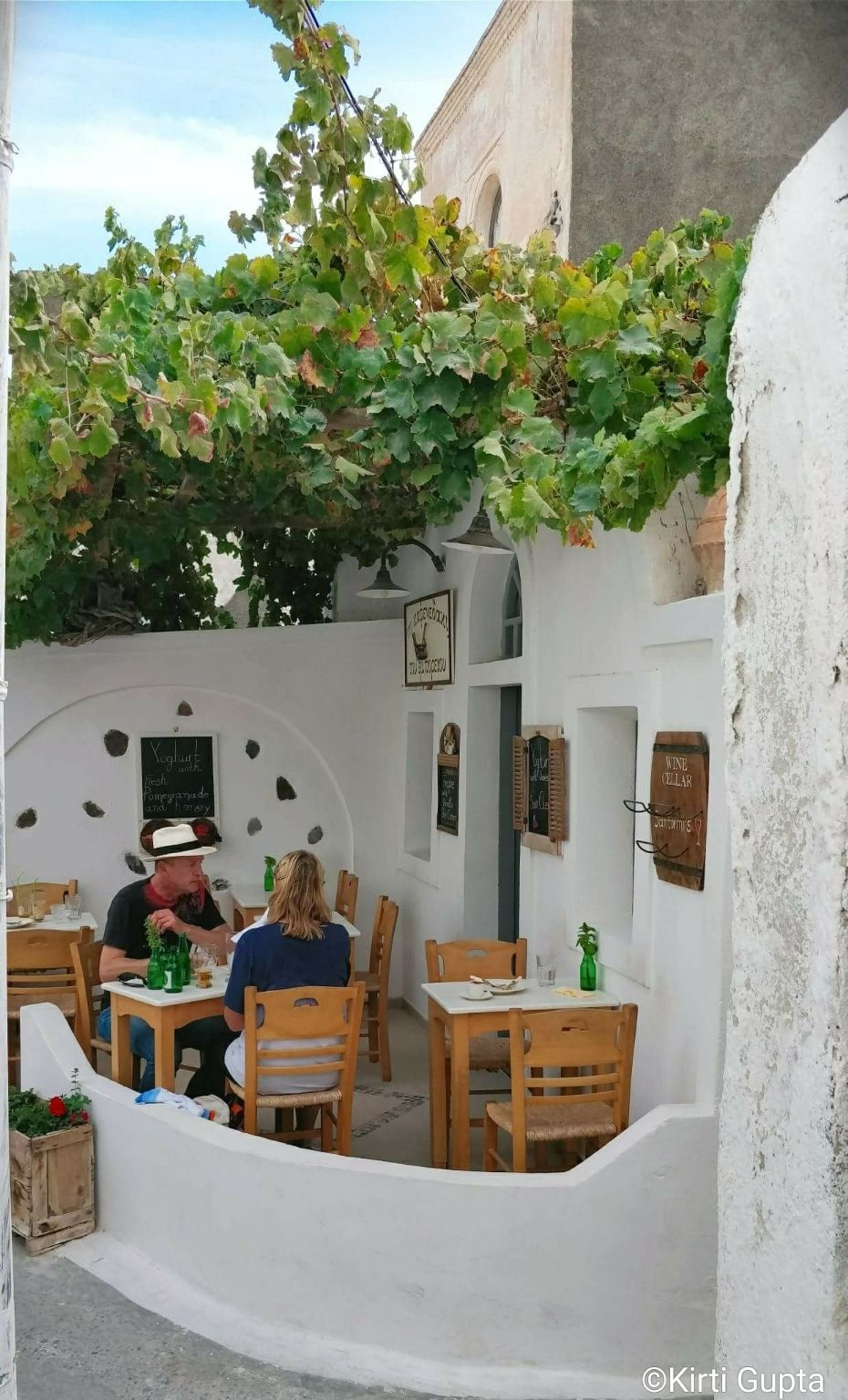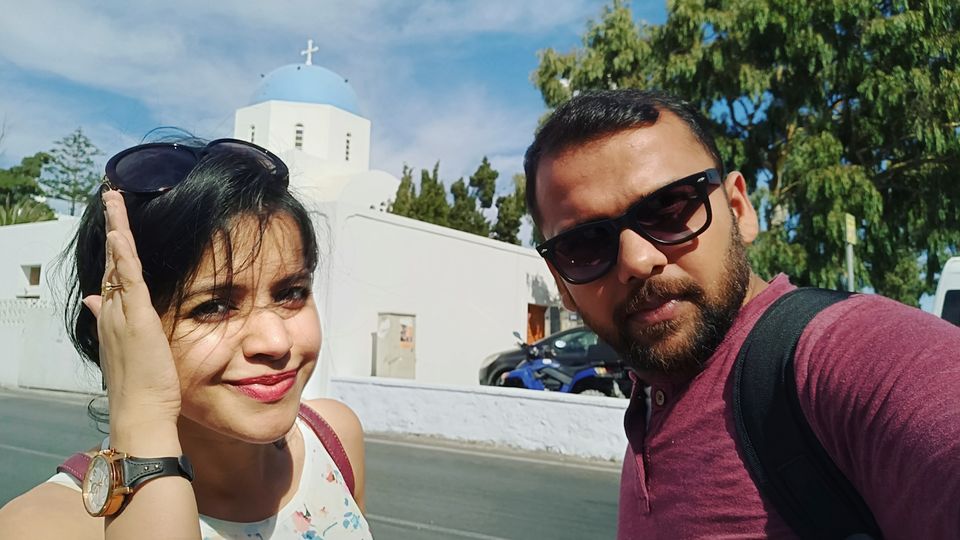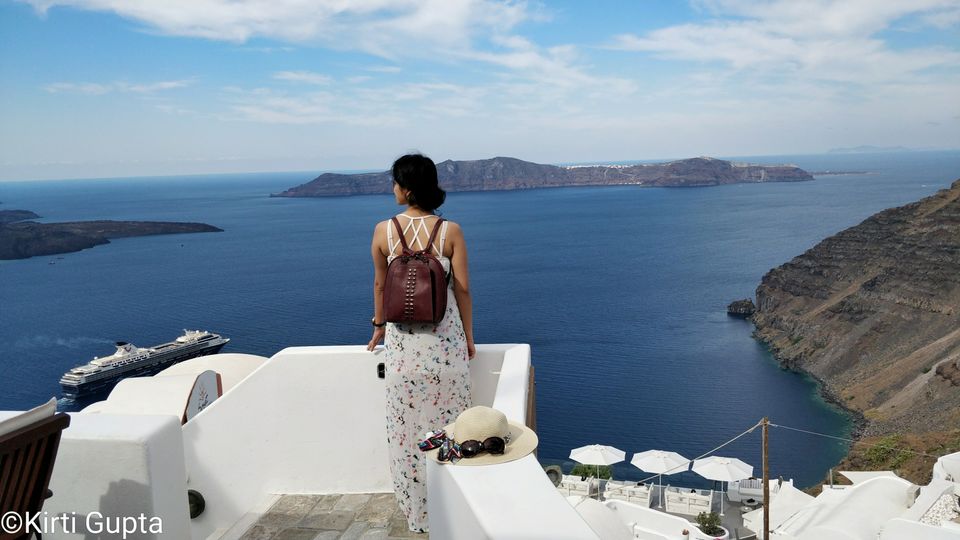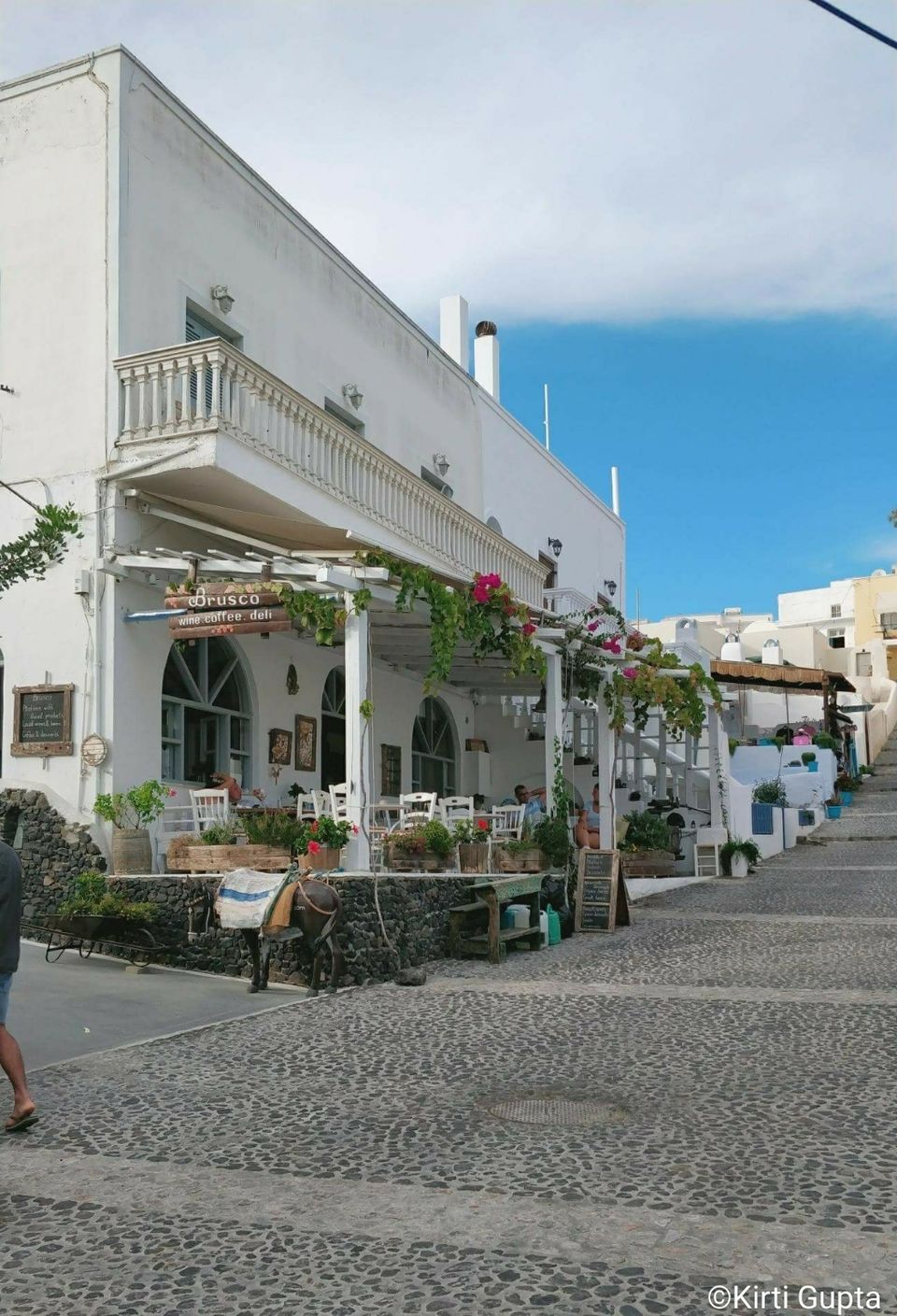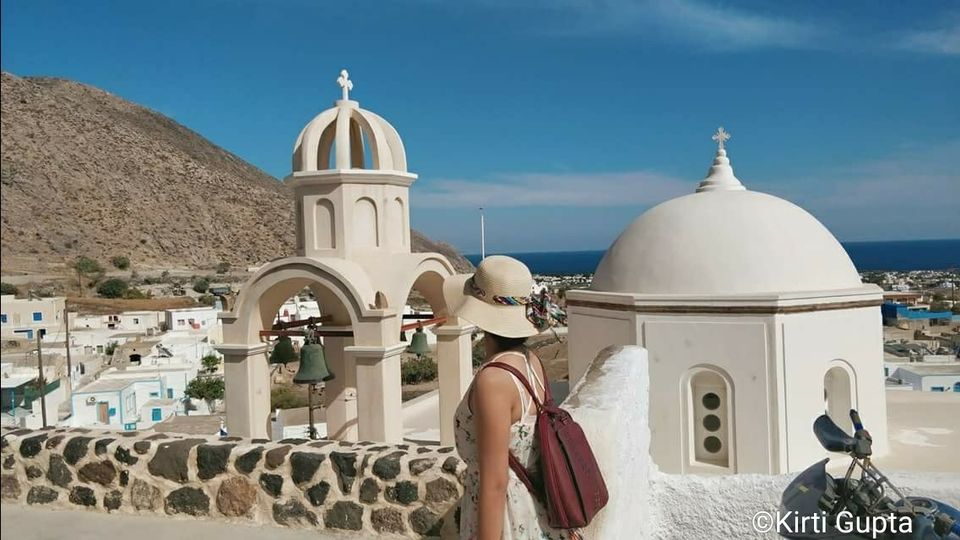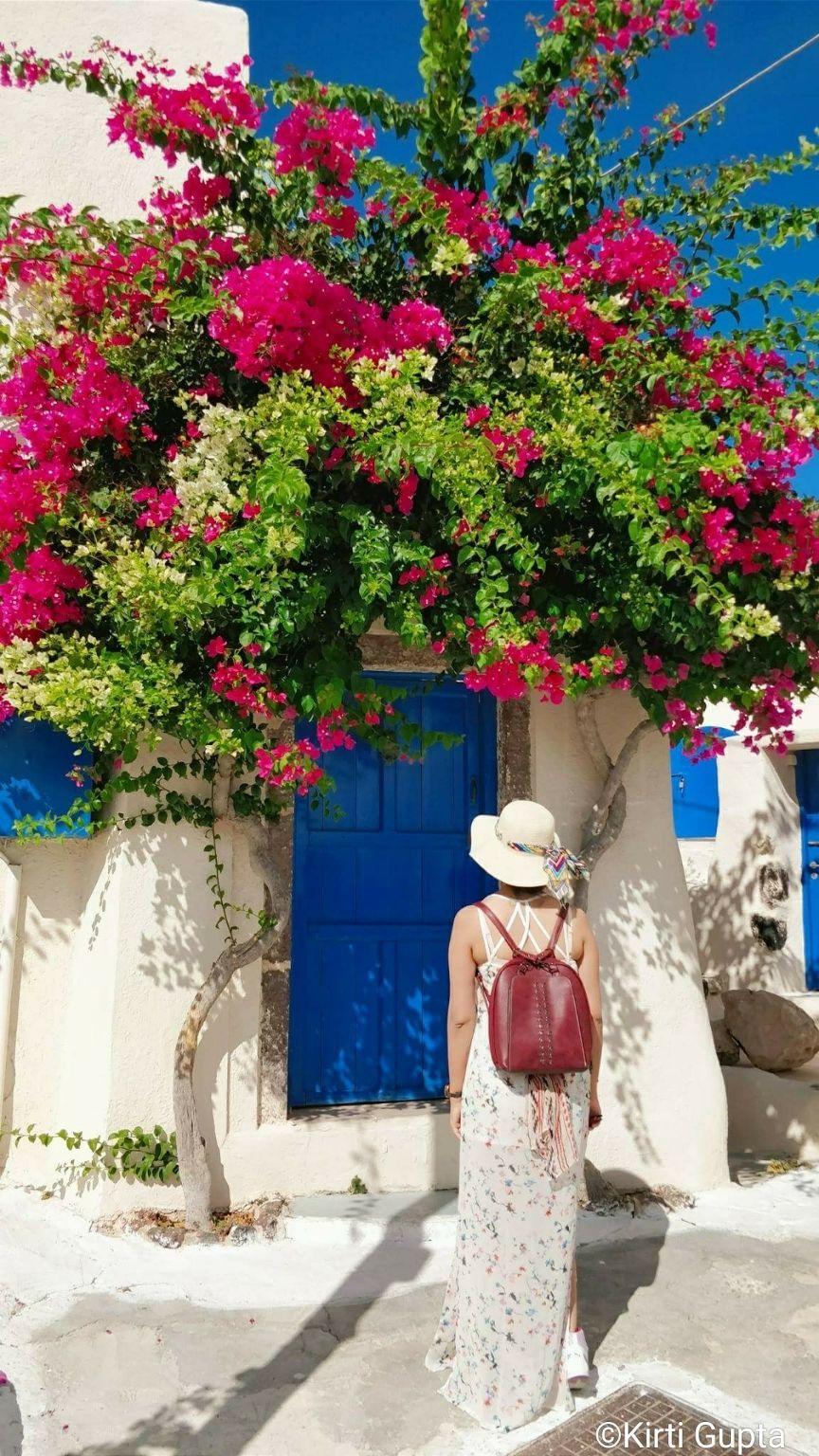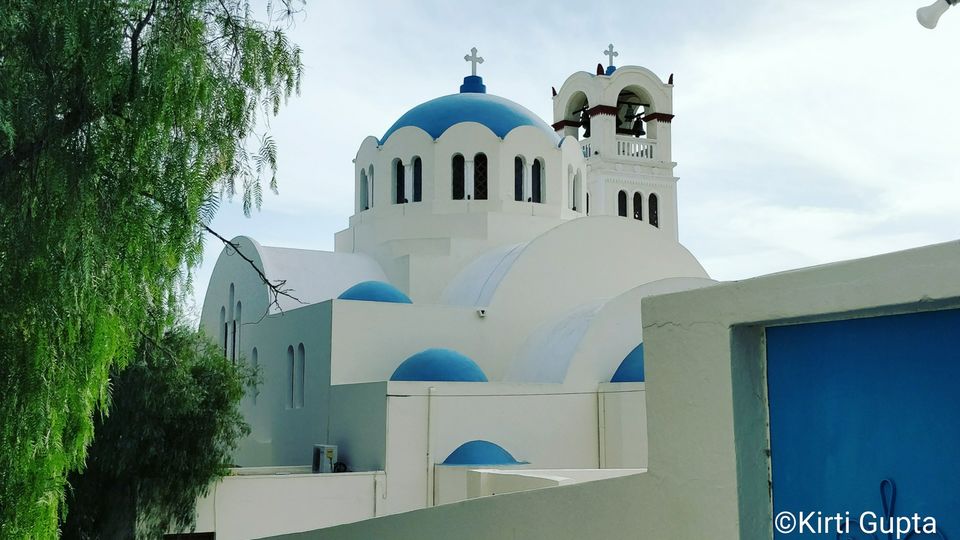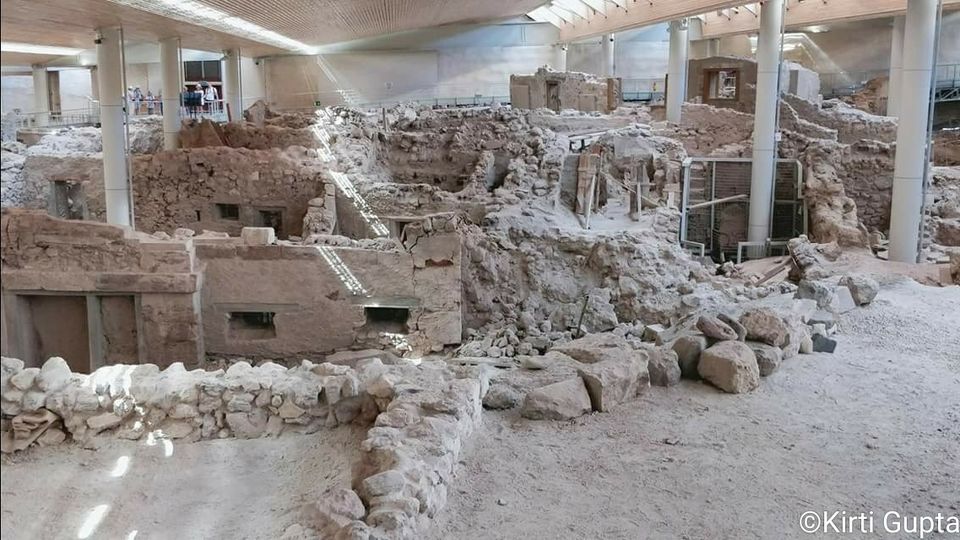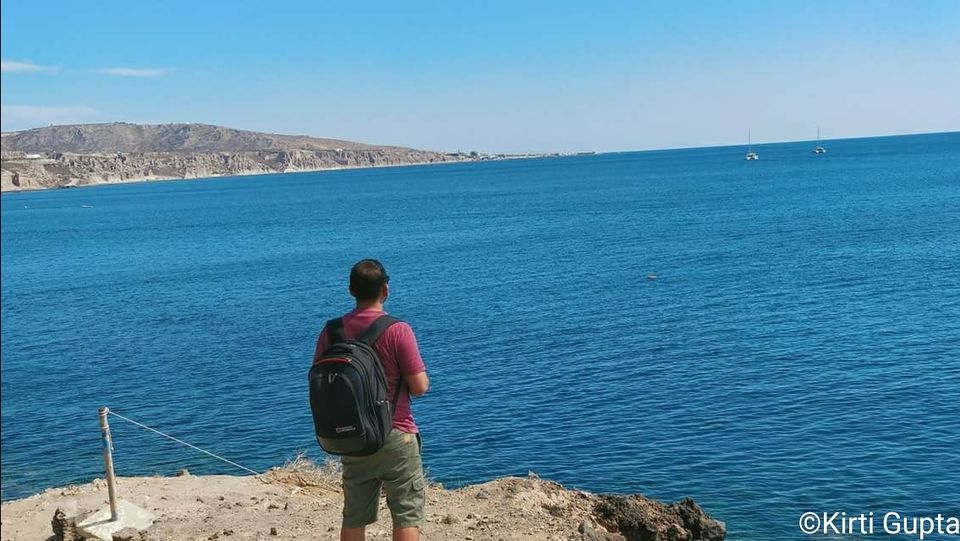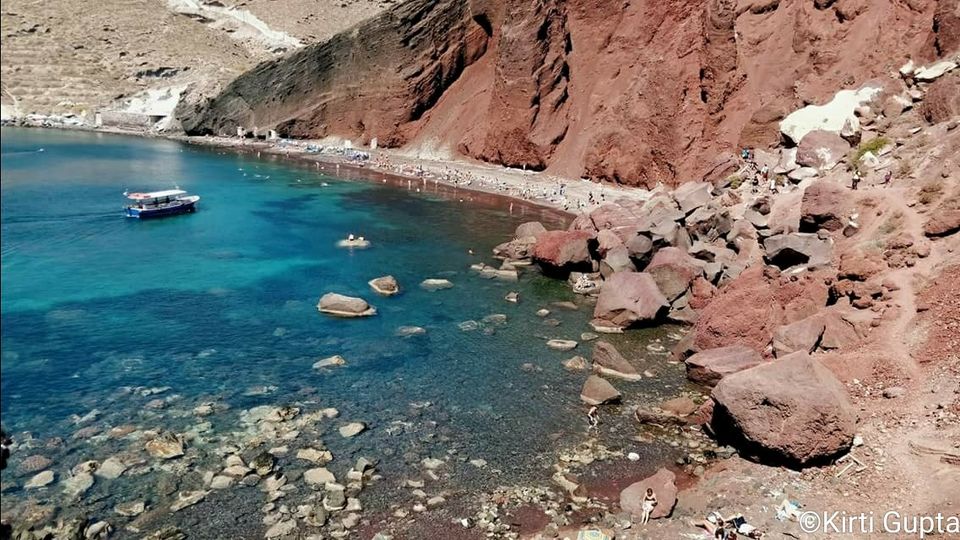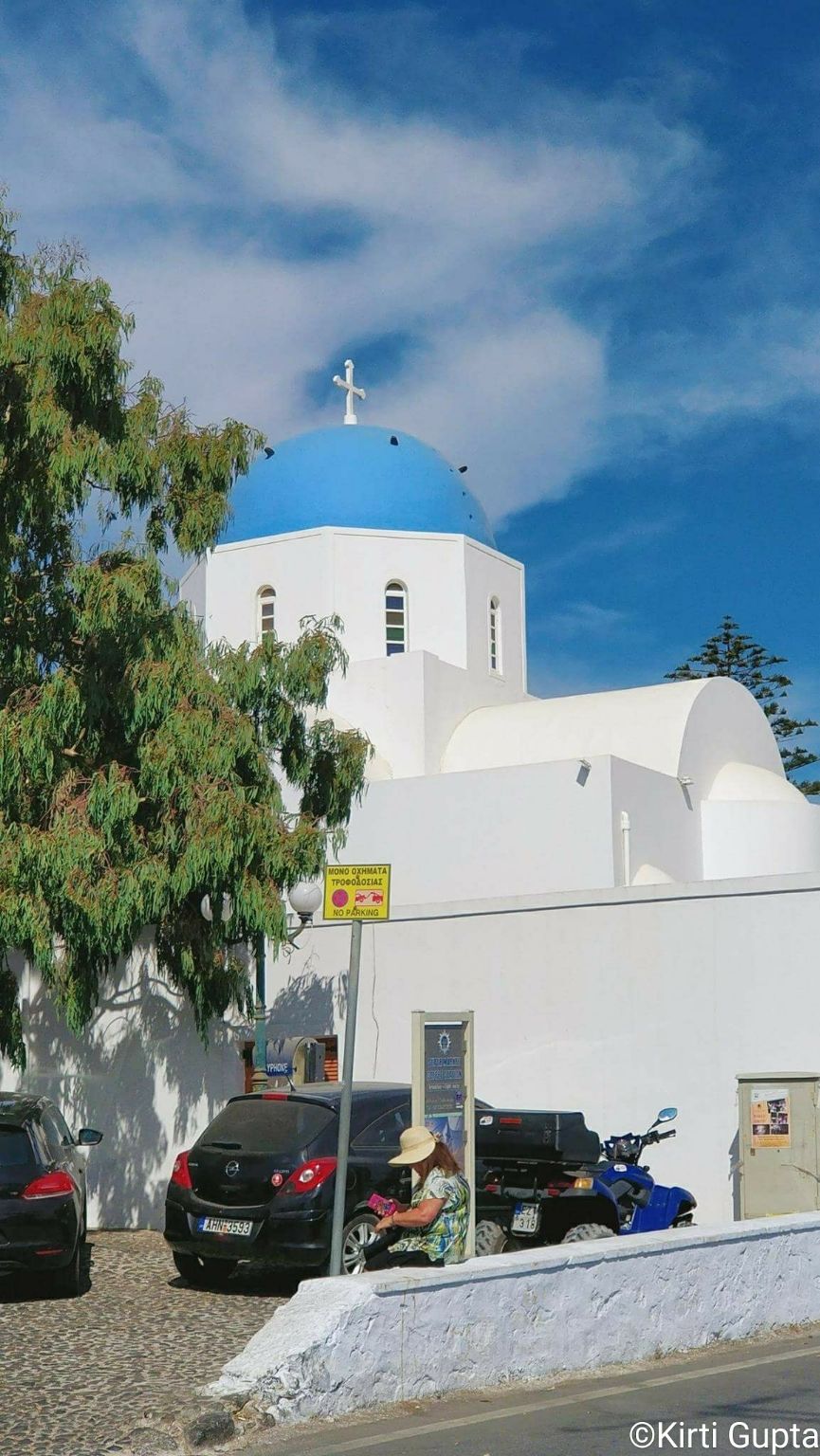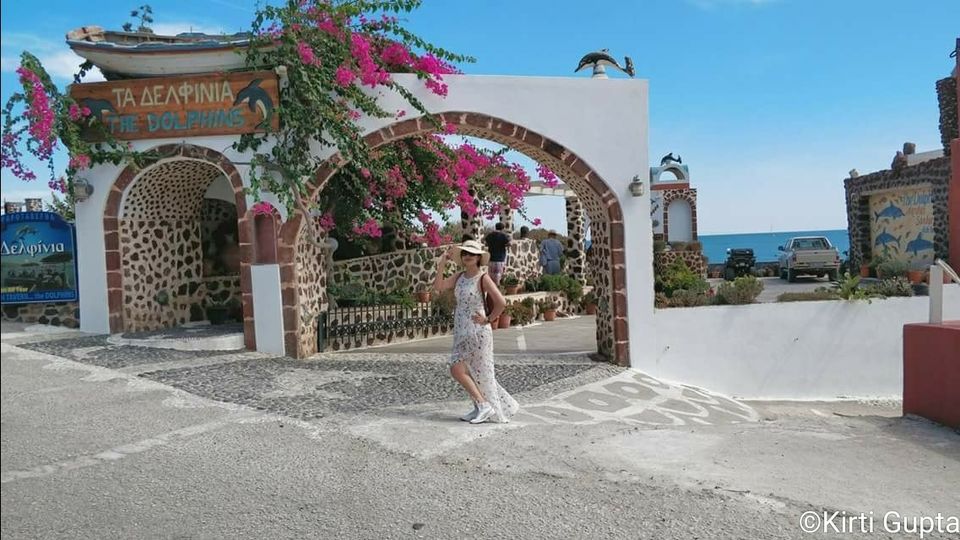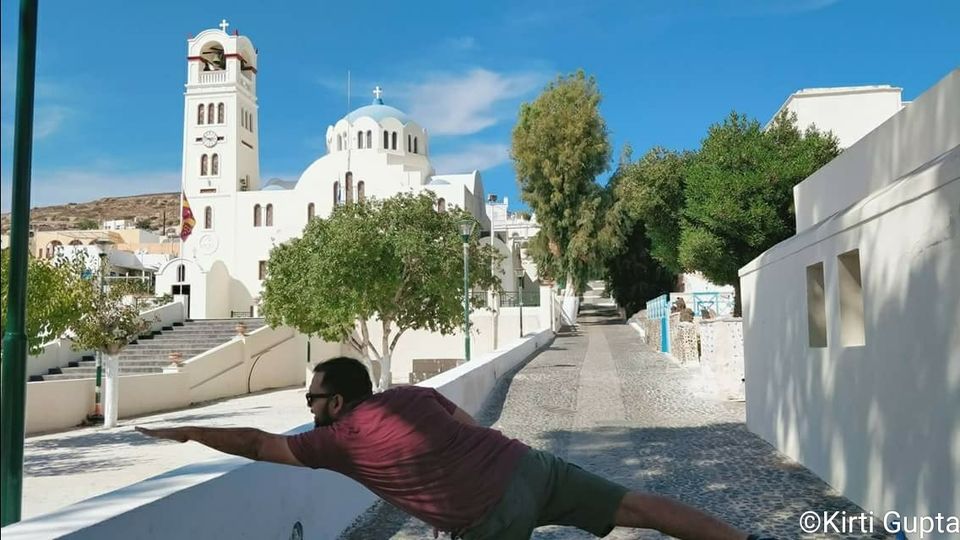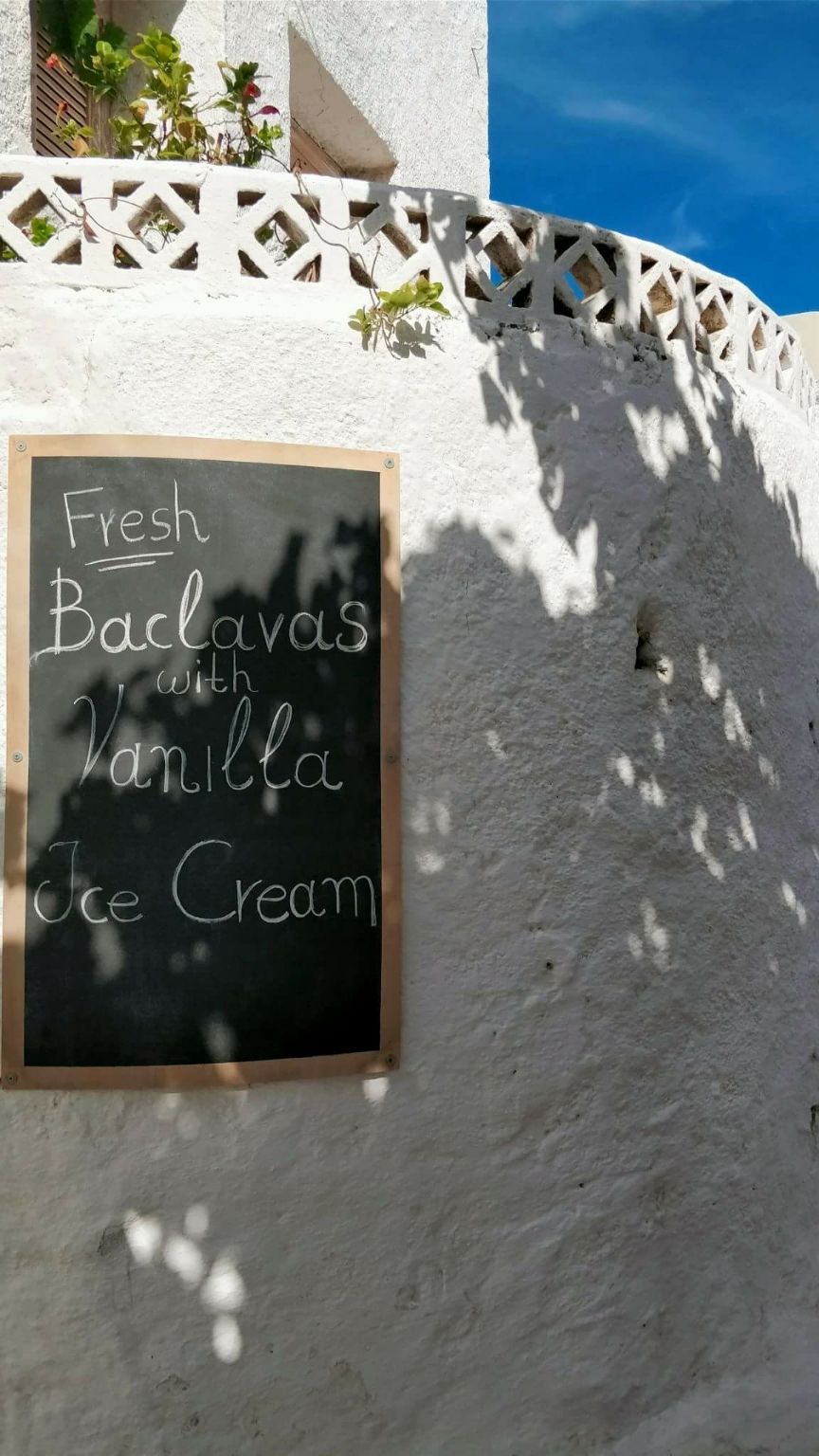 A trip to Santorini is incomplete without hiking from Fira to Oia, via Firostefani and Imerovigli (thank God we were staying in Firostefani already;). We started our day early after the sumptuous breakfast at the hotel and walked up till Imerovigli. It will be cliched to say the sights throughout the trail are to die for and reveal the island at it's mostttt stunning best. The hike can take anywhere between 2 to 5 hours depending upon your speed; since we had to catch our ferry to our destination (Naxos), we came back after hiking till Imerovigli.
For details of our Naxos and Mykonos adventures, stay tuned for Part-II of this post.