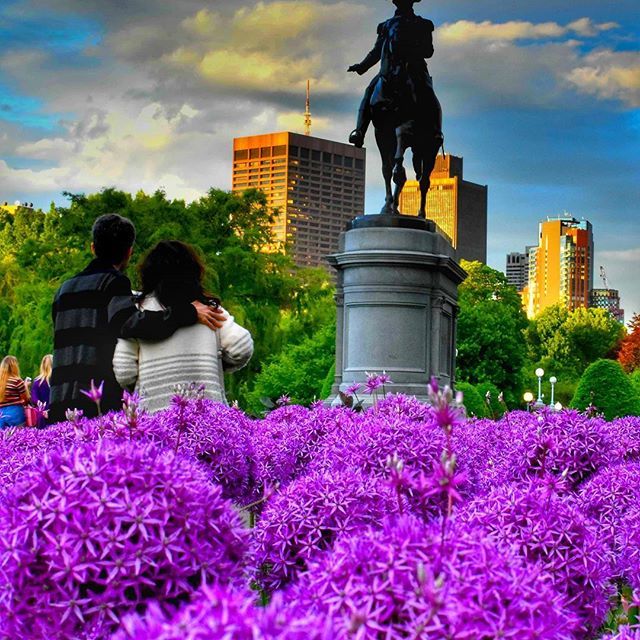 What comes to your mind when you hear Boston? Maybe The Boston Tea Party (history, if you don't know, better you find out), maybe Harvard (smart wicked people) or possibly the MIT ! I fell in love with this city when I saw the '21' the movie :) which was filmed at Boston University. And for me, it will remain the best city on the East coast.
Though Boston looks great throughout the year, but it turns into a colorful slideshow of periscope during the FALL ! If you haven't been to New England and the Boston in the Fall, you haven't really experienced this marvelous season. This city which is filled with a beautiful park and wonderful people celebrate the fall arrival with pumpkin festival at right in the center of Boston, ie Boston Commons Park. With richly colored foliage across the red-bricked buildings, crisp breezes, and the scent of apples in the air, one can just sit and relax at the Charles Esplanade or take a stroll at Boston Commons.
So how to make the best of Boston and what all the places one can visit, here is the insider tip:
Boston Common
Looking for a free outdoor activity in the Boston area? Take a walk through Boston Common, erroneously called Boston Commons. A wonderful community space consisting of a couple of small ponds, ornamental trees such as Japanese maples and ducks, a loaaads of ducks or goose. Few steps ahead into the park, you will come across the beautiful bronze ducks created by Nancy Schön. Visiting Mrs. Mallard and her 8 ducklings is one of the top Boston kids activities. The park is open to the public daily and admission is free.
The Esplanade
I always get its pronunciation wrong but Esplanade is one of the most scenic riverfronts I have ever seen in a city. In my time in Boston, I had visited Esplanade around hundreds of time. Why? Well, at Esplanade, you can walk, jog, or bicycle along the river paths, finish the book you are writing, paint and enjoy the dancing water reflections of the many-hued leaves. Bring your camera and capture the perfect sunsets this place offers with the hue of sky colors dissolving in the Charles River.
Freedom Trail

Visit to Boston would be incomplete without taking the iconic historical freedom trail. Though its not Fall specific, but its something which you should not miss if you have planned of visiting Boston. Why you may ask? Cause, to know a city, one should also know that from where the city has got its name, where it stands in the history of the world. These things take you closer to the city and freedom trail is something which can do this job for you. The 2.5 mile red line leading to nationally significant historic sites across the downtown of the city is filled with churches, meeting houses, burying grounds, parks, a ship, and other historic markers, and each one of them is an authentic treasure.
You can book a freedom trail tour thorugh : Freedom Trail Org's Website
White Mountains(New Hampshire)
New England is full of beautiful trails, and hiking or biking are great daytime activities for travelers who just love outdoors. Doing a hike during the fall take you closest to nature as you can see the cascades of mountains filled with gorgeous colors. In the White Mountains, which is 2-3 hours drive from Boston, no one can predict when foliage will peak and that is part of the wonder of this season. It all rests with Mother Nature and her mercurial moods. The best way to find out the peak is to visit the Whits again and again till you just get enough of the views.
Harvard Arboretum

Located in Jamaican Plain area, this spectacularly beautiful, spotlessly clean, and meticulously maintained park is just ideal for long romantic strolls, spending time with the dog and the kids, a vigorous bike ride, and an education about trees and shrubs. One of the best place sanctuary in the US, this place is home to a comprehensive collection of almost 15,000 plants.
The park is open to the public daily and admission is free. Please respect the rules, which forbid picnics, barbecues and tree climbing.
WHERE TO STAY
Boston has a very active Couchsurfing community, but if in case you couldn't get a couch till the last minute, go for Hostel International (HI Boston). It is run by an amazing bunch of people and is very clean and maintained. They also have a free daily tour. Awesome, isn't it?
There are plenty of hotel options in Boston too, but pay attention to the part of the city you are booking a hotel. Boston has a local transport system called 'T'. Yes, the alphabet 'T'. So make sure that your hotel is well connected through T.