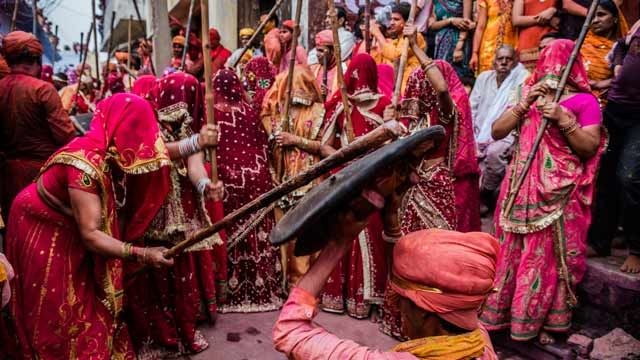 Growing up in the north, I always looked forward to Holi. That one day when you can play to your heart's content knowing your mom won't scold you. From filling balloons with water to gearing up tanks, as kids we were ready for Holi much before the festival began.
The fever is contagious and even when you grow up, the love isn't lost. Just that you begin to wander and explore other cultures celebrating the same festival. The same wanderlust craving made me go to Nandgaon to witness the famous Lath Maar Holi that photographers come to witness from different parts of the world. Holi in the Braj province is a week-long affair.
15 of us started early morning from Gurgaon, made a quick breakfast stop at Kosi and landed in Nandgaon. The celebrations were in full swing even at 10 in the morning.
While a few of them grabbed seats at the terrace of the building, the rest of us decided to venture into the main hall of the temple where everyone was playing Holi. We enjoyed, clicked, roamed the streets around, gorged on delicious kachoris and made our way to the temple back again.
By this time, a few hours had passed and the crowds had swelled. While the majority of people decided to retire to the terrace, I decided to stay back where the action was happening.
Seeing an alone girl, random men approached by the second and applied color. While some of them were decent, wished holi and applied the color gently, others would grab you from behind and color your entire face not letting you go out of their clutches.
A Sadhu stared at my breasts and before I could react, put his elbows out, rubbed them against my breasts and walked away. So much for being a Sadhu !
Being the only girl in "western clothing" I was an easy target for the men standing with their pichkaris (water guns) on the terrace. They would keep trailing and shooting me with water. Twice my eyes burned and I looked around frantically for water to wash my eyes.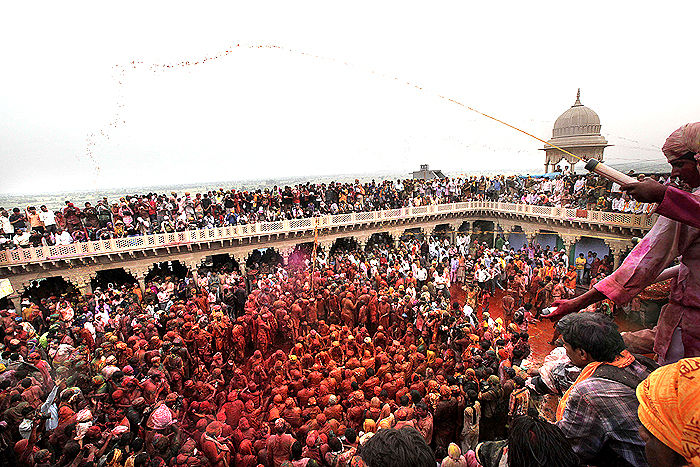 In all this commotion, an uncle tried to befriend me. After taking a selfie with me to which I begrudgingly obliged, he wanted to hold my hand and dance. I slowly slunk off to another corner and to my relief found a couple of my friends there. Seeing them, the uncle backed off.
Since I found another female friend, we decided to dance to the Dhol. The moment we started dancing, the crowd pulled apart to make space for us. They cheered and jeered for us and an old lady from the crowd also joined in. After the dance was over, we were even softer targets. The number of guys forcefully applying gulal on us doubled and the pichkaris from the terrace did not stop despite us not being able to see anything. It got so bad that our guy friend ordered us to retreat to the terrace.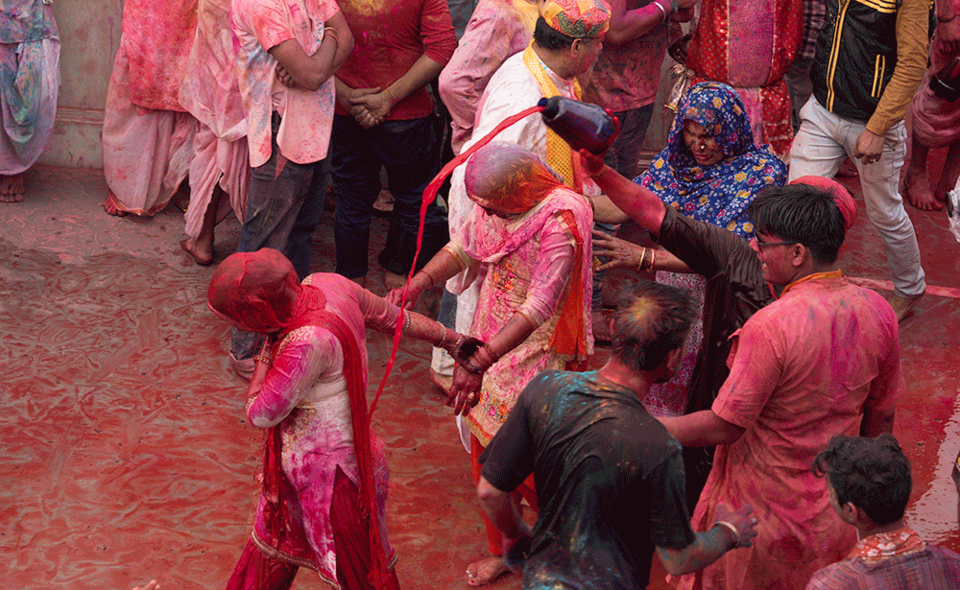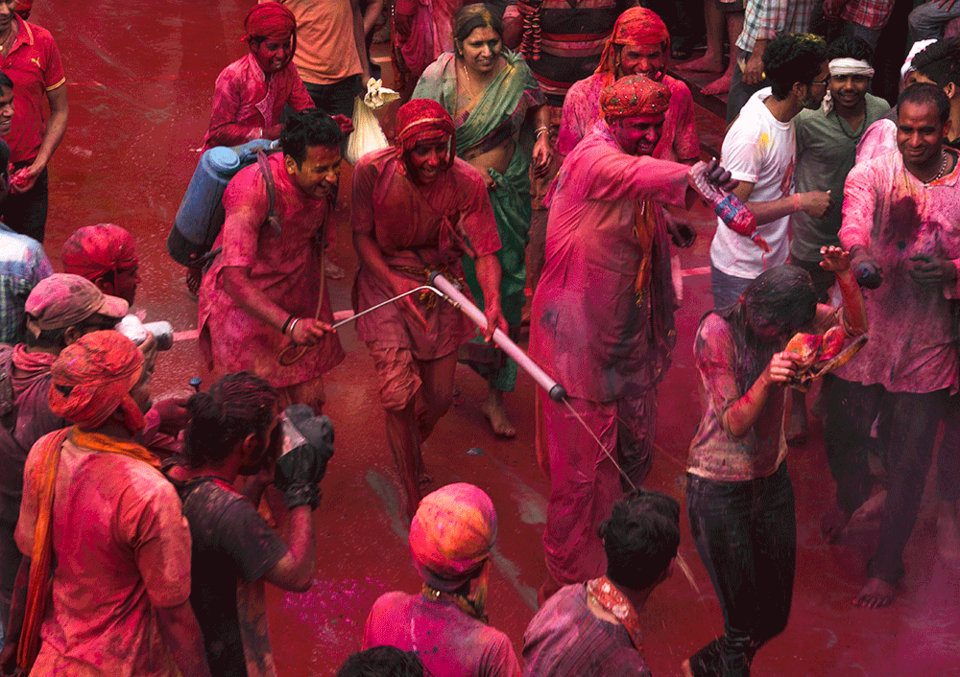 I went to buy some water bottles since I was still blind in one eye and as I looked to head back to the terrace, the uncle again caught up to me and followed me upstairs. Thankfully, seeing the entire group he made a u-turn and did not return back.
I stuck to the terrace and washed my eyes continually for the next hour hoping it wasn't serious damage. It was time for the Lath maar Holi finally and we decided to make our way to the main square. While we were rounding up our bunch of people, a few locals came up loaded with their big pichkaris and aimed at my posterior and another friend's back. We tried to move but their pichkaris followed my posterior. We hurriedly left the temple only to find that the water had trickled down to my thighs and it was burning.
That's when a friend told me, they mix Shira (glass powder) and aim. My inner thighs were cut raw with the glass powder and I was in immense pain. I could barely walk. I took a seat on a wall for witnessing the Lath maar Holi.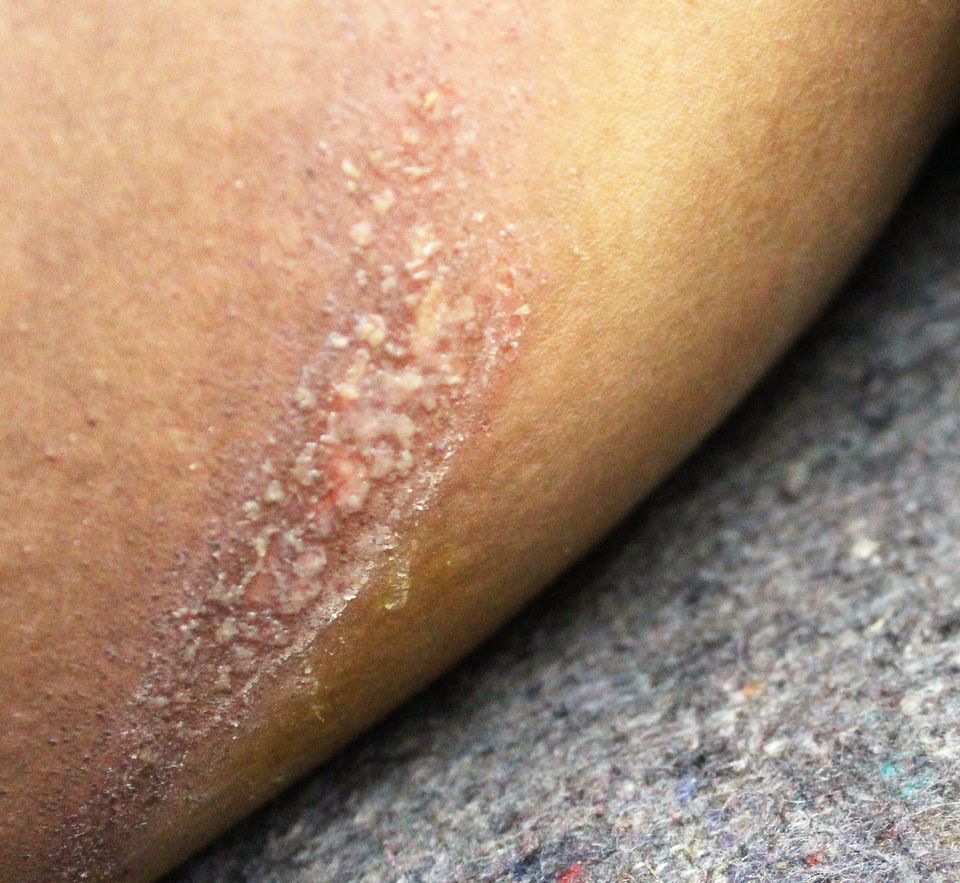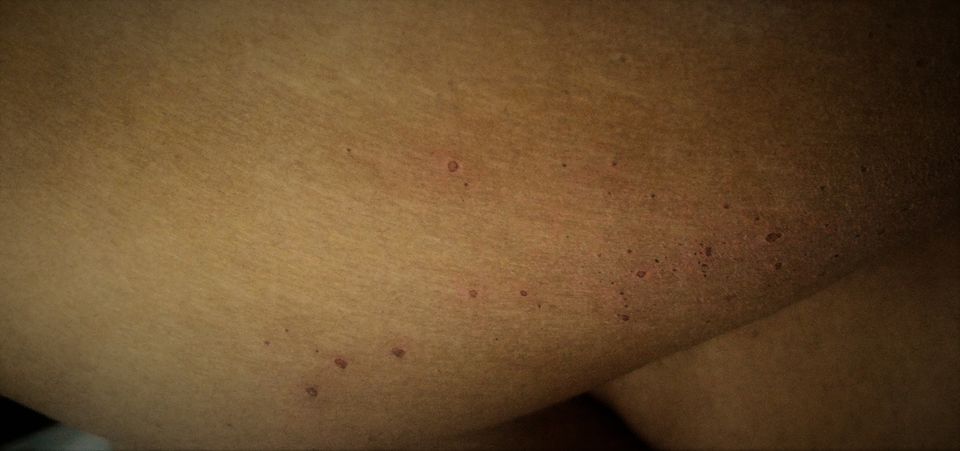 Legend has it that the boys of Nandgaon are supposed to tease the girls of Barsana and Nandgaon so much that they get tired and come to bash them up with lathis. The boys made vulgar hand gestures and used the choicest of abuses individually on a lot of girls, especially to them who weren't local. I don't know if this is what the legend talks about. It surely did not seem like the Indian culture we boast about. If the boys can talk this way to random girls during Holi, there is no guarantee they don't do it the rest of the days.
After the show was over, we walked back to our cars and I endured the pain the whole journey back. My thighs did not stop burning. Even after 2 days I can't walk since the skin is still raw.
Another friend told me later, "They mix Shira knowingly. They want women to remember who they played Holi with."
I don't know if that is true. What I do know is that they gain sadistic pleasure and though they have photographers stepping in from all over the world, their mentality hasn't changed.
Girls are unsafe even at a festival. A festival meant to bring people together, a festival of colors. Instead of rejoicing, we are left with scars for a lifetime.
How is this a Happy Holi ?