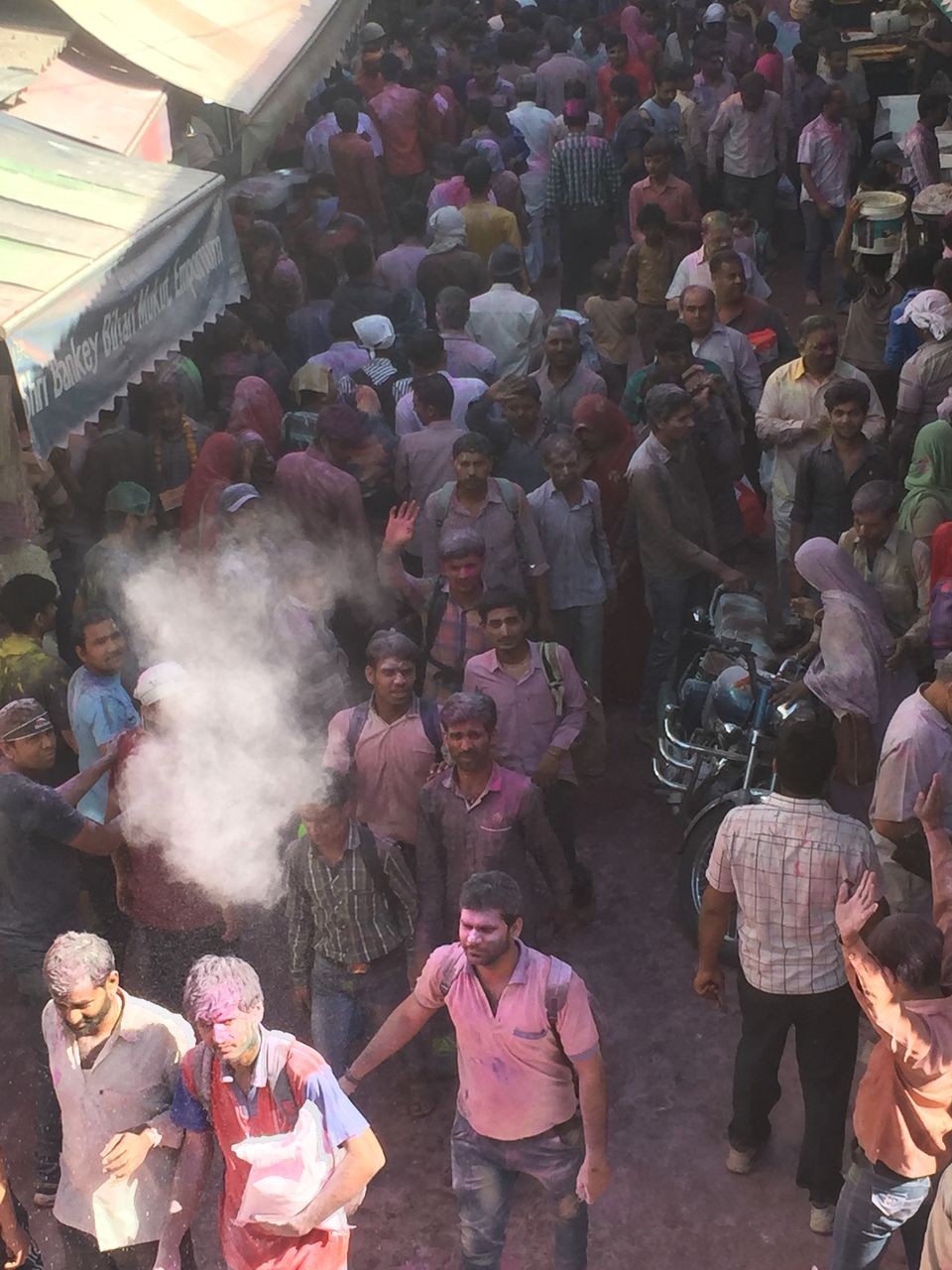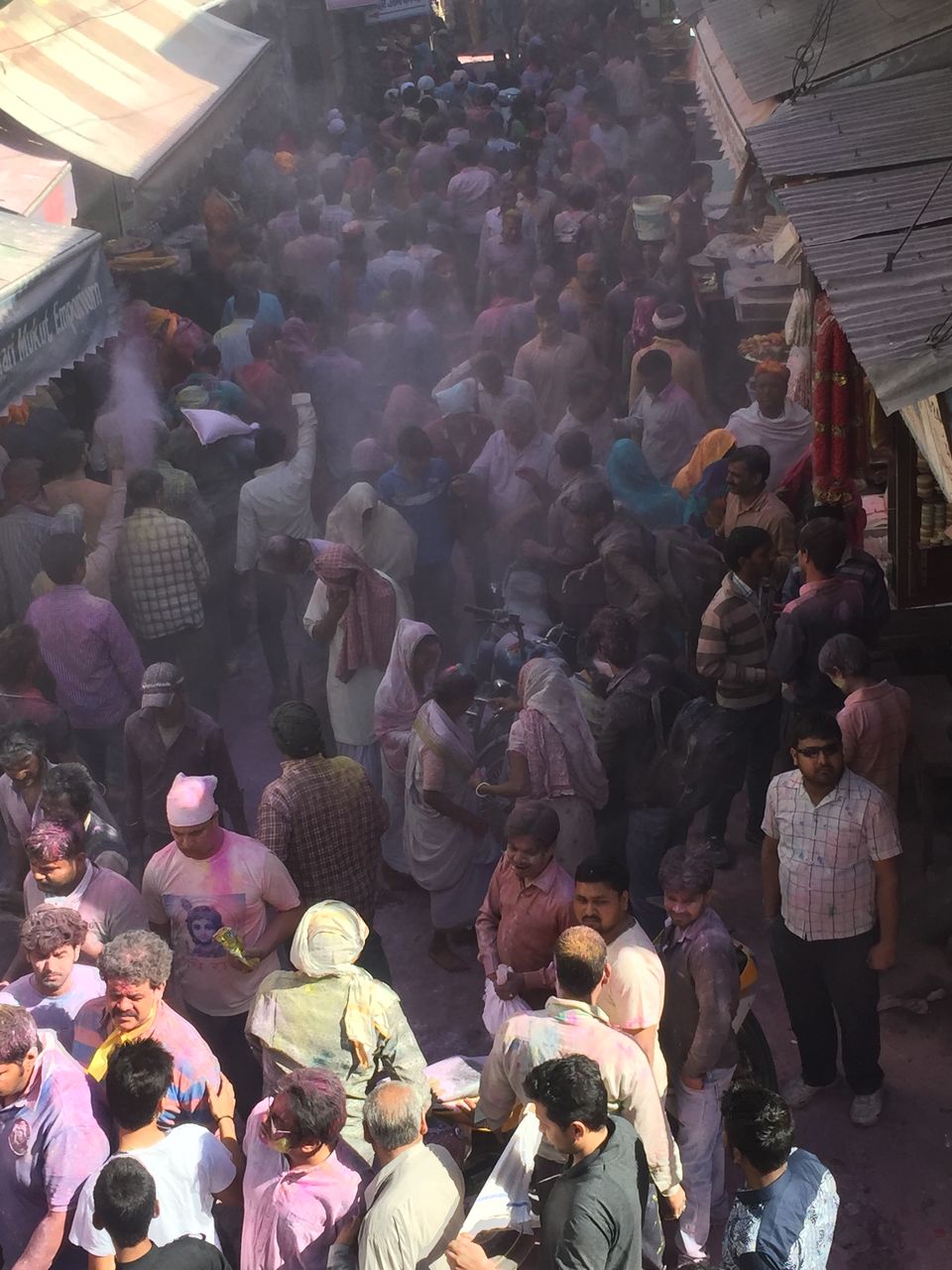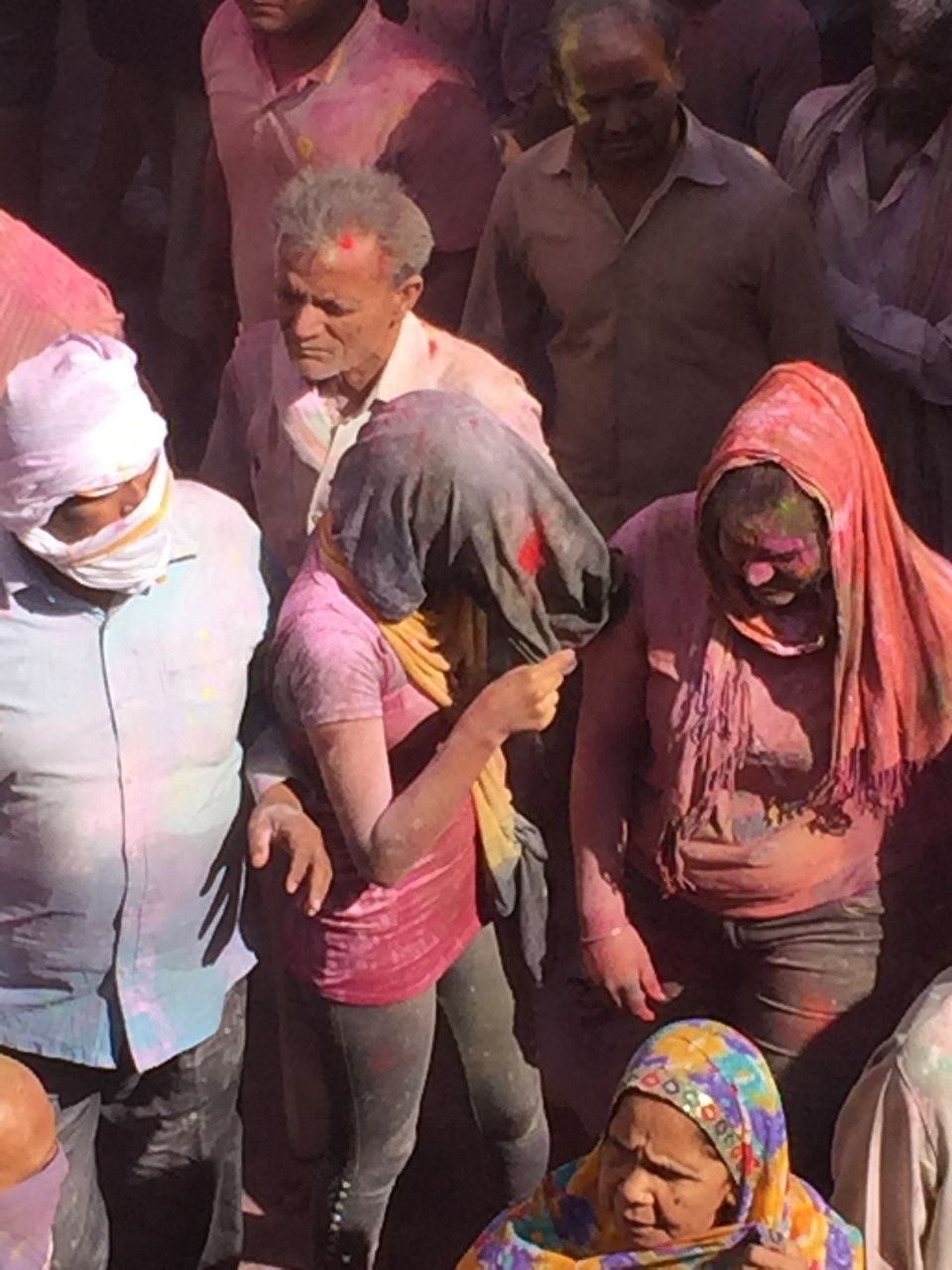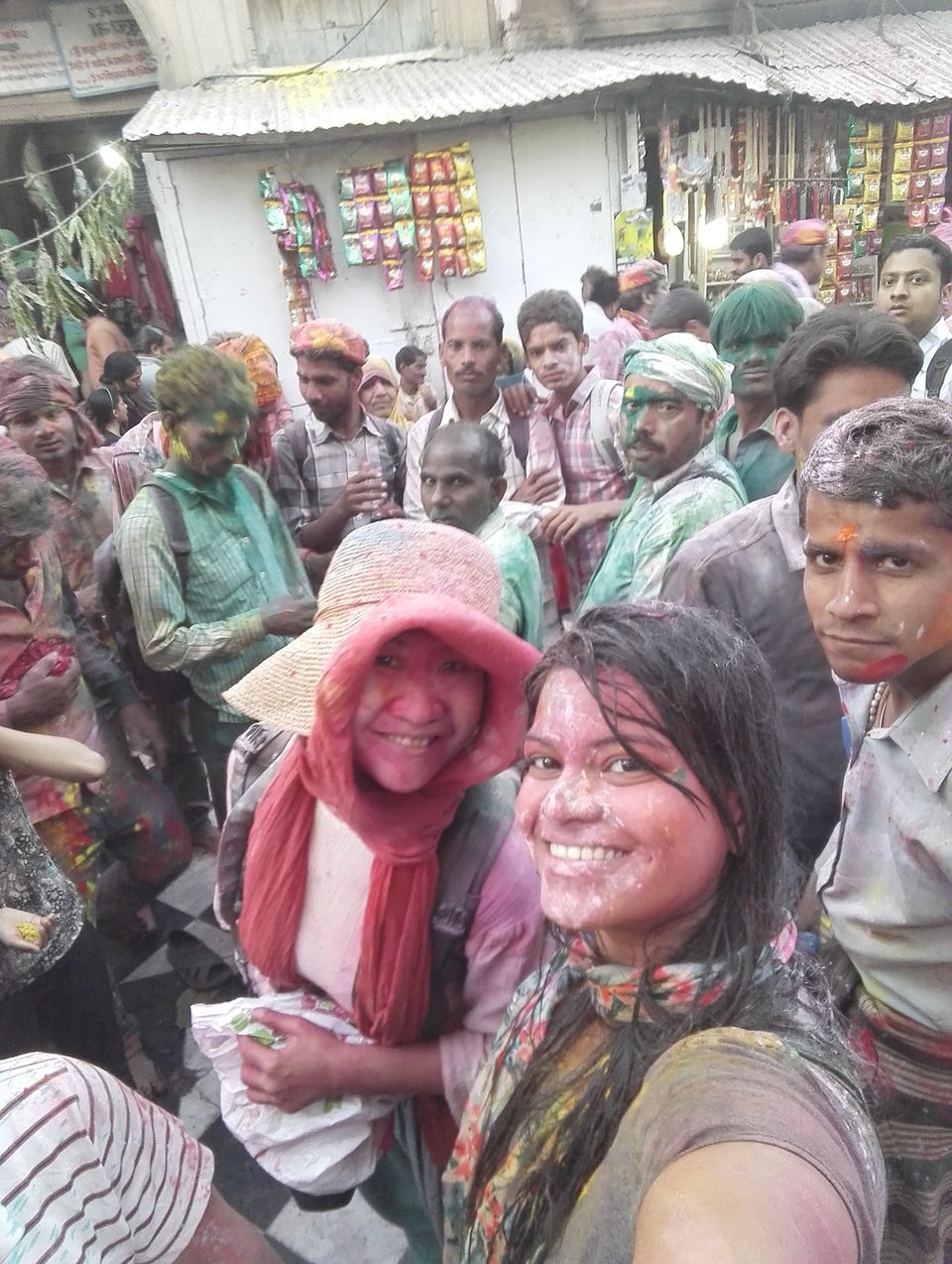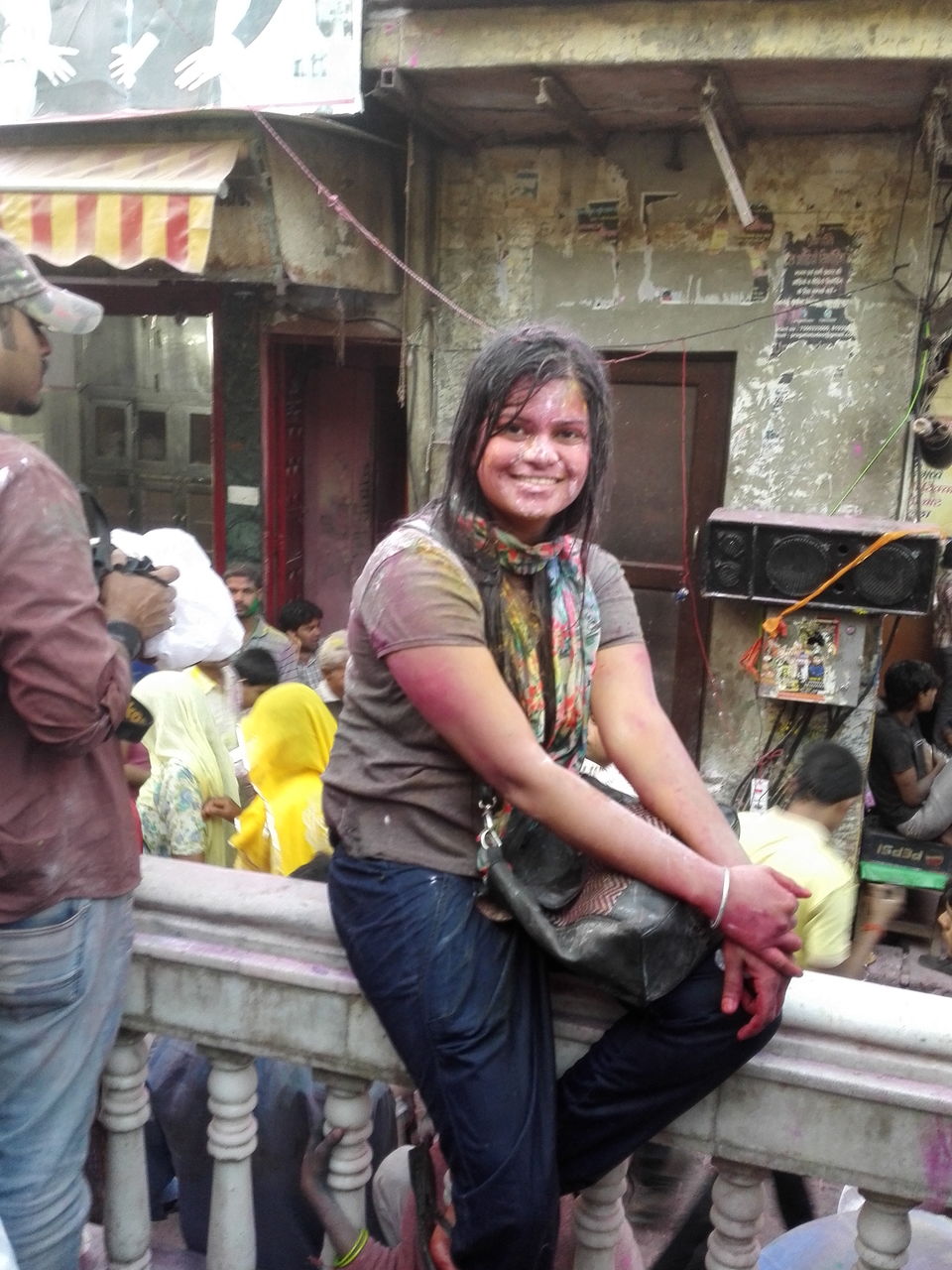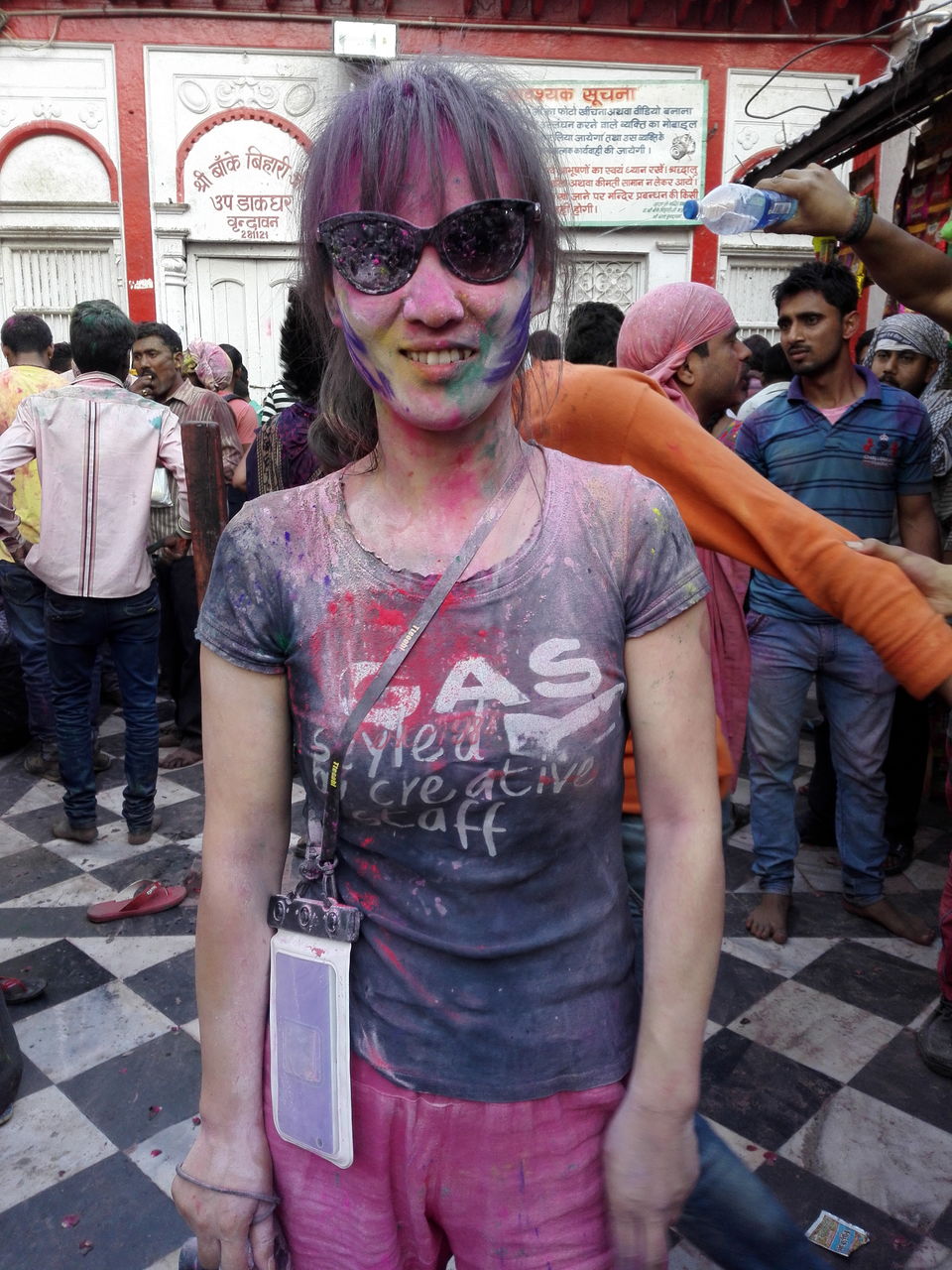 As a solo woman traveller, taking a decision to choose Vrindavan for Holi was a tough choice I made. Many people warned me to avoid Vrindavan during Holi however I desperately wanted to experience Brij Ki Holi. Being a woman, we generally face eve-teasing during Holi therefore, even I was a little bit scared to go to Vrindavan however I kept all my fears aside & booked a ticket for myself from Mumbai.
Being an Indian where we've grown up listening to mythological stories of Krishna (Hindu God). This was the chance where I could've truly explored all these stories of Vrindavan which I had heard so far.
40 days Celebration of Holi
Many of us are not aware of the fact that the Holi is being celebrated for 40 days in Mathura, Nandgaon, Vrindavan and Barsana however 10 days of Holi is worth experiencing. Holi has been introduced by Krishna where Lord Krishna had started the use of colours to play Holi with Gopiya.
Barsane Ki Holi
Every place in Brij Dham has its unique flavour of Holi however Barsane ki Holi is extremely different from the rest which is called Lath Maar Holi. The reason behind Lath Maar Holi is exceptionally interesting as people say that Krishna used to come to play Holi from Nandgaon to Barsana where he used to tease women of Barsana & Radha (Krishna's ladylove). Women of Barsana used to hit Krishna & his friends with the sticks so that's how people of Barsana still follow the same tradition. Lath Maar Holi is celebrated approximately 1 week prior of Holi. In the same way, Men of Nandgaon come to Barsana to tease women of Barsana & women of Barsana hit them with sticks in a humour way.
Nandgaon Ki Holi
In the same way, Holi is being celebrated in Nandgaon where men of Barsana come to Nandgaon to play Holi with women of Nandgaon. It's also called Lath Maar Holi which takes place after Barsane Ki Holi. Lath Maar Holi is only being celebrated between Nandgaon and Barsana. Outsiders cannot participate in Lath Maar Holi.
Banke-Bihari Temple (Vrindavan)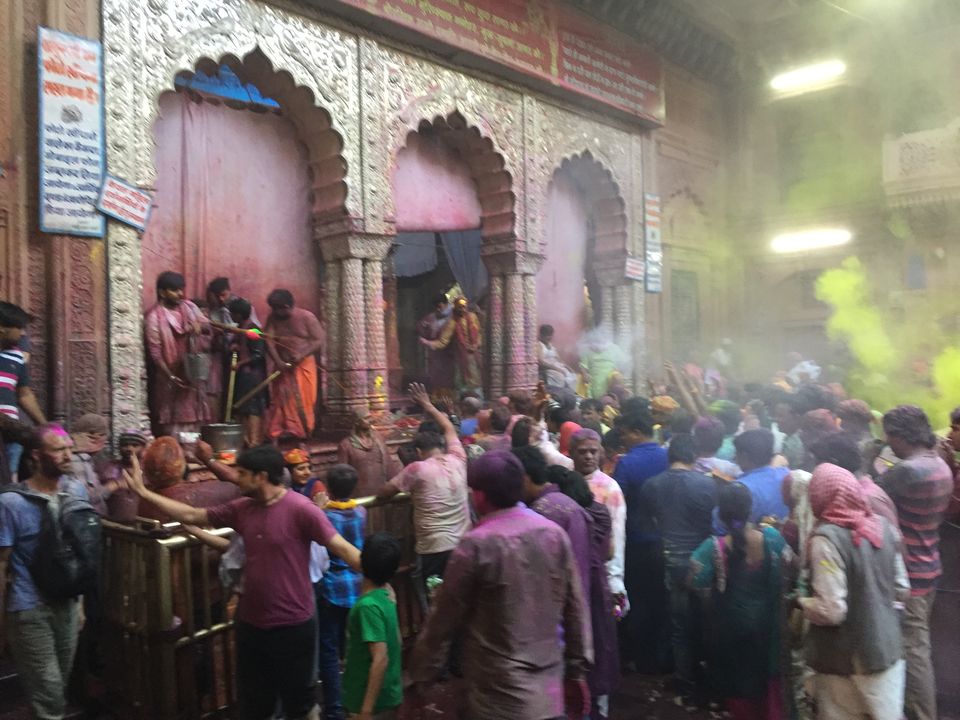 Outsiders can truly enjoy Holi in Banke-Bihari Temple as it's being celebrated beautifully in Vrindavan. In Vrindavan, Holi is being celebrated with Gulaal.
My Thrilling Experience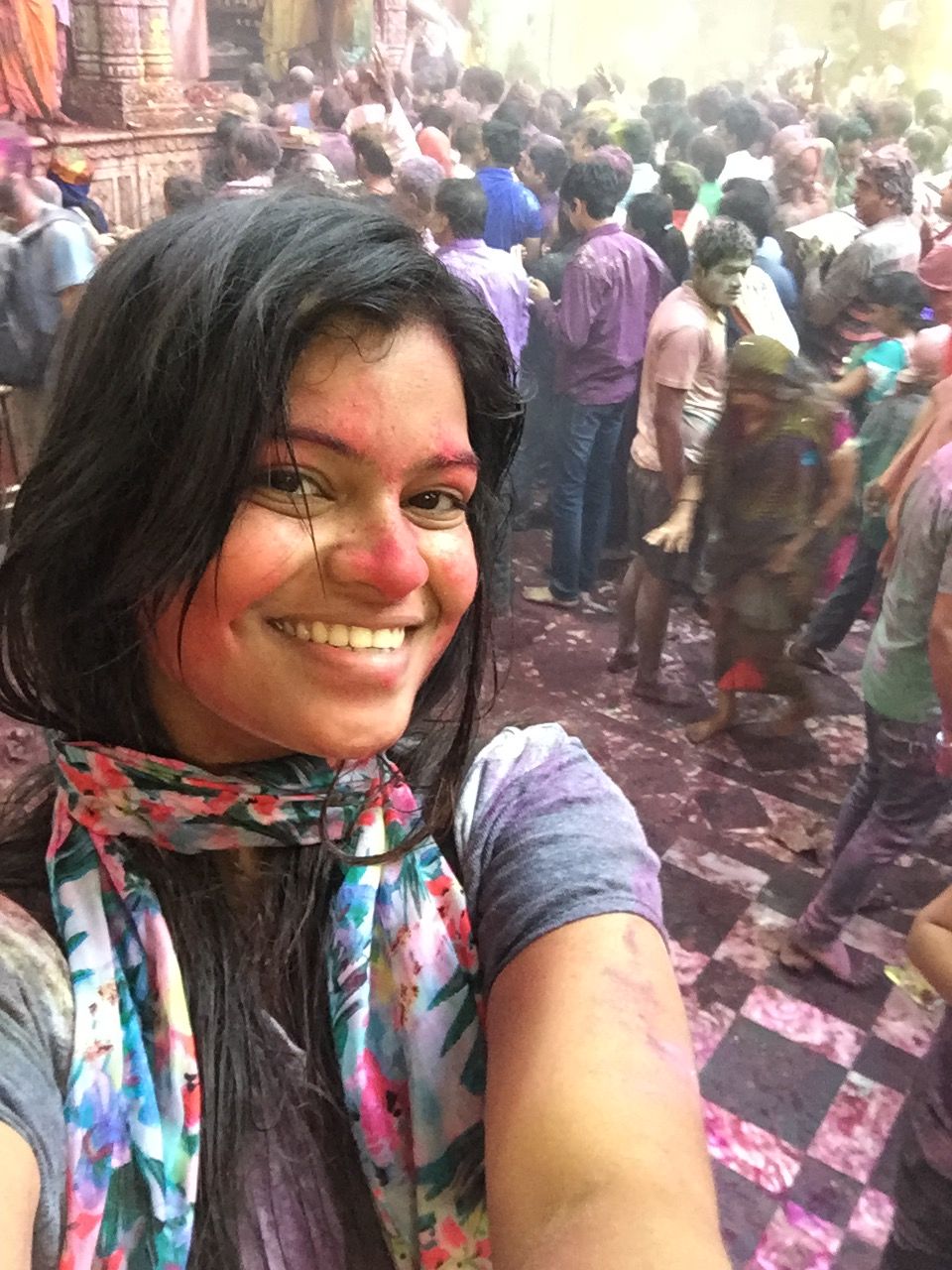 As soon as I reached Mathura, I approached one rickshaw way to go to Vrindavan however he suggested me to stay in Mathura as Mathura is the centre point to go to Gokul, Barsana & Vrindavan. I reached 3 days prior to actual Holi so I couldn't get an opportunity to experience Barsana Holi & Nandgaon Holi. Luckily, Banke-Bihari Temple in Vrindavan was celebrating Holi so I kept my bag in the hotel room & left for Vrindavan. Approximately 11,000 foreigners had arrived to explore Holi in Mathura. My rickshaw walla dropped me at the entrance street of Banke-Bihari Temple. I saw one narrow street going towards Banke-Bihari Temple. Within 5 minutes, my clean sober clothes had been coloured with different dry colours. People in Brij throw colour & just say "Radhe Radhe". Even I bought a packet of Colour & started throwing on random people saying "Radhe Radhe". Now this was the story of the street which goes towards Banke Bihari Temple. The moment I touched the doorsteps of the temple, one man poured the whole bucket of coloured water on me. Inside the temple, I saw a huge crowd on the ground & a group of people on the Temple's stage. I was a bit scared to be a part of the crowd but then I went in. People who were there on the stage had kept dry colours & Pichkari with them which they used to throw on us. There was a curtain on the stage Temple & behind that curtain, Lord Krishna's statue was placed. With huge excitement & joy, everyone was playing Holi & chanting Radhe Radhe. Nobody was a stranger there as everyone used to wish each other Holi with dry colours.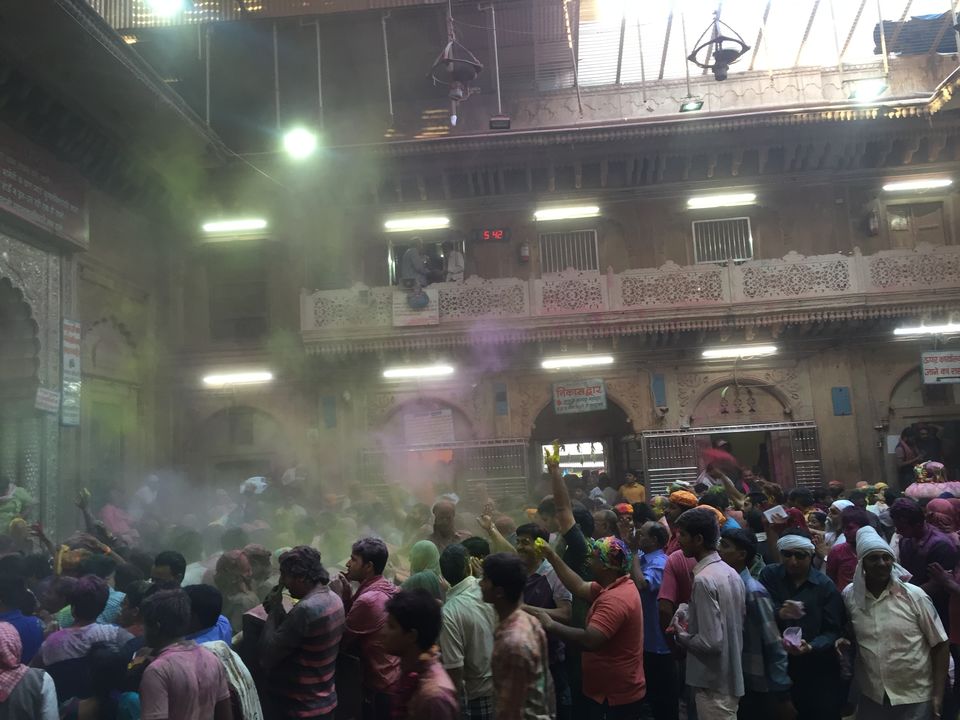 We were not allowed to click the picture of Lord Krishna as people of Vrindavan say that once a princess had come to worship Lord Krishna in Banke Bihari. She continuously stared at Krishna & made a strong eye contact with the statue. After that, she went back to her Palace but surprisingly the statue of Lord Krishna also went along with her so Vrindavan people placed another statue of Lord Krishna in Banke Bihari. The Original statue is there in Gujarat as the princess was from Gujarat. People say that nobody should make any eye contact with Krishna's statue in Banke-Bihari or click picture as Krishna's statue goes along with the person who does it. Therefore, they have kept the curtain in front of the stage & photography strictly prohibited however people still take pictures in the temple.
If they will catch you, they will seize your camera so be careful while taking a picture. It was the best Holi I had ever experience in my life. I loved the interesting stories of each temple. People of Vrindavan are quite simple however outsiders actually spoil & create a bad image of Holi celebration in Vrindavan. Otherwise, people of Vrindavan play Holi with extreme enthusiasm & Joy which will not harm you. People from outside play Holi very badly however it happens everywhere so you can't do anything about it.
You can join me on my journey on Facebook
https://www.facebook.com/womaniaonroadtrips/
Frequent Searches Leading To This Page:-
vrindavan holi trip, vrindavan holi tour, vrindavan holi tour plan, mathura vrindavan ki holi