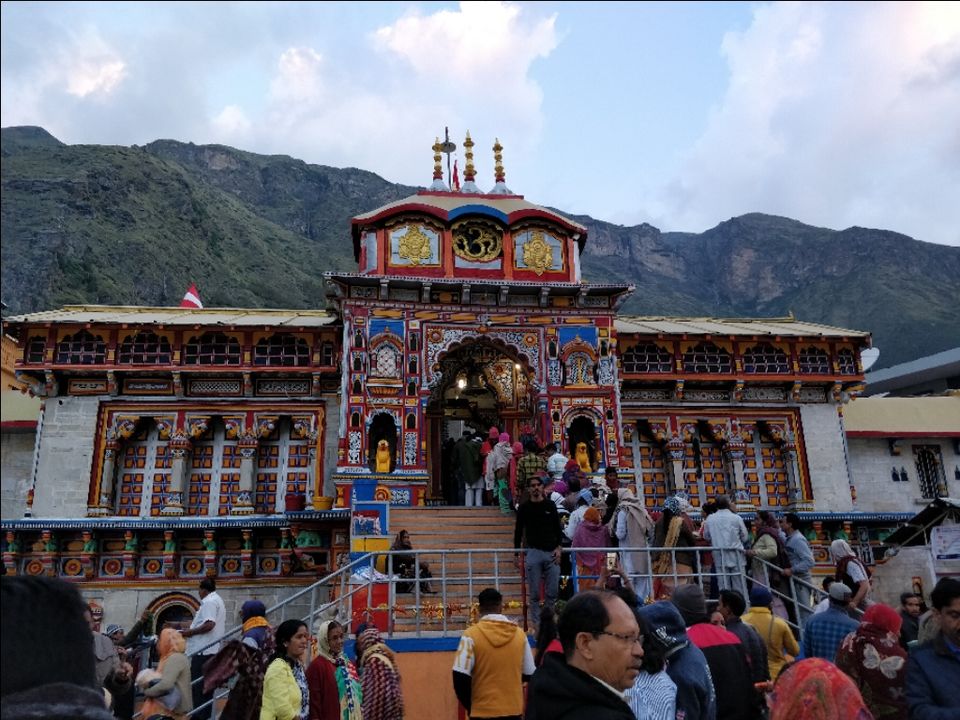 Peepalkoti to Joshimath
After having a blessed visit to Kedarnath, we reached our hotel late at night at Peepalkoti and stayed for a night. Next morning we left early for our next destination Badrinath. But on the way we had a halt at Joshimath which is 45kms from Badrinath. After driving for 3hrs on beautiful road beside Alaknanda we reached Joshimath. Joshimath has 2 prime pilgrimage spots. One is Shri Shankaracharya Math, a monastery which was established by Adi Jagatguru Shankaracharya and his disciples. Here lies a 1200 years old tree called Kalpavriksha and Jyoteshwar Mahadev Temple along with the temple Laxmi Narayan. Second spot is Narsingh temple, it's situated at a distance of 1.5-2km from the math. This temple is dedicated to one of the avatars of Lord Vishnu Narsingh. The other important fact about this temple is that when in winters Badrinath temple gets closed, the idol of Lord Badri Vishal is brought to here I'm Joshimath and his worship happens here till the reopening of the temple. Narsingh temple is situated beside river Alaknanda and a picturesque scenery. The temple is beautifully made and deities other than Narsingh ji also worship there.
Joshimath to Vishnuprayag
On our way to Badrinath our next halt was at Vishnuprayag which is one of the panchprayag of Alaknanda river. I've give some information regarding Panchprayag in my previous blog 'Kedarnath: A holy abode of Lord Shiva'. Here at Vishnuprayag, river Alaknanda meets river Dhauliganga. A temple lord Vishnu is made here and also there is one cable hanging bridge. The whole place is quite peaceful and beautiful.
Vishnuprayag to Badrinath
Amidst the cloudy weather and snowy mountains we continued our journey to the place where Lord Vishnu meditated in avatar of Nar and Narayana. After reaching the town first we reached out hotel and kept our luggage there. Then we changed and went to visit the main attraction of the town i.e. the temple of lord Badri Vishal.
Temple is situated at an elevation of 3133m at the banks of river Alaknanda. Near the temple lies the tapta kund. Tapt kund is a hot water spring is river Alaknanda. There are two kinds namely Suurya and n Narada. There are separate kund present for different genders. We took a bath there and I'm must say it was quite relaxing. Legend is that when goddes Ganga came on earth as river, she got divided into two parts namely Bhagirathi and Alaknanda. After a hot bath, we changed and went ahead to see the god. To reach the temple we had to stand in the long queue. The good thing was that the line was moving faster than I expected.
Now I'll explain about the temple structure and bit more detail about the establishment of it.
History says the temple was re-established by Adi Shankaracharya in 8th century. Legend is that before this it was the Buddhist shrine. The current temple complex do look like a Buddhist temple. The temple has colourful walls. The paint on the temple looks brighter during the night time. The temple is divided into three parts: grabhgraha, darshan mandap and sabha mandap.  One has to climb stairs to get inside the garbhgrah. The temple is made up of stones and has pillars in darshan hall. Inside the temple lies the idol of Lord Badri Narayan which is made up of Shaligram stone (i.e. black stone). The god Vishnu is standing holding shankh, sudarshana chakra and other two hands are in yogmudra position.
Here in Badrinath prasad of roasted chana (gram) with its peel is offer to the god. You'll see the floor inside the temple and around the temple is covered with chana.
Other than Lord Badri Narayan there are idols or images of other dieties also such as Goddess laxmi, Nar-Narayan, Lord Hanuman, lord Kuber, Goddess Durga and vehicle of lord Vishnu Garun. A shrine of jagat guru Adi Shankaracharya is also there.
Now coming to the location of the temple.
The temple located between two mountain peaks namely Nar and Narayana. These mountain ranges make the whole place beautiful and the temple more majestic. The sound of the river flowing beside the temple is so ear soothing when you stand in the queue.
After having a blessed darshan of lord Badri Vishal (as it was last darshan for the day) we left and explore the market near by. Across the river lies a big market selling idols of God Vishnu, religious wrist bands, pendants, and number of restaurants serving food mostly north Indian and south indian food. I bought key rings to give them to my colleagues as a souvenir. Finally we went back to our hotel.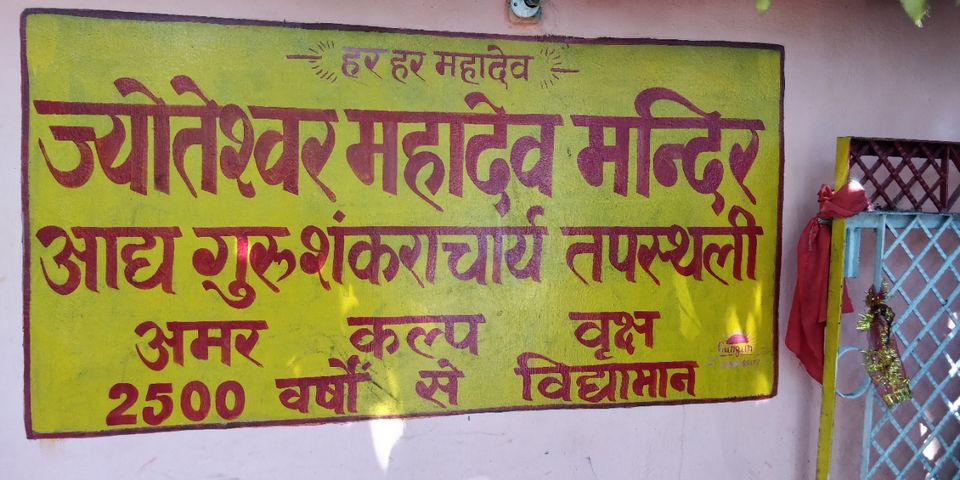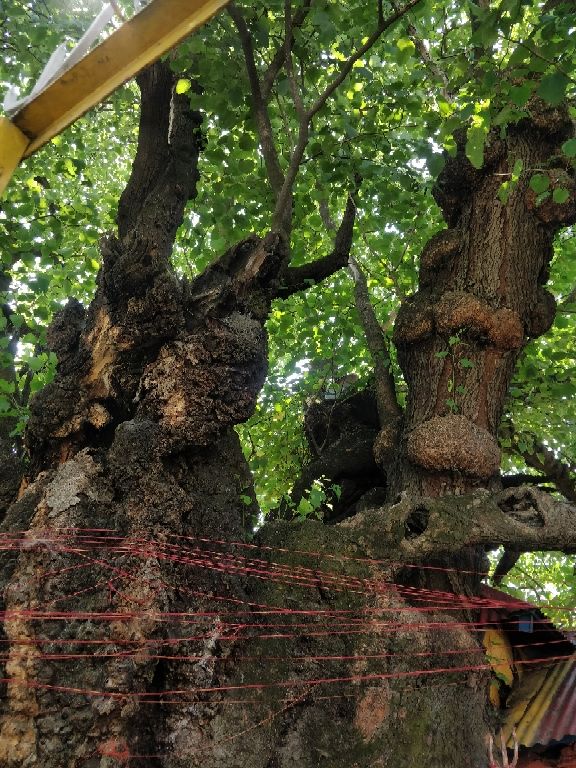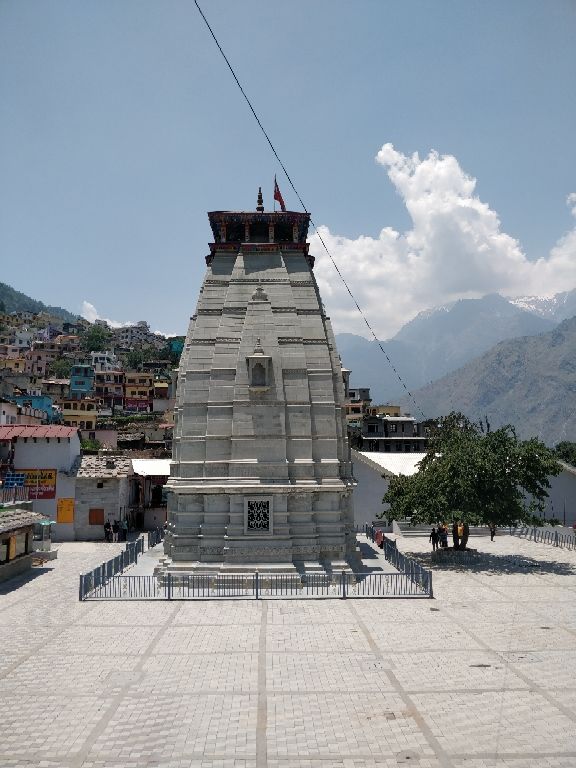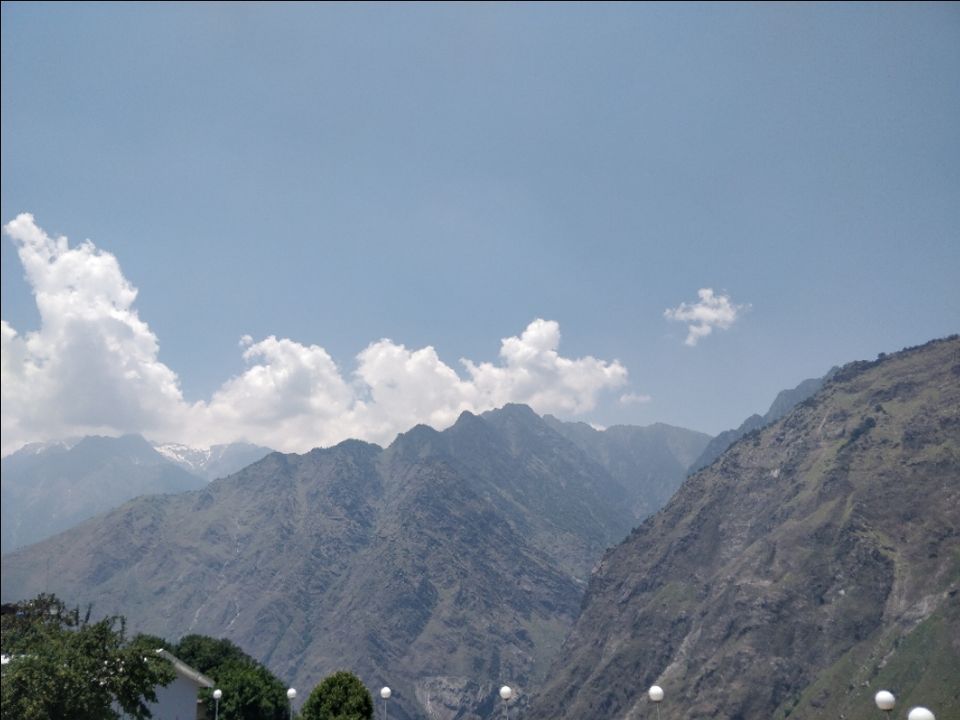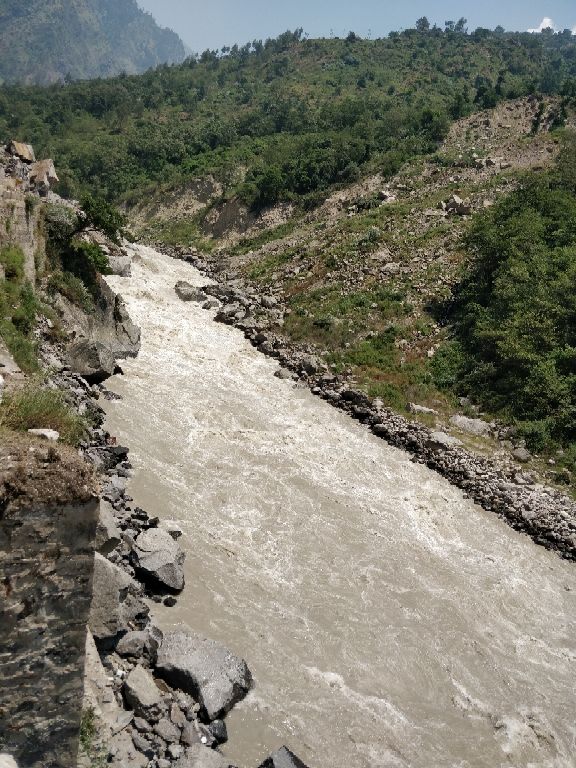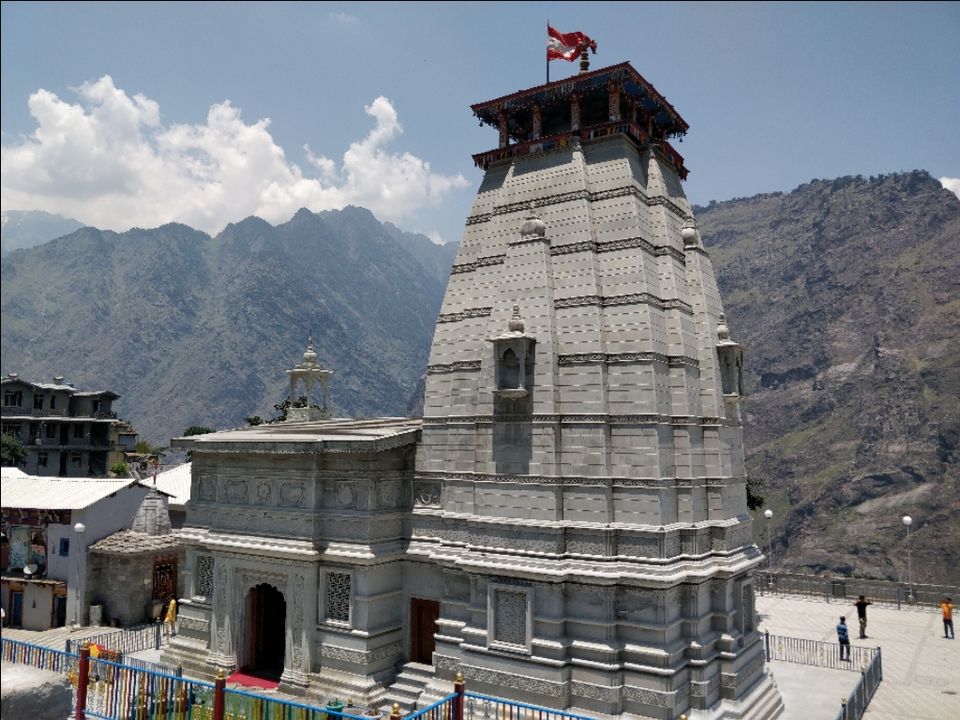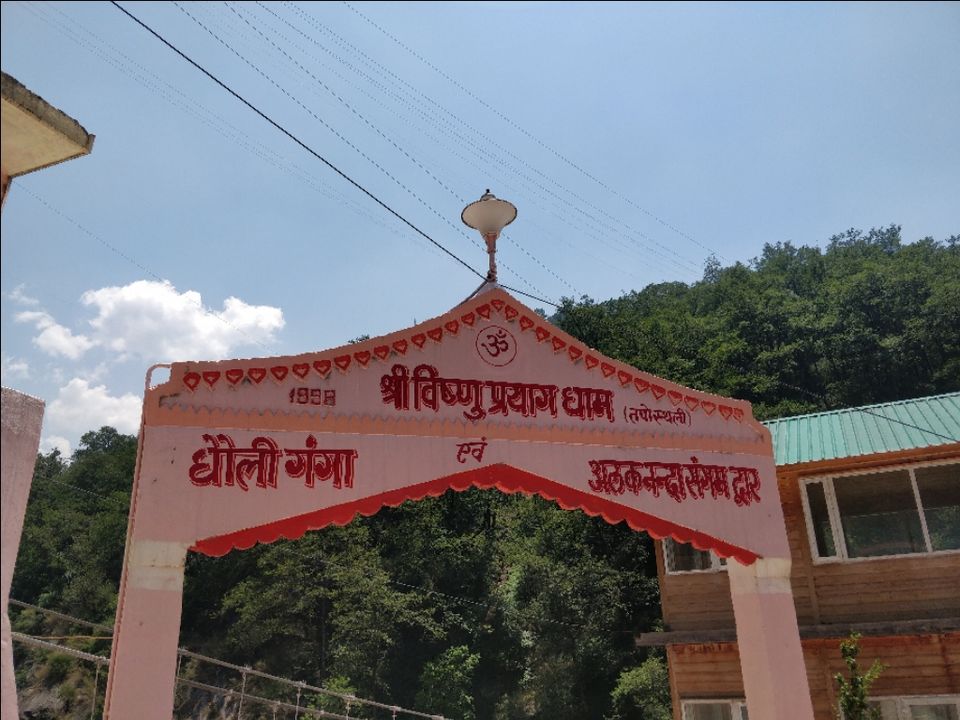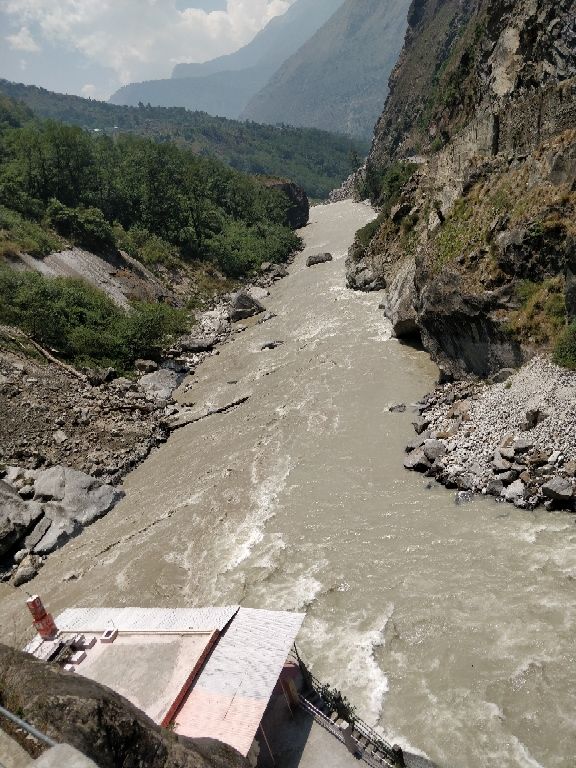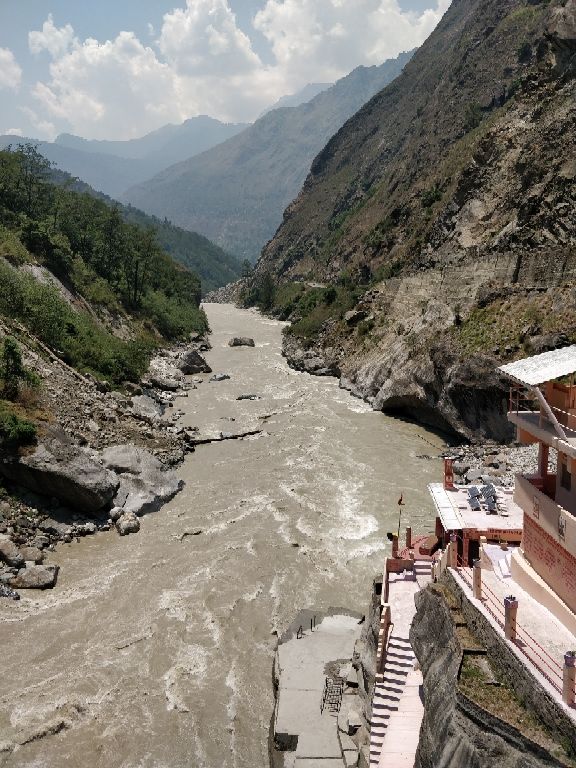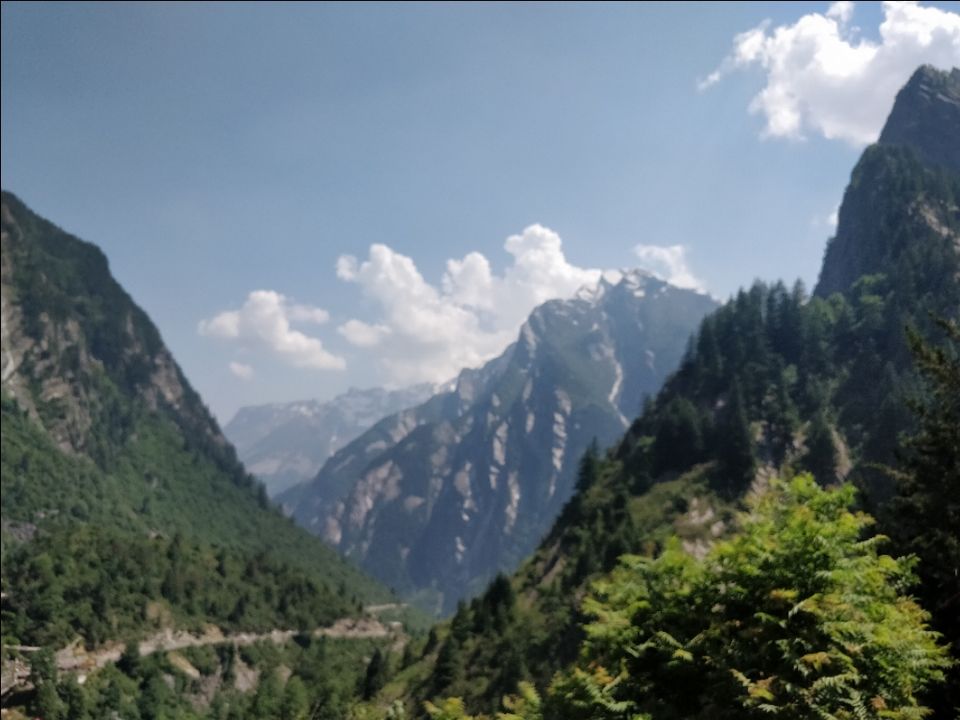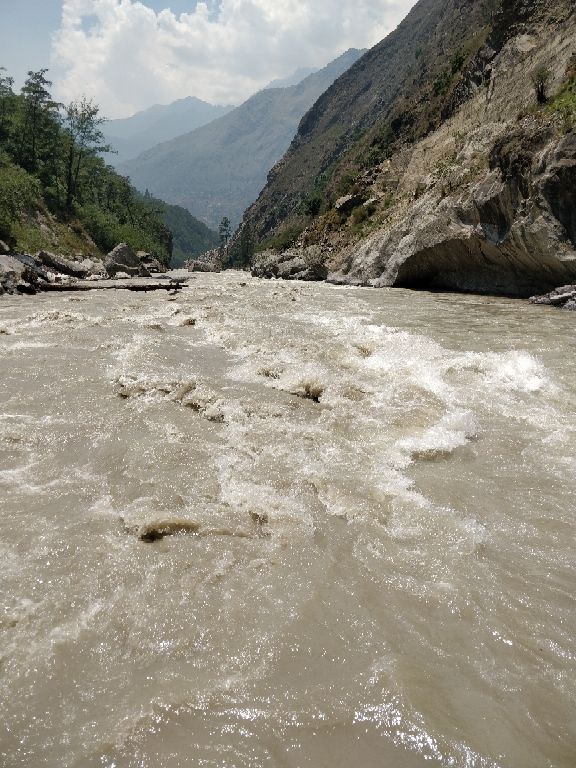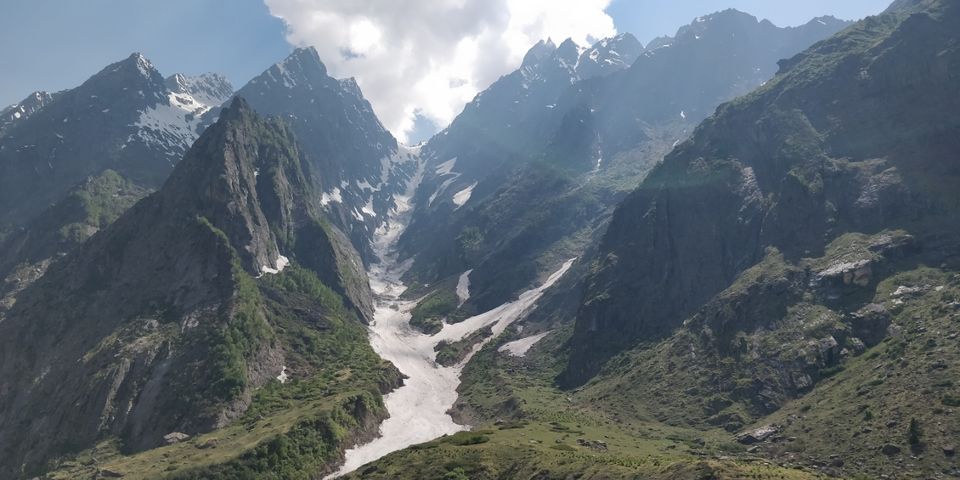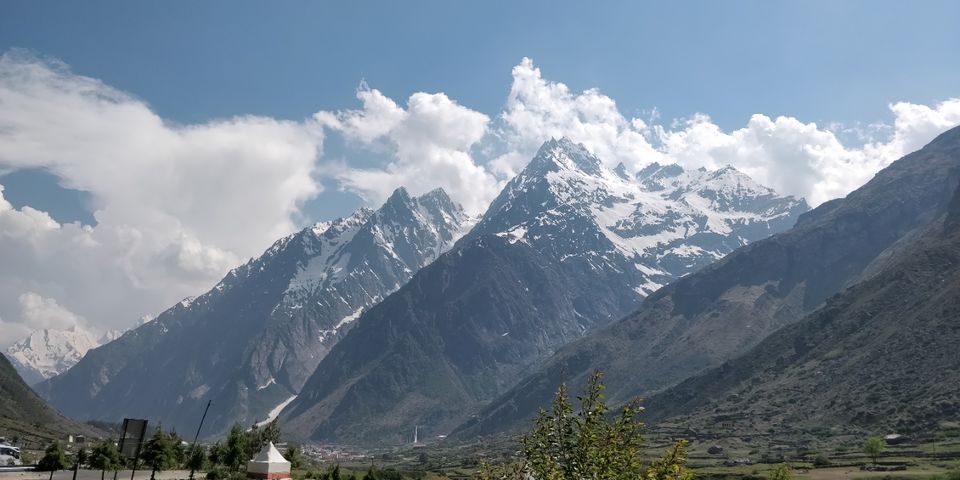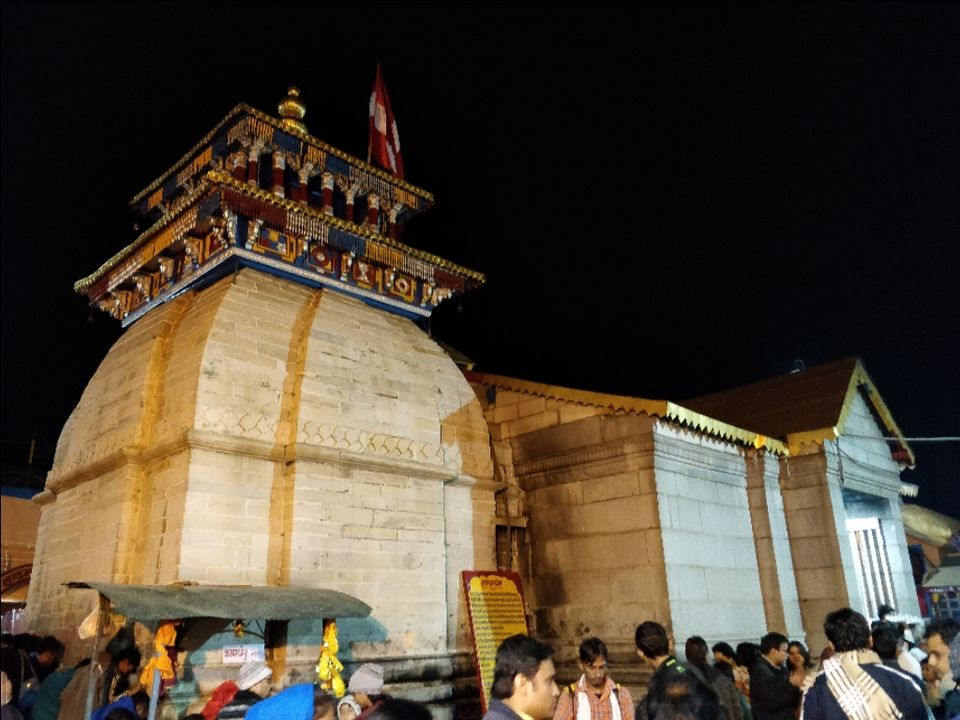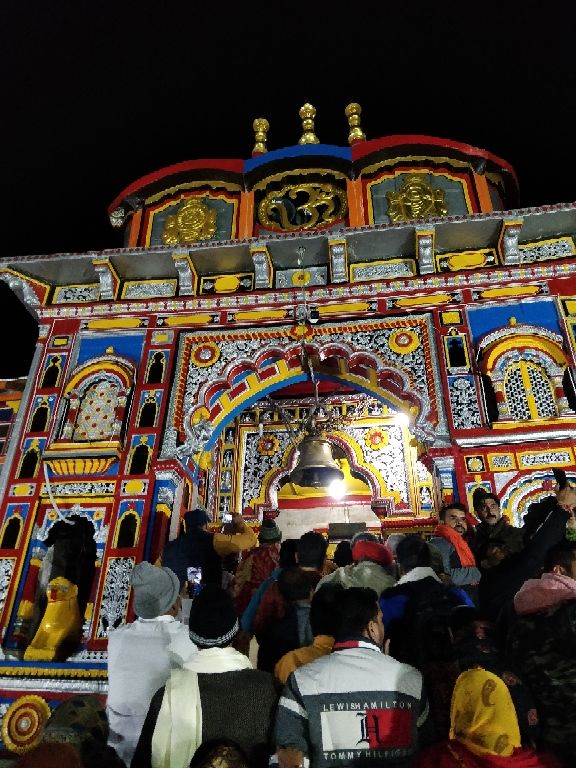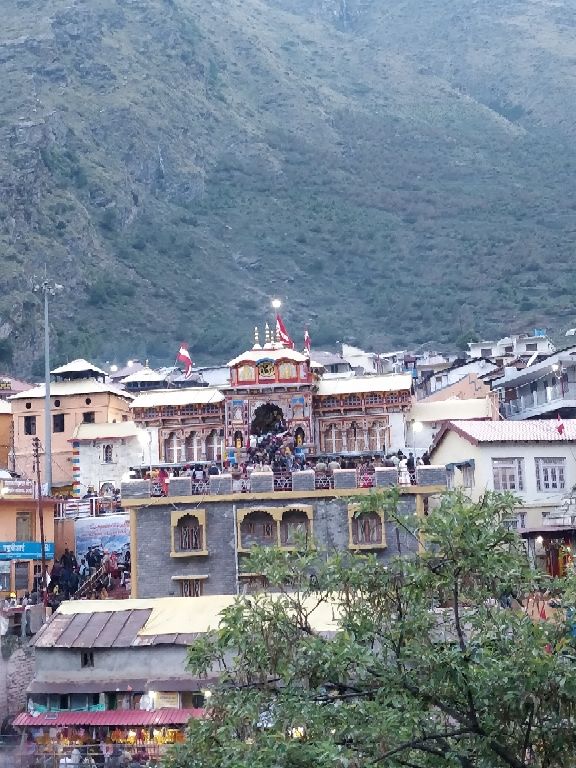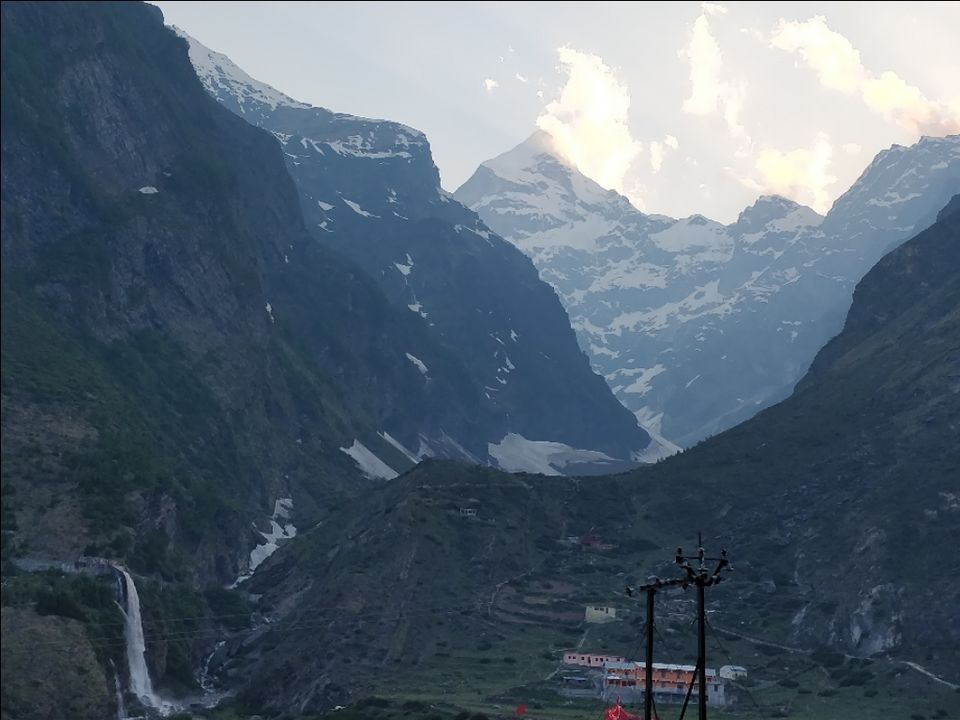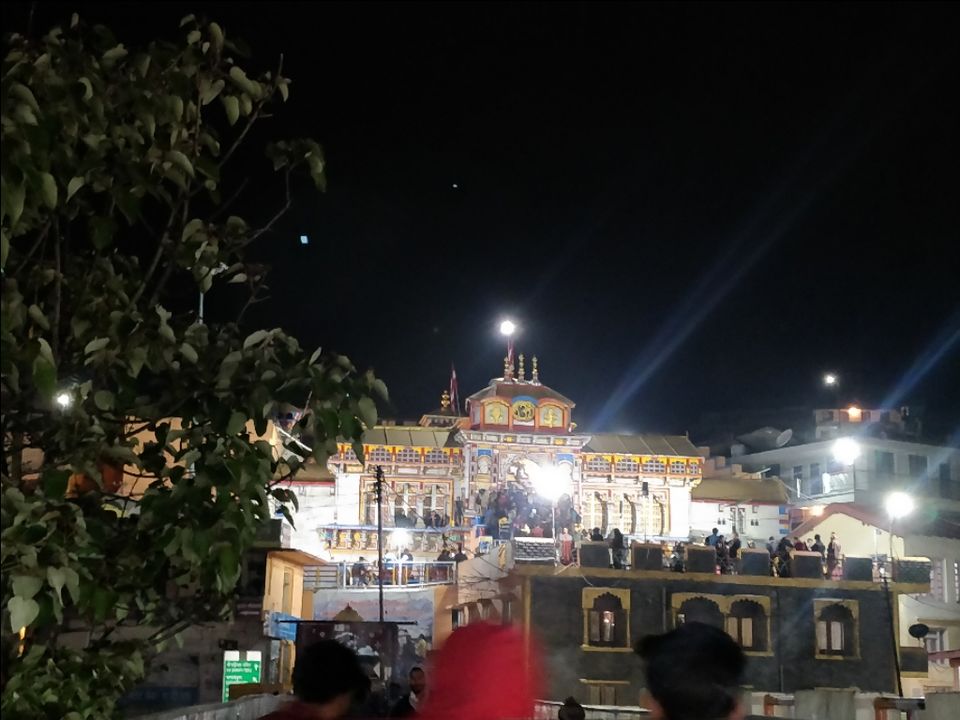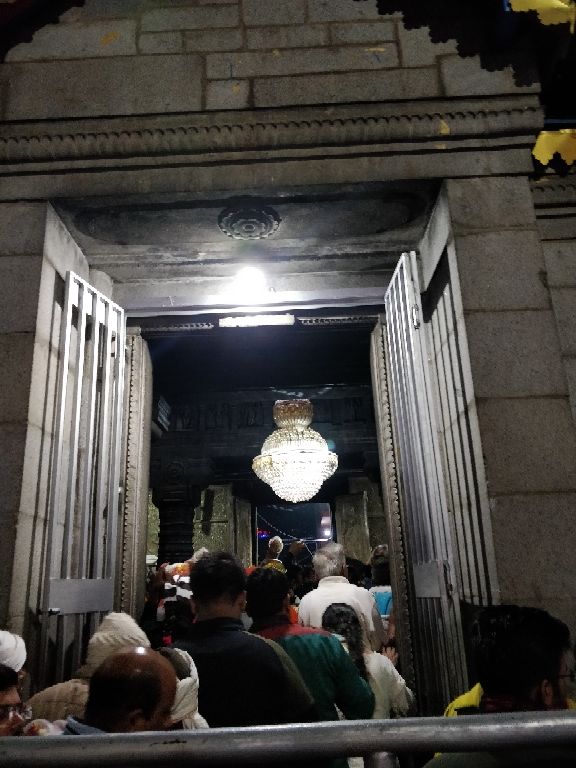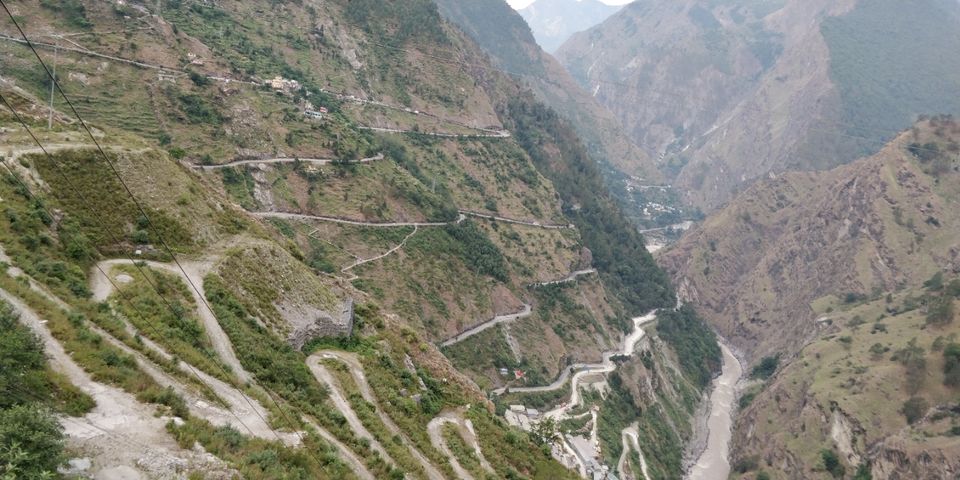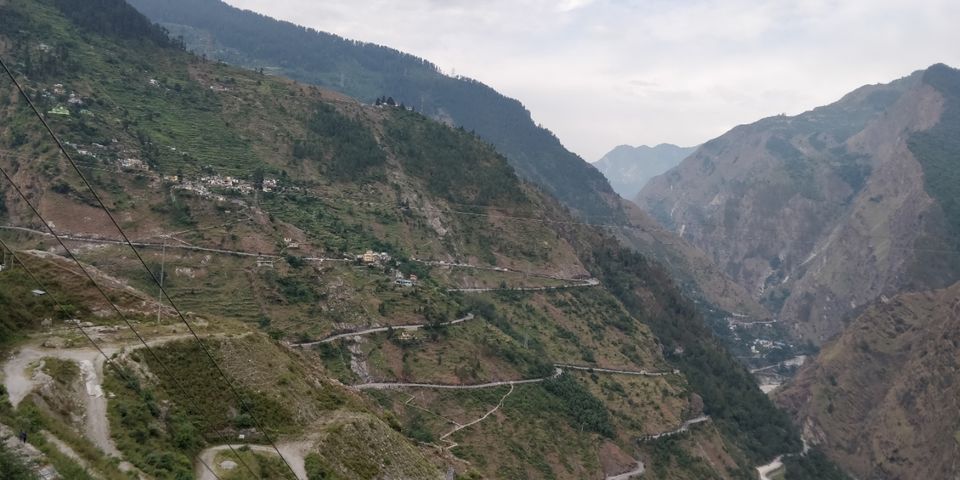 We woke up early in the morning at around 4am, took bath and got ready. We wanted to attend the morning aarti (prayer) of lord Badri Vishal. We left the hotel and went to the temple. Surprisingly, it was less crowded with pilgrims early in the morning than last evening. The weather was also pleasent and cold. We had a very good darshan of the God. Later we spent few more minutes at the temple complex and got a picture clicked by a local photographer present there.
As the sun was rising the mountain peaks started shining like a gold. The morning view was simply exquisite.
Then we returned to our hotel and checked out. Later we left for out next destination Auli.
Best time to visit Badrinath is from May to Mid June and September to October end.
The temple opens in the last week of April and closes in first week of November. Later that lord Badrinath is worship at Narsingh temple, Joshimath.
I urge you to must visit this beautiful place once in your life.