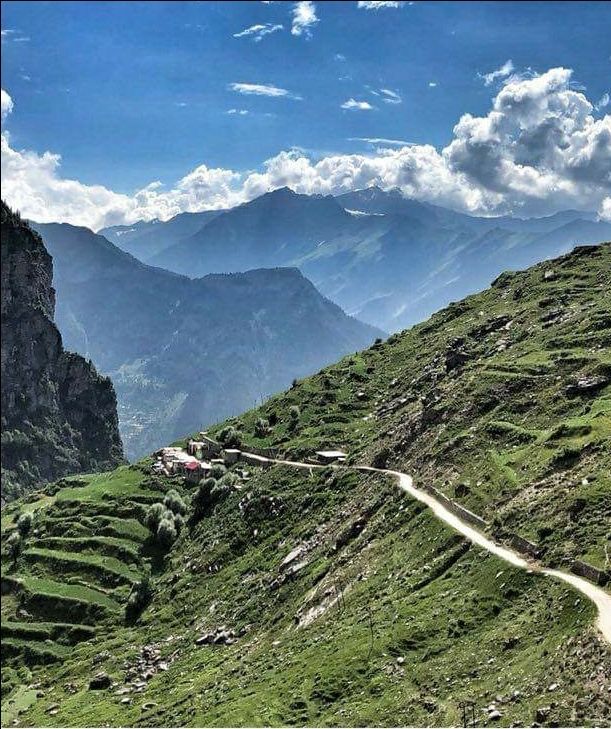 When you think of travelling to Nainital, the only thing that comes to mind is lakes, but now days while these lakes are becoming over crowded and too mainstream, here is an offbeat alternative to experience the offbeat tranquility of Nainital.....
It's an ideal place to relax, rejuvenate or simply let the time pass by not doing anything. Choose from taking a walk through the forests, picking up a book to read from the collection of more than 100 books, detoxify yourself by taking a dip in the pool, or give your body some positivity by an early morning yoga.
Located on the Bhimtal road, equidistant from Nainital and Bhimtal, is a resort named as "Bara Bunglow", formerly known as "The two chimney's Resort". The exact location of this property is village Gethia, which can be easily found on Google Maps.
This is around six hours drive from New Delhi. The nearest railway station is Kathgodam, 24 km. Taxis are easily available from all the points. Since we were travelling from Delhi, so we chose a self driven car. It's advisable to start early from Delhi to avoid the traffic and have maximum time to leisure once you reach.
This resort has a beautiful history attached to it. In the 1890s, the beautiful wife of a British army officer fell in love with the village of Gethia.The entire hillside belonged to her, and she chose the best spot to site her house. This Nainital resort is famous today as Bara Bungalow.
After her demise in the 1940s, she left the house to her faithful retainer whose descendants sold the house in 1999. Some handpicked hospitality industry experts converted this charming cottage into a beautiful living space, a home away from home. A place that has history woven into every tiny corner, a place that serves as a retreat from the humdrum of daily life. A place where you can relax and rejuvenate.
The property has 12 luxury suits and every suit has some unique architecture linked to it. Every room is equipped with a fireplace, a sit out area, an open balcony and some exquisite furniture. As per my recommendation, go for the Deodhar suit or the Ridge Private rooms. Every corner of these rooms spells our history woven into luxury. They have been beautifully designed keeping every minute detail in mind and once u feel the aroma here, the tiredness of journey just disappears.
Apart from these rooms, there is a playing area. This area has a TV, pool table, Table tennis, ludo, carrom. If kids are accompanying you, this room will be used the most.
The reading room has brilliant collection of books so you can just plan to spend your me time with a book as your companion and try getting lost in the aromas of tranquility.
There is a beautiful pool and sitting area adjacent to it. Taking a dip in the pool in the morning or late evening is really refreshing. Breakfast and high tea in the evening are served alongside pool.
Apart from these there is walking area throughout the property through the trees and grassy passage.
The food here is delicious, and such lip smacking food when combined with flawless hospitality is such a treat for body, mind and soul. Dinner and breakfast are available only in buffet whereas lunch and snacks can be ordered ala carte. The staff here is too polite and is ready to go the extra mile to serve you better.
To make your stay memorable there are many outdoor activities offered by the resort on chargeable basis like
- Romantic dining experience under the stars with light romantic music and a 4 course menu.
- Drive down through gorgeous mountains and valley to arrive at farm and enjoy Kumaon Cuisine (lunch) cooked in Himalayan spices.
- Relax your body and soul under the guided supervision of our expert yoga gurus in the beautiful lawns of property.
- Enjoy the nature at its best through a 4 KM trek to the beautiful Nainital located at an altitude of 7000 ft.
Some of these must be given a try while staying here. There are many cafes nearby this property on Bhimtal road where some delicious food is served with great ambience. Do give some of them a try. "I heart Cafe" is one of these must visit places.
The USP of this property is the hospitality of the staff and the way it is designed. In fact this is a place where luxury meets hospitality, serenity meets tranquility, a traditional architecture meets a tourist hotel, a rare combination seen now days.
A two nights and three days stay here including meals and some of the leisure activities will cost around twenty thousand INR.