What does one expect from travel? For some people it could be relaxation, for some adventure, for some peace and for some soul searching. It rarely happens that a travel story could mean all.
This trek is one of those rare forever memories.
Chopta Chandrashila is a 13,100 ft range in the Himalayas. There are of course easier versions of the same trail but we trekked all the way from Sari to Chopta. I stayed in tents, slept in sleeping bags, didnt realize even for once that we had no electricity, woke up by the sun and slept by the moon.
The fact that we were making our way through the majestic Himalayas (its forests, its plains and its snow) made the whole experience overwhelming. You are so away from the daily noise and unnecessary routine that you can afford to be in the make belief world where everything is peaceful, the world is nice and life is good :)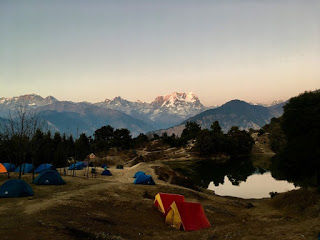 Lets get to the technicalities. The process is quite simple. I had booked a week trek with "Trek The Himalayas"whom I highly recommend. The whole process was so seamless that we just had to do the bookings, pack our bags and reach Haridwar. From there on everything ( I mean everything from food to stay to travel) was taken care of leaving you with a hell lot of mind space to be with yourself.
A typical group would consist of 20-25 people. I was under the impression that groups of friends would book it leaving very little scope for making new friends. Guess what just the opposite happened. I was blessed that my first such trek made me meet these amazing people from around the country and one even from Japan :) Like I said travel could mean different things for different people. For me the highlight was to meet all these people via which I got a sneak peak into their lives, their thoughts and values helping me to introspect better. I met a crazy girl like me which was almost like looking into a mirror, I met a guy with an innocent heart helplessly in love, I met a man who had had brilliant experiences and still was open to all that's new, I met two young kids I would say with whom I instantly had that elder sister feeling, I met few guys who reminded me of my roots, a guy who instantly felt like a forever friend and many others. And I got all this in seven days walking across forests, conquering peaks after peaks, not giving up and always silently thinking when was the last time I was this stress free :)
Again missed on the technical stuff :P So you need to reach Haridwar and by jeep Day 1 we reach a place called Sari. We stayed in hotel rooms there and got to know the gang.Next morning we got all dressed up to start our first trek to Deoriatal( Though it was only a 3 KM trek, it was quite steep and took around 5 hrs). We stayed in tents near a beautiful lake. Next morning we started our long trek of 16 kms to Chopta. This one was through forests and today is the first time we get to see snow (rightly guessed we are excited like crazy and are taking pictures :D). By evening we reach Chopta and are damn tired. Next full day we are to take rest but now our enthu selves have already taken over and instead of relaxing we climb again to explore the market ( Some of us also climbed to dance in the middle of the hills :P). Next day we start the 5 am trek to the final destination. We are tired, we are excited, we want to climb the mountain, we want to sleep some more, lets just say we are damn confused :D. This trek is a steep 4 kms up and 4 kms down trail. First spot we reach is the Tungnath temple which is also the highest Shiva temple in the world. Next we reach the Chandrashila top from where the view is really hard to explain. We had reached the top of the snow covered mountain to be surrounded by hundreds of other small, big and huge mountains.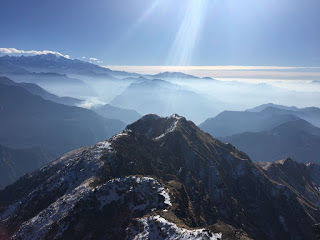 You reach the top and think "You did it"for an instant, next moment you know all this is a small part of the huge majestic Himalayas.I am forced to think yet again what is the purpose of my life, have I done enough, am I on the right path .. all because The Himalayas had silently and humbly shown to me that Life is to be lived today, Its too powerful to be conquered!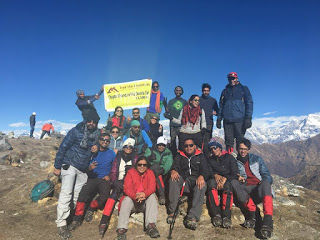 Image Credits - The Trek Group