#TripotoShoots
"Chasing angels or fleeing demons, go to the mountains"
A long weekend always comes with some new things. four day weekend at Republic day was an ideal opportunity for us to travel. We decided to do snow trekking this time. Chopta was in my mind from a long time. The beauty of Deoria Taal, Chopta, Tungnath and Chandrashila were calling me to explore it.
We booked sleeping Volvo bus tickets to Rishikesh costing 450rs. We took a bus from Anand Vihar, New Delhi at 11 pm after having dinner at Dheemi aanch, a nearby Dhaba at the bus stand.
In next 6 hours, we were in Rishikesh. Booking sleeping bus was a good decision which gave us a good time to relax after office hours. We have been to Rishikesh many times so it was nothing new for us and we directed to the local bus stand and took a bus to Rudraprayag, 140 km away from Rishikesh in 200rs. We get familiar with the locals in the bus and keep doing fun with other passengers. The journey was pleasant as on one side it was river Ganges and on the other side Himalayas. We reached first major city Dev Prayag which is also the originating point of the Ganges, sangam of Alaknanda and Mandakini. Then we head to Rudraprayag and reached around 12 pm. We took our lunch at Rudraprayag and boarded another bus to Ukhimath. The only thing to take care here is bus play on hourly bases and are too small so grab your seat as early as you can. It cost us 60rs and one and half hour. From Ukhimath we took a local bus on sharing basis to Sari village the base camp for Deoriataal in 30 Rs. You can also book a direct can from Ukhimath to Sari which can cost anyway from 1000-1500 depending on your bargaining skills.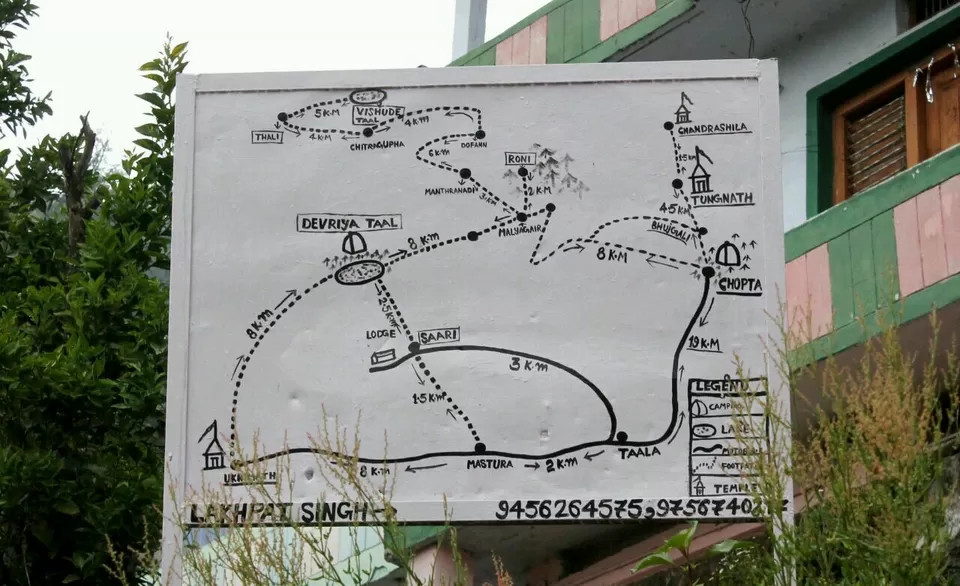 We were at Sari by 4.30 pm. It was a 2.5 km trek so we were targeting to accomplish it in 2 hours. As we were going up it was difficult to breathe and we were getting exhausted too but as we had a crunch on time so we keep moving. While trekking we met two other people from Gurgaon also. We reached near the lake in next one and half hour and met one person who booked our camp with a local named as Negi.
It cost us around 600 for four person and 100 rs per plate dinner. Entering the lake premises you have to give 75 Rs (for students) 150 Rs (for adults) as per the government charges. As I have my old college id with me so for us it was 75 Rs.By the time we reach there is was already dark and only a few parts of the lake had a little snow.
We roam around the lake and completed a circle around it. It was full of peace and calm nature. Meanwhile, our tents were arranged with the sleeping bag. We had our dinner and went to sleep in cosy sleeping bags.
We heard some noises in the early morning about the snowfall. But when I opened out tent it was only drizzling. As we were aware of the rain forecast so this did not surprise us and we slept for some more time. After that when we opened, snowfall started. We hurriedly got out of the tent. It was looking like paradise as we came out of the tents. It was our first ever snowfall so were playing like kids in the snow. As the time passes it was getting heavier snowfall the entire area was full of snow.
For more travel pics: www.instagram.com/globe_trotter_boy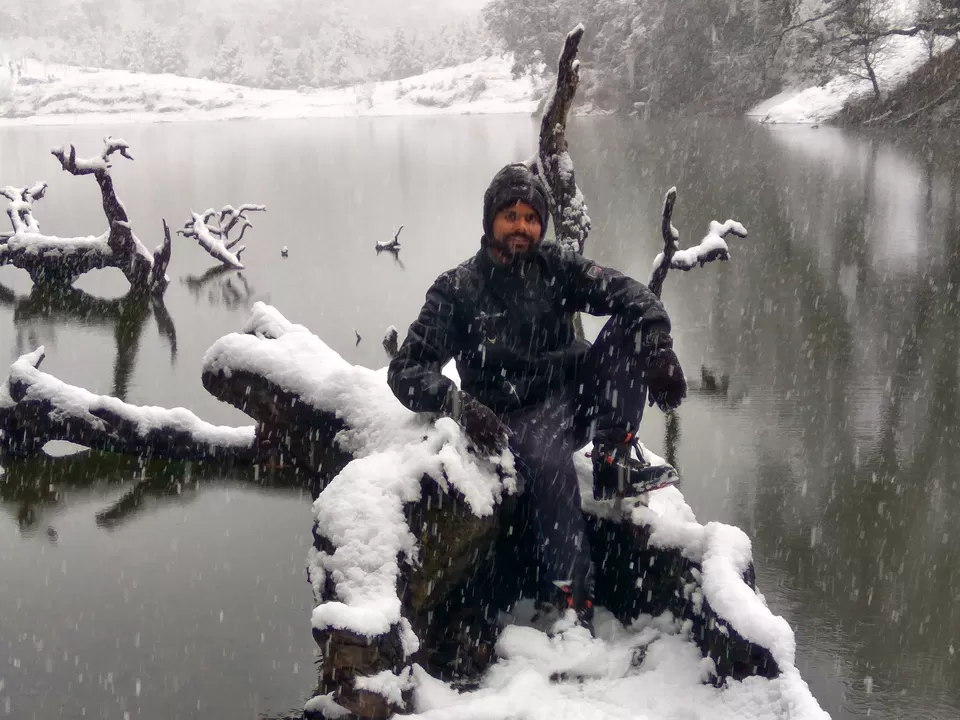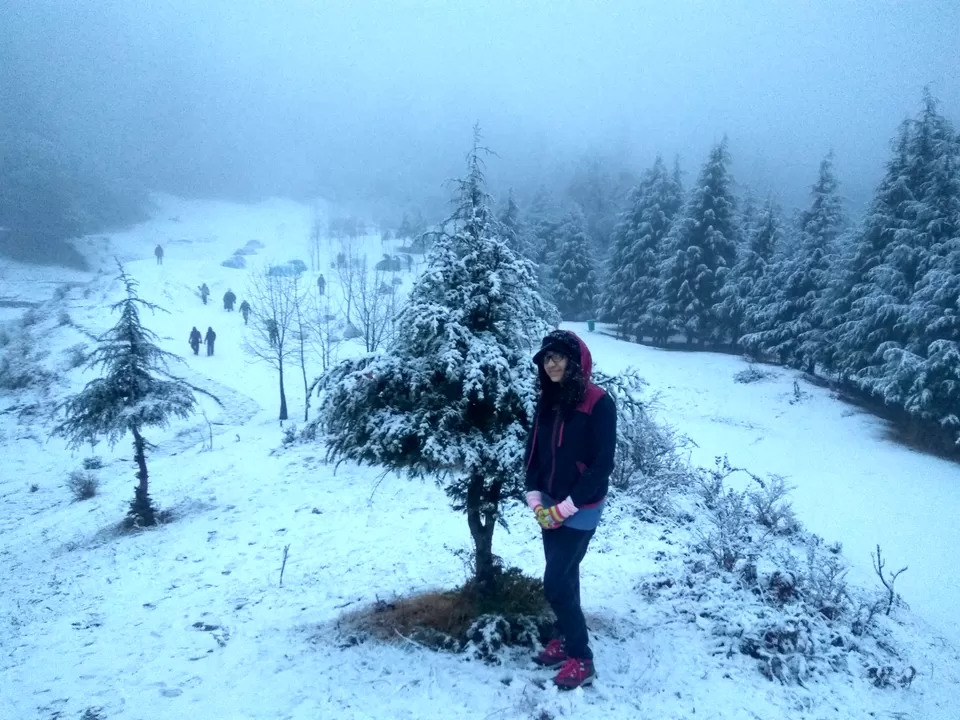 We again roamed the around the lake in the snow. We also created a snowman there. It was getting freezing cold and with the help of our Quechua shoes, we were able to walk in the snow. We took lots of photographs in the snow and then headed to have the breakfast. Negi sir provided us with parathas and chai.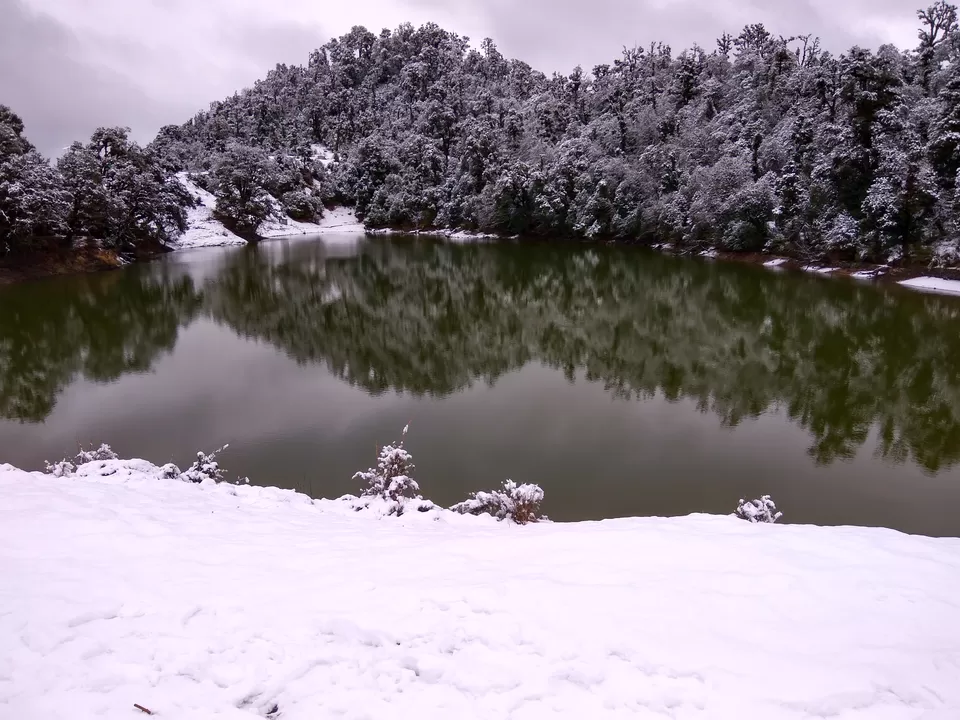 Getting to the washrooms was a difficult task as the water was bitter cold, but still, we somehow managed. We have the plan to go to chopta by trekking but due to night's heavy snowfall, some locals advised us not to go through trekking. We followed their advice and trek down from Deoriataal to sari and booked a cab to Chopta. But due to snowfall, the cab driver told us that cab can not go up to Chopta due to slippery roads so he will drop us at Baniya kund around 5 km before Chopta. By that time we have a new group of friends they all were students and quite good people. We all ten members boarded the cab and reached Baniya kund.
It was around 4 pm and still, we have to trek on the roads for five km. After having the snacks we started the trek. There were few shortcuts also to reach Chopta but we avoided them as it was getting dark. Those shortcuts are the snowy treks which is quite dangerous at night and if you do not have a guide. We kept moving on the roads with our JBL speakers and dancing on the songs.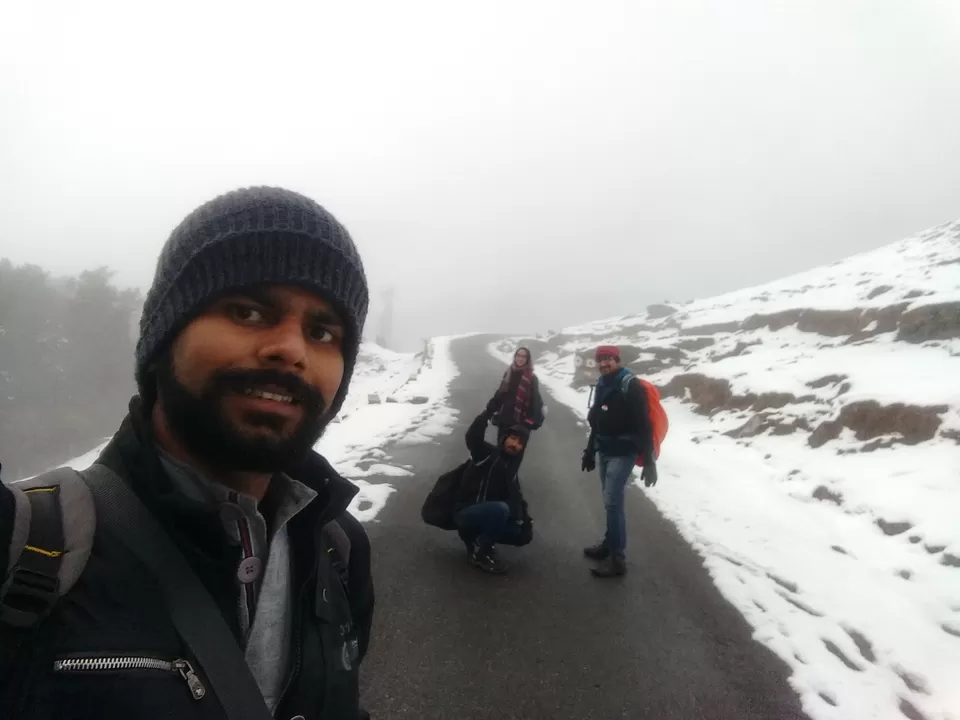 What we were imagining about Chopta is a small town with lots of hotels and chai maggi points. But it was totally different from our imagination. Only four or five hotels.
We took two rooms in 1800rs which were having four beds in each room. we then had the dinner. the mobile signals in Chopta are very weak and up and down. So please inform your near and dear ones well before time. After the dinner we all ten guys sat in one room and played the cards. We start to know the other group as well and get to know a proverb "Maut ho gae". It is a famous proverb in their college for some difficult task. Again the water here was almost frozen so to do the essentials tasks again you have to die. We slept around 1 am dreaming about the next day trek to Tungnath and Chandrashila.
We started the trek at 9 am after having a heavy breakfast. locals told us that it took around 5-6 hours on both sides for Tungnath. Please keep your government slip which you paid at Deoriataal. As here also you need to show the same before starting for the trek. Then we started the trek, it was all covered with snow from the starting point. We were trekking up with the feeling to conquer our first snow trek. It was a pleasant view all around the way of Nanda Devi hill range. We were having breaks after every 30 minutes to gather some more oxygen. It was a total of 4.5 km trek and last one km was the difficult one. As we were exhausted by then. But somehow we reached the Tungnath temple by 1 pm. It was 2-3 feet snow on the trekking way.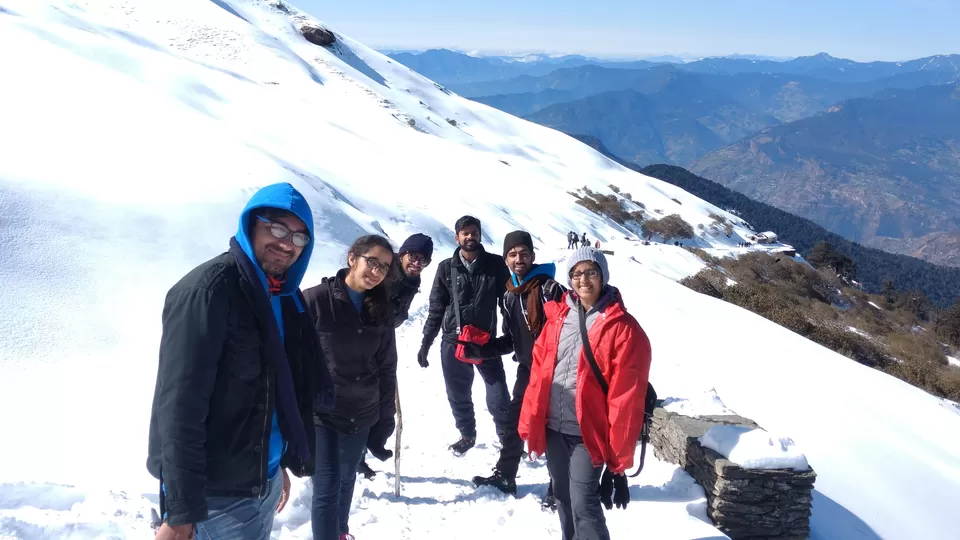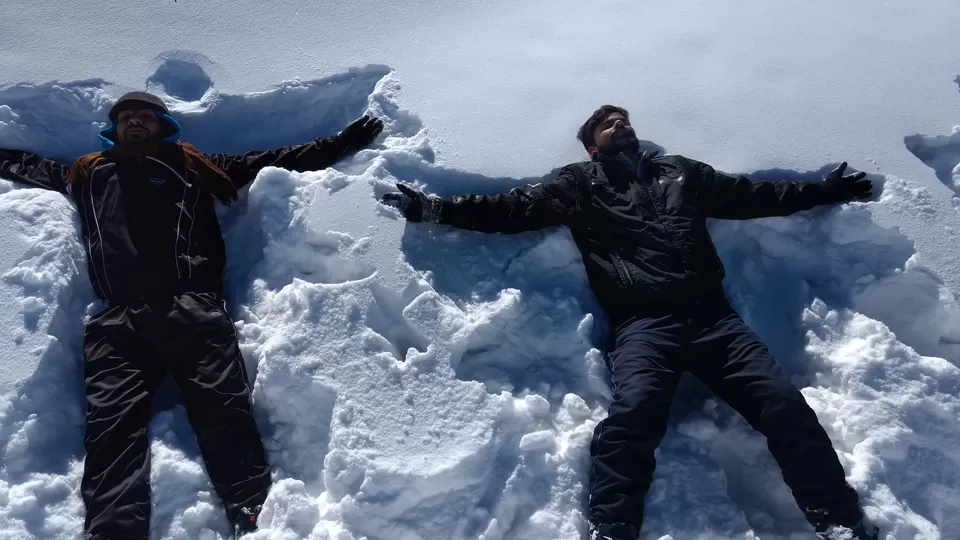 We took a sigh of relief upon reaching the temple. We were lost in the amazing view of Tungnath temple and sat there for an hour. Chandrashila was still one and a half km upside but due to heavy snowfall, no one was going there. We also decided to step down from Chandrashila trek. While returning from the Tungnath it was more delightful. As we opted for some shortcuts through sliding down from one point to our other point. It was giving us a small feeling of skiing in Auli.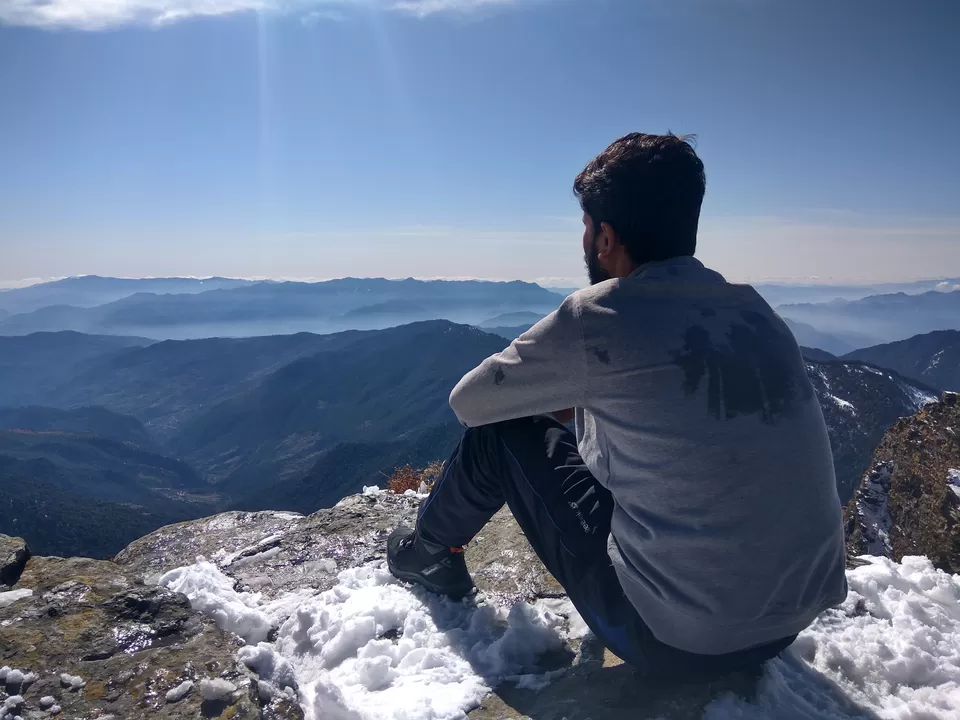 It took us only one and a half hour to reach back to Chopta. It was a memorable trekking both ways. We took another cab from Chopta to Sari village where one of our group mates parked his car. We then came back to Srinagar and spent the night there.
Next morning we took a bus from Srinagar to Haridwar and post reaching Haridwar another bus to Delhi. we came back from a four day trip with lots of memory and thinking for another snow trek may be Chadar trek next time.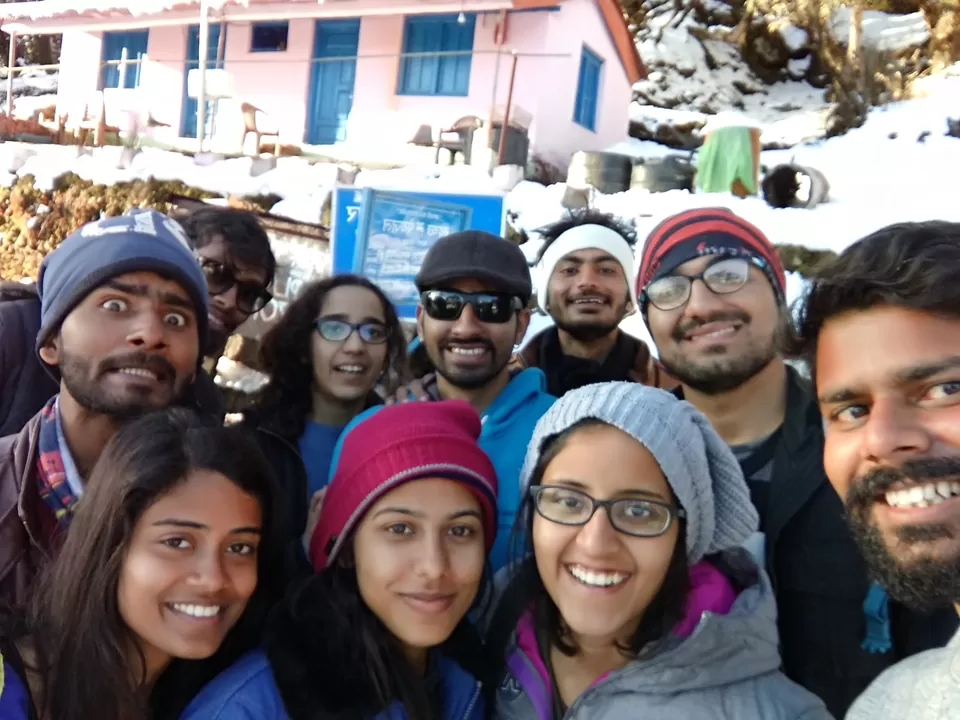 Few things to know:
Our trip costs us around 4000 Rs per person. If you travel by public transport. Do carry an extra pair of clothes, raincoat, gloves and especially four to five pairs of socks. Have a good pair of shoe you can opt for Quechua shoes.
Few things we learned:
In mountains, even dogs are following cleanliness drive. so we must opt for the same.
A new udiya song Rangabati (coke studio)
Maut ho gae (difficult task)
Keep travelling, trekking and exploring new places and persons.
Frequent searches leading to this page:-
rishikesh to chopta, rishikesh to chopta bus, rudraprayag to chopta, delhi to chopta bus, chandrashila trek budget