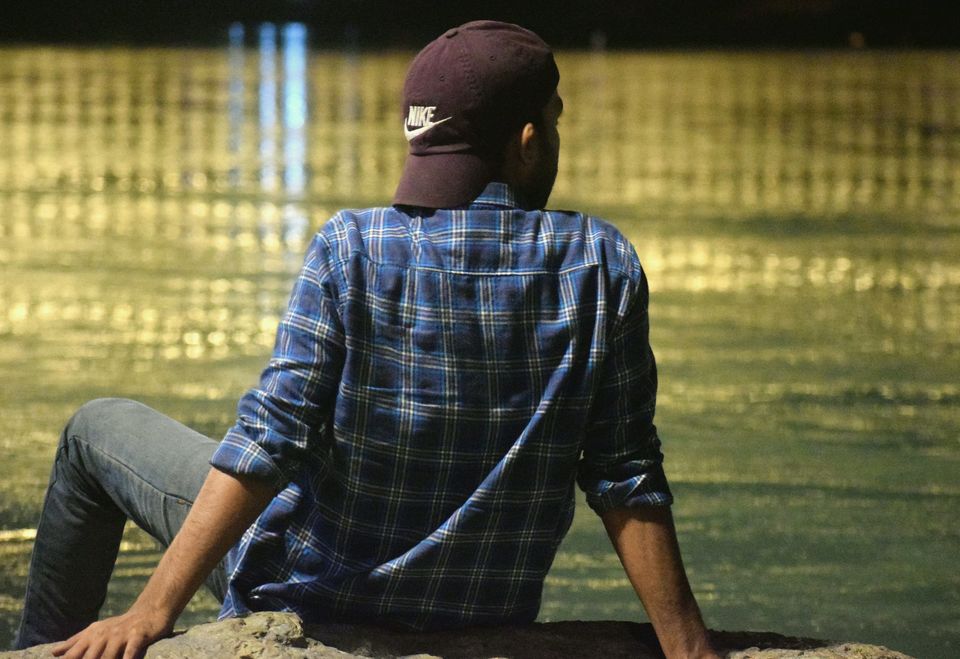 In Deoria Tal - Trek & Travelogue & 2, I am sharing my travel experience to offbeat destinations of Deoria Tal and Chandrashila Peak in North India. The blog recounts our trip to Deoria Tal and Chandrashila from Delhi.
Why Deoria Tal Chandrashila trek?
My Friend Manish demanded "Mujhe hare nahi safed pahaad dekhne hai! (I don't want to see lush but snowclad mountains)" and my younger brother asked "Central Himalaya ke Pahaad dikhenge na? (Will the Central Himalayan peaks be visible?)".
I knew that both of them are not very keen on trekking for long hours. We had only four days to complete the trip. Also, we all wanted to watch the Snowclad Central Himalayan Peaks (a bit of Geeky language!! I know).

A trek to Deoria Tal and Chandrashila for the weekend trip was an ideal choice. The treks are small with unparallel views of Garhwal Himalayan range. The treks are open in all season. Also, the treks are easy to access and well connected. One can reach easily on public transport. So, I described them about the Chandrashila and Deoria Tal trek.
How difficult is Chandrashila and Deoria Tal trek?
Deoria Tal is an untouched emerald lake at an altitude of 2438 meters (7999 ft) with lush green and woody surroundings. It has a gorgeous backdrop of peaks like Chaukhamba, Kedar range, and Thalay Sagar.
The trek route is about 2.5 kilometers and starts from Sari Village. It involves easy to moderate grade trekking. The trek from Sari to Deoria Tal usually takes 1 to 1.5 hours since it includes some steep ascent. The trail is rocky but well defined.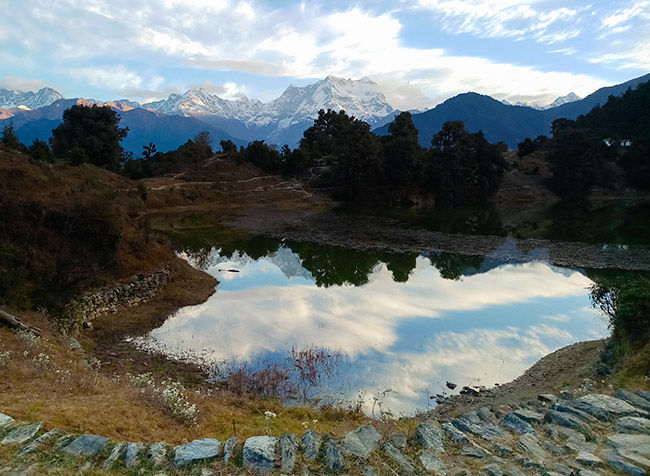 Chandrashila is the summit of Chandranath Mountain at an altitude of 3682 meters (12077 ft). Chandrashila literally means "Moon Rock" which offers a 360° view of Heavenly giants like Nanda Devi, Trishul, Chaukhamba, Kedar range, Neelkanth and many more.
The trek is famous for Tungnath, one of the Panch Kedar temples. The others are Rudranath, Madhyamaheshar, Kedarnath and Kalpeshwar. Tungnath, the Highest Shiva temple is situated on this very mountain.
The trek is about 4 kilometers (shortest trek of all Kedar) and starts from Chopta. The trek from Chopta to Tungnath is on a cemented pilgrim trail with benches at regular intervals to rest and enjoy the scenic beauty. The climb from Tungnath to Chandrashila is steep and rocky. It involves easy to moderate grade trekking and usually takes 3-4 hours to complete.
What is the best time to Visit Chandrashila and Deoria Tal?
The best time to visit is mid-March to June and September to mid- November. As Snowfall and sub-zero temperature are common during Winters. One can go for Winter trek to Chandrashila and Deoria Tal in December to February as well. Winter trek takes longer as you need to tackle the snow. Monsoons months could be tricky in the Mountains with landslides and roadblocks.
I prefer and recommend October end - early November to visit the mountains. The weather usually remains stable with clear blue sky and bright sunshine. No rain clouds, dense fog or snow to block the view.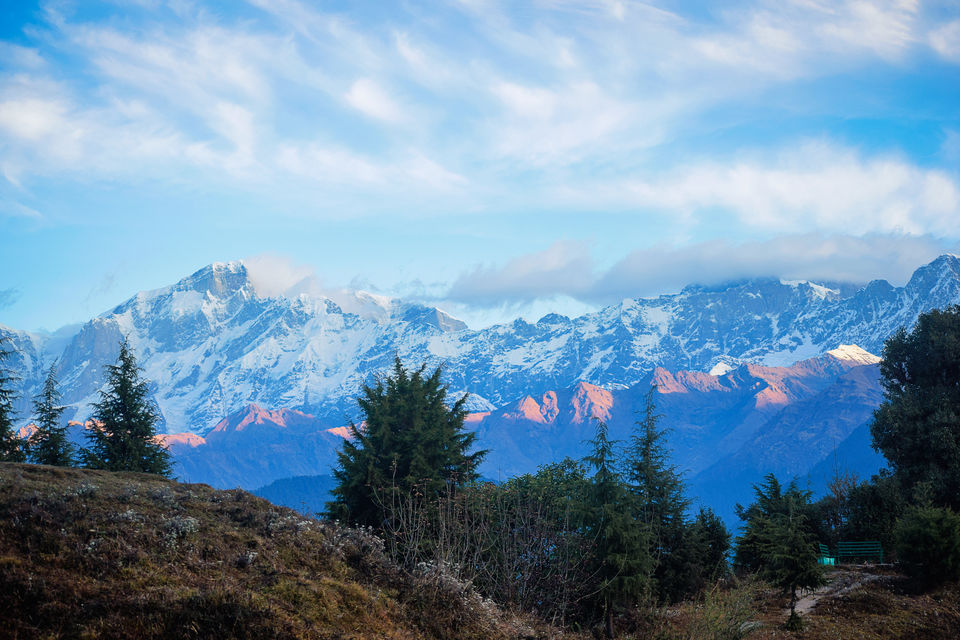 We chose October 31st to avoid the weekend crowd. The forecast showed stable weather for the next three days. Winter came early last year ending the regular season abruptly. (Thankfully without the White Walkers). That meant a lesser crowd altogether.
How to reach Deoria Tal and Chandrashila?
You can easily cover Delhi to Chopta distance as it is well connected with roads. There are no direct bus, train or airplane route from Delhi to Chopta.
Buses: You can take direct buses from Delhi to places like Haridwar, Rishikesh or Rudraprayag. From there, you would easily get connecting buses and shared jeep to Sari, Chopta.
Trains: Nearest train Stations are at Haridwar and Rishikesh. The rest of the travel has to be done by road.
Airplane: The Nearest airport is Jolly Grant Airport in Dehradun. Then, reach Chopta by road.
Buses, Shared Jeeps and Private Cabs ply from all the above locations. They run from early morning till evening. Public transport stops once the sun goes down. Private cabs or self- transport remains the only option thereafter.
Our Itinerary for Deoria Tal Chandrashila trek
Day 1 – From Delhi reach Haridwar (225kms) or Rishikesh (24kms), overnight stay
Day 2 – Reach Ukhimath (182kms) or Sari – (14kms), trek to Deoria Tal, overnight stay at Sari
Day 3 – Reach Chopta (16 km), trek to Chandrashila, trek down and overnight stay at Chopta
Budget for Deoria Tal Chandrashila trek
We decided to travel on Public transport and make it a low budget trip. It was not comfortable but we wanted to travel with the locals. Our route plan was flexible, so we did not book any hotels/guest house in advance. There were many budget options to stay in Chopta. Haridwar, Rishikesh, Devprayag and Ukhimath and other en-route towns had a range of staying options too.
So, our Journey began
Delhi to Rishikesh – Day 1
I left my Office in Gurgaon at 8 o'clock in the morning. I had only 2 hours to reach Kashmere Gate Bus Terminal. The bus tickets were already booked with its departure at 10 o'clock. Delhi Metro was our only hope. (What!! Crowded??). Remember, traveling with the locals!!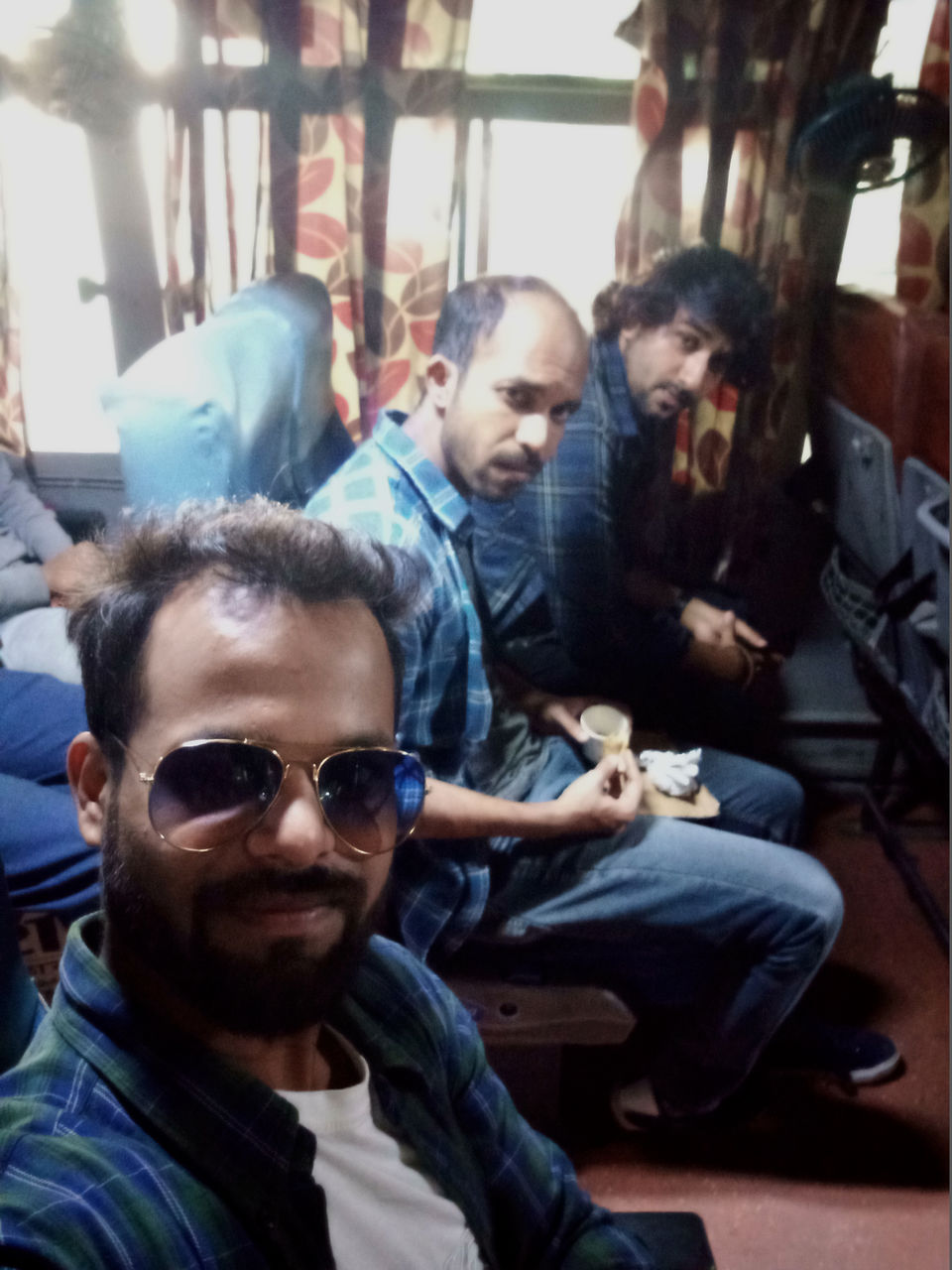 I managed to reach the bus station with 10 minutes to spare. Shaan and Manish were already waiting anxiously at the Bus station. Ready to make excuses to delay the departure of the bus.
The journey started from Kashmere Gate bus station at 10 am in the morning to reach Haridwar – The next destination on our long journey. The Plan was simple for the day, Reach Haridwar, taste local food, watch Ganga Aarti and then leave for Rishikesh or DevPrayag for the overnight stay.
Haridwar
We reached Haridwar by 3:30 pm and found the initial trace of Shivalik hills. The life-giving Ganga emerges from hills and reaches the Northern plains here (Yes! Geography). There was a slight change of plan en route Haridwar. The Ganga Aarti usually takes place around 6 pm and that would mean waiting here for 2 and a half hours. Watching the Aarti and taking photos of Ghats could have halted our journey today. So, we decided that we will rather reach Rishikesh to watch the Ganga Aarti and advance towards DevPrayag thereafter without waste of time. We boarded an Auto Rickshaw to reach Haridwar.
Rishikesh
The road towards Rishikesh goes through Rajaji National park as soon as you cross Raiwala. The change in weather and landscape was apparent. The temperature dropped 4-5 degrees with the thick foliage around and Shivalik foothills in the backdrop. We were in the territory of "The Himalayas". We silently watched the trees and hills going by with little streams emerging occasionally.
We reached Rishikesh by 4:30 pm. The Phat-Phat autowala took us to the local bus stand to find out the options to reach Devprayag. No public transport leaves for the upper hilly region after 5 pm and only private cabs were available. So, we decided to stay in Rishikesh and leave early in the morning. The Autowalla again helped us to find a Hotel right next to the bus stand. We dropped our baggage and left for Triveni Ghat right away. We gave some extra tip to our "Auto Waley Bhai Sahab" for his guidance.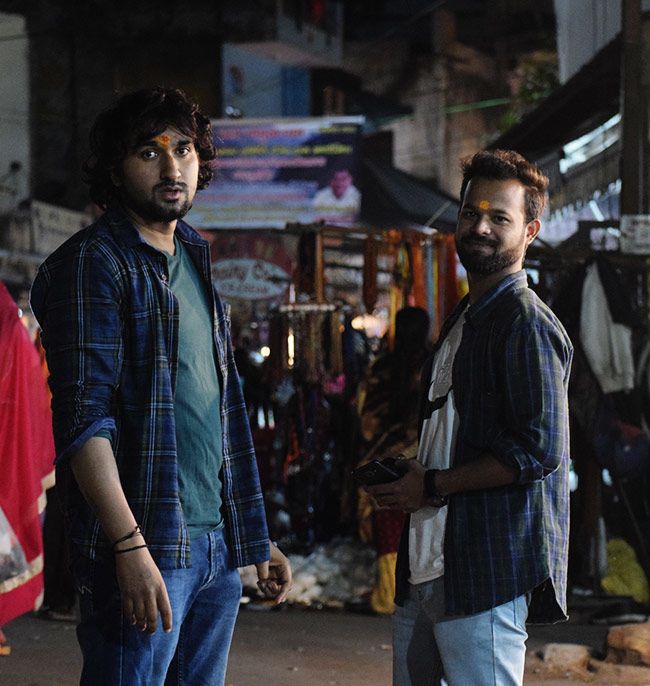 Ganga Aarti at Triveni Ghat, Rishikesh
After a small walk through the market, we reached the Ghat, the Aarti was about to commence. It was twilight and the glittering river bank started to resonate with bell sounds and prayer chants. The Pujaris (Priests) lined up and started waving the fire stands animatedly, in sync with the live Bhajan (Hymn) and claps. People, priests, and everything was paying homage to Sacred Ganga.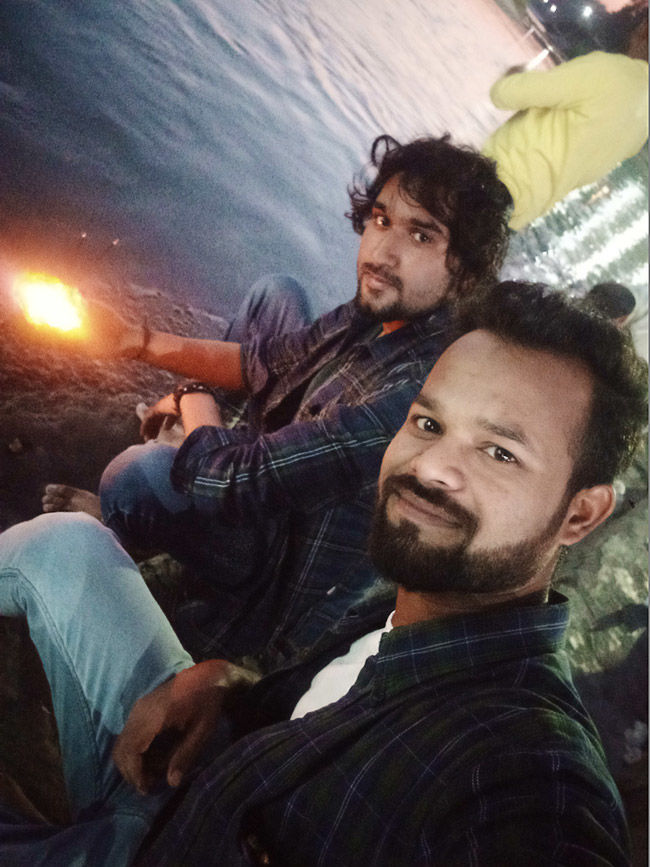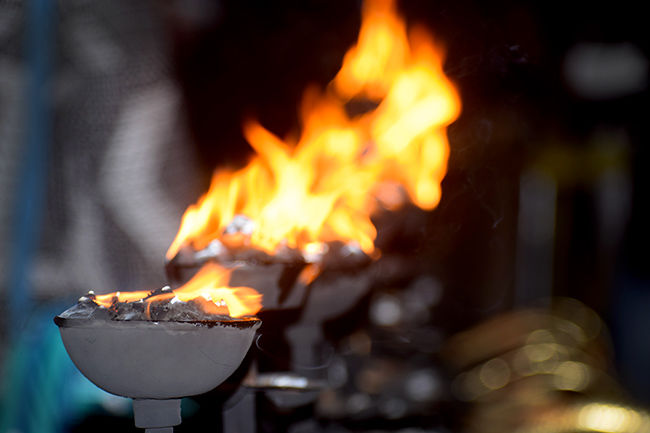 The scene was spellbinding and we stood there enchanted. The settings on my camera did not allow me to capture the hallowed moments but nonetheless, our visit to Rishikesh was rewarded in full. The Aarti ended with "Har Har Gange, Jai Maa Gange" chants. We left the Ghats with people dancing and singing along the Bhajan.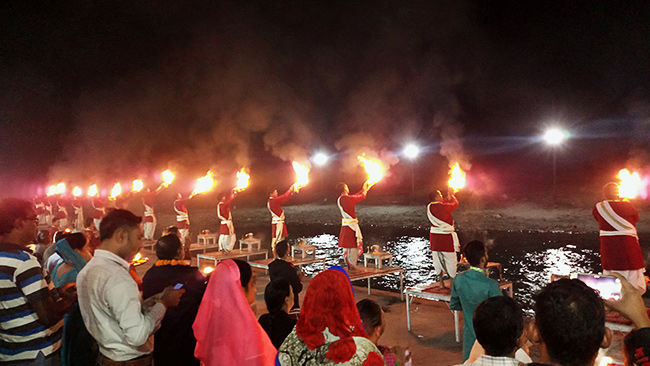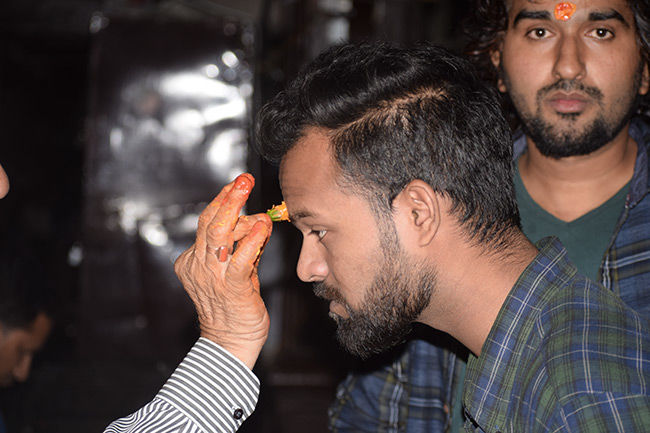 We wanted to "eat, stroll and have merry". We had some "Gol Gappe and Pakore" around the ghat. We made phone calls to our home and informed our whereabouts. We spent some time in the market and also looked for an ATM.
Then, we took a ride to Laxman Jhula. Well, we got a glimpse of the Laxman Jhula which was actually the Ram Jhula but it left us stupefied. (look at the photo below).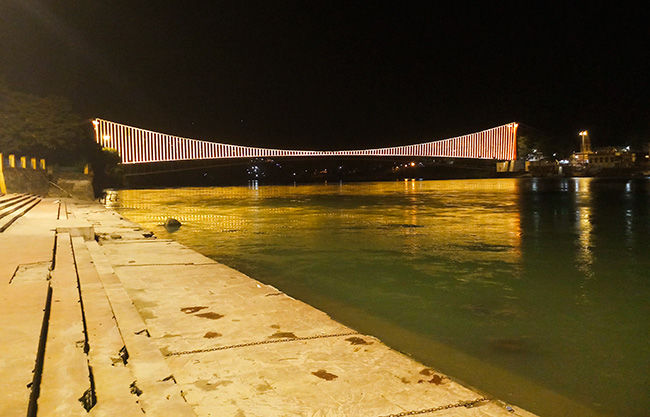 The ghat was lit in incandescent light giving it a tangerine glow. We witnessed Ganga in its full glory here. Slightly murky with a tinge of Green. Sparkling reflection of temples like ornaments. Dazzling suspended bridge placed on top like a crown. Deep and icy cold river flowing leisurely. It was an absolute display of beauty and supremacy.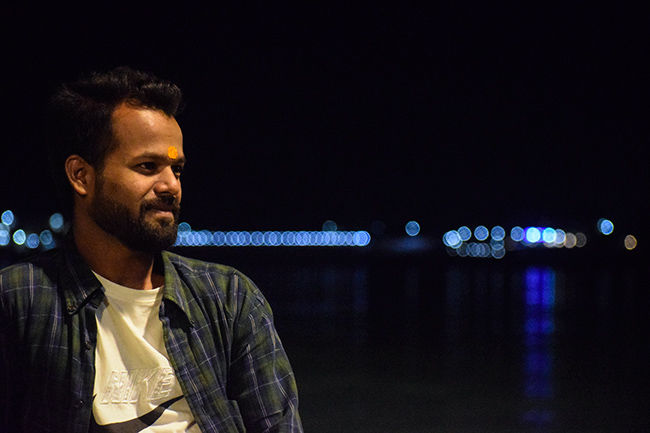 I quickly pulled out my Camera and started clicking Photos (I worked out the settings on the way), trying to seize the moment. After taking loads of pictures, we just sat back, touched and watched the Ganga flow. Nobody was around, it was only us and The Ganga, it was PEACE.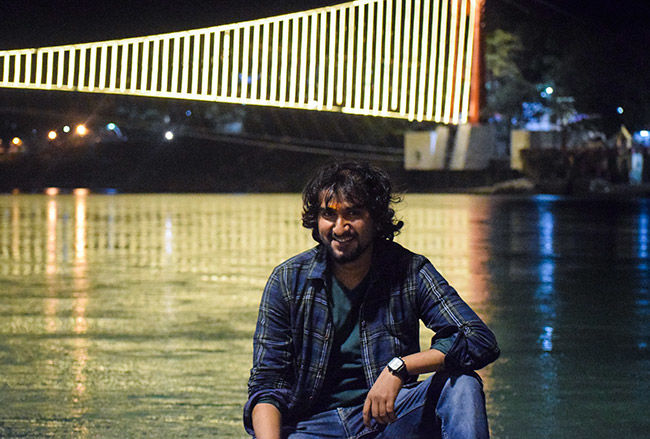 We left the ghat, had some more street chaat, helped some people to push the loaded cart uphill. At last, we reached the Iconic Ram Jhula and it was bustling with people. We crossed it lazily amidst the traffic. The opposite ghats were noiseless, glowing in the dim light with few riverboats tied to the bank. We walked around and clicked a lot of photos.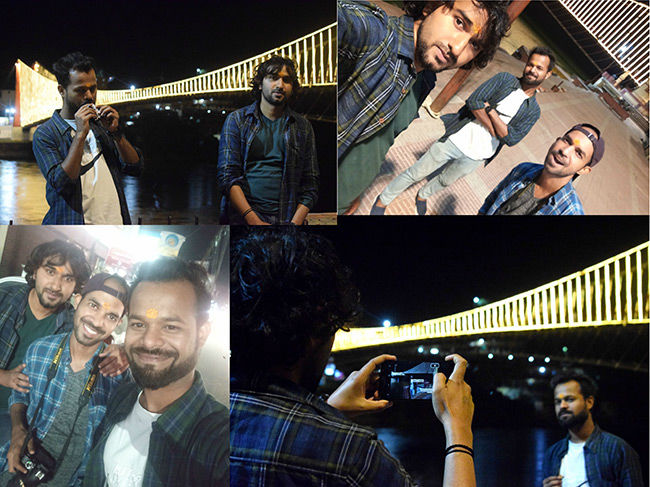 In the end, our hungry tummies asked for some fillings. So, we rode back and had our dinner. While going back to our hotel room, we had some Garam Jalebi in Desi ghee to end our day on a sweet note. The plan was to wake up early and board the bus for Rudraprayag, And, continue our journey to Chopta from there.