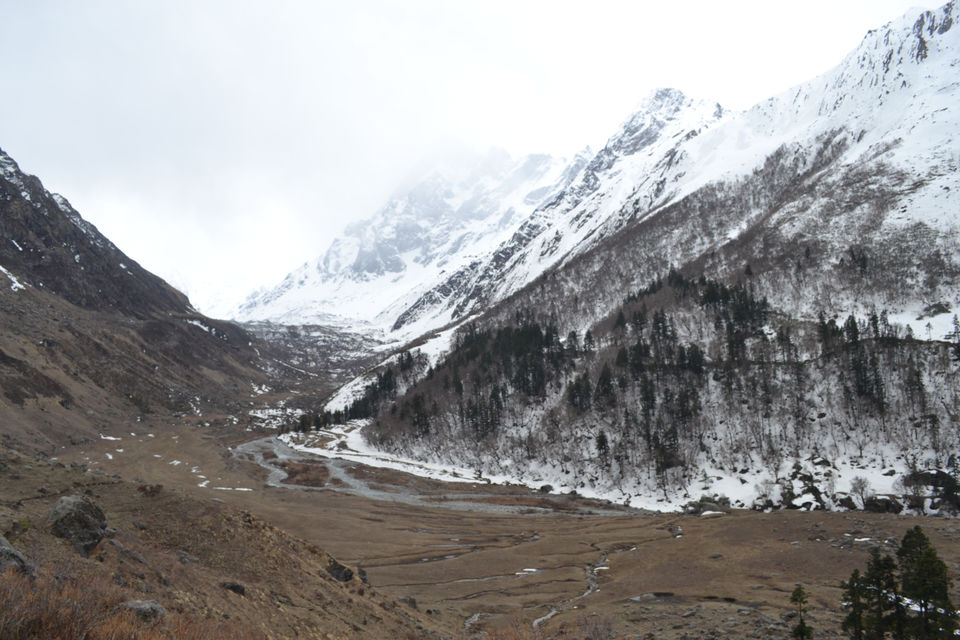 Sheltering in the dining tent, whole team was pleading the weather god to have mercy on them. Tent was protecting us from the outer atmosphere – snowfall, hailstorm and temperature just below freezing point. Group from other operator had started with their descend. But looking at the weather conditions, our trek leader Nitin told us to wait till the clouds get cleared.
Two Months Earlier
Someone said it precisely, "Travelling is contagious". Looking at one friend's pictures of his Himalayan trekking, my childhood penchant towards the mountains was stimulated from the slumbers. I decided to start my trekking with an easy to moderate trek. Internet being the best advisor, I started searching for some operators and treks. After some research I decided (and the same motivator friend – KC – told me) to go for Har-Ki-doon trek. Next step was to choose the operator. There is a raft of operators near Himalayan region offering many services like trekking, adventure sports etc. KC went to Roopkund trek with Trek The Himalayas group. He suggested me to go with the same (and I would like to thank him for the suggestion that he gave). Some mouse clicks and finally I registered for the trek, 2nd April 2016 it was.
The very first encounter made me believe of the great customer service by TTH team. It was month end period and I was out of cash. It took a single mail from me to get a reply that you can do half the payment now and the other half can be paid in April. Apart from this mail, we got many mails containing the list of essential items to take, medical certificate and disclaimer form. After these small formalities we were good to go.
Every success is preceded by the amount of hard work put into it. In February, when I booked for this trek, I hit gym to check my endurance. I was 70 Kgs and the longest distance I could run that day was 250 meters. This was a wake-up call. After strict regime of diet and exercise, in one and a half month, I was 60 Kgs and the longest distance I ran was 3 Kilometers. Next step was to prove myself on the field. apparel, shoes and equipment (can be written in separate article) were bought from Decathlon, Pune.
Day 0:
1st April, 2016
Leaving Pune, it was unpredictable what these nine days were going to offer me. But uncertainty is the part of life. First pit stop was Delhi, from where I had to board Nanda Devi Express which connects to Dehradun. Dehradun is a junction for most of the treks of Uttarakhand.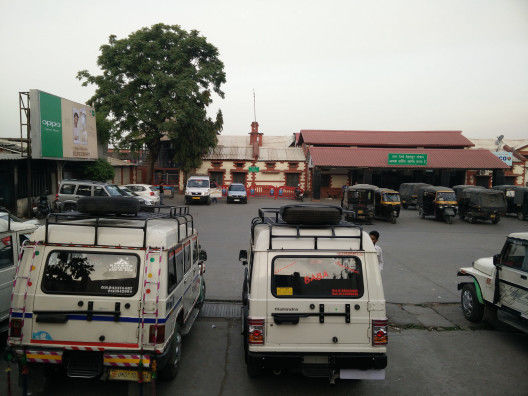 After a smooth transition from flight to train, and a good night's sleep, I finally reached Dehradun Railway Station at around 6:00 AM. A round of tea was essential, followed by a phone call to the person coordinating – Charanbhai. He was already there at the station with his SUV Mahindra Balero. After welcoming me to the trek, he told me to put the luggage in the back seat. As we waited for the co-trekkers, I met two members of our team – Robert and Rasa; they were Scottish. By the time we were having some talks on India, our team of 13 people arrived. There was a total of three cars. In my car we had Robert, Rasa and Akhilesh (my future tent-partner).
Ride to Sankri, our base camp, from Dehradun was ten hours long. But as we all know, best roads are found in mountains. You never know how many kilometers you have travelled, you just have to sit back and enjoy the magnificence of mighty Himalayas. We went via Mussorie, Kempty falls to reach our destination Sankri at around 5 PM. It was a tiring yet exciting journey consisting of zigzag roads, water flowing downhill, construction works going and most of all, the view of Himalayan ranges. We were taken to YHAI guest house, which was at the heart of Sankri; giving an aerial view of the town. Reaching there, TTH team was present there to welcome us. Initial welcome session was organized by Thakur and Billo; they explained us about the trek and asked us to gather in a couple of hours to submit disclaimer form and medical certificates. After a small fresh-up session, we went for tea. Still one hour was remaining, and meanwhile we met with our cook Manish.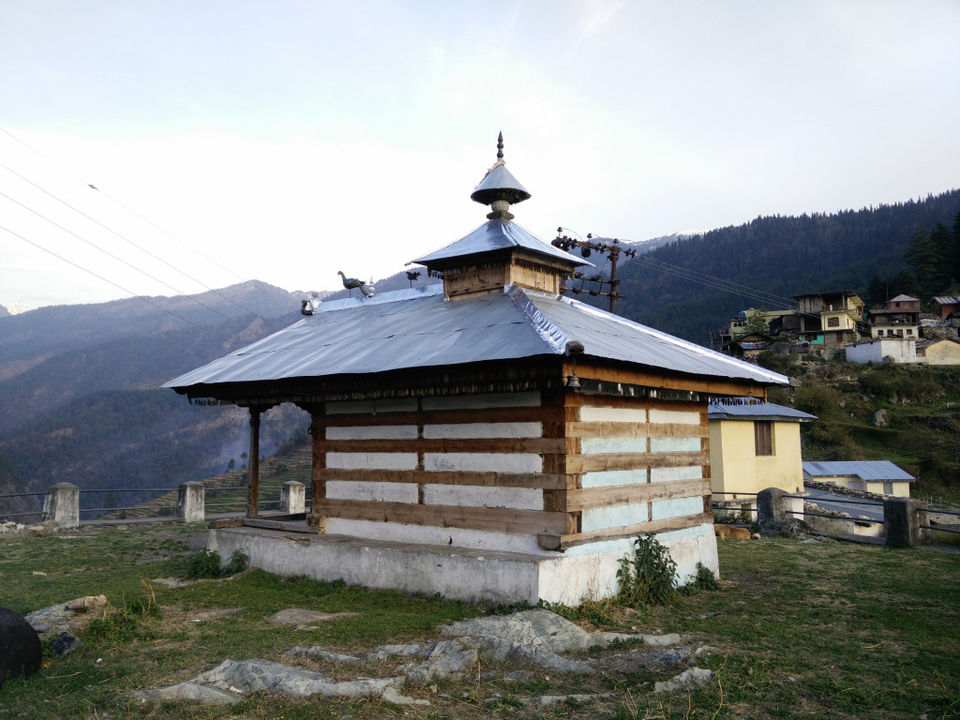 Manish, Akhilesh and I decided to roam around in Sankri for a while. Sankri is a nice place; we went to a Kali temple. We saw children doing a tightrope walking (Natural talent; hidden jewels of Himalayas). Locals are not very extrovert and they don't like people clicking their photos or walking around their streets. So we went back to hostel before sunset. A quick introduction round and briefing on next day's schedule, followed by a yummy dinner and subsequently by a profound sleep. I had to sleep well because from the next day onwards we were going to sleep in sleeping-bags.

April 2nd
Day 2 (Sankri to Taluka by car, Taluka to Osla trek):
Time: 7:00 AM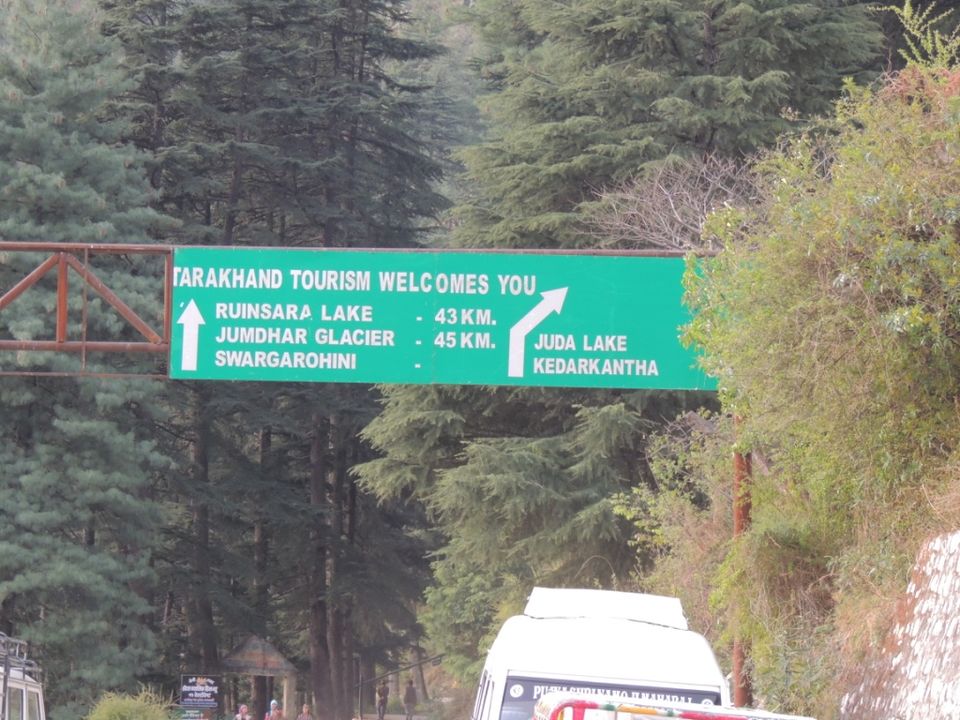 As soon as we woke up, by 6 AM, our tea and breakfast were waiting. We did some final minutes packing. Next stop was Taluka, from where the trekking was about to start. We were taken by the same Balero to Taluka. The roads were one of the most treacherous roads I have encountered. Reaching there we readied ourselves while all the other equipment and food supply were loaded on mules. There was a group-photo with co-trekkers and trekking leaders. "Har har Mahadev", and we started our seven days voyage.
Initial trail was an easy one with gradual ascends and descends. Left to us, was the great Ton River flowing marvelously. First day comprised two to three steep ascends. Most of the time I was accompanied by Billobhai, who had a drum, which formerly was borrowed from Rasa. She bought it from Rishikesh. Billo was a great guy with good sense of humor, it was fun walking with the trek leaders. TTH provided us packed lunch; this was our first experience of having lunch besides the riverbed. We were closer to the nature, far from all the man-made structures, pollution and society.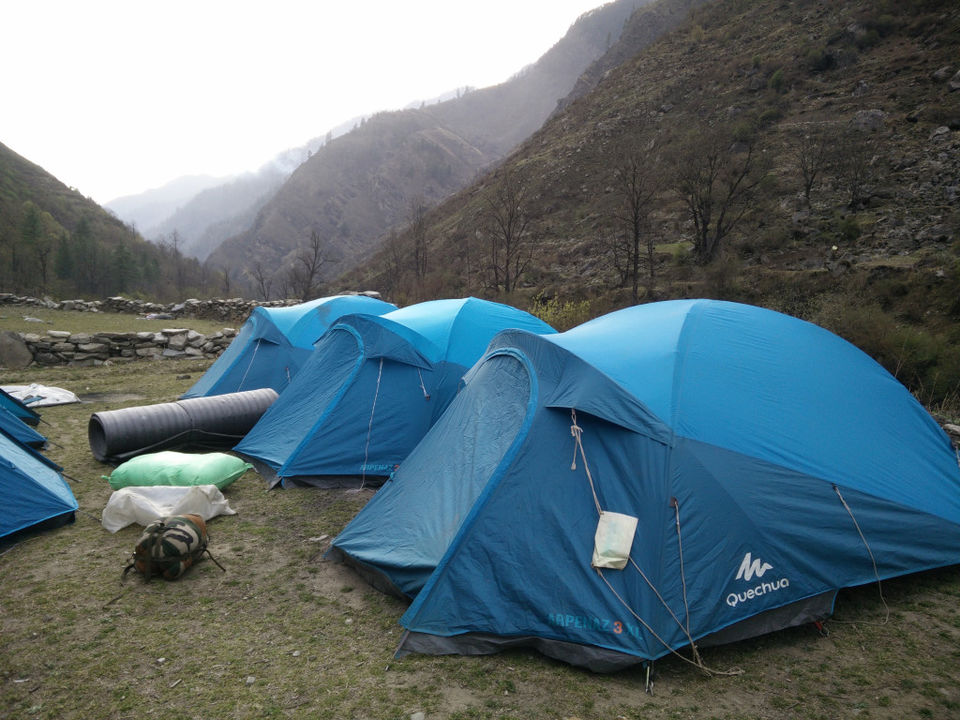 Six hours of ascends and descends and we were at our first camp site – Puaani Garaat. There was a cement structure behind the camp site which was used as kitchen area. Many of us had their first experience sleeping in a tent.
Leisure time allowed us to break some ice. We played kabaddi, little bit of Antakshari and very much of Mafia. In evening, I climbed down on rocks in-between the river and rested there for two hours. It was one of the most relaxing moments. I finally found time to spend with myself. It was a heavenly experience.
After completing dinner and next day's briefing, first day was over. We slept in our respective tents and sleeping bags which was a first time experience for many of us.
Day 3: (Osla to Kalkattiyadhar)
We woke up with Manish knocking the tent with a kettle full of hot lemon tea in his hands. It was rough weather even to wash the face. Waking up with the mountains being kissed by first rays of sun light, river singing the most beautiful raga in the world and Himalayan birds chirping their own tunes in front of you is the best morning you will ever have in your entire life-time. Breakfasts were always beautiful.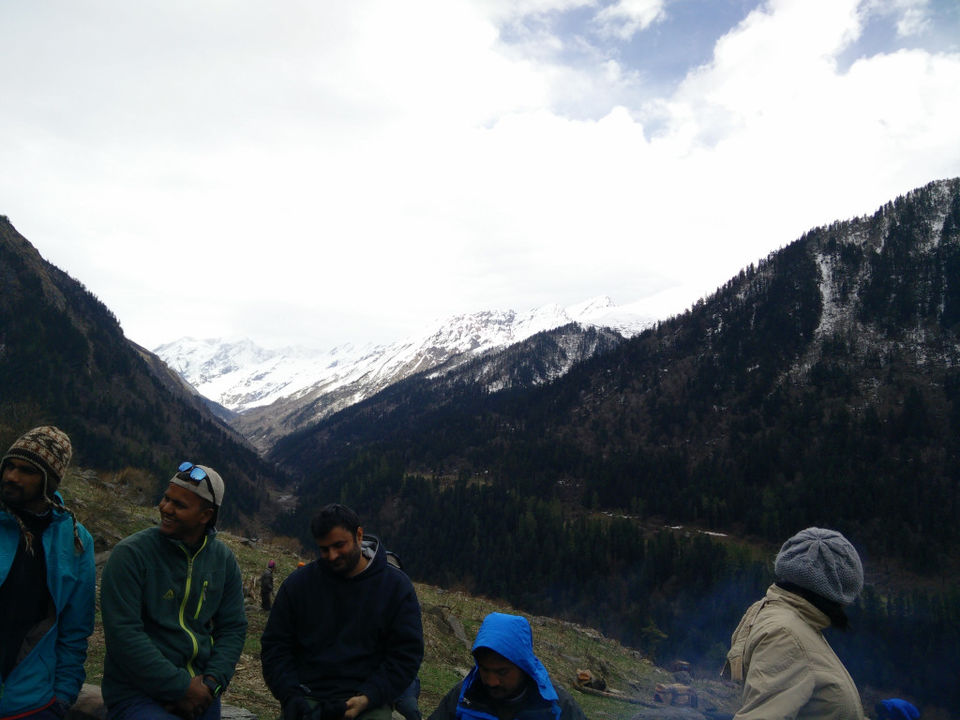 Today, we were given a packed lunch and our voyage started for the next day trek. Second day was lengthy but easier than first day. With only two steep ascends, we were at out second camp side – Kalkattiyadhar. Temperature had dropped to single digits, night were going to be colder. As we reached the camp site, a bon fire was waiting for us (awaited us). Controlled fire is one thing you always appreciate in the colder weather in Himalayas.
Evening was well spent by roaming around the camp area, playing Mafia (for the first time I played Mafia, I was Mafia and I won Mafia), playing cards and talking random matters ranging from politics to technology.
Day 4: (Har-Ki-Doon)
Final day of ascend. The route stretched through diversified terrains including river, trees, steep ascents, lush green meadows and at last our destination – Har-Ki-Doon valley. Today, we started earlier than usual, with a foil packed combination of rotis and sabzi. It was a sunny day when our ascent begun, but as the time went by, the weather was changing its temperament. As we say, mountains decide their own weather. By afternoon, weather had taken a 180 degree turn. We were still at the tree line, hence we faced rainfall. I was not much prepared for the trek in terms of rain and warm wears, so the coming three days were going to be difficult for me to survive.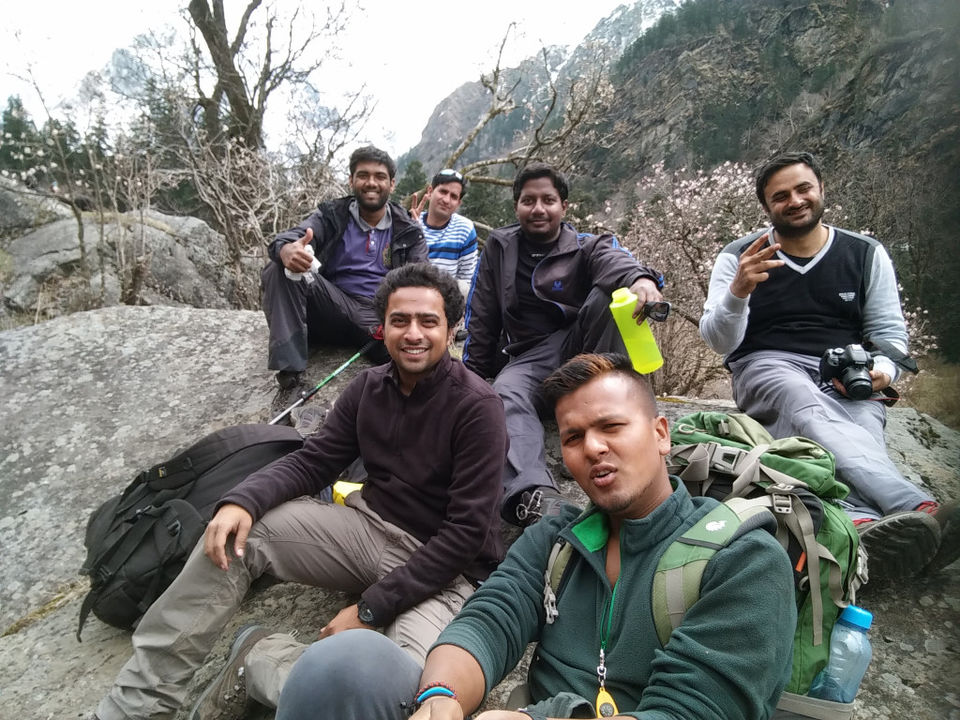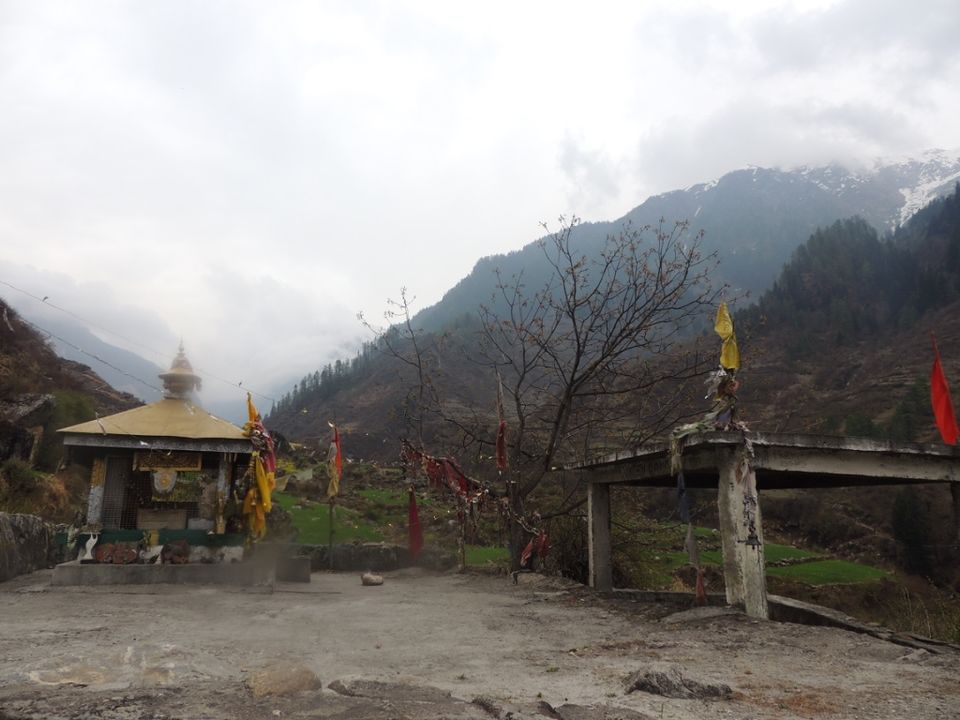 As we waited for our tea at the next tea stall, everyone geared their rainwear. I thought of enjoying the rain for some time without poncho. But it became too foggy. It was an out of the world feeling. Green meadows all around you covered with fog, small grass beneath your feet showcasing some water droplets on to it, distant Himalayan peaks towering over you as if guarding you from all the evil and cool breeze passing near you as if it is saying something in the language of love.

Rain was intensified, we took a shelter under the roof of an abandoned hut. We were half way to the valley. As soon as the rain stopped, ascent started. It was gradual climbing. Next three hours of walking and finally like all the hard work came to us as a fruit, I was standing at Har-Ki-Doon.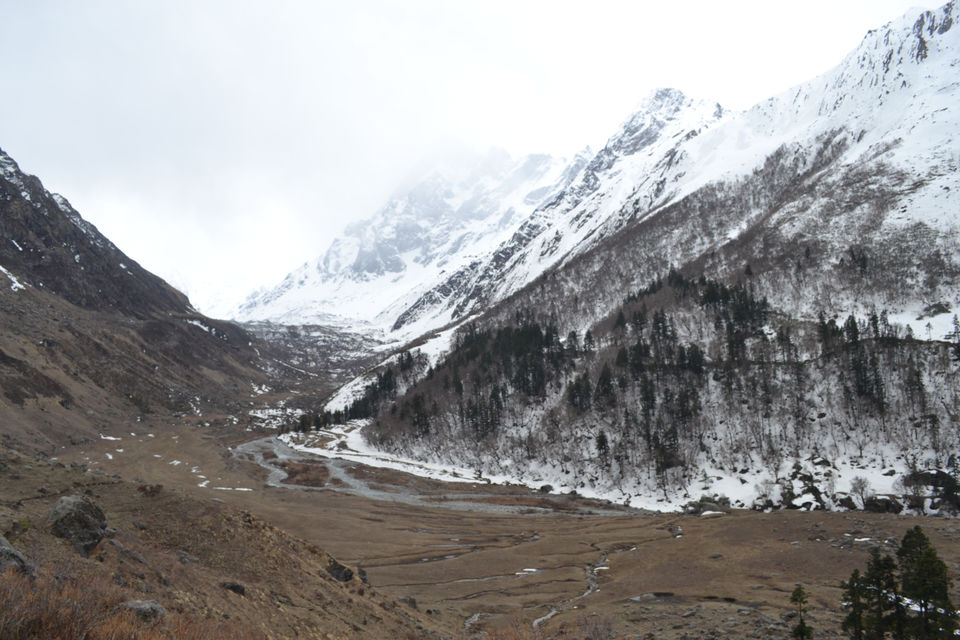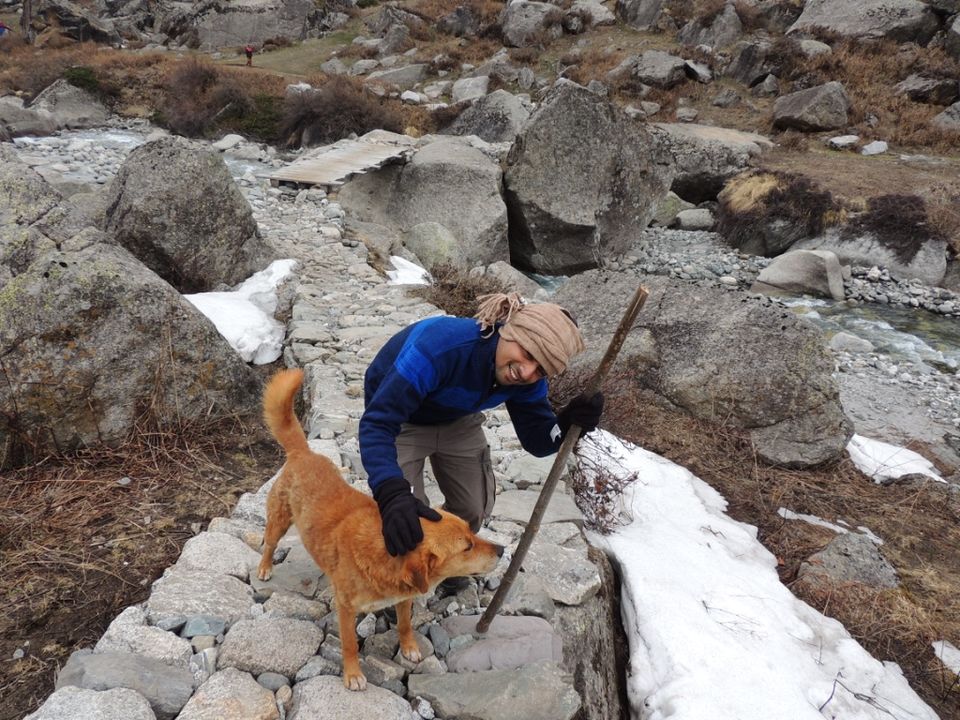 Beauty of the valley could not be described by the worldly words of any language. It was to be felt by within. Surrounded by mountains from all the three sides, river flowing in its childhood phase originating from just a few miles away, freezing cold water, snow all around and especially the mighty Mount Swargrohini standing still in its most hypnotic beauty. It was the only time I felt inner peace in life. I thanked my parents for supporting me, god for allowing the safe passage to here, co-trekkers for all the help and especially TTH team for making this possible. This was the most efficient way that I could have spent my hard-earned money.
We pitched our tents. From the first day, we were told by our trek leaders that we had two options, whether to have tents ready as soon as we reach the camp site or we can learn to pitch our own tent. We decided on latter one. The remaining day was at a leisure, I found one big rock near the river and that was my place for next two days. I meditated there, I prayed there, I listened music there as well as slept there during evening. The rock was big enough to extend till the middle of the river facing swargrohini and Har-Ki-Doon. I could have spent whole month there. This was the best camp-site one could have.
Day 5: (Har-Ki-Doon to Maninda Lake)
Today was a rest day. But you don't rest, when you are in Himalayas. All you want is to roam around as much as possible. To capture the beauty as much as possible. We had two options for the day. One option was to go till Jaundhar Glacier near Har-Ki-Doon, or to go till Maninda Lake. Both the options have their own pros and cons. Former option was not a good location to go at that moment because of the bad weather. So we decided to go for Maninda Lake (best selection we made).
We had to leave earlier as we had to do snow trekking so snow would melt post afternoon making it soft. Snow trekking was the hardest part of the trek. We had to walk meticulously. Felt like mountaineering the first time. Maninda Lake was frozen at that moment. It is the lake situated at 4000 meters MSL and it is the gateway to Bali pass. We built a snowman there.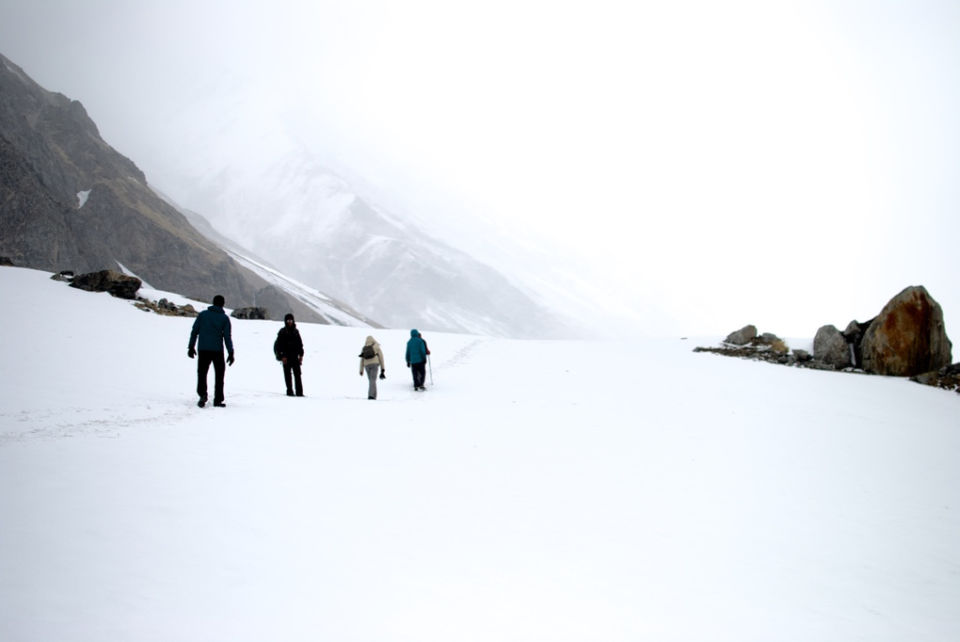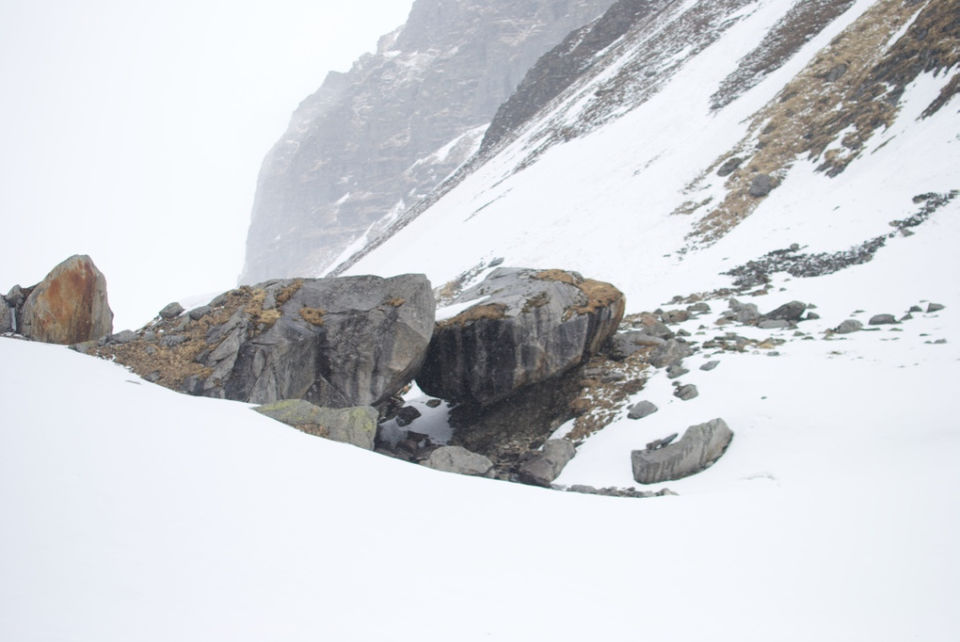 The way down was also difficult. Reaching at around 2:30 PM, we had our lunch ready, so we directly went to dining tent. As soon as we reached our camp, weather started changing again. And it was the greatest moment when the first snowfall welcomed us in Himalayas. We thought it would be lasting for a shorter period of time. But here we had. God had taken our prayers, to see snow, seriously. Snowfall didn't stop, but it thickened. By evening, hailstorm started. The temperature, which was in the range of 0 to -2 degree Celsius for last two days, dropped to -3 degree Celsius that night. There was heavy snowfall till night, so Nitin told us to not to go in deep sleep. The reason being, if it is a heavy snowfall the probability for tent being demolished is higher. So we had to wake up every one hour and lurch the tent from inside as well from outside. Merry Christmas in April.
Day 6: (Har-Ki-Doon to Osla)
Morning came with a feet deep snow everywhere. It was still snowing. Sitting in a dining tent for breakfast, we were deciding on our route back. Nitin and Billo told us to wait until the weather clears; it could take one hour to one day. The trail was not clear for mules too.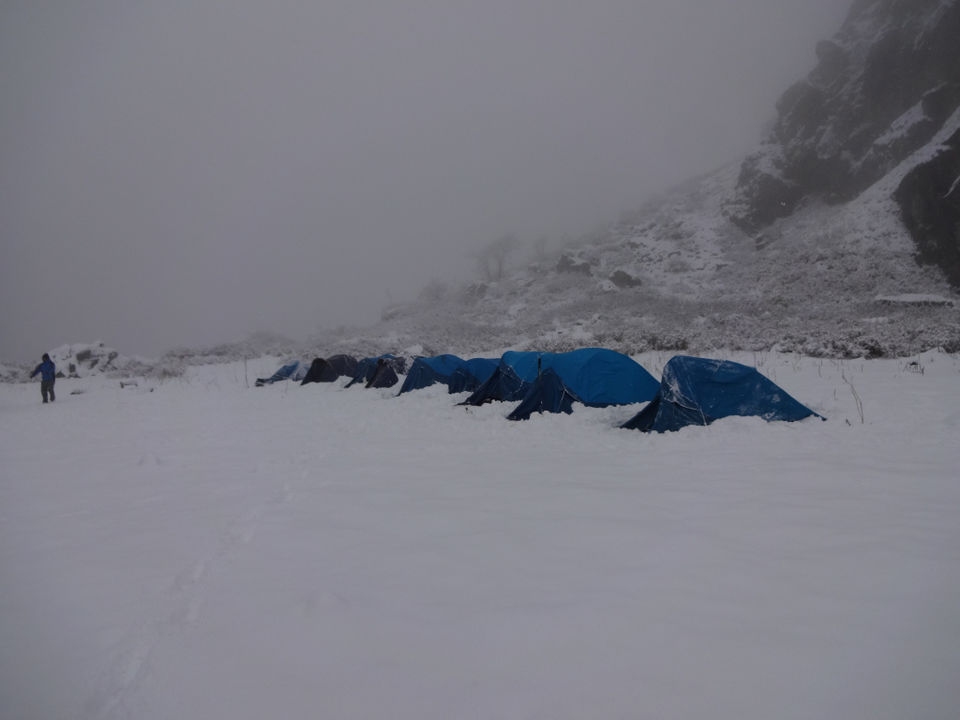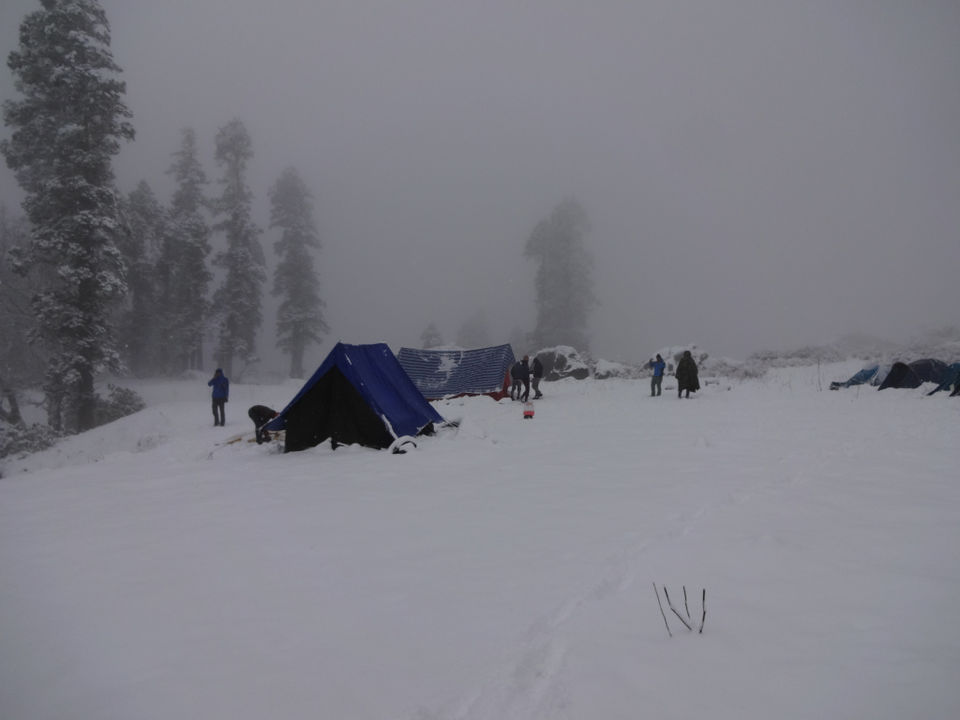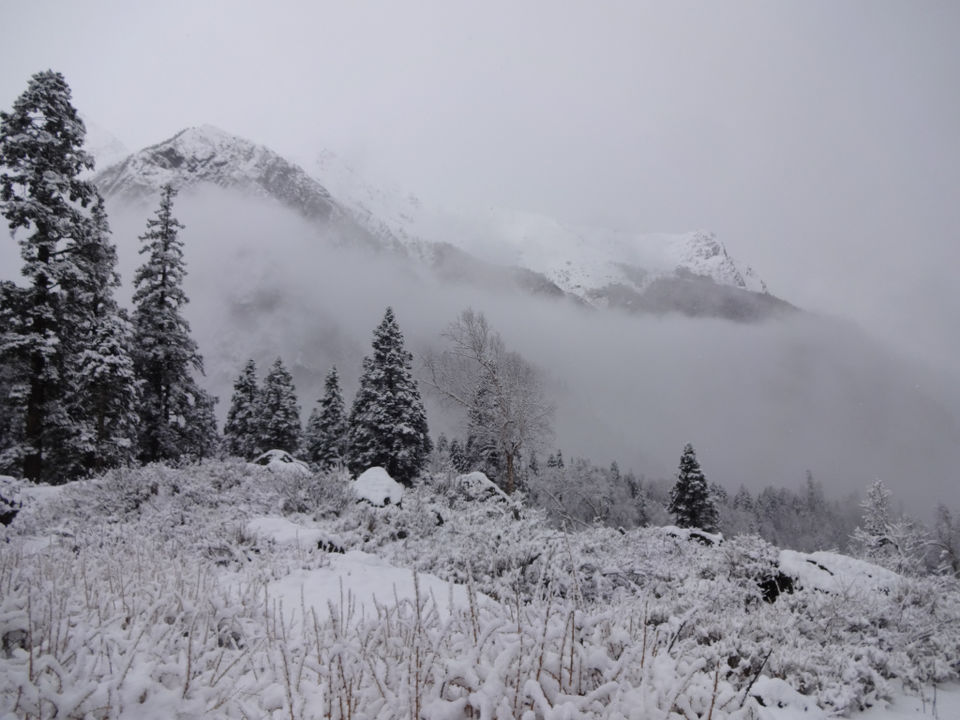 Two hours later, when the sky cleared, by god's grace, we rushed to climb down. Trail was snowy and muddy. It took a lot of stress to grip ourselves for descent. After reaching Osla, Nitin had talked with a local person to let us in for one night because the ground was not good for pitching the tents. Ten of us were going to be staying in one room. Wooden house was built near the cliff with a single lobby exiting into every room. The room was a perfect cube with some photo frames and one window opening to the valley and river. Sleeping four days in tent and sleeping bags, it was a relief sitting with blankets.
What could beat a Maggie and tea in cold weather, that too in Himalayas? We played a final round of Mafia here. Sleeping in a double row, facing the opposite walls, and legs colliding in-between, we slept well. That night, I learned all the possible ways one could snore.
Day 7: (Osla to Taluka and back to Sankri)
Next day was the easiest one. But it was a lethargic journey. A gradual descent followed by bath in river and finally we could smell Taluka some miles away. Final mile was the toughest one as we were exhausted. After reaching Taluka, our Balero was ready. We went back to Sankri. All went well despite of bad weather.
It was party time now. Some of the guys went down to Mori and got some bottles of liquor. Me being a non-alcoholic, sat outside staring at the night's sky. Today, the sky was very clear. I could see Orion Belt, The hunter, Big Dipper as well as W. It was amazing. We slept well on bed with a warm blanket.
Day 8: (Sankri to Dehradun)
Nothing is for eternity. Everything comes to an end. Unfortunately our trek too. We were heading back to Dehradun via same route that we took earlier. Road journey is always awesome. During trek, we had to walk so much to reach somewhere, but now sitting in-car, it feels good to see machine doing our task. After going into mountains, we start appreciating even the small things that happens to us. It makes us humble and altruistic.
We reached Dehradun early. So we decided to watch Kung Fu Panda 3. Dehradun is an awesome place. We started our journey back. I returned to Pune – the new me. I went with many questions on what I wanted to do in my life. But now, I am clear. All I wanted in my life was freedom; freedom from this eight-am-to-four-pm-machine-like-job.