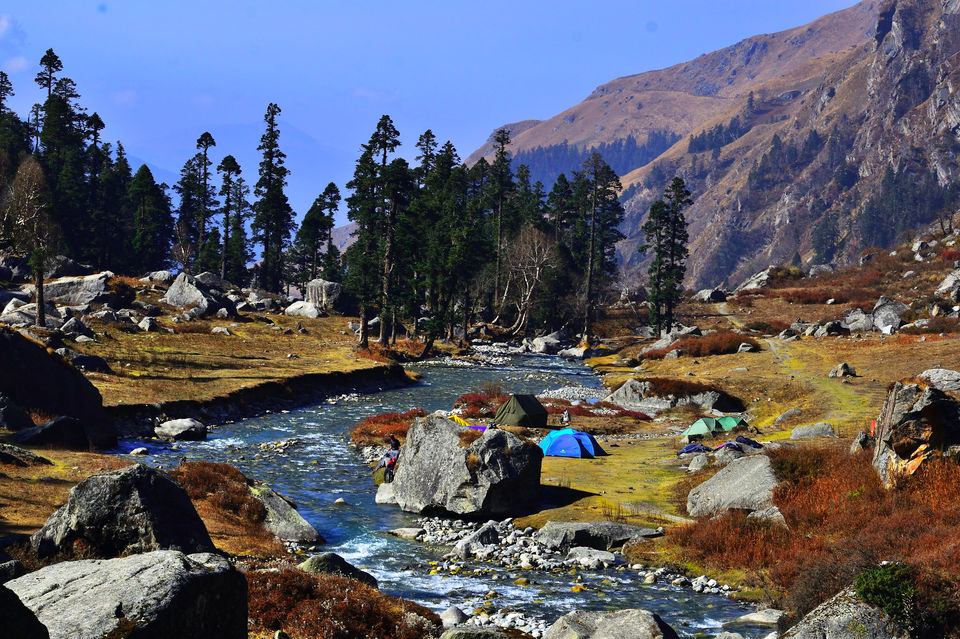 Har ki dun is a cradle shaped valley nestled below the Har – ki – Dun peak in the Garwal Himalayas at an height of 11,660 ft. It is one of the most beautiful valley in the Western Himalayas. It is surrounded by snow caped lofty mountain and alpine vegetation. The valley remains covered with snow from December to March. Beautiful Tons river is flowing in between the valley. To reach this valley you have to trek 27 km from Taluka. The trail passes through the alpine meadows, dense forest of Chestnut, Pine and some ancient isolated villages like Gangad, seema and Osla. The people of this areas are very warm and welcoming. The Base camp of this trek is Sankri, a tiny remote village in the Garwal Himalays. This is the only valley from where you can see Swargarohini – I, II, III, Bandarpoonch and Blackpeak all together.
This 7 days trip/trek begins from Dehradun. It was my first multiple day trek. I booked this trek with a Dehradun based tour operator that took me to the Har – Ki- Dun valley and returned to Dehradun. My journey began once again after reaching Dehradun by train. Checked in a cozy ambience of a hotel near Railway station.
Next morning I was picked up from Dehradun railway station around 7 a.m. Our destination was Sankri, the base camp for Har – ki – Dun trek. Distance from Dehradun to Sankri is almost 200km. It took 10 -11 hrs.
Our first stop was near kempty waterfall at Mussoorie. We had breakfast at Kempty Dhaba. View of the lush green mountains, valleys along the way on the curvy roads is spectacular. Till Naugaon, the river Yamuna accompany you.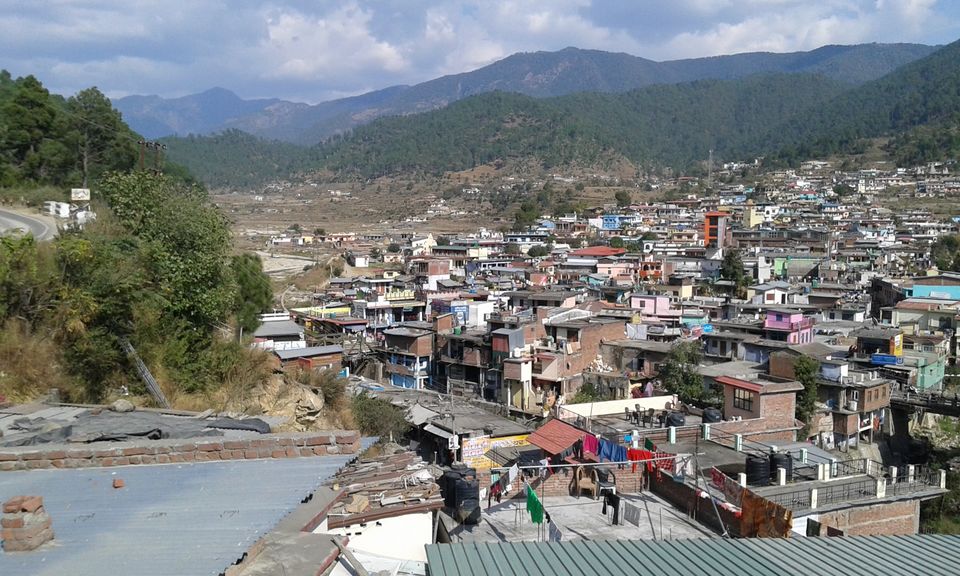 Next stop was Purola around 2 p.m. Purola is a quaint little town situated at an altitude of 5000 feet. It is surrounded by lush green mountains and Govind Wild life Sanctuary.It is the largest town near Har – ki –Dun valley.
We had lunch at a road side hotel. In this area the parking is on the top of the hotel. Afterwards, you passes the scenic beautiful village Mori, located on the bank of Tons river, It is the last place where you get BSNL mobile network.
Another serene hamlet Netwar, surrounded by Pine and Deodar trees located at the confluence of Supin and Rupin river. It is entry gate of Govind Pashu Vihar National Park.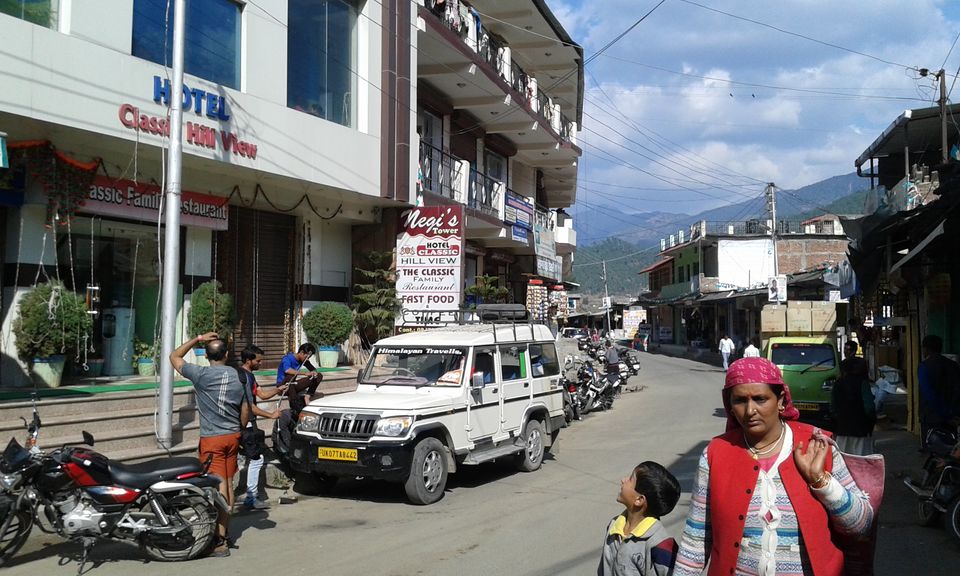 We reached here around 4 p.m. There is a check- post. We got our permits and entered Govind National Park .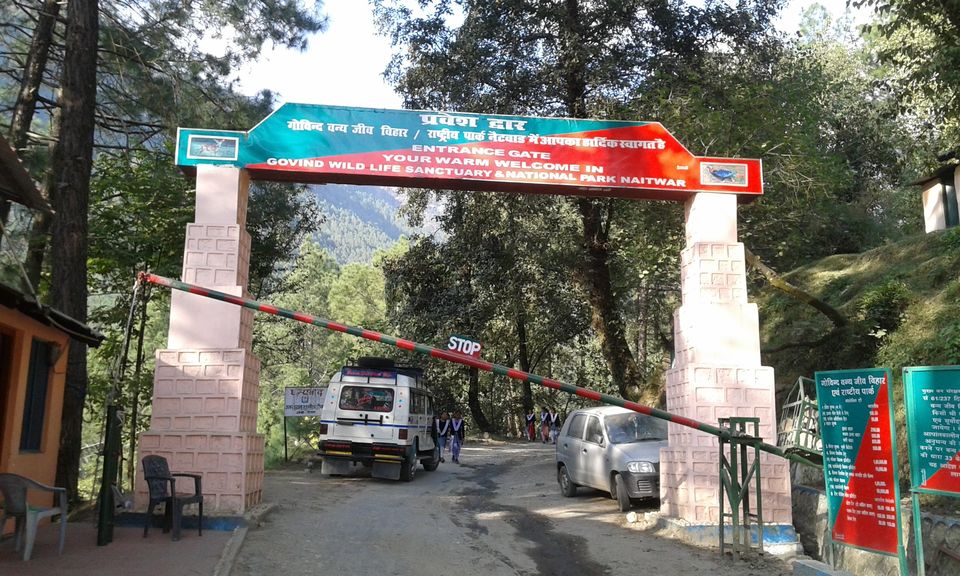 Sankri is about 13 km inside Gobind Wild life Sanctuary at an altitude of 6400ft. Journey through Govind national park is spectacular.This tiny quaint village offers ecstatic view of Himalayans skyline.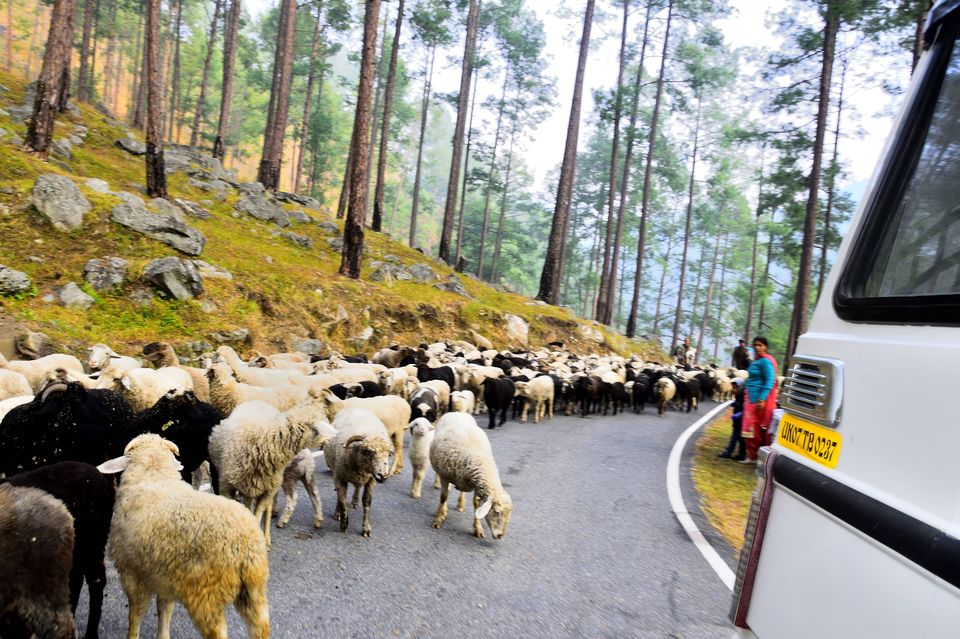 We reached Sankri by 5 p.m. We were allotted a guest house. It was a relax evening. We took a stroll nearby areas. Surprisingly my BSNL mobile network was working and I could able to make a few calls.
There is a Someswar Mahadev temple just besides the guest house. This temple is dedicated to Lord Shiva. The temple is an example of wooden art. The walls of the temple are filled with amazing art work. The pretty clouds were getting dark. We came back to the room and relaxed. After early dinner, retired to bed. The food provided was local vegetarian but tasty.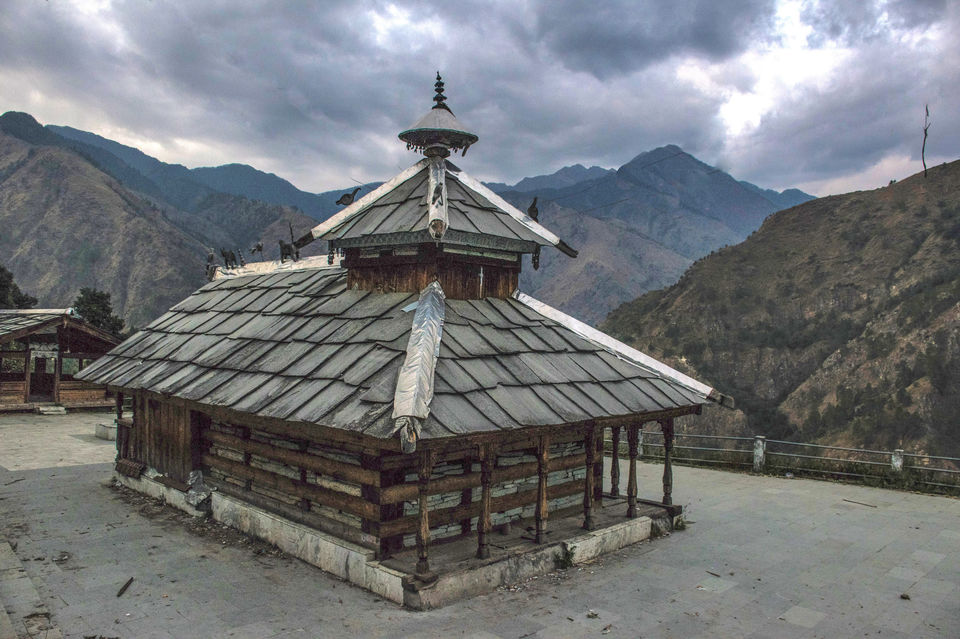 Morning was cold. We drove to the Taluka, another picturesque hamlet which is a 12 km journey. The road leading to Taluka is most exciting and thrilling.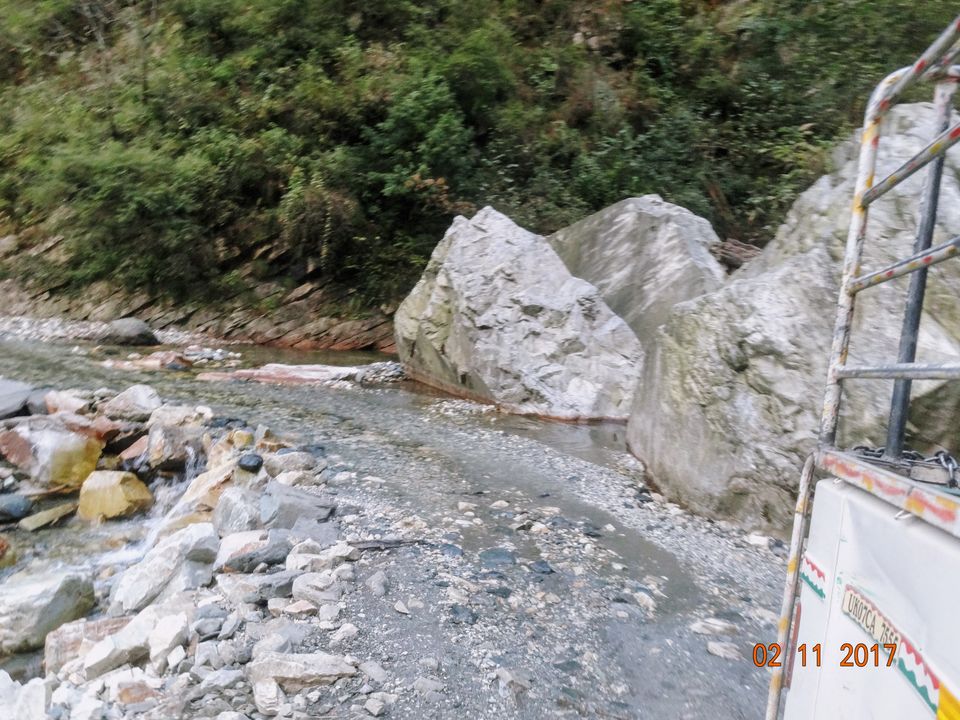 Although road is very narrow and uneven but it goes through the tall Pine forest. Scenic beauty is spectacular. The small streams traversed the road. Beautiful wooden houses with metal roofs are found in Taluka. Cattle grazing is their livelihood.A few small shops with thatched roofs are found here selling all kinds of consumer products.
Har Ki Dun Trekking began with a stretch of cemented track along the course of Supin river.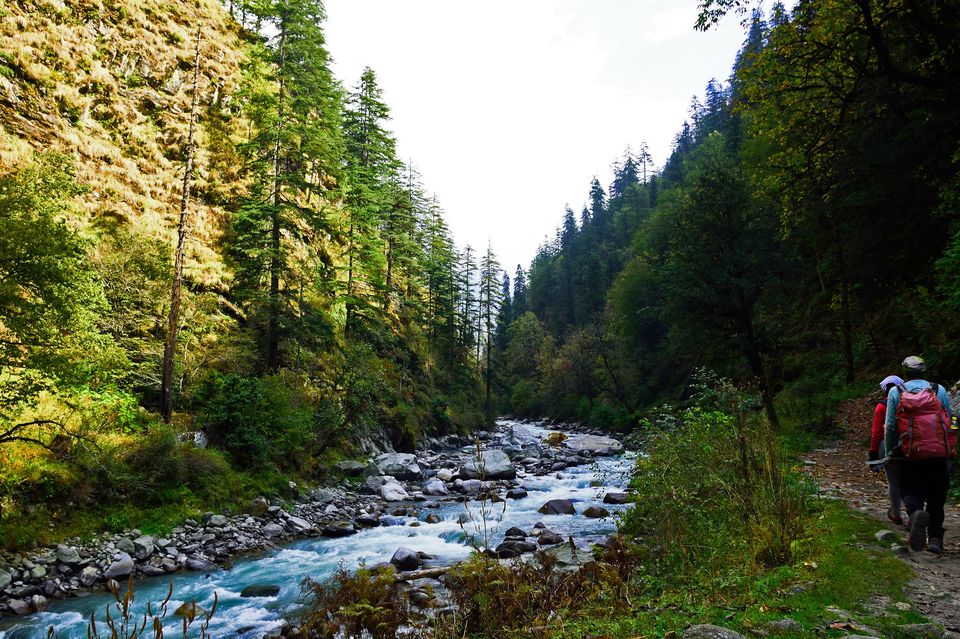 The trail is steep at some places. But the beauty of the trail covered up every thing.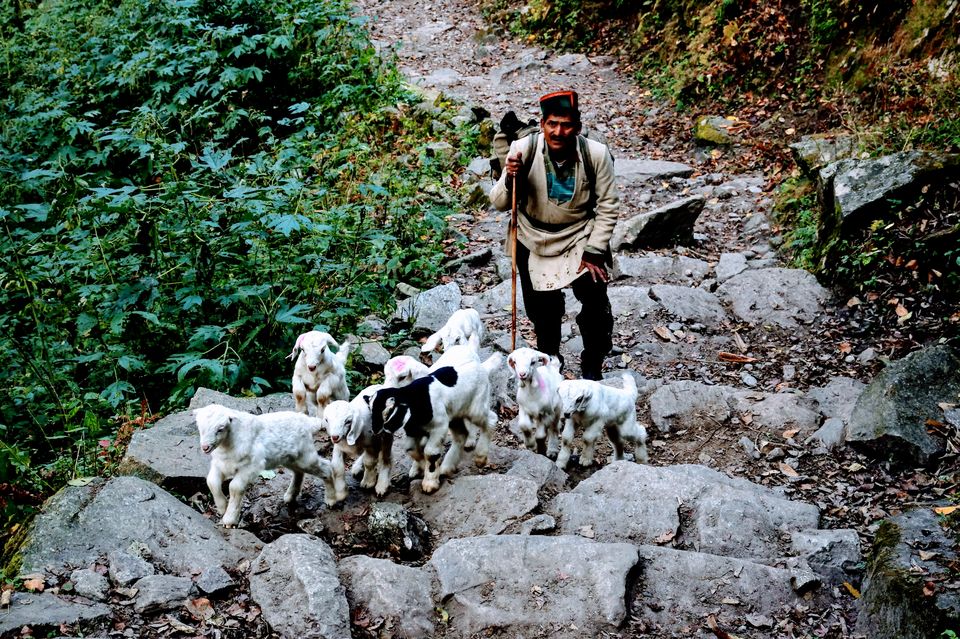 Cows, goats, sheep are seen all through the way.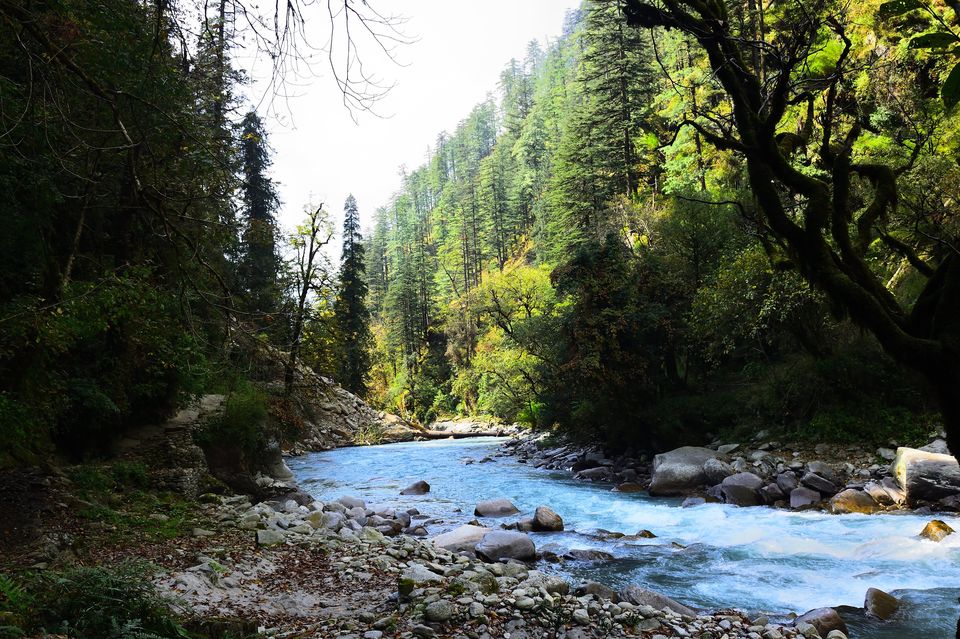 Mules carrying food stuff along the trek route are very common sight.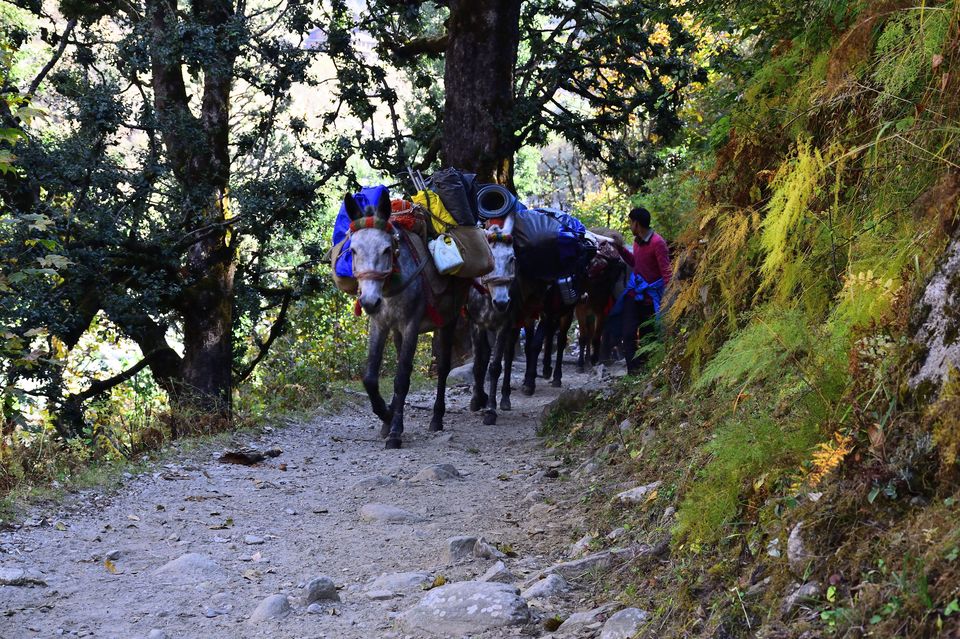 Around 12 noon we came across a flat land after crossing a bridge over a stream.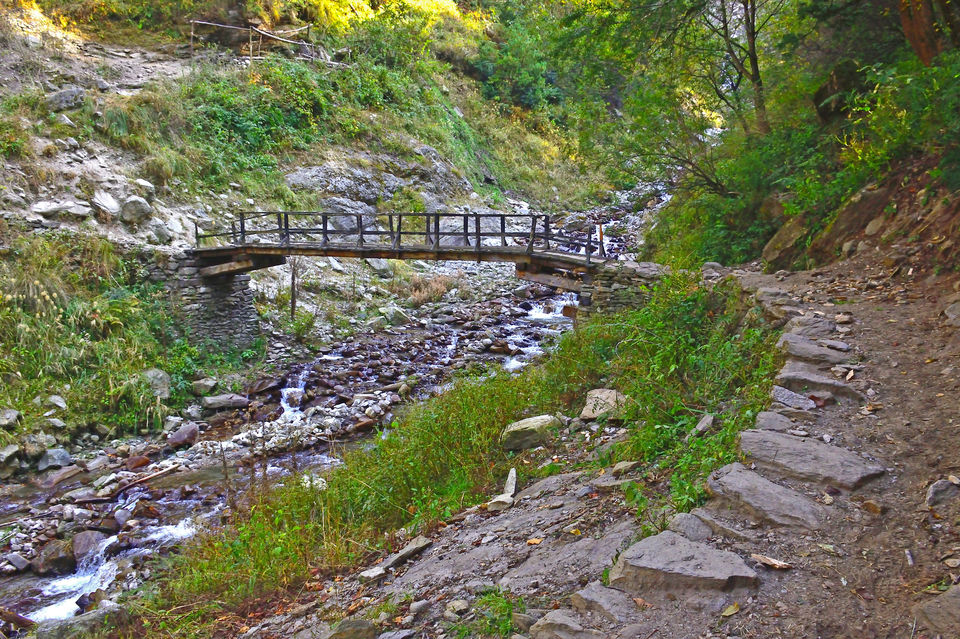 While taking rest, local shepherds arrived there with a herd of cattle( goats and sheep ) and settled for lunch leaving their cattle free. What a wonderful sight!!.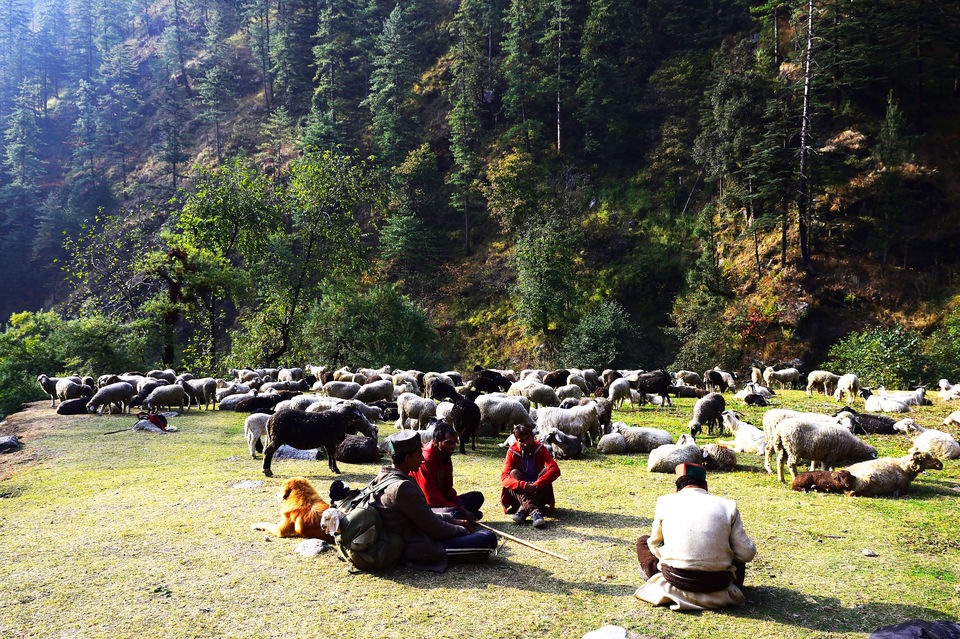 Further ahead near a stream we had our lunch.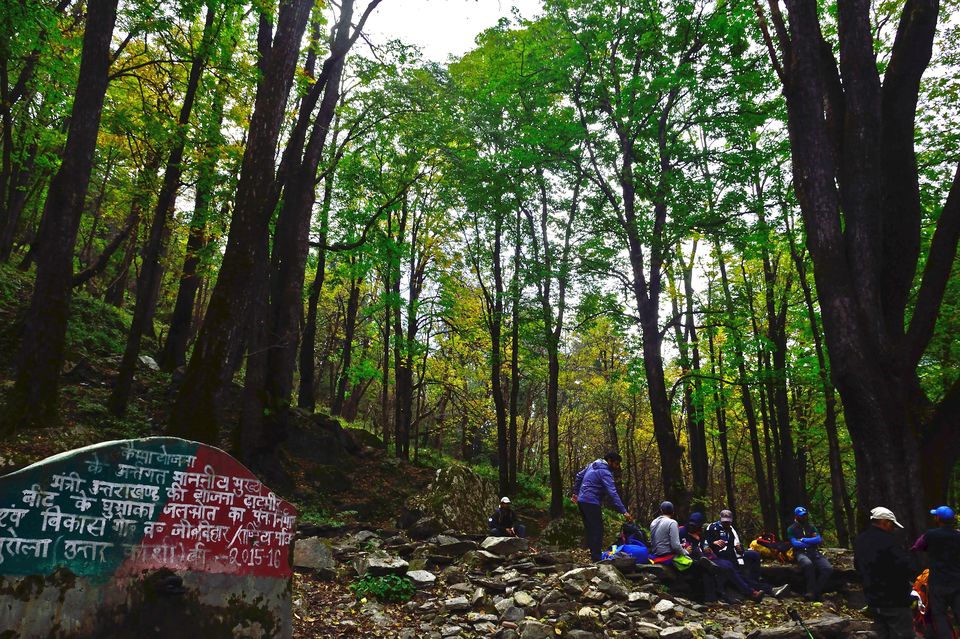 Gangad
After almost 8 km up and down trek, we reached a very unique Himalayan village Gangad. This village is amidst Himalayan nature and totally isolated from any kind of hustle and bustle. Just before this village, there is a small stall. We had tea and Maggie there.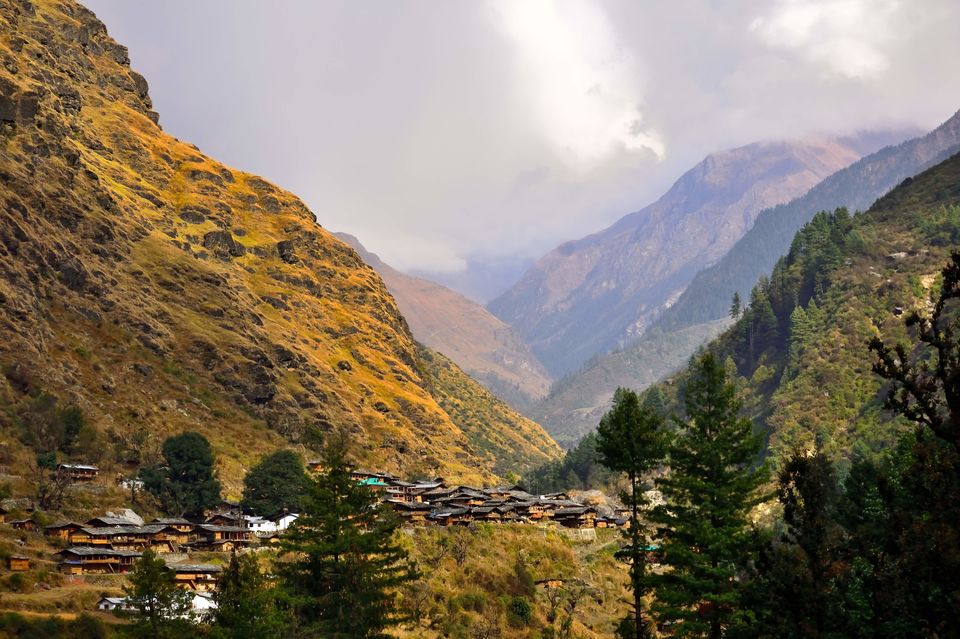 Seema
Another small village is situated 7 km ahead of Gangad. Taluka to Seema is around 15 km. We reached Seema by the afternoon. There is a Forest Rest House on the bank of a fierce Supin river.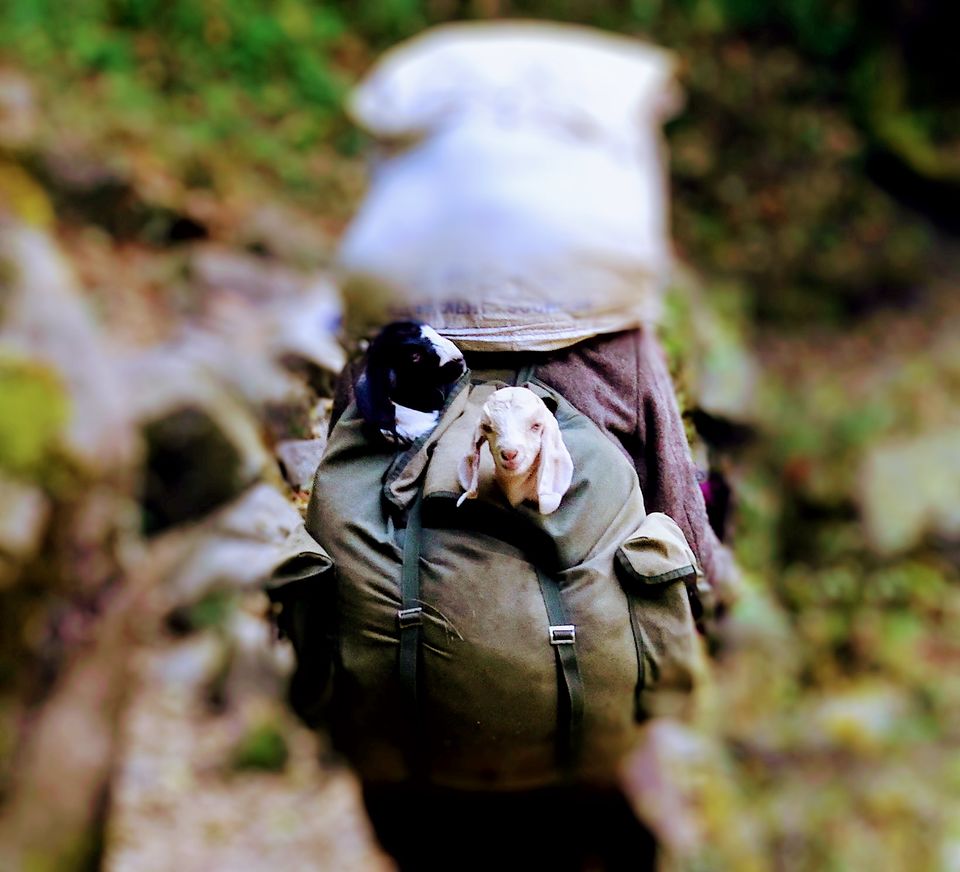 We stayed there for night halt. Rooms are spacious with attached bathroom. Solar light is available there. So one can charge the electric gadget. There is a GMVN guest house just next to it. We watched a beautiful sunset from the court yard of the Rest House. Evening was freezing cold. After having early dinner retired to bed.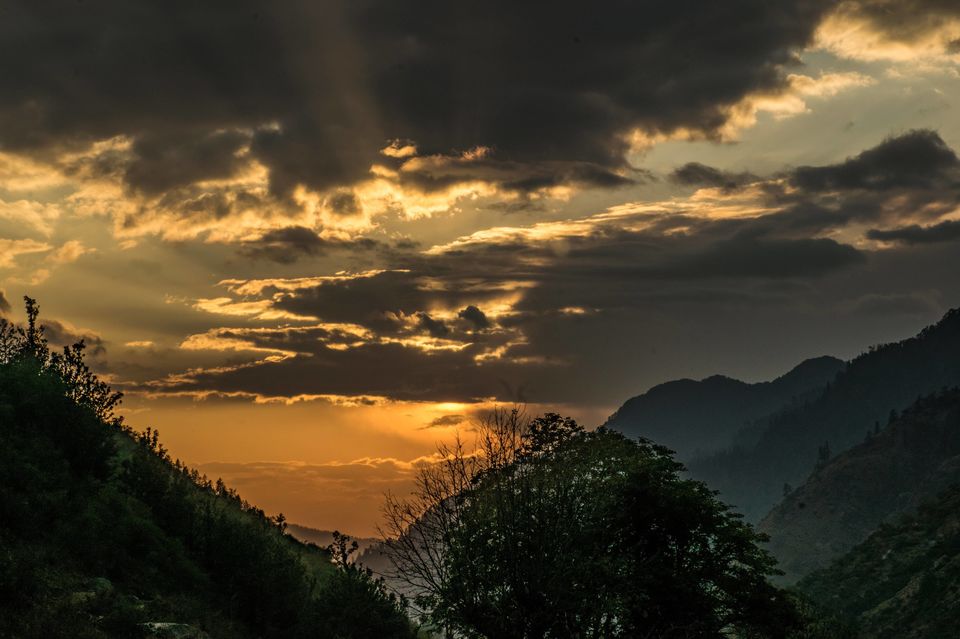 Early morning, we finished our breakfast with local chapatti and sabji. After few minutes walking a bridge came over the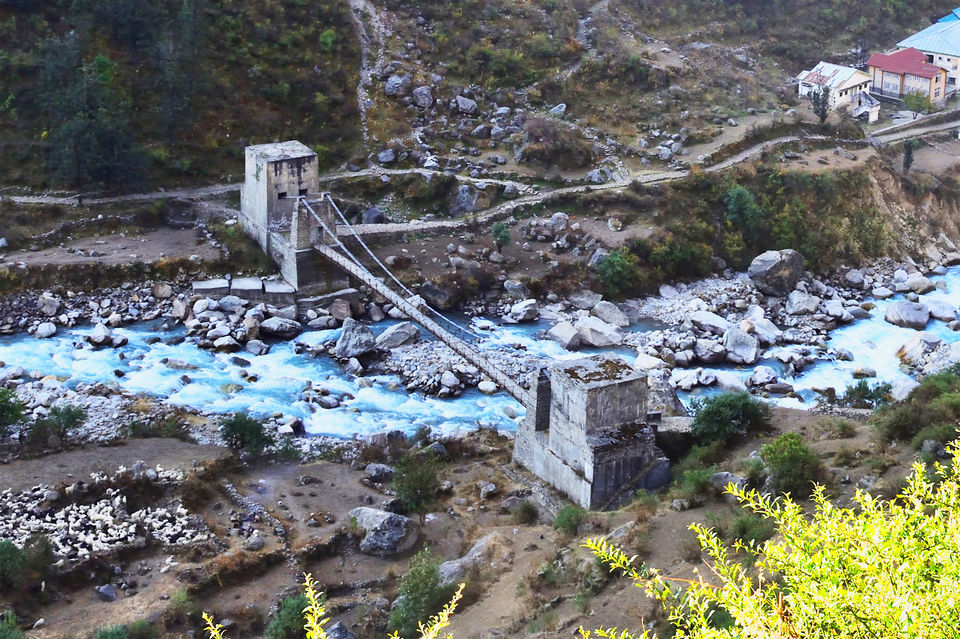 gushing Supin river followed by a steep ascend that lead you to a small, beautiful hamlet- Osla Village.
It is the last village on the way to Har – ki – Dun,nestled on the mountain slope at an altitude of 8500 feet. The people of this village are very simple and friendly. We did not enter the village and keep it for return trek.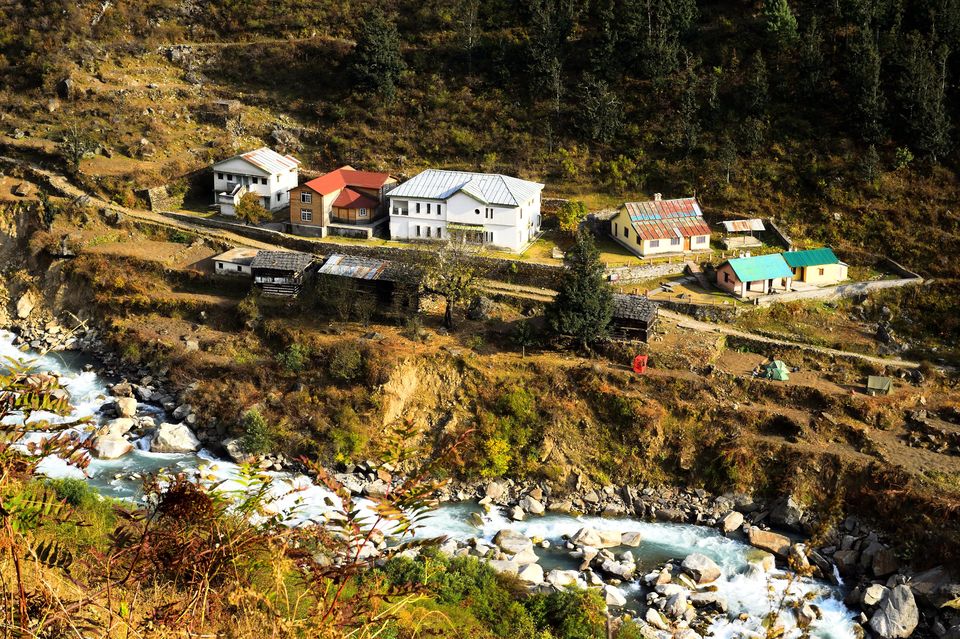 The trail ahead going through the pasture land with gentle climb.There is small tea stall at end of this trail. You can have hot Maggie here also.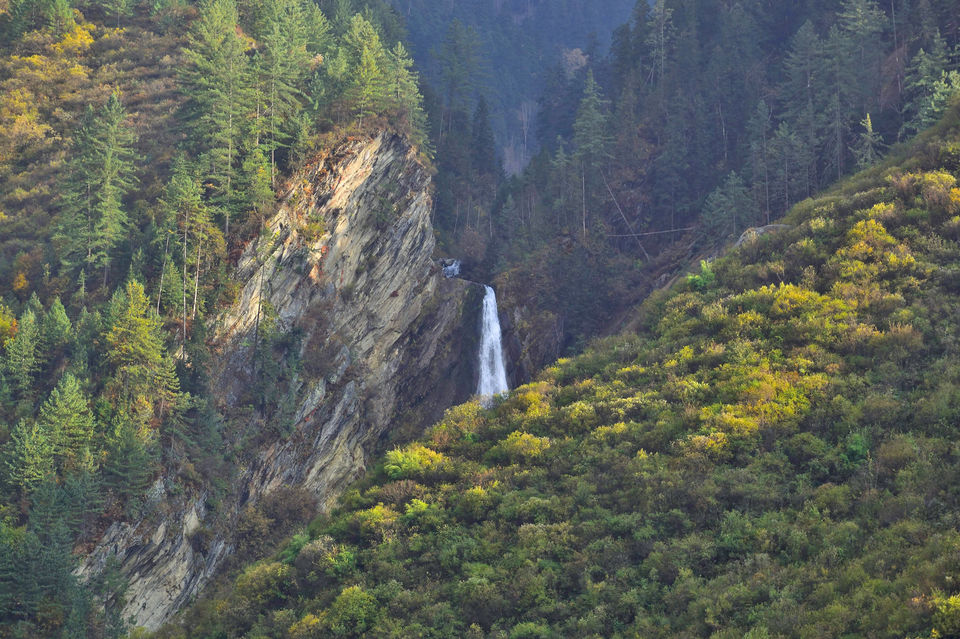 Just next to the shop,a steep climb begin that open up to a flat valley with massive Bandarpooncha range in front of it.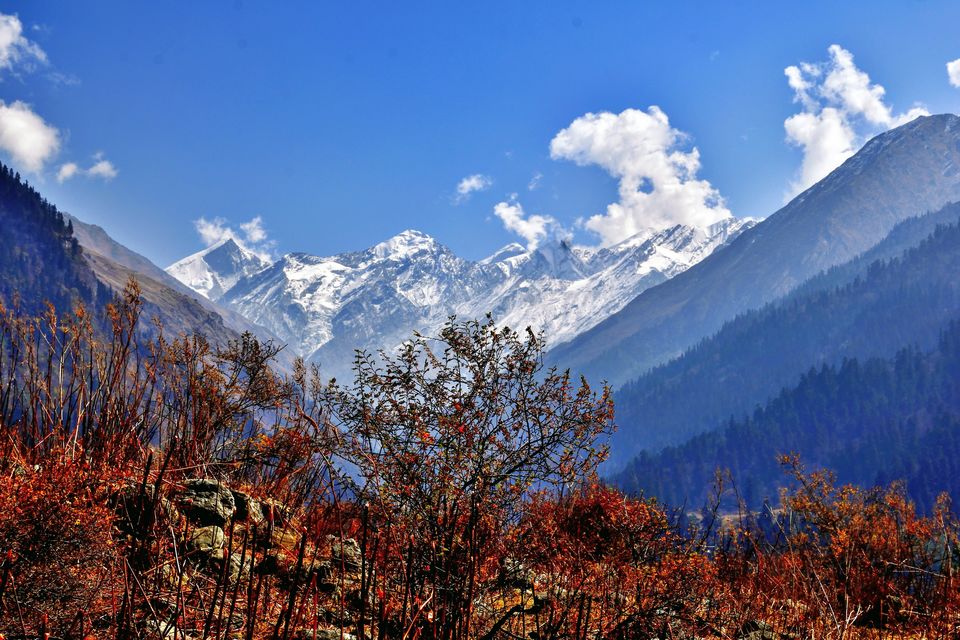 Across the valley there is another ascent followed by a downhill trek leads you to a lovely place – another small tea stall just in front of a water fall.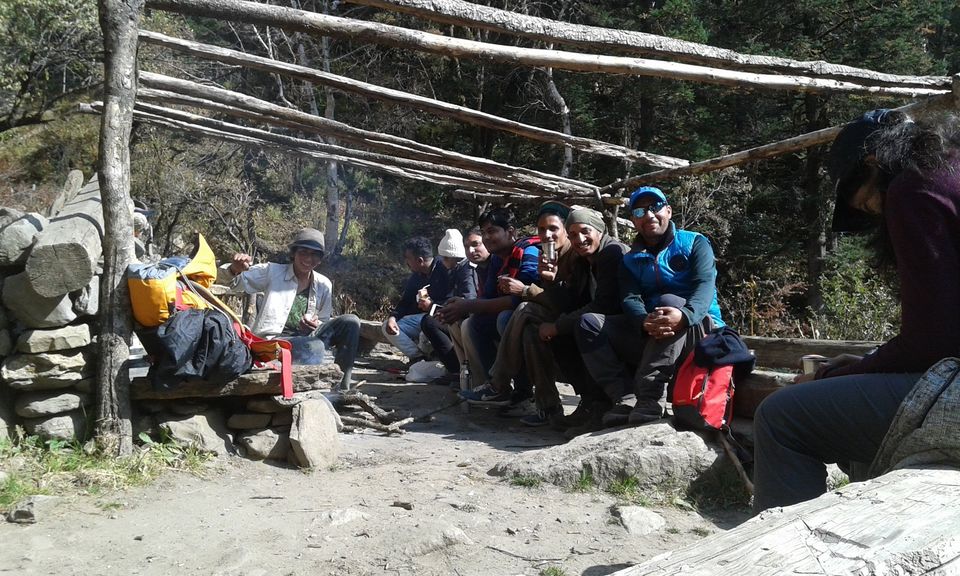 You can refill your bottle from this stream also. Took rest for sometime.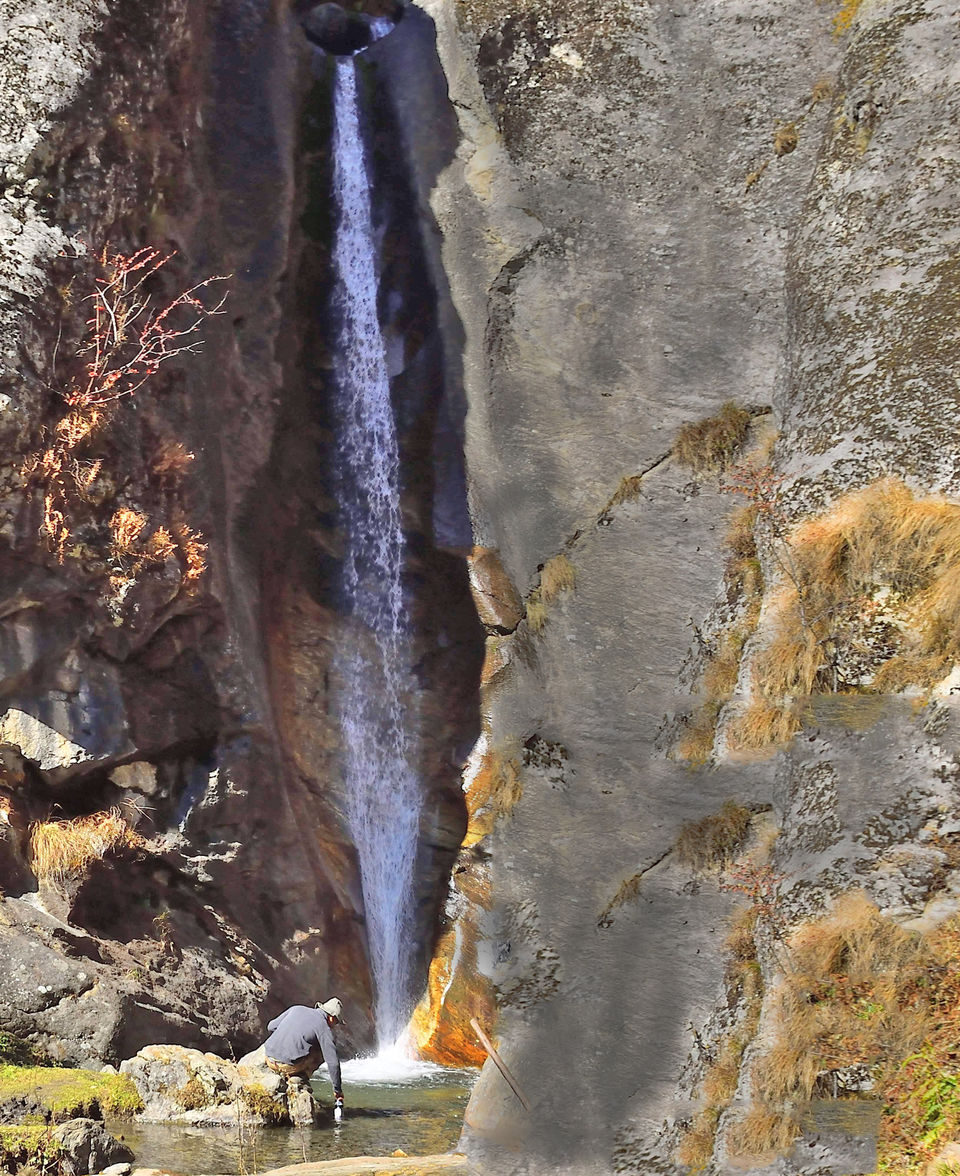 Another ascent across a small stream take you to the another flat valley. Now you are near Har- Ki -dun valley. You have to cross one more small bridge. A comfortable walk through gentle slope followed by a solid uphill trek take you to the spectacular Har ki dun valley. The Tons river flowing majestically thorugh the valley.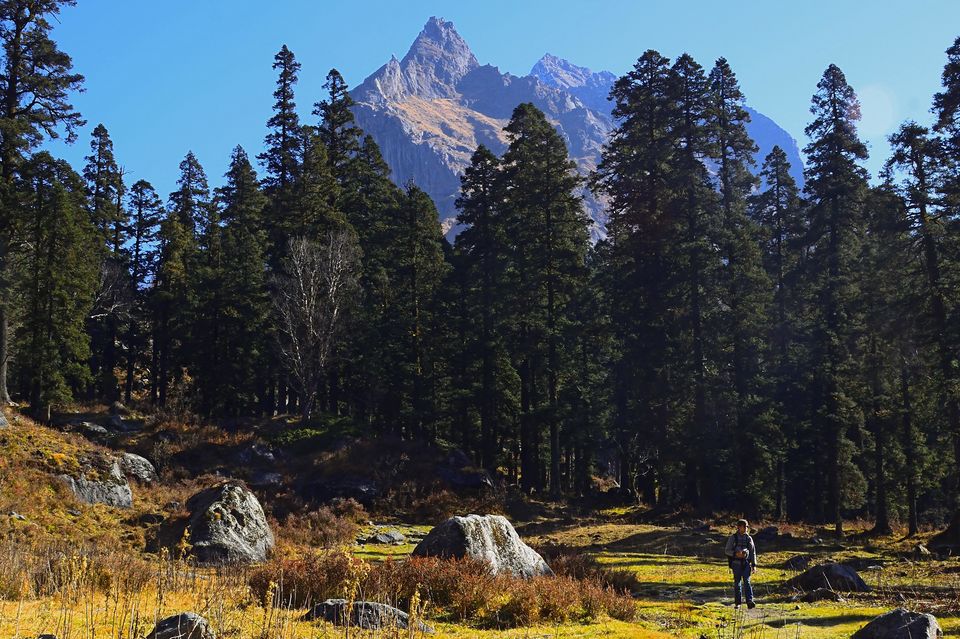 We stayed overnight in the Forest Rest House, across the Ton river, up on the hill, at the far end of the valley. It offers a great view of Swargarohini peak in front. It has two rooms. One large and one comparatively small.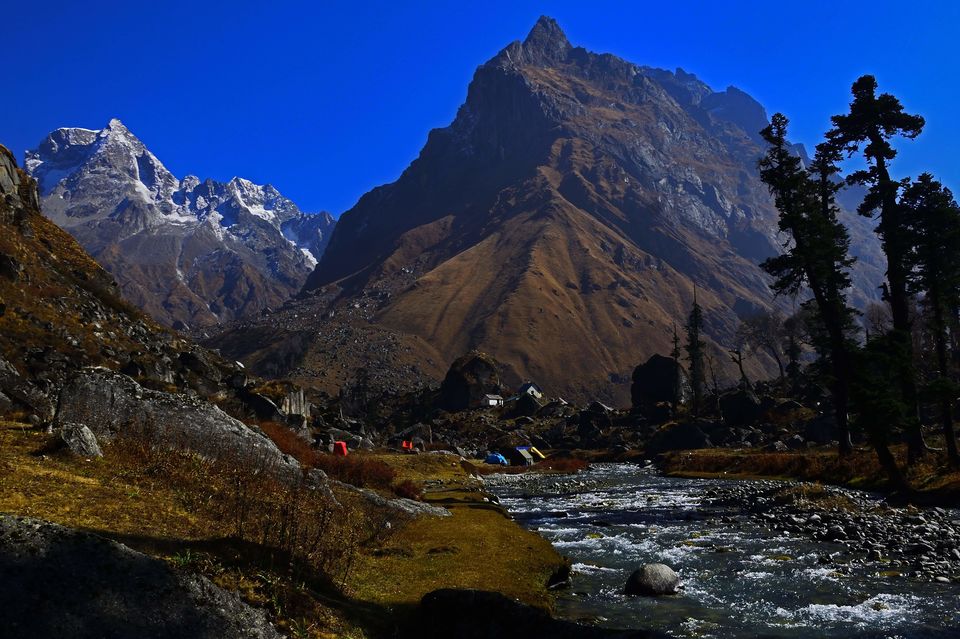 A separate kitchen was there. We were greeted with a hot tea. We were totally exhausted, my legs were paining. There is small flat ground in front of the rest house. We enjoyed the lovely sunset sitting there on a chair.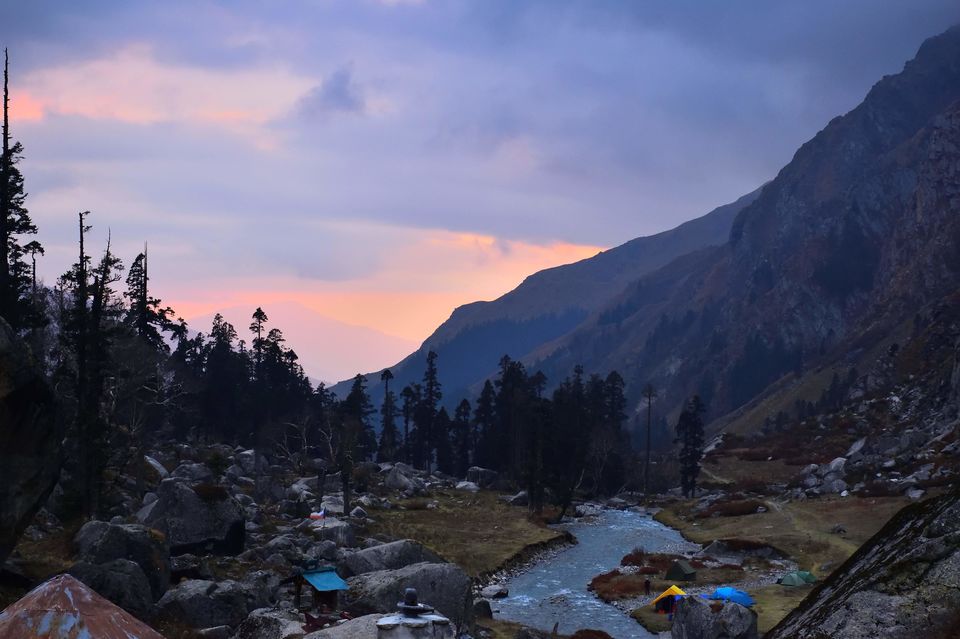 Apart from us, there was no soul in the valley.After the sunset, the temperature going down deeply. We have early dinner and retired to bed.
Next day early morning sunrise on the top of Swargarohini peak was a marvellous site. Temperature was very low. It's Shivering.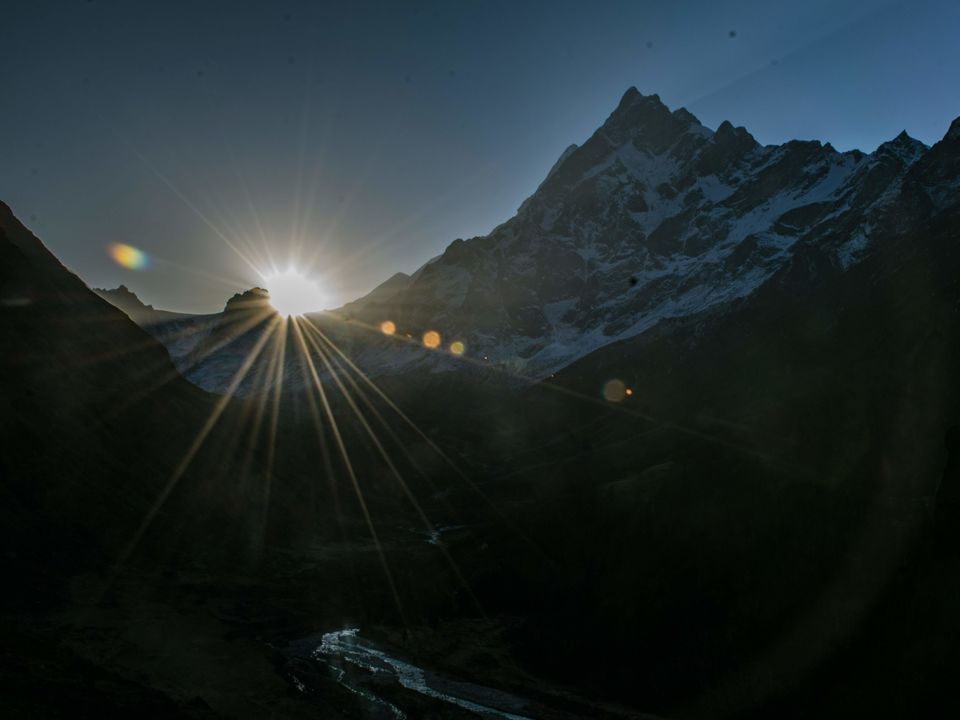 Temperature might run negative at night. As water froze in the water pipe. So running water was not available in the morning. Hot water was provided us to wash our face. It was a leisure day.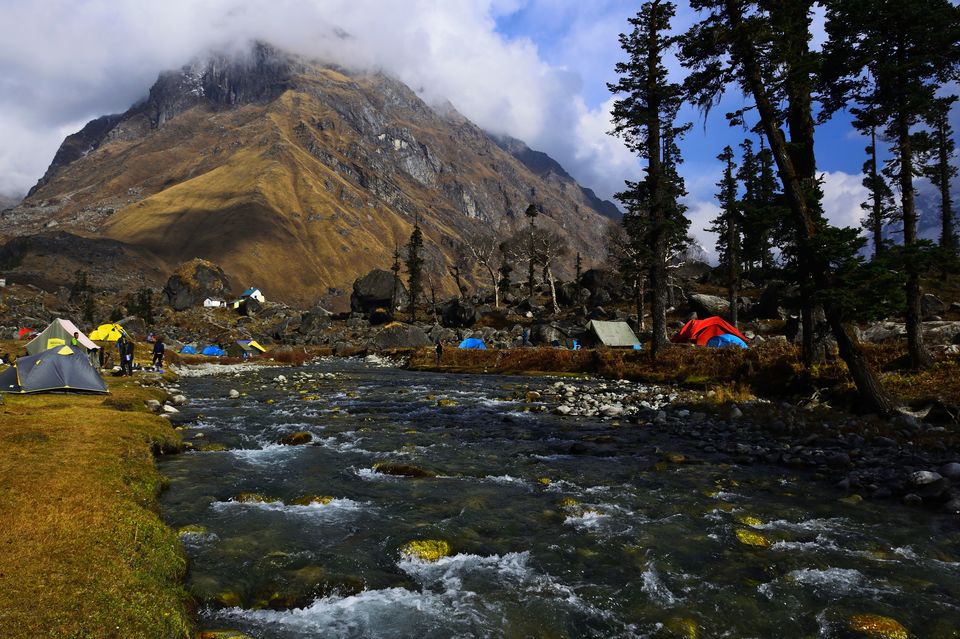 After breakfast you may explore nearby places Jaundhar Glacier and Morinda Tal. Jaundhar glacier is a 4 km trek from Har- ki Dun towards Swargarohini peak down the valley. It is one of the largest sources of Tons river.The beautiful Morinda tal is situated 3 km from the valley.
Else you may sit on the bank of Tons river amidst Himalayas and enjoy the nature or read a story book.I took a stroll of the entire valley and tried to frame it in my camera.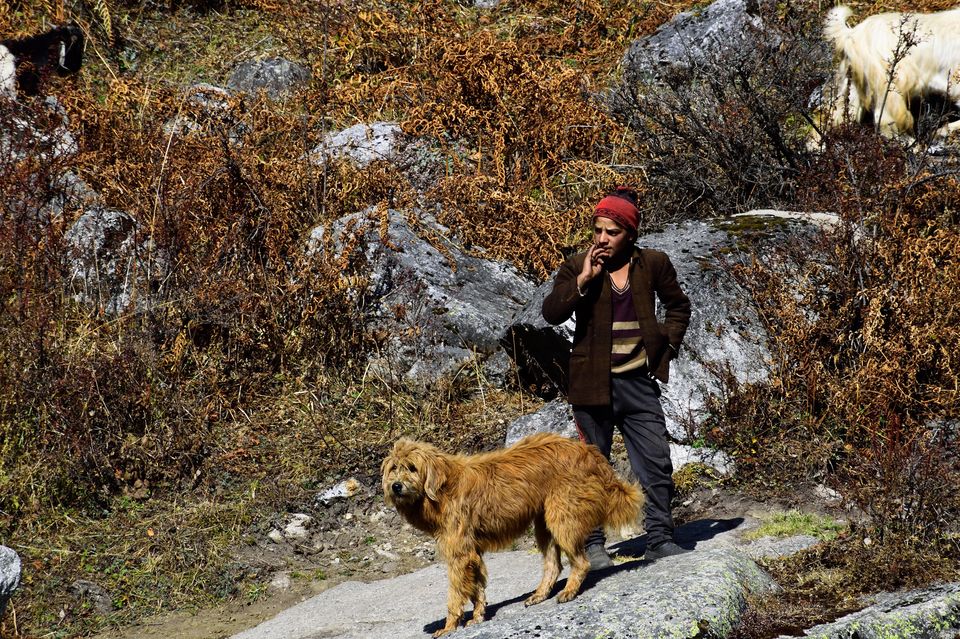 While strolling, I saw the Himalayan dog that followed me previous day when I reached the valley. It was so furry, so cute.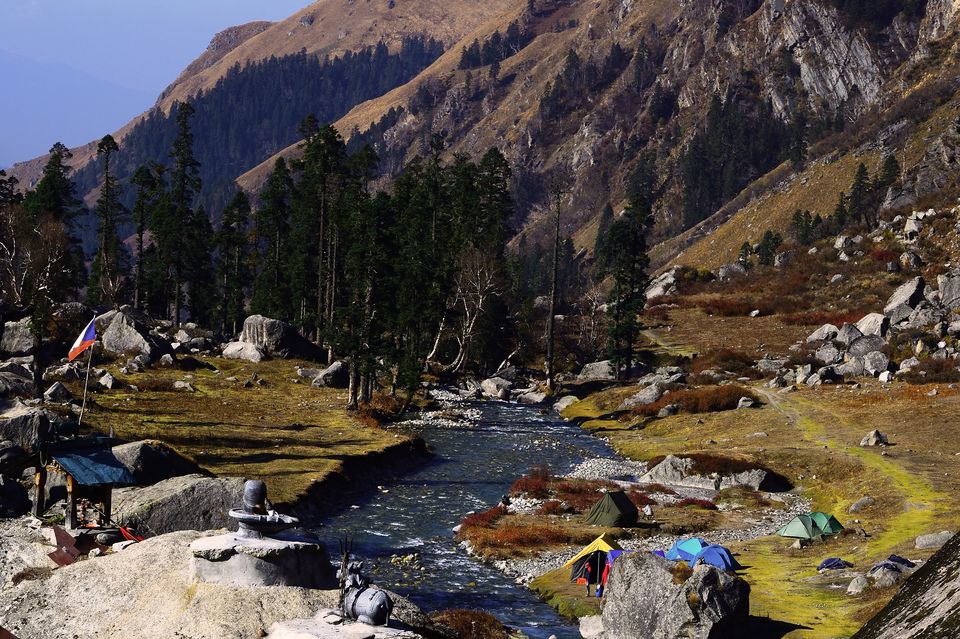 There is a Shivling just in front of our FRH. If you want, you can pour water on it with a copper pot kept near the lingam. I took this pot, brought some water from Tons river and offered it to the lingam. It felt great.
As the day progressed, trekkers started coming in the valley. Tents of different colours viz. yellow, blue, green and red were sprung up on the either side of the Tons river. The valley was looking amazing.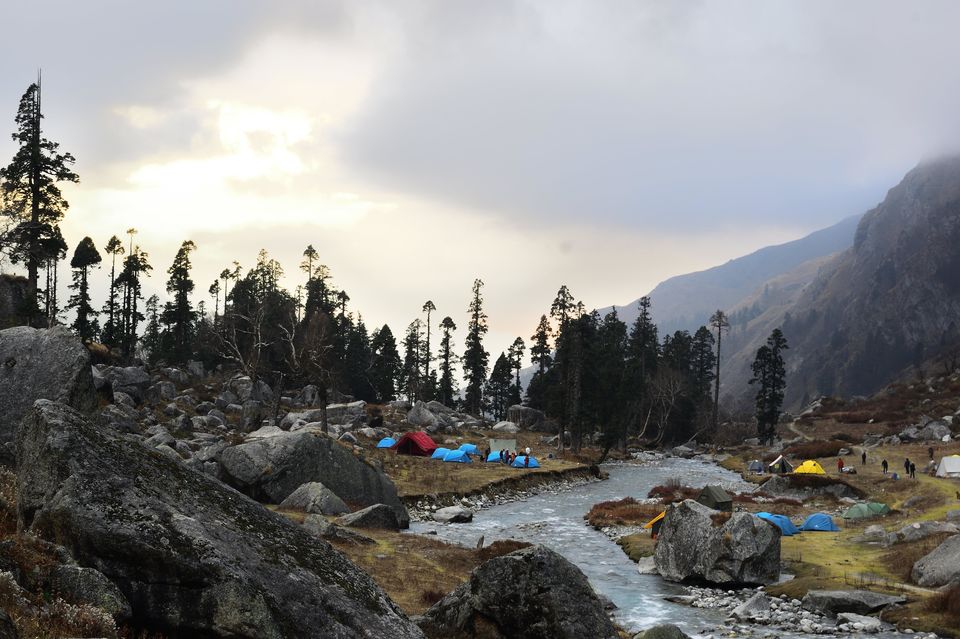 Afternoon was a bit cloudy. After watching another spectacular sunset we went inside the room to relax.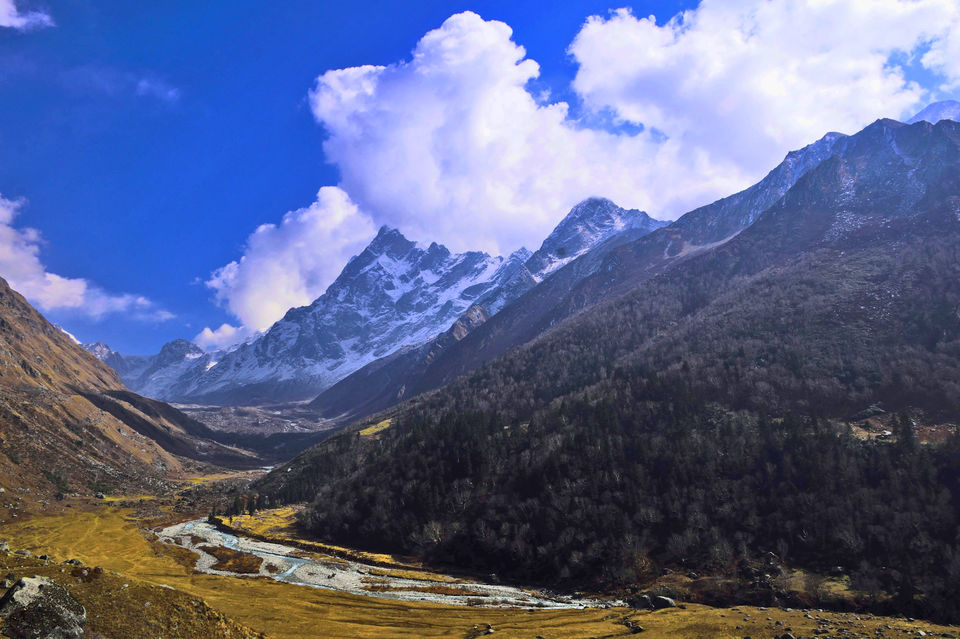 We stepped out around 8 pm to had dinner. Temperature was very low. The sky was cleared by this time. It was a moonless night. The countless stars were shining in the sky . They looked so close to me. After dinner I spend sometime under the glistening sky. It was an inexplicable beauty. I tried my hand for the first time in night photography but result was not satisfactory.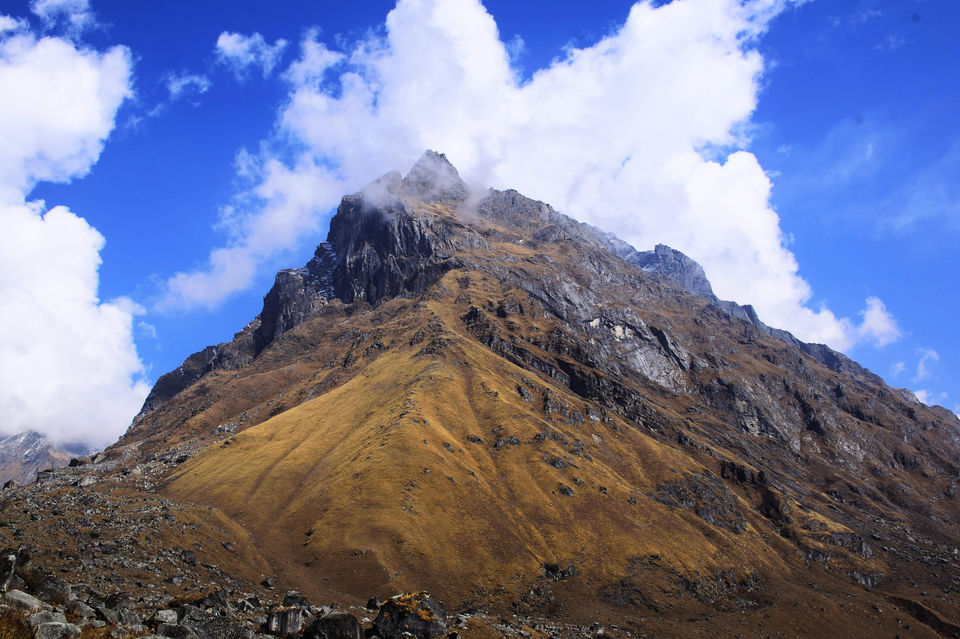 Another freezing morning came. Today after breakfast, we started for Seema following the same route.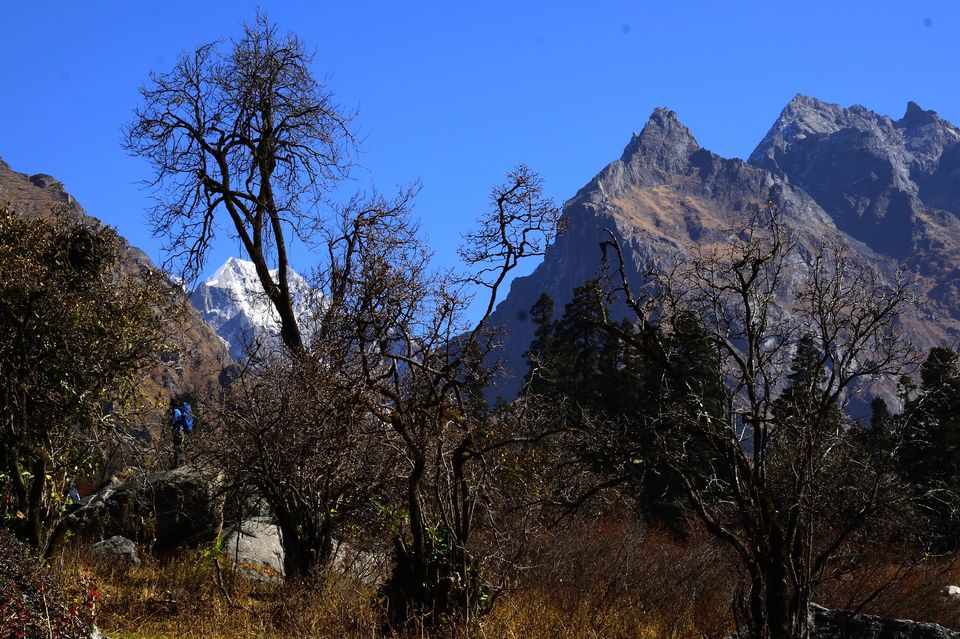 Down hill trek was quite easy. We reached Osla village by 3 p.m.
Osla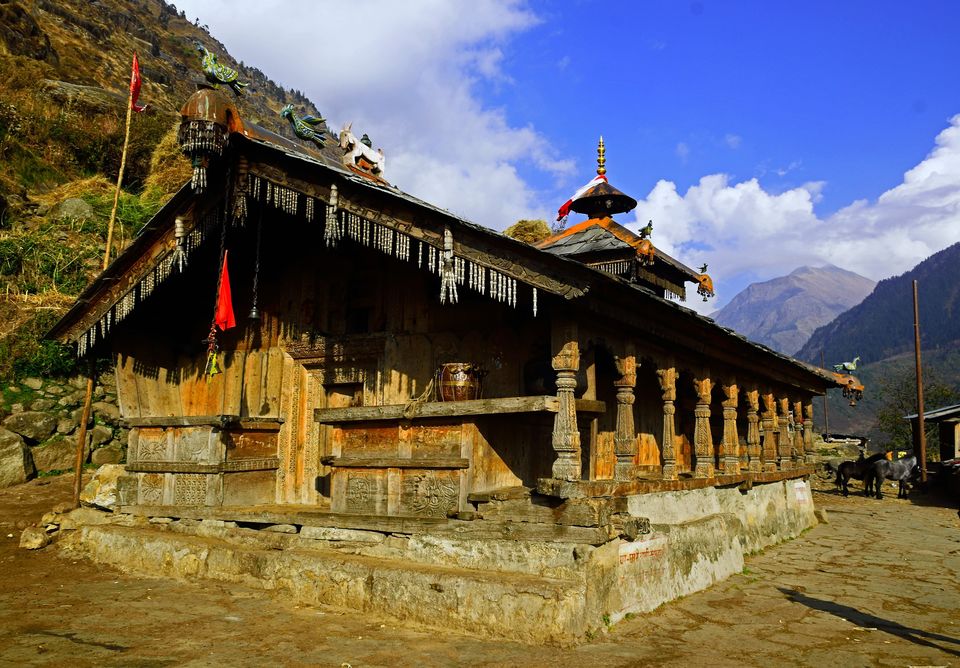 The Someshwar temple, dedicated to Lord Shiva is a popular attraction in Osla. This temple also known as Duryadhon temple.The people of this village considered themselves as a descendants of Kauravs. Most of the houses in Osla village are made of woods with slate roof.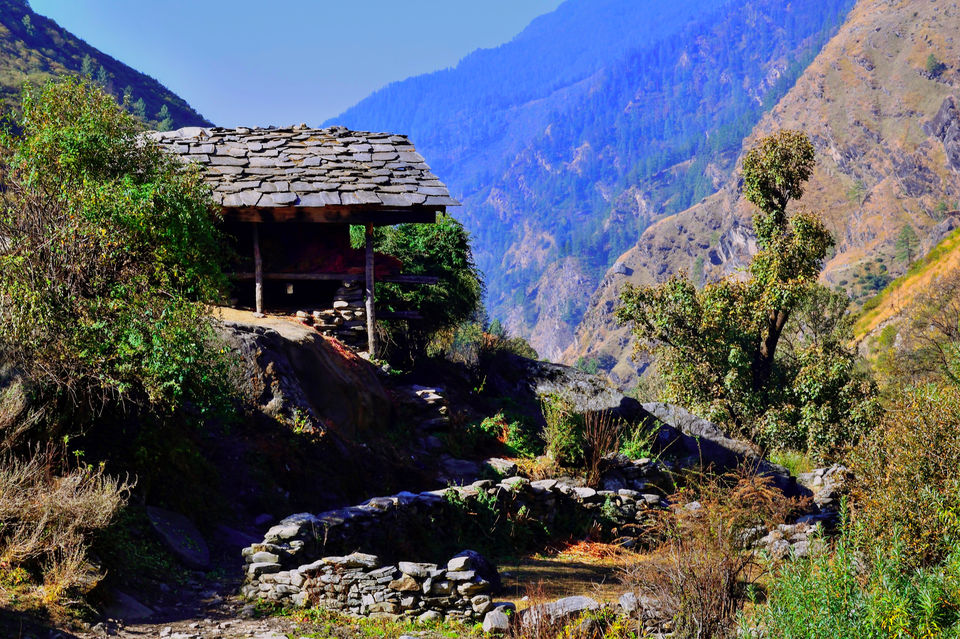 We reached Seema by 4.30 p.m. and stayed in the same FRH for overnight halt.
A bon fire was arranged on the bank of the Supin river.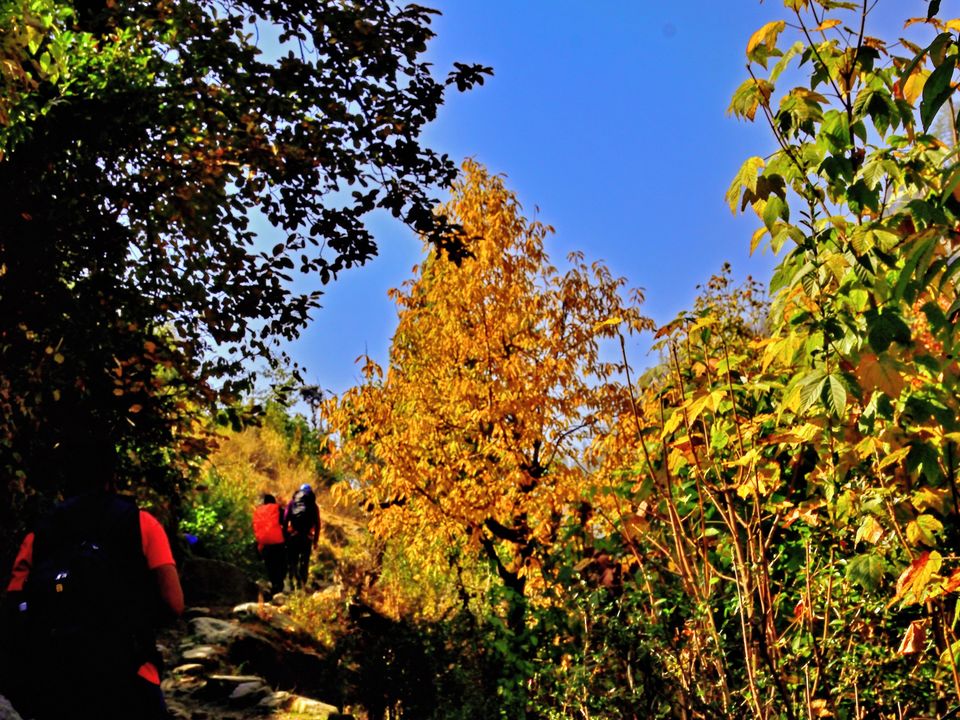 Next morning after breakfast we left for Taluka. It was the first week of November. As the fall approaches, the grass started to turn into pale yellow or reddish. Maple, Chestnut, Walnut and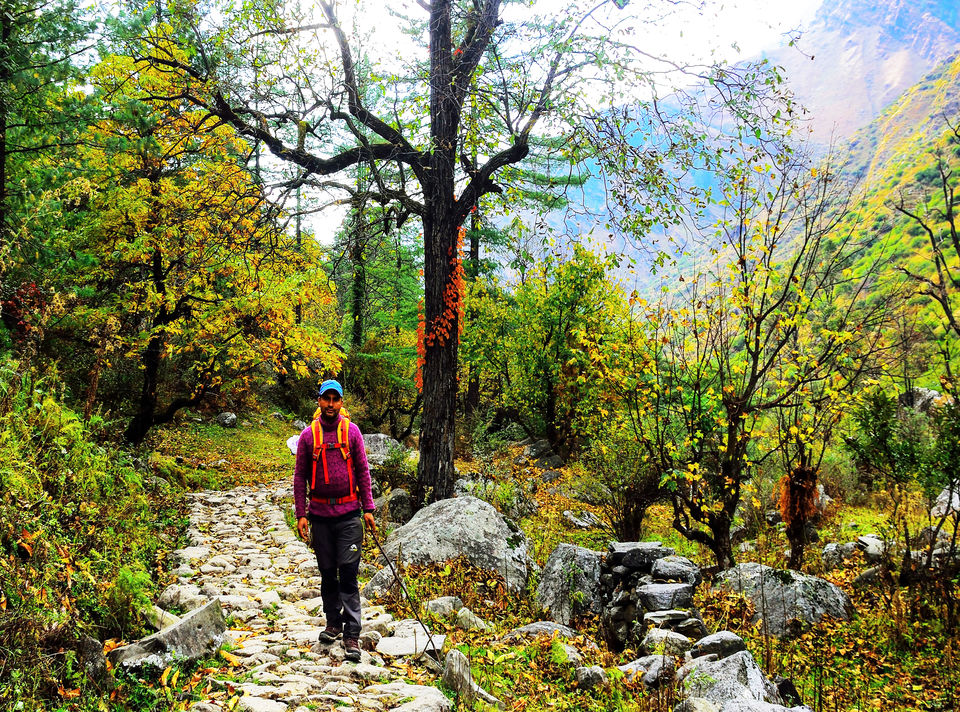 other deciduous trees begin to take the autumn leaf foliage.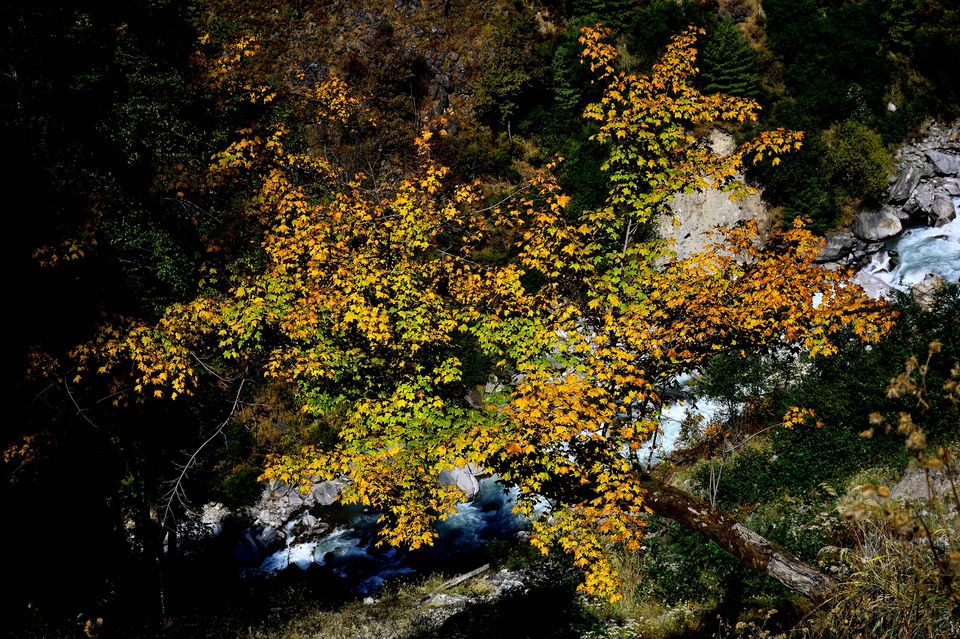 The surrounding transformed into spectacular yellow, orange and bronze hue.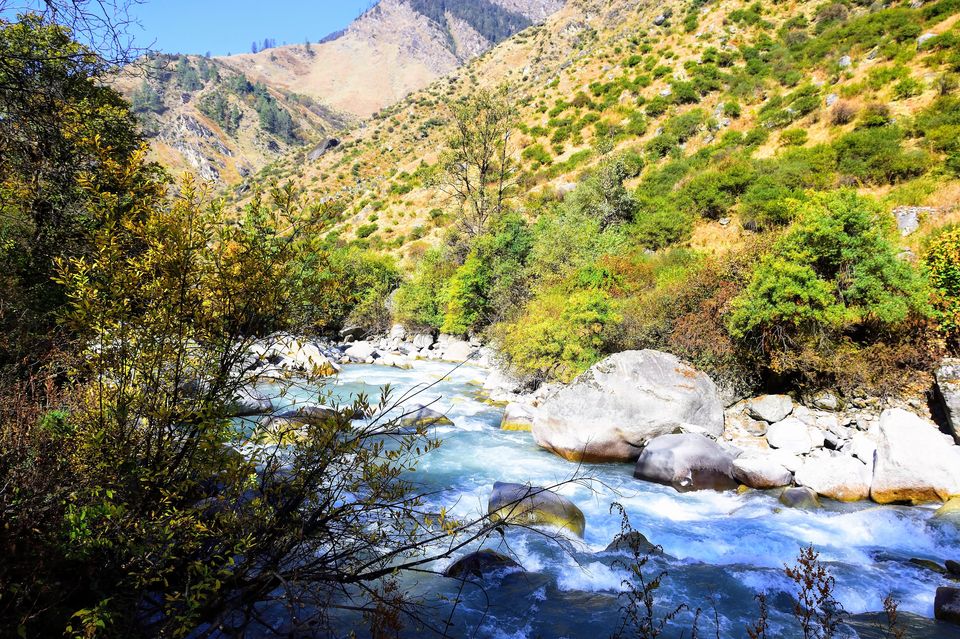 On the way we came across a small traffic jam for half an hour.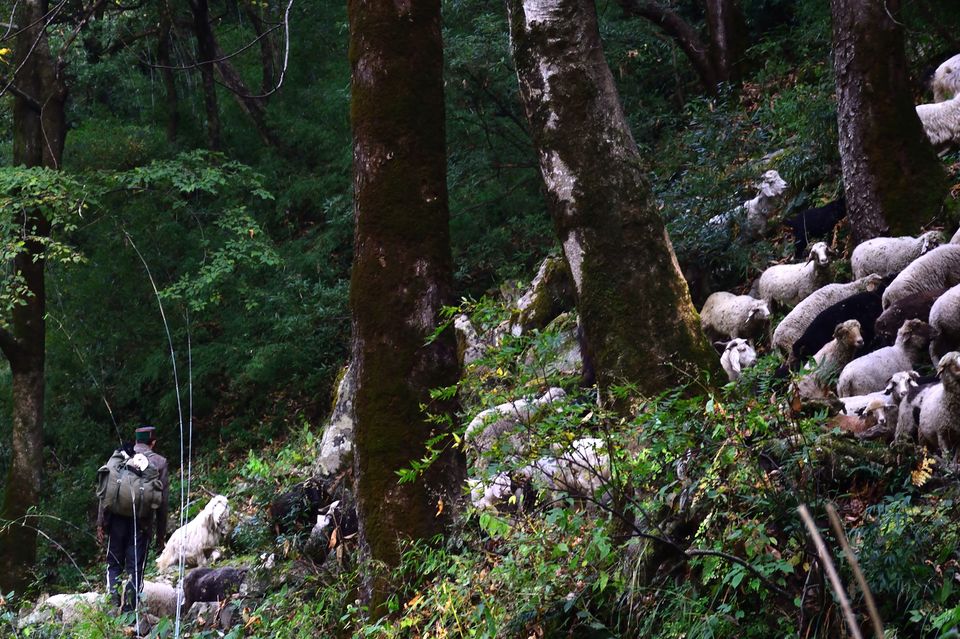 We reached Taluka by 4.30 p.m. The jeep was waiting for us. We reached Sankri by 5.30 p.m. Had early dinner and off to bed.
Next morning we left Sankri by 6.30 a.m. and reached Dehradun by 4 p.m.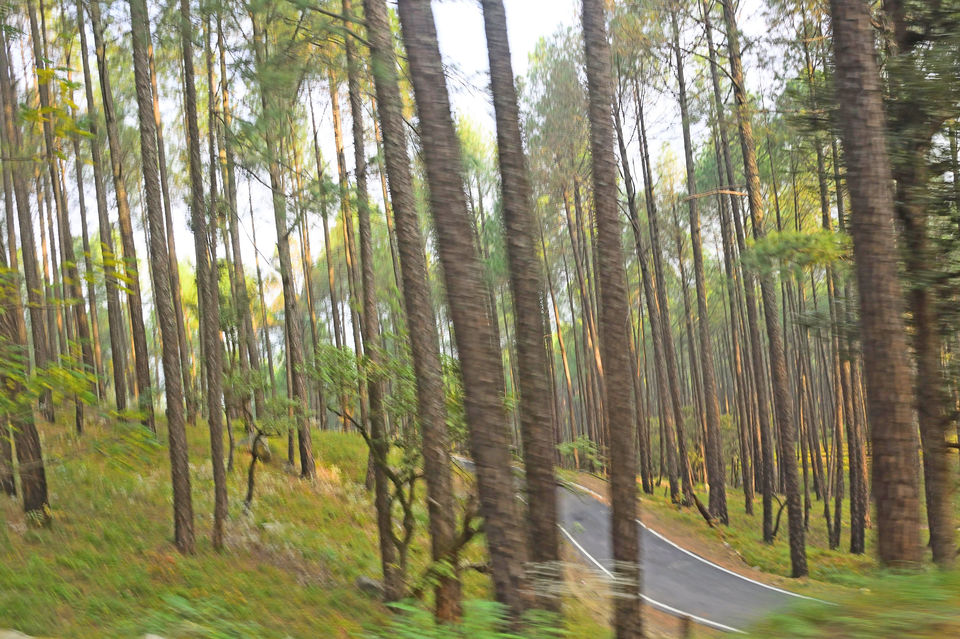 Day 0 : Kolkata to Dehradun
Day 1 : Dehradun to Sankri (200 km Drive)
Day 2 : Sankri to Seema/Osla via Taluka (12Km Drive and 19 Km trek )
Day 3 : Seema to Har ki dun ( 8 Km trek)
Day 4: Leisure Day at Har - ki -Dun valley
Day 5 : Har- ki – Dun to Osla/Seema
Day 6 : Seema to Sankri
Day 7 : Sankri to Dehradun
Best Time to Visit Har Ki Dun
Summer (April to June) & Post Monsoon (September to November) is an ideal time to do this trek. If you go in the month of April - May, you can experience the Rhododendrons and various kind of himalayan birds. If you are interested in snow trekking then the best time to visit is winters. Climatic conditions in the high altitudes vary from the plains; take adequate time to get acclimatized to high altitudes.
How to Reach Har Ki Dun
By Air: Jolly Grant Airport is the nearest airport to Sankri, which is situated at a distance of 230kms. Taxis are available from Jolly Grant Airport to Purola and Mori.
By Rail: The nearest railway station to Sankri is Dehradun, which is situated 200 kms away. Sankri is well connected with major destinations of Garhwal like Dehradun, Mussoorie, Purola and Mori.
By Road: Sankri is well connected with major destinations of Garhwal like Dehradun, Mussoorie, Purola and Mori.
Route follows:
Dehradun – > Mussoorie - > Nain Bhag – > Damta – > Nougaon – > Purola - > Mori – >Natwad – > Sankri.
Difficulty Level :
Although the difficulty level is said easy to moderate but some places mainly the last steep ascent of the trek is really difficult for the beginners.
Essentials :
Thermal layers, sweaters, padded jackets, hand gloves, trekking shoes, trek pants, balaclava, sunglasses, cap, toiletries.