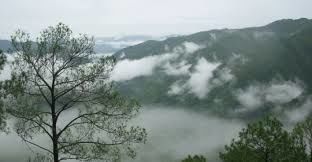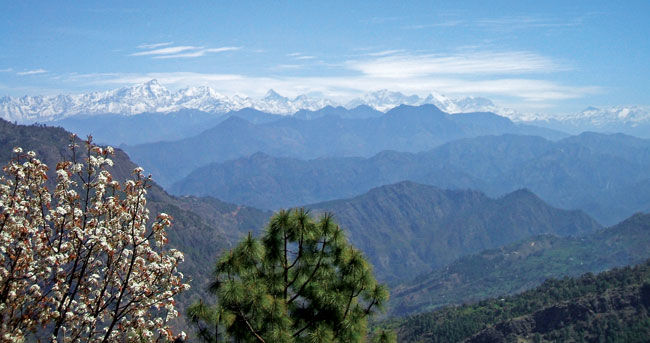 Abbott Mount
Abbott Mount is a picturesque and hidden destination situated at an elevation of 6500mts above sea level. It offers a tranquil, salubrious and serene environment. It was in 1914 when Mr. John Haroldabbott, a property dealer bought Rajkot Tea Estate, 1000 acres from Rev. Bose, to make it an exclusive European settlement. Kot in Kumaon language means fort. There might have been a fort on top of Abbott Mount in the ancient times.
The enchanting snow clad Himalayan peaks can be seen from Abbott Mount. The views of the Himalayas are visible right from October till June. Abbott Mount is an ideal place for birding, trekking and photography. The prominent valleys in the Shivalik seen from Abbott Mount are Pithoragarh to its North, Nepal to its East, South-East Champawat, South-West Almora, Chakauri and Gangolihat.
Abbott Mount is a recommended place for those who prefer to be nestled in the lap of Mother Nature.
At dawn one can see the silhouette of the Nepal Himalayas, the shadow of darkness slowly creeping down Kumaon, the Himalayas show their pure white snow clad peaks and then merging from the darkness are the tops of Chaukhamba slowly illuminating Himachal and then Kashmir. From the orange to blue skies and for the Himalayas to have a uniform color it takes about 20 minutes, you are witnessing the time difference on the Indian Sub-continent seen only from Abbott Mount.

When the sun is over the horizon the mountains of Assam and Nepal can no Longer be seen for they are directly in front of the sun, they are visible when the sun is well over them, about Eight o'clock. The valleys are wrapped in mist below your feet most mornings and in front are the vast and magnificent Himalayas, completely awe-inspiring.
At dusk the Assam and Nepal Himalayas disappear, the mountains have an orange hue before fading into darkness. The peaks of Kumaon show the last rays of the setting sun on moonlit nights, you can see a faint image of the Himalayas; the sky seems to extend below your feet as the lights twinkle in the valleys and the ridges below.
Nearby Places:
Mayawati Ashram:
Mayawati Ashram is a popular nearby place to visit. It is situated at an altitude of1, 940mts above sea level. Mayawati Ashram is popular amongst the spiritualists. Swami Vivekananda also shifted the publication office of 'Prabuddh Bharat' from Madras to here. The Ashram also provides board and lodgings to the visitors on their requests. Mayawati Ashram also has a library and a small museum to spend your time.
Lohaghat:
Lohaghat is a popular destination in the Kumaon region situated 8kms from Abbott mount at an elevation of 1745mts above sea level. Lohaghat holds great historical and mythological importance and it is situated on the banks of Lohawati River. During summers the area is covered with 'Burans' Rhododendron, the state flower of Uttarakhand.
Vanasur Ka kila:
It is situated at an altitude of 1,859mts above sea level. Vanasur ka Kila is located 9kms from Lohaghat of which you have to cover 7kms by bus or taxi and the rest 2km on foot. It is believed that this place was the capital of demon Vanasur, who was defeated by lord Krishna in a face to face battle.
Pancheshwar:
Pancheshwar is famous for the Temple of Chaumu,its fair and the sacred confluence. Chaumu is worshipped as a protector of animals with bells and milk as its offerings. The temple is dedicated to Lord Shiva at Pancheshwar.
Best time to Visit:
The best time to visit Abbott Mount is throughout the year but try to avoid the monsoon months because you may encounter blockage of roads due to landslides. The region remains covered with the sheets of snow during winters. During summers the weather of Abbott Mount remains pleasant and salubrious.
Where to Stay:

Abbott Mount is a beautiful hill, which has only 13 cottages, which were constructed during the British reign in India.
How to Reach:
By Road:
Abbott Mount is a remote area but it is well connected by motor able roads with major destinations of Uttarakhand. Distance from Delhi is 440 Km. Buses and taxis are easily available up to Lohaghat from Lohaghat one can hire a taxi.
By Rail:
The nearest rail heads to Abbott Mount is Tanakpur which is 80 Km away from Abbott Mount cities of India.
By Air:
The nearest working Airport to Abbott Mount is Pant Nagar Airport. It is a domestic airport well connected with flights from Delhi and Chandigarh. It is situated 180kms from Pant Nagar Airport.