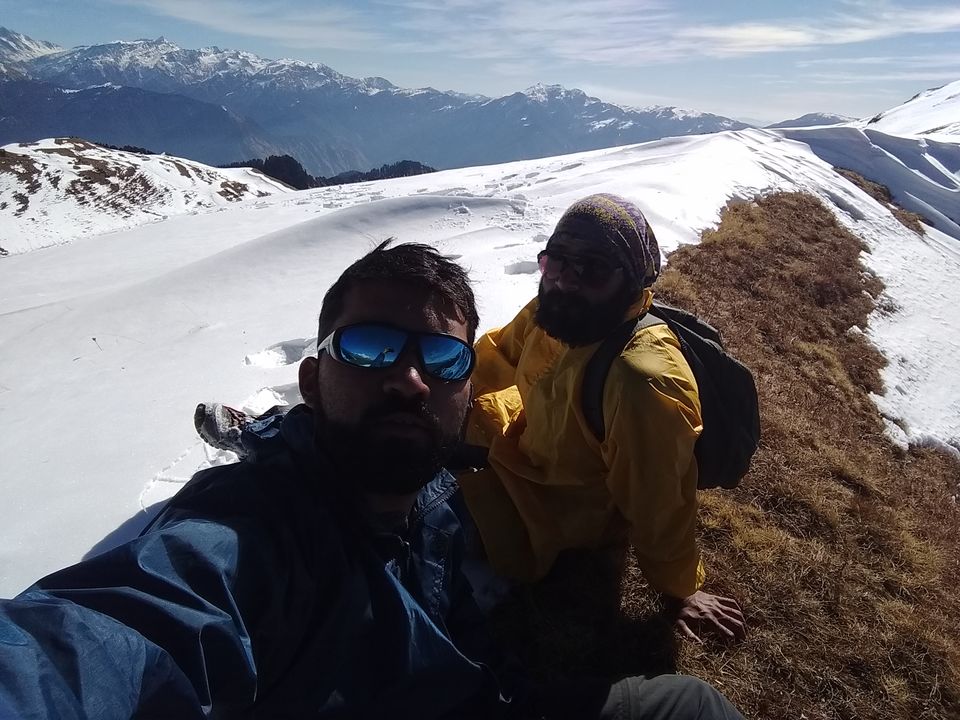 The peaks were high
As never been climbed before
The views were great
As never been seen before
The snow was crystal clear
As it had been a gift from GOD
The time was still
As never to move ahead
The moment had passion
As never been felt before
The winds were so clear
As never been heard before
The mountains stand tall
In all their glory
As if they aren't afraid of anything
And we stood their patiently
Thinking NOTHING……….
Life is out there my Friend, that was the motto of Arjun Singh, tall and thin man with a Long Beard flowing down the chin looking like Gandalph ,The Grey from lord of rings, a clean shaven head covered with a Blue & Yellow striped Bandana, wearing spectacles which are usually broken and a curiosity on his face about travel and people & a big Smile which works as cherry on the top.
The last time I remember him was as clear as mist in the mountains.
It was Snow all around, covering every inch visible to the eye & a beautiful oak forest was surrounding the place where we were sitting, it is called GUI village, 9000 feet above sea level surrounded by magnificent Garhwal Himalayas, the sun was out but not clearly visible as the clouds had covered it up.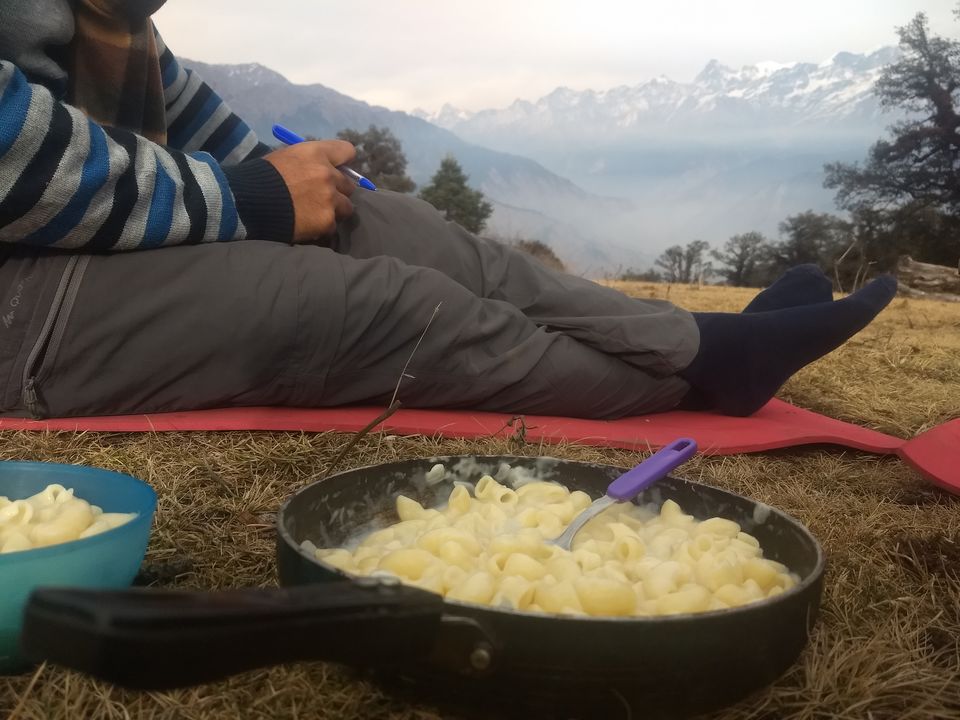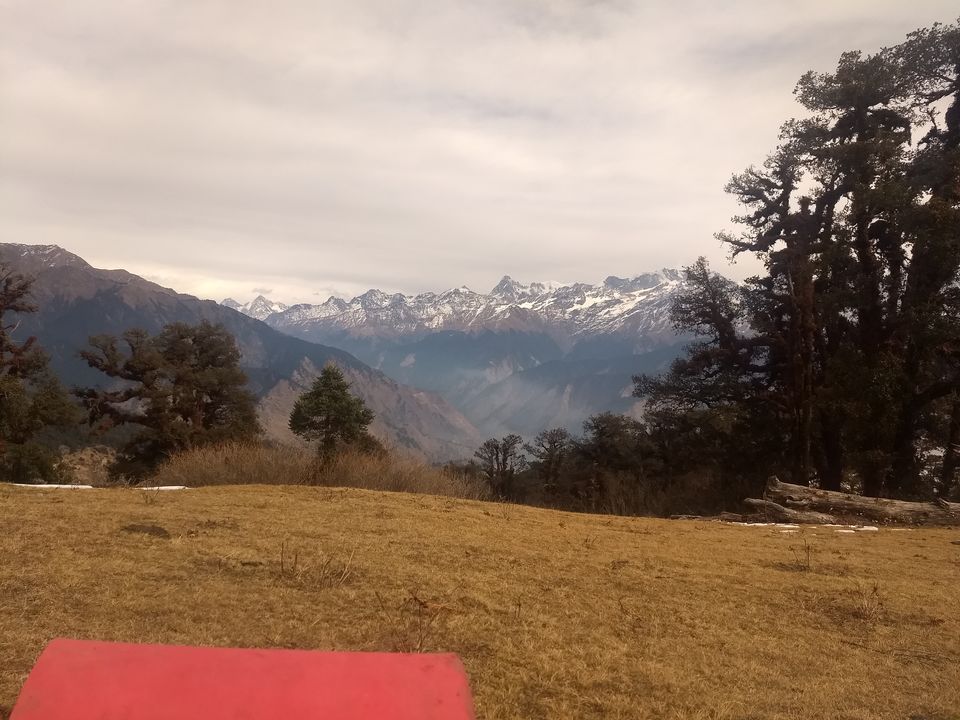 Arjun was preparing White Sauce pasta for our Lunch.. Ahhh Delicious, while on the other side i was sitting by my tent listening to the playlist on my phone….oh sorry I forgot to introduce myself… so why don't I take you back a few days where it all started.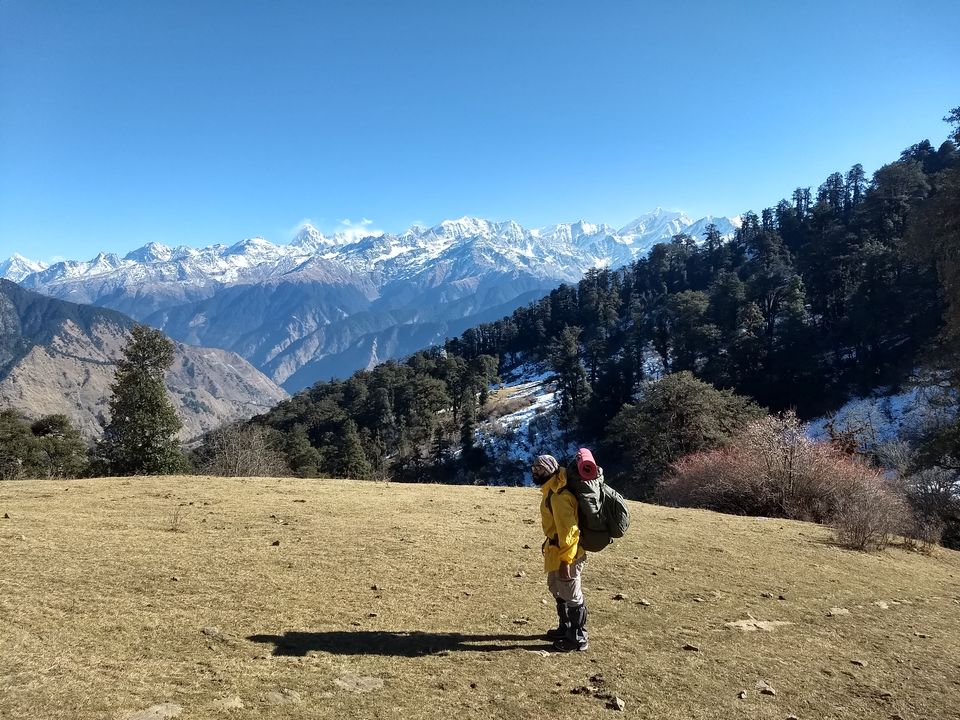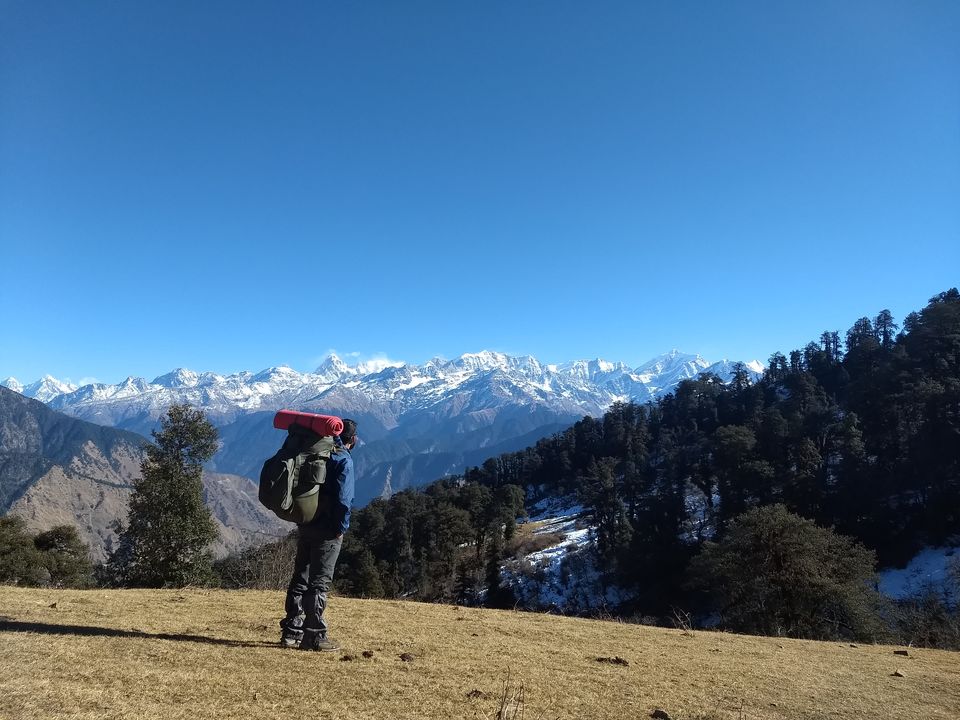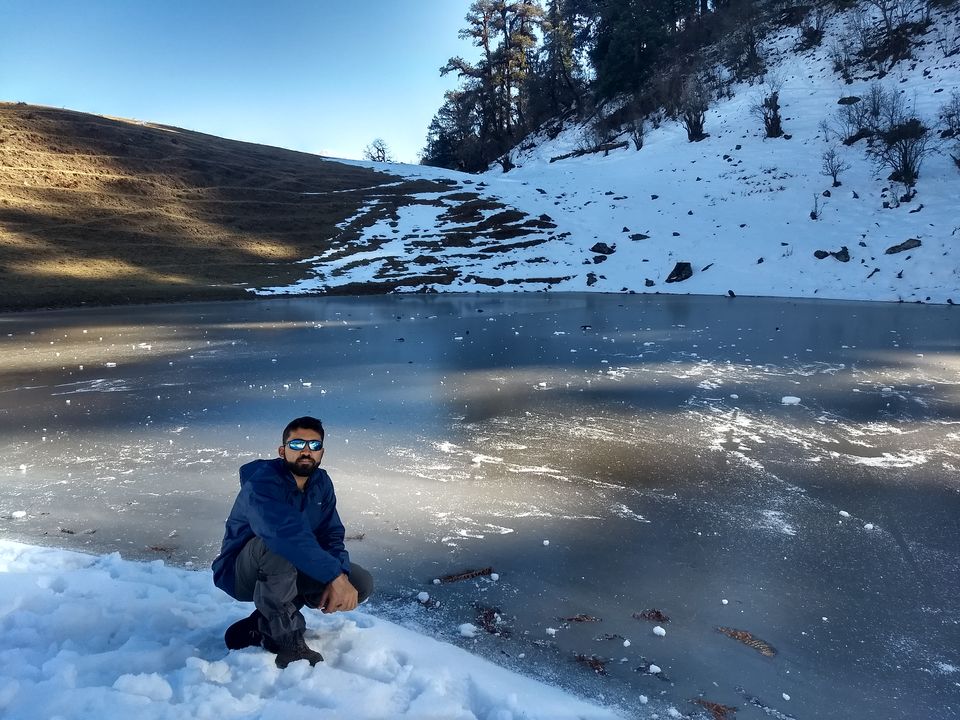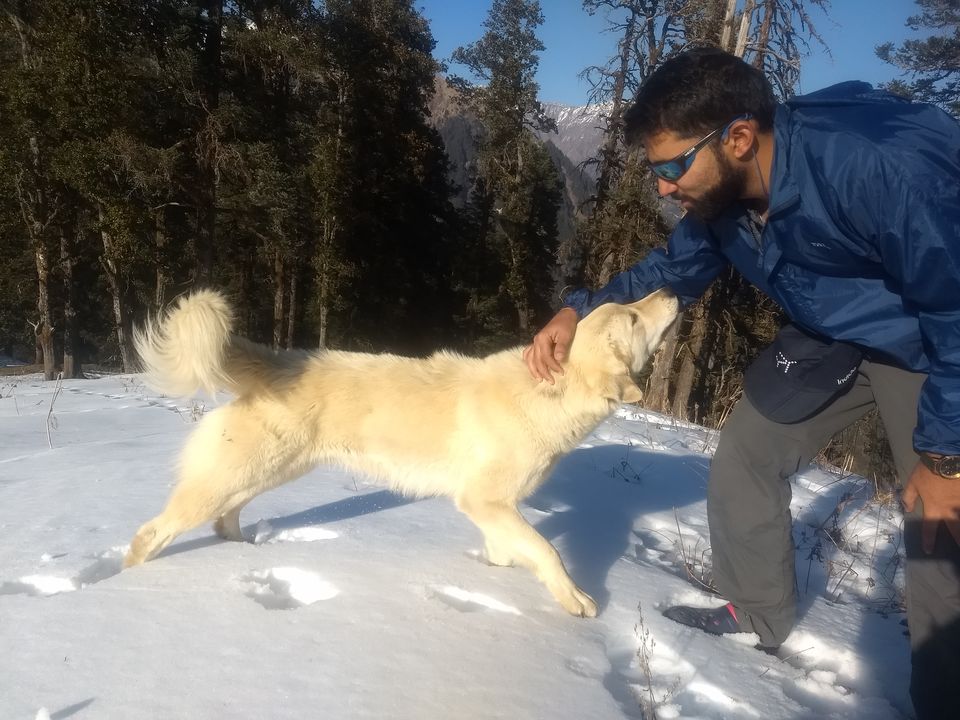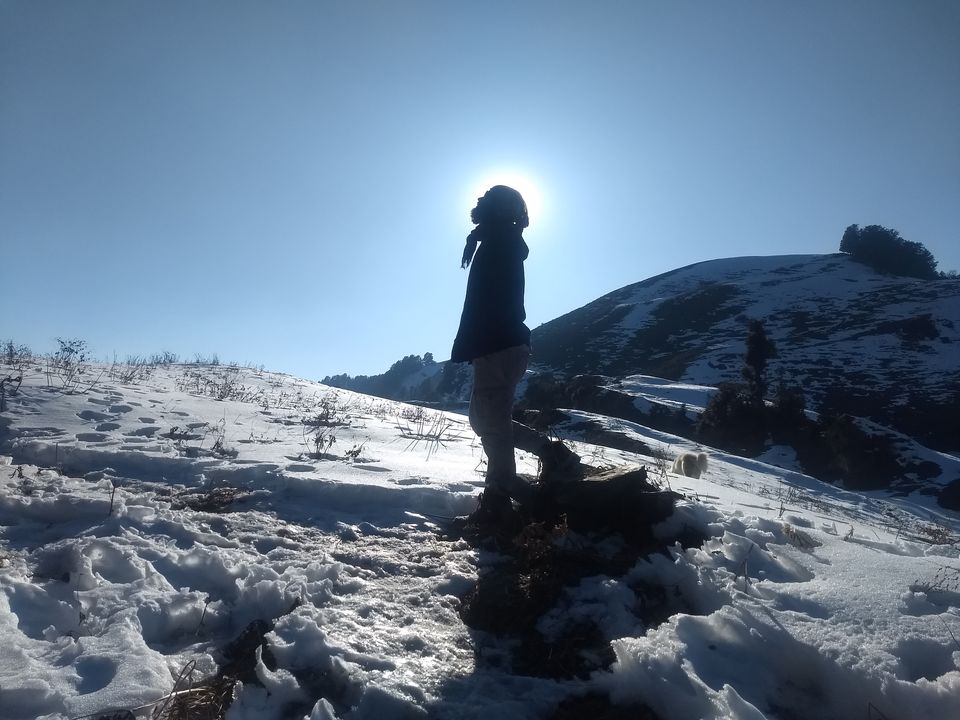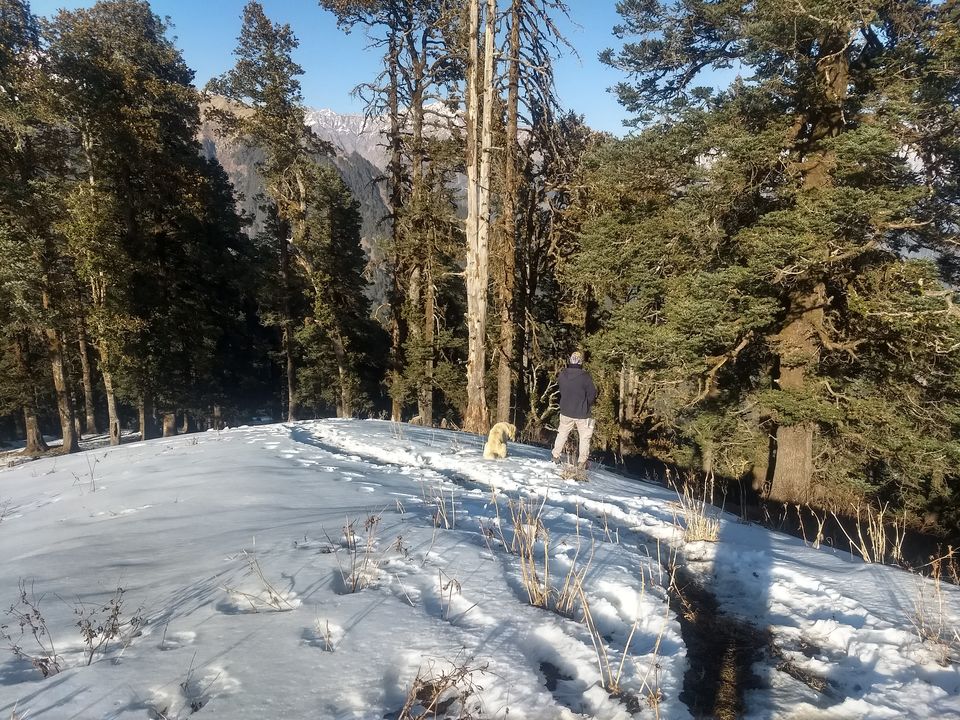 Mornings in the mountains are as glorious as the moon in the night & as we came out of our tents, it was the most mesmerizing view, sun rays lighting up the mountains. It seemed like gold dripping from heaven & onto the peaks.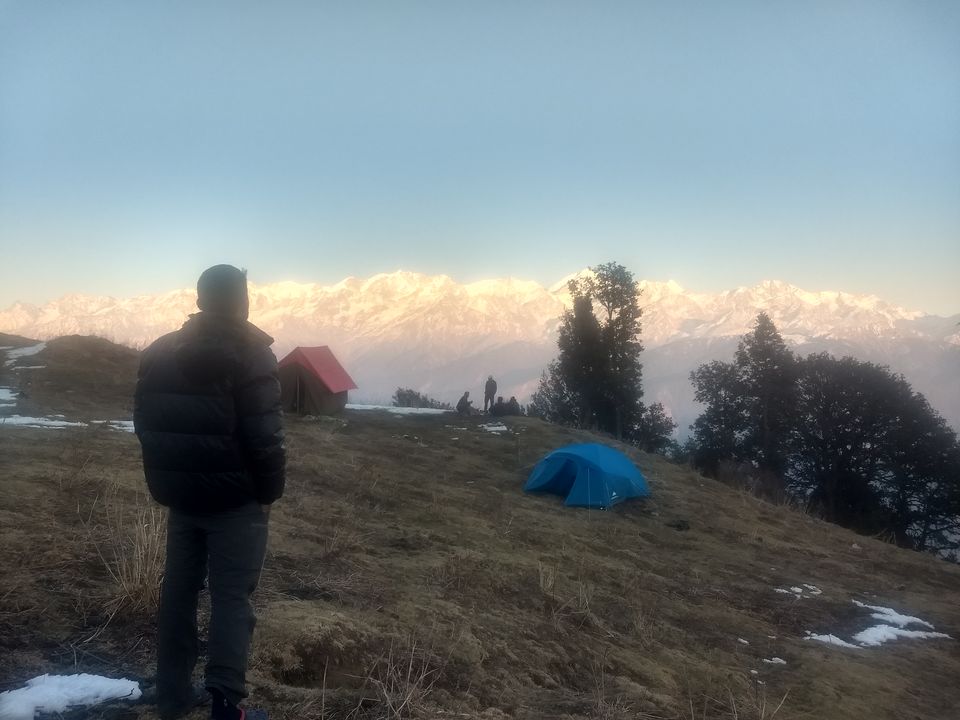 The beautiful portrait of the snow clad mountains left me speechless. We prepared our breakfast with love and a big smile on our faces, packed our stuff, filled our water bottles from nearby well & started hiking again without any idea what all is up there, one thing was sure that we were happy and filled with joy.
There were some other trekkers who were planning to climb and descend at the same day which made me think twice, nevertheless after 2 hours of hiking we reached GUI village where we rested for a while as that was the base camp.
Let's explore the area, it came to me the first thing after I reached there.
Exactly, that is how arjun responded.
The exploration was successful.
Hey, come here fast I found something.
Arjun came running like I struck gold and it was none the less for us. There was a beautiful frozen lake on the backside of the ridge enclosed with snow from all sides.
'Heaven' isn't it. Sitting on the side of the lake it definitely felt real good because we forgot the time and that we have to climb up.
As we were about to start hiking, I heard someone say merry Christmas & I was like Hey its Christmas.
How many times this does happen that we plan amazing trips for Christmas & New Year, eventually we settle down by going to church & lighting candles. And here I was somewhere in the mountains & snow with my Best Friend, it didn't even occur to me to make a wish as I had everything I wanted in that perfect moment.
Watching each other feeling blessed & a big smile on our faces irrespective of our heavy bag packs, started hiking again. The last end of the trail was rather steep & tough. Arjun was sweating heavily and my thigh muscles were twitchy from the steepness. I recommended to have a break, ate our trail food had few gallons of water and started for the top.
I never expected this but it was crowded at the top of Dayara Bugyal, Seriously so many people, looks like rajiv chowk metro Station.. Only Delhites will get the joke. Exploring the place up & down, right & left for a few minutes, we found a place which was a little bit isolated & what else did we want. Little bit of privacy with the mountains. The sun has already set & we were done with our dinner and a cup of hot chocolate yummy and it becomes tastier when you are surviving a temperature of -6' Celsius.
It was day 3 & the mountains were as glorious as the first day, today was different as I prepared the chicken poha for our breakfast, not praising myself but it had been the best poha of my life solely for the reason that I put chicken in it & my family is hardcore vegetarian. Yeah, you read it right chicken is a delicacy for me. So after the non veg poha we got ready for the day, as this was the moment we were here for . The summits of dayara bugyal at a height of 3408 meters & bakriya top at 4000 meters already giving me Goosebumps.
Bakriya top sounds funny right, as if a lot of goats are waiting on the top for you. Sometimes I think where do these people come up with these kind of names. Never mind, after packing all the stuff and keeping it in our tents. We started our journey to the top with our water bottles and some food.
After 15 minutes of walking, the place changed entirely.
Is this Heaven, Arjun asked!
Looks even better, I said with a wow feeling on my face. I never saw so much of snow in my entire life. Me neither, Arjun said and mind that he is a Garhwali.
As we climbed higher, I felt that this is the truest moment of my life, all my life I was waiting for this….feeling eternal ,it felt like the moment and place consumed me whole & I never want to get out of it, such a beauty so pure it was .
An hour of hiking and we reached the dayara top & there was no one else, nobody to be seen just the mountains, snow & deep sense of purpose I felt for the first time in my life.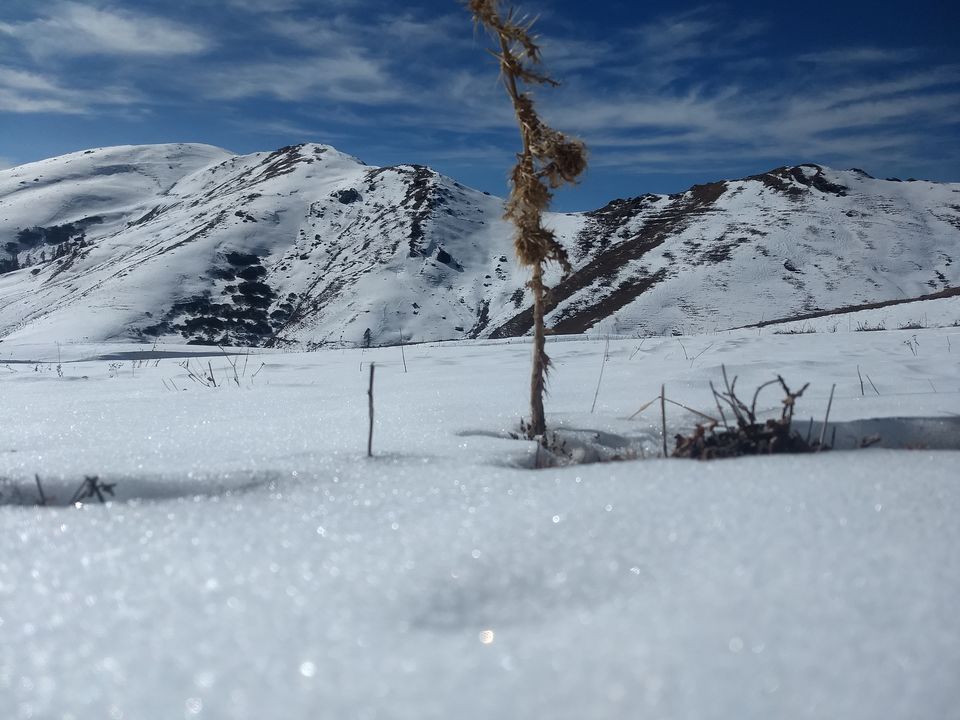 There were peaks in front of me which I only heard about Bandar poonch, Gangotri 123, Black peak & what not. But we were still not at the top & what I heard there was that most of the people come back from dayara top as bakriya top is rather difficult, which made it interesting in our adventurous eyes. We were knee deep in snow walking, trying to find a path, as there were no footsteps visible only the top was to be seen & just after half an hour of hiking I saw footsteps but not of our species rather some animal & my brain started making all the wild assumptions present in this world. Is that a leopard or a bear wait it could be a lion & I thought shut up! There are no lions in this place.
It is so strange that brain is the most powerful thing in this world, yet it stops us to do something uncomfortable or dangerous which can be a liberating experience and may change our thought process entirely. With that thought in my mind I kept on climbing and finally made it to the top. The view was breath taking & it felt great, a sense of achievement was there. Moreover we could see the team of indiahikes sitting back at dayara top and going back from there hahaha. That very moment a line came to my mind I read somewhere long back.
There were 2 paths
One to the top & another
Back
We took the path
Less traveled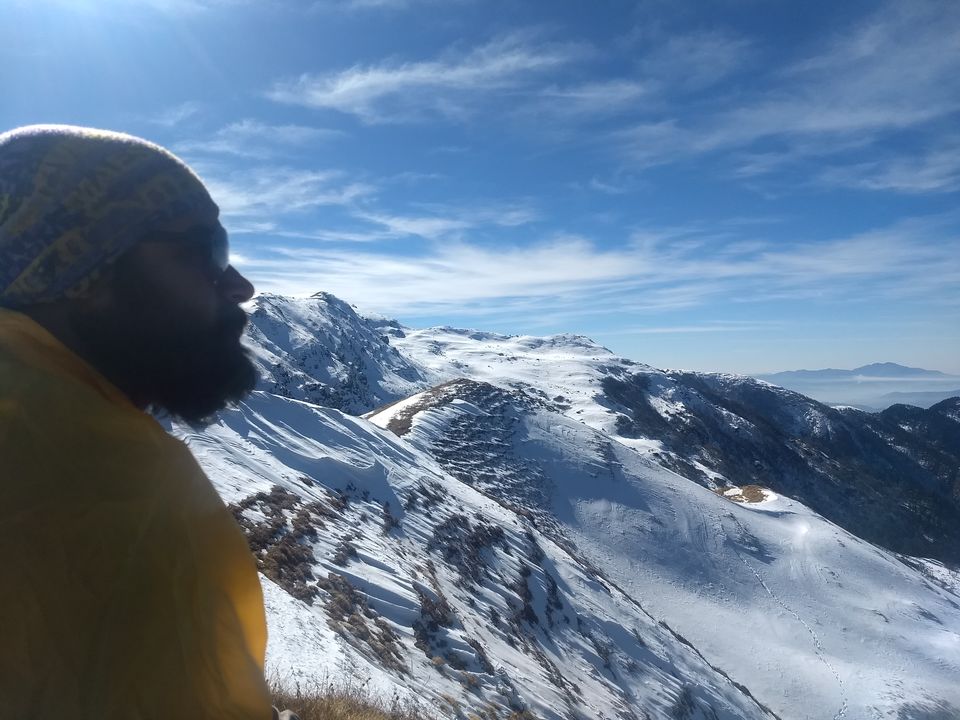 It was day 4, and we thought of waking up early but failed horribly. Got late for everything from breakfast to packing our bags & decided to stay at gui for the day, from where our story actually started & now its ending. That was our last night in beautiful garhwal Himalayas & so we thought of preparing our food on bonfire rather than stove& it was delicious as always.
We ate well & slept well in the lap of the mountains.
The last day came & it felt like we just started, packing our bags & going back felt little heavy this time on our hearts not our backs. As we left the place going back towards our life I felt something changed in me something good & true & will never forget what the mountain taught me.
For more journeys stay tuned
Sayonara
With love from renegades
It was a long awaited trip for Arjun & me. Christmas was only 2 days Daway and it was time to do something fun, what could be better than to celebrate Christmas in the lap of Himalayas….that's right fellas TREKKING to Har ki Doon a mystical and magical journey which was taken by the Pandavas of Mahabharata while finding the beautiful peak of Swargarohini and eventually seeking the Heaven. Unfortunately a day before our journey we got the news that due to heavy snowfall the trek has been closed till March.
We are screwed brother, I said. 'What to do now?'
Will find a way, Arjun said.
Did it ever happened to you, when you have planned your whole trip & at the last moment the trip gets cancelled, irritating isn't it. And so the discussion started and went on till the very last moment. Hence, the conclusion: Dayara Bugyal it is & why not it is one of the most stunning bugyal out there. Well people who don't know the meaning of Bugyal it's a meadow or Grassland.
It was time to check the Ration stock and Gears.
'That is a piece of cake,' I said. Where we are going, food is of utmost priority. So let us take all of it .Getting our ration, stove, sleeping bags & most important the tent, we packed our bags which were quiet heavy ufff . Arjun & I took to the trading winds & so our journey begins.
The Bus from kashmiri Gate left us at Haridwar at 5 in the morning. And the bus going to uttarkashi was at 6'o clock which left us with some spare time.
'How are you,' I asked.
Cold, Arjun said. Let's have a hot cup of Tea.
While having that tea it came to my mind if it is so chilling in Haridwar, what will happen to me on the trek? Then I thought never mind, it had been worse & it is not the first time we did something stupid. Well we got on the bus & wow what a journey it was, half of the people were puking on one side and other half on the other side, this is the best thing I find about roadways. In order to distract myself I covered my entire face with my muffler & slept for the entire journey. It almost took us 7 to 8 hours to reach uttarkashi & 1 extra hour to bhatwari from where we hired a jeep which took us to raithal where the trek starts.
The sun was almost about to hide & we did not had much time left in our hands. Bending under the weights of our packs we started hiking and within half an hour found a place near water source to pitch our tents.
'You pitch the tent & I will prepare the dinner,' Arjun said.
Alright, I replied.
It was already dark and very silent & I could hear every sound including my own heartbeat which becomes really creepy and terrifying sometimes, although the dinner was perfect & we slept.
It felt that we achieved great height & why not we were 4000 meters above sea level all by ourselves. I felt great joy but nothing lasts forever & so we started descending back with a beautiful memory of the place in our eyes & our hearts, reaching back to the tent, we started preparing our dinner of parantha and dal with delicious achaar & finally called it a night.