DAY-1
This is the story of my First Trek Experience
It was the regular evening Tea Break in the office where I, Mayank, Mohit, Rohit, Aditya and Hritik started discussing about New year celebration, our main purpose was that we all needed some break from our busy and hectic life. Our culture teaches us that we will have never enough. We strive to make more money, buy more things. We rarely get time for ourselves except in weekends and that's why we were searching some place, where we will be connected to nature's beauty and a place which makes us enlighten who we truly are, a place which is far away from city hustle.
"In the end, we will remember not the words of our enemies, but the silence of our friends." – Martin Luther King Jr
We searched some good trekking places in internet and after two days, we finalized of going to very quite popular place 'Dayara bugyal' , which is located in UTTRAKHAND known as LAND OF GODS(DEVBHOOMI), which stands tall at an elevation of 10,000-12,500ft. We choosed this place as this place is not so populated. Dayara Bugyal is a combination of two words, basically Dayara is a name and Bugyal means Meadows so after combination of these two words it's a Dayara Meadows. Dayara Bugyal is quite popular as it turns into a Fairyland in Winter, Also Dayara is a perfect place for those who are trying out a trek for the first time.
Dyara Bugyal offers an easy yet highly rewarding trek for nature lovers. The trekkers get to see clear panoramic views of the important Gangotri range, origin of river Ganga. The trek route passes through scenic forests full of trees, plants, animals and offers magnificent views of snow covered mountain peaks all around.
We immediately booked our package to Dayara Bugyal Trek through our Tour Operator- "The Searching Souls", Our Package was from 29-dec-2018 to 1st-dec-2019.
After working through out the week in office. The day finally arrived, we all were excited as it was our first ever trek.
Here's is the whole squad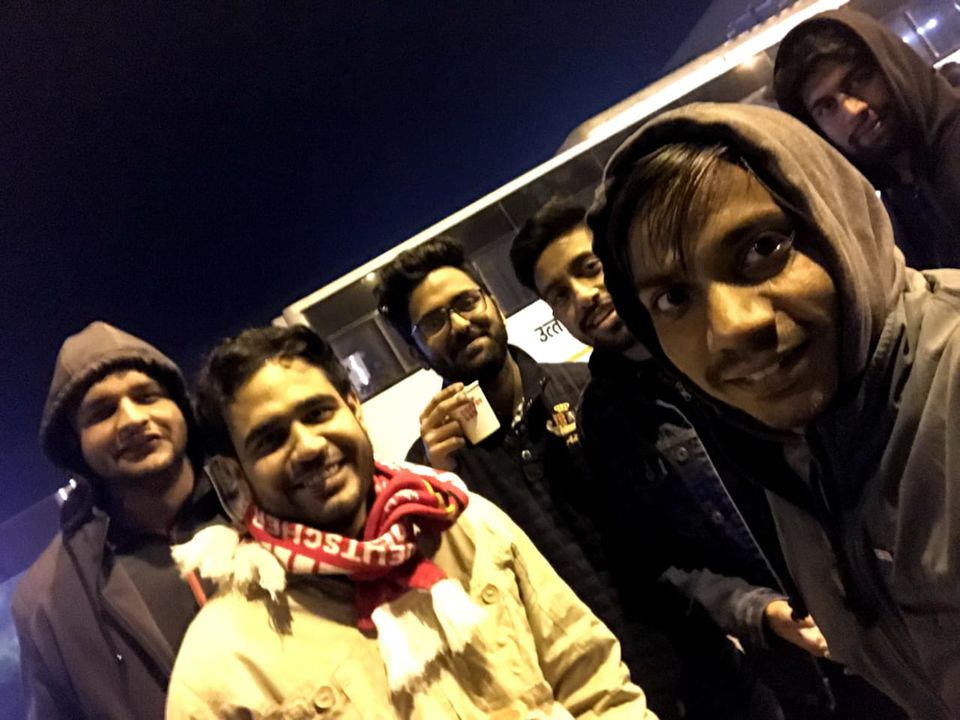 Our Package includes, transportation from Haridwar to haridwar , so we have to be reach haridwar at 08:00 AM, 29-dec-2018. But eventually we reached Haridwar at 4:00 AM, 29-dec-2018. Now that we had 4 hours so we booked an Hotel at near by Location.
Finally our first Journey begin from Haridwar to Raithal(Starting Point of Dayara Trek).
Distance:- 230.7 Km
After Pickup in morning, we drove towards Raithal passing towns , rivers, and a very stunning mountain views. Roads were breathtaking, as the roads were made by cutting the edge of the mountains on the top of Bhagirathi River, at a high altitude of around 1000ft.
These roads will give you a journey of your dreams, passing through beautiful landscapes through hills and river all over, at the same time frightening too. It's like a series of so many levels of Zig-Zag roads.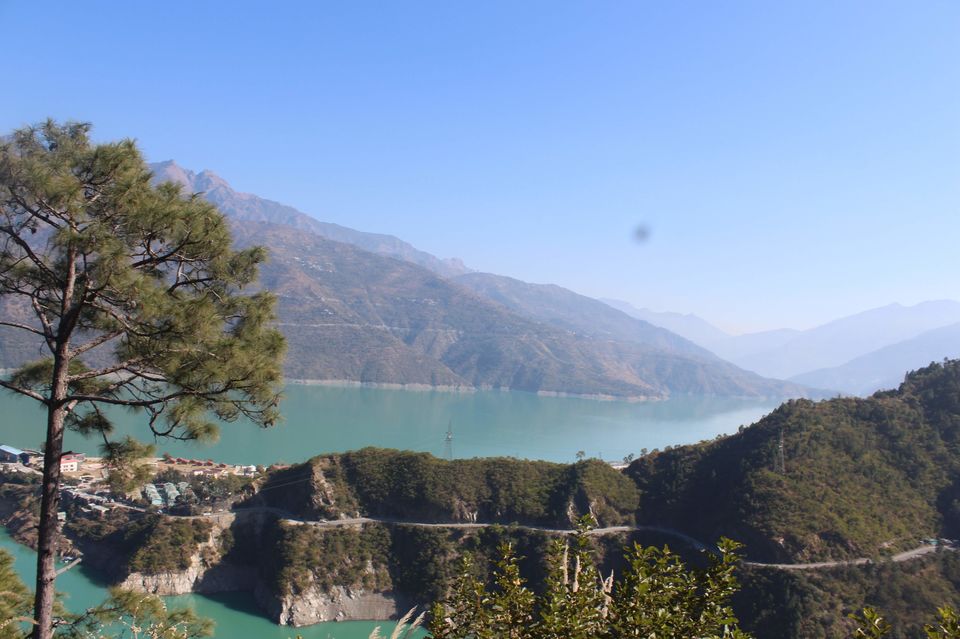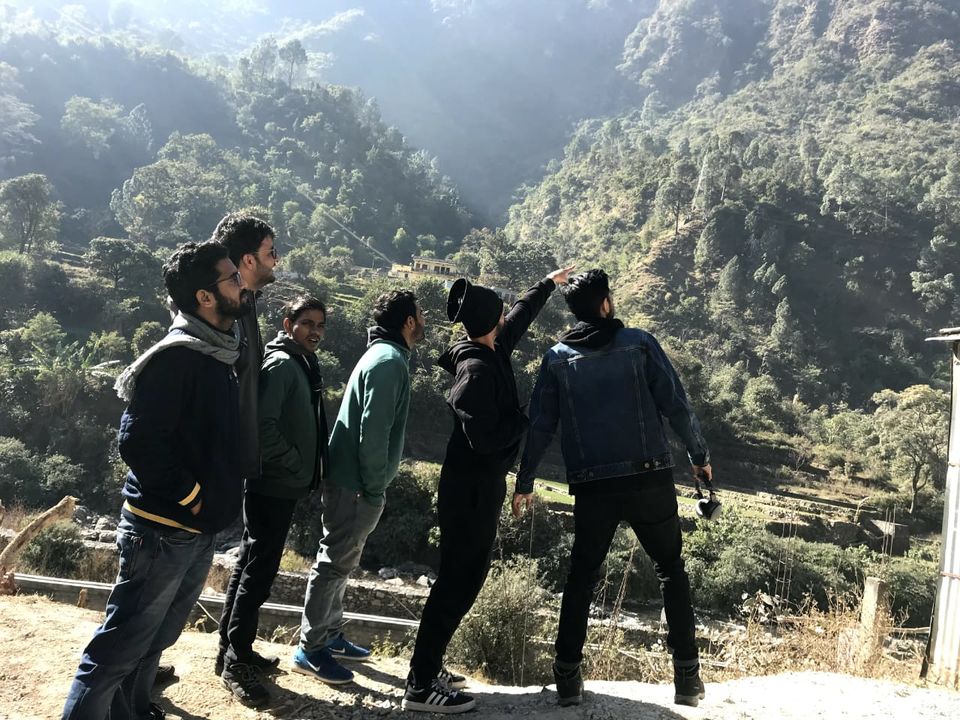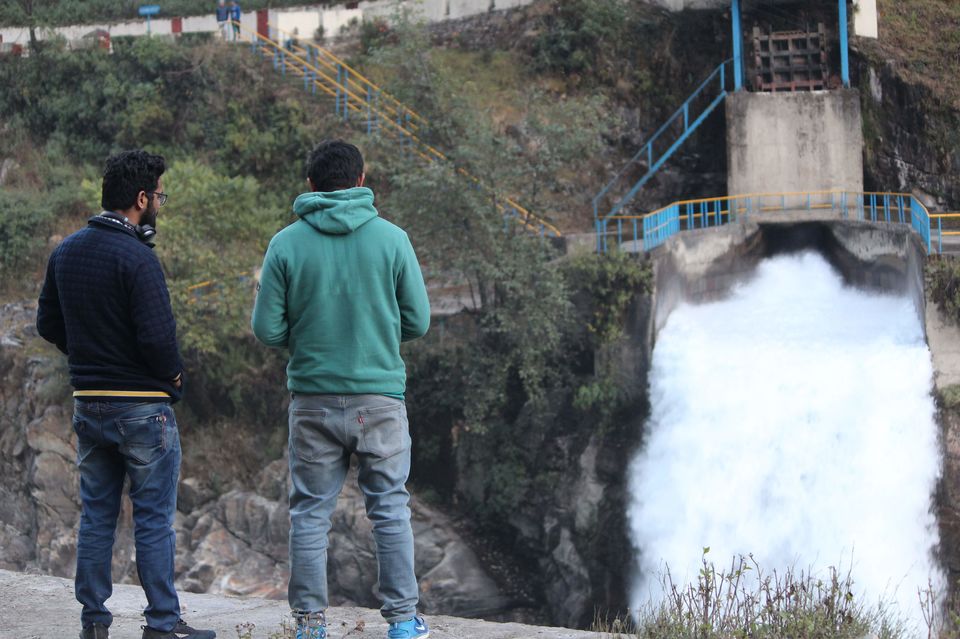 But finally after about 9 hours of travelling/journey, we reached the entry point of Trek, Raithal. It was 5:00PM, 29-dec-2018. About 05-10 minutes to sunset, we Miss our Sunset from mountains :( . Raithal is basically a small town located at the elevation of 7,400ft surrounded by the range of mountains-Shrikanth, Gangotri range, MT jaonli and Draupadi ka Danda.
It was freezing cold there , we immediately put our Jackets, Woolen caps and Muffler. When we reached there we find other group like us, who too came for Dayara Trek for the first time. Initially we Interact with each other and after that we were allotted our Hotel Rooms. After taking some rest we all gathered for BonFire and Dinner. At BonFire we introduced ourself one by one, and came to know that we all were trying out a trek for the first time, then after that we got some instructions from our trek leaders - Vishal Chaudhary and Devashish.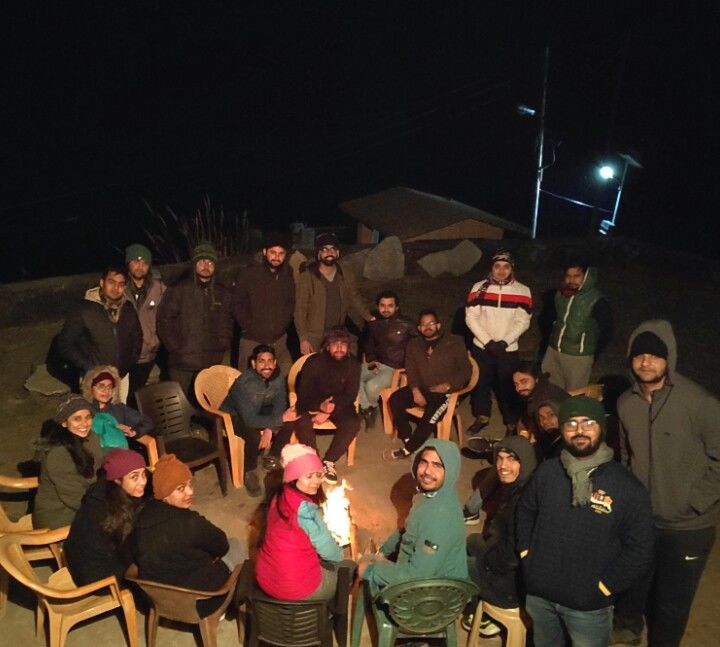 Then we moved for dinner in a chalet(a wooden house built in mountain area).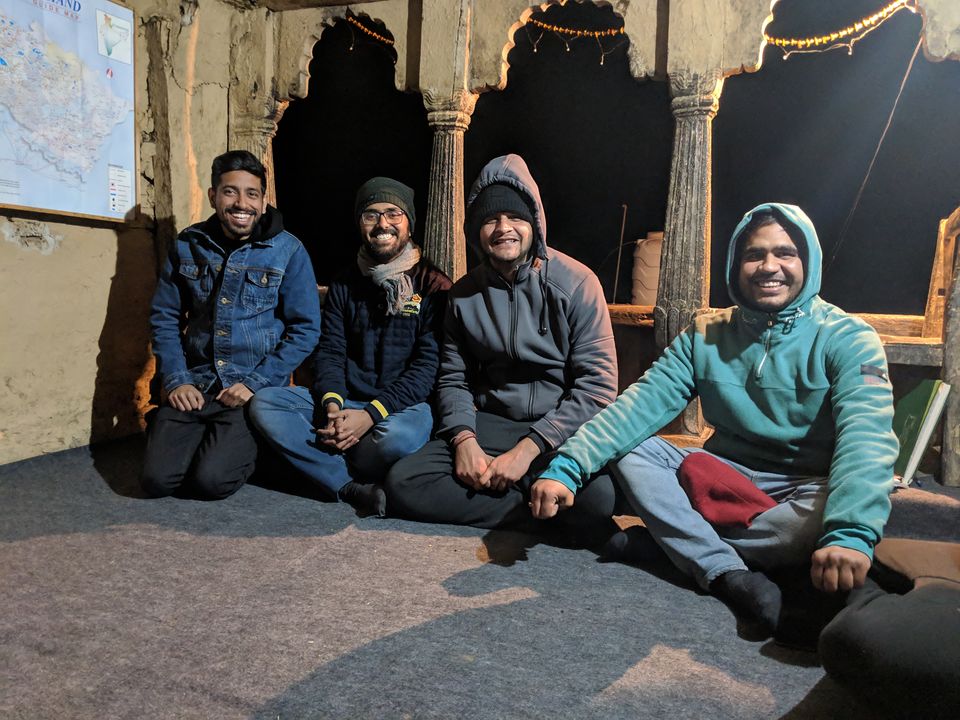 After dinner we went to bed and played cards and then had rest to regain our energy for our trek. Good Night :)
And that's the end of Day-1
DAY - 2
GOOD MORNING everyone :),
After 5 hours of nap , it was 6:15 AM, 30-dec-2018. My friends were still sleeping, I slowly opened the door and was mesmerized by view in front of my eyes, It was the time of dawn(time before sunrise), snow on the mountains was alike silver, at that time I can easily feel the cold air pounding on my face and that feel is totally worth it.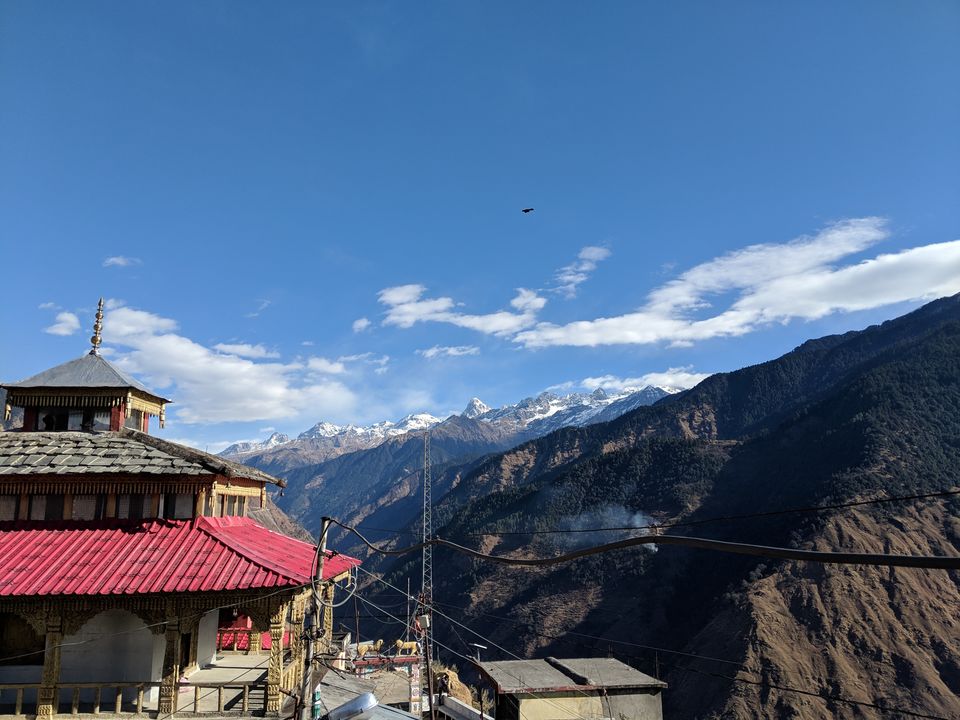 After while Sun rised from the mountains and then we all got ready and gathered at the beginning point of trek. Over there we got to know very important rules from our trek leaders for the trekking.
1.We all have to stay together during trek , so nobody gets lost.
2.We don't have to carry much load.
3.We have to stay hydrated
So, Now our Trek is basically divided into two parts
1. Raithal to Gui Camp Side(7,400ft to 9,500ft)
2. Gui to Dayara(9,500ft to 12,057ft)
So first we have to reach Gui and on the next day we have to reach Dayara.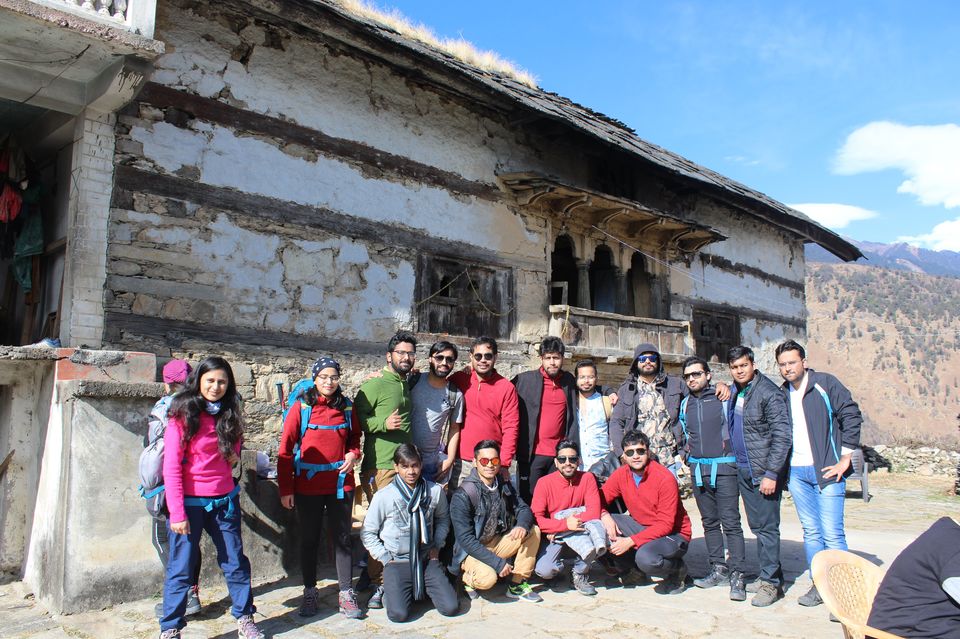 Before starting our trek,We chanted a slogan "HAR HAR MAHADEV", after setting up all the things and after taking one group photo, we begin, everyone was happy and full of determination, the weather was very good, the peak was hidden in clouds, the brown muddy trail among the green field. The trek was going really well but just after walking a distance we were getting tired so we used to stop at view points so that people can take rest. We got many view points on the way to take some rest and had our snacks or juice to keep our energy high.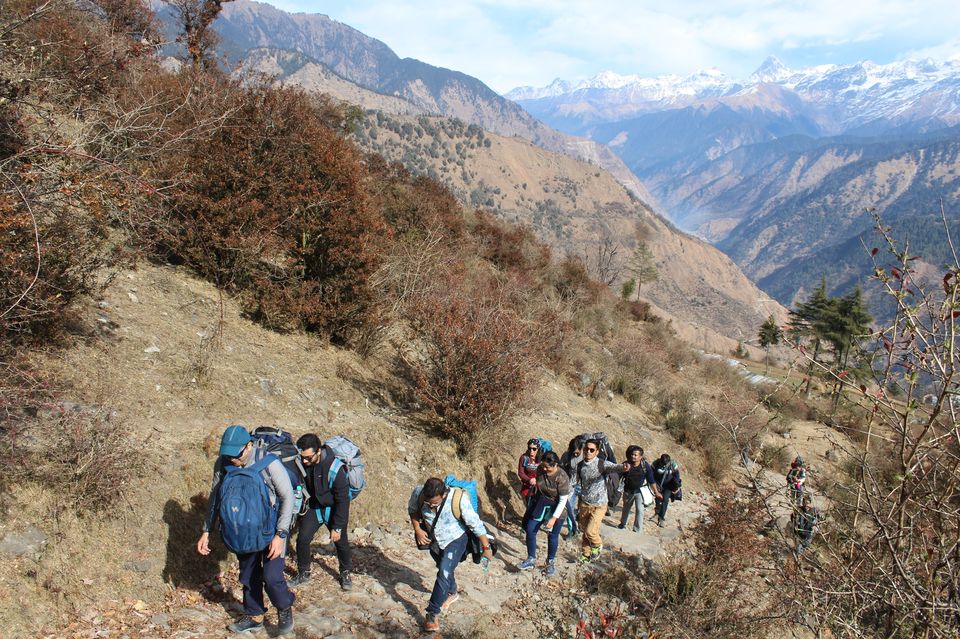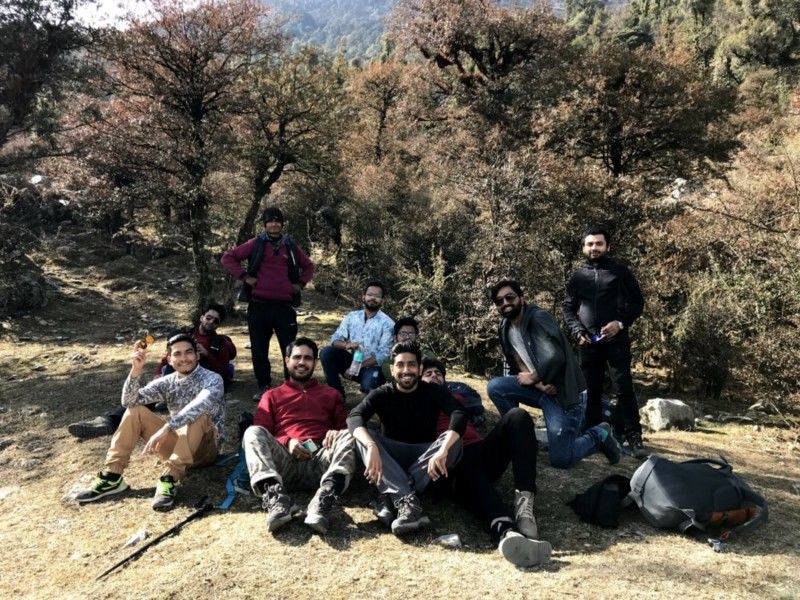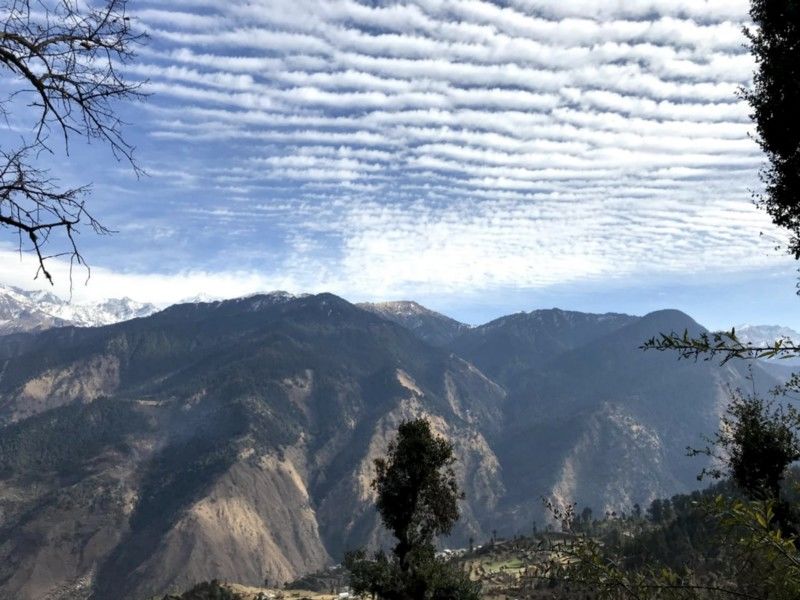 After 3 hours of walking we got our TREASURE -- brown muddy trail turns into white snow trail.
Watching beautiful view of jungles, valleys, mountains, helping each other on the way, talking with everyone on the way, clicking photographs, finally we reached the first destination point GUI, But once we reached to Gui , all the tiredness was gone, we can see that our Camps are already setup by our tour travellers and we relaxed while enjoy the mountain view, at that time I was surprised that no one was clicking any pics, all people were busy in their holy mountain view. As it was about to sunset the three layers of yellow, orange and red on snowy mountains was mesmerizing and breathtaking.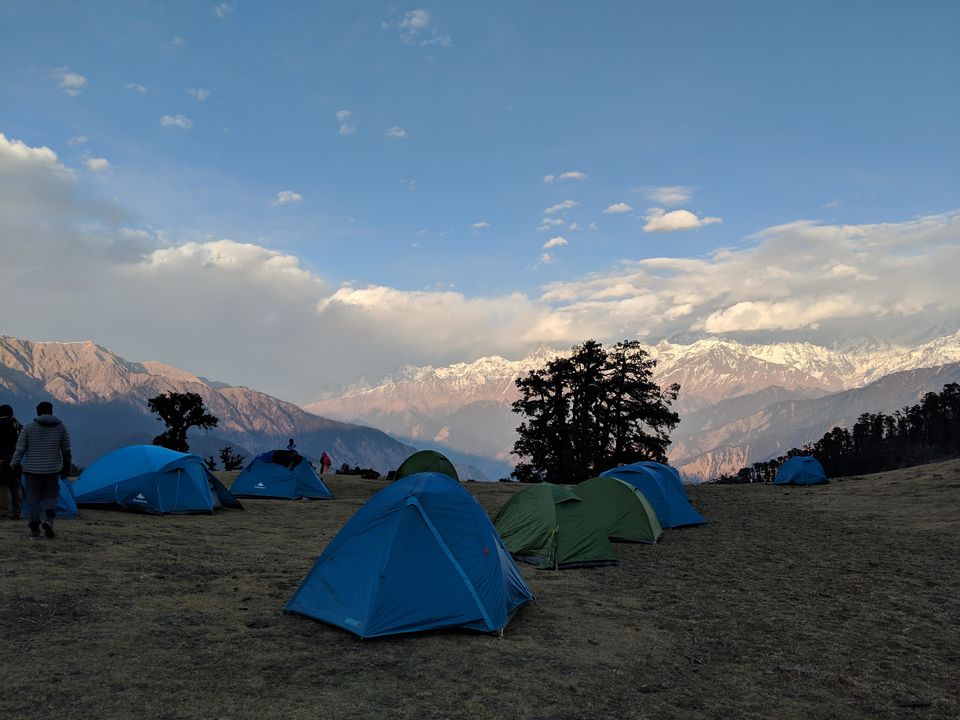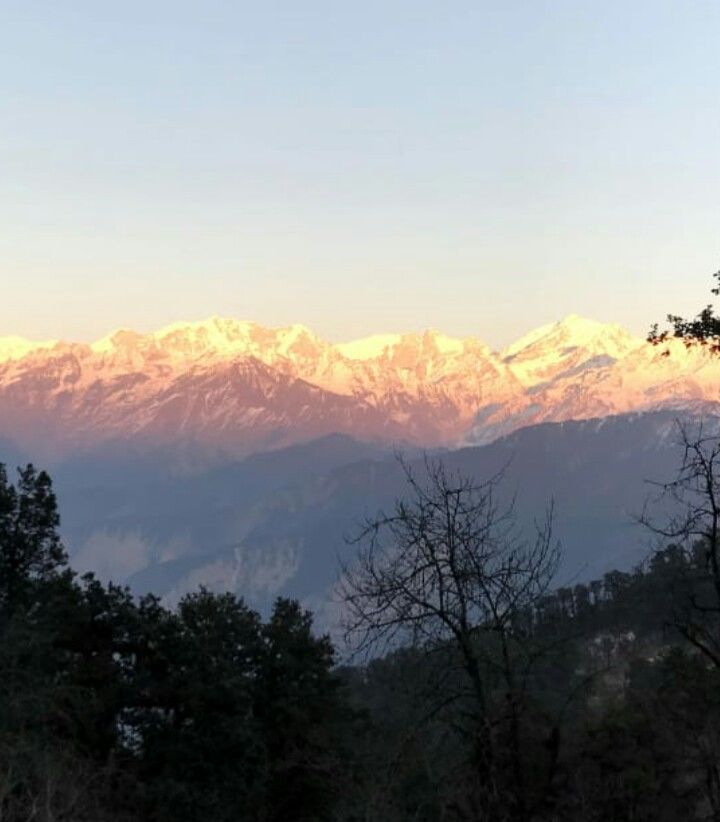 Later on We had some tea and lunch, it was about to dusk, as there is no medium of light at such high altitudes and its damn too cold over there, I was not feeling my fingers, temperature was -7 degree. Before dusk some of us went to jungle for gathering wood for bonfire night. We enjoyed our bonfire night and played "ANTAKSHARI", some of us were busy in playing a intellectual game POKER. After dinner we spent our night in camps and all of us were excited for next morning.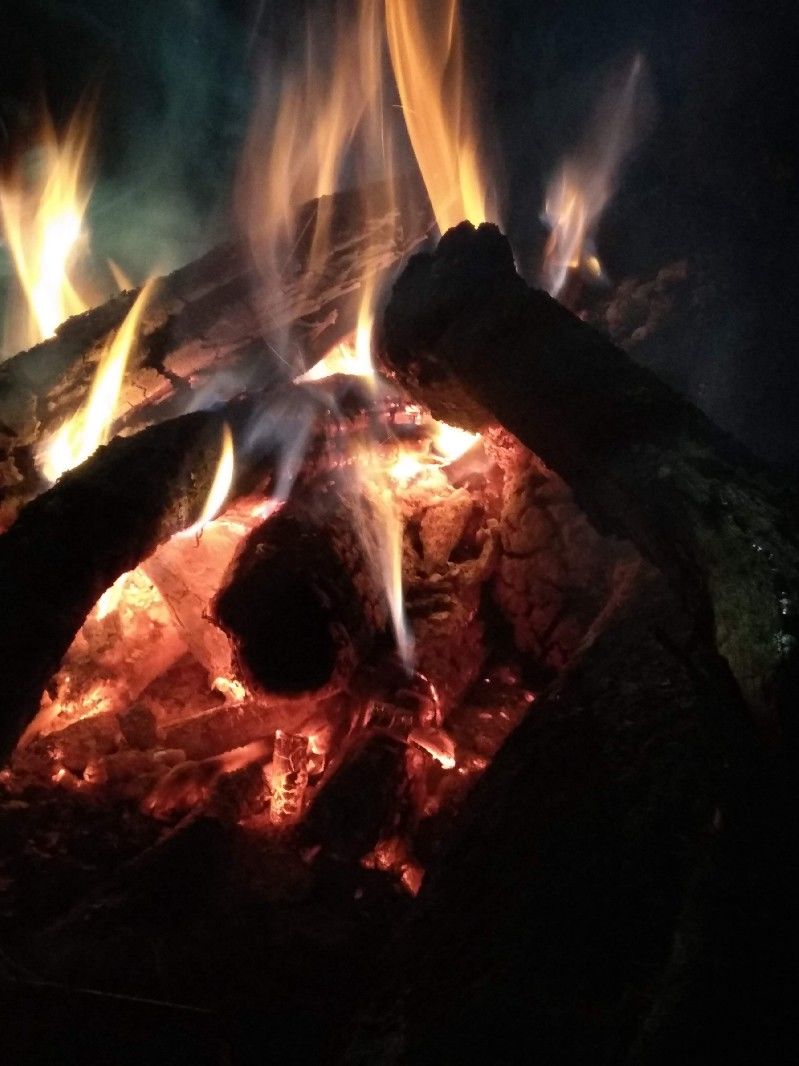 Finally wait was over, Same trek leaders, Same rules and same slogan "HAR HAR MAHADEV". The trail from Raithal to Gui is a gradually ascending one and that's why a trek from Raithal to Gui is considered as hard as compared to Gui to Dayara. As we climb up from Gui, we started seeing mountains on the other side, which were earlier hidden. During the journey we found a new friend BAGIRA, Bagira was gigantic, intelligent and have long furry coats.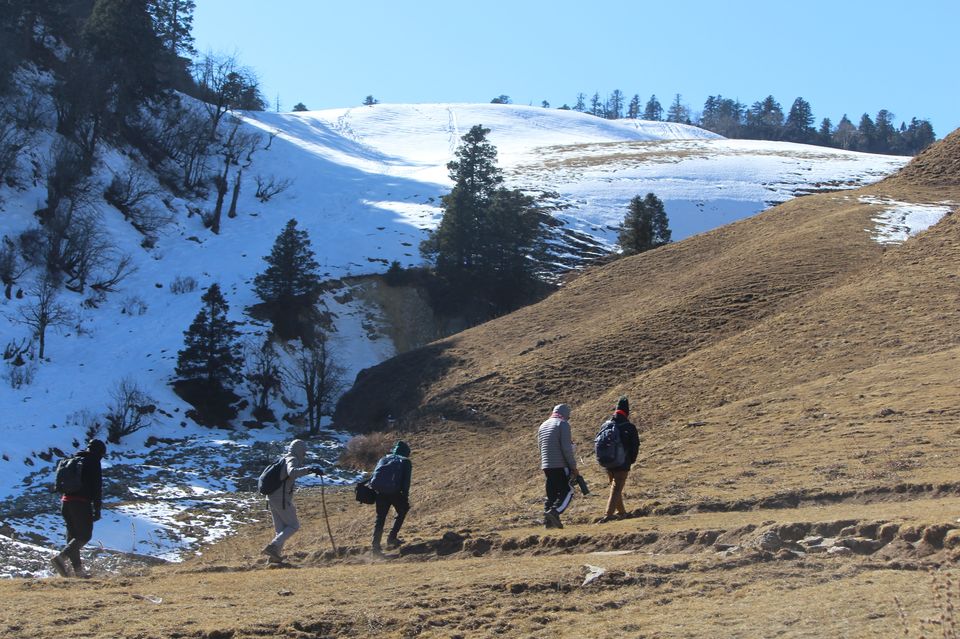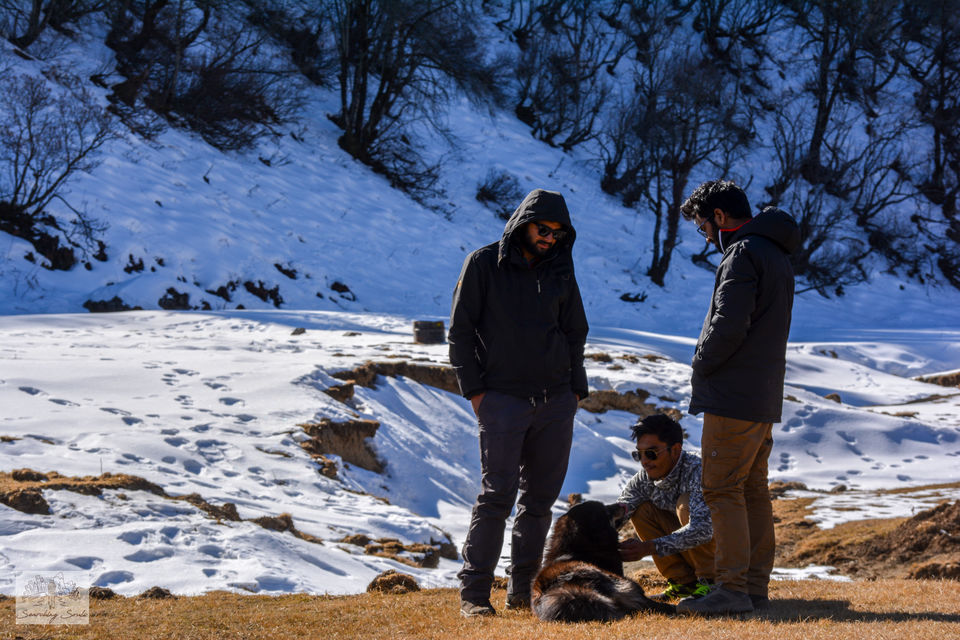 After 3-4 hours, finally we reached the summit and a feeling of achievement can be seen on our faces.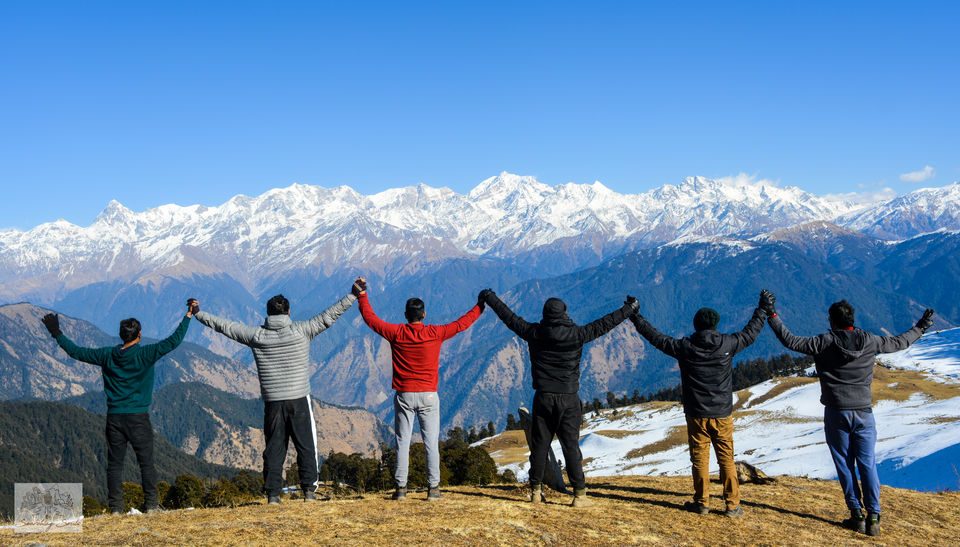 All these experiences, I gained from this trip is challenging, adventurous, extraordinary and relaxing. I got a chance to see things that normally people do not see in their daily life. All these memories will be with me forever and will remain until I die. I will recommend to visit or do such trek "Dayara Bugyal Trek" atleast once in a lifetime.
And that's the end of Day-2.
Thanks for reading. Hope you liked it.