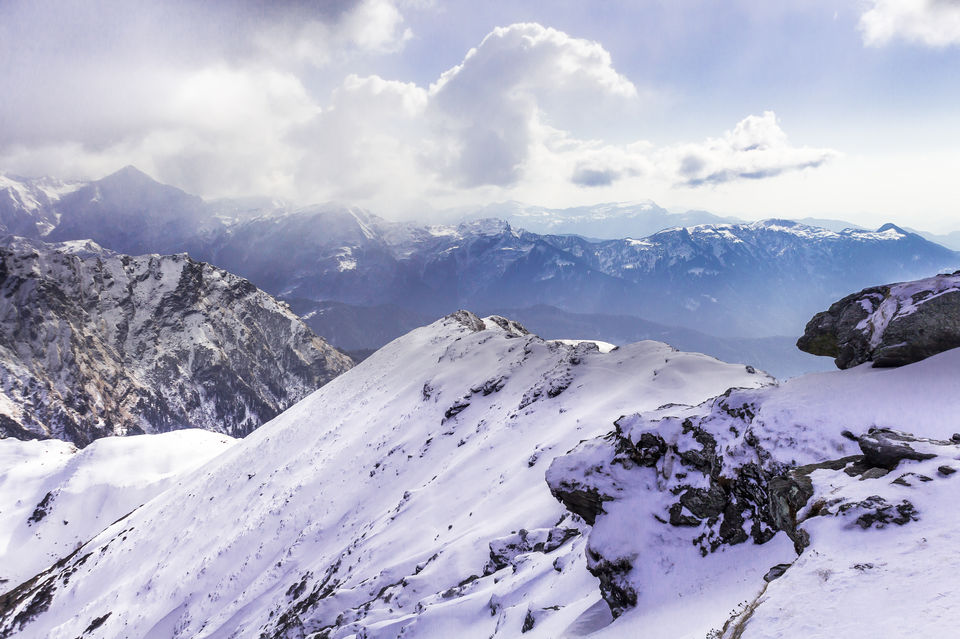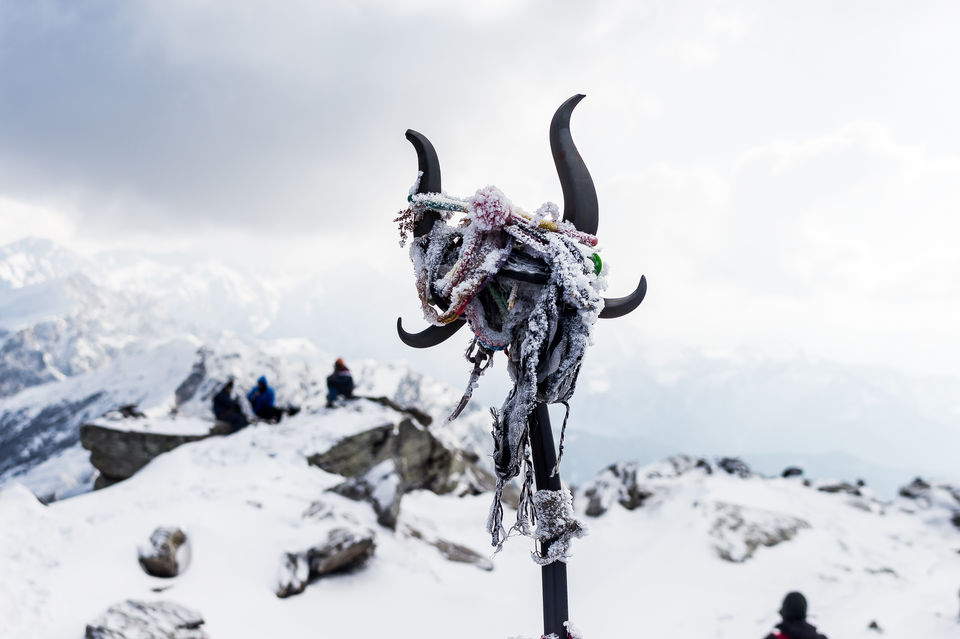 #TriptoTakeMeToBrahmatal
What would you do if someone gives you an opportunity to have a week of pure bliss, pleasure and ecstasy?
You will grab it in a blink of eye, and that's exactly what I did. To experience the most beautiful Himalayas with their charming moonlit trees, breathtaking picturesque views and a chance to celebrate Christmas @12500 feet with a bunch of friends is a rare opportunity for an IT professional. To make my experience perfect and flawless, I settled on trekking with a group famous for it, "IndiaHikes"
Why we chose Kedarkantha?
It all began with a plan to celebrate the last week of year in mountains. We have had a few short treks before and this time wanted to challenge ourselves with a longer one.
As we research meticulously before planning any trip, we finally settled for KK with the hopes to get acquainted with snowfall. When it came to the bookings, who could be better than the professionals i.e. "IndiaHikes". Their website had all the relevant information including the itinerary, things to carry, conditions of expected weather and much more. So there I was with bags packed, tickets booked, reservations made, filled with the excitement to be back in the arms of nature.
Day 1: Delhi to Dehradun - 1427ft from Sea Level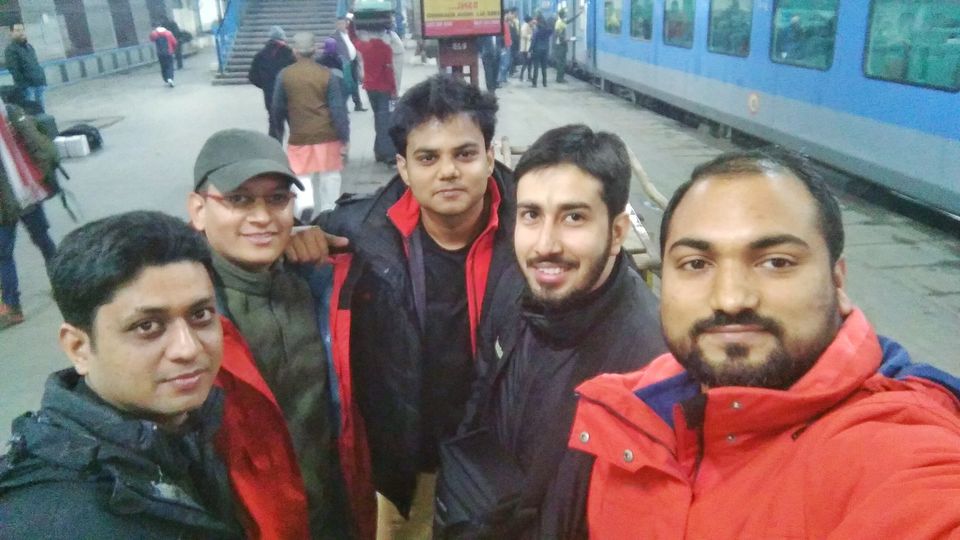 The first Day passed in travelling from Delhi to Dehradun which was our pickup point for Sankri, our base location of the trek and the evening was celebrated visiting the local sites of Dehradun. The monasteries, waterfall (sahastrahdhara), local markets and the lavish food gave us the chance to forget what lay ahead, and just laugh and click a bunch of photographs.
Day 2: Dehradun to Sankri - 6450ft from Sea Level
Well they don't call IndiaHikes professionals for nothing. Sharp at 6am the cab arrived and we left for Sankri village which is about 200kms from Dehradun which gives you a glimpse of beautiful Musoorie, Naogaon, Purola, Mori and Naitwar. We had breakfast at the famous Kempty fall where the sound of stream was like music to our ears.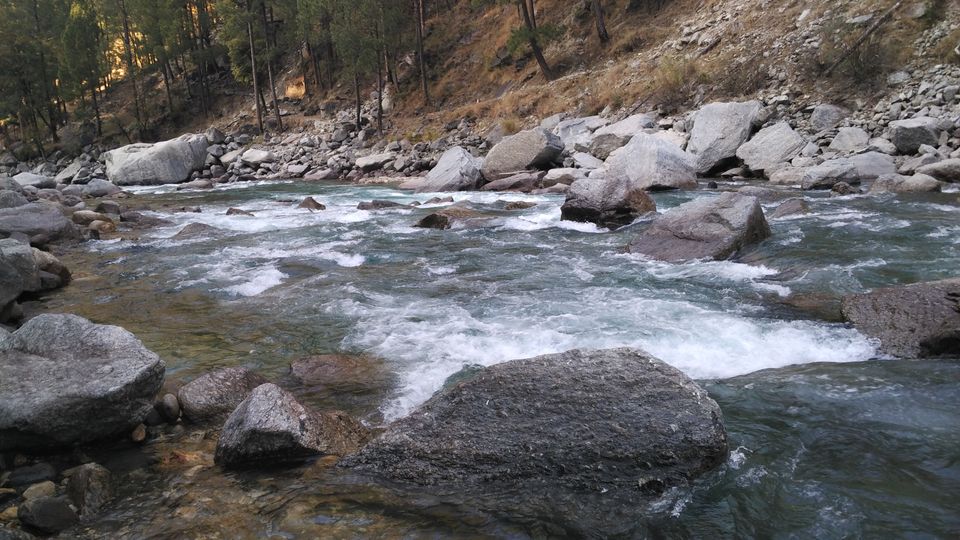 The beautiful mountain scenery of Maple & Oak trees and the current of Yamuna were our additional companions throughout the journey. Being a photography enthusiast, the Himalayan ghats, the mountainous views, valleys, gorges, forests were like a god gifted opportunity.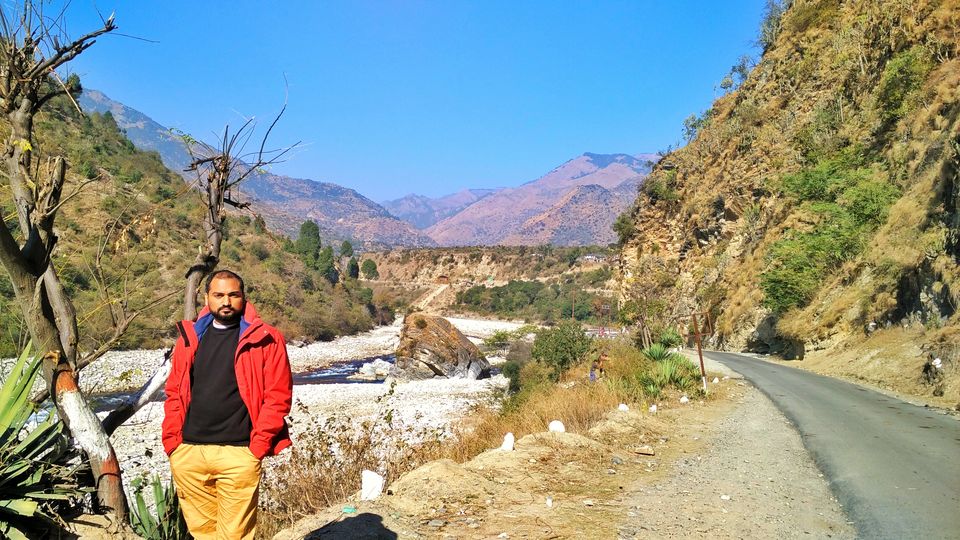 We arrived at Sankri just in time for brief team introduction where we got the opportunity to meet our fellow trekkers and trek team along with snacks which felt refreshing after the long journey. After introductions we were briefed about the trek, the challenges we were going to face and how to be prepared for Acclimatization and insulation which are the core keys in prevention of altitude sickness.
Acclimatization in the form of spending sufficient time at gradually higher altitudes is absolutely necessary for the body to adapt to cold and lower atmospheric pressures above 6000 ft.
We left for our rooms trying to have a good sleep and to dream about the beautiful journey that lay ahead.
Day 3: Sankri to Juda-Ka-Talab - 9150ft from Sea Level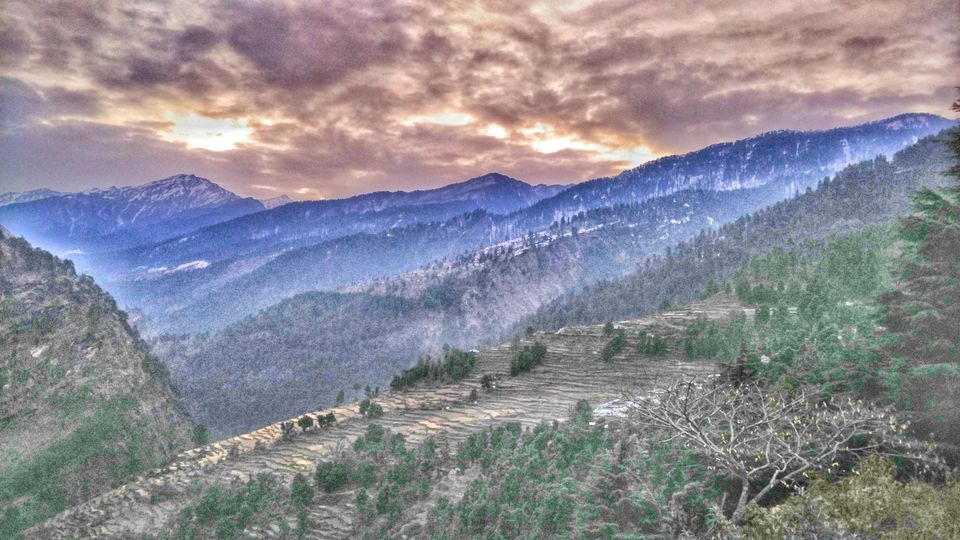 We left Sankri, after a light & warm breakfast and with ample of liquids to keep us well hydrated.
The first part of our trail was entirely covered with leaves and shadows of Maple & Oak trees which gave us an impression of nature welcoming us with a carpet of leaves. As we gained altitude, we encountered our first patch of snow which sometimes was up to a feet deep. The suggesting sound of snow crunching under the feet really prepares you for what lies ahead in the trek.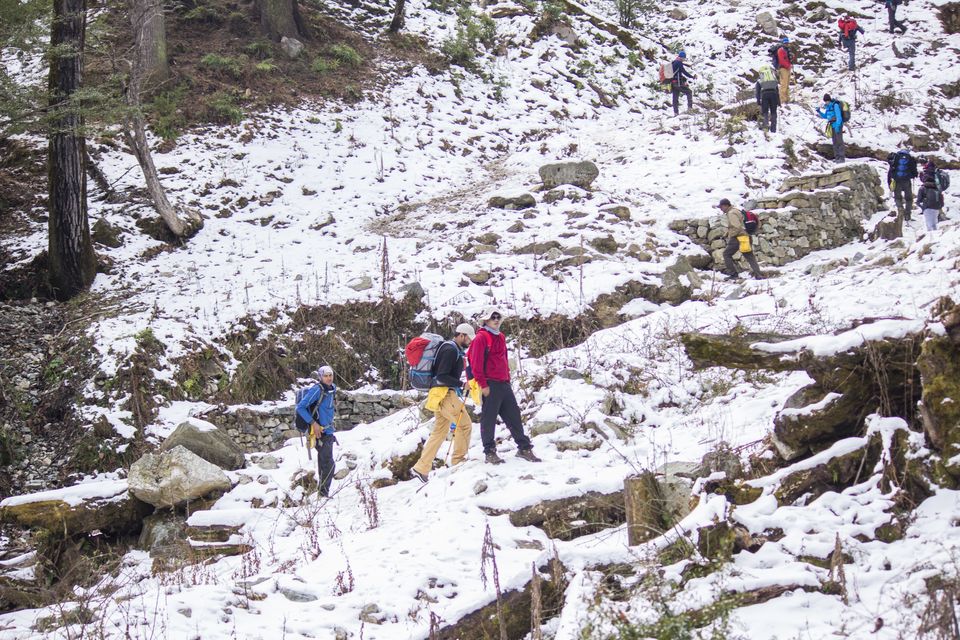 And there we had our first surprise…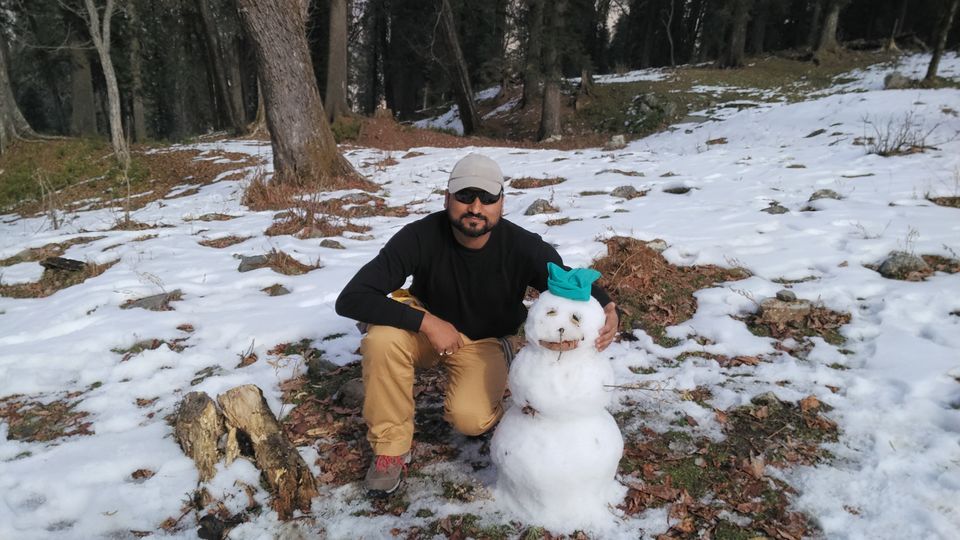 A Snowman which we guessed was built by the people trekking ahead of us. Now who would miss an opportunity to get a photograph with a snowman? So we quickly clicked some photographs and moved on as there was much left to cover.
The whole trail was a mix of uphill and downhill journey which sometimes would require us to push ourselves because of the steep slope. It took us around 4-5 hours to reach our first camp site i.e. JTK and the view was worth the efforts. Juda Ka Talab, our first camp site is about 9150ft above sea level & remains hidden till the time you are directly on it. The sight of a frozen lake with fine hairline cracks running across it and sprinkled snow on top is something to behold. It was a magnificent view, our tents pitched in white sparkling snow, lake along our campsite and long oak trees all around us.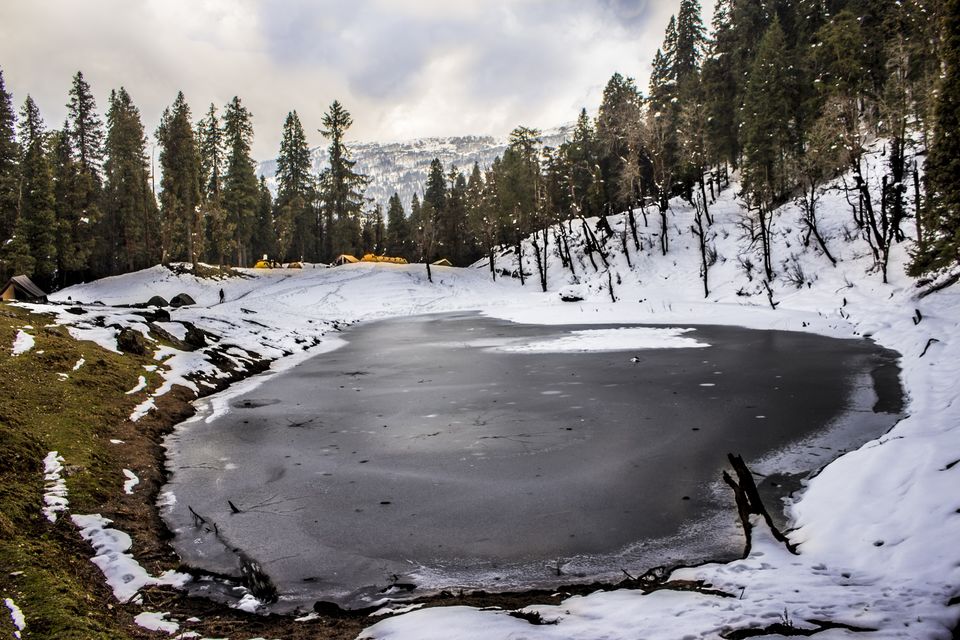 Day 4: Juda-ka-Talab to KK base camp 11250ft from Sea Level
Starting early morning, after an amazing round of snacks and soup, we left for our next campsite Kedarkantha Base Camp. It was a moderate trek of 2 hours which was continued on a normal pace with a single break spot. Every step of our trek in the dense forest gave way to plains with knee deep snow.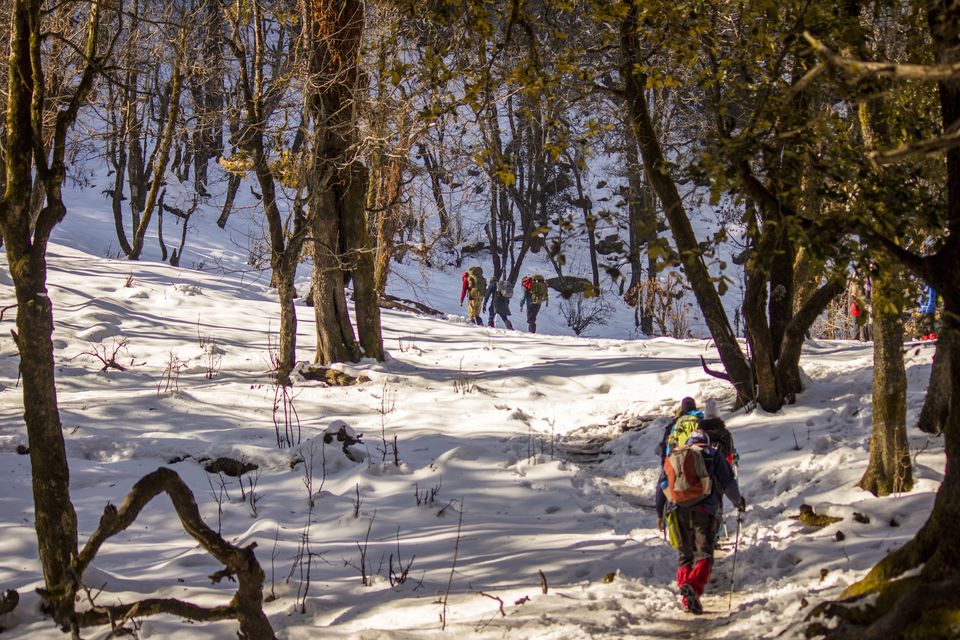 Once at Kedarkantha base camp, you'll be treated with a stunning 360 degree view of famous mountain summits.
The monochromatic view with patches of color in the area was jaw dropping.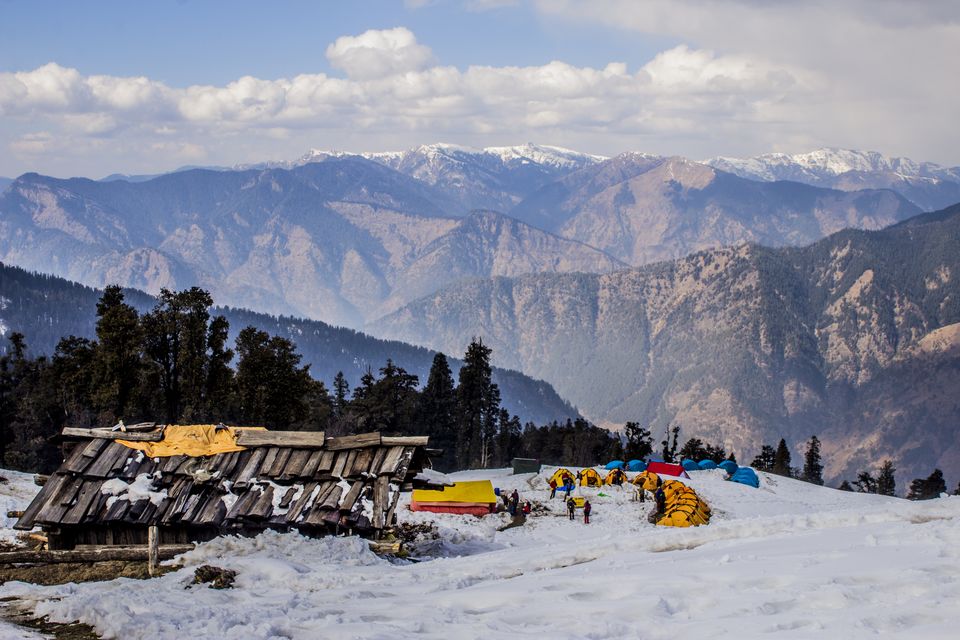 After we settled our bags and lunch, the second surprise came for us…snowfall!!! The next three hours were spent enjoying the snow, playing volleyball, snow fights, photography and so on.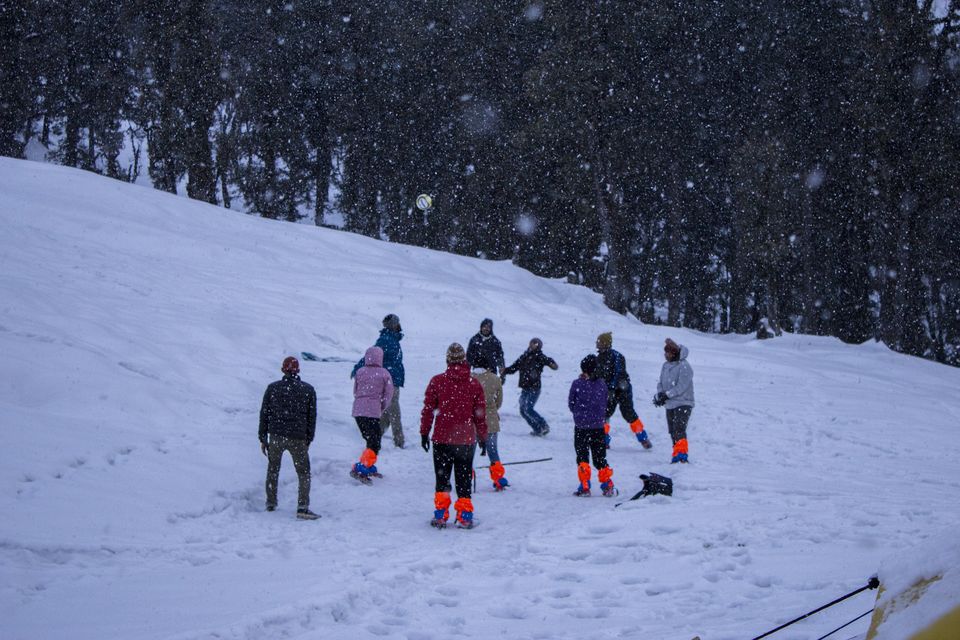 For those seeing their first snowfall, it was a dream come true. The crystal snowflakes descending from the sky was like a reward from the almighty. The long oak trees everywhere groaned and moaned under the weight of the snow that lay innocently on their branches. When it touched you, it was so light that you couldn't even fathom its presence.
Next to the snowfall we were again mesmerized by an amazing view of the sunset which painted the forest in golden hues.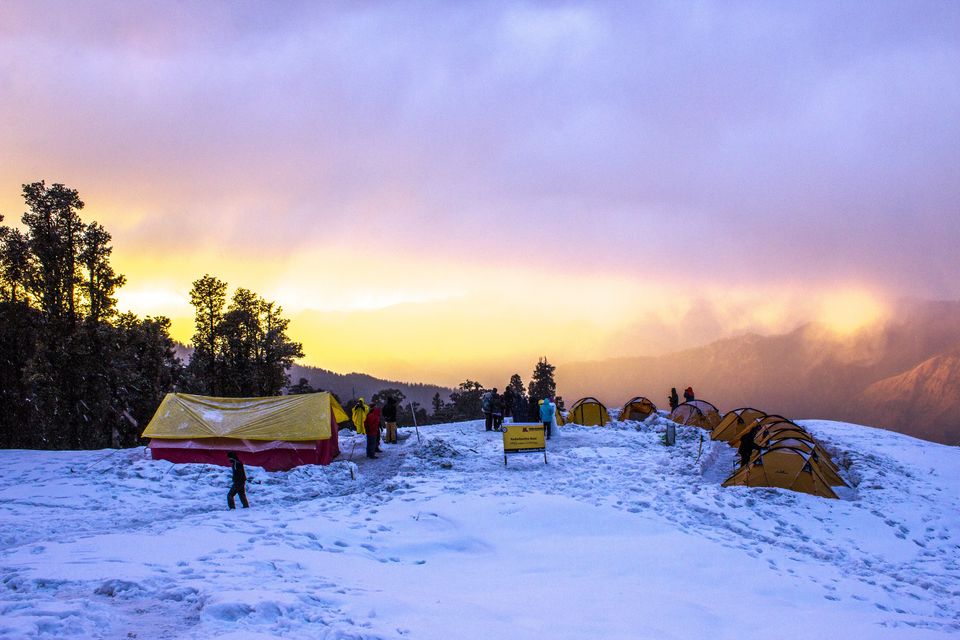 As it was going to be long day tomorrow thus we had an early dinner and went to sleep anticipating the adventure that lay ahead of us.
Day 5: KK base camp To KK Summit (12500ft) – Hargaon (8900ft)
We woke up around 3AM, had a little snack and refilled our water bottles for the trek. We had our headlamps on though the moon was shining bright and was giving a blueish shine on the snow beneath our feet. Walking through the snoozing trails in the snow-clad Himalayas, surrounded by the dark oaks, you wouldn't realize when you switched off the lights and it was just moon shedding silver on the snow.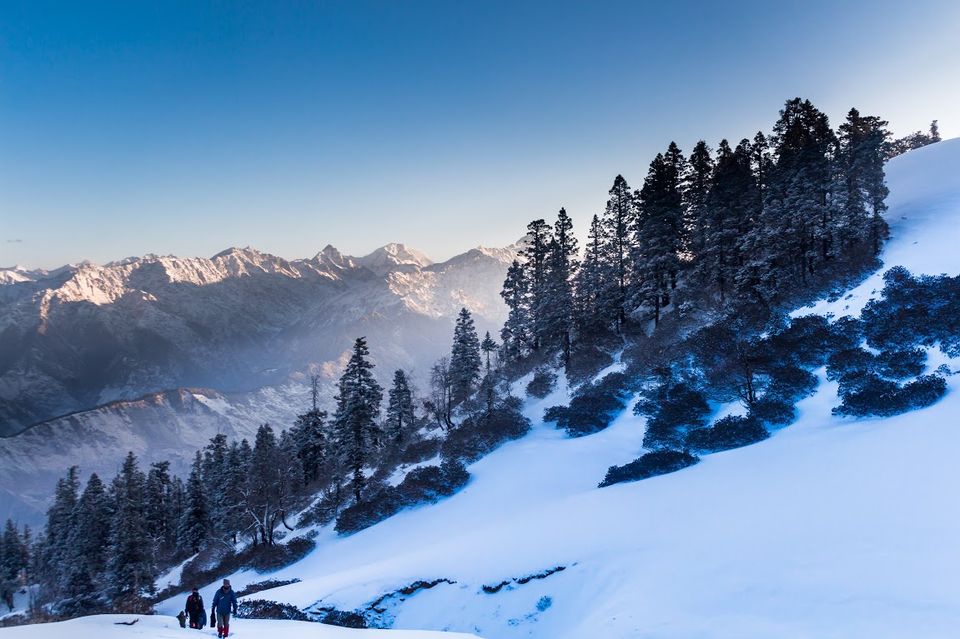 We kept on walking towards the summit; it seemed quite near yet so far. It felt like never ending and to motivate us our trek leader kept saying "Bus thoda sa or, phir summit, come-on" this continued for over an hour. We had a beautiful sunrise while the moon seemed wishing us good luck and good bye. We took a short break to enjoy the surroundings which was a view of snow packed mountains.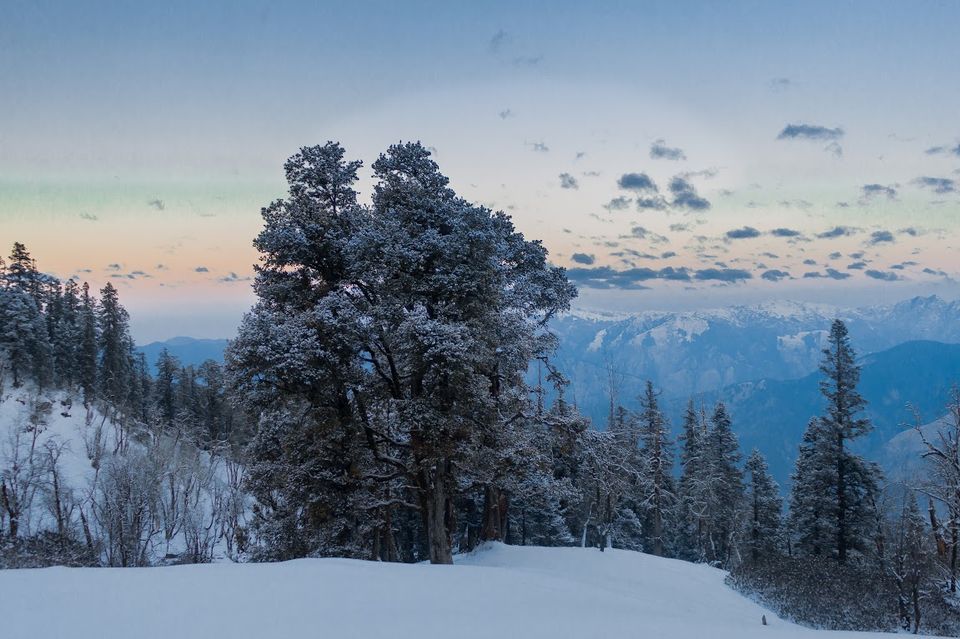 The trail now began to go steeper, but the scenery and the determination kept us moving. Finally the moment came when we arrived at the summit after a long hike; the feeling was impeccable and hard to pen it down. The whole team was overjoyed by the achievement and congratulated each other.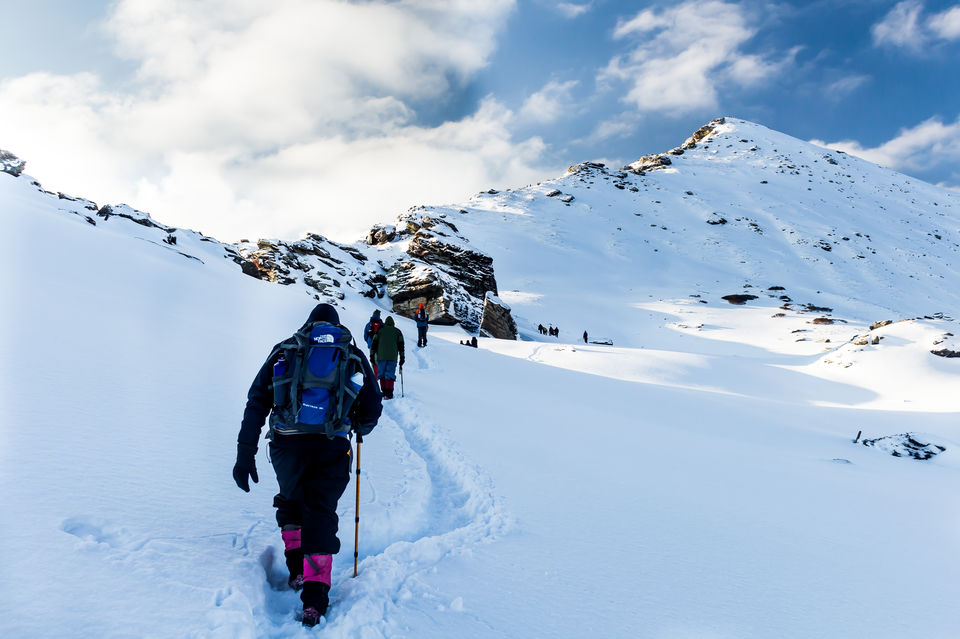 The summit at a height of 12,500 feet offers some breath-taking views as far as your eyes can take you. Spread like a banquet all around are the Bandarpoonch, Yamunotri and Gangotri range of Himalayas and the distinct towering Swargarohini Peak (6,252 mts.) and the Black Peak (6,387 mts.). We spent some time at the summit, soaked ourselves in grandeur of the mighty Himalayas before making our way back to Kedarkantha base camp by 11am.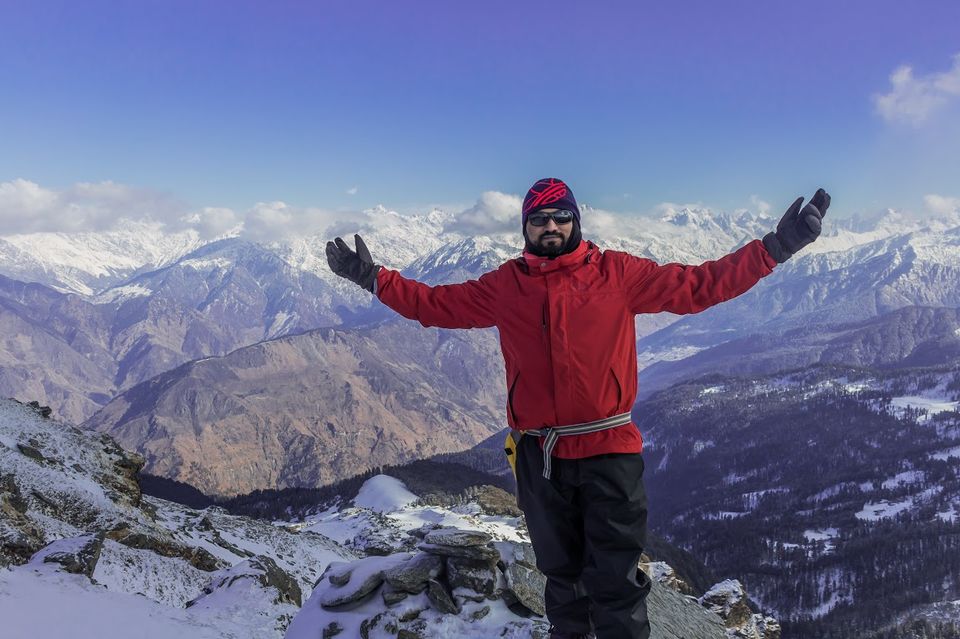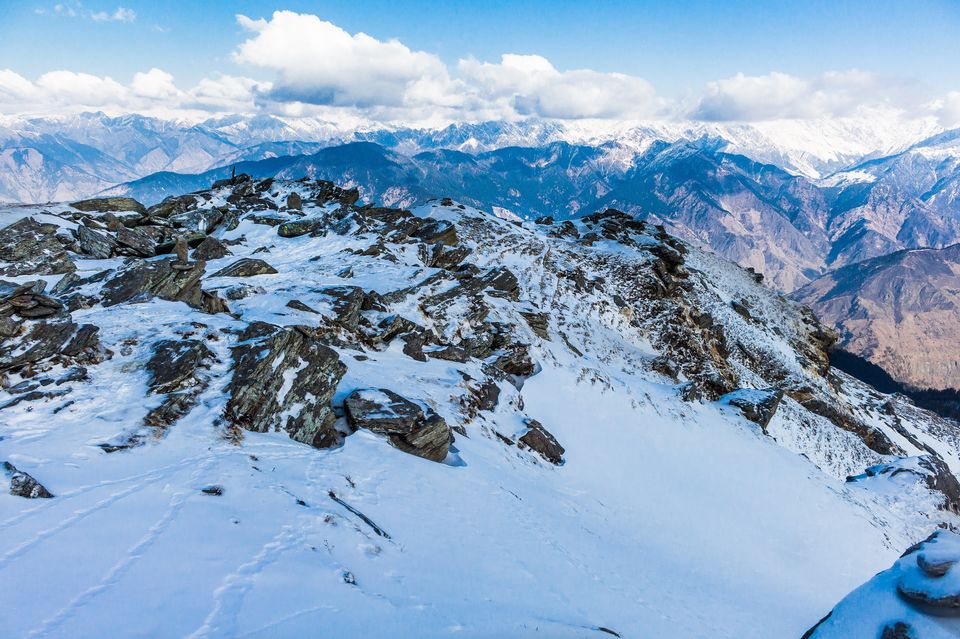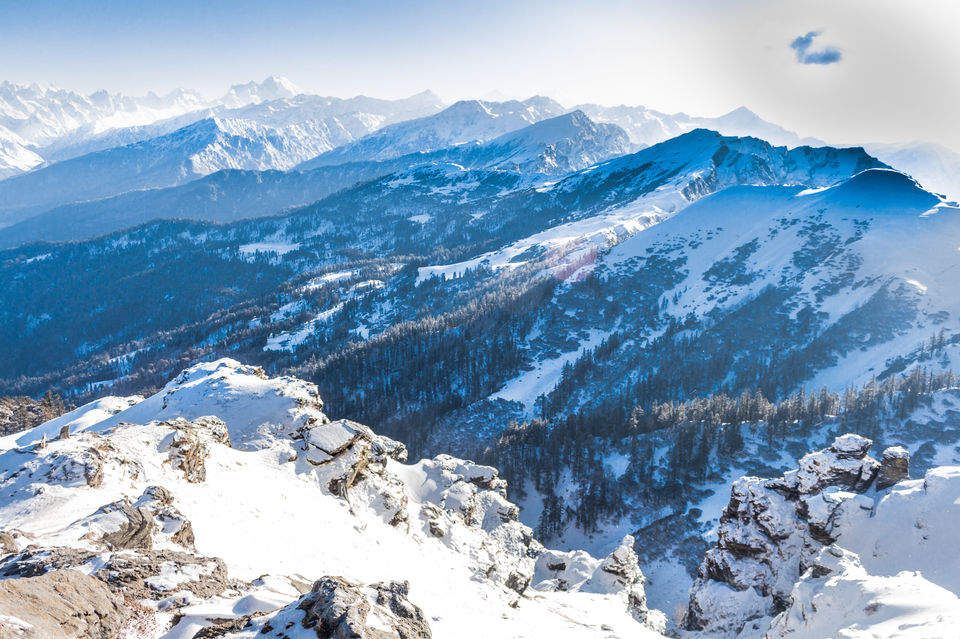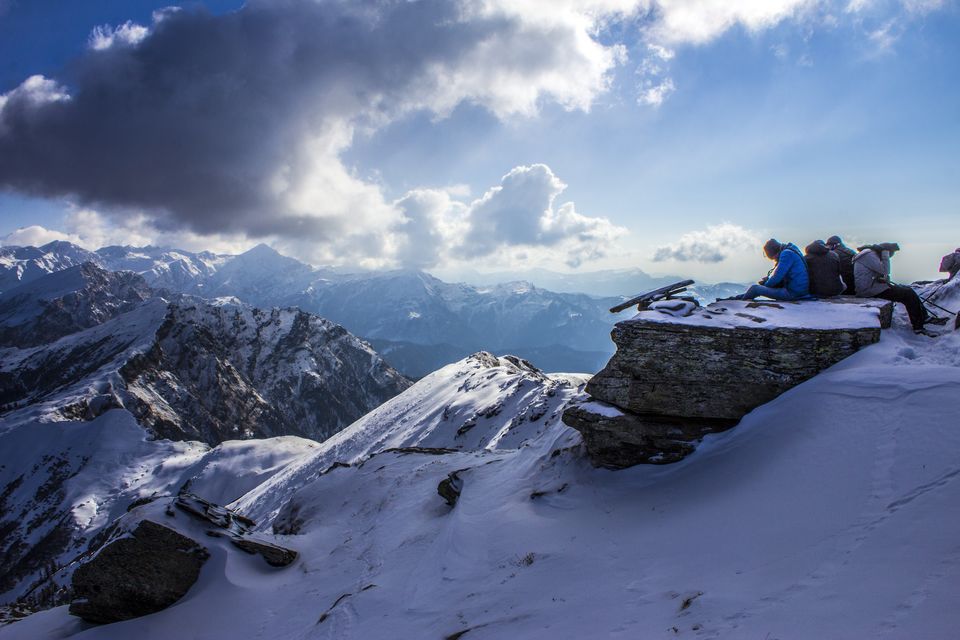 Now, it was the time to celebrate at the base camp. We laughed and enjoyed the moment and had our lunch. Shortly thereafter, we packed our bags again and left for Hargaon camp site, our next stop before Sankri.
The two hour trek was beautifully laid out on gentle slopes among the pine and oak trees. On reaching the camp we celebrated our journey with food, cakes and the one thing without which camping is incomplete. You guessed it…Bonfire with songs. With smile on our faces and satisfaction in our hearts, we said good night and turned in for the night.
Day 6: Hargaon - Sankri - Dehradun - Delhi
It was an early start and we descended through a dense forest for over 3 hours to reach our destination Sankri. This was the stop where we all went back to our lives from where we came. We boarded our cab for Dehradun which took us back to Delhi through train.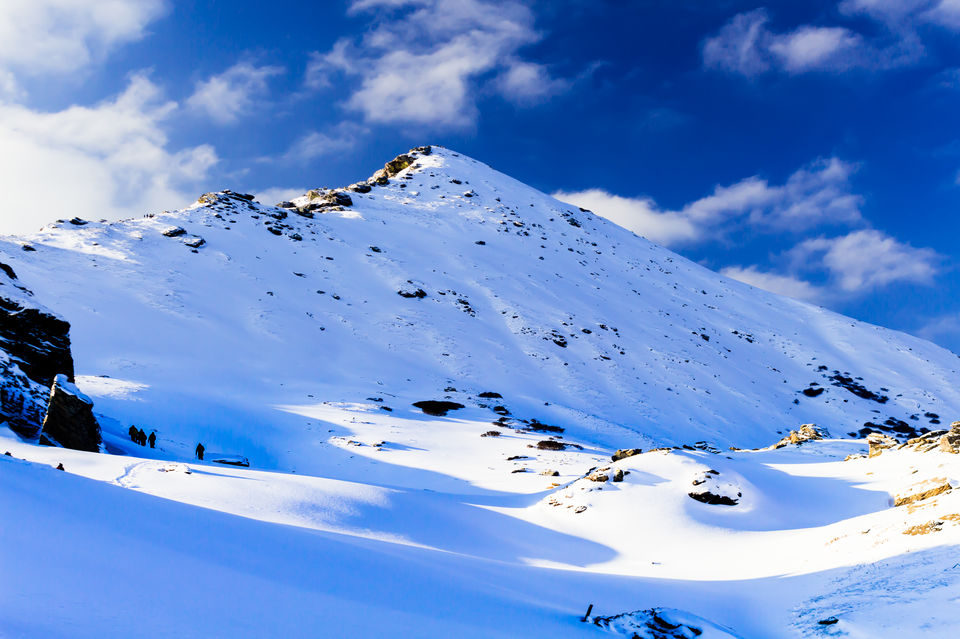 Kedarkantha trek showed me a million different ways to life & this marked the end of a remarkable trekking experience with loads of memories and new friend's , plus a promise to come back soon to climb those snow clad mountains, somewhere in the laps of 'The Himalayas'.
The truth is that after a lifetime of betrayals and battles and pain, mountains give me peace. My love for Mountains is ever growing and unconditional and this trek gave me a craving for more.
On my way back there I found these lines which could not have expressed better what I felt at that moment:
jhalak ek baar thi uski,
tamanna puri na hui,
kaise karun byaan woh nazara,
jab dil ki hasrat puri na hui,
aaj fir unn raaston pe jaane ko dil machalne lga
dil bna panchi vaadiyon mein udhne lga.....
dil bna panchi vaadiyon mein udhne lga.....