When the centre of your universe is travelling and exploring the world, the place where you stay becomes important by default and, I firmly believe that your holiday is only as good as the accommodation you book! 
In the plethora of hotels and resorts, if you're looking for a place with a distinct aura, a definitive aesthetic and a charm that can't be replicated, I suggest you to visit an upcoming boutique homestay in Mukteshwar, The Birdcage.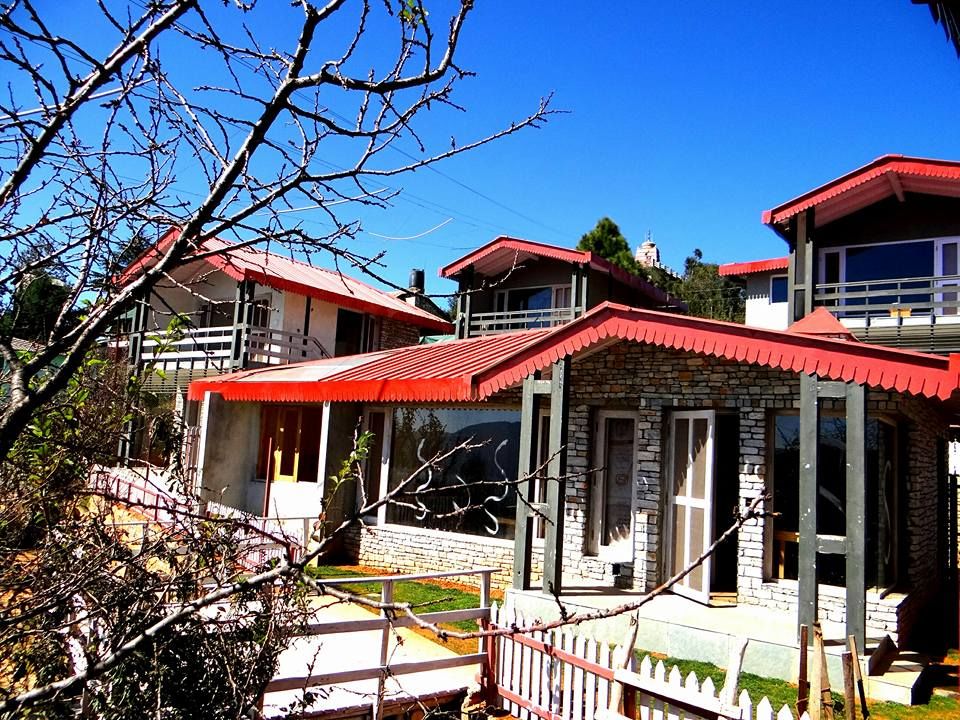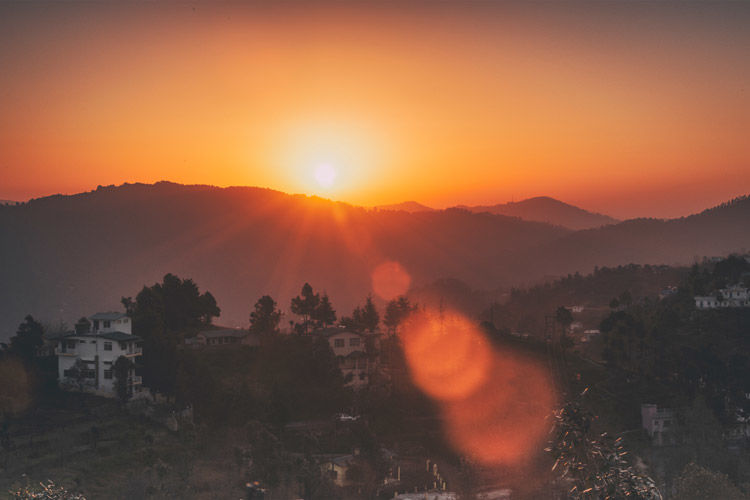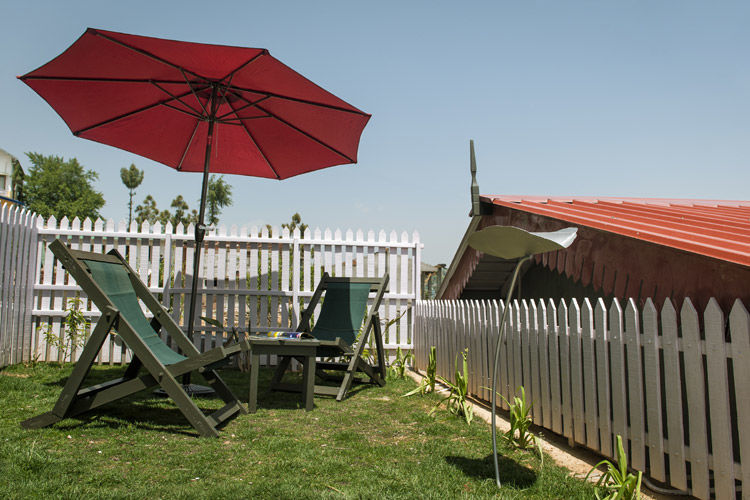 An exclusive retreat with panoramic Himalayan views that is guaranteed to make your spirit soar!
For city dwellers, silence is a rare occurrence. But if quietude is what you're looking for, then 7,500 feet above sea level, is a little bit of grandeur, called The Birdcage. Conceptualised by the team that brought Old Manali a unique brand of hospitality with Drifters' Inn and Café, they are now upping the ante with renewed warmth at The Birdcage.
Leaving the busy by-lanes of Old Manali behind, Drifters' Inn and Cafe's team has moved to new environs that offer peace with stunning views that would make any holiday perfect!
About the property:
I'm sure the name 'The Birdcage' reminds you of the 1996 Robin Williams, Nathan Lane and Gene Hackman film of the same name, but Birdcage's unusual name comes from the 300-odd species of birds that live in the orchard around the property.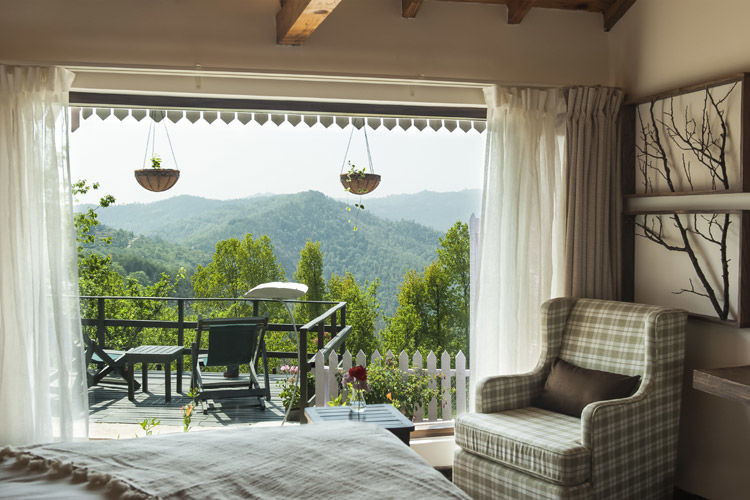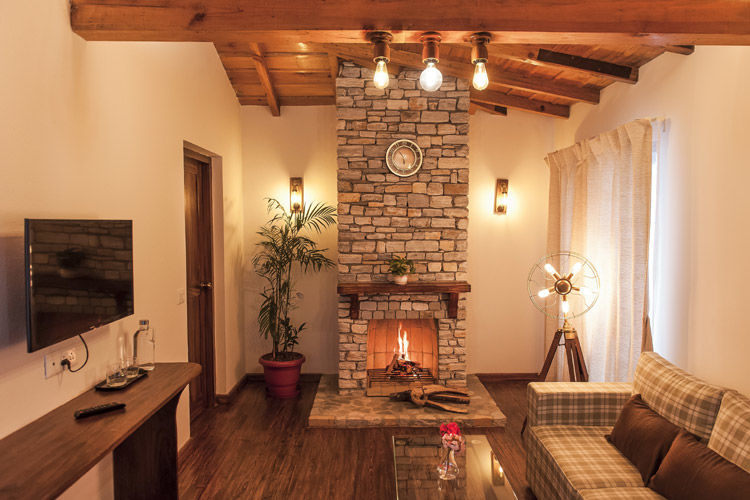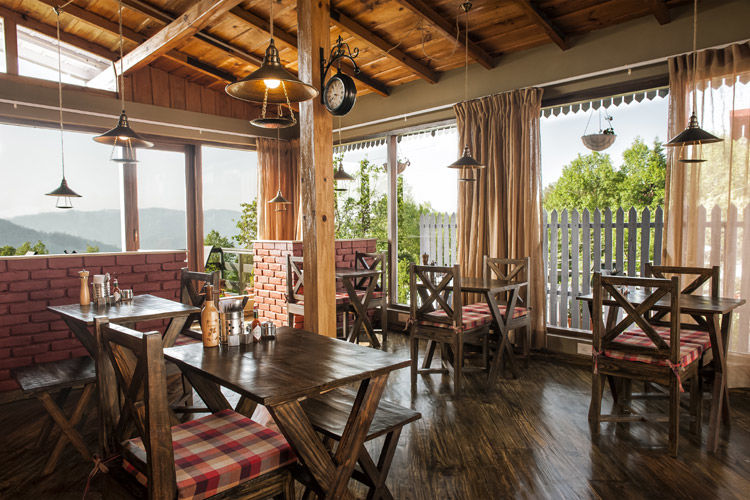 Resting at a perfect vantage point, The Birdcage has the look of a rustic property, made with stone and wood, but let me assure you that it houses all the modern luxuries you could need.
The Birdcage has seven tastefully decorated rooms, from where ranges such as Panchchuli and Nanda Kot are clearly visible from the windows on clear, sunny days. The Apricot suite is the grandest of the lot and the perfect address to bring happiness to the soul. And then, they have six other rooms, which are similar in size, interiors and amenities offered. The rooms are segregated into three different tariff categories – luxury, deluxe and superior – depending on the overall experience they offer as a result of the floor they are on, views offered from the room and size of their private gardens.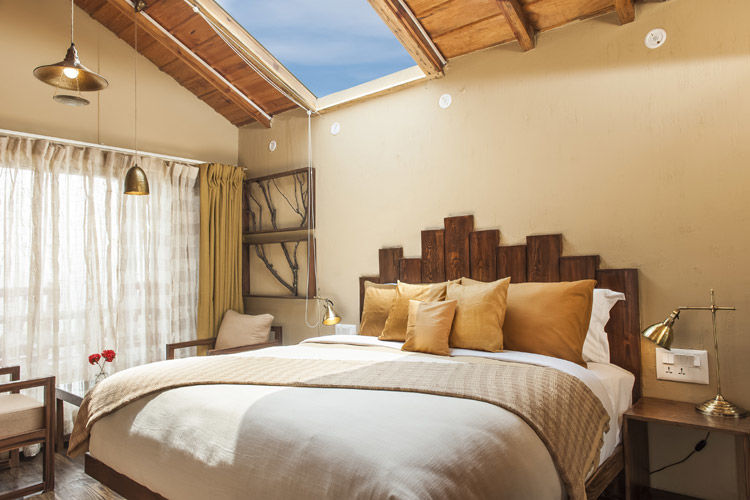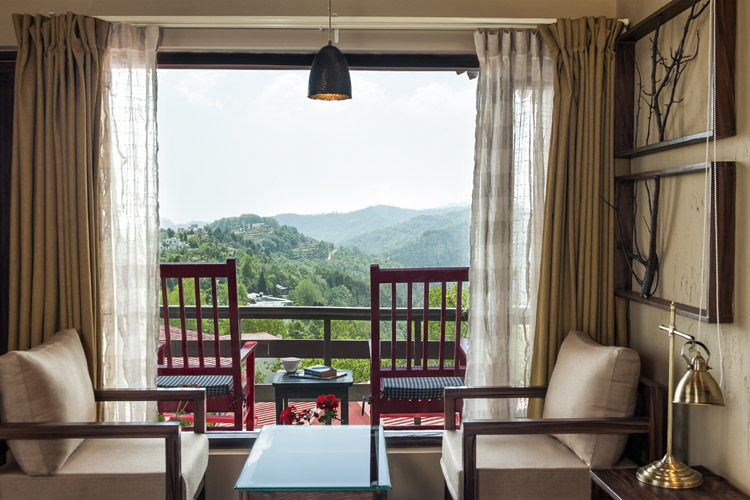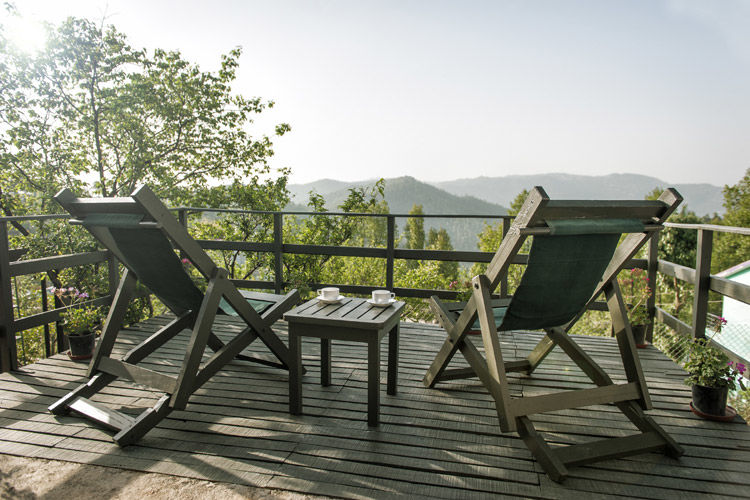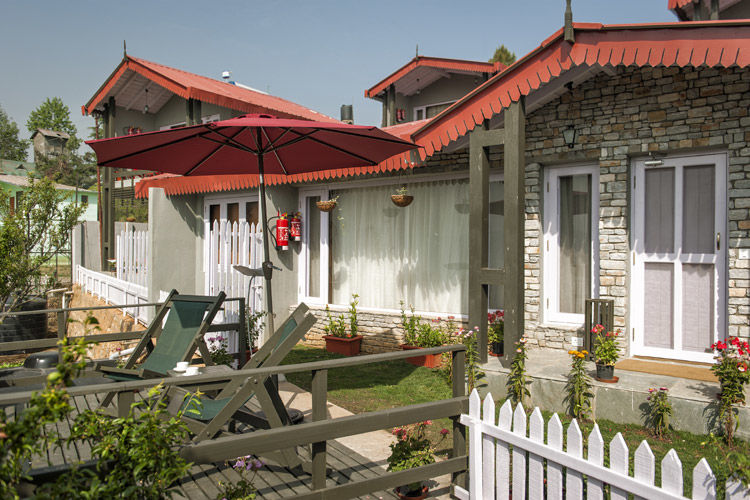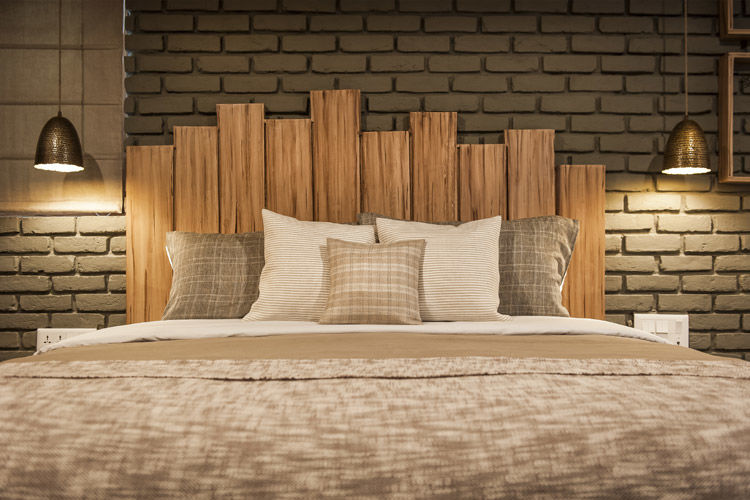 Saving the environment, one step at a time!
The owners of the Birdcage are also making efforts in the right direction to reduce their carbon footprint with the many environmentally-friendly initiatives that dot the property. Few initiatives are:
• Rainwater Harvesting: A 40,000 litres rainwater storage system in their backyard works hard towards collecting, storing and recycling this water so that it can be used judiciously for gardening and other external requirements around the property.
• Solar Power: Solar water heating plants send hot water to the bathrooms in the rooms, but there is an electric backup for snowy days.
• Organic Kitchen Garden: The Birdcage has a small organic kitchen garden that is used to grow vegetables and herbs. They also source a lot of organic produce from nearby farms and orchards, making sure everything you eat is truly, farm fresh!
• Minimum Use of Plastic: Since plastic is a non-biodegradable substance, they try to use as little of it as possible and also encourage you to do the same.
Things to do around the Birdcage:
1. Visit the Mukteshwar Temple
The Mukteshwar Temple is dedicated to Lord Shiva. After climbing a series of steep stairs, you reach the sanctum that is surrounded by idols of Vishnu, Brahma, Ganesh, Parvati, Hanuman and Nandi. It is a vital place of worship for Hindus.
Distance from the Birdcage: 7.5 km (20 mins)
2. Go for a trek and breathe in the fresh mountain air!
According to your expertise and stamina, you can choose to trek an easy or moderate trail here. Most of them do not require any professional guidance, but all of them offer a refreshing experience. Some popular trails are from Binsar to Artola, Peora to Almora and Peora to Mukteshwar.
3. Pick a souvenir from Kilmora Shop
From hand-woven and hand-knitted textiles to apricot skin care products and organically grown culinary herbs, you will find everything here!
Where: Sitla Village (near Mukteshwar, Nainital district, Uttarakhand)
The Guide:
Location:
The Birdcage is located in Leti Bunga, Village Shasbani in Mukteshwar area of Nainital district in Uttarakhand.
To get to here, you need to first reach Bhatelia Market. Once at Bhatelia, you will hit a fork on the road, take the one on your right heading towards Dhanachuli. Drive down this road for approximately 200 meters till you hit a dirt track climbing upwards on the left. Drive up this road for approximately 100 meters and you will see the Birdcage on your right.
Tariff: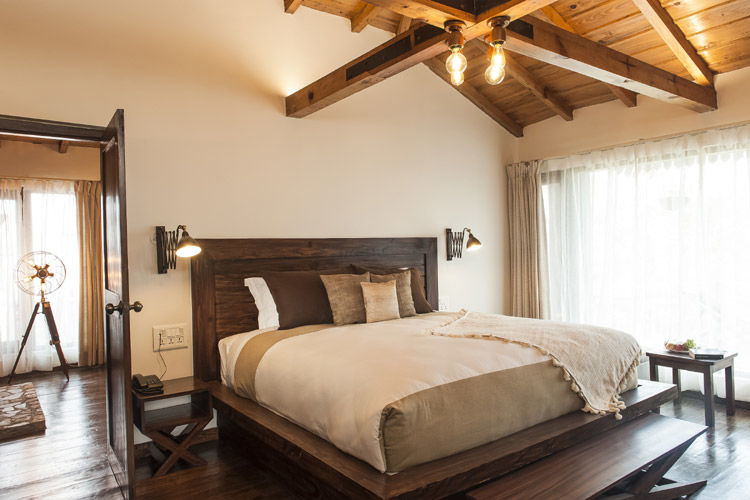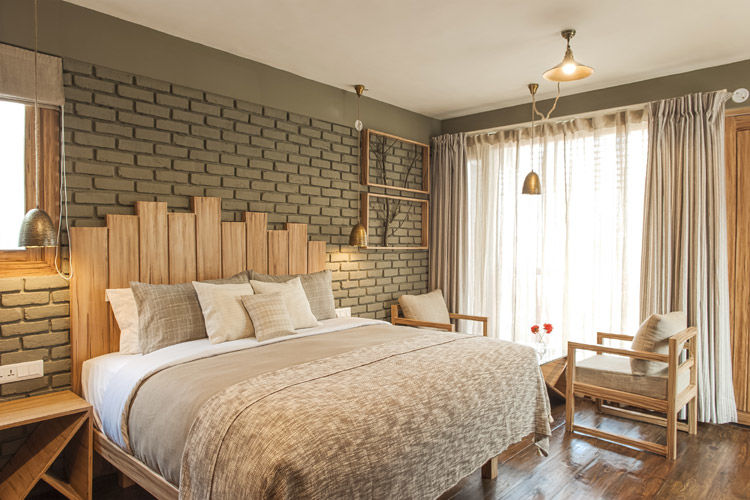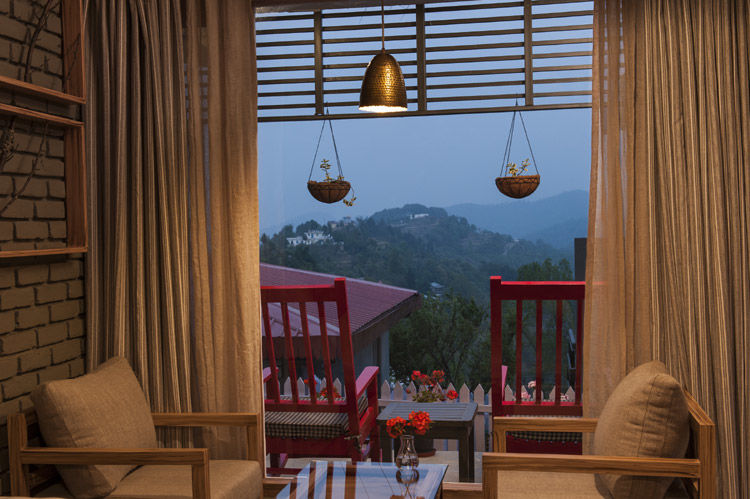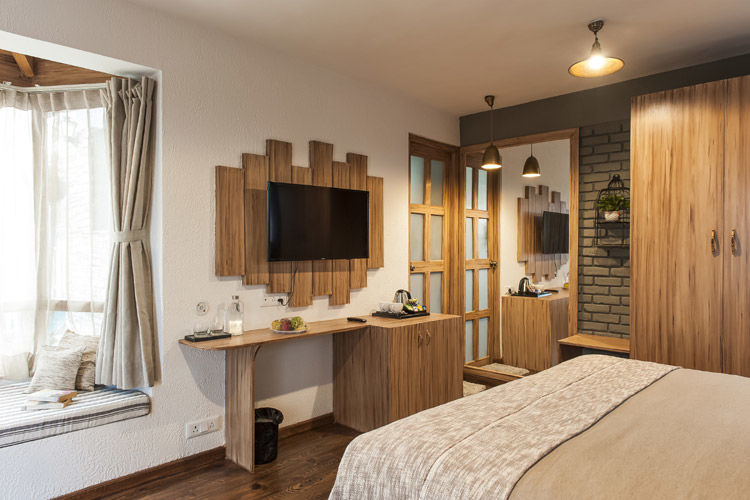 Suite Apricot – ₹12000/night (season), ₹ 8500/night (off-season)
Luxury rooms:
Peach | Plum – ₹8000/night (season), ₹5500/night (off-season)
Deluxe rooms:
Ivy | Apple – ₹6500/night (season),₹ 4500/ night (off-season)
Superior rooms:
Jasmine | Cherry Blossom – ₹5000/night (season), ₹3500/night (off-season)
Room tariff includes:
Breakfast for 2 | Welcome drink on arrival | Fruit basket on check-in | Cookies tray in the evening
Opening date: 26 May, 2017
This summer, go to the Birdcage, your home away from home to replenish your soul and ease your jaded mind!
Resting face to face with the beautiful Himalayas, in the lap of glorious nature, in Mukteshwar, the Birdcage will offer you countless opportunities to just let go of everything and become one with tranquil surroundings to experience pure bliss.
Go #Unlockyourself
Did you know?
Top three Tripoto contributors for the month of July will win three all-expenses-paid treks to Deoriatal, Brahmatal, and Dayara Bugyal.
What you need to do:
1. Create a profile on Tripoto, if you don't have one already.
2. Share your travel adventures on Tripoto. It may be in the form of a story, itinerary, guide, pictures, videos, or anything at all.
Find out more about the competition here.
All images have been sourced from The Birdcage.