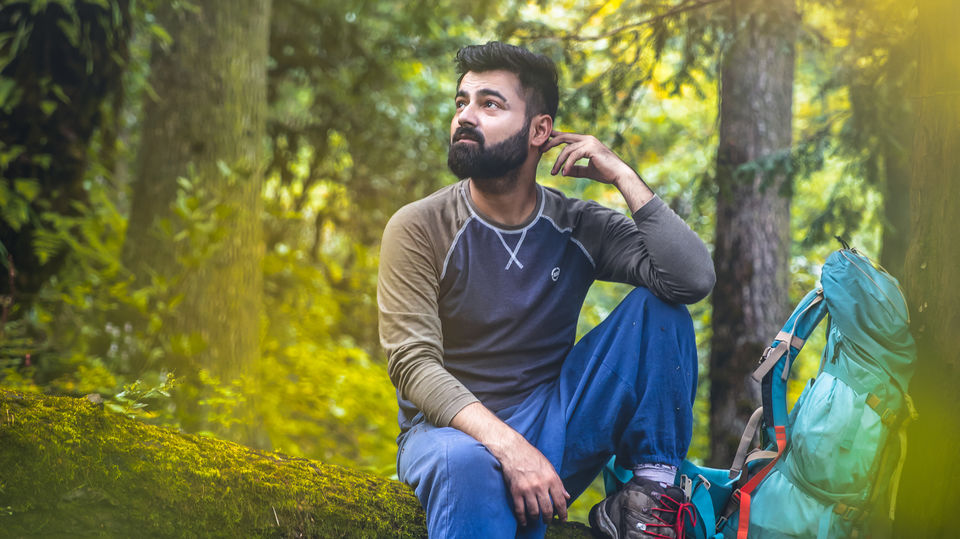 DAY 1
Delhi- Dehradun - Naugaun- Barkot- Hanuman Chatti
So for this one, till the last moment, I had not decided which trek I wanted to cover. I was toying with the idea of going to Harsil and just chilling there, giving up on trekking this time altogether; or going for the Gaumukh trek.
Last minute, my friend gave me the idea of visiting Gulabi Kantha- a relatively new and quite uncommercial trek. So, I began reading up about the place and looking for pictures of the same, and as was expected, didn't find much material on it. Half-conflicted between choosing to go and ditching the plan, I finally decided to give this one a shot.
I had already booked a bus from Delhi to Dehradun which left at around 10 p.m. As soon as I reached Dehradun, I started looking for a bus to Barkot which proved to be quite a daunting task. Failing to find any bus heading that way, I decided to board a bus going towards Naugaon and from there on change for Barkot. By the time, I got into the bus headed for Barkot, I was already exhausted after having changed two buses previously and before I knew it, I drifted off to sleep.
Now, I was supposed to get off at Hanuman Chatti, a small place inhabited by 10-15 families, which was going to be the starting point of my trek. However, when a jolt in the bus brought me back to consciousness, I realized I had already left Hanuman Chatti behind and was now near Phool chatti. As there was no bus that could take me back, I decided to get off and try hitch hiking a ride. After 30 minutes of futile effort, I finally got a lift back to Hanuman Chatti and headed to GMVN, my stay for the first day.
Before I had started the trek, I had already booked a guide from Delhi and I have to say, the services offered by the guide were the best of what I have experienced till now. Not only did he provide economical service but also played a great host. Our everything- stay, food, trek- was covered in 9k for two people.
I'll provide his contact number at the end of the article.
As soon as I reached GMVN, the view was utterly beautiful. The gushing sound of the Yamuna flowing nearby could be heard inside. As I was exhausted, I quickly freshened up and had lunch. I relaxed till the evening and had an early dinner.
As I have grown up in a village in UP, I spent a good time of my childhood eating desi ghee and organic food. Getting a similar experience here was a nostalgic trip down the memory lane. All in all, I was definitely exhausted and as I had to start the trek at 6 am the next day, I retired immediately after the dinner and called it a night.
Day 2
Hanuman Chatti - Nishdi - Kandola Thatch - Seema Thatch
I woke up at around 6 am and had breakfast with desi ghee and butter. After starting the day on a good note, I began my trek an hour later from Hanuman Chatti.
Just besides Hanuman Chatti is a small trail that marks the beginning of the trek and can easily be spotted. After trekking for a few hundred meters, I was treated to the glorious sound of the gushing waterfall that filled the entire valley with a peaceful sound.
All in all though, as I kept on continuing the trek, I started getting more disappointed. As I was surrounded all around by the valley, there wasnt much scenery to be spotted and because it was the month of September, there was no trace of snow capped mountains either.
The trail also for the most part was cemented and the trek was quite easy, the difficulty level of the trek failed to ignite my adventurous spirit.
After trekking for 3 kms or so, I stopped at a small village to kill time. As I had started the trek early and had about 12 kms to cover that day, I sure had a lot of time in my hands and my guide took us to his relative's home in the village.
Their family welcomed me warmly and were very good hosts. They introduced us to "kakri" or the organic cucumber they grow. These cucumbers were HUGE. One was enough to keep you going for a good few hours and with freshly made pudiney ki chutney, we felt completely rejuvenated and left for Kandola Thatch, our next stop.
As the guide took me along the trail, he was quite ahead of us and his daughter, who as around 20 and pursuing her BA, guided us through the valley. It was the first time I had a female guide and it felt great to know that they are teaching their women how to be reliable and strong climbers and trekkers.
The view till Kandola Thatch was again not anything great, even though the valley had cleared a bit. When I reached Kandola Thatch, I took a break of about 30 mins and had fresh "mattha" or as well call it here "chaach."
Where I used to stay in UP as a kid, we bred cows in our home and extracted desi ghee and chaach by ourselves. After coming to Delhi, this was something I had forgotten and a stop at Kandola Thatch was just the perfect reminder on the trek.
Once I left Kandola Thatch for Seema Thatch, the view completely took a turn. As I exited the valley, and entered the meadows, the scenic beauty around me knew no bounds. The landscape was filled with bright colors of flowers. The weather was also magically misty and after a point I started spotting animals in the green meadows- going completely crazy when I spotted a white horse through the mist, gazing in the green meadows.
By the time I reached the destination, it was already evening and my guide started a bonfire. Although I had planned on doing some night photography, the clouds had other plans in mind and after failed attempts, I finally retired after an exhausting trek.
Day 3
Seema Thatch - Gulabi Kantha - Seema Thatch
I woke up around 6 am. and had a light breakfast because I had decided to start the trek early on and not wait for the day to stretch. The morning was beautiful and I was all geared up and fresh to start the trek from Seema Thatch to Gulabi Kantha. The hike along with the guide started on pretty early and the initial trail was through a bushy area with not much to be seen around. Most of the view of the mountains was block by the girdle of tall trees and bushes around me and that part lasted in mostly more walking and less sightseeing. This part of the trek was also continuously uphill, until we exited the bushy area and entered a meadow. Here, the path became slightly moderate and then again uphill. The view from the meadows was utterly amazing. Clouds had begun spotting the sky like spots of 'white cotton candies' and the sight was truly amazing. I could also spot "Bandar Puch" from here. After walking through meadows, I eventually reached a mountain that was completely uphill and that stretch of the trek was undoubtedly the most difficult one to cover. It ran for about 1-1.5 kms and I was utterly exhausted by the time I reached the top.
Ultimately, when I reached Gulabi Kantha, I decided to take a breather and took a break there. My guide was carrying a huge Indian flag with him and the sight of it spreading out with the hills forming the background, formed a picture that would stay with you. I having traveled here so that I could climb that peak, told my guide that he could wait there and I'll just cover that distance in 25-30 minutes and be back. My guide advised me against it as he considered it quite dangerous at that point. The long grass was covered with dew and just one slip from the V-shaped hill would prove to be fatal. I kept on insisting thrice, as all effort of trekking for two days seemed futile if I could not reach the destination I had initially planned on going to, but after my guide stayed adamant after the third try, I eventually gave up as well.
This is something, I would advise all trekkers as well. There is a fine line between courage and bravery. Sometimes, challenging yourself is good but safety should always come first and being a trekker, impatience can lead you to the worst paths. It's okay if you do not get to summit the peak, you can go on thousands of treks in the time to come but your safety should always be your first priority. Do not ever make any decisions marked by haste and adrenaline.
Anyway, we took a break there for thirty minutes and decided to descend and trek back to Seema Thatch. As noon dropped by, my guide gave the option of having lunch in a cave downhill and that was quite a memorable experience. When I reached Seema Thatch, I had a quick supper and was treated to 'Cholai ka halwa' or called as "Ram Dana", Cholai being a pink-flower that I have shared stories of before. It was just the right dish to put me in amazing mood and help me refresh.
The weather had eventually gotten a bit better and I thought I'd do some night photography. So, I got my equipment ready but the overflow of clouds blocking the moon, proved to limit my options. Every once in a while, when the clouds would move due to the wind, the moon would start showing and it's light would glimmer in a thousand different directions- creating a dreamlike picture. I clicked away in glory for an hour or so, and after that eventually receded to my tent with the plan of waking up early again the next day, to head back to Hanuman Chatti.
DAY 4
Seema Thatch - Kandola Thatch - Nishdi - Hanuman Chatti
Day 5
Hanuman Chatti - Barkot - Dehradun - Delhi