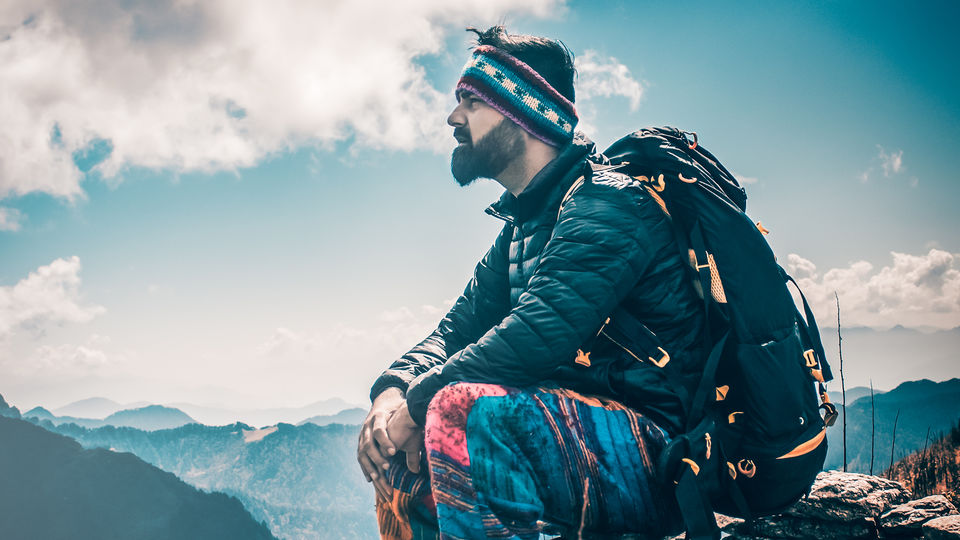 Day 1
Delhi - Rishikesh - Srinagar - Rudraprayag - Kund - Guptkashi - Sonprayag
This trek started on an interesting note. I had planned on going for the trek beforehand but till the last moment, I did not know where I was going. I took my Economics classes till 8 pm and came back home around the same time. My backpack was waiting, packed since morning and I had already booked a bus to Dehradun which left around 11 pm. So, I consulted my friend Danish and a few options of treks came up, some of them being the Panvali Kantha Trek, Gaumukh Tapowan and Dev Kyara. For the time being, I boarded the bus and did not think too ahead of time, crossing one bridge as we came to it.
I personally really wanted to cover the Panvali Kantha Trek, but I knew that the trek needed a guide from the starting point of Triyuginarayan, and I had not found any reliable information of guides online. An option of reaching the place and asking locals about any options of guides did remain but I was a bit apprehensive about the possible outcome of not being able to find one.
While waiting on the bus stop, I randomly posted an Instagram story about the same and one of my followers and friend, replied to it stating that he was in the same region as well. Being a local of the area, he said he could arrange a guide for me. So, thankfully we exchanged numbers, got in touch and he got me connected with the guide. At this point, my dilemma of choosing a trek was over.
Even though, I had taken a bus to Dehradun, I had to get off sooner to reach the starting point of the trek. However, from Rishikesh, there was not a single bus in sight for around an hour or so. After, a crowded bus finally drove by, I sneaked in a tiny space for myself besides the driver's seat and covered the journey, fighting cramps. My destination from there was Srinagar which practically would've required 4 hours of travelling, but due to road construction work in many areas, it took me about 7.5 hours to reach the place.
From Srinagar I reached Rudraprayag and from there on, I took a shared cab from Rudraprayag to Kund which cost me around 220 rupees. After having reached Kund, there was not a single vehicle in sight. A kind local helped me hitch hike a ride which comfortably landed me in Guptkashi at 20 rupees. Again, a shared taxi led the way to Sonaprayag and by the time I reached the destination, the sun had set and it was around 8 pm. Triyuginarayan, the starting point, was 13 kms ahead and no means of transportation was available. So, my guide and I decided that it was more feasible to just stay the night there and start the trek, the next morning with a fresh mind.
Now when it comes to my treks, I always travel on a budget and I am not very choosy when it comes to food or accommodation. So, I tend to choose options that are comfortable and also cheaper compared to the alternatives. I found a place that had a setting of a hall and cost tourists 100 rupees per person to borrow a bedding and sleep there. After having traveled for about 20 hours on the first day, I was completely exhausted and my face covered with tens of layers of dust provided a witness for the same. The moment my head touched the pillow, I dozed off with plans to start the trek the next day, with higher energy.
Day 2
Sonprayag - Triyuginarayan - Maggu
I woke up around 5:30 am and got fresh in a jiffy. As I mentioned previously, I was staying in a hall, which cost me around 100 bucks per night. I'm not very choosy when it comes to accommodation, as long as there's hygiene, I'm mostly fine with anything.
However, I soon realised that there was no washroom area as such and you had to cross the road for a hand pump and brush your teeth. So the day started with adventures I had not bargained my way into. Around 6 am, I came back and had my dose of chai to get me geared up for the day and called up my guide.
So, on Day 2, we had planned on leaving Sonapragayag (where I had stayed the night) and reach Triyuginarayan which is around 13-14 kms away. The road in this journey wasn't well built and it took us about an hour to cover the distance. When we reached Triyuginarayan, my guide took me to a room to put my bags at and we were planning on trekking to Maggu from there. However, there came a slight change in the plan when my guide told me that the person who was supposed to have the keys to our place of accommodation in Maggu couldn't be reached so we would take a little time to leave.
I tried to make the best out of my waiting time there. I met my Instagram friend who had gone through the effort of getting me in touch with my guide and had a chat with him. I met a couple looking for their wedding spot in the place. I also met a person who knew me through a Facebook travel page and we had a heartwarming chat.
My guide had also informed me that there were not many people covering this trek today. So the experience of wandering through the trails and being surrounded by your own company was a wonderful experience.
While I was having lunch in Triyuginarayan, with a beautiful view of the Kedarnath peak and misty hills as a canvas in front of me - I spotted the celebrations of a Pahadi wedding nearby.
As my luck goes, women from that wedding came to where I was having my lunch to have their pictures clicked, and there they spotted me already in the process with a DSLR in my hand!
What followed was quite obviously a thirty minute photo session, where they gave their best poses and I only followed their orders. We chatted, had fun, they showed me their pahadi dance and afterwards I retreated to my room to charge my phone and camera.
After, I came back to my room and charged my phone and DSLR batteries, I spotted the wedding couple in Triyuginarayan Temple. My room had a view of the temple and I witnessed the dynamic celebrations throughout. With bagpipers, people dancing and lots of happy vibes in the air, I was that uninvited spectator who enjoyed the wedding as much as they did (if not more).
Around 12 pm, my guide came and we started our trek. We had bought just the basic food items from nearby, things like 1 kilo rice, 500 grams arhar dal, biscuits, namkeen and other spices to get us through the day. Now, this trail that we set our foot on was going to be around 6 km long. The view was completely surrounded by dense forests and if we were lucky enough, we would spot the Kedarnath peak and other hills through the misty clouds and towering trees.
To be very honest, the first 6 kms of the trek were not exciting at all but I knew I had better things in wait for me the next day. Early on, when I started trekking, I used to get very impatient when I did not spot scenic beauty in the initial phase of the trek. That sort of killed the whole mood of the trek as well, and when I did encounter better things, I would already be grumpy and complaining.
Now, that I have been on this journey for some time, I know that there are not many treks that are breathtakingly right from the first go (Bhrigu Lake trek being an exception). You usually have to travel for some time and earn those moments, if I have to put it that way. Anyway, I knew the next day would bring greater promises as our trek was mostly through the meadows on that day.
Now, as I am sitting here in a chaani (stable) and writing this down, I can hear the soft tapping of the drizzle on the tin roof. I can't spot my guide, okay I just heard the whistle of the pressure cooker, he is probably cooking rice. The view is mesmerizing. I can spot the sun getting done for the day, and the orange bright lights making their way through the clouds.
In times, like these, I feel mixed emotions. Sometimes, lonely that I am here with no company besides me. Sometimes, happy that I am here alone and able to witness such works of nature. That I can break away from what holds me back, in times like these. In every case, however, I feel blessed and grateful for being able to witness this beautiful sight right now.
Day 3
Maggu - Panwalikantha
The distance between Maggu and Panwali Kantha is about 16 kms. I personally have learnt to check all the basics before I start my trek. Things like water bottles, sunscreen etc. are some things I subconsciously cross check in my mind while packing for a trek.
The thing is, after Maggu, as you are trekking towards Panwali Kantha, there is a water source about 3 kms away after which, the only water source falls about 10 km away. So, in this stretch, if you are not carrying a water bottle with you, the trek becomes ten times more difficult and even unbearable for many.
On this day, we had an ascending trail at three points but surprisingly, we also have to travel downhill for about 2-3 kms. This was something I hadn't expected at all, considering that the trail also made its way through scattered rocks.
Once we reached the second water source, 3 kms before Panwali-Kantha, we took a quick breather, refilled our bottles, opened the center-fresh box in which Vijay Bhai (my guide) had ingeniously packed the 'khichdi' for our lunch. He told me he wasn't carrying any plates, and the only option that remained was eating khichdi out of polythene bags- to which I gave a firm no. I chose to eat as much as I could out of the box and after I was almost done, Vijay bhai went on to tell me that this might be our meal for the night as well because he wasn't sure if any preparations for dinner had been made in Panwali Kantha. Luckily, he was proved wrong in this aspect and after chatting for a while, we started our trek again.
This stretch was mostly uphill and we were expecting to reach the destination by around 4-5:00 pm which was what I was eagerly hoping for, as I could witness the golden hour when the sun sets and click some beautiful pictures.
Panwali Kantha welcomed me with steaming cups of chai and two dogs as soon as I stepped into it. One of them was injured on a leg and the other was so hefty, I went on to ask if he had any illness, but was assured by the locals that it was just the aftermath of his love for food. I went on to Bugyal to analyse the place as to where I would set my tripod at night and came back to meet Bade Mian, a 72 year old who gave me great company for an hour or two before the sun began its effect.
Now, as I am writing this, I am standing in the middle of Bugyal, surrounded by the green meadows as far as the eye can see. I can see the Kedarnath Peak and Chaukamba in front of me, and through them, a streak of clouds of various hues-painting the sky in shades of black, blue, orange and brown, It's almost surreal and fantasy-like, at moments like these, when you stand witnessing such great beauty, you begin to release your insignificance and significance, as if you have no place in the world but you are as big as the cosmos. Trust me, if you are a sunset or sunrise lover, this is a place you cannot miss in your lifetime.
After witnessing the utterly beautiful sunset, I decided to retreat and treat myself with a single proper meal for the day. Sajjan Bhai, Vijay Bhai, Bade Mian and I had a simple dinner of dahi, dal and roti and after an argument of who wants to sleep alone and who doesn't (me pitching in for the same), we finally decided to grab an extra bedding for me to put in the kitchen area.
Sajjan Bhai opened his bluetooth speaker and we all began to doze off, listening to old, classic, Bollywood beauties before the dogs began their own cult declaration out in the night. Vijay Bhai told me that Bara Singha, a kind of deer, usually ventures into the meadows in the night and the dogs are probably barking because of that. Eventually, in the midst of the howling and the music, we soon went off to sleep before we realized it.
Day 4 (Last Day)
Panwali Kantha - Guttu - Ghansali - Rishikesh - Delhi
I woke up around 6 am, just when the sun was beginning to rise as well. When you open your eyes, with the thought of an amazing trek ahead and watch the sky filled with thousands of colorful specks as soon as you step out, your day is made before it even begins.
I looked at that view, letting the fresh air and good vibes sink in. After that, I picked up the camera and wandered into the meadows to get a few snaps. Had a good, cheerful photography session with Bade Mian as my muse and model in many frames, and afterwards came back to grab a quick bite and start the trek.
So, I had my dose of chai and around 8 am, my guide Vijay Bhai and I started our trek. So, on the last day, we were planning to trek from Panwali Kantha to Guttu and exit from there. The trail covered a distance of about 17 km and a large proportion of it was mainly descend.
The trek started with mostly ascend, we climbed a hill continuously for the initial part and we reached a small temple on the hilltop, the rest of the trek was mostly descend. For me personally, descending is much more difficult than ascending. The thing is, while trekking upwards, even though it involves more cardio, you still have control over your body to a large extent. On the other hand, when you are going downhill, there's always an issue of maintaining your balance and that in turn can lead to some dangerous accidents. Also, there is also usually a pressure on your knees. I remember a trek I did with a continuous descend of 23 km , and afterwards when I stood up straight, my kneecaps were literally clanking.
This trek wasn't through a set trail. It was mostly through a forest, which in some areas turned very dense. I asked Vijay Bhai about the possibility of encountering a wild animal on the trek, and he gave me a mild, "yes, definitely', which high-key didn't help much. But, he also slid in a "what's there to worry about, I'm here" and as boastful as that was, it helped in knocking the idea out of my head.
We spotted a "Barasingha" on our way and as we kept going,I was five steps behind Vjay Bhai when he suddenly stopped and expanded both his arms, in a motion to stop me as well. He turned and motioned me to stay quiet and I swear for that moment, I had already started imagining my eulogy. Then, he turned, looked up to his left and continued the trek as if nothing happened. On my questioning, he answered that he thought he saw an animal but it was probably just a deer, and nothing else more dangerous.
So, as we wandered deeper into the forest, Vijay Bhai kept me entertained, telling me stories about his village. So, one story he told me has stuck with me and probably will for a lifetime. Now, I don't know how true it is, but as per Vijay Bhai, a man in his village was once travelling when he encountered a sher (lion) on his way. So, the lion roared and started running before pouncing on him. On seeing this, the man roared even louder and pounced back, scaring the lion into running away.
So, as you might be able to tell, Vijay Bhai and his anecdotes were surely something that made sure I never got bored while trekking. About the source's credibility, you guys might be better judges.
Around 12:30 pm, we had our lunch, We were carrying some dahi and parathas with us, and unlike last time, made sure to carry some disposable plates. So, we had a pretty basic lunch and after that continued our journey towards Guttu.
We reached Guttu by 2 pm and at this point, our trek was completed. Now, I just had to catch a bus to either Ghansali or Rishikesh and from there onward, to Delhi. Finding a bus in Guttu proved to be a difficult task and as I had a class the next day, I was in a desperate pinch to travel back to Delhi as soon as possible. Luckily, I met some people in a car who were travelling to Rishikesh and hitched with them for 500 bucks. With this, I dodged the added trouble of changing buses in Ghansali, and from Rishikesh, finding a bus to Delhi was quite easy.
All in all, the trek was quite happening and in many ways, beautiful. I traveled solo on this one, accompanied by my guide for the most part. The one thing that would stay with me about this one, is the beautiful sunrises and sunsets of Panwali Kantha. If you are one to adore a good sunrise, you need to travel to this place.