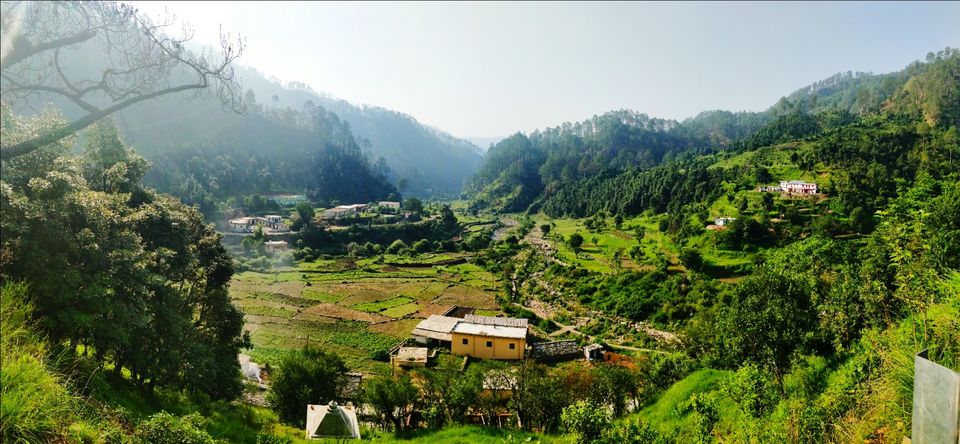 Eco Parks and natural attractions in Dhanaulti
1. Next on our list of tourist places to visit in Dhanaulti are the twin parks – Amber and Dhara. Both the gardens have been developed and are maintained by the Forest Department. With deodar and cedar trees beautifying the parks, there's no way you can miss casual strolls and small hikes in these gardens
2. Camping & adventure in Dhanaulti
Camp 5friendss: The serene and divine surroundings will definitely take you to the brand new world of adventure camping in Dhanaulti near Delhi, Dehradun, and Mussoorie lies in Dhanaulti tehsil. Let us start to describe the fascinating beauty of campsite and the location itself.
Camp 5friendss offers an absolutely plain land surrounded by hills, rich dense forest and the most attractive an absolute crystal clear water stream that is beautifully and naturally decorated by rocks flowing at the side of camp's premises with a melodious sound. If you want to experience some more excitement on your stay in a hill camp then our campsite can be a great and reasonable substitute of Dhanaulti hotels for all those visitors out there looking for a perfect destination for camping in Dhanaulti near Delhi NCR.
Camp 5friendss is located at Manj gaon village (Marora Pul) close to one of the most popular stretch for camps near Delhi i.e. Dhanaulti and Kanatal, where tourism footfall is increasing day by day and has reached approximately on saturation stage. Although carrying capacity is also increasing, however, the demand for unexplored camping spots always remains stabled in terms of new tourism destinations for travel and holiday enthusiast. We are lucky enough to explore such a new location that is perfectly fit for the camping activity into the hills. Its full credit goes to the fantastic beauty that is still in the virgin and unexplored form.
However, the entire Uttarakhand is blessed with the wonderful beauty but when it comes to the camping in Uttrakhand, then three important things does matter i.e. serene atmosphere, effortless accessibility to the destination even at offbeat and excellent service. We proudly say that we are blessed with all these things and it makes us different from others in the world of adventure camping in India.
Romance begins from the heart and converts into the devotion after taking inspiration from nature's beauty. Yes, you would really find a natural environment to take a pure romantic dip under the sky of opportunity to express directly from the bottom of your heart at the camp 5friendss because of the five elements of nature that govern our lives spread across at one of this best adventure camps near Dhanaulti and Dehradun. The peaceful and calm environment will be definitely able to overcome all your worries and you will get an unforgettable camping experience with the near and dear ones. Whenever you exhausted with your day-to-day working life in a metro city like Delhi and NCR, it is necessary to get your energy back. So we strongly recommend you to find us as one of the best service providers for camping in Dhanaulti near Delhi and forget all your worries in a spectacular holiday spot.
======================================= Equipment used in this video
1. Rode Wireless Go:- https://amzn.to/3cOoqK5​
2. RODE LAVALIER MIC :- https://amzn.to/2YKbzQy​
3. Go Pro Hero 9 :- https://amzn.to/3oTuCCG​
4. Digitek Light Stand for Photography & Video :- https://amzn.to/3rpB1qX​
5. DIGITEK® 18" Professional big LED Ring Light :- https://amzn.to/3q5pmNC​
6. GoPro AAMIC-001 3.5mm Mic Adapter :- https://amzn.to/39REZTl​
7. Yantralay School of Gadgets YT-G9 Vlogging Case:- https://amzn.to/2YRcGhD​ =================================================================