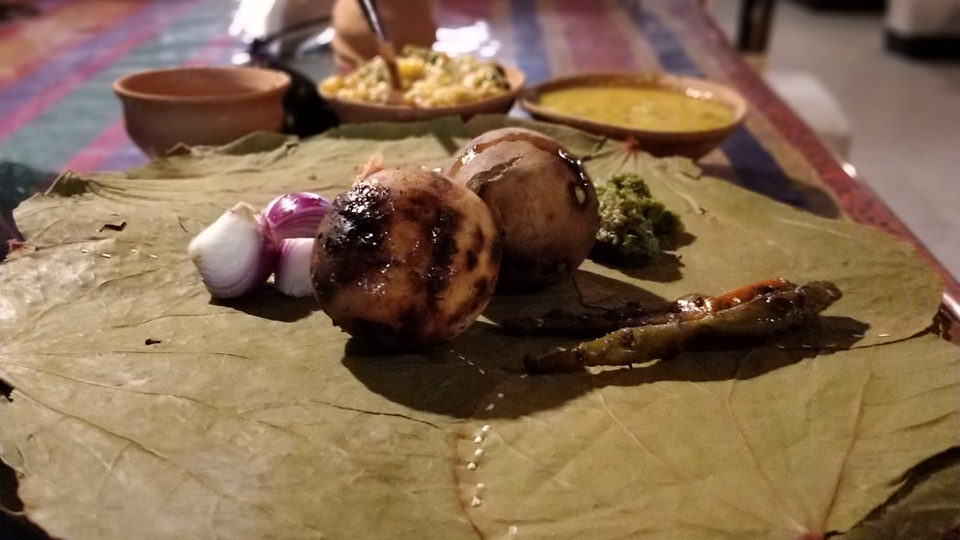 After going through Heritage Walks and visiting ghats in the city. Now we have come to Food Trail.

Food in Varanasi is a reflection of its rich history and culture. People from Bihar and bengal moved to this place over the past centuries and they brought variety of sweets with them and mixed it with the flavours of this city. Many Europeans visited this city in the last 25 years and they brought their cuisines likes pizzas and pies to this city.
Food in Varanasi doesn't restrict to one category. It has unique recipes of breakfast, lunch, sweets, drinks and desserts too. So let's take this one by one now.
Tamaatar Chat
This is a unique chat item available only from Varanasi. It is said that a young man named Deena Nath Kesari started this snack some 80 years ago in the area of present Luza Bazaar. This was an instant hit then and continues to be even today.
This is primarily made of tomatoes ( Tamaatar in Hindi) with hing, chillies, mustard oil, desi ghee and little quantities of boiled potatoes.
Location - Deena Chat Bhandar, Luza Road and one in Chowk area of Varanasi.
Kashi Chat Bhandar, Godowli Road, Near Dashashwamedh Ghat, Varanasi.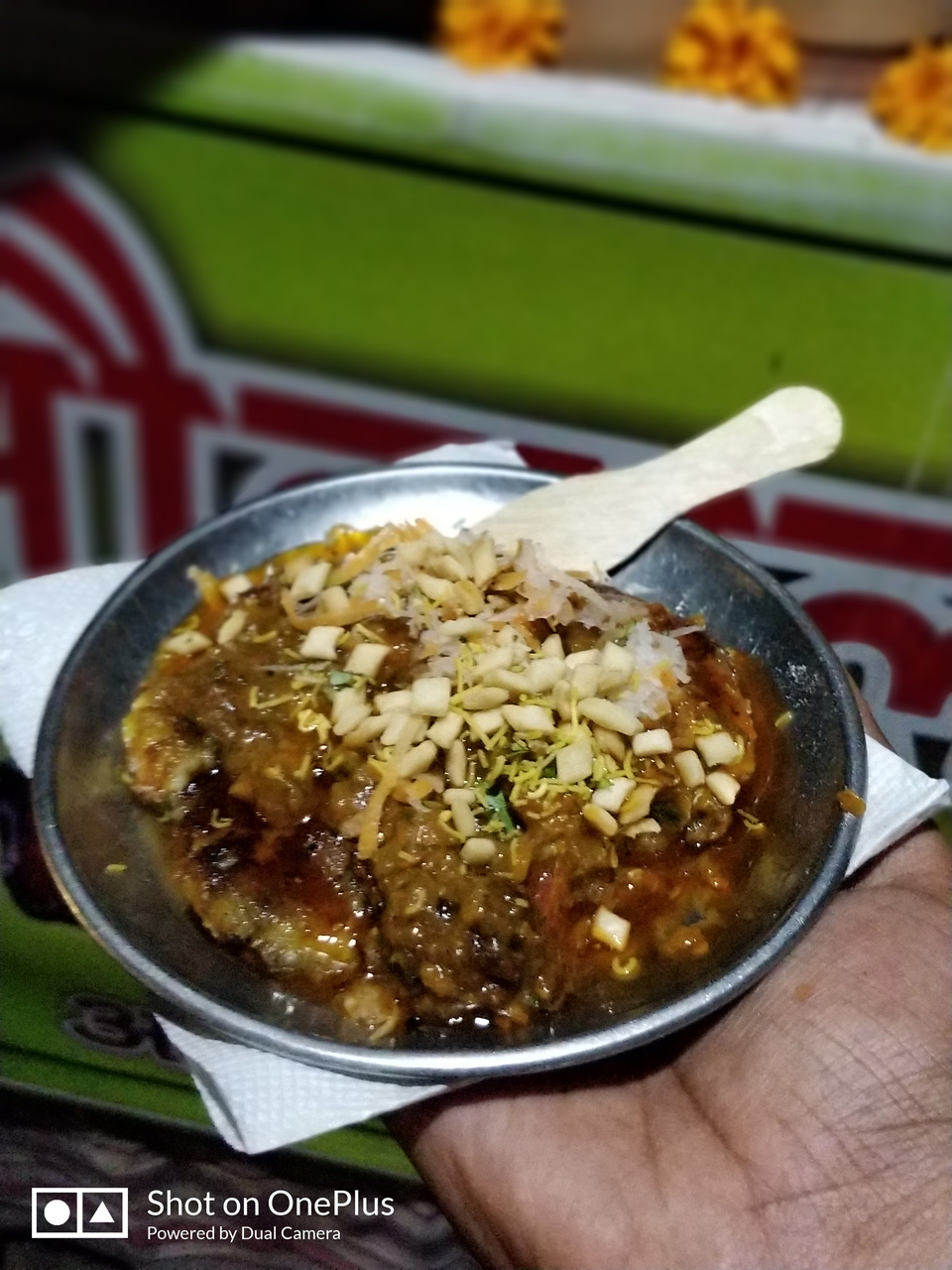 Kachori Sabzi
I had ordered for this as soon as I checked into my room in Varanasi in the morning. This is the staple breakfast which every Banarasi (people of Varanasi are called Banarasi) has. Kachori is same as what we call Puri in other parts of the country. The curry ( Subzi in Hindi) is made of boiled potatoes, bengal gram ( kala chana in Hindia), desi ghee and mild spices.
There are many other Kachoris like Choti Kachori, Kastha Kachori etc. which is quite popular here.
Location - Chachi Kachori Shop, Lanka, Varanasi and many other places in Varanasi.
Baati Choka
Baati Choka is a complete meal originated from Bihar, Jharkhand and Eastern Uttar Pradesh. This is also called Litti Choka in Bihar.
Baati is a dough ball made of whole wheat flour and stuffed with Sattu (roasted and ground chickpea flour). The funny part is that baati is fried and roasted over coal and cow dung cakes which is tossed with whole lot of desi ghee. Once this is roasted the ash smeared on baati is removed by a unique process. Baati is taken into a jute bag and shaked rigorously and through this process ash will be removed. These days there are variety of stuffings available apart from Sattu.
Choka is made of potatoes, eggplant, chillies and mild spices. These are boiled and mixed to make a good curry. The taste of this dish is very unique and provides different flavours.
Matta which they provide at the end is just like an icing on the cake.
Location - Baati Choka Restaurant, Anand Mandir Campus, Teliya Bagh, Dashashwamedh Road, Varanasi
Lassi
My first experience of lassi in Varanasi happened by chance. I was going to famous Kashi Vishwanath Temple and I just wanted to have something to quench my thirst. I stopped at one lassi shop and I was surprised to see that lassi is handmade. Curd, made indigenously here, is added along with sugar and mixed on a steel vessel with a wooden whipper. Lassi is served in a small mud pot with white milk cream on it.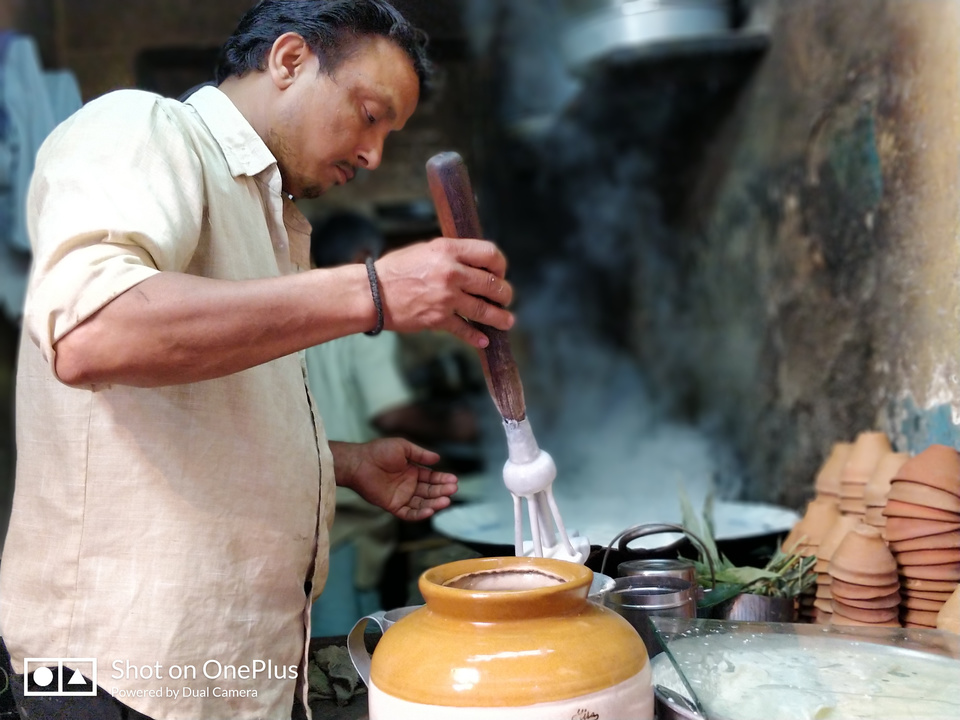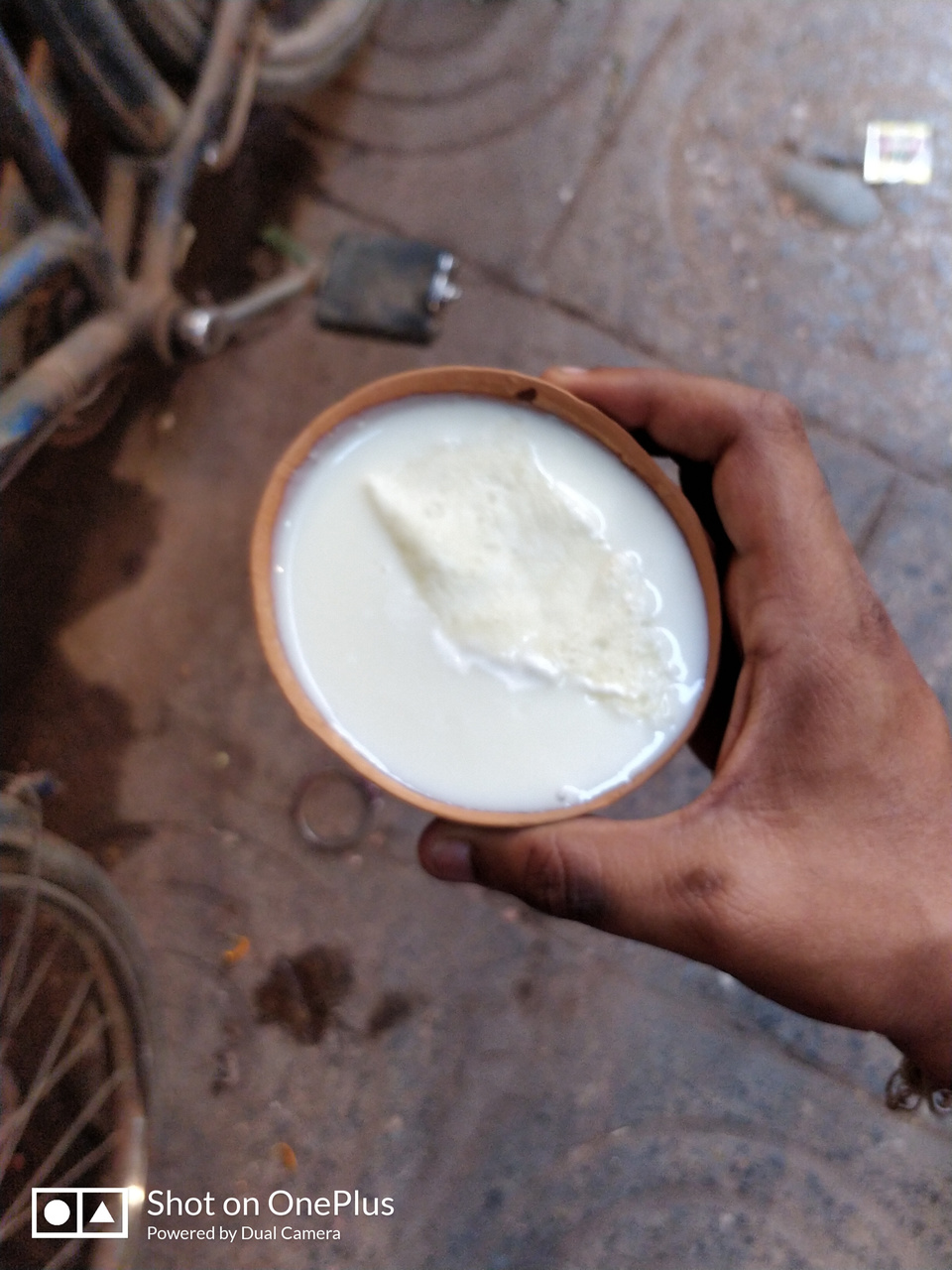 One special mention on lassi is the Blue Lassi Shop which is near Manikarnika Ghat in Varanasi. Here they provide more than 80 varieties of Lassi. The best is said to be pomegranate lassi with coconut. There are 2 different stories on why this shop is called Blue Lassi shop. One being it is blue in color and other being this shop has introduced blueberry lassi to the world and hence the name. This is a 90 year old shop.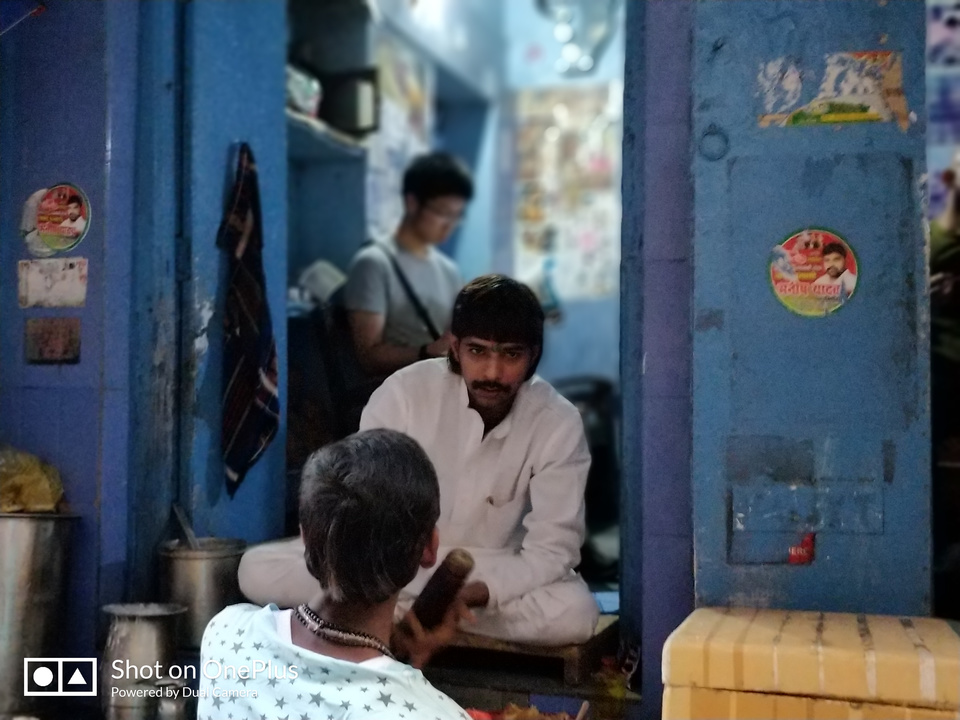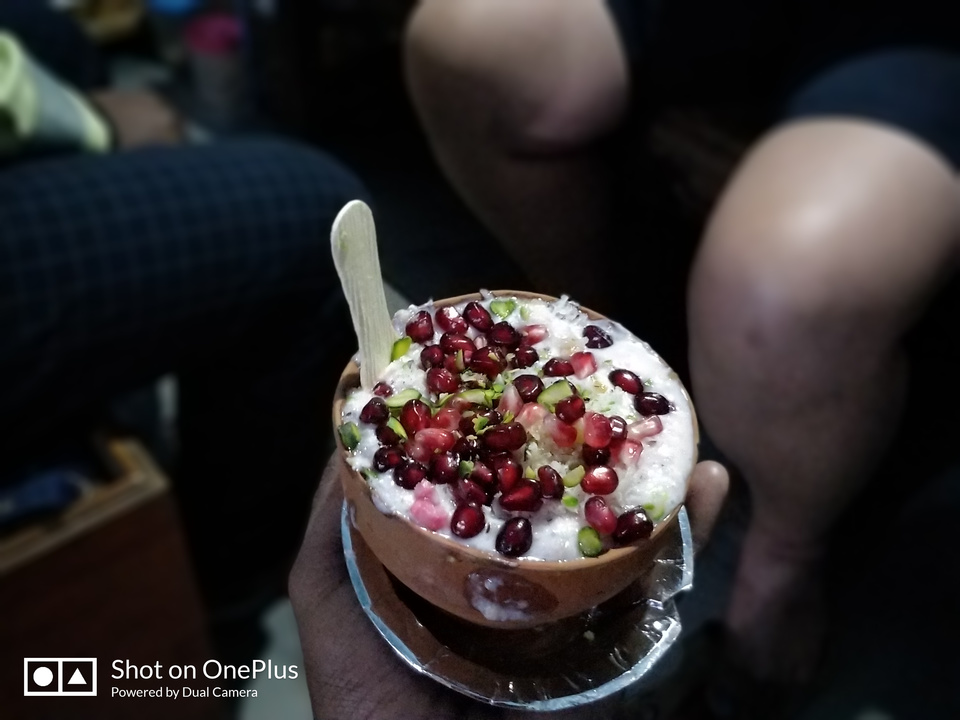 Location - 1st Lassi Shop is at Vishwanath Gali on the way to Kashi Vishwanath Temple.
Blue Lassi Shop, Kachouri Gali, Manikarnika Ghat, Varanasi
Thandhai with Bhaang
Thandhai is a drink made of boiled thick milk, almonds, saffron, elachi and sugar. This is served chilled and it cools your body as well. Hence it is called Thandhai.
One more important ingredient provided on choice is Bhaang famously known as cannabis. Fortunately, I was in Varanasi on Holi festival when Bhaang was freely flowing all over the city. Once you have it you are "Bhaang -On" The effect of Bhaang is intense and it creates hallucinations to your mind. Bhaang is considered as an offering to Lord Kashi Vishwanath, diety of Varanasi, and so we find them sold legally (only limited quantities along with Thandhai) at the shops.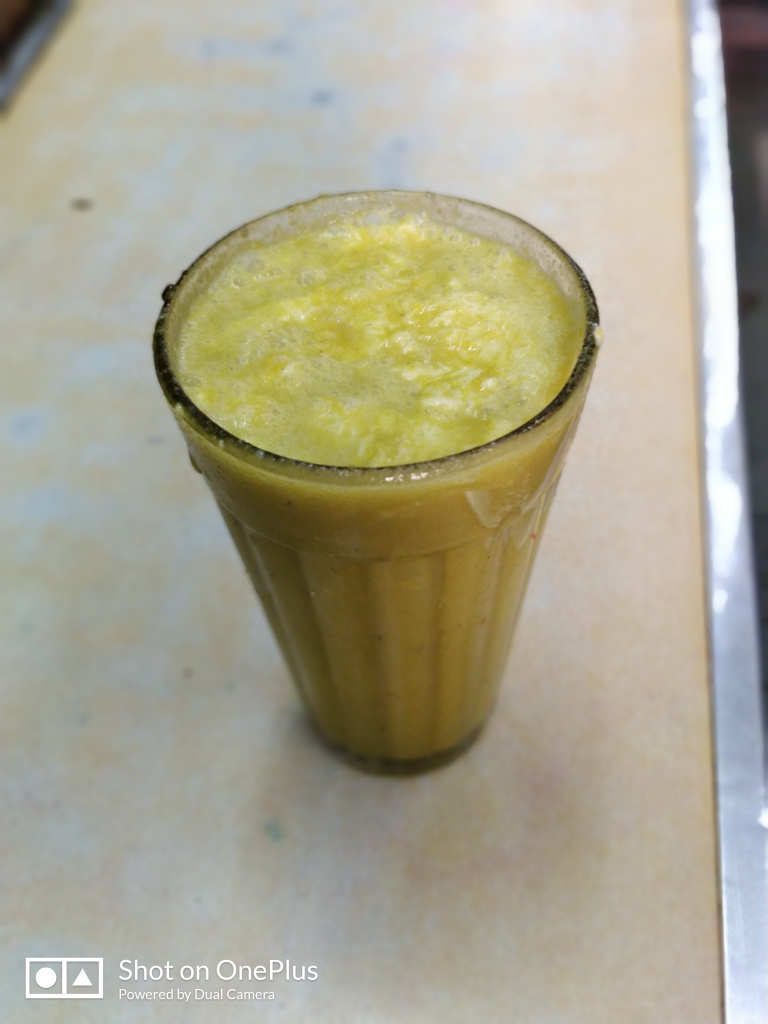 Location - Baba Thandhai, Near Dashashwamedha Ghat, Varanasi.
Malai Gilori, Malaipuri and Malpua
These are some of the sweets which are unique to Varanasi. Malai Gilori is a sweet made of khoya and pistachios which is covered with thick milk cream (also called malai). This is available in a small sweet shop called Rasvanti. The uniqueness of this shop is that the sweet is prepared in open visible to everyone who is visiting the shop. It is one of the oldest sweet shops in Varanasi.
Malaipuri is a sweet which has a thick layer of malai topped with sugar and dry fruits (majorly pistachios). Malpua is like an indian version of pancake. This is made of maida (all purpose flour) and sooji. This is mixed with sugar, cardamom and saffron and then deep fried in pure desi ghee. Deep frying in ghee gives a golden texture to the sweet.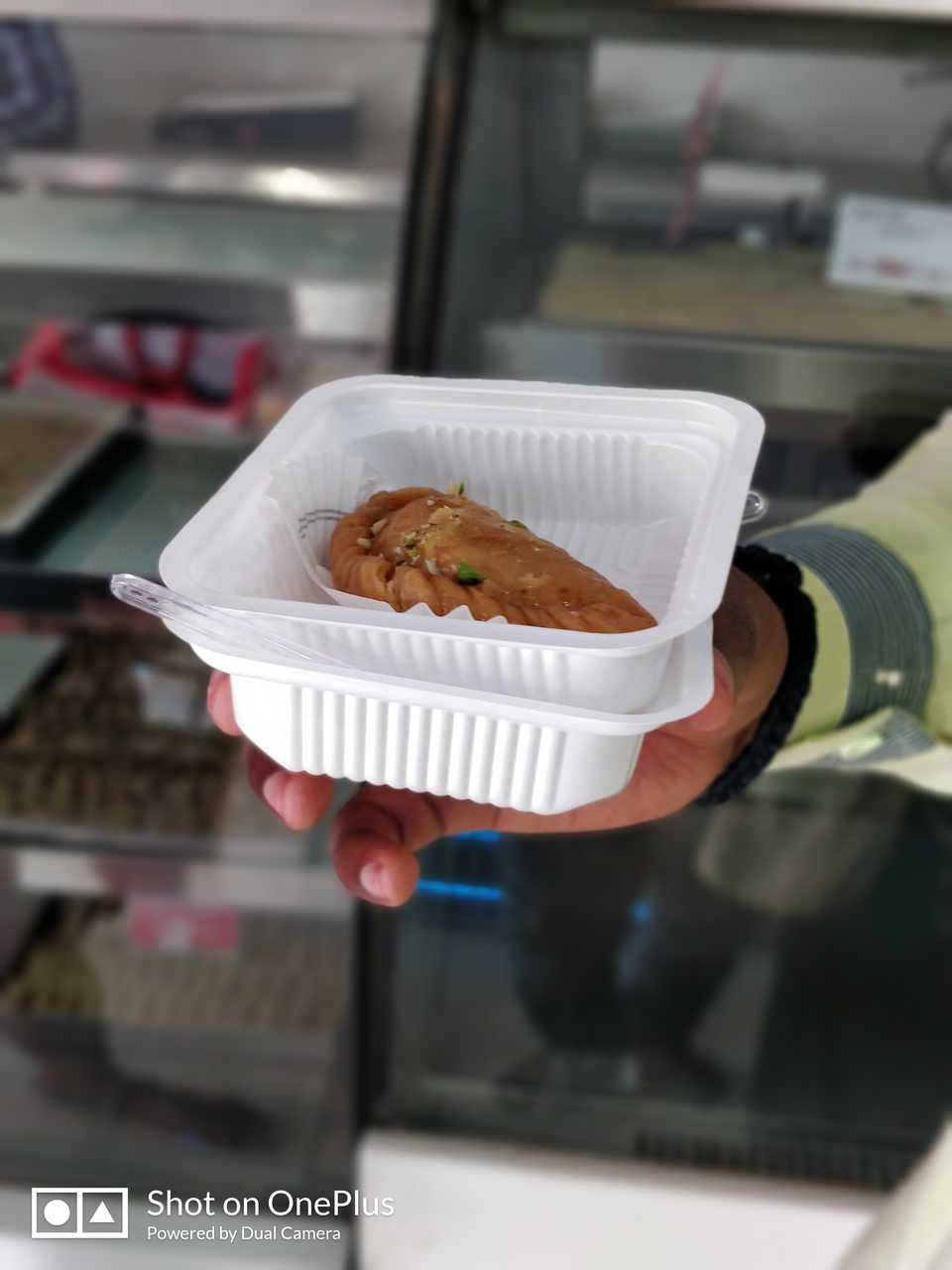 Location - Malai Gilori - Rasvanti, CK 21/24, Sugga Gali, Thatheri Bazar, Varanasi.
Banarasi Paan
In any indian food all ends with paan. This is made of betel leaves mixed with slaked lime (chunna) paste to bind the leaves. In addition to this there are many varieties of paan like sweet paan, kolkata paan and banarasi paan.
There are few secret ingredients (like supari, katta, gulkand etc.) which will be added to this betel leaves which provides a different flavour to the paan. You will find most of the locals chewing paan quite frequently. I have seen people having paan 10-15 times in a day.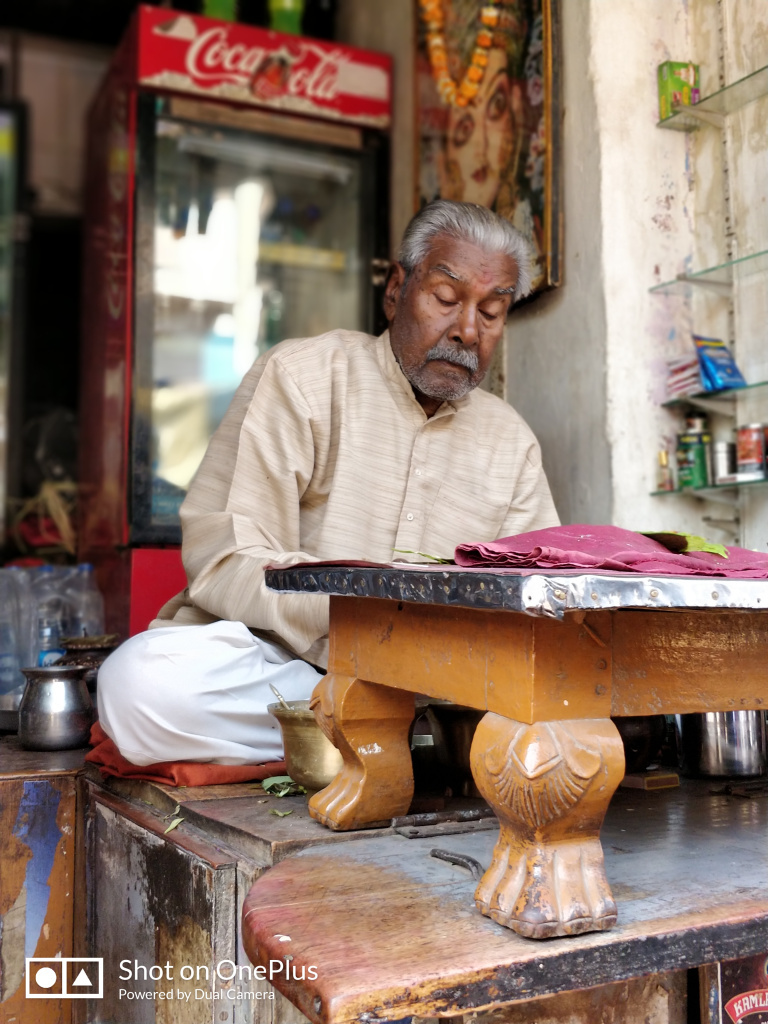 Location - You will get it in many places in Varanasi. The best ones are probably close to Dashashwamedh Ghat.
Missed Malaiyo
Malaiyo is a special sweet drink which is available only during winters in Varanasi. The beauty of this sweet is that the froth formed just melts in your mouth. A smooth froth or foam is formed when the milk is exposed to the dew formed in winters. The foam does not withstand high temperatures and hence authentic Malaiyo is available only in the morning. Hence this sweet is available only in winters.
Saffron, Pistachios and Almonds are added to the milk and served in earthen pots to make the taste even better.
Location - You will find Malaiyo in winter (mid-Nov to mid-Feb) early morning on the roads of Varanasi.