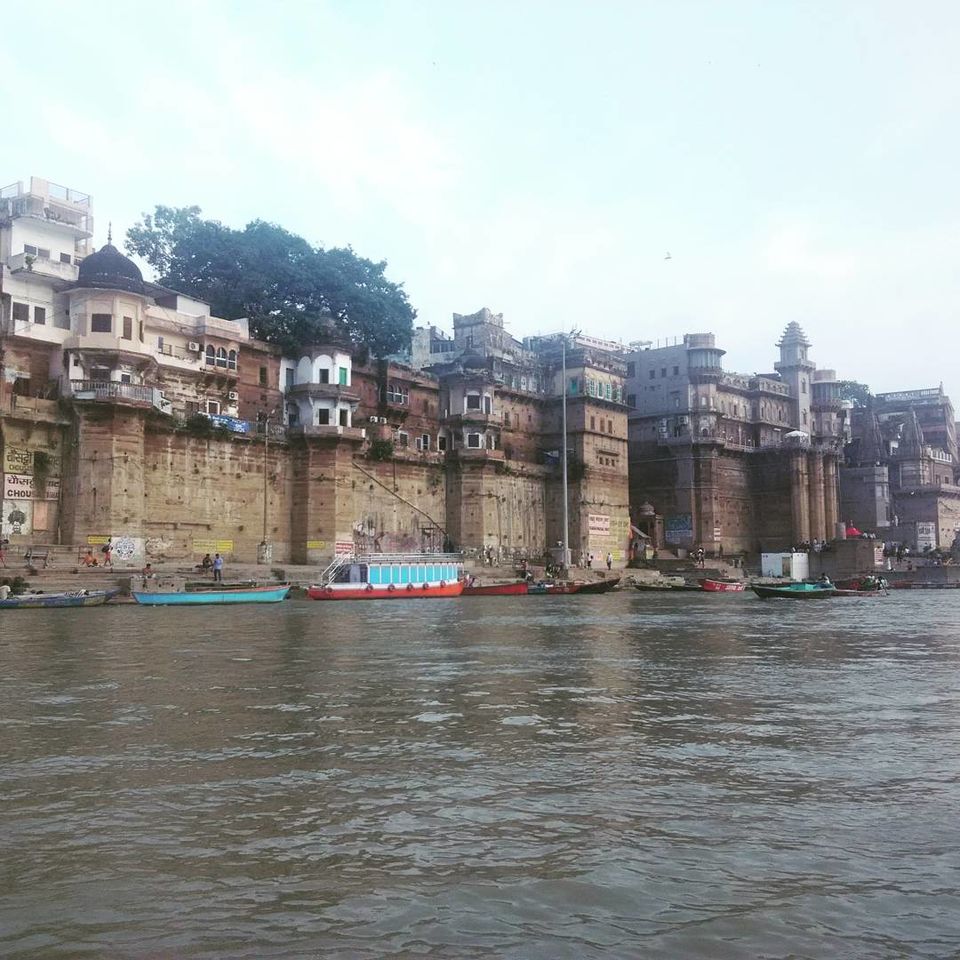 I had joined a new company in September, 2017 and the next month I was asked to visit Varanasi for a research study that we were doing. And I was thrilled.
I knew I will only be able to squeeze in half a day worth of outing for myself, so I opted for a backpackers' hostel instead of a nice hotel. Most of the hostels organize short walks/tours, so I thought staying at one would help me explore the city in the best possible way.
I had some very unique and memorable experiences in Varanasi:-
Shared a dorm with 2 guys: I had not booked my hostel online and when I reached there, the only option available was to stay in a 4-bed mixed dorm where there were 2 Korean guys already staying. Being a 'bhartiya naari', I was a bit hesitant but there was no other option. There were no private rooms available in my hostel; I checked the availability of rooms in another hostel, but there were no rooms available there either. And I did not want to venture out on UP streets at night or stay in some shady hotel nearby. So I agreed staying there for a night and then shifting to a private room the next day.
To the people who know me – I did not agree because of the two Korean guys staying there ;-) (I am a tiny bit obsessed with Korean dramas and actors so as to say)
There would not have been any problem, but the two guys were completely hammered and apparently what is shown on K Dramas came to be true – Koreans drink A LOT and get VERY loud when drunk. I actually had to ask one of the guys to STFU when he continued talking to me while I was trying to sleep. And he did. But I could not sleep properly the whole night.
Which was good, because I had to go for a Sunrise Boat Tour organized by the hostel at 5 in the morning. The tour started from Deshashvemedh Ghat, heading towards south of the river till Harishchandra Ghat going till Manikarnika Ghat and concluded at Deshashvemedh Ghat.
I had Chola-Puri-Jalebi for breakfast at a roadside stall with Pranavi (a 21 year old engineer from Ahmedabad who had come to volunteer at my hostel before her joining the corporate world. It is so great to see young Indians 'travelling' now. How I wish this trend had started during our college days as well.)
Back in the hostel, I met my two 'now' sober roommates (they were in their mid-30s) and they seemed like really sweet and nice people. I spoke to them about my love for Korean Dramas and Movies, Boys before Flowers, EXO, Song Seung Heon, Hyun Bin, Soju and how badly I want to visit South Korea. They were the sweetest to offer me a bottle of Soju they had with them and help me check off one item from my bucket list!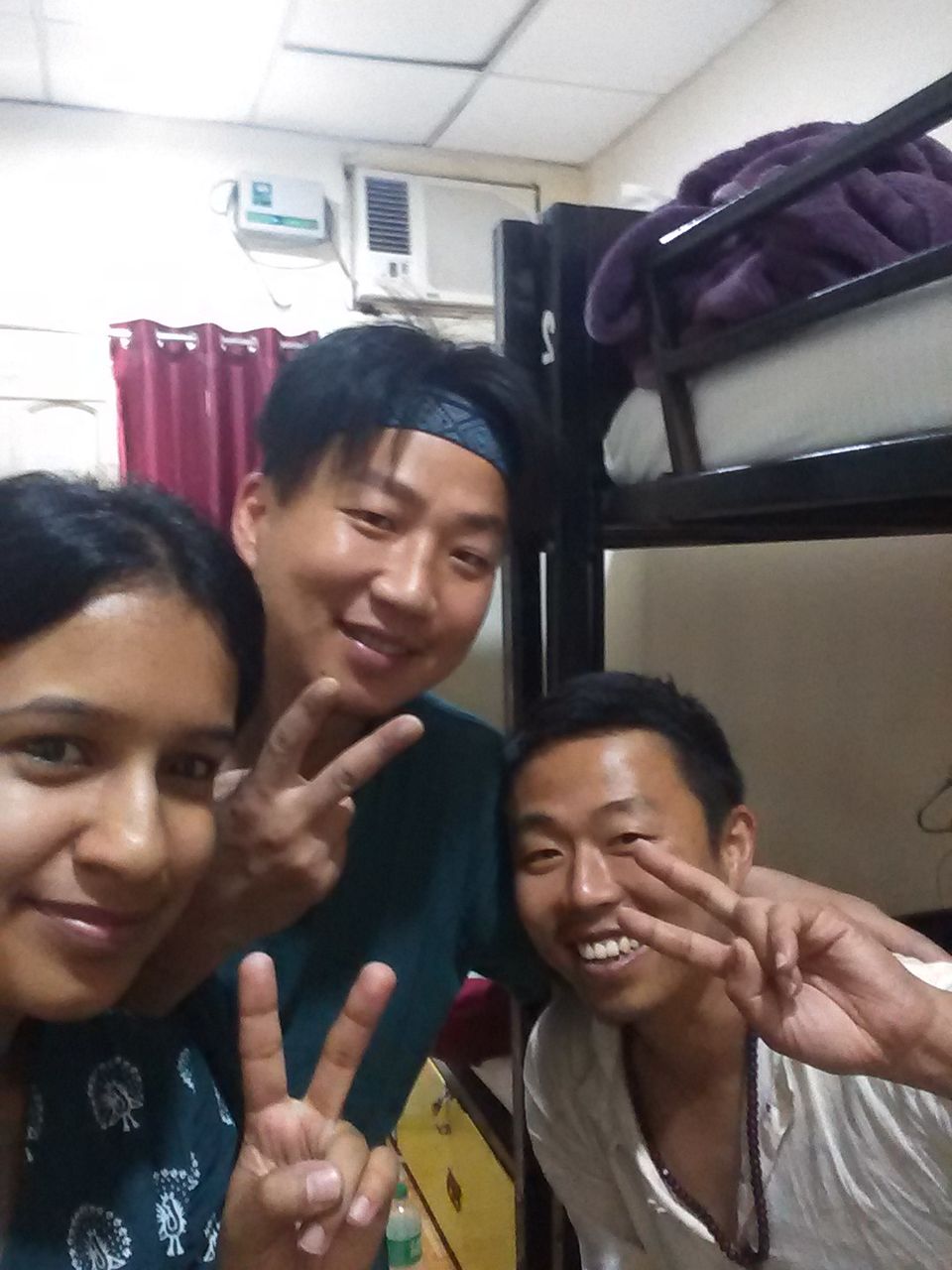 Learnt to play 'Bullshit': The night I reached Varanasi, I went to the hostel cafeteria for dinner. I was sitting by myself looking at my phone when a guy invited me to join the group for a game of cards. Graham (UK), Farhan (Spain), Dave (UK), Justin (USA), a guy from Ireland and I played two rounds of Bullshit. It was very similar to UNO; a fun way to pass time and break the ice between hostel mates.
Developed few opinions: Varanasi is supposedly the oldest living city in the world. Great. But there is nothing really to be proud of. It is chaotic, crowded, the traffic is insane, the living conditions are dangerous (there are loose electrical wires hanging all over the city and I had never seen anything like this before). There is a need to forget about the 'old city charm' and develop the city.
Tourists going to the Manikarnika Ghat to see the burning funeral pyres and taking pictures (in the name of 'spirituality') is something I find insensitive and disrespectful. Indians promoting this kind of dark tourism are to be blamed as well. People can read about it on the internet if they find it fascinating. Period.
Visited one of the most auspicious and holy Jyothirlingas: I navigated my way through throngs of people, autos, rickshaws, scooters, bikes and bicycles in the scorching heat and went to Kashi Vishwanath Temple, in the afternoon. This was my first visit to one of the 12 auspicious Jyothirlingas.
Took a Rickshaw ride: Well, I have obviously traveled in cycle rickshaws many times but the rickshaws in Varanasi are something else. The seats literally have a 90 degree elevation – it is like you are standing. And the narrow lanes and all the traffic and chaos makes the experience nothing less than a roller coaster ride.
Visited Banaras Hindu University: I visited Varanasi in October, 2017 and was advised by few local ladies not to visit BHU Campus as the condition there was still a bit strained after major violence and protests against eve teasing and molestation case had erupted in the campus in September, 2017. However, I really wanted to visit BHU because my dad had graduated from BHU. I visited the campus late at night with my colleague just so I could take a picture of the campus and send it to my dad. He was concerned (and angry) about my safety but I think he was happy seeing the picture as well.
Kashi Chaat Bhandar: Had dinner at the famous Kashi Chaat Bhandar with a colleague. I am a Maharashtrian Chaat fan and prefer Ragda over aloo though.
Tried Soju: After dinner at KCB, I went back to my hostel and joined a group of fellow travelers in the cafeteria. I got talking to an Iranian guy (a Sociology student who was same age as me) and a Russian girl (who had been traveling and 'living' in different countries by herself since a very young age. She had lost count of the number of countries she had lived in!). I mentioned that my Korean roommate had given me a bottle of Soju and proposed that we try it out. Soju is a popular distilled alcohol of Korean origin, traditionally made from rice/wheat. I always found these green bottles fascinating and wanted to try it in a proper pojangmacha (small tented street stall) in South Korea. Traveling to South Korea is yet to happen but I had Soju with the Iranian guy and made that throat clearing 'khhhrrr' sound (just like they do it in the K Dramas).
And, hopefully washed away all my sins.