It is surprising that everyone is moving to photos, instant gratification. The love of writing and reading seems a task now. How do you capture the love affair with Wayanad without getting the poetry out of your head? Cant help it, I loved Wayanad not just with my eyes but also with a little heart and soul <3

Wayanad is a district in the north eastern state of Kerela. What should you expect there? Regular hill station stuff- Yes and No. Yes we have the lush tea estates, paddy fields and view points. No we dont get Momos on the streets and no there ain't any major Mall Road.
To reach Wayanad one can either reach by train or bus to Kozhikode and from there rent a cab for the 3-3.5 hr journey to Wayanad. Wayanad was my first close up experience with the state of Kerela and the first flavor of it I get at the railway station itself. We found multiple taxis but can you talk to multiple drivers? No- There is one cab only and you have to agree to whatever rate he says. After learning it the hard way we agreed to go with him at his quoted price of Rs 4000. Thats Kerela Cartel for you :D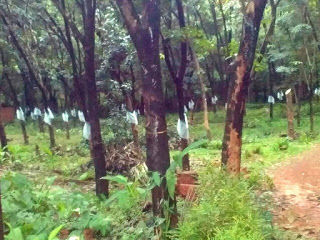 Well okay thats not the right way to start a travel blog. Trust me, from here on everything is simply wow!
On the way we found a number of rubber plantations. Why are all trees covered with plastic you ask? Well it rains/ drizzles in Kerela- the plastic protects the rubber which is slowly getting collected.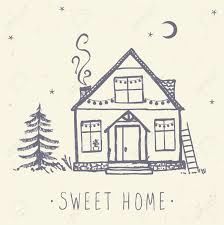 The whole of Wayanad is also covered with beautiful houses. The kind we used to draw in our painting classes - one with the inclined roof, a small garden area, a fragile fence and car parking. I do not know who the prime architect is but I am sure s(he) got inspired with this picture above for almost all the pretty houses.
Day 1:
We stayed at the guest house of the Priyadarshini Tea Estate. The tea estate has a beautiful homely feel to it. We could just walk out, follow any trail and it would be surrounded by greenery and good people. The estate is also home to a lot of tribes in Kerela, unfortunately we were not able to spend much time with them.
After we had settled there and filled ourselves with authentic Kerela Food we go out for our first hike - The Muneeswaran point. We see a lot of people from NCC camping at the top of the tiny hill and decide next time we are camping :)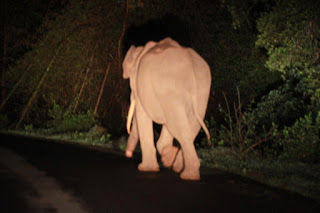 In the night around 10 PM, we go for our first safari in the Tholpetty Wildlife Sanctuary. Well not exactly inside but it seems animals come out to the concrete roads in the night. We spot a lot of elephants, deers, biason etc. I definitely recommend a night safari which is way more thrilling than a regular day one.
Day 2: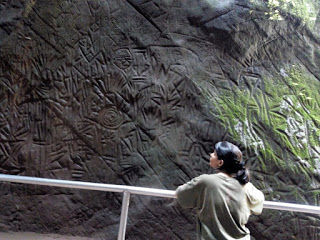 First stop is the Eddakal Caves (which is also my favorite part of the day). Eddakal caves are two natural caves inside which we have pictorial writings believed to date to at least 6,000 BCE, from the Neolithic man dating back to the Stone age. It is exactly like our ancestors trying to talk to us. The symbols are that of a lady carrying water, a tribe chief, the sun and similar other things. I had personally never seen a stone carving before and was too exited to be able to witness this. The caves have a charm of their own taking you back to the days when may be we hid from animals here, created fire and wrote.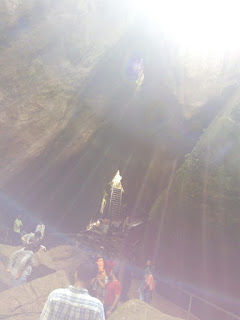 From there we head to the Banasura Sagar Dam. It is the largest earth dam in India and the second largest of its kind in Asia. The Dam has multiple small and big islands of its own. There is a nice one km walk way on the sides of the Dam. There are some good water activities like the stream boat, jet boats, kayaking and water cycling. My favorite was Water Cycling :D It is basically a cycle with huge inflated plastic tyres - mundane and fun <3

Now though I dont want to go and do the safari again but I have a super enthu husband, we go to the Wildlife Sanctuary AGAIN. Do we see any animals - NO apart from the deers of course. Was it worth the time? Yes because we get to see a jungle like a real jungle where trees are growing anywhere/ in anyway without manual interruption. I get to see if nature is left to itself, it will definitely be prettier :)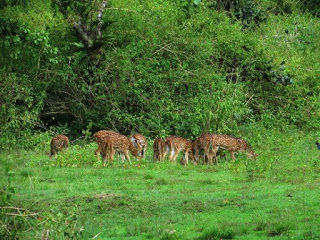 Day 3/ Last Day:
We start our day with a very nice one hour trek. On the way we stop at the Tea Factory of the tea estate itself. Now in all of South India, the tea made is dust tea. An ideal tea leaf bunch when plucked has three or four tea leaves - the centre one will give oolang tea/ white tea, the next level of leaves give the green tea or the dried semi oxidized tea leaves, the next level leaves are used for making dust tea.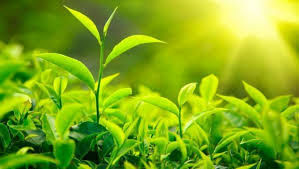 The process of making tea is quite complicated and involves the process of drying the leaves, then cutting them, then tearing them and finally curling them. This process also differs depending on the kind of tea we are making.
Then we continue with the trail. This hike is so amazing, sometimes we see dump of the elephants and get all thrilled that some elephants might be nearby. You do find a lot of leeches though who are dying to suck blood from you - carry salt with you to get rid of these tiny monsters. We end our trail at a beautiful stream whose water is as pure as it can get- Bliss!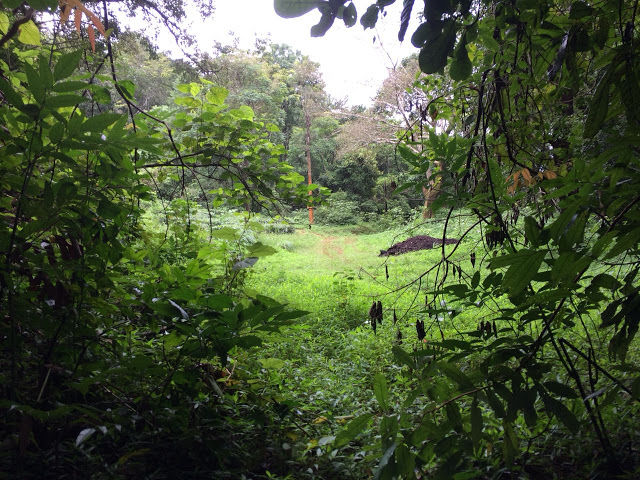 Apart from all the greenery and niceness of the people, there are two other things one should definitely not miss - the banana wrapped masala soaked slow cooked fish and the obsession of the city with lottery :) Amazing to see a state so different and yet so similar.
No of Days : 3
Total Spending per person - 12k
Image Credits - Mine and Google Open Images