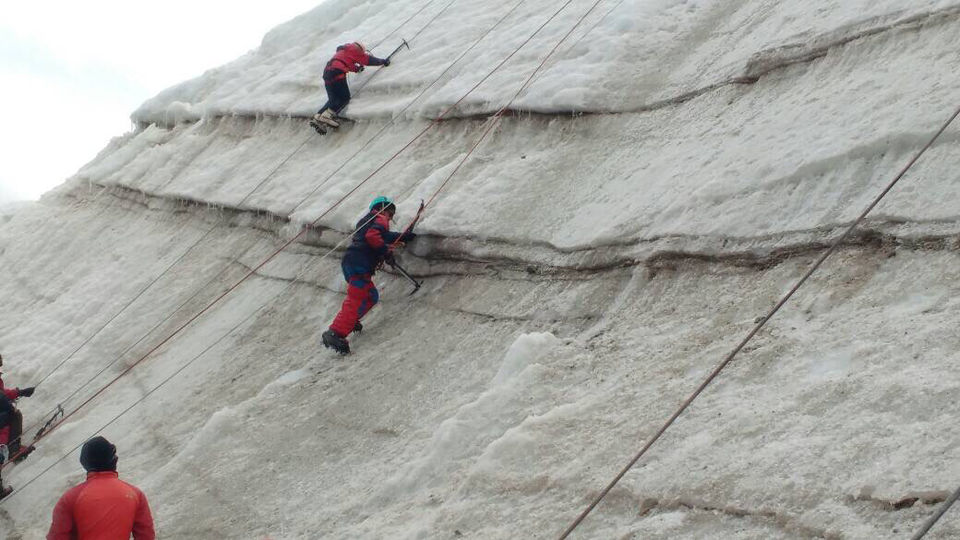 They say that "All things are difficult before they are easy" . And it was time to experience this at The Himalayan Mountaineering Institute Darjeeling where I had gone to get the Basic Mountaineering Training.
Imagine yourself climbing a Himalayan peak, all roped up, walking with a bagpack and an ice-axe with the crampons and snow boots training to climb rock-walls and snow slopes for a month. If this is what you want to experience then Basic Mountaineering Course offered by HMI should be your next destination.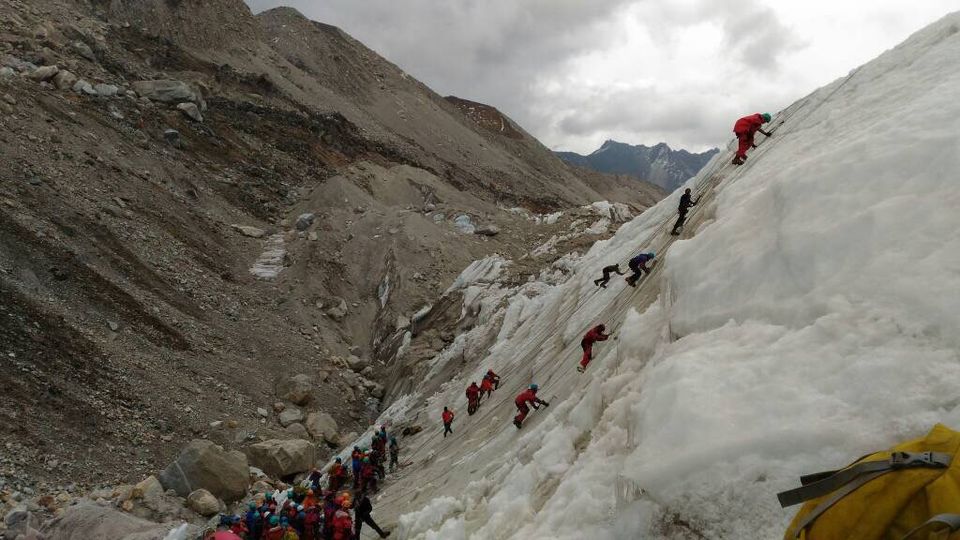 Duration:
This 28 days long course teaches outdoor enthusiasts techniques in rock climbing, snow and ice craft, making you a government certified mountaineer.
Pre- requisites:
You need to be 17yrs or older and have base level fitness as we are made to run 5-8kms every day. Do pushup and crunches. You also need to be able to carry a 15kgs bagpack for 6-8 hours climb during the trek.
Preparation:
If you are not an athlete or a trekker, there are some things you need to prepare yourself for:
Go running every morning for half an hour on ground or uphill depending on your fitness level.
Once a month, you need to trek to a nearby hill with a bagpack of 15 kgs (fill it properly with blankets, books etc. and check proper padding or you'll hurt your back before the course itself).
Do breathing exercises taught during yoga like pranayama.
Check your haemoglobin levels and your BP and other things mentioned in the medical form.
How I Got Through HMI-
It was last year in summers when I decided to do this and filled up the form immediately and got the vacancy for April 2017 mixed batch.
I was told by a lot of people that HMI is one of those mountaineering Institutes in India which has the most difficult trek and training schedule but because I was keen on doing the course asap I decided to go for it keeping aside all the other things in mind.
How To Reach-
By Air- You can take a flight to Bagdogra and from there take a shared cab or auto to Siliguri (would cost around 50 Rs depending on number of people sharing) from where you can take a shared can to Darjeeling (for 130Rs)
By Train- The train will drop you at the New Jal Paiguri (NJP) station from where you can take a shared cab directly to Darjeeling for 150 Rs.
I took a flight from Delhi to Bagdogra And from the airport I was lucky enough to have found someone from the Army who offered me a ride directly to Darjeeling.
Campus-
As I reached HMI I was glad to see the campus which was so green, clean and peaceful. It was like a detox for my mind while I was there.
We were very lucky to have stayed in the new girls hostel which was recently inaugurated and was very clean and comfortable.
The mess was happening with TV there. The campus has a volleyball court and two climbing walls (outdoor and indoor).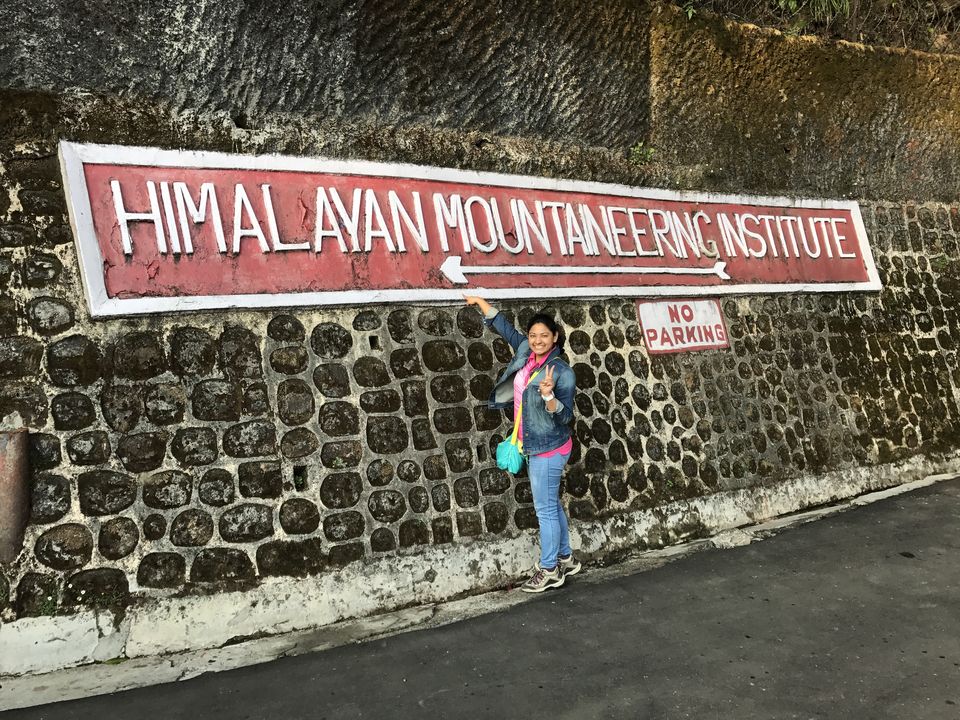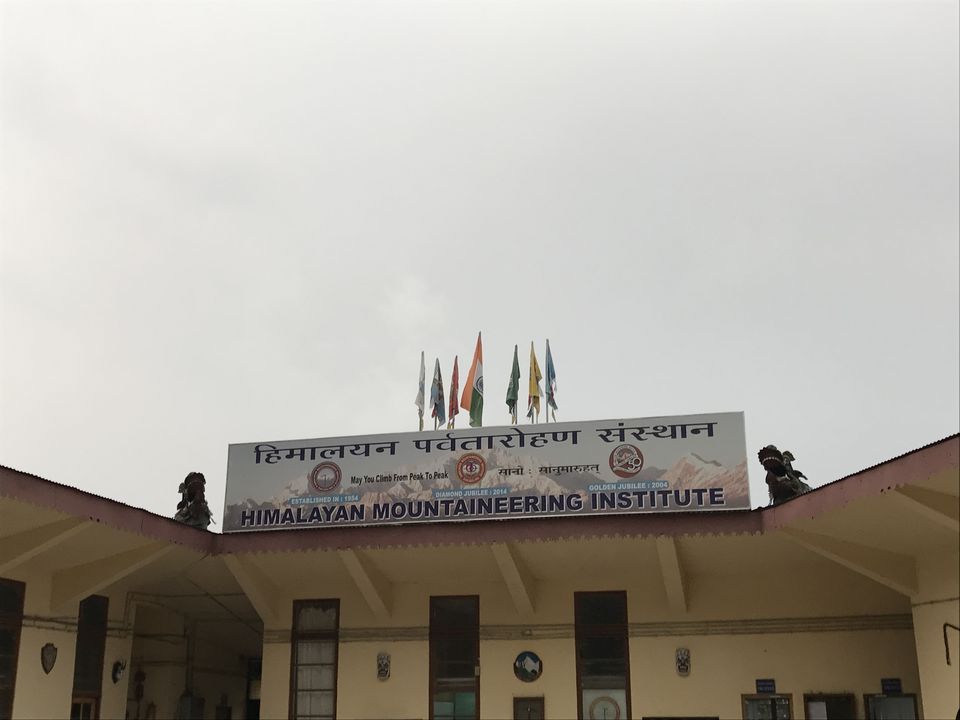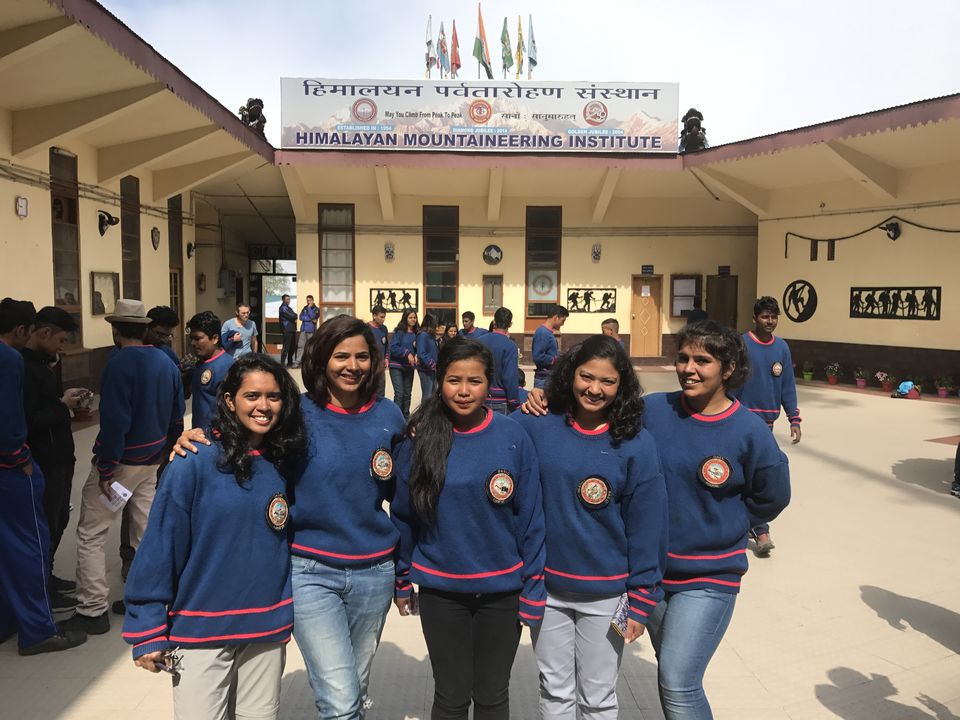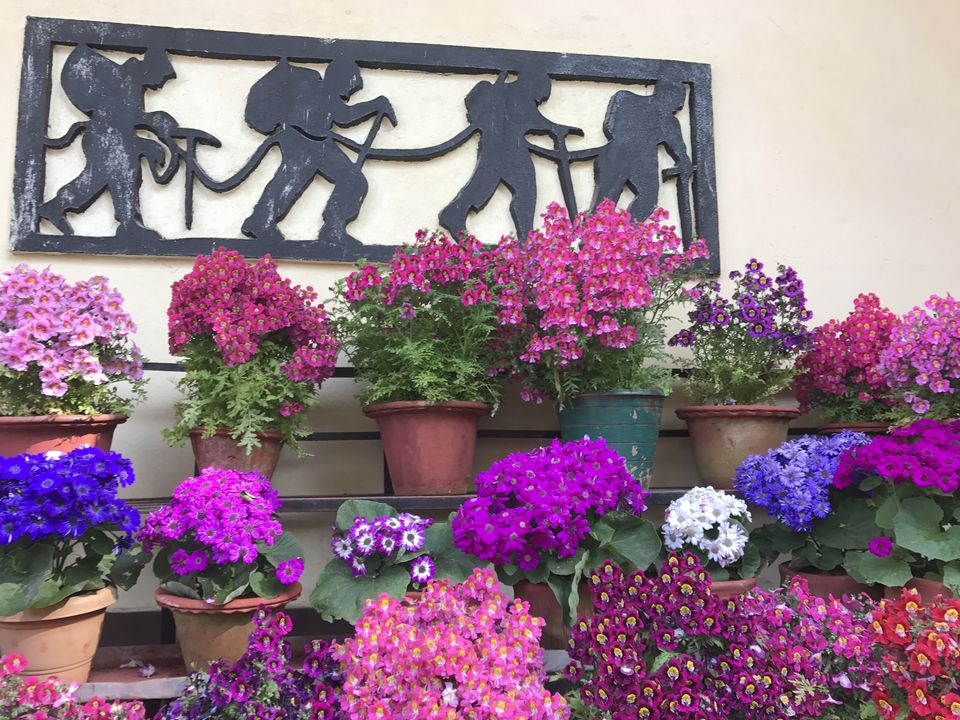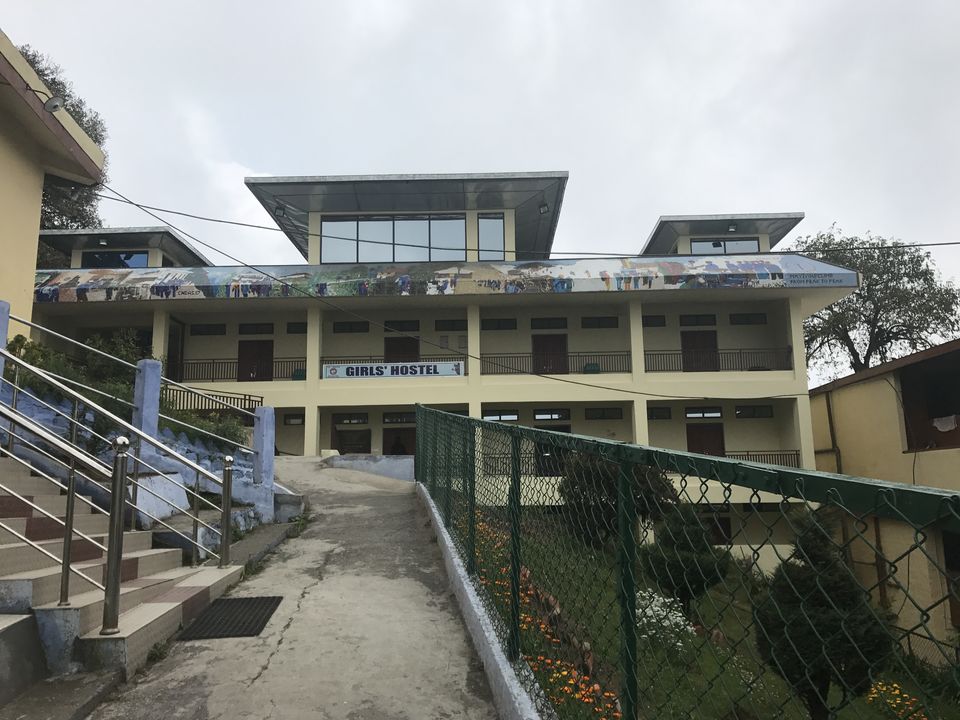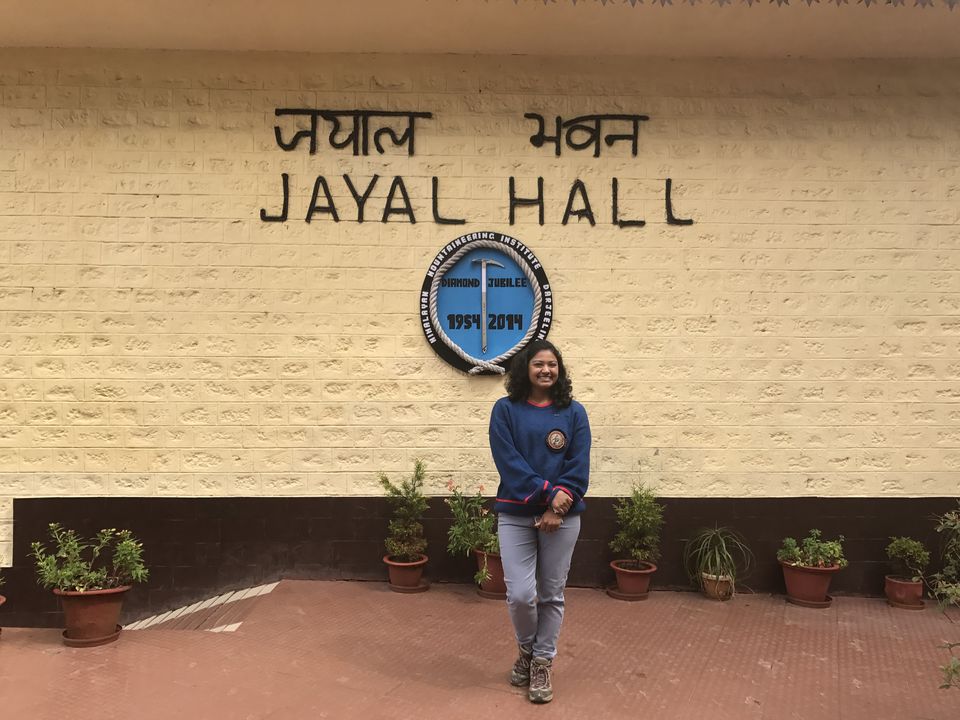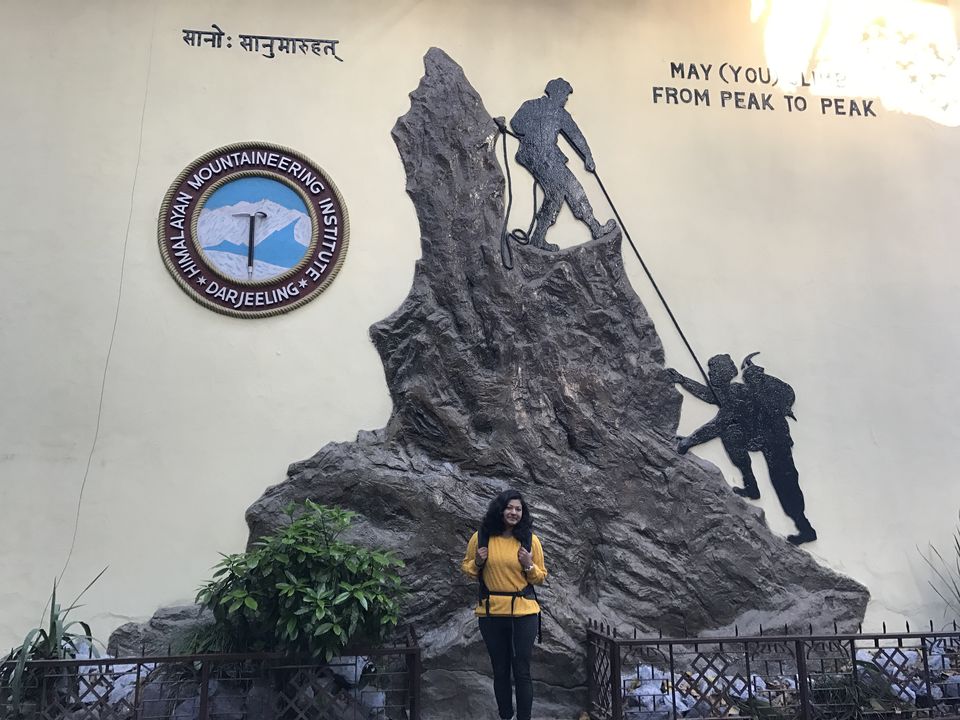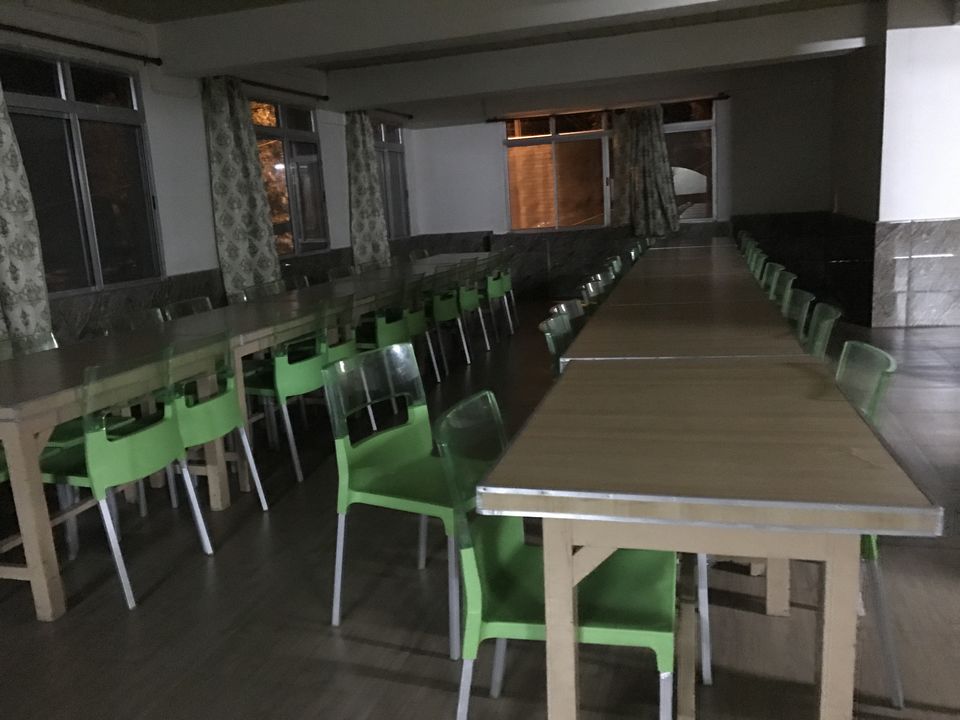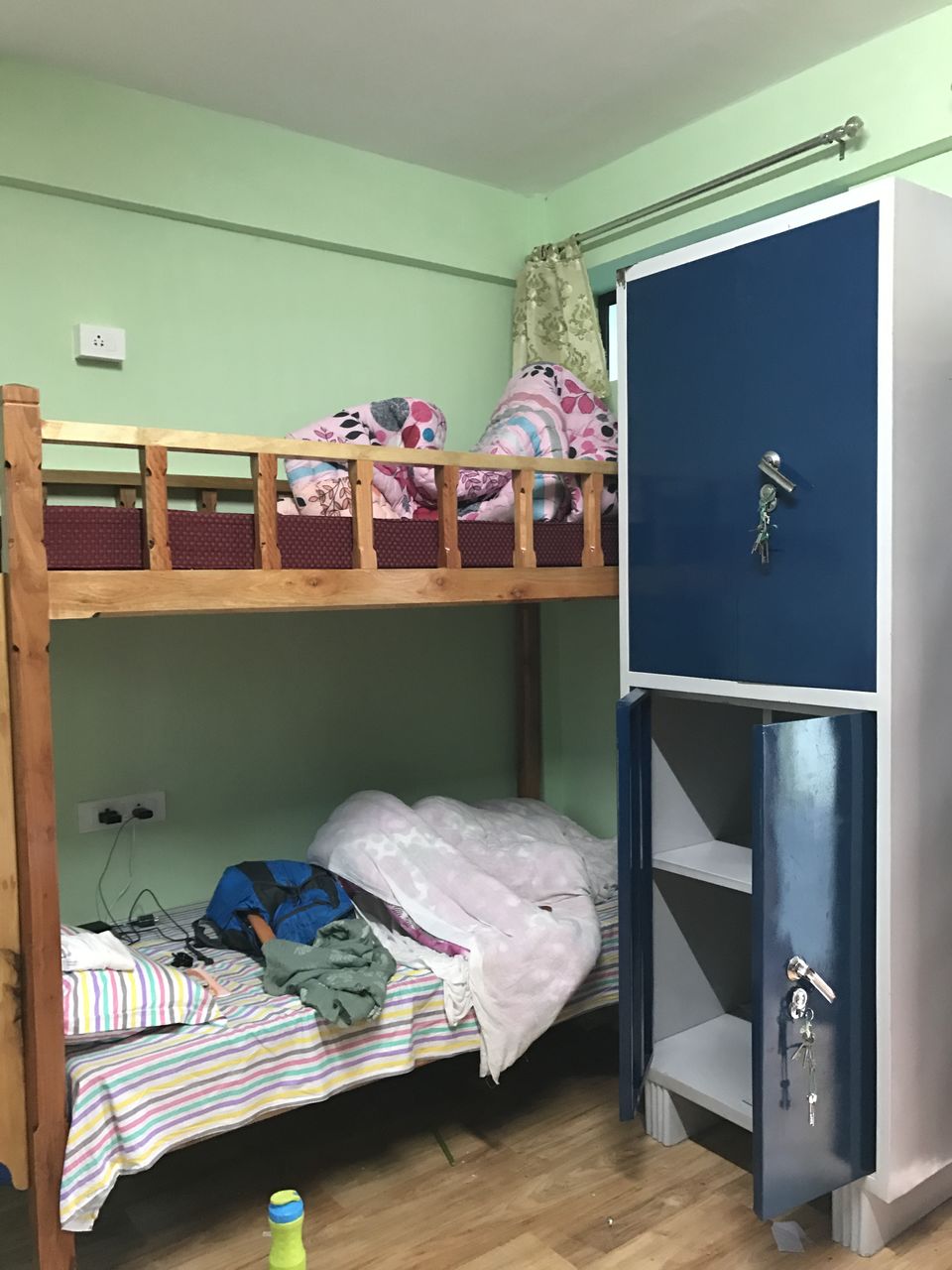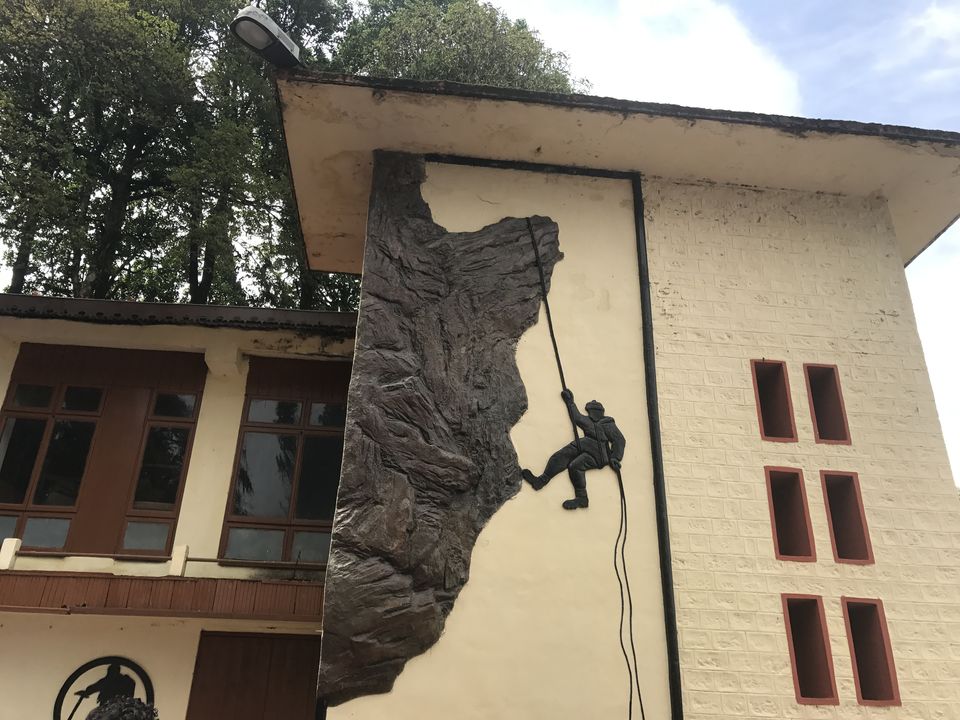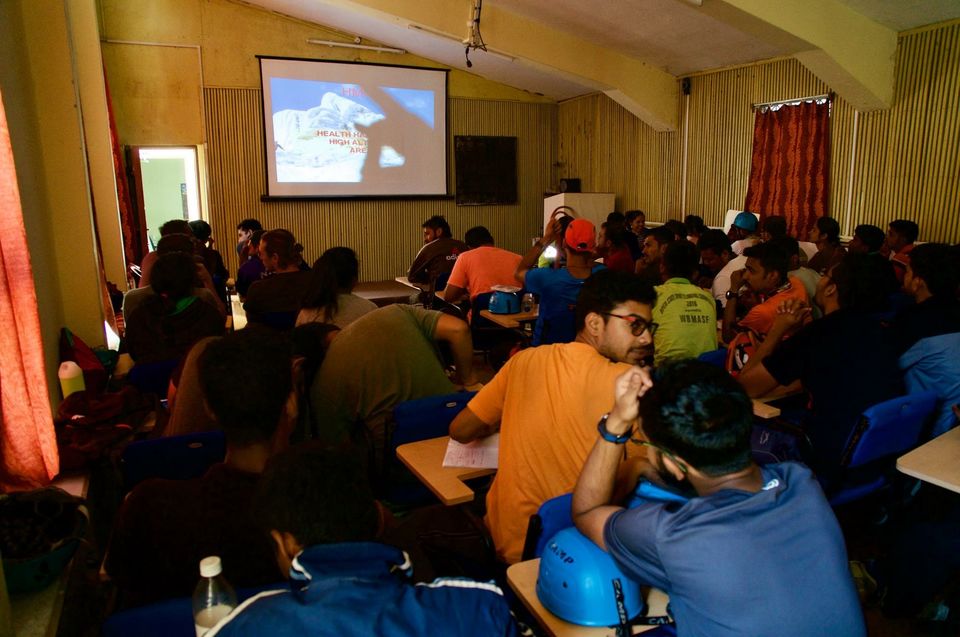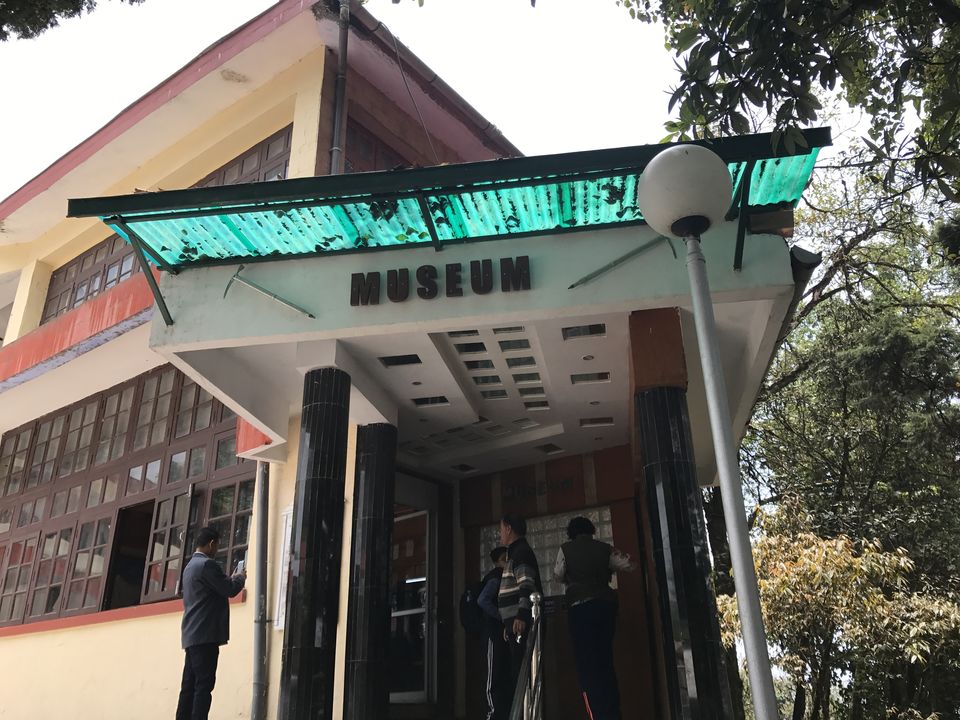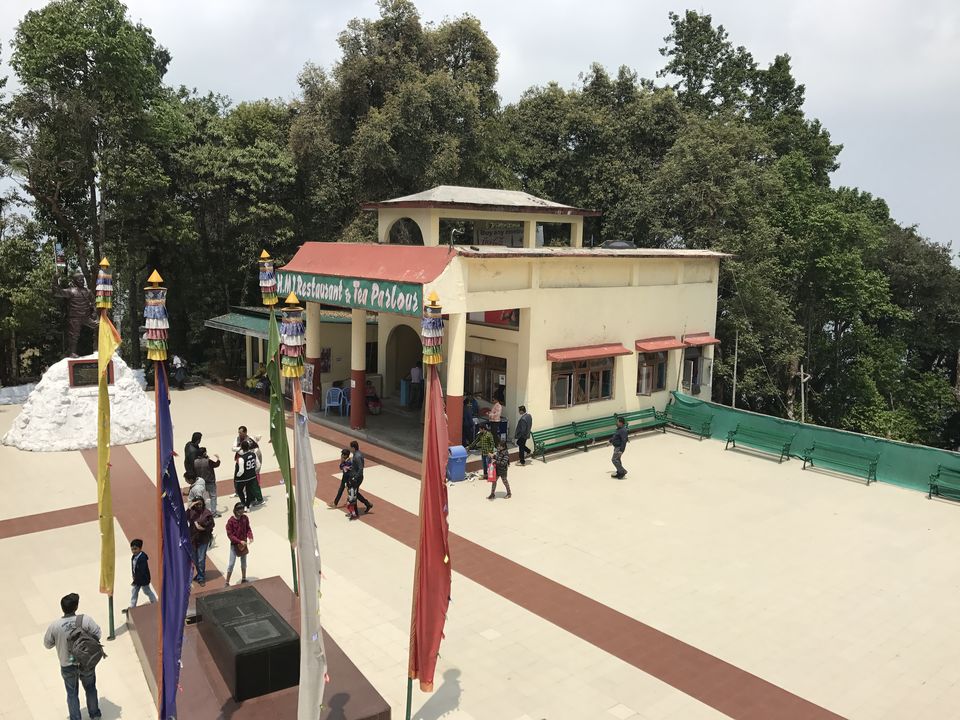 Now let me introduce you to things there:
1 'FALL IN' -means leave everything and assemble into your Ropes as soon as you are asked to.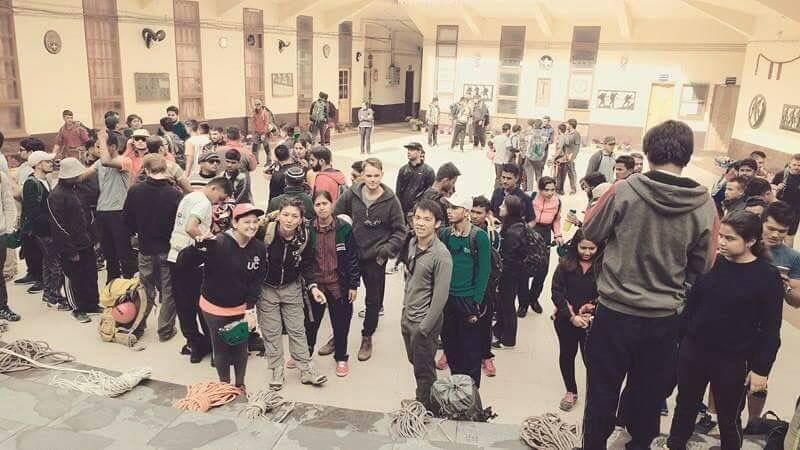 2 'Ropes'- were the groups in which we are divided and sorted. In our batch we had 10 ropes comprising of 8 members each.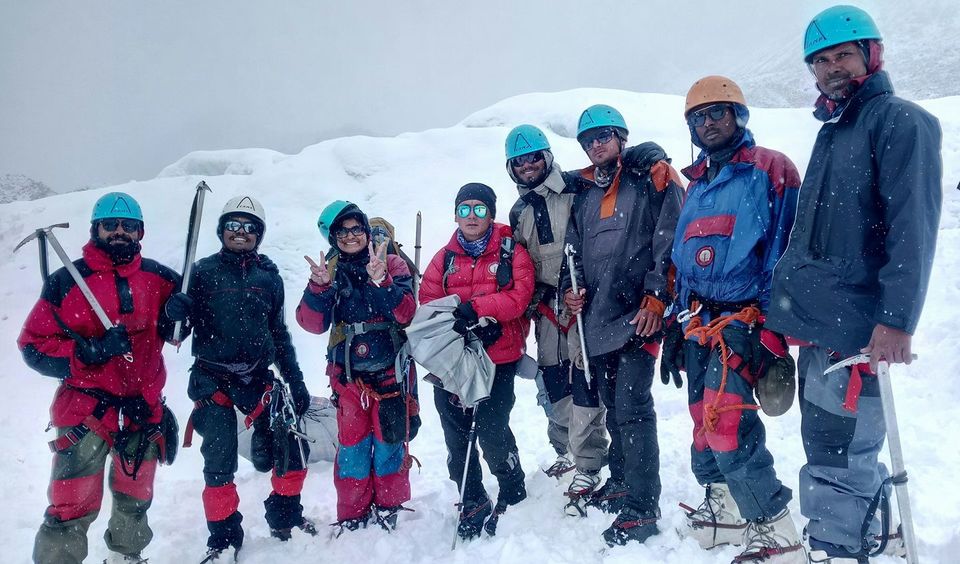 3 'PT- Physical Training' every morning to make us ready for the base camp which compromised of running for 5kms and then some rigorous exercises for thighs, calves and abs. Every alternate day we had Yoga as well.
There were a lot more terms used during our training but I will not make you familiar with those in my blog and suggest you to hear and use them while you train yourself.
Sir.Lakpa Sherpa was our course director and with him we had 10 instructors guiding us.
The Course:
The course is split into following segments:
Rock Craft
Ice Craft
Snow Craft
This 28 days course teaches us right from bagpacking to what to wear in the mountains, how to stay, walking and climbing techniques, map-reading, setting up campsite, weather and climate. In short all the basic things we need to know before heading to mountains are taught there. We were taught the knots and coiling which were of type:
Guideman Knot, Middleman knot, Bowline, Single Fisherman knot, Reef knot, Single/double sheet bend, Figure of eight, Clove hitch, Single/continental rope coiling, Double/universal rope.
Learning knots might sound easy, but trust me it wasn't. I struggled here.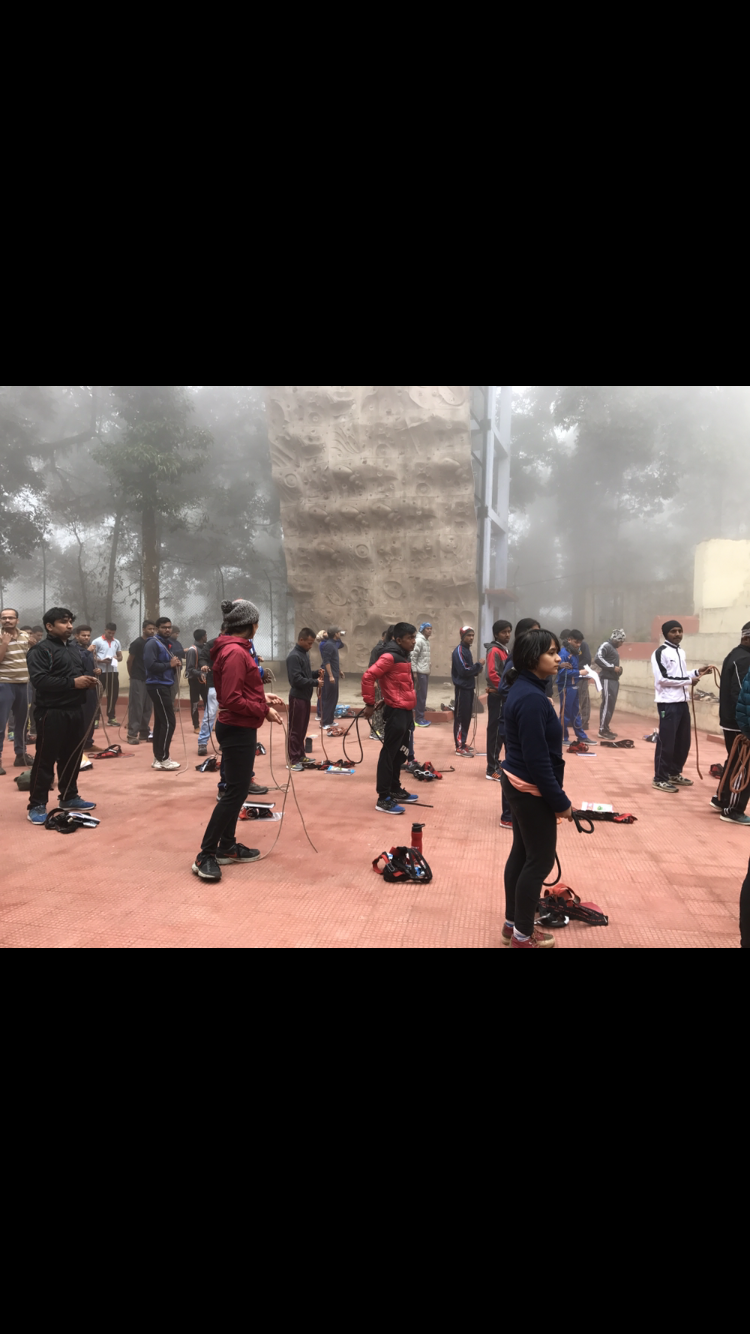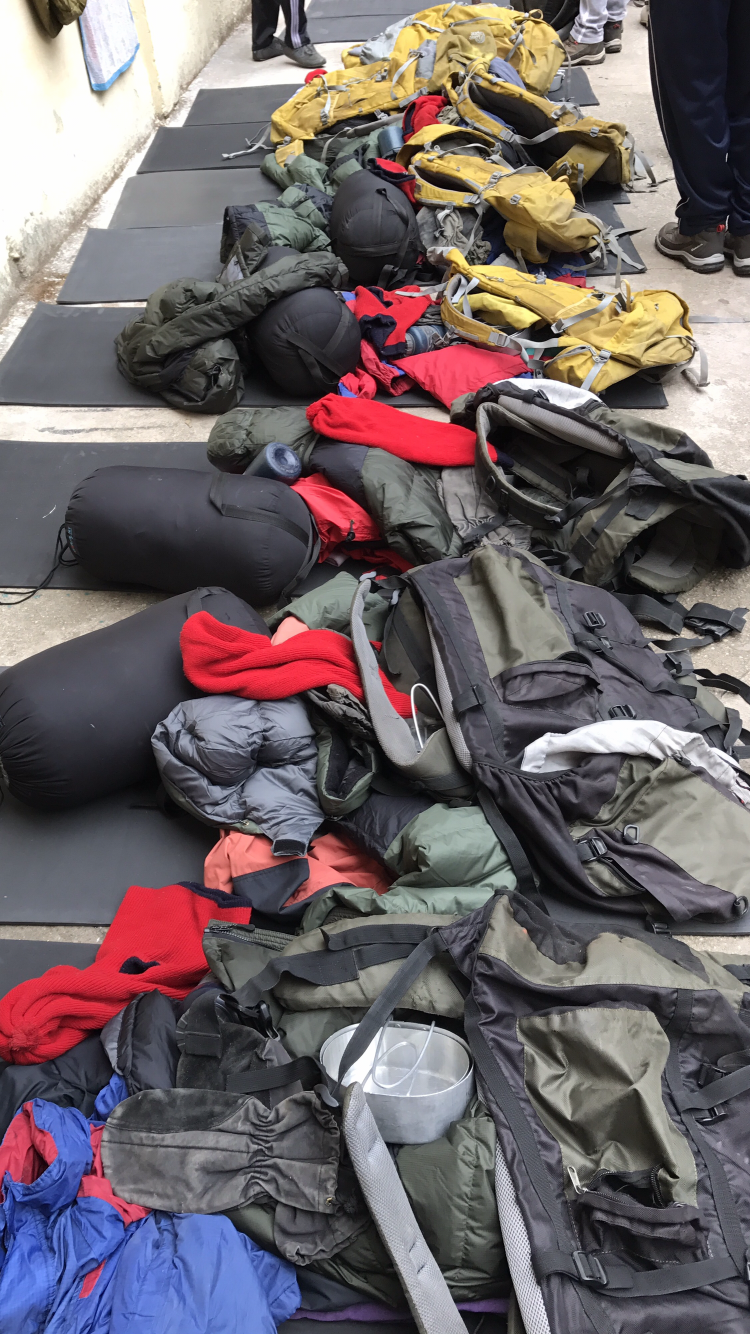 The course schedule before we left for Base Camp:
5:00 am- Wake up tea
6:00am-PT
7:30am-Breakfast
8:20am-Fall in for classes or Rock Craft Training
1:00pm-Lunch
2:00pm- Fall in for lecture or training
7:00opm- Dinner
Food:
Drinking water – Drinking water is boiled and is provided at every meal. You have to bring your water bottle to have it refilled each time and for each day's activities.
Breakfast – Bread with butter and jam. Egg for non veg and Potato/Chana for veg with Tea.
Lunch – roti (flat bread), dal (lentils in a sort of broth), sabji (curried vegetables either cauliflower, potatoes or legumes. Sometimes these are mixed.), curried chicken or mutton and fruit salad
Dinner – roti (flat bread), dal (lentils in a sort of broth), sabji (curried vegetables either cauliflower, potatoes or legumes.
Chai – Chai or tea is served almost thrice a day with Parle G biscuits once a day.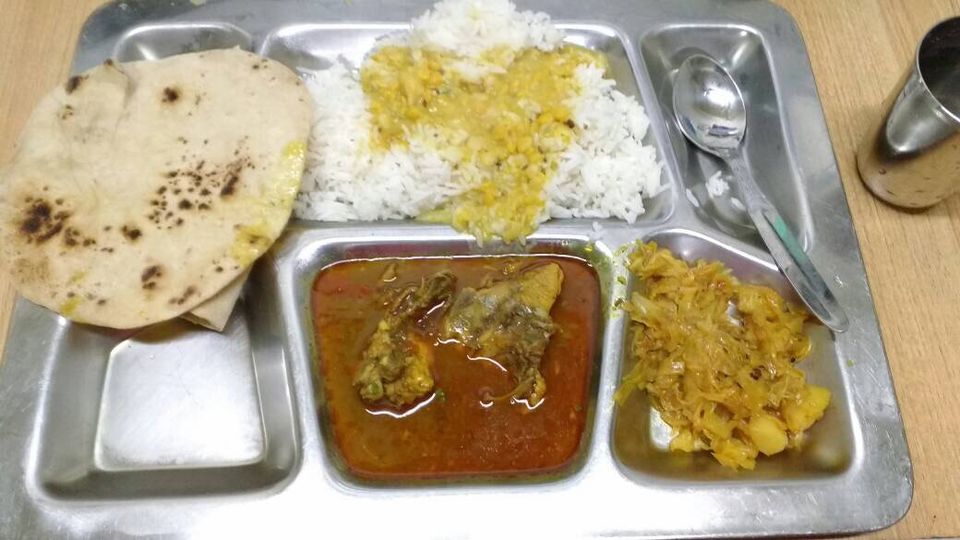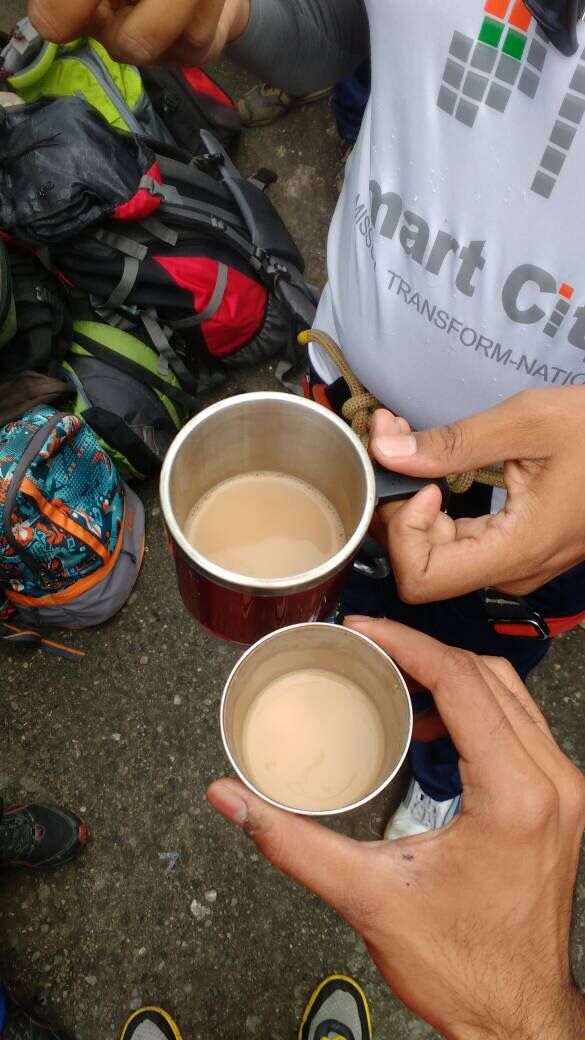 Important things to note:
You are being watched for your fitness and behavior throughout the course and the grading depends on that. If you get 'A' Grade in your certificate, then only you will be eligible to do Advance Mountaineering Course. Otherwise you will have to repeat the course.
Rock Craft:
We had our rock craft training at the Tenzing Rock which was about 20 minutes from the HMI campus. Where we were taught:
1: Rock Climbing- How to use different types of holds.
2:Chimney Climbing
3;Rappeling- Different types of rappel.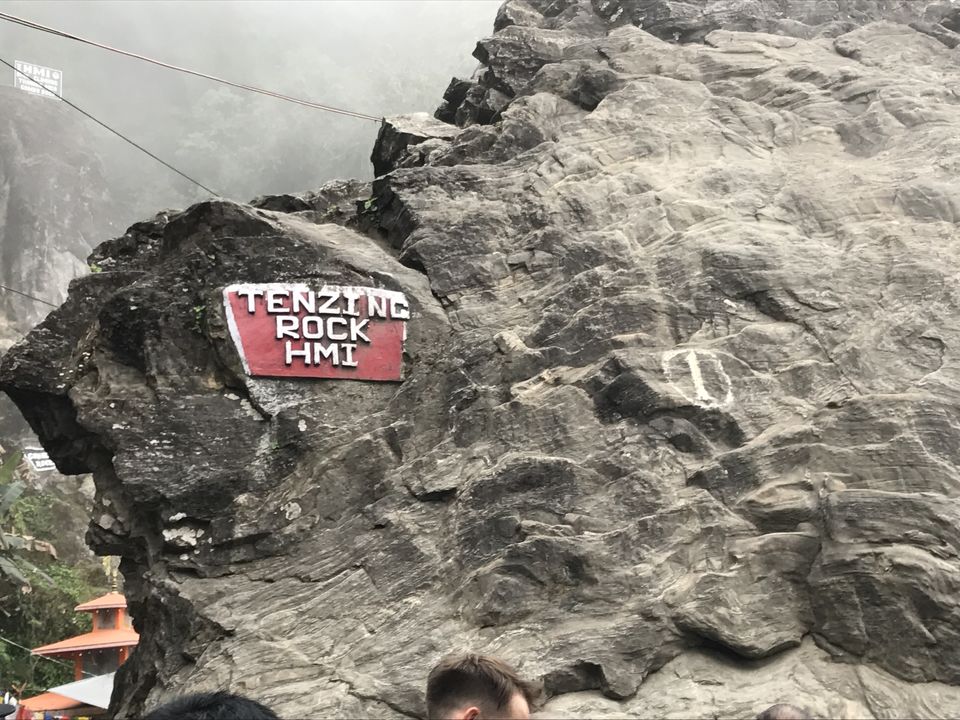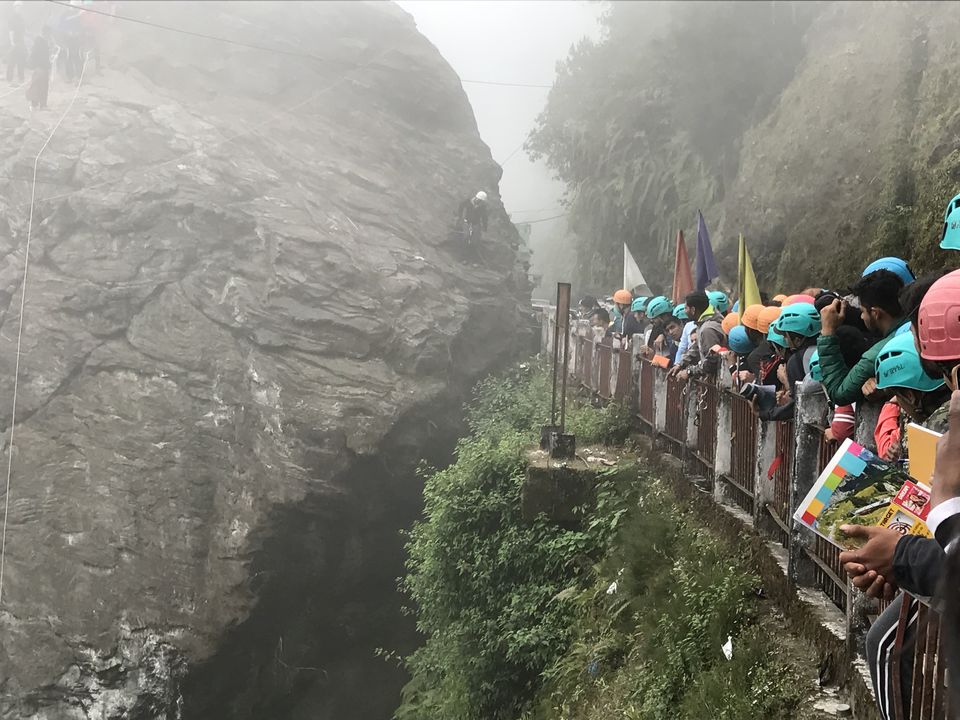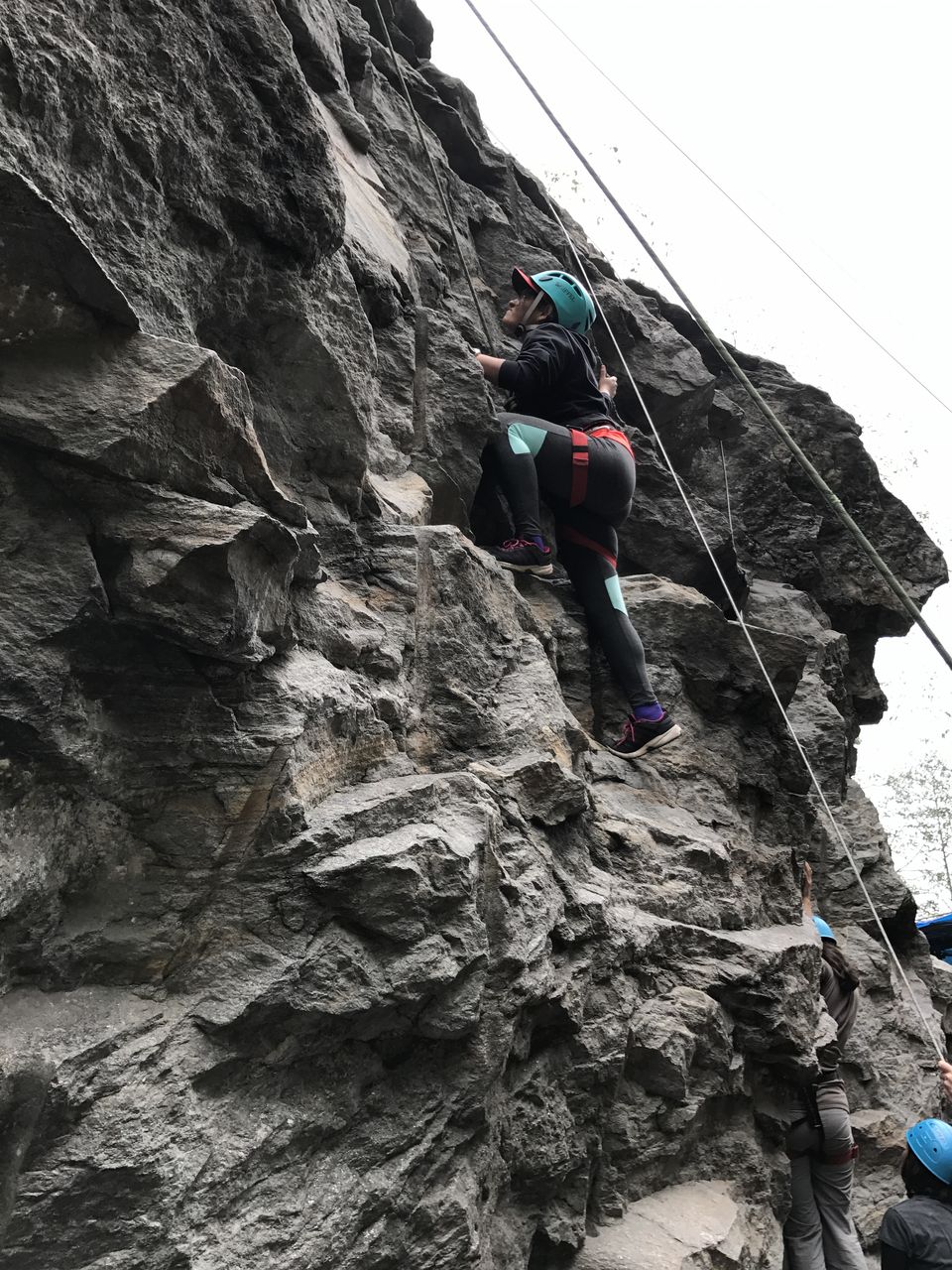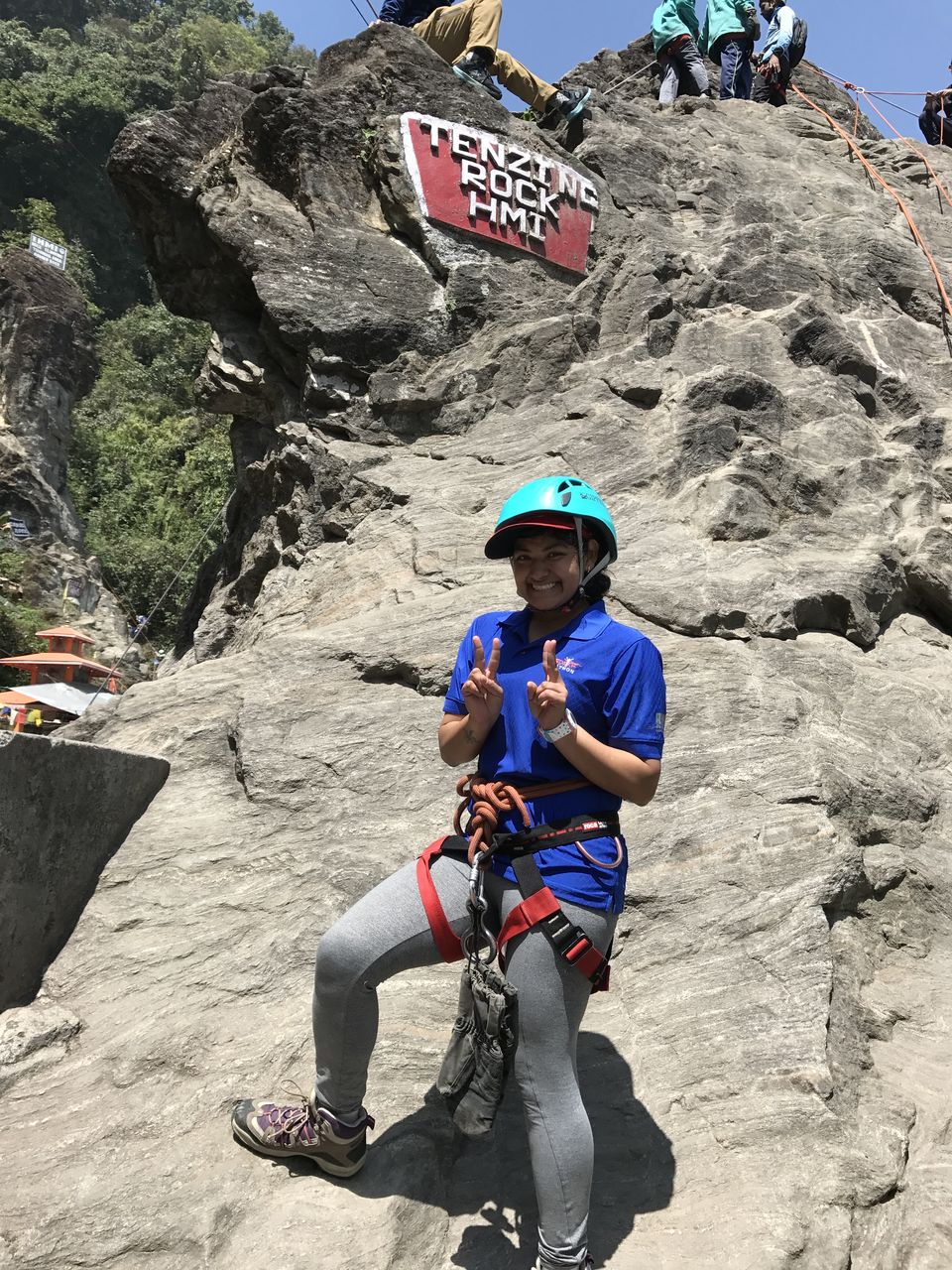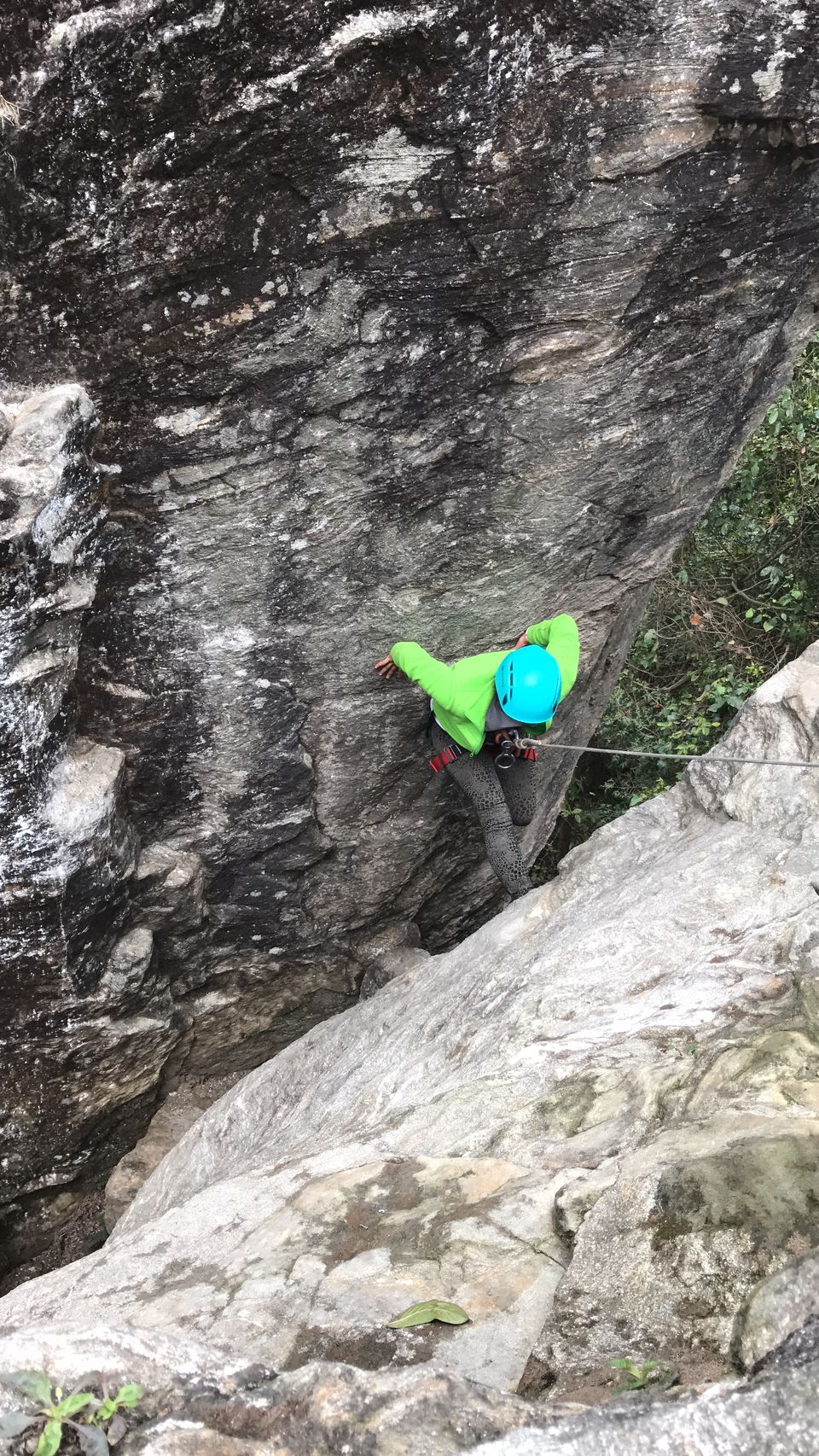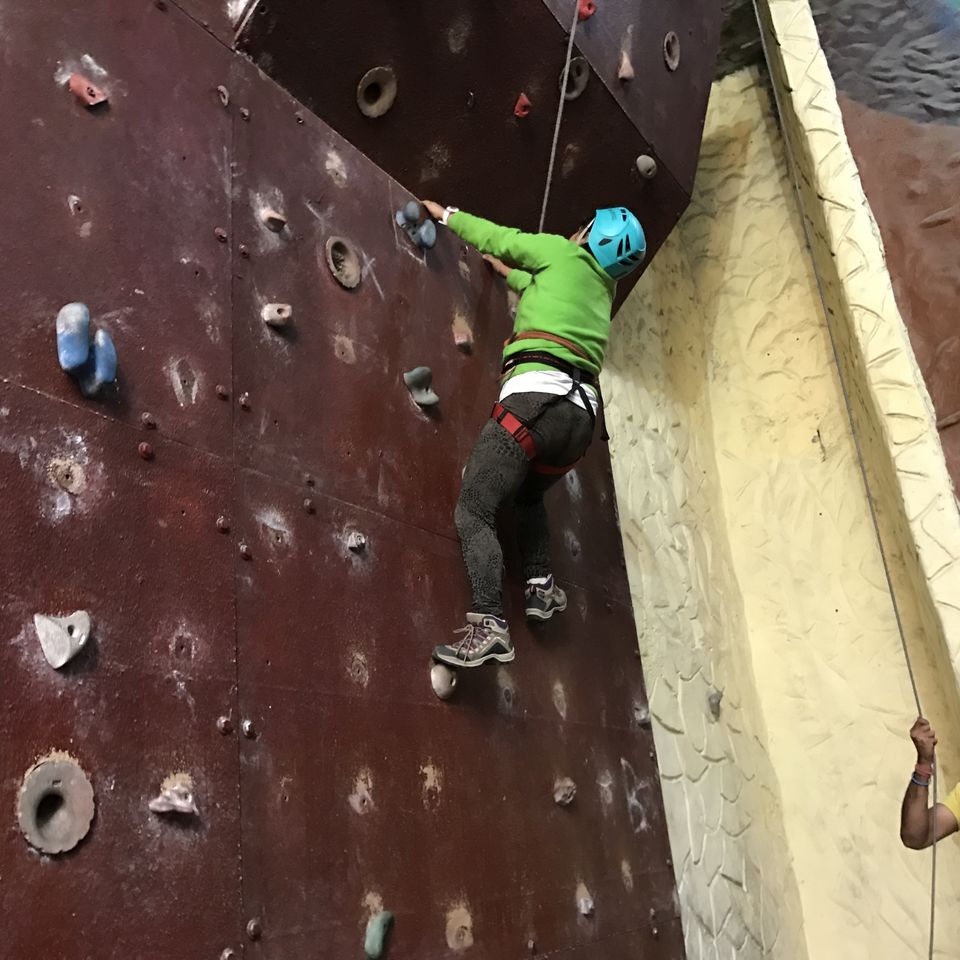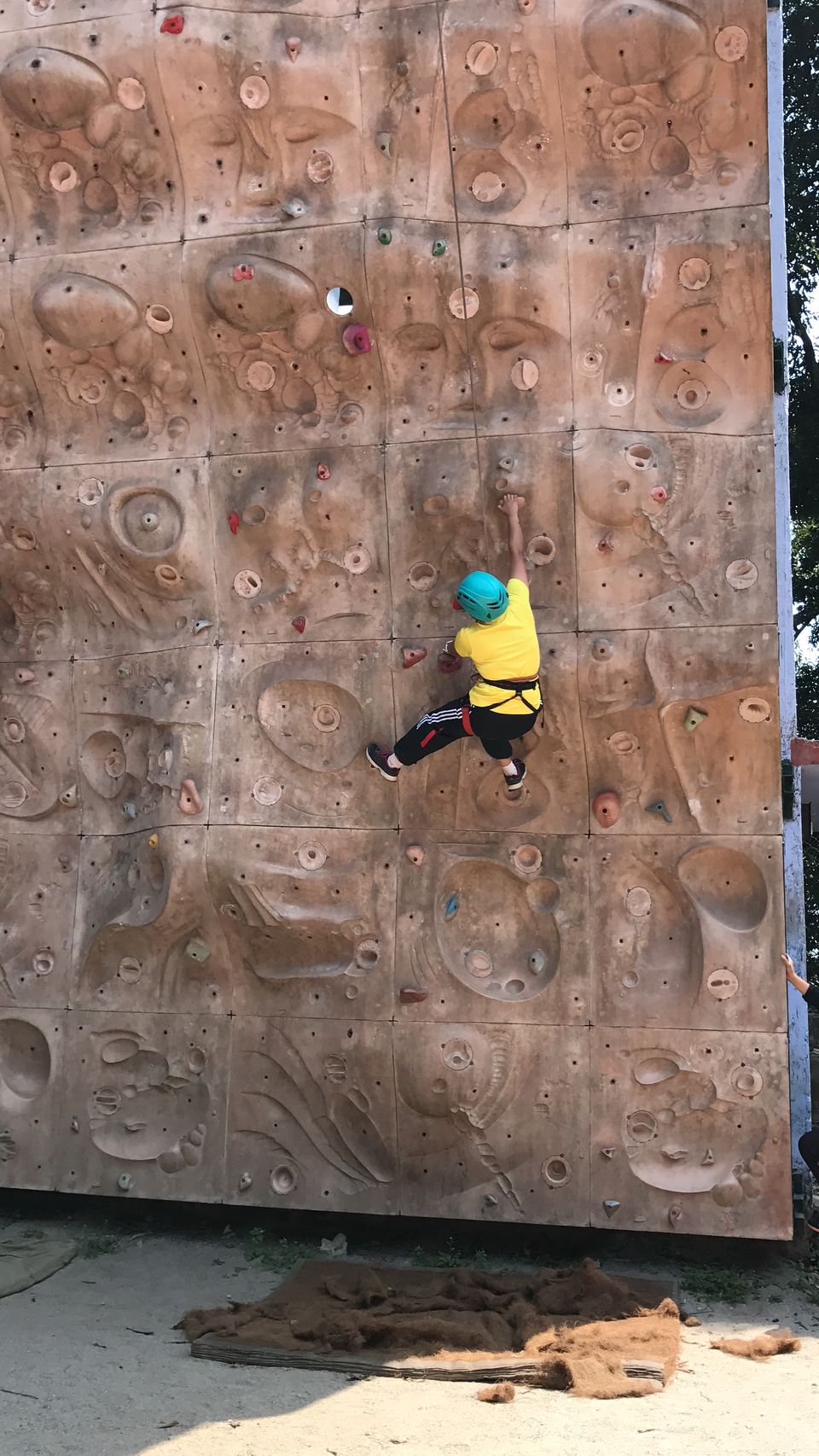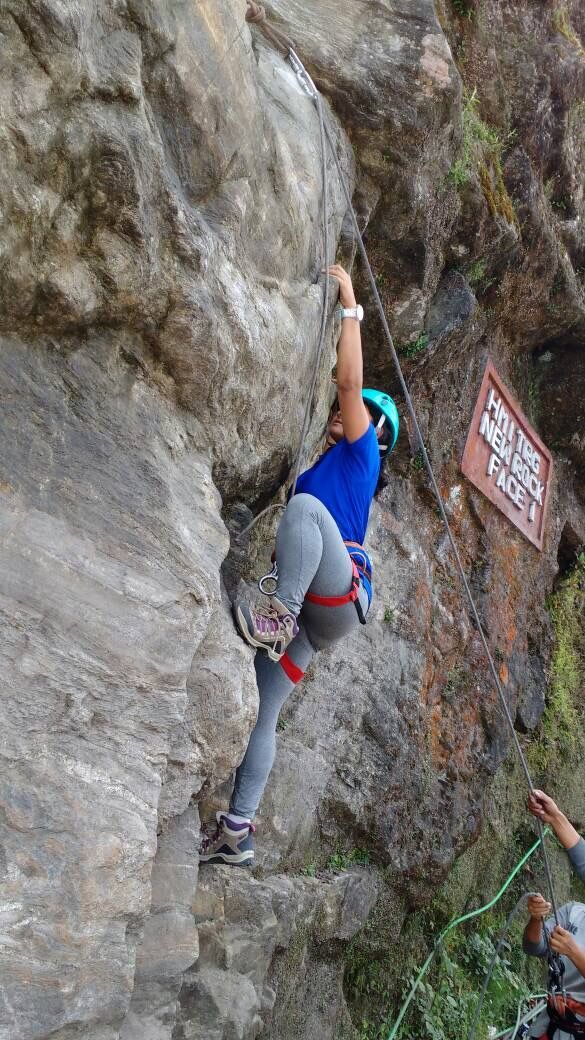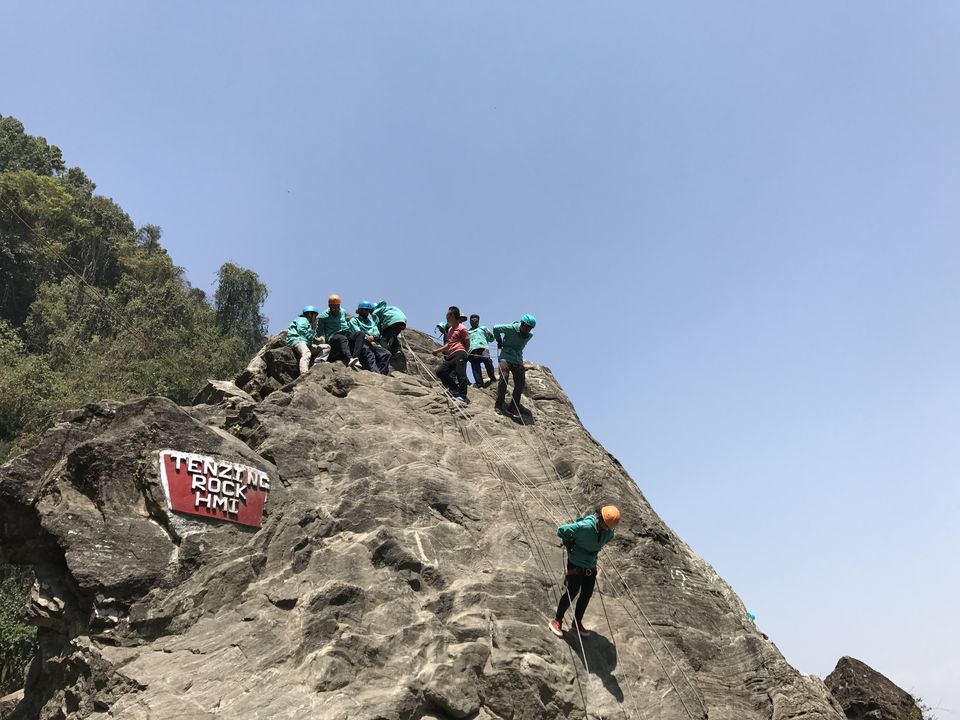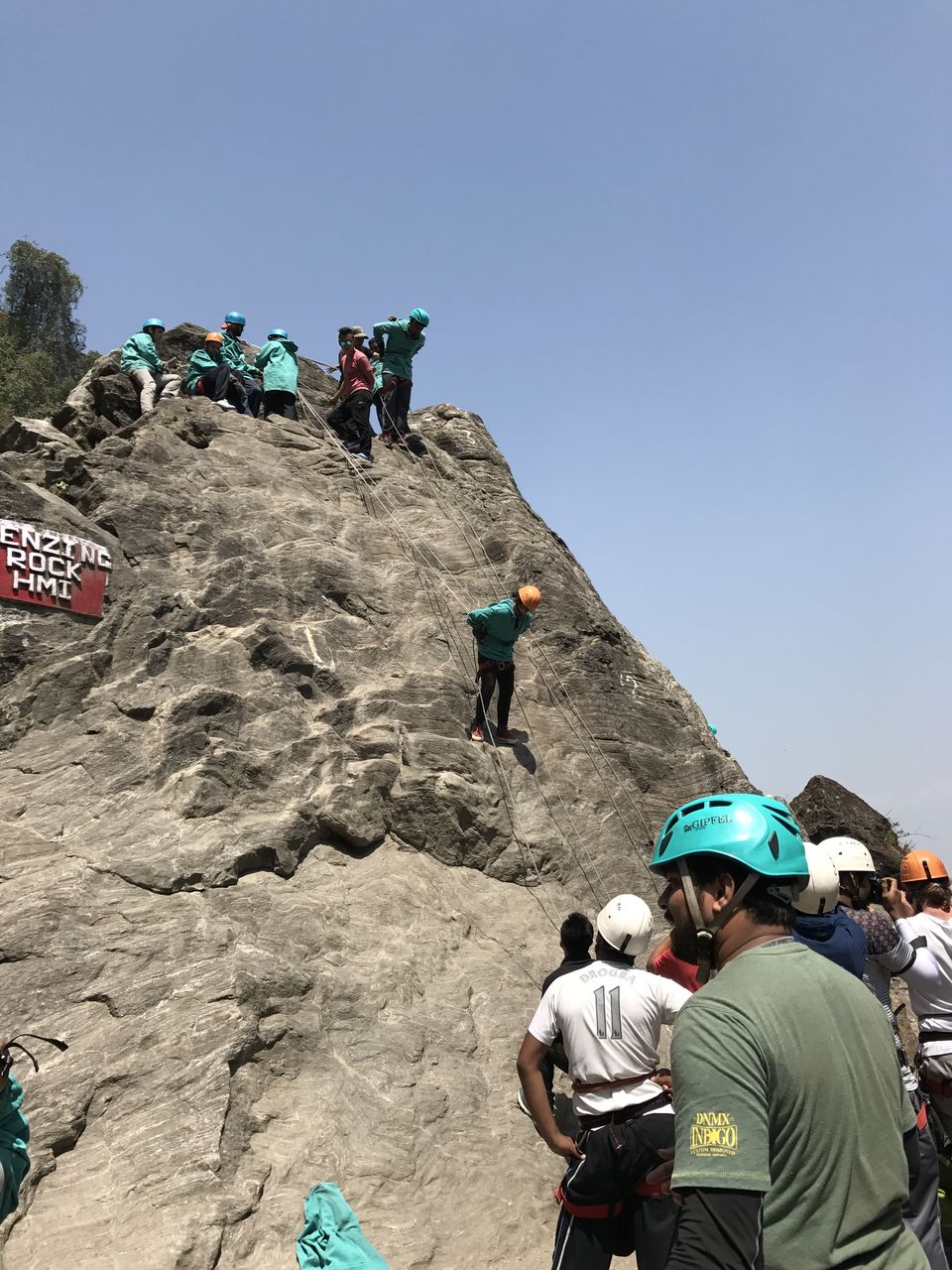 Base Camp:
In the Himalayan Mountaineering Institutes basic course base camp is where the real mountaineering training begins.
Base camp is what the Himalayan Mountaineering Institute's basic course is all about. After an arduous 5 days trek, when you finally arrive at base camp which is at 14600 ft, its go time. Here is where the technical training truly begins. While at base camp mountaineering skills are developed in the field on Rathong glacier 5000m above sea level and among the peaks in West Sikkim's Himalayan range.
The trek that takes us to the base camp is called the Dzongri Trek and we go through the Dzongri Pass (14600 ft) for that. The base camp is at Chaurikhang .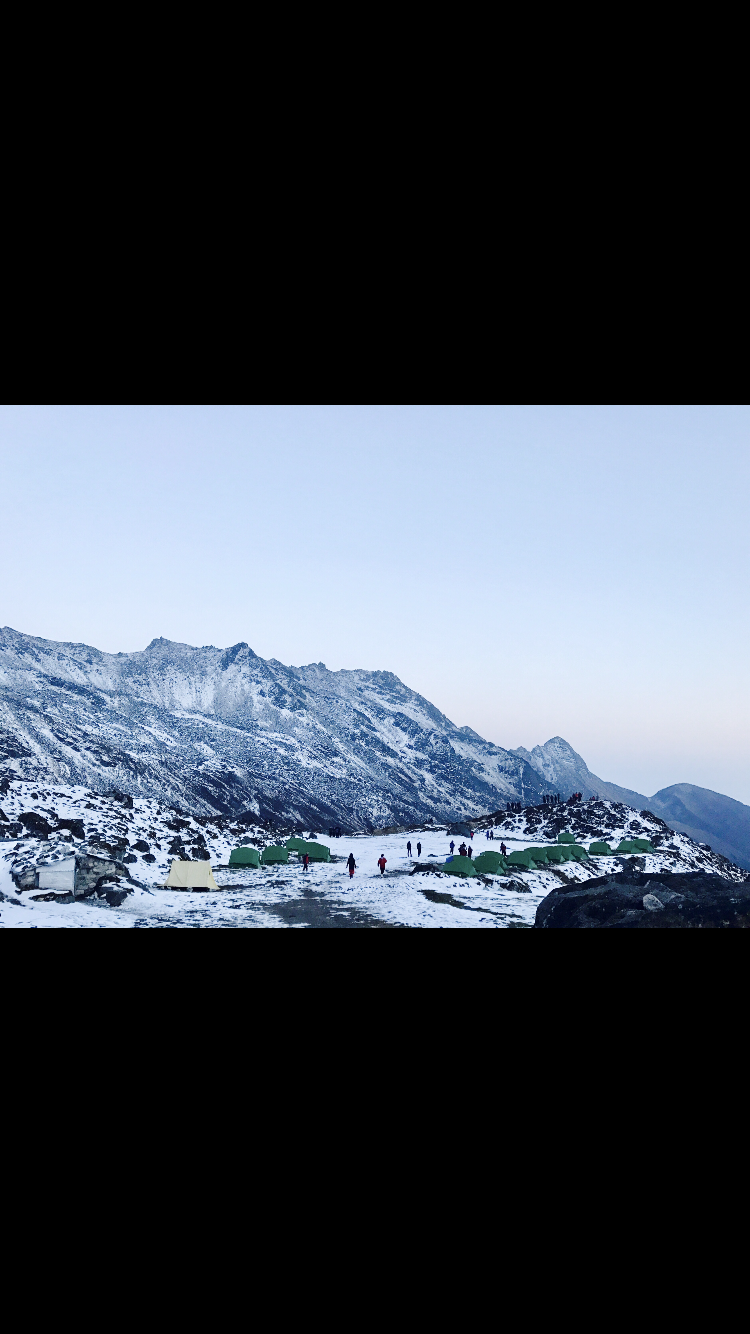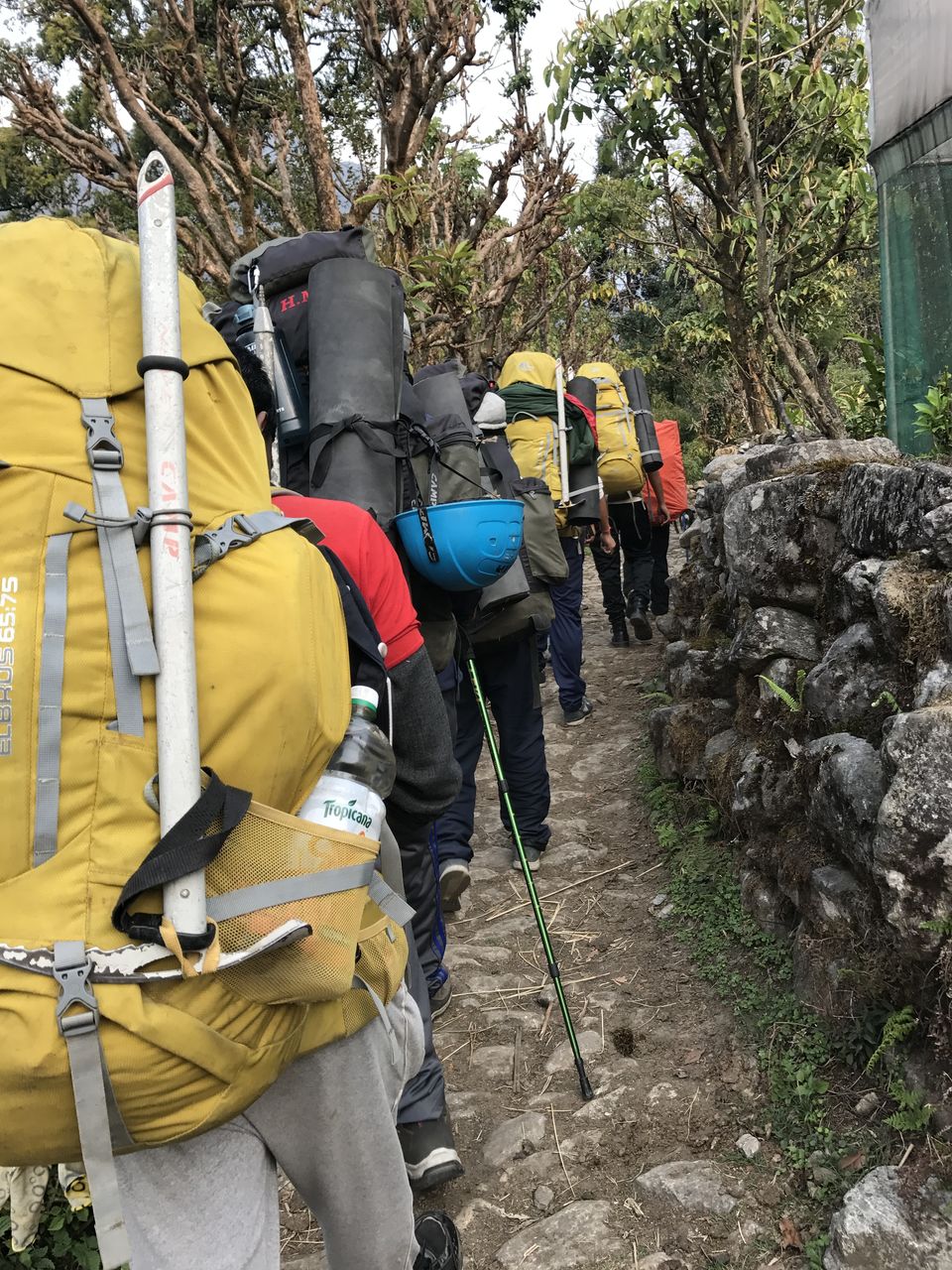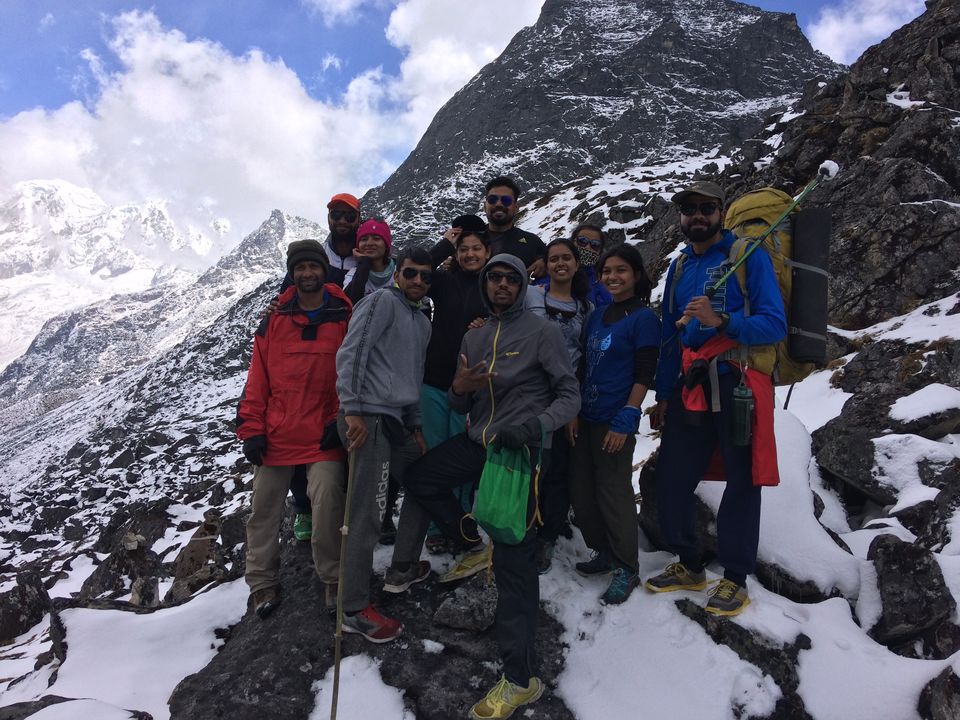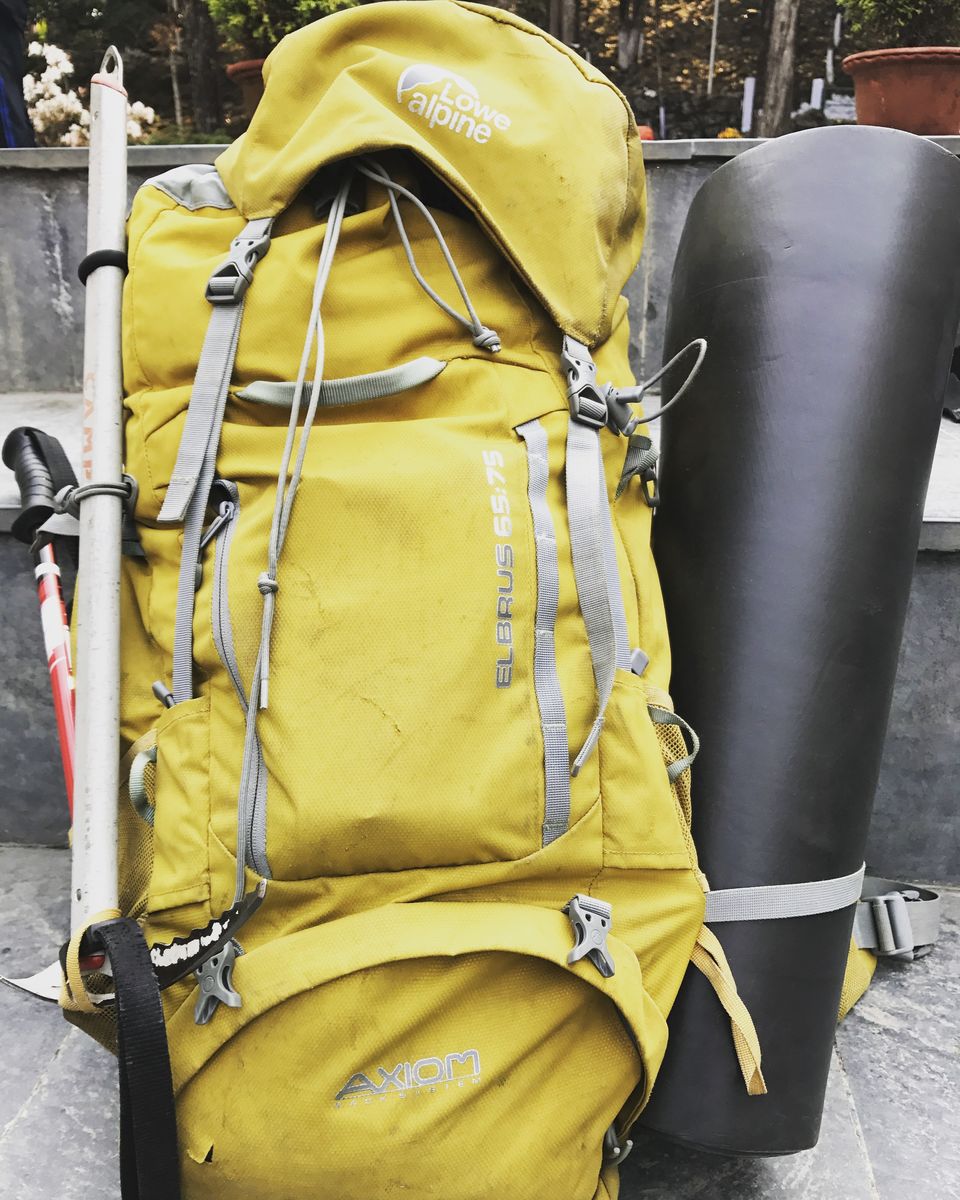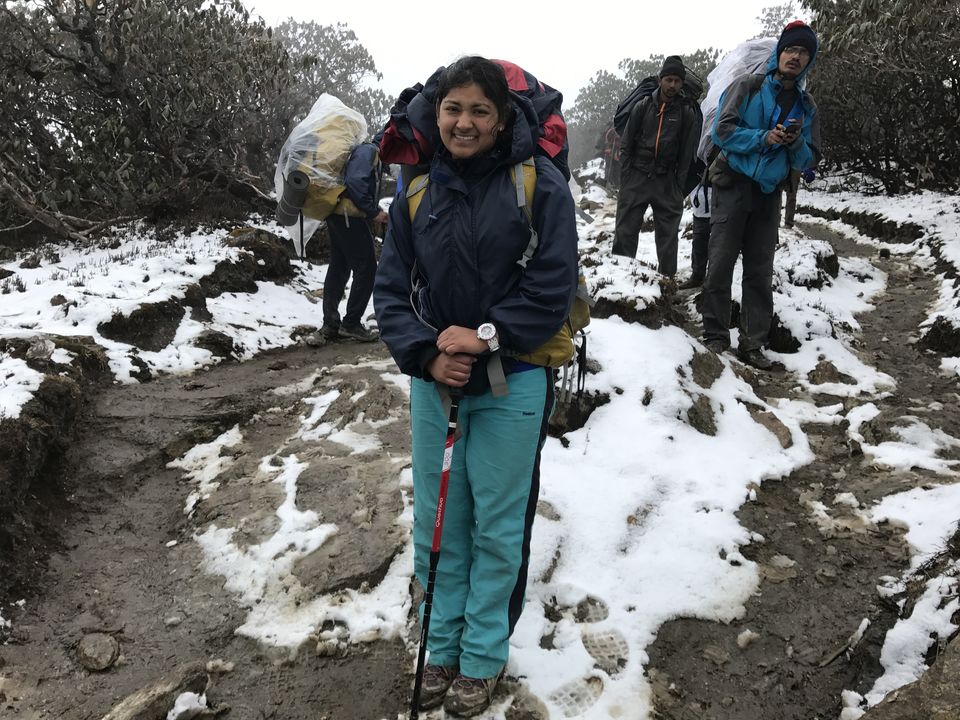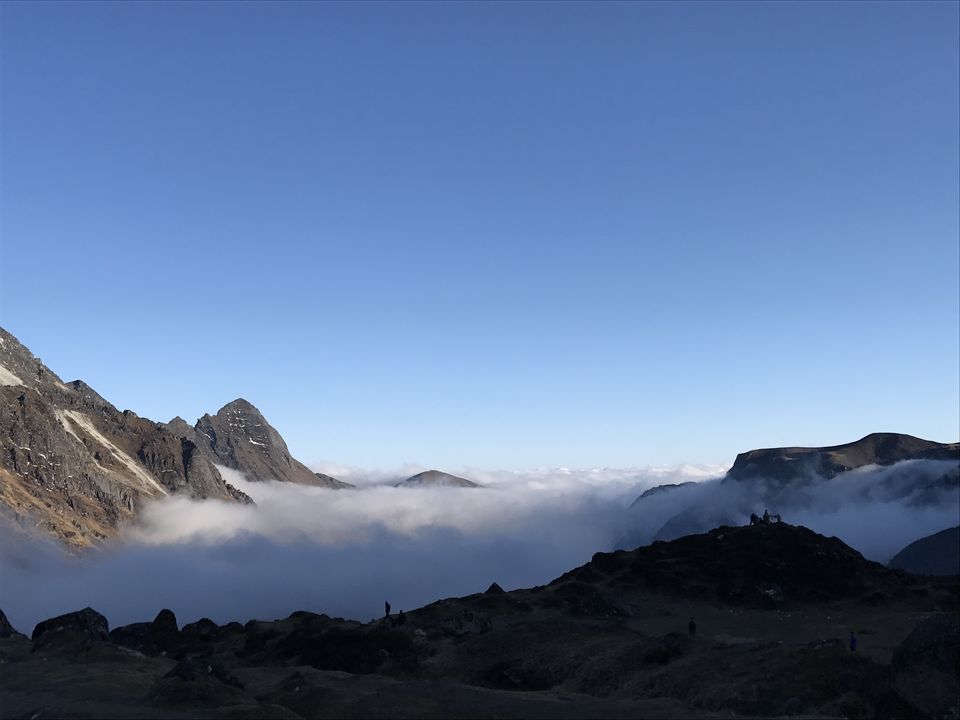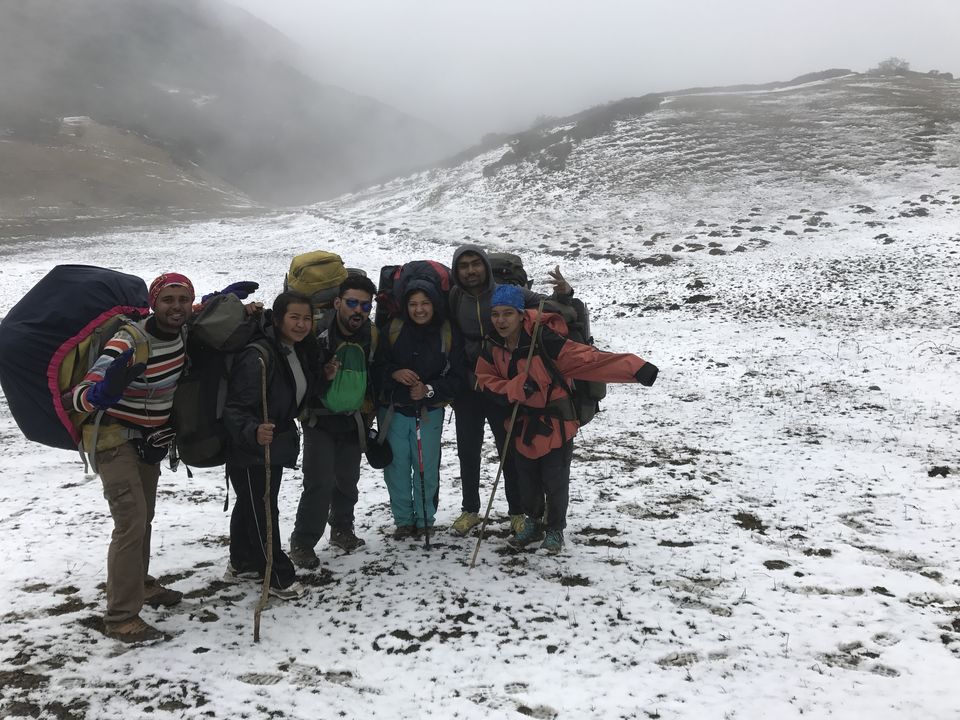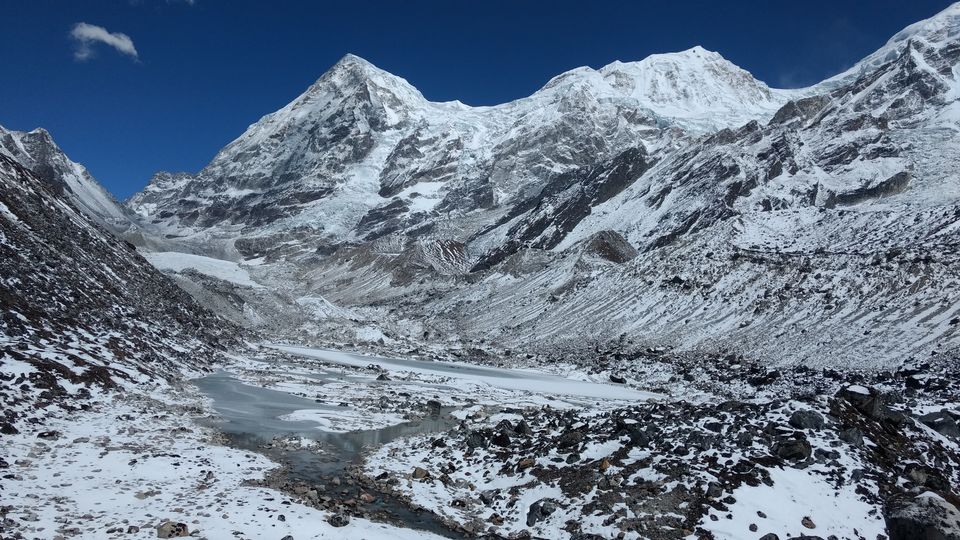 Food at basecamp is very similar to that on the HMI campus with some minor changes. To wash your dishes you have to use water from drums, which are filled with glacial river water.
The best part of food at base camp is the dessert served in dinner and post that hot drinks.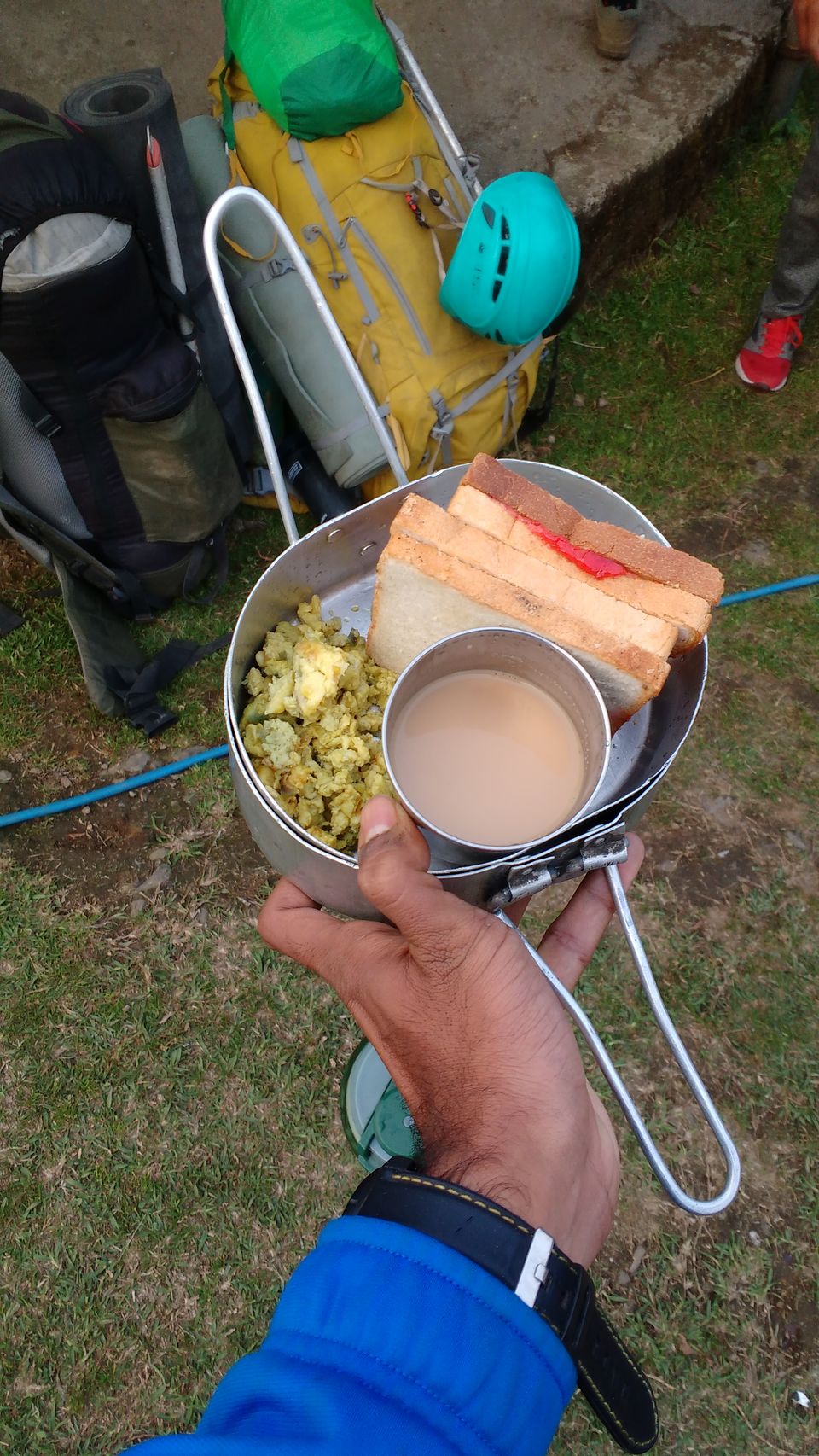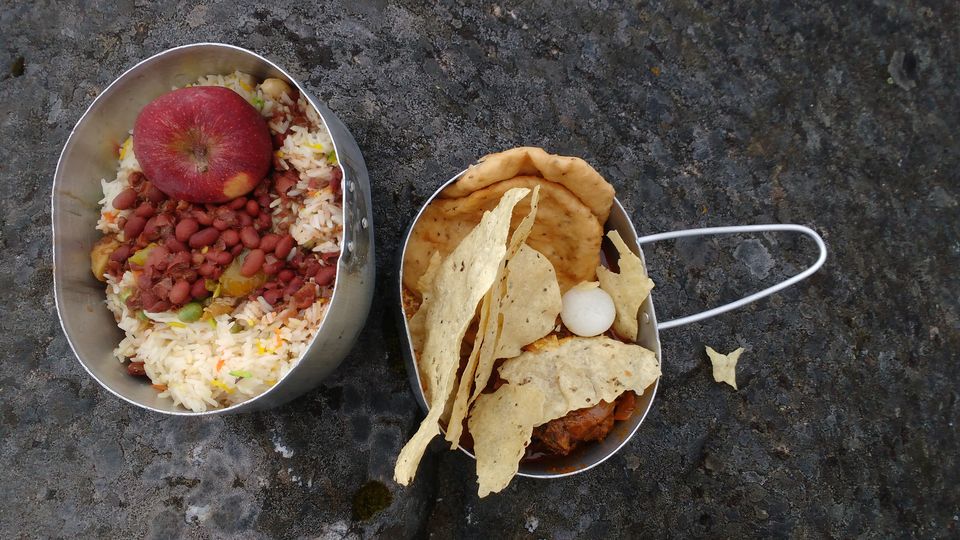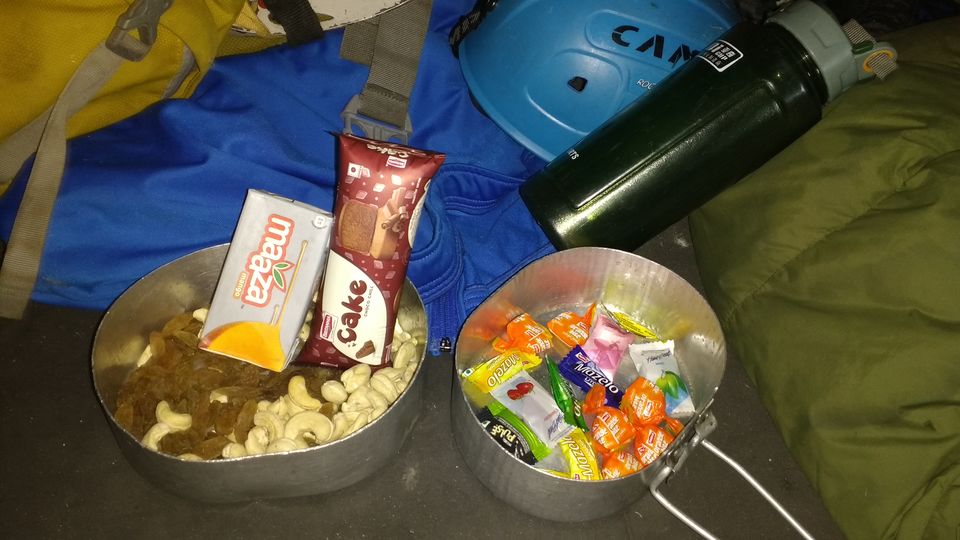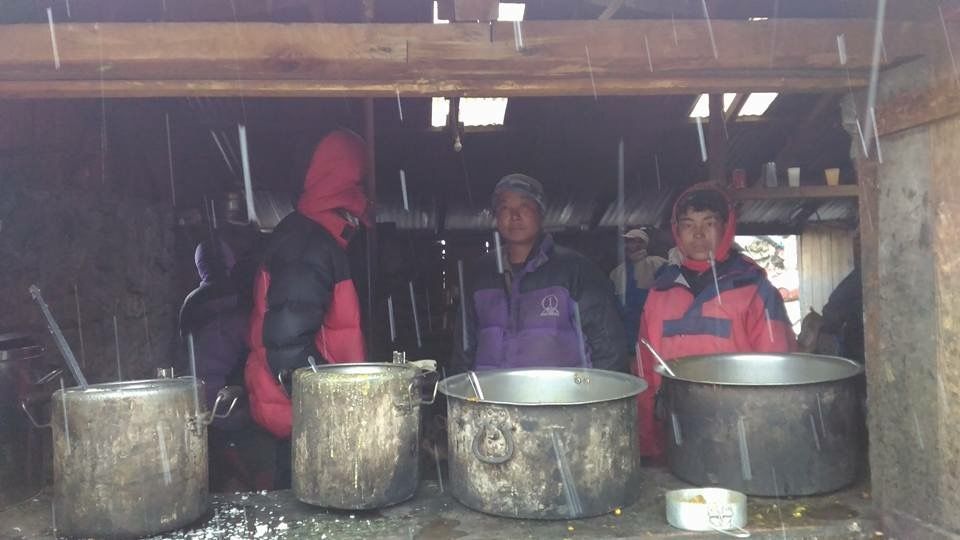 Daily schedule at the base camp
5:00 – Wake up and tea
6:00 – Breakfast
7:00 – Depart for glacier
10:00 – Glacier training
12::30 – Tea break then depart to base camp
15:00 – Lunch
16:00 – Lectures
19:00 – Dinner
Daily trek to Rathong Glacier was almost for 3 hrs with our equipments needed for the training (Rucksack,Snowboots on, Crampons, Harness set, Ice Axe and Water Bottle).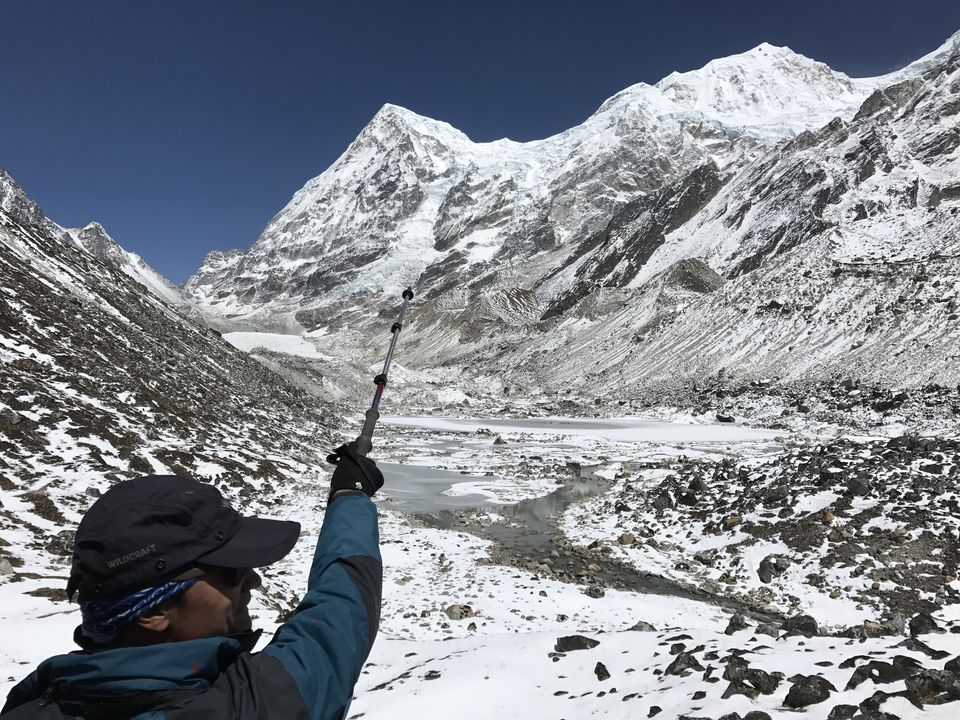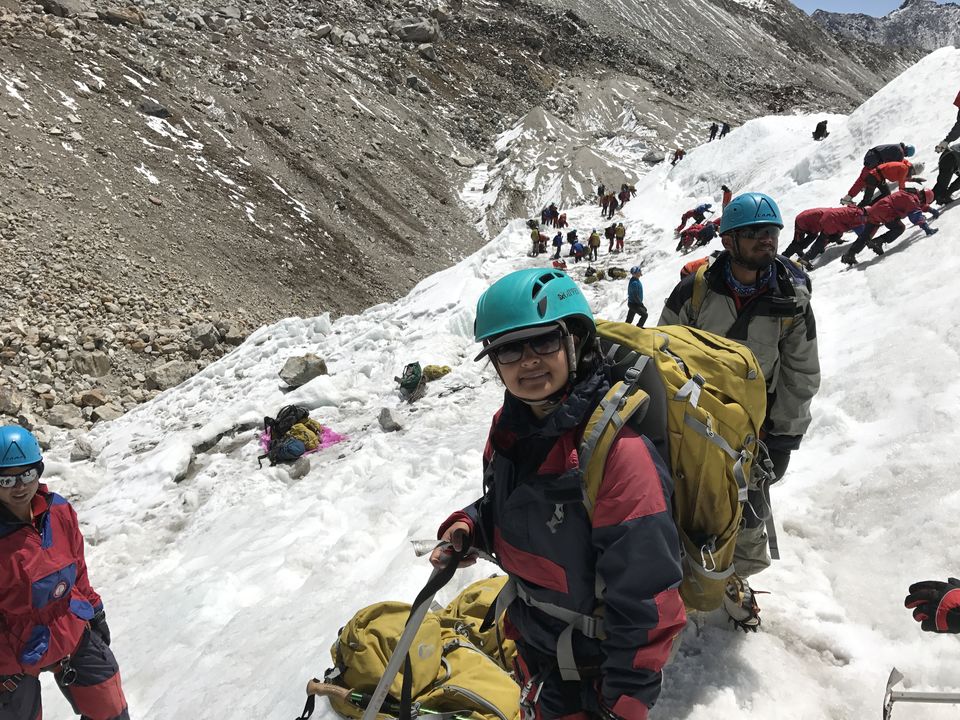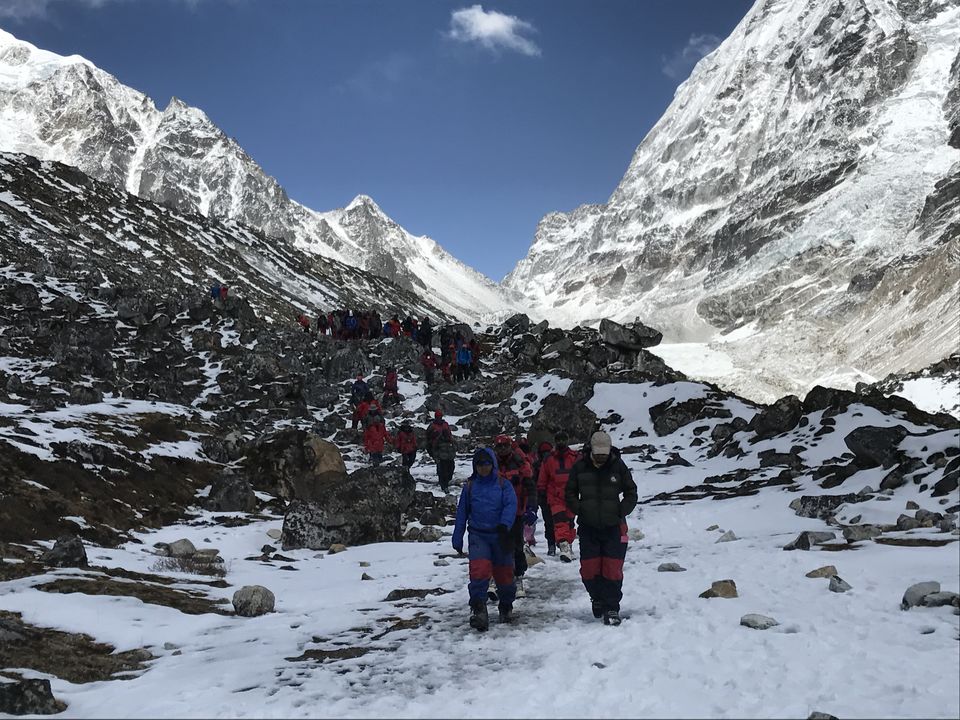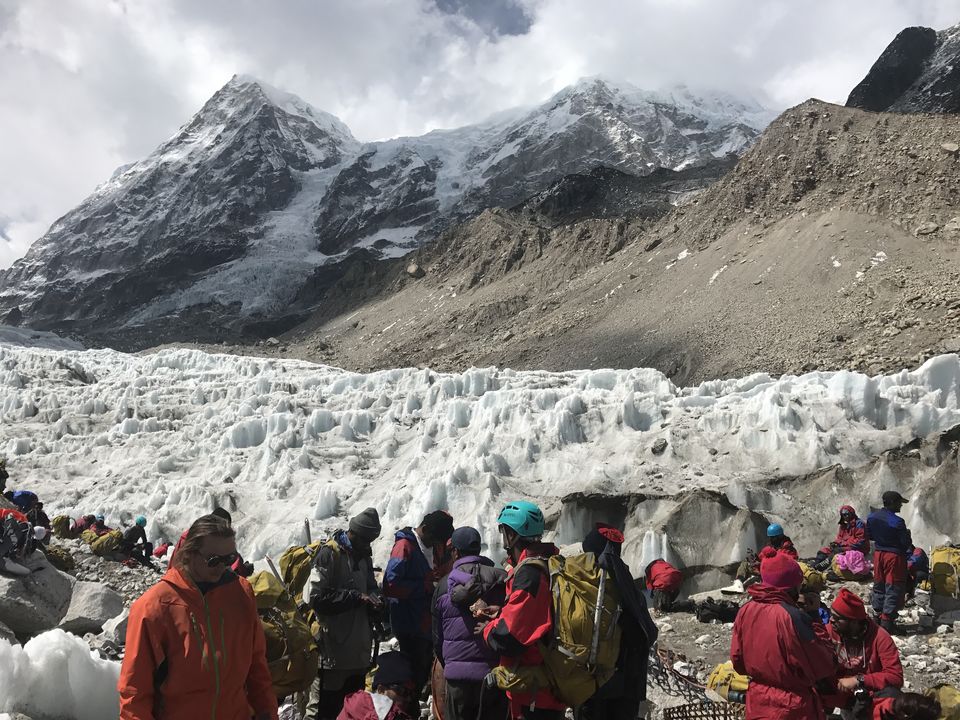 Accomodation at the base camp:
Thankfully, for the basic course, students do not have to live in tents during their time at base camp.Instead students live in a barracks lined with two wooden bunks where you spread on your mattresses and sleep inside warm sleeping bags.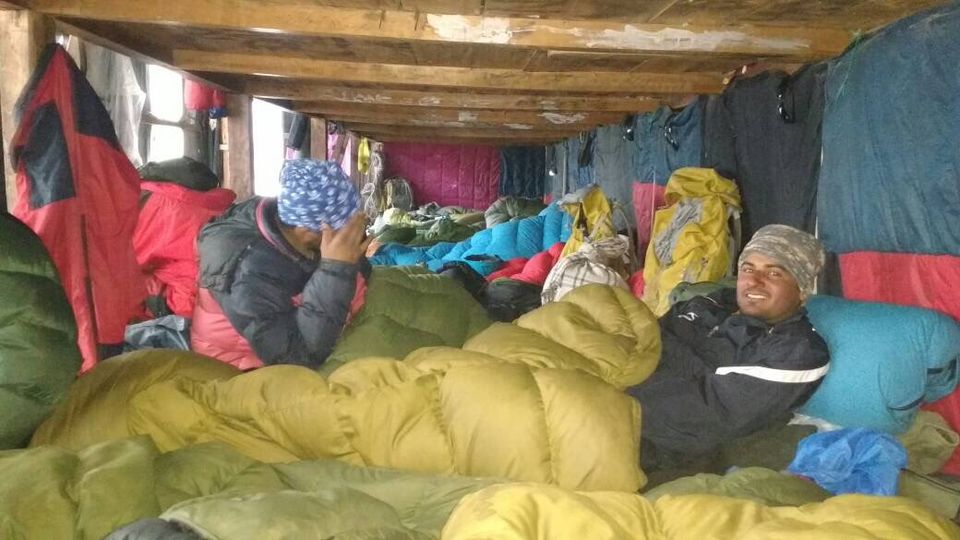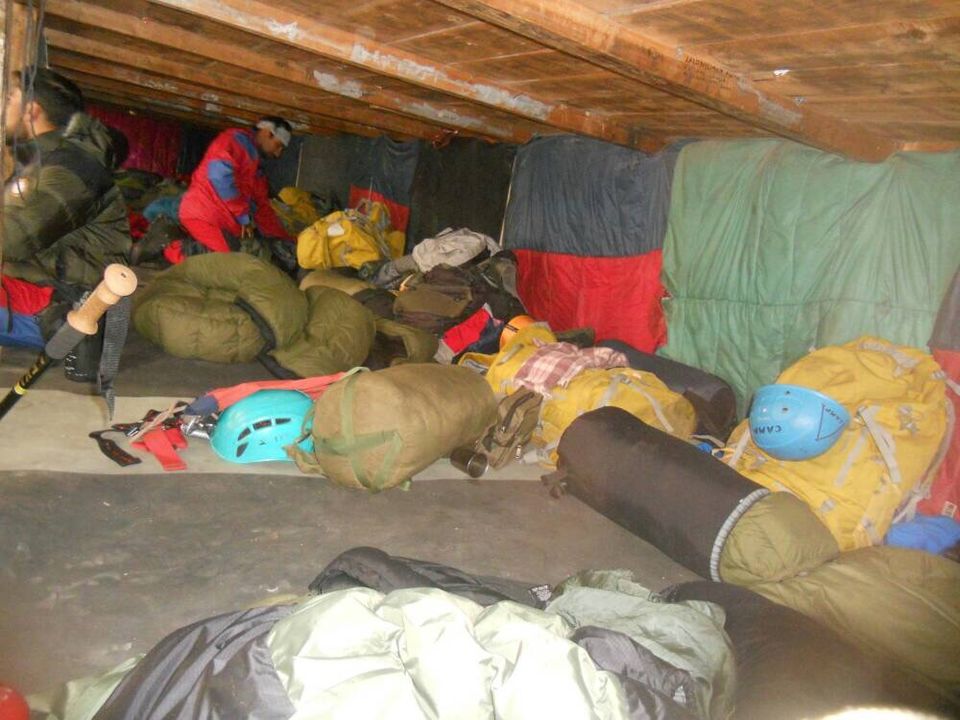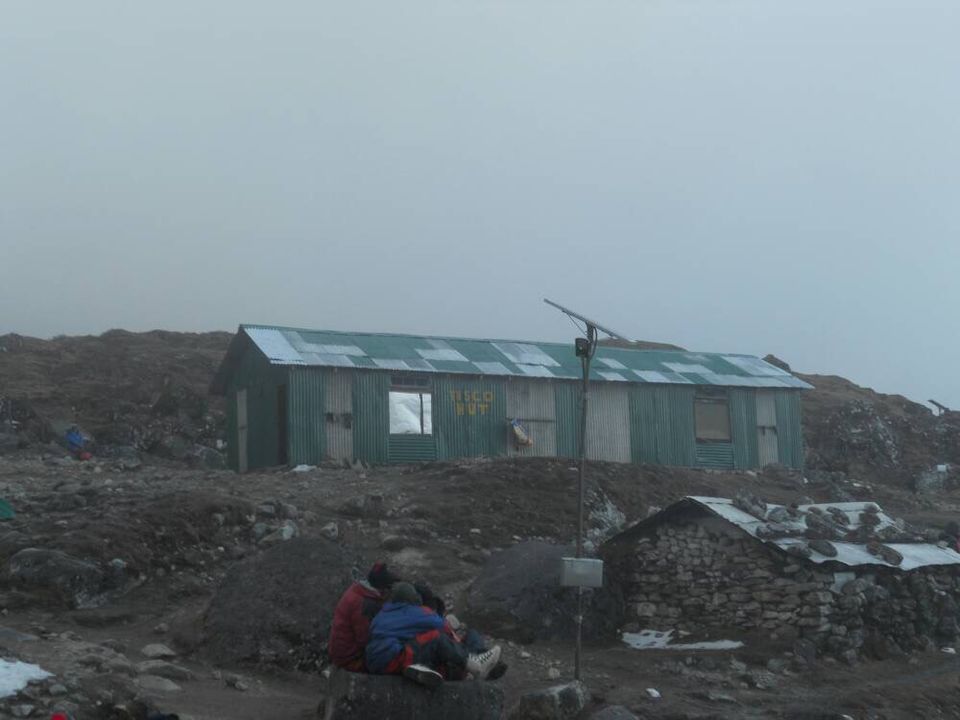 Mountaineering Training- Ice Craft and Snow Craft:
Mountaineering in the Himalayas is something unique that few people get to experience. While at base camp students are not only trekking but developing basic mountaineering skills as well.Rathong glacier is where students get to practice ice craft, which includes rescue techniques as well as ice climbing, and expedition climbing.
We were training for 10 days at the base camp and schedule was like:
1 day acclimatisation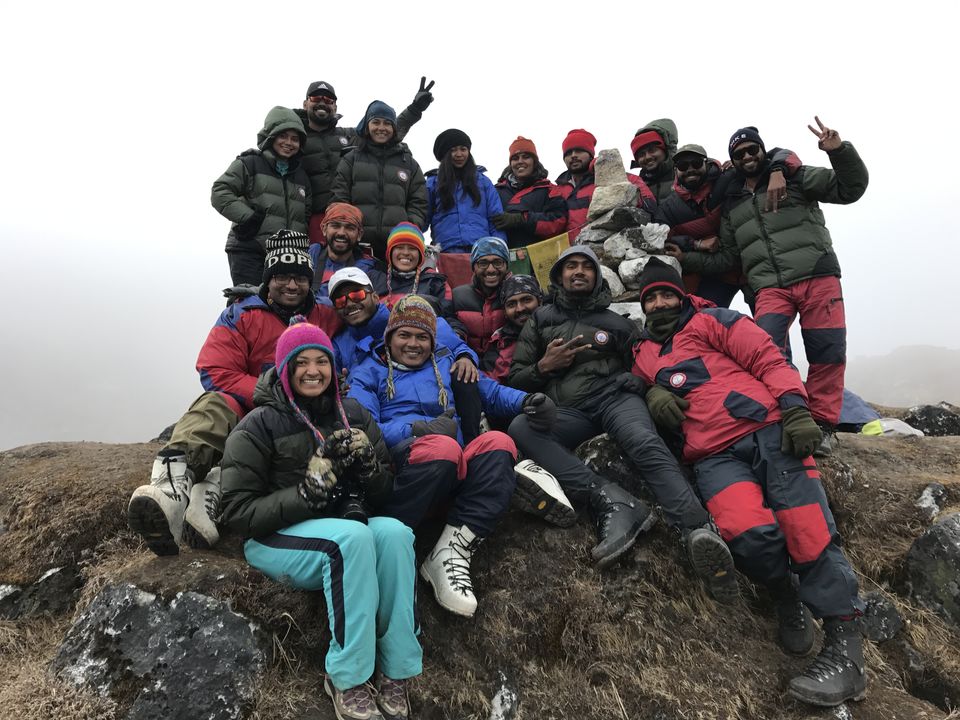 4 days training at the glacier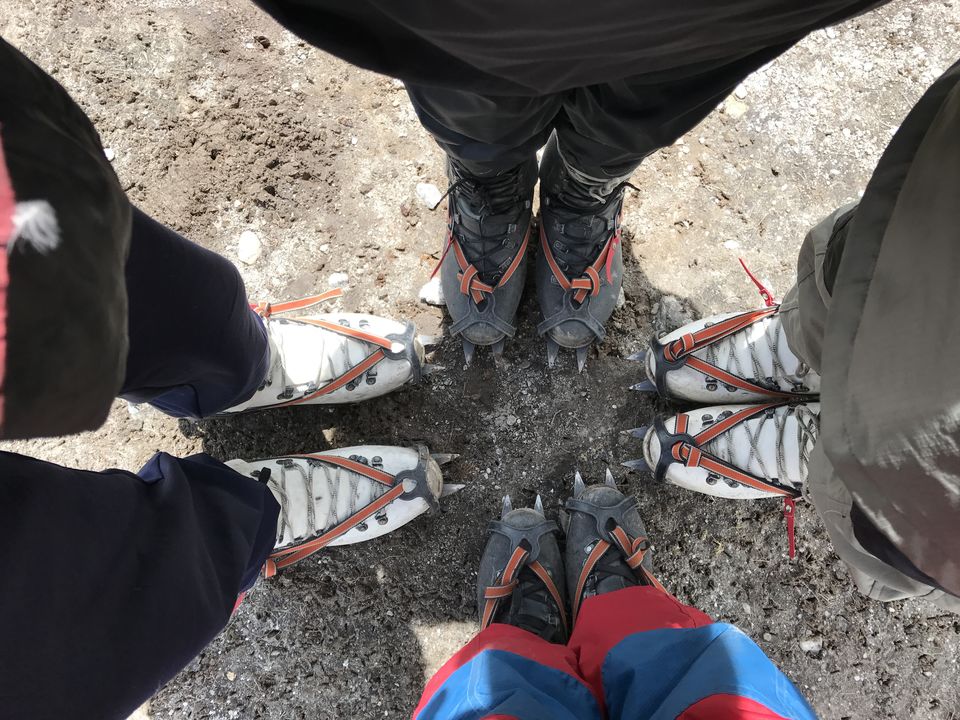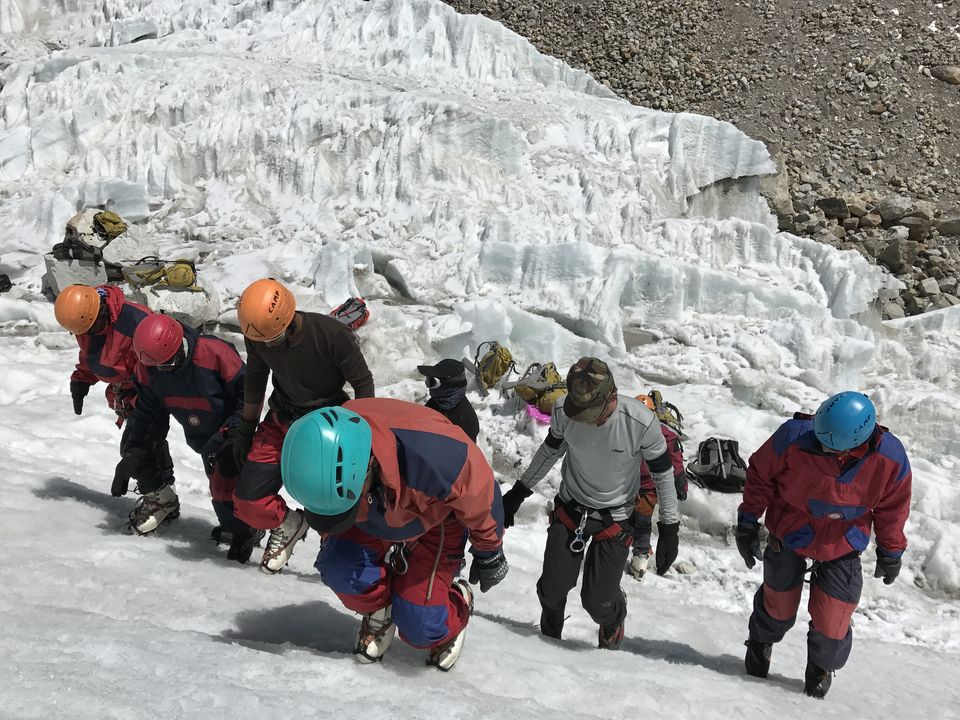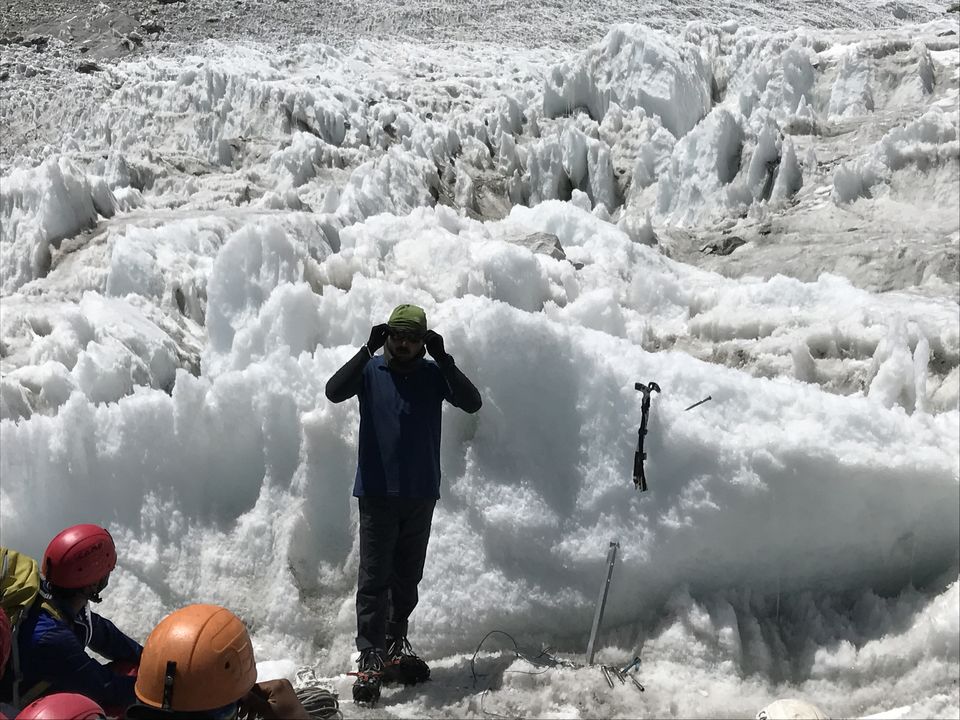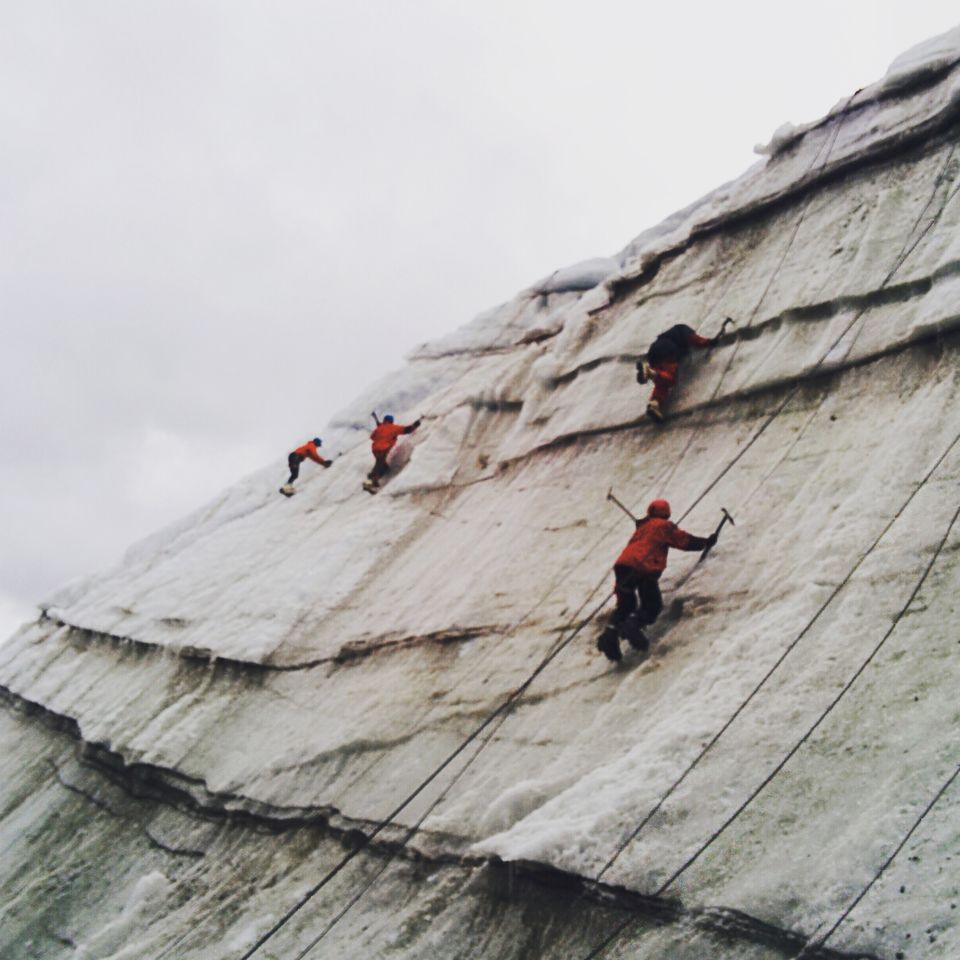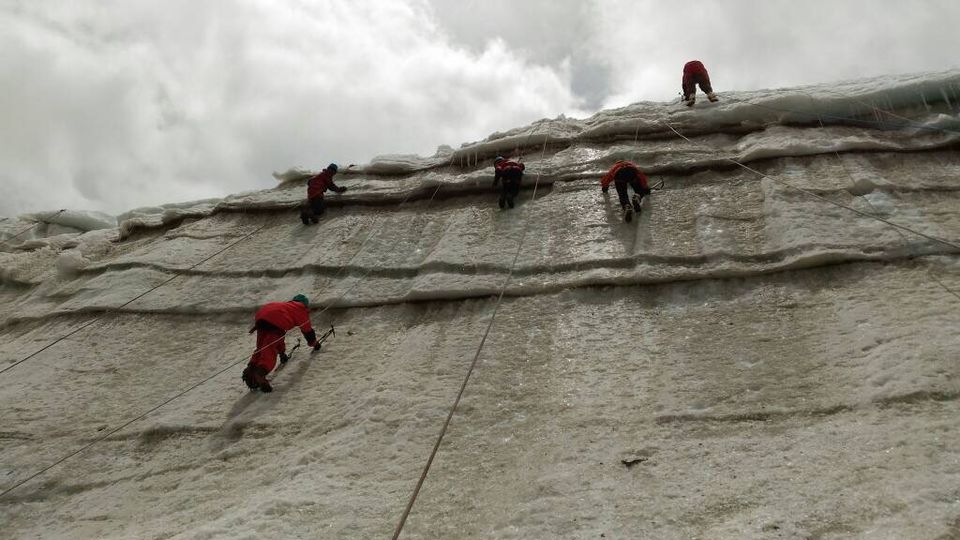 2 days training at the base camp (Jumaring, Suspension and Tyroline Traverse)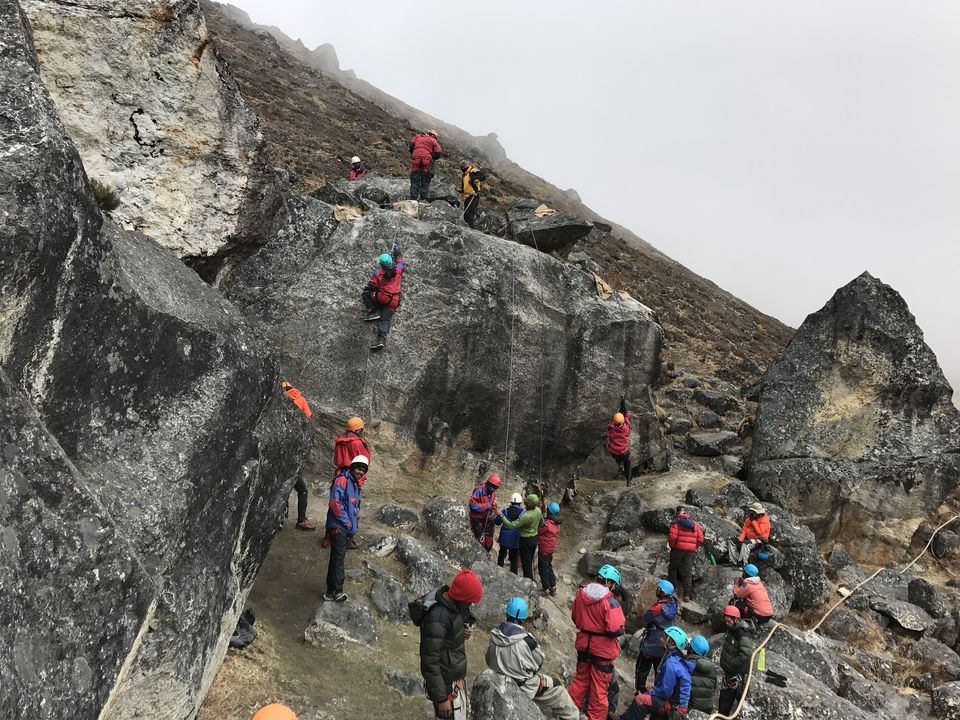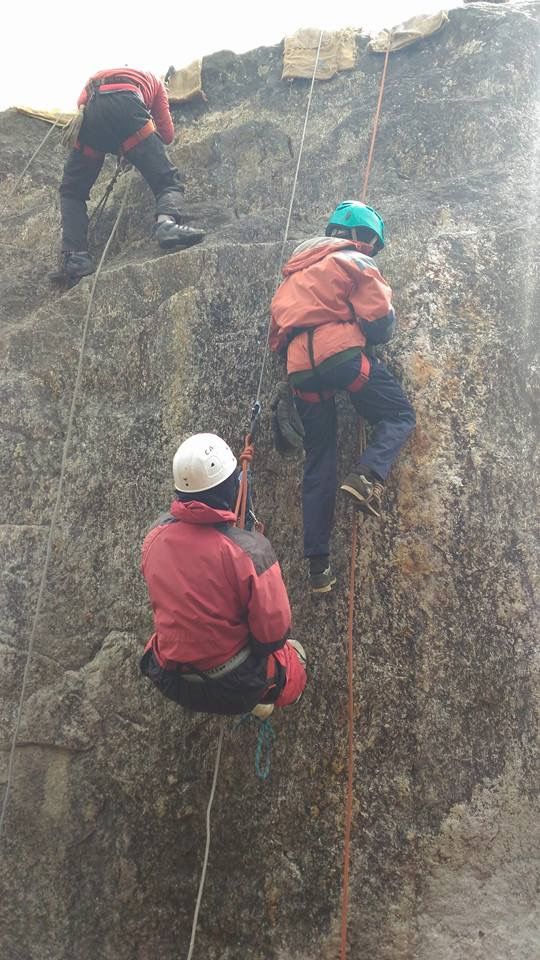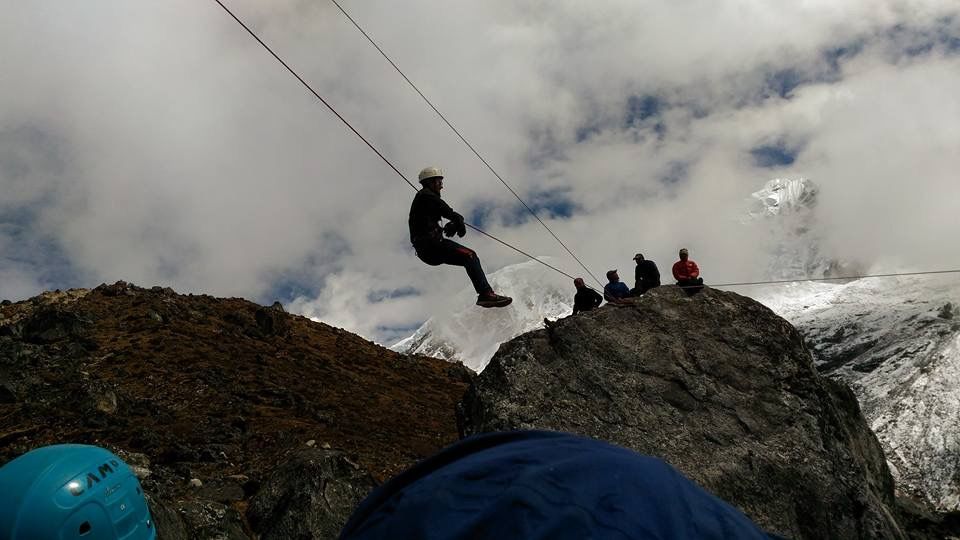 1 day trekking to the Advance Base Camp at 16000 ft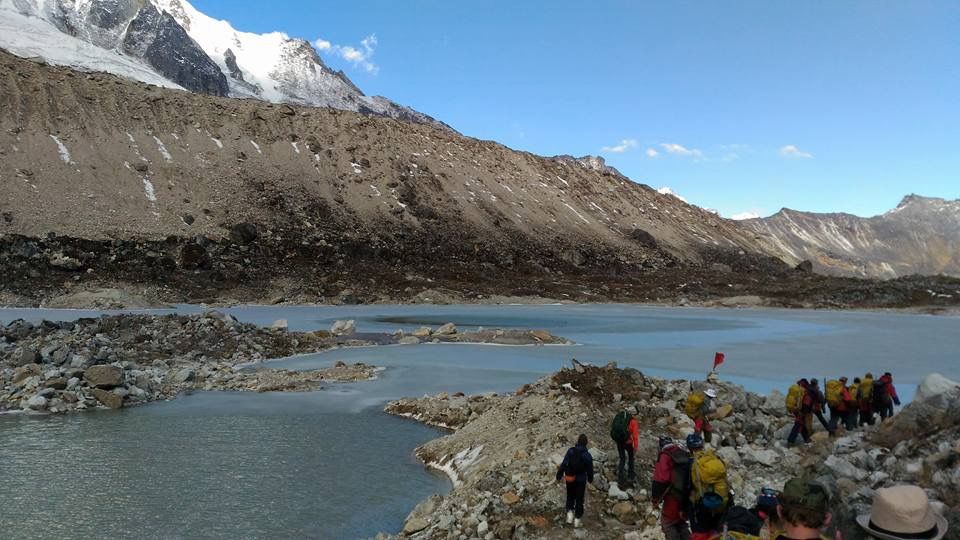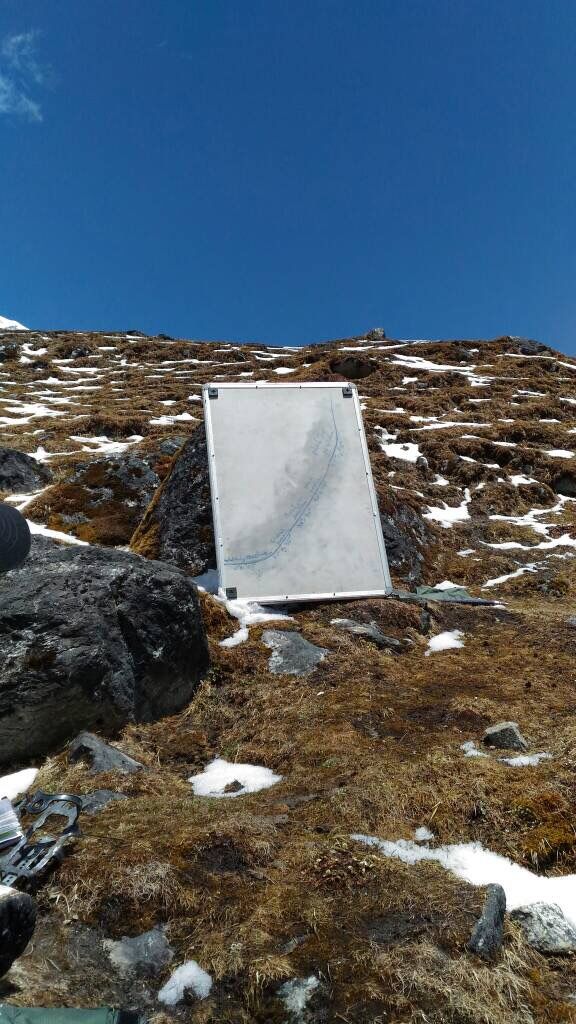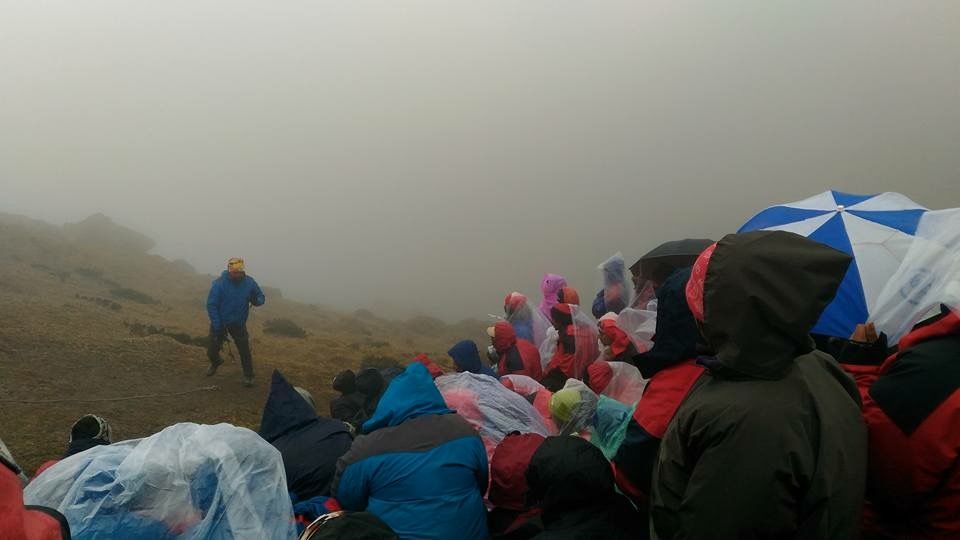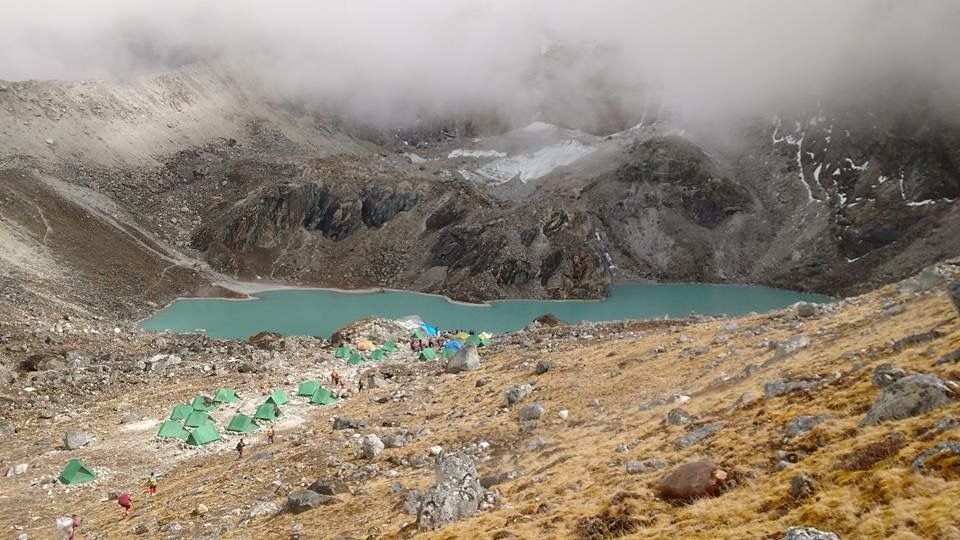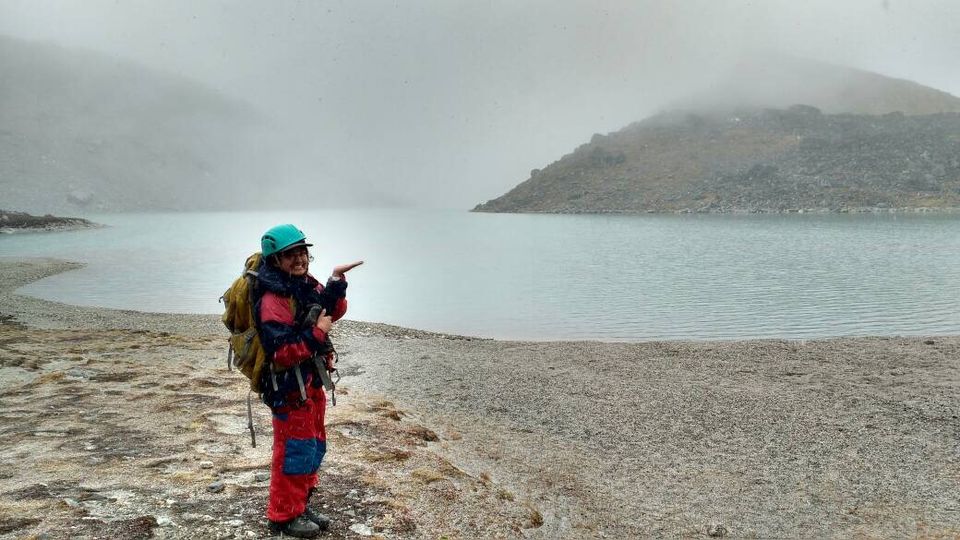 1 day height gain activity and summit to the B.C Roy peak at 18000ft.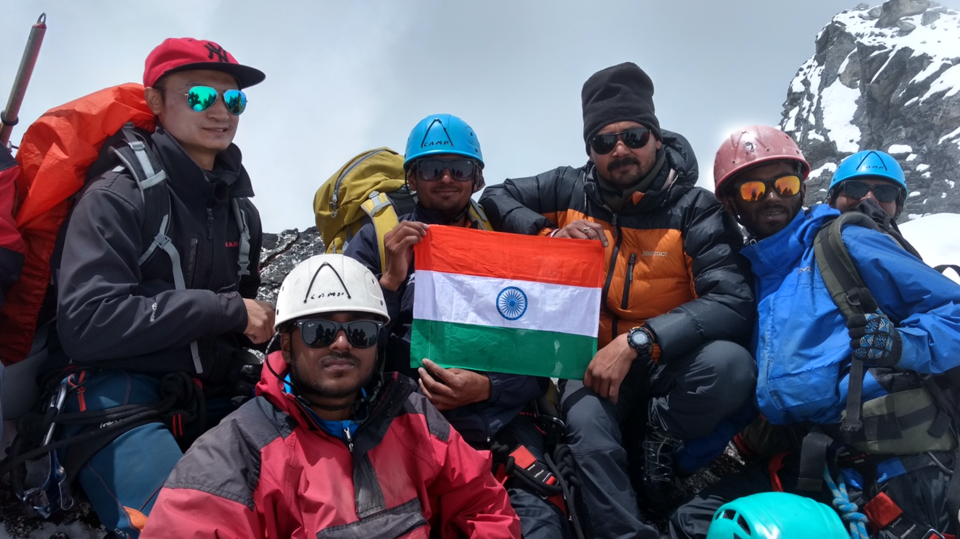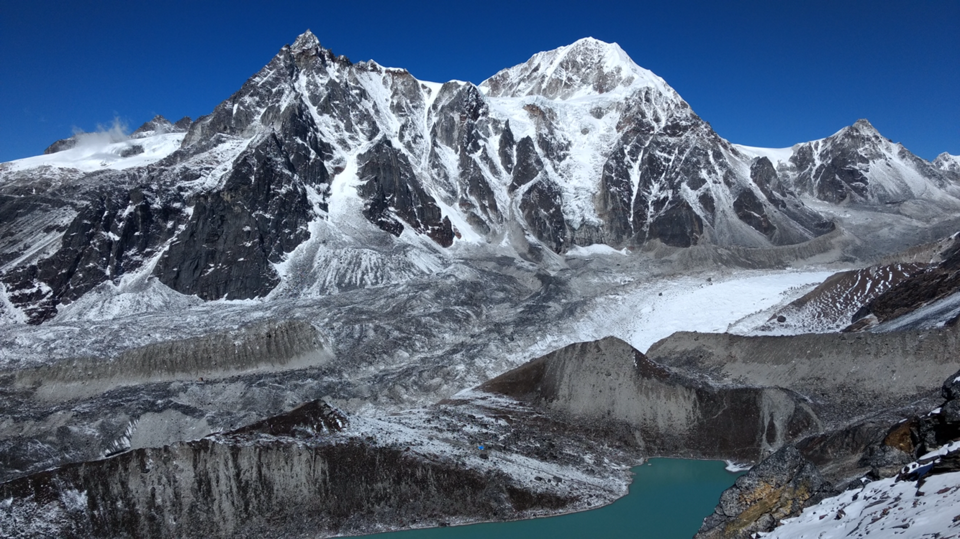 1 Day- Last day was reserved for camp cleaning at stretcher making class.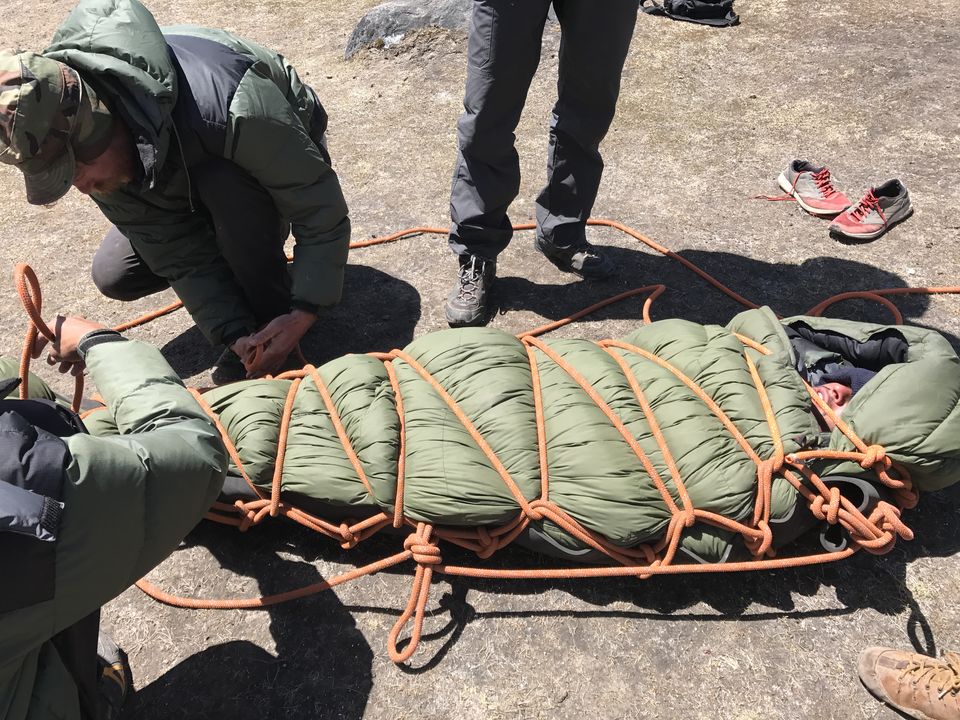 Training out on the mountains is the best way to learn and the instructors allow you to get as much experience as you can. You also get to learn rescue techniques, rock climb at high altitude, long face rappelling and summit to very high altitudes (peaks which are almost 18000fthigh).
The hands on basic course, is designed to get students experiencing sport of mountaineering while teaching them the basics of the craft with a focus on safety.
You won't become a mountaineer overnight here and even though you train for a month, as far as learning the craft of mountaineering, it's just the tip of the glacier. But if you like what you've read and visiting the Himalayas is something you've always wanted to do then why not test your boundaries, push yourself, and learn how to mountaineer with the Himalayan Mountaineering Institute.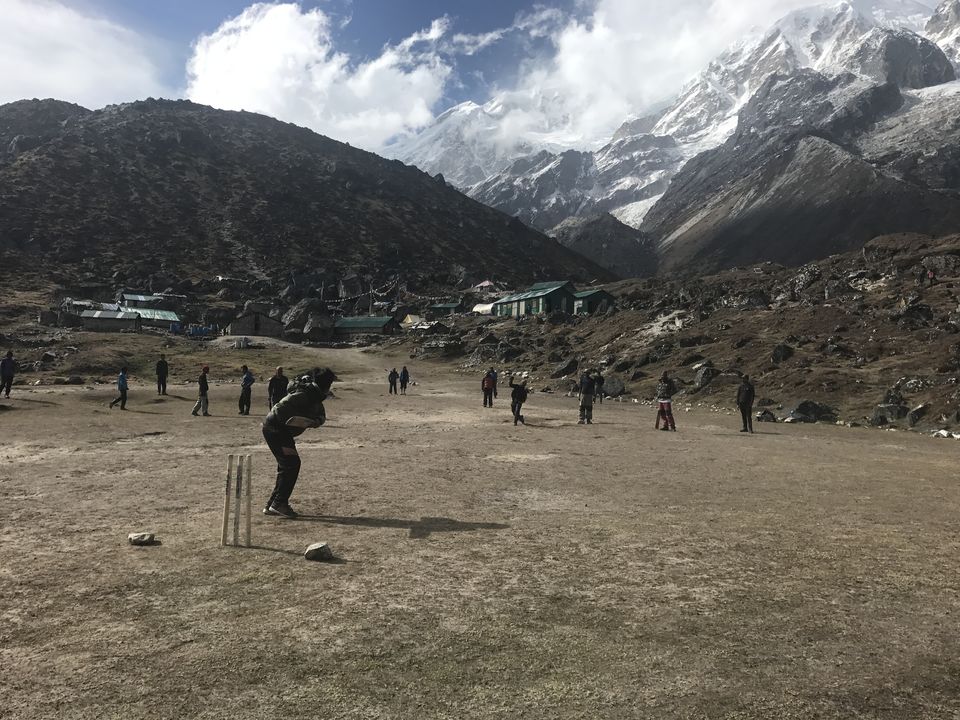 Graduation Ceremony-
We trekked back to HMI and then we had competitions of climbing and running and a written exam immediately after which we had the graduation ceremony.
It was the time to say goodbye to HMI, friends, instructors and everybody else.
In the graduation all of us were given a very speacial HMI batch which was an Ice axe.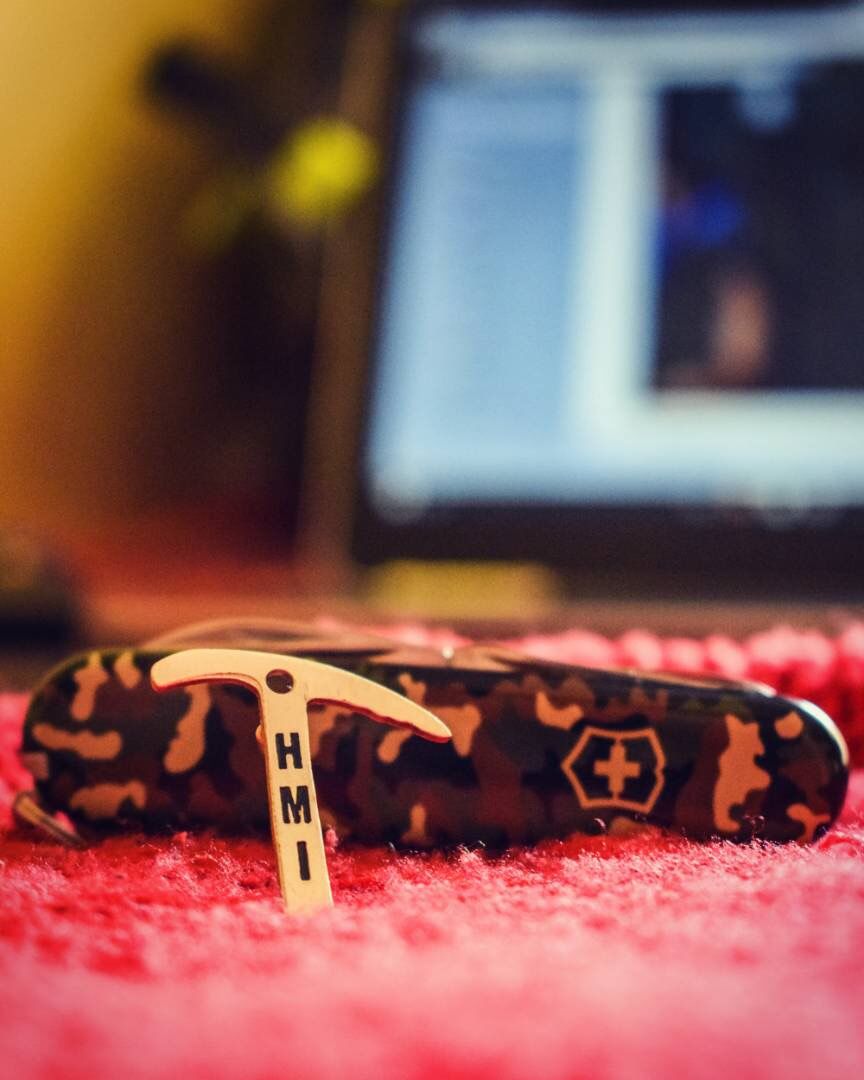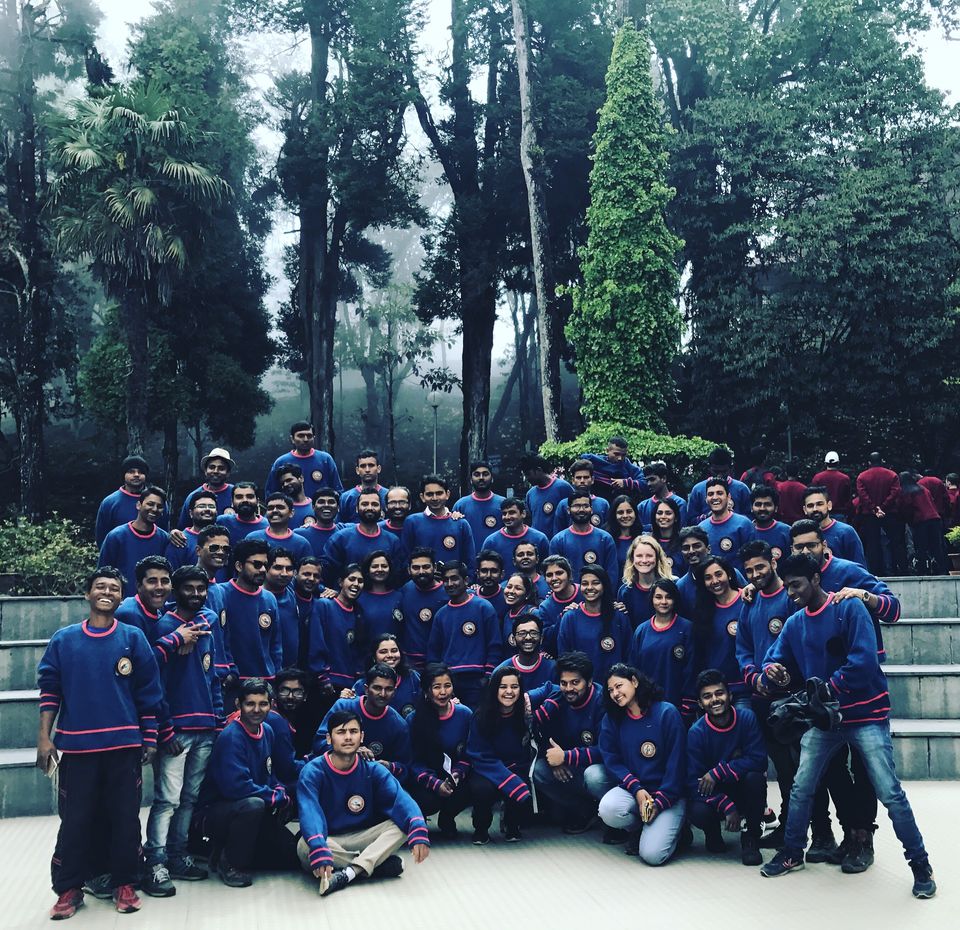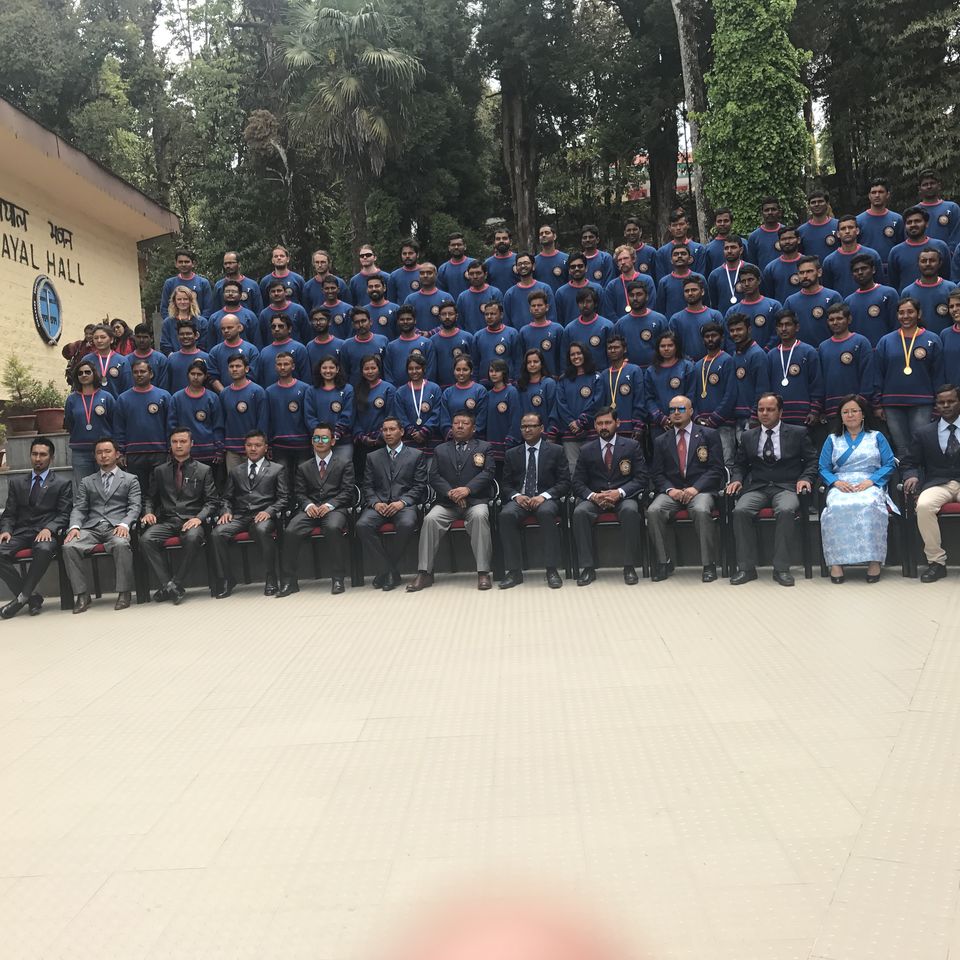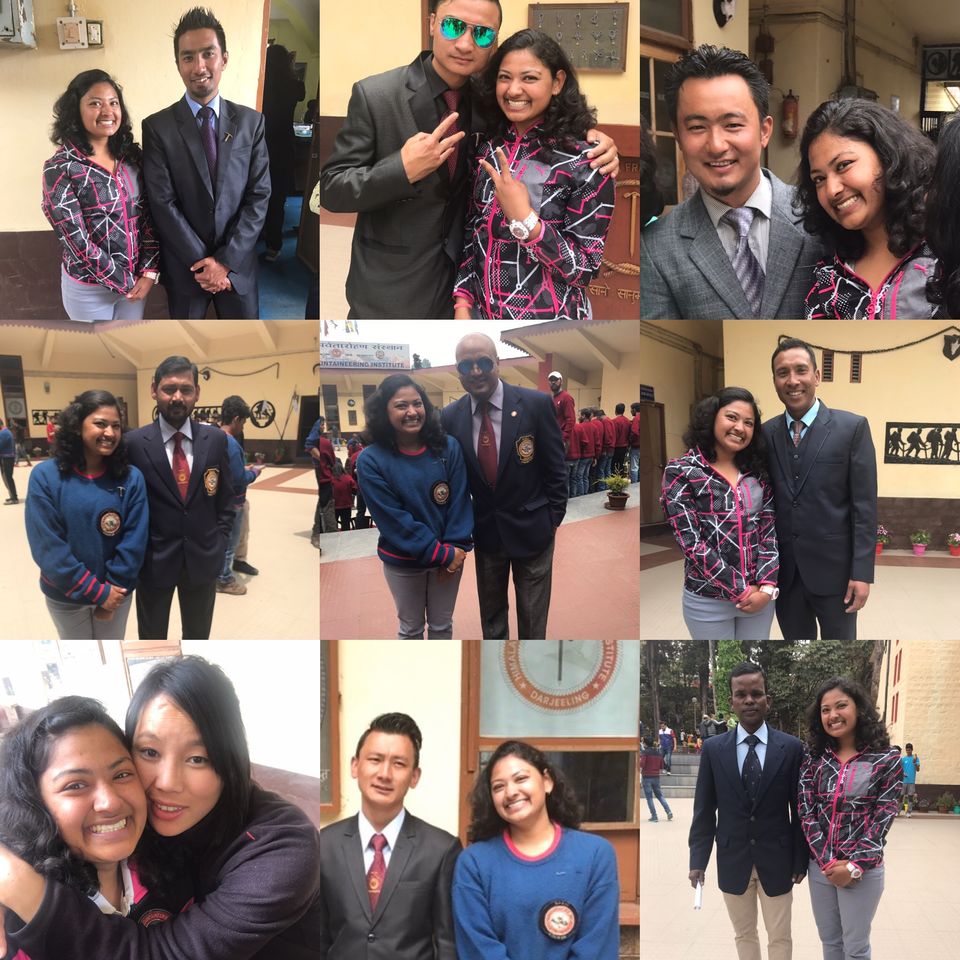 My Experience Of HMI In A Few Words:
28 days in HMI were magical for me. It was a like a wonderland where I was doing things I could never have imagined doing in life.I was able to do all the things even after I thought I can't, and everytime I wondered how did it happen. I still don't know what was driving me there everyday and I understood it well that there was and will be no substitute for hardwork.
It was absolutely not easy and I struggled everyday when I was at the glacier, but giving up was and never will be an option for me so I did everything and not denied to do anything.Somedays I even used to curse myself for signing up for this course and ask a lot of questions to myself. It was always farther, taller and harder than it looked.
I thought I would be the happiest person once I got back home but on the contrary I was extremely sad. I wanted to hear our instructors asking us to Fall In and Climb On. I wanted to have meals at the mess and go back to back each hour but all that was over.
HMI Darjeeling has given me memories for lifetime. It gave me friends who were there for me thnroughout the course and will always be there now as well. Instructors who gave me the best possible knowledge and training and it was their hardwork which motivated me even more.
Memories Made At HMI Will Stay In My Heart Forever and it was not the mountains that I conquered but myself.
Well, that's it from me! If you have further questions about my experience please feel free to leave a comment or message me.
Happy Climbing!
Frequent searches leading to this page:-
basic mountaineering course syllabus, himalayan institute of mountaineering, himalayan mountaineering institute, basic mountaineering course, basic mountaineering course hmi, darjeeling mountaineering institute