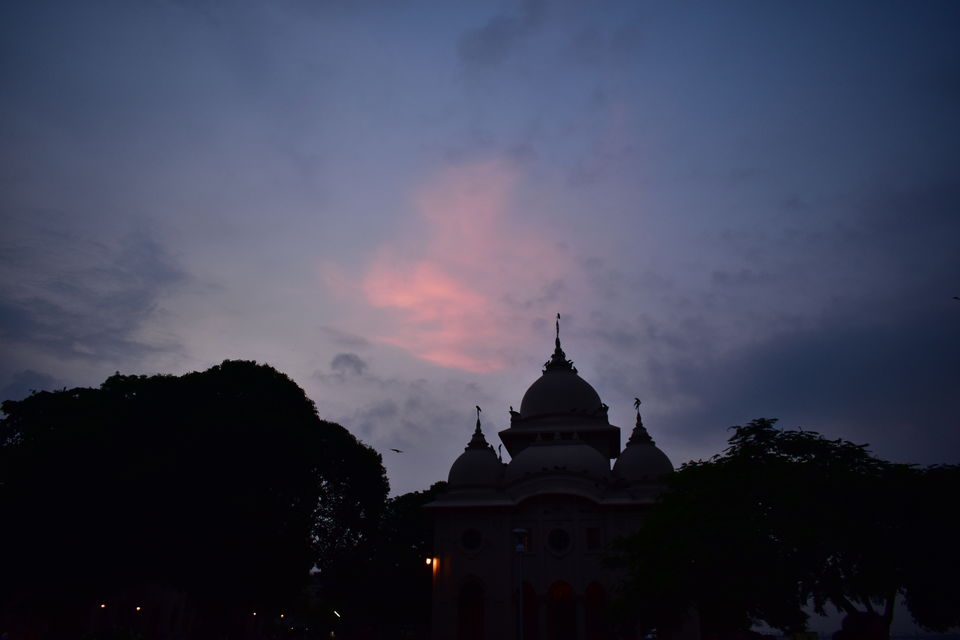 "khaṇḍana bhava band¬hana jaga van¬dana vandi tomāy |
nirañ¬jana nara-rūpa-dhara nir¬guṇa guṇa¬may |''
Reverberates in my ears as I enter the holy shrine of Guru Ramkrishna in Belur math. The song, written and composed by Great Swami Vivekanada, deluge my senses with wisdom and a sense awakening. Away from the daily chaos and confusion, the sanctum is a perfect refuge for my wandering soul.
The Ramkrishna Temple is calm and ascetic, devoid of any lavish decoration. The great idol of Guru, sitting on lotus, strikes my visual senses. The sacred temple has a small Shivalinga, known as Baneshvara Shiva, which is worshipped every day, and the sacred dust of Mother Sharda devi's feet is preserved on the façade of the Western wall .
The museum at the entrance is an example of careful preservation of all the legends, related to the great heritage of Guru Ramkrishna and Swami Vivekananda. The mystical evening breeze and the music of the eloquent flow of the river-Hoogly, make this place a nest of peace and tranquility.
The great architecture, the chants and hymns, and the serene atmosphere, reflects the awe inspiring vision of Swamiji in every strata. This grand shrine by mighty river Ganges is my inspiration.
The great architecture of the temple and the absolute mesmerizing evening prayers are the experiences that you don't want to miss for the world.
Getting there:
1. Via Road: From Howrah (close to Howrah station), you can take bus number 54 to reach Belur Math. There is also mini bus from Howrah.
2. By Rail: The Nearest Station From Belur Math temple is Belur. Local trains operate in every five minutes on the route Bandel to Howarah station.
3. By Air: Kolkata is well connected to all the major cities within and outside India
So next time you visit Kolkata, you should pay a visit to Belur Math. Find the peace among the chaos of the city.