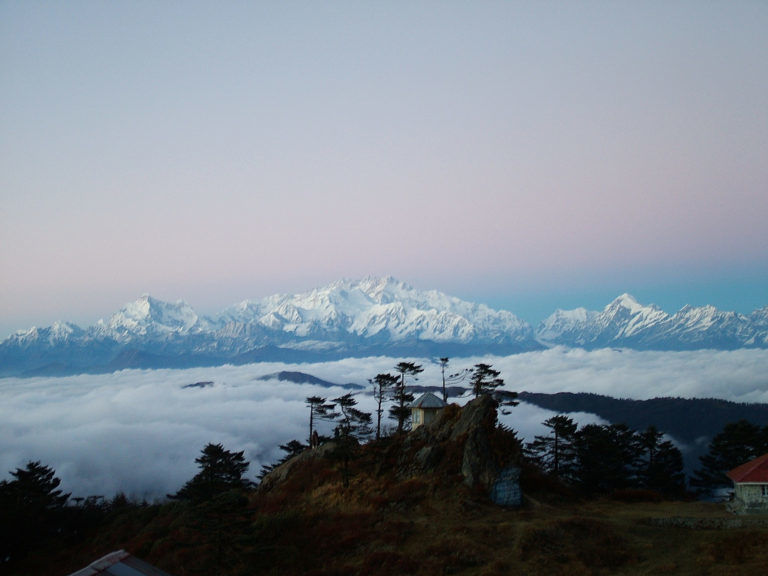 The magnificent view of sleeping Buddha
If trekking is your passion, and you belong from West Bengal then you cannot miss the opportunity of trekking to . So here I'm writing my Sandakphu trek blog. The highest peak in the state of West Bengal, India, Sandakphu is located at 11,930 ft above sea level. With the breath-taking view of the mighty Kanchanjunga hills, Sandakphu is famous for its splendid view of the sleeping Buddha a.k.a the Kanchanjunga range. The highest point of the Singalila Ridge situated in Darjeeling district on the West Bengal Nepal- border.
The most unique thing about this place is that four of the five highest peaks in the world i.e. Mt. Everest, Mt Kangchenjunga, Mt Lhotse, and Mt Makalu are visible from here. It also offers a panoramic view of the entire Kanchenjunga range. Among all the trek routes in the eastern Himalaya, a trek along the beautiful Singalila Ridge to Sandakphu and Phalut is the most glorious one. One can view splendid Everest as well as Kangchenjunga range with seasonal wildflowers blooming throughout the route. The constant toying with the Indo-Nepal border also makes this trek a unique cultural experience.
How to reach:-
First, we took a train till NJP. One can also take a flight to Bagdogra and rent a cab till NJP From NJP there are two ways to reach this place. One can hire a land rover from NJP to Sandakphu directly by road or can hire a cab till Manebhanjan via Sukhiapokhri and trek till Sandakphu. Having a love for trekking we hired a cab till Manebhanjan and stayed a night there, and started for Sandakphu trekking early the next morning... It is a 32km trek from Manebhanjan to Sandakphu which generally takes 3days. Experienced trekkers may take a day less.
Things to See:-
The Mt Everest family.
Mt. Kanchenjunga which looks like the sleeping Buddha.
Phalut is the 2nd highest peak of West Bengal. A small bunkhouse of the Indian army can be found on the peak. It is 21km further from Sandakphu. While trekking first trek to Sandakphu followed by Phalut.
Tonglu is one of the highest peaks of the Singalila Ridge near the India-Nepal border. It is a roadside halt from Manebhanjan to Sandakphu.
Lamey Dhura
Meghma
Chitre
Srikhola
Gairibas
Sandakphu is very cold even in summers hence woolen clothes are highly preferable. In winter take heavy woolen clothes and of course, wear woolen inners. Weather can be very unpredictable so be ready for all the circumstances. The Best time to visit Sandakphu i.e. April to May (temp. stays between 6-12 degrees) and between October-November (temp. stays between 1-6 degree) recently the Sandakphu trek is also taking place in winters during December - February. From mid of June to mid of September the Singalila National Park remains closed as this is the monsoon and the animals breeding season thus trekking cannot be done at this time.
carry a sufficient amount of drinking water as water is priced at a very high rate once you reach Sandakphu a proper first aid box, Extra pair of socks, sufficient woolens, and an umbrella. Dry foods to eat. There is no electricity in most of the places so it is advised to carry your emergency lights and torches operated through a battery. Carry extra cell (battery)and Carry a trekking stick.
Cost and expenditure of the trek:-
A permit fee of Rs. 100, and Rs 200 per person per day for Indian tourists and foreigners respectively need to be paid at the entry of Singalila National Park. Cost of food along the trekking route will be around Rs. 500-600 per person per day The rate of dormitory beds in trekker hut is Rs. 150-250 per person per day A good room at a private hotel can cost up to Rs. 1500-2500 per night. Cheaper ones are also available Njp/Bagdogra to Manebhanjan car rent Rs. 3000 Njp/Bagdogra to Sandakphu land rover Rs. 3500-4000 The rate for guide is Rs 1000 per day for Indians up to 7 persons, thereafter Rs 150 additional per person. For foreigner Rs 1200 per day for a group up to seven, an additional Rs 300 per person. The rate for the porter is Rs 800+ 200 (variable) for food at Sandakphu and Phalut each.
Sandakphu Trekking Map
To conclude I would like to thank our porter and guide as for them it was easier to trek such a distance. Sandakphu is undoubtedly one of the most magnificent place on the queen of hills. We have come across flora and fauna while trekking. It is how nature expresses itself in the best possible way.