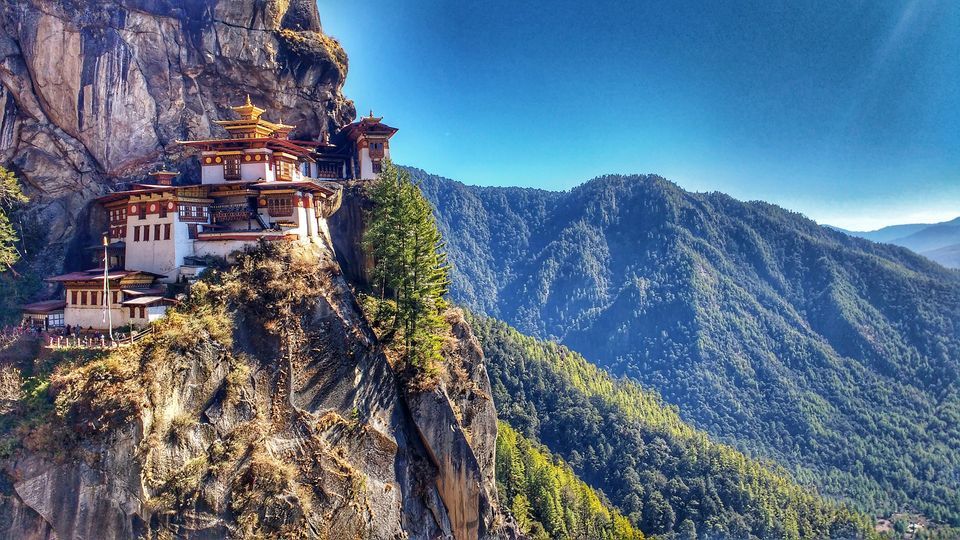 Hello wanderers, in this part of series 'Solo trip guide to Bhutan' i'll let you know everything about how to plan your trip, reach to Bhutan , what all permits you will have to take while travelling around Bhutan and Do Bhutan really grant permits to solo travellers/ backpackers ?
Giving you all a bit of background, i am a software engineer on paper and likes to explore. As a result of which to get away from my eat-sleep-work 9-5 routine i decided to take small vacation. but this time i wanted to do something different , something i have had never done before and something which will become the bestest part of my travel memories. and only thing i was constantly researching about at that time and living other peoples dream through my eyes was 'Solo Travelling'.
Yeah i know , It sounds shit scary. And even more when you realize that it's not for you because living in mumbai my entire life till now and i can't even think of going to Gateway Of India all alone then Solo travelling that too in different country is way too far to think about. but i wanted to do it and i did it. because it's the time you when realize that
Everything seems scary at first unless and untill you give it a try, and then you never look back.
So to all the readers who think 'Solo Travelling' isn't for them, i just have to say
'If a shy, ambivert person can do it, so do you. just gather courage, pack your bags and leave your house. Everything will fall into place and you wouldn't regret that decision.'
okay, that was enough motivation i guess. now lets come straight to the point.
How to reach Bhutan ?
You can reach Bhutan by
1) Flight
You can fly directly to bhutan by booking tickets at Drukair Airlines. just make sure you book your tickets well in advance because flights only operates for only two-three days a week and that too from Bagdogra Airport.
Or you can fly to Bagdogra airport and from there you can take direct cab to Phuntsholing which will cost you around Rs 1700/- to Rs 2000/-
as i'm not a kind of person who plans his travel well in advance i chose (had to choose) only option i had. i.e travel by train !
2) Train
Catch any train going towards Kolkata/ NJP / Guwahati (find more info on trains here) and get down at either Siliguri or Hasimara station.
After reaching any of the above station you have to reach Jaigaon which is basically border town which joins india and Bhutan. you can enter into bhutan via this town through 'Bhutan Gate'
Siliguri - Jaigaon
once you get down at Siliguri you can catch bus from PC Mittal Bus Terminus, the first bus towards jaigon starts at 7 am sharp and you will reach at jaigaon by 12:30 pm.

Time : 4 Hours
Cost : Rs 80/- Rs 120/-
just have a look at this schedule if you want to catch bus from any other location than PC Mittal.
Hasimara - Jaigaon
From hasimara station you can take shared auto or go for private auto.
Time : 30 - 45 Minutes
Cost : Shared : Rs 50/- Rs 80/- , Private : Rs 100/- Rs 300/-
(private auto rates may vary and it strongly depends on you bargaining skills)
After almost one and half day of travelling (or rather two and half day if you are travelling by train) observing, asking question to random people about how to reach where and making new friends along the way you, finally reach at Jaigaon. At first it seems like smaller version of Bandra linking road markets (if you come from mumbai you can relate with it !) just like any other crowded city in india. but once you cross that gate i must tell you, you will literally notice the difference. be it clean roads or well organised traffic.
Once you reach at Jaigaon you can ask auto driver to drop you at 'Bhutan Gate' or you can get down and the start of the market , explore little and find your way to 'Bhutan Gate' like me. it'll take hardly 15 minutes to reach at 'Bhutan Gate' by walking.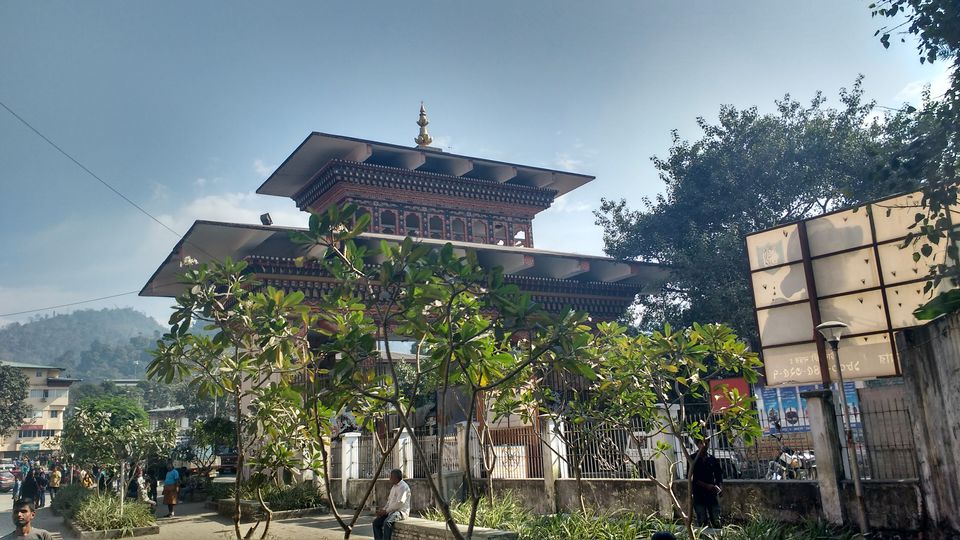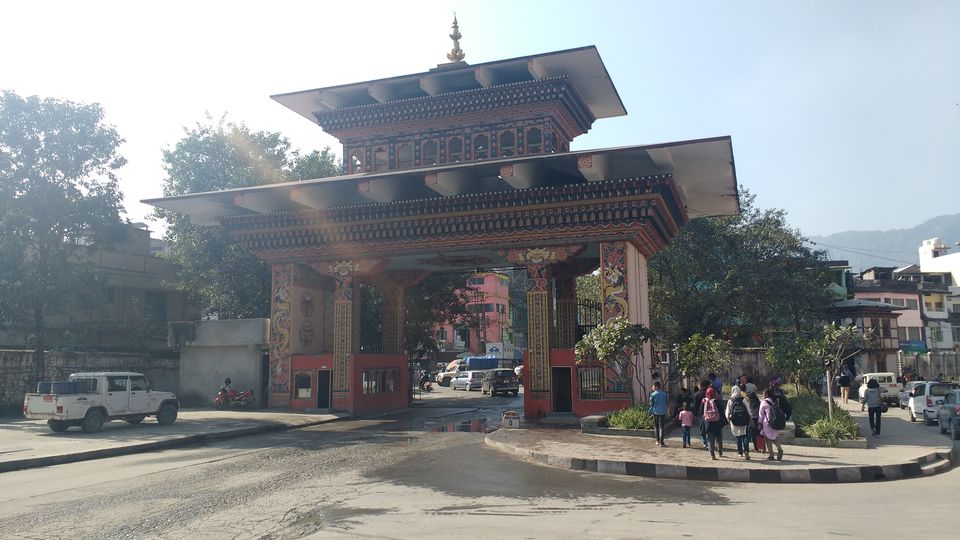 Hurreyyy ! Finally reached Bhutan now what ?
one of the first thing you need to do after setting your foot on bhutan is to get entry permit to travel across different cities of bhutan.
you have to get it from the immigration office which is situated diagonally opposite to Bhutan gate.
here is immigrration office schedule to save some of your time !
Open on weekdays : 9Am - 4Pm
Lunch time : 1 Pm - 2 Pm BST (BST is 30 minutes ahead of IST)
Closed on Saturday, Sunday and public holidays
What all documents will be required to get permit ?
1) Passport Copy/ Voter Id Card
2) 2 Copy of passport size photo (suggested to carry more as you will require more when you will apply for yet another permit for Paro! )
3) Hotel confirmation receipt and full trip Itinerary.
Make a not of point no 3 if you are solo traveller / backpacker.
Because i was travelling solo, first they refused to gave me permit , and secondly i did not have any pre booked hotel confirmation nor itinerary !
Anyways, hum indian hai kahan na kahan se juggad laga lete hai ✌️
<< Rewind << taking you all little back, after i entered the bhutan gate when i was just about to enter into the immigration office i was stopped by the 'Royal Bhutan Police' and enquired for almost half and hour. apart from long hair, thick beared and hippie look i did not do anything wrong. After checking my passport, aadhar card, photographs when i asked them did i do something wrong. they asked me
"Why did you cross the road by showing hands to the cars , can't you stop at zebra crossing and wait for the car to stop ? "
I was like Whhaaat ? (hamare mumbai main toh aise hi hota hai , agr haath na dikhao toh pura din road cross karne main hi lag jata hai !)
I said them sorry and assured them to not to repeat it while travelling in bhutan. And pleaded them to let me go as i was already late and did not know how much time it will take to get the permit. No sooner they let me go they found another family doing same thing (we indians , aadat se majboor ! :P). but this time i went for their rescue, i told officers that we are family and will let them know Do's and Dont's of this city. (i met that family while having breakfast at jaigaon)
>> fast forward >> when one of the immigration officer refused to grant me permit as i was solo traveller. i know what i had to do, find that family and ask them if i can join their family temporary to get permit. as they already had booked hotels, they had itinerary only the surname was the issue.
They said yes but surname issue was still there. As per the process, immigration officers take application of your entire family, you have to visit big hall where all the verification process happens and entered into records along with your photo, thumb prints and retina scan.
Eventually someone came to my rescue and he knew what i was feeling at that time as he was also a solo traveller ! he along with his other friend helped me to clear all our verification process and grant us the permit. (message me if you are stuck in such situation and will provide you his contact no)
It took around 5 hours to get my permit with all chaos i went through.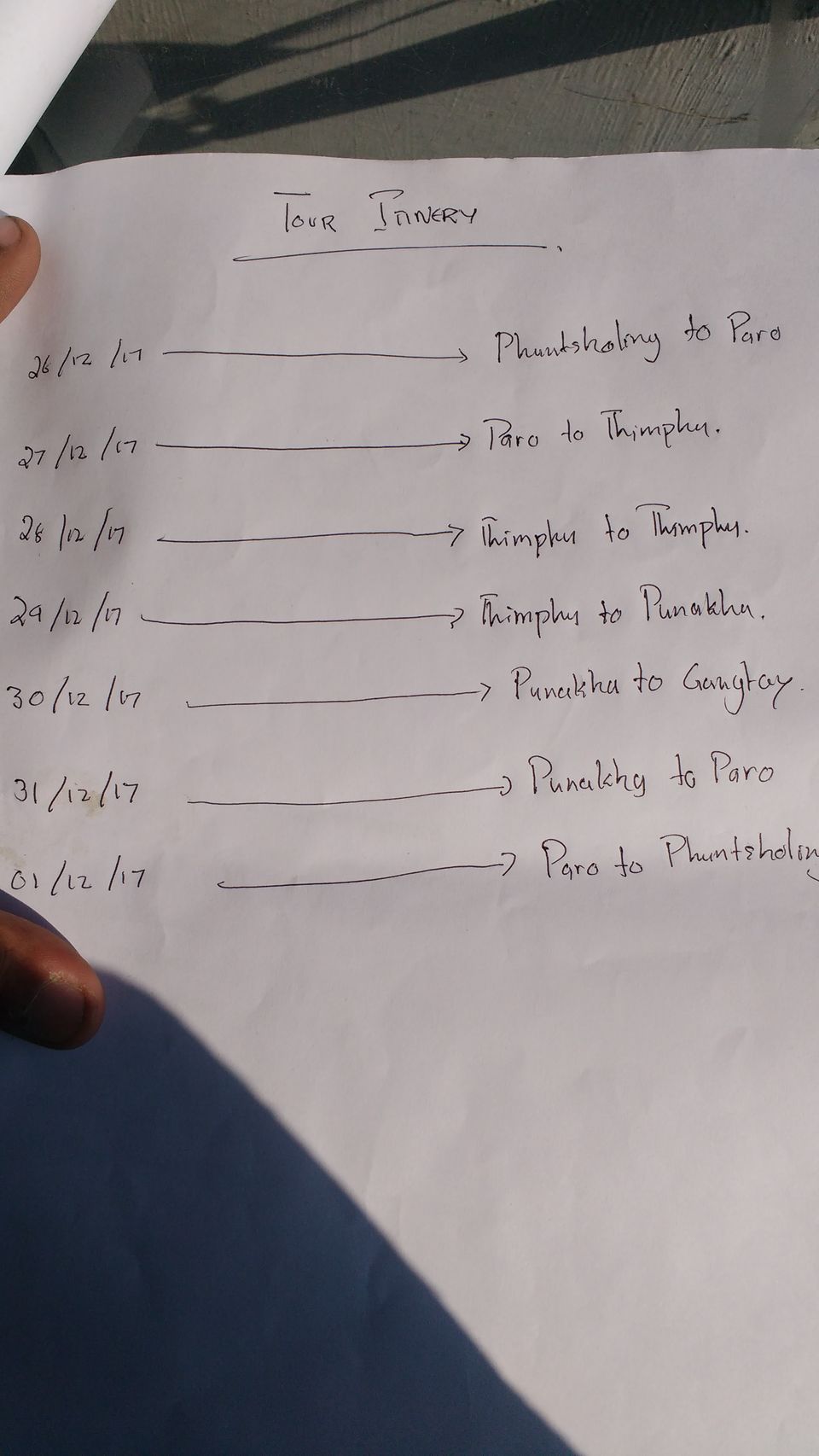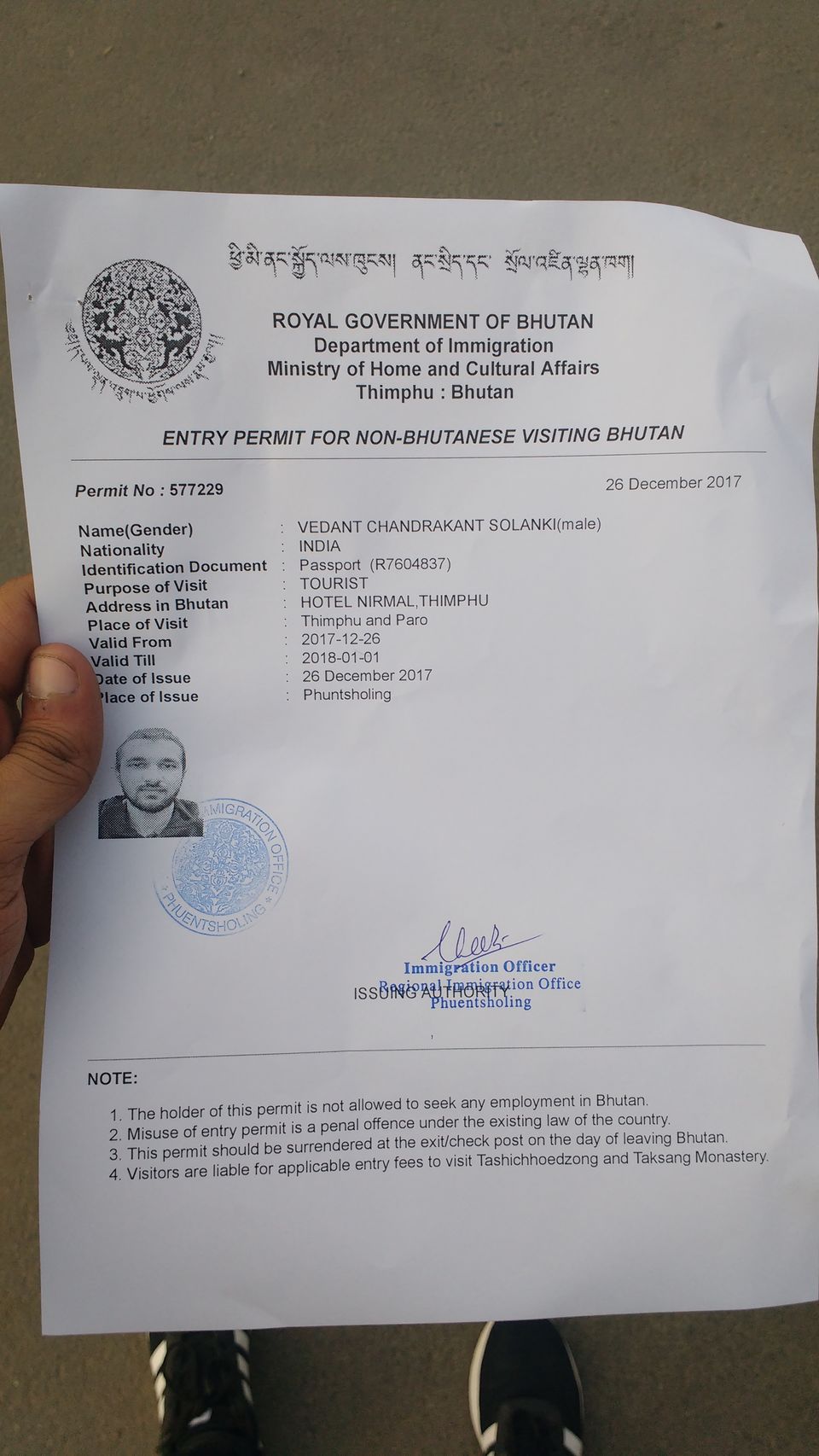 Things to remember.
* Permit you get at phuntsholing is valid to travel across 'Thimphu' and 'Paro' only. if you are planning to go to chelela pass, punakha you have to get new permit once you reach thimphu.
* Get local sim card after you are done with your permit process. 'Tashi sim' will be best and they have best plans at cheaper rates
* Try to arrive early at immigration office if you already do not have permit. once you are at office it will easily take half your day to get the permit. (refer this for any document related confusion or if i have missed anything)
* Public smoking of cigarette is prohibited. so don't even think of trying it. and yeah don't cross road with showing your hand to cars. stand at zebra crossing and wait for car to stop !
* If you need any tour operator based out of jaigaon , contact this person. Kailash : +91 9933650391
* If you are in search of cheaper hotel which is located at the center of the city. message me, will provide you the details !
Thats it for the permit. In next 3 parts i will cover about Thimphu, Punakha and Paro.
let me know in the comments if you find the provided information helpful. and Inbox me or DM me at my instagram account if you need any help, i will be glad to help you out !