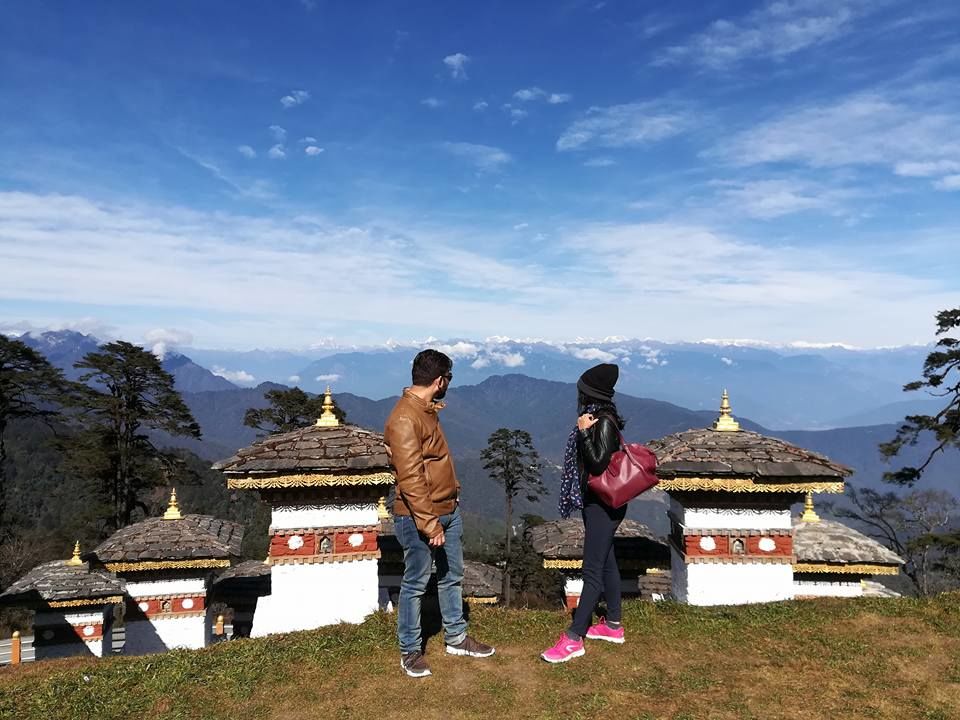 Do you love mountains ? Want to experience picturesque view points without burning a hole into your pocket , Then Bhutan is the obvious answer . Well, at first I want to clear one thing this blog is purely for SAARC travelers (Indian, Bangladeshi and Maldivian passport holders). Bhutan was in our top priority from long as we wanted to be in quite place where we can be aloof for a week and we could not find a better place than this .
Without Wasting anytime lets jump to the basic FAQ s for the tour .
1. Which is the best Option to reach Bhutan ?
-- You can go Via Train , Via Plain or via Your Own Vehicle .

Option 1:- If we choose to take your own vehicle you have to get the permit before entering Bhutan, that is in Phuentsholing .But there is catch there is some rules while driving in Bhutan , like if any royal family is passing by normal car needs to stop and let the Royal family pass. But roads in Bhutan are pretty good to drive .
Option 2:-. If you choose to go there by flight there are two options . 1. Druk Air 2. Bhutan Airlines . But Druk Air does not operate everyday and We found that Bhutan Airlines are always booked by agents . Although if you are really lucky you can get the flight ticket but it will cost you around 14k both side from Kolkata.Speaking of value for money it is or not depending on traveler's prospective but the view of the Himalayas from flight is just too good . And one more catch Always choose the left side of the flight while going to Bhutan and right side while coming back .
Option 3:-Now the third option is by train and we opted for this option . But there is only one direct train that is Kanchankanya Express and that departs from Sealdaha station in Kolkata at 20:30 and reach Hasimara 10:46 next day (Note Hasimara is not the last stop , so please track the train ). Now why we chose this option , as it is a night journey so we are not wasting any day and we obviously saved some money which we used in some other purpose . Other options by train are to get down at NJP and take share or private vehicles from there towards Hasimara and it will be a 3-4 hours journey.

2. Which all documents are required for entering into Bhutan ?
---- Well every tourist will be given permit to enter Bhutan upon reaching Phuentsholing Permit office , That is located near Phuentsholing gate . you can cross Phuentsholing gate without any document and reach the permit office , in the office they will ask for the Passport or Voter card of every individual . Now if you are traveling with your spouse and in your passport your spouse's names is not added then they will ask for the marriage certificate (Which happened in our case ). Apart from this they will ask for at least one day's of hotel booking receipt. This total procedure of getting permit in hand will not take much time ( Around 30-45 Minutes ) depending on the crowd .
3. Can you apply for this permit online or prior to reach Bhutan?
--- Online application is recently launched for Indian and Bangladesh,but in that case there are certain criteria to match . Those are

1. Bhutanese guide 2. Bhutanese vehicle 3. Three star hotel or Tourism council of Bhutan registered farm houses in all the places. So if you don't want to waste your money in these cases there is no other option left as the Bhutan councils in kolkata and Delhi don't provide permit now .
4. What is the best time to go to Bhutan?
---What I always believe is a cold place can be best enjoyed in Winter , I traveled in starting of December as I knew I would be getting the best views of Bhutan that time . But Don't go in January or late December as some of the higher places like Chelela pass will be covered by snow . You can opt for October as well you can find the sweetest of apples in Bhutan . But if you want my suggestion go in December for the best views,clear sky and if you want to see the black neck crane in phobjikha starting of December is the best time . Avoid January and February . From march end things will become clearer. December can be cold , temperature starts decreasing from 4-5 PM . At night it can be as low as -1.

5. Any suggestion for the tour operators ??
--- In Bhutan there is no railway connectivity , only option is Bus service , and there is two main city In Bhutan , Paro and Thimphu and bus runs between these two cities but buses are very less .so best option is to hire cabs . You can either book a tour operator or you can book it from Phentsholing itself . You need a day's booking in hotel. So if you book vehicle by your own make sure to book a hotel in any one of the places of your interest prior to visit Bhutan. I am listing down few of the most reliable tour operators across Bhutan .
1.B. K. Prasad of BK Tour & Travels : +91-9593837520 (India), +975-17601325 (Bhutan). You can also mail him at bktourandtravels@gmail.com
Review:-

---Oldest tour operator in Bhutan. I tried to contact him but he was charging extra 2500 for visiting HAA Valley .
......................
2.Mr. Sujit Goswami of Maruti Tour & Travels : +91-9609791522 (India).
Otherwise you can mail him at sujitgoswami22@gmail.com.
Review :-

-- I have traveled with him but he charges 25% advance. He is very professional and you don't have say anything after reaching there . Most recommended.

Sujit Goswami charged me 2500 per day for Wagon R.

........................
3.Mr. Thinley Dorji of Bhutan Travel Routers : +975-17814514.
You may also email him at btravelrouters@gmail.com. You may also contact him at Facebook or his Facebook Company Page.
Review:-

-- charges high from the first two option
....................................
4.Mr. Raju & Miss Menuka from Heavenly Bhutan : +975-17617107 / +975-517661700.You can mail them at heavenlybhutan@gmail.com or can also contact them via their Facebook Page.They are very reputed. You can read about their reviews at Trip Advisor Forums
Review :-

-- charges high from the first two option
6. Help me with a basic itinerary ?
Day 1-- Board Kanchankanya from Sealdaha , reach Hasimara next day @ 11 AM ( this is not the last/end platform , so do keep track for the station ). From here you have to take shared cab/auto to Jaigaon ( the border town , Jaigaon is the Indian side , Phuentsholing is the Bhutan side ), there is a gate in between.Take your permit in Bhutan immigration office , it is placed in Phuensholing side and head for Thimphu.
Day 2 :- Sightseeing in Thimphu , full day. ( must see :- Buddha Point , textile and fertility museum , Takin Preserver may be optional )
Day 3 :- Day trip to Punakha via dochula pass ( must see :- the Dzong in Punakha, Hanging Bridge in Punakha), back in Thimphu
Day 4 :- Head to Paro , rest @ Paro
Day 5 :- head to chelela pass , back to Paro sight seeing , in and out shopping , ( everything is costly here,Similar items are available in Phuentsholing or Jaigaon )
Day 6 :- Tigers Nest ( This is a hike , it can be optional , this is a moderate level hike , If you are in Bhutan it should be top of your wish list.
verdict : -- best place in Bhutan.. But need a whole day

Day 7 :- head back to Hasimara from Jaigaon . catch the train , timing 4:40 PM
7. Suggest me some good restaurants ?
----You can find Indian and Tibetan cuisine across Bhutan. Here are some restaurants in which I have eaten out .
1.Hotel Ghasel (Veg Food)
2. Hotel Tandin (Indian Cuisine),
3. Bhutan Kitchen (Bhutanese Cuisine),
4.Rice Bowl (Chinese Cuisine) at Thimphu.
5.While at Paro, don't miss out on Hotel Sonam Trophel,they make finger licking food.Dochula pass cafeteria has good Puri aloo bhaji and paratha's.
Some More Restaurant :-
.................................
1. Coffee culture - Thimphu
famous for Ema Datshi, momo, Chocolate lava cake
2.The Art Cafe-- Thimphu famous For breakfast
3. Musk restaurant :-Thimphu famous for Sikkimese food . beef chilly
4. Hontey momo in HAA valley
8. Where I have stayed during my Bhutan Tour ?
1. Namshelling Boutique Hotel , Thimphu
Cost :- 5210 Rs Excluding Breakfast for two days. Awesome Decoration,Wooden floor, Huge size room . Food is average tough. Booked through @Make my trip . They have provided the lowest amount. They have a separate smoking zone outside the hotel , parking area. it is a 3 star hotel in true sense .
2. Dewachen Hotel , Paro .
Cost :- 9493 Rs Including Breakfast for three days. Awesome Hotel , It is actually on top of the hill, you can see the whole of Paro from the hotel. they have a separate veranda where you can sit and have a coffee and enjoy the awesome view of Paro.Food is excellent and a bit costly .As it is on top of the hill so if you want to have food from outside then it is very difficult without vehicle as it is way outside of Paro town. But if you want to enjoy a awesome lonely stay in a wooden hotel , a super awesome view both at night and morning then just don't go anywhere. You can not get a better hotel than this in this price range in paro. Booked through @Make my trip . They have provided the lowest amount
Link :- http://www.dewachenresort.com/
3. Damchen Hotel, Punakha
Cost :- Cost 2400 Including tax ( 20% tax) .This is the only hotel which is value for money . Rooms are of very smaller size but it is situated near to a river and river side view is just superb , they also have a small garden .I have sent a mail to book the hotel they agreed and I paid the amount upon arriving . I have not found this hotel in any third party sight.
Link :- http://www.damchenresorts.com/
9. Any Budget hotel for recommendation ?
----There are many many hotels , in off season you can actually visit every hotel and bargain but as it was our honeymoon trip we prefer to book it prior.Here are some recommendation.
1.Hotel Shelgoen, Phuentsholing : +975-5253982, +975-77160283. shelgoenhotel@gmail.com
2.Hotel Tandin, Thimphu : +975-2323380 / +975-2323381. dorjeetandin001@gmail.com.
3. Hotel Ghashel, Thimphu Phone: +9752324002
4. Khamshum Inn . Thimphu Phone: +975 2 328 262
5. hotel Sonam Trophel Paro.
10. Any Luxury hotel for recommendation ?
----In luxury hotel section here are few options you can look into

1. Hotel UMA paro :-Phone Number : +975-8-271597
Link :- https://www.comohotels.com/umaparo
2. Hotel Norbuling :-Phone: +975 2 335 754---- Luxury hotel.
Link :-http://www.hotelnorbuling.com/
3. Gakiling Guest House, Phobjika : +975-17651577 / +975-77651577
/ +975-77868677 / +975-17807233 / +975-17488355. hotelgakiling77@gmail.com
5.TASHI NAMGAY RESORT PARO, BHUTAN
Link:-http://www.tashinamgayresort.com/
6.Hotel Gangtey Palace, Paro Bhutan
Link:-http://www.gangteypalace.com/
11. How to go to Phuentsholing from Hasimara ?
--- From Hasimara , there are multiple options . Share Auto , Share Taxi are available . Share taxi rate is 400 per person. Better book a auto if you have luggage , it will take 200 rs. Otherwise you can opt for share auto for rs 20/30 depending on your budget .
12. Can we use Indian rupees in Bhutan ?
----- All the Indian notes are acceptable even rupees 2000 as well but better keep 500 and 100 with you but in return you will get Bhutanese note.
13. Can we withdraw Bhutanese rupees using Indian card in Bhutan and will that is having any extra charge ?
------ In Paro and Thimphu you can find Druk PNB Bank . I have withdrawn money from this bank using HDFC bank . Kudos to them there was no extra charge .
14. How much amount should I keep with me while traveling Bhutan?
--- It depends up to your individual spending .But here is some average cost of some basic item what we Indian's usually consume .
Momo ( Chicken / veg) -- 60-80 Rs

Rice -- 80 rs .( max one person can eat .)
Kewa Datshi/ Ema Datshi /Shamu Datshi ( Avarage 120-180 rs)

Egg Maru/Jasha maru :- 200-300 rs .
Sha kam/Shukam :- 200 rs .
Bhutan food is costlier than India . Only thing cheaper here is alcohol.
15. Can you smoke in Bhutan?
--- Yes , you can but not anywhere. Bhutan is very clean.It is one of the Carbon negative countries in the world . you can not found any garbage in Bhutan. It is very very clean .So respect Bhutan culture . You can smoke in designated areas but don't litter .
16. Is Bhutan safe for outsiders ?
----It is usually safe and crime rate is very less there . But why to roam around at very late night as Bhutan is usually closed after 9. One day we had some cravings for food and it was 9.30 PM in evening in Thimphu apart from just one 3 star Chinese restaurant everything was closed during winter.
17. Most recommended places for visit in Bhutan ?

---- This list purely based on my view . But if you go by mine then it goes like this

1. Taktsang Monastery ( The famous tiger nest )
2. Punakha Dzong

3. Buddha Point

4. Dochula Pass
5. Chelela Pass
6.Hanging Bridge in Punakha

The others are Folk heritage Museum, Takin Preserve ( they charge 100 rs just to see the Takin , that too if you don't have camera with very high zoom capability you can't see them . I have Nikon Coolpix P600 with 60x Zoom , i was able to click some though .)
18. Is it possible to start from Thimphu on same day from Phuentsholing ?
---- Yes it is possible to start on same day for Thimphu , it usually takes 6-7 hours ( including the halt for snacks/lunch . If you are going with any tour operator please talk to them in advance .
19. Which city you should visit first Paro or Thimphu ?
------ If you are planning to trek for Tiger Nest then I would suggest to keep that on last day for majorly two reasons.

1. Bhutan is at high altitude so you have to adjust with the weather and altitude and it would be difficult to trek on the first day itself .

2. Secondly It is moderate trek , it will take 2.5 -3 hours to reach to the tiger nest ( including the obvious stops for Photography) and 1-1.5 hours to come down .So if you get hurt somehow the whole tour will be affected.
So I suggest Thimphu first and Paro at last .
20. Can you get Indian Mobile Network in Bhutan?

---- Indian mobile networks are only available till Jaigaon/ starting of Phuentsholing, beyond that you need to take Bhutanese service provider . Use Tashi Shell, which I believe works best in Bhutan.

21. Pro Tip :-
If you are traveling by train Try to reach Phuentsholing on Tuesday as Saturday and Sunday the permit office is closed so obviously Monday you can use huge crowd . Although if you are traveling by flight then you can get the permit in Paro airport which is open everyday
Hope this will be helpful for all who will be visiting Bhutan in near future . Please reach me or comment on the the blog . It is great pleasure of mine sharing my experience in Tripoto for the first time .
Happy Traveling.