Yes, you read that right. You can now stay on this gorgeous private island in Zanzibar and feel like a celebrity.
The Zanzibar archipelago, located in the Indian Ocean is a breathtaking paradise to escape from the world. Crystal clear turquoise blue water, shallow sandbars, amazing underwater flora & fauna and many small deserted islands virtually not visited by tourists are some of the highlights here.
We were here for our wedding anniversary hence, we did not plan for any hectic itinerary or check list 'of what to do' or 'what to see'. We just wanted to relish every second of each other's company and enjoy the slow rhythm of island life. Keeping this in mind we chose this destination. And what's more romantic than being marooned on a tiny private island to have privacy and a little paradise to ourselves. What makes "AndBeyond Mnemba" special are the sensory experiences that are unleashed for the guests the moment they step out of the boat on this island. The powdery pearl white sand tickles you, the customised food specially made for you savours your tongue, the hues of sunrise and sunset are far beyond beautiful to be captured in photographs. Falling in love with this island instantly is but obvious.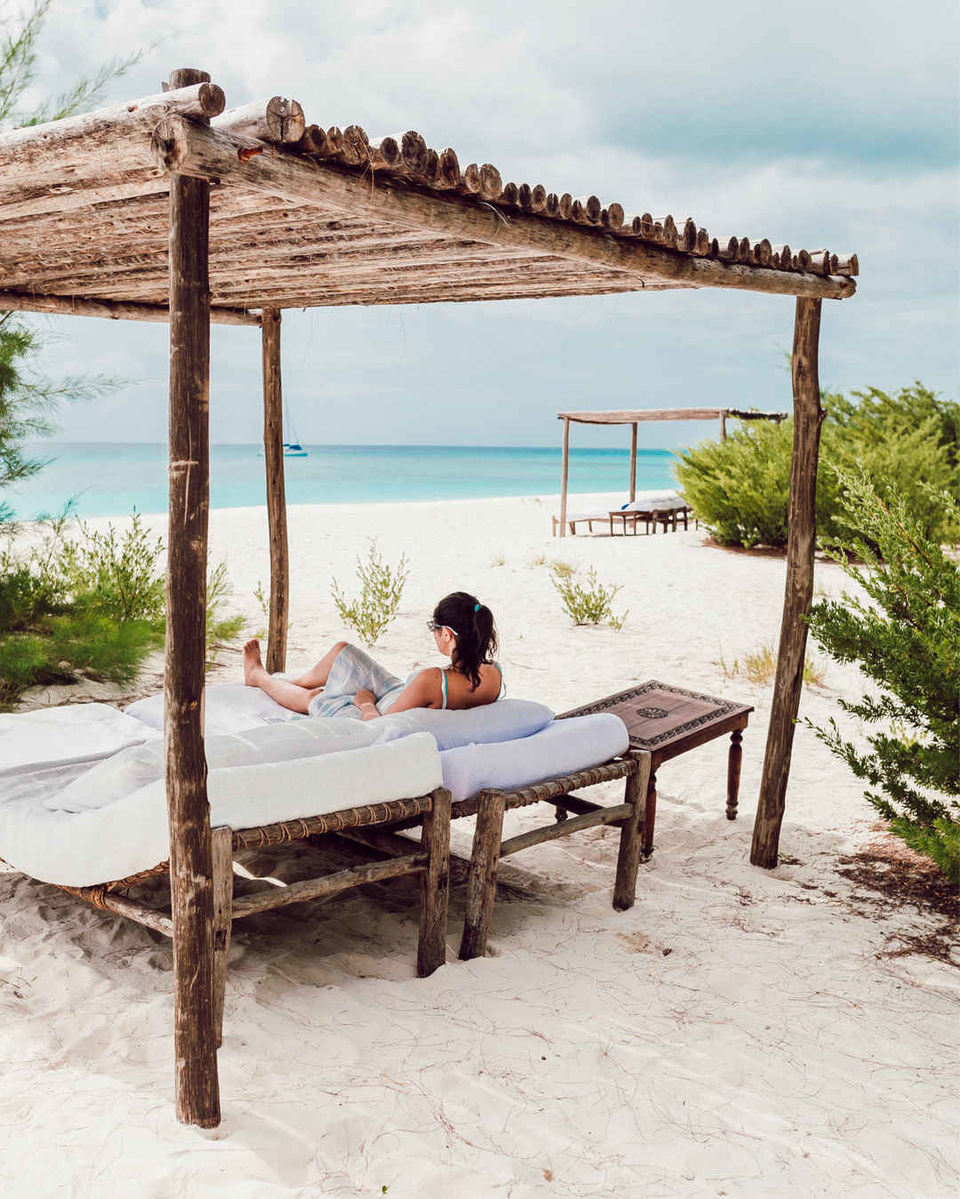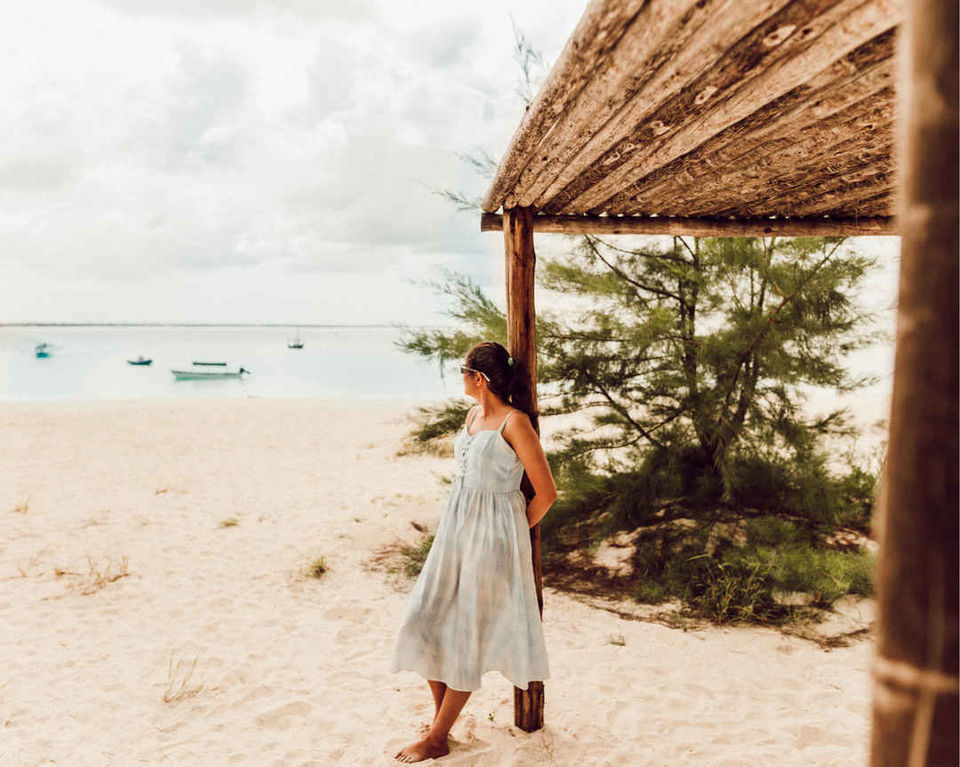 At AndBeyond you will be among a limited number of 24 guests at this romantic, private hideaway, where ten beachside bandas overlook the Mnemba atoll (a scuba diver's delight). Feel like King & Queen with your private butler at your service and enjoy your each second on this tropical paradise.The floor & walls of these palm frond Bandas are made of traditional woven grass mats and the roofs are thatched to give you authentic Zanzibar feels. The open air walls in the living room are decorated with large hanging picture frames with a view of lush green trees outside. These Bandas are so dreamy with a gazebo of its own which are perfect for afternoon siestas. I spent hours here reading and just admiring the beauty around. Just outside your Banda is crystal clear beach.
The luxurious Bandas are minimalistic and yet everything that you might need. Spacious and airy living room, king sized bed, cool open air bath with glass beaded curtains, gym in a basket and sun beds. It's a perfect hideout for a couple. You need not leave your Banda if you want to and can have your food right there on the beach. But we liked visiting the common lounge though for the sheer sake of viewing the beautiful arrangement that used to be different every night. AndBeyond specialises in creating guest delights and those signature moments that would be unforgettable and cherished forever.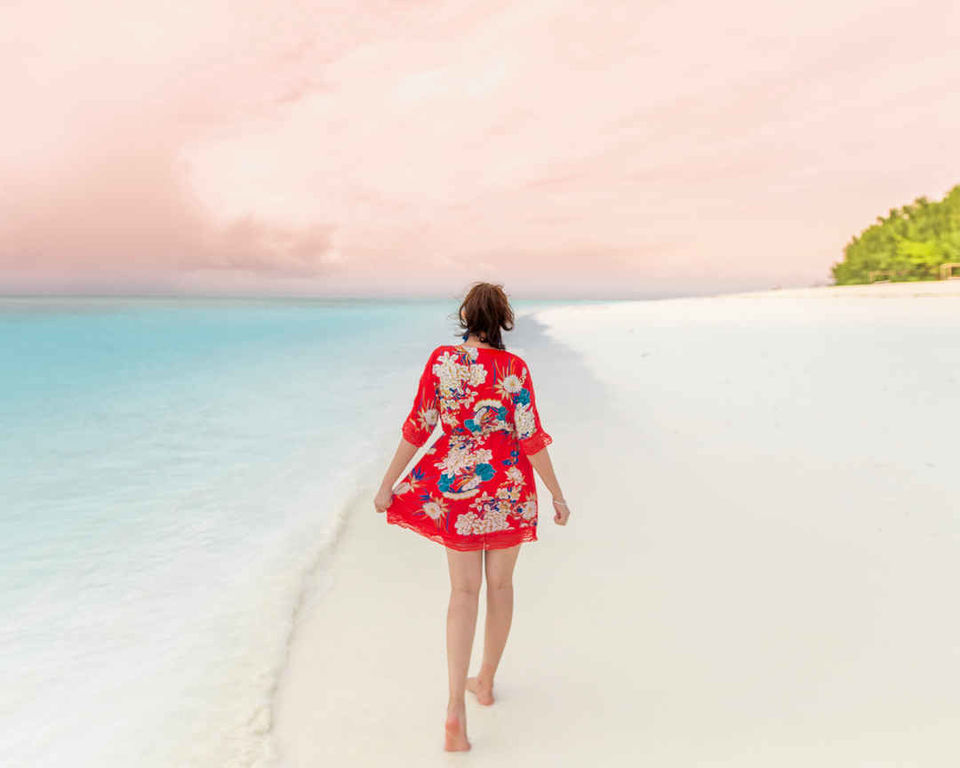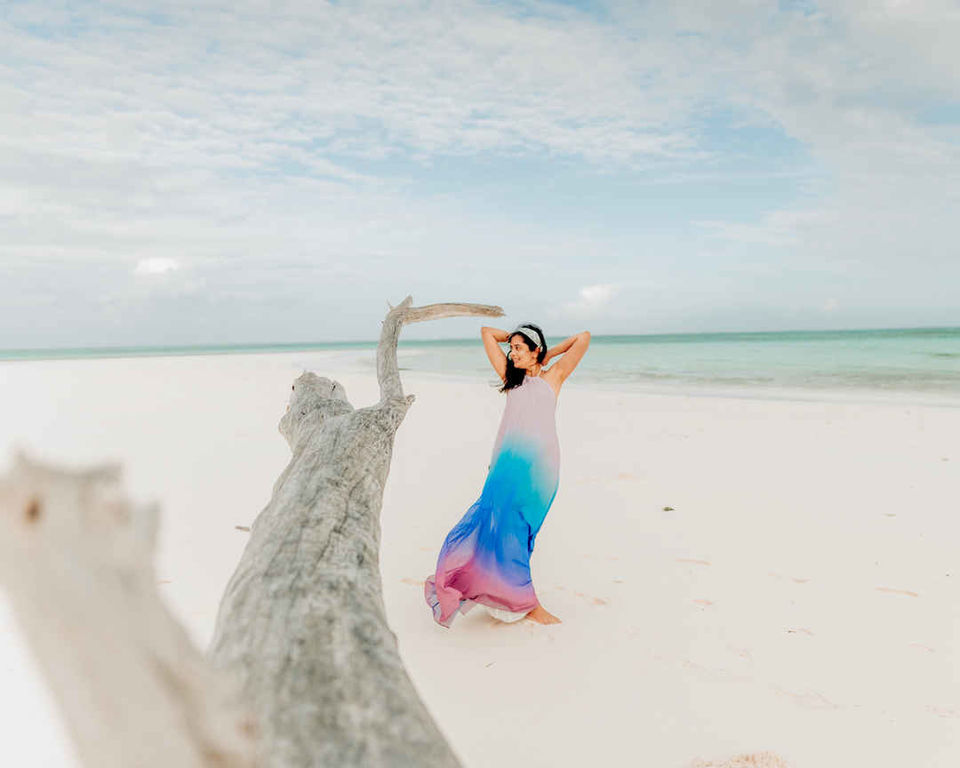 We were surprised with a lantern lit & starlit private dinner in a forest. The way leading to the forest was lit with paper lanterns on the side. It was just so beautiful. Also, there was a display board that said " Happy anniversary Shruti & Eklavya" . It was an experience we will cherish forever. There is no pool in AndBeyond but who needs pool when there is crystal clear ocean just outside your Banda. We spent time snorkelling, reading, sun bathing , walking on the beach or just soaking the beauty around.
AndBeyond is exceptional as far as food is concerned. Each couple/family is assigned a private butler and you have a discussion with the Chef as soon as you land so as to understand your food preferences. Being vegetarians though, we had a lot of options to choose from which is not normally the case. Haha ! Also, we were surprised by the endeavours of the entire cooking team as they specially cooked Indian food for us. We were really overwhelmed by the gesture. It's a multi cuisine restaurant and all meals are served a la carte. Another thing worth mentioning are the deserts. The freshly made ice creams & sorbets of rare flavours like ginger, tomato and even the common one of Zanzibar famous vanilla were mouth watering. And I can't forget the scrumptious Indian sweet Jalebi that was made specially for us and even packed for us to carry along.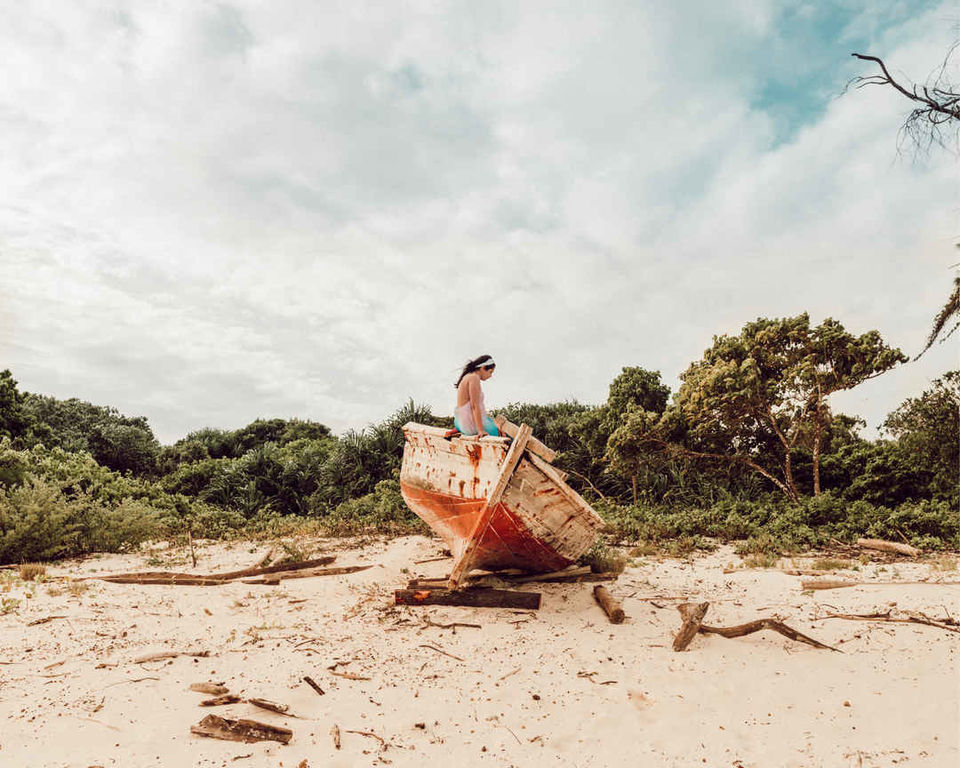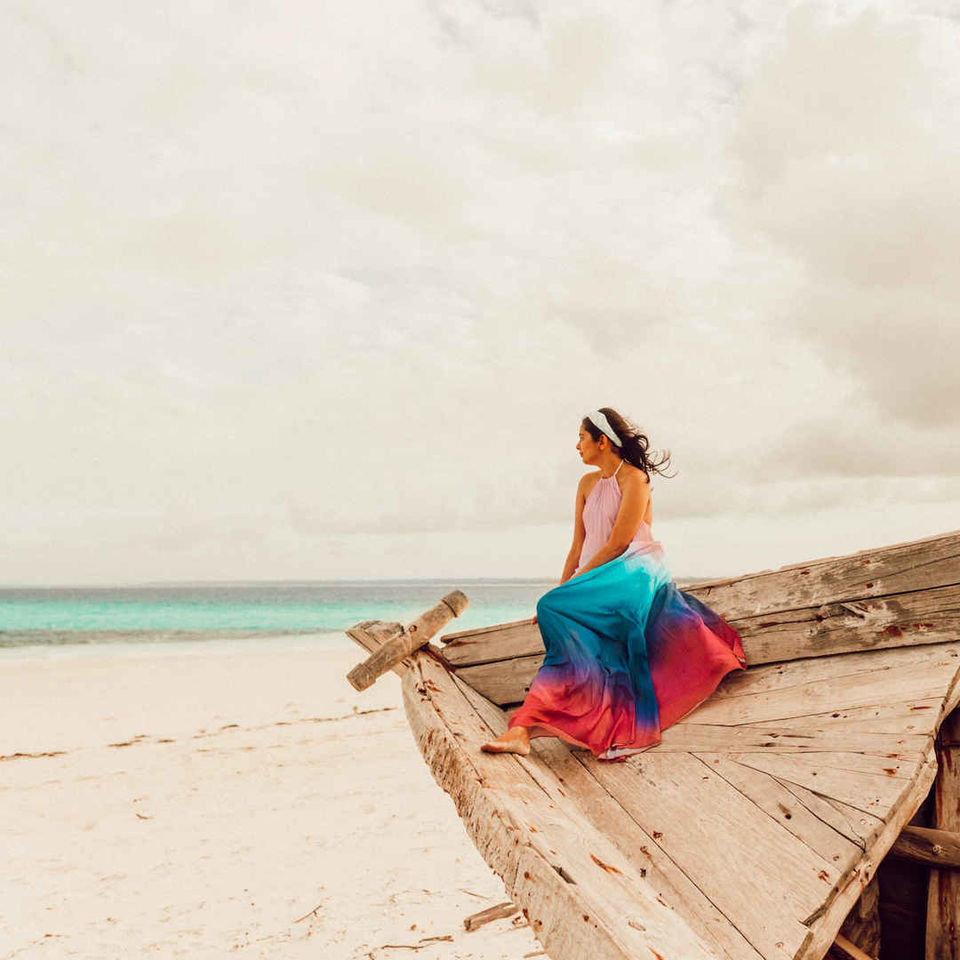 This island offers a lot of activities like snorkelling, diving, swimming and kayaking, to massages on the beach, to doing nothing at all, Mnemba has something for everyone. AndBeyond Mnemba Island has its own PADI dive school. It's quite a luxury. Just a ten minute ride from the island is a colorful reef garden where you can spot clouds of silvery yellow-tailed snapper and plenty of feathery lionfish, trumpet fish, moray eels and an enormous, well camouflaged scorpion fish. For snorkelling, house reef can be reached even without a boat. You can get yourself a kayak and set for an adventure. Sundowner cruise in a traditional wooden dhow, is a best way to view a gorgeous sunset. You can also go for a dolphin tour in the morning. If you are lucky you can spot a Suni antelope & turtle hatchlings on the island. What is more relaxing than a couple spa or a yoga session on the powedery sand. You can have a romantic walk across the entire island almost barefoot.
It will be difficult to forget these sun hazed days, clear blue skies, turquoise warm waters, and spectacular sunrises & sunsets. I would definitely like to retire in one of these Bandas one day.