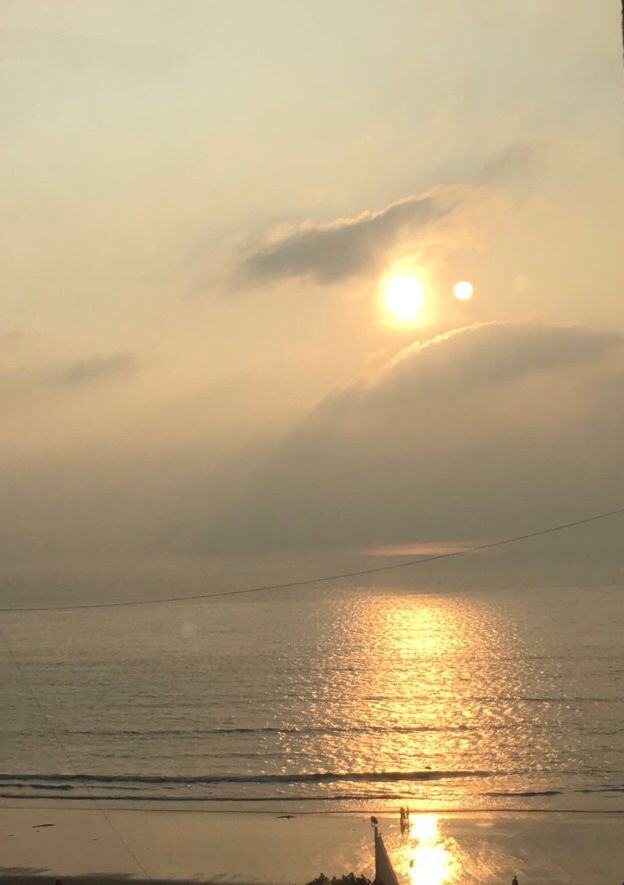 Can't decide the destination for your honeymoon? Have to propose to her on an exotic location and sweep her off her feet? Want to rekindle the romance that you have lost? There's no better way to celebrate your love than by going on a romantic vacation together. Choosing your perfect honeymoon destination can be very complicated. So, here I bring you a list of Top Five Romantic Beach Destinations in The World.
1. TURTLE ISLAND, FIJI
Turtle Island is a 4- star private island resort, with only 14 cottages for couples with their own strip of white-sand beach surrounded by waving palm trees.
It is an all- inclusive luxury resort that not only includes food and drinks but loads of activities like snorkelling, scuba diving, horseback riding, wind surfing, kayaking and island tours.
The greeting would be as grand as your love when a seaplane would arrive to take you to the island, giving you an aerial view of the bright turquoise waters and tiny islands clustered with cottages.
The magical Island will let you weave a profound connection of love while bathing in the warm and clear water or relaxing in a hammock or chaise lounge, as there's no internet connectivity on the island.
2. RANGALI ISLAND, MALDIVES
Get ready to be blown away by a seaplane soaring above the Indian Ocean to the exotic award-winning 5-star resort, Conrad Maldives Rangali Island Resort.
Ranked the No. 1 hotel in the world, twice, this secluded island resort is dotted above the enchanting Blue and Green Ocean, with an abundance of flora and fauna encircling it.
It has private beach villas where you can explore the aquatic gardens, swim with manta rays and sharks or soak up the pristine beauty of the white washed shores, walking hand in hand with your partner in tranquility.
Dining at the breathtaking undersea restaurant, Ittha, will be remembered for years to come, if you are a couple who likes to travel with luxury and style.
3. BORA BORA, TAHITI
Undoubtedly one of the best islands in the world, Bora Bora is a tropical gem, with its enamouring white- sand beaches and crystal blue waters leading to matira point, for romantics who want to escape to the Pacific paradise.
The island beautifully rises with its undulating slopes and valleys of Mt. Otemanu descending to the palm covered reef islets enveloping the beaming turquoise lagoon.
The Intercontinental Bora Bora Le Moana Resort and the Four Seasons Resort Bora Bora, are few of the best resorts in Bora Bora, exquisitely tailored for honeymooners.
The resorts will provide individualised accommodations for those who want to get tanned under the tingling sun sipping a cocktail or watch the surreal sunset or even want to gorge on some local delicacies on a candlelight dinner date.
4. HARBOUR ISLAND, BAHAMAS
Harbour island is a tiny island in the Caribbean crammed with beautiful beaches, pastel coloured houses and endless pineapple fields.
It proves to be a tropical oasis for lovebirds with its alluring Pink Sand Beaches merging with turquoise waters and sunbaked palm trees.
The island boasts of excellent restaurants, bars, boutique hotels and numerous of outdoor activities like horseback riding, snorkelling, spa-treatments, shopping, bar-hopping etc.
The true luxury of the island is its simplicity as you can relax peacefully from dawn to dusk, lying side by side with each other and watch the sun take a dip into the ocean.
The Top hotels include The Ocean View Club, The Dunmore and The Pink Sand Resort, most of them providing a view of the ocean and your own part of the pale pink sand and the warm ocean breeze.
5. NORTH ISLAND, SEYCHELLES
Embrace tranquility, where adventure merges with romance as you're whisked away to this lavish private island in Seychelles.
The island offers plentitude of flora and fauna, fancy restaurants, a PADI- dive centre and a clifftop infinity pool, for lovers who feel at home in nature.
Celebrate your honeymoon in the royal VIP villas where the ocean summons you from your deck with a private pool. Dine under the stars embracing the sand on your feet with the sound of ocean waves rolling beyond.
Sneak away to the untouched and unspoilt beaches where love floats on the air and you can embrace it for as long as you want.
So, would you keep your office presentation on hold and turn your love into meaning? Get up and book your romantic getaway to any of these destinations, because love knows no barriers, and so does the sea!