The prospect of taking a cruise first brought several visions of an endless expanse of water, breathtaking beauty, and luxurious wining and dining in my mind's eye. I have to say that on hindsight, there was so much more I experienced than what I had ever expected to see, even in my wildest of dreams!
And that's why if you're looking to go for an exciting family holiday this summer, I'd strongly recommend the Alaskan cruise.
How to reach: Most cruise lines for the Alaskan cruise start from Seattle or Vancouver. You can fly from India to Seattle or Vancouver by various airlines including Lufthansa, KLM, Jet, Emirates, Air Canada, China Southern, Asiana, etc. Since Alaska is one of the 50 states of America, you will need to get the US visa to go to Alaska. However, since the cruise includes Victoria as well, you will also need to get the Canadian visa issued before coming.

Trip duration: You will need a total of eight days for the cruise. You could extend it up to 10 days, if you want to spend a few days sightseeing around Seattle/Vancouver before or after the cruise.
The cruise is offered by a number of different cruise liners, each competing to outdo each other. I went by the Norwegian Jewel and it proved to be a great choice.
So here are diary entries from my Alaskan voyage:

After days and days of research on what to carry on a cruise liner, I finally board the ship at about four in the evening, with bags packed and all set to take the sea by storm. There is an enormous mix of people around me—across nationalities and age groups—and I think to myself, 'This is going to be one cultural fiesta, all right!' After putting our luggage in the cabins, all the passengers are asked to attend a mandatory fire drill. The session turns out to be helpful in terms of understanding the controls of the ship, the amenities it offers, as well as gives everyone a chance to get acquainted with the staff taking care of us for a week.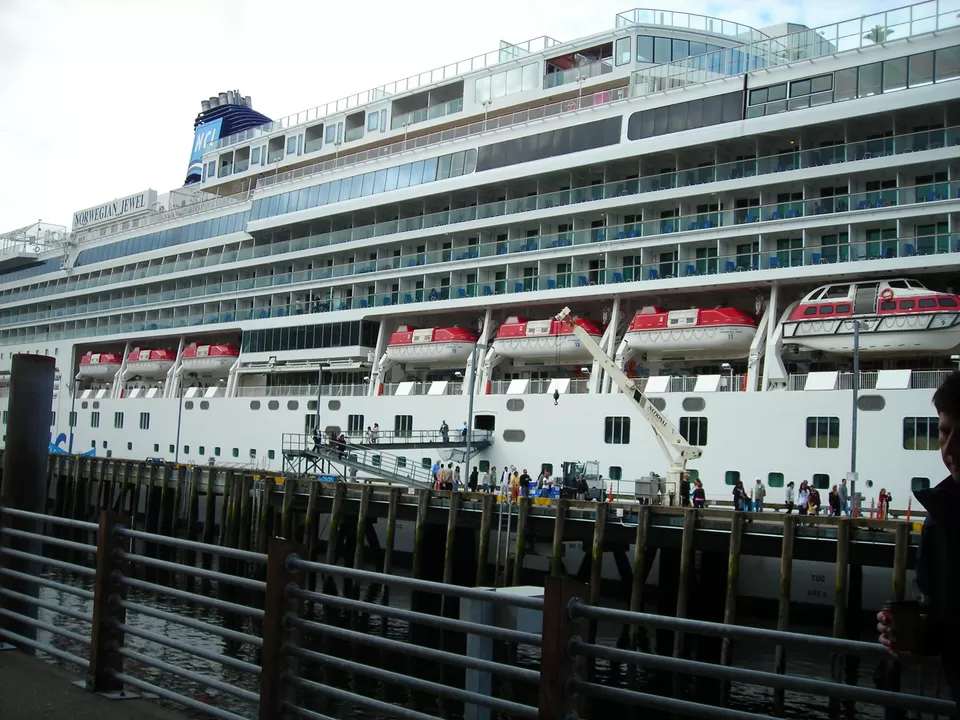 The idea of being in the middle of an ocean is a bit irksome at first, but because of the large size of the ship we can barely even sense it moving. It feels just like being in a stationary giant hotel, complete with its fancy outdoor heated Jacuzzis, restaurants, and other facilities. It's only once we stand on the deck and watch the roaring waves crashing against the floor of the ship that we realize the breakneck speed at which we are advancing!
Without wasting any time, I decide to walk around the ship in order to get my bearings. I am amazed to learn that there are several floors, with eateries, theaters, lounges, a library, fitness centre, swimming pool, kid's playroom, and art gallery—all on board!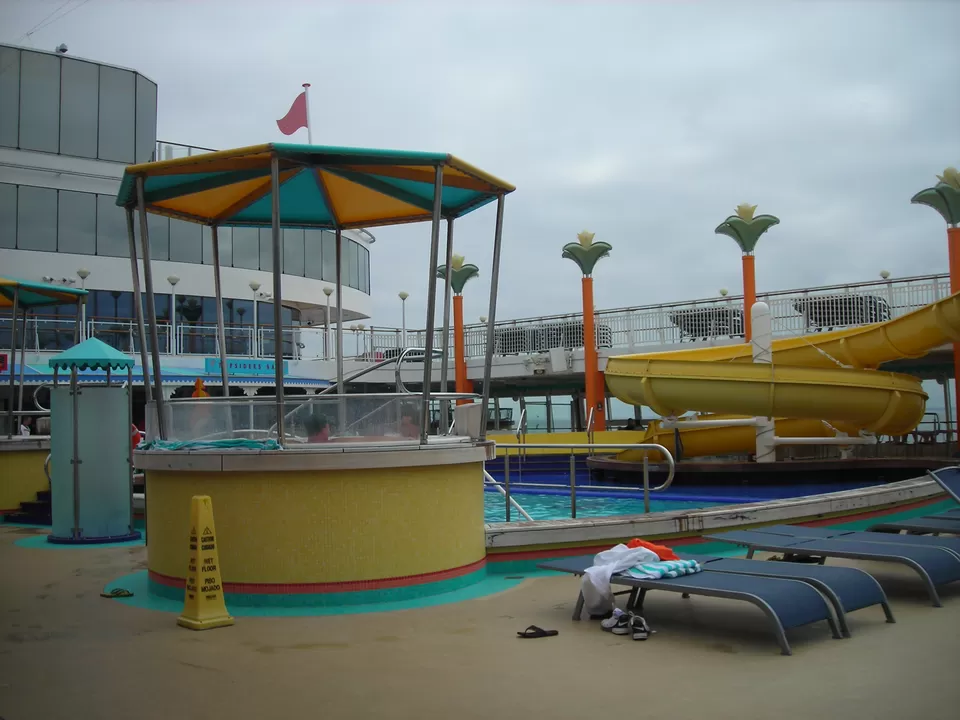 Further, I learn that a day on the ship is full of a number of activities and entertainment programs—in fact, a single dull moment is unlikely! Every evening, an itinerary listing the following day's events and programs is kept in each room, so that passengers can plan their day by picking what they want to be a part of at any point in time.
I select Garden café for dinner, which has a grand buffet consisting of cuisines catering to the international palette—from continental, to Indian, Chinese, and Italian—it's all there. After an early meal, I head to the Stardust Theater, which hosts a welcome aboard variety show featuring the comedy and magic of Jean Pierre. It is hilarious and has the audience rolling with laughter—the perfect start to a weeklong of festivities! Later in the evening, there is also a welcome aboard dance party at Spinnaker lounge, for people to interact and get to know each other better. I'm beginning to enjoy this…and it's only just the first day!
In no time, I have realized that the major thrust of a cruise is fancy food, so I decide to try out everything on the menu. The next morning, I wake up early and proceed to the fitness center, in order to make up for all the delicious bingeing I'm going to be doing throughout the day! There are lots of sophisticated machines, and I figure they even have daily morning classes (for Pilates, yoga, aerobics, body pumps, or zumba)!
After the morning workout, I predictably stuff myself with a heavy breakfast at the café, and then wash, change, and get ready for the day. There's a range of activities to choose from and I'm almost confused at the wide scope: a cooking demonstration, an art history seminar, and a talk on skincare. Soon, I break for lunch and decide to try out an à la carte joint this time, Azura.
After lunch, I sit through an art auction, sipping a glass of wine. It is captivating to see several serious art buyers animatedly bidding for some of the most beautiful paintings. I feel sleepy after about an hour, but there's still so much to do before the day is done! I shift to a hip-hop class at the Fyzz lounge, followed by a talk on how to detox.
The cruise is turning out to be one action-packed event, and I suddenly remember that I'm in the middle of an ocean somewhere far, far away from any land surface…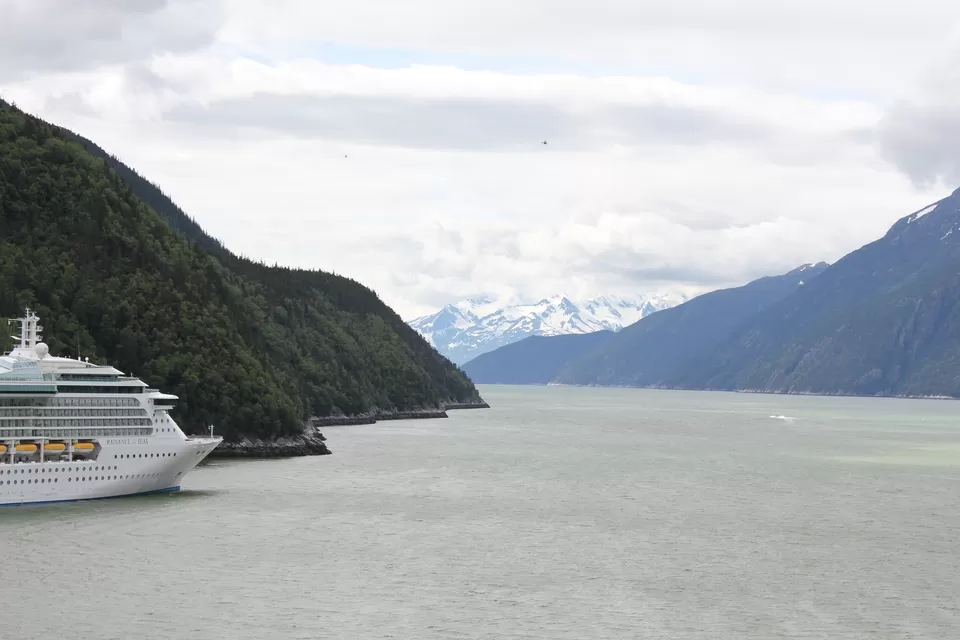 The evening has its own set of surprises in store, starting with a session on body conditioning, a salsa class for beginners, and a karaoke song evening. I sing to my heart's content, and hope that the audience enjoys it. There's something for everyone—Even toddlers have an 'under two' zoo to hang out at where they are well taken care of, while their parents indulge in a hobby of their own liking.
After dinner, I head to the theater for the evening show. The evening shows are the best part of the day—the event that everyone awaits and reserves seats for hours in advance. I resolve not to miss a single one. This time round, it's a Beatles' style musical called Band on the Run. The show is followed by a 1970's theme party where a lot of the older folk groove until the wee hours of the next morning.
After hitting the gym and having breakfast, I'm all geared up for the new day. I am told that we had entered Alaskan waters during the night and will be docking at Ketchikan for a large part of the day. It's a pleasing little town with Alaska's state flower, the forget-me-not in full bloom. On the scenic Creek Street, I wander through some historic places, such as the Totem heritage center and Tongass museum. Another quaint little place worth exploring around here is Dolly's house museum, filled with antiques, old photographs, and secret caches.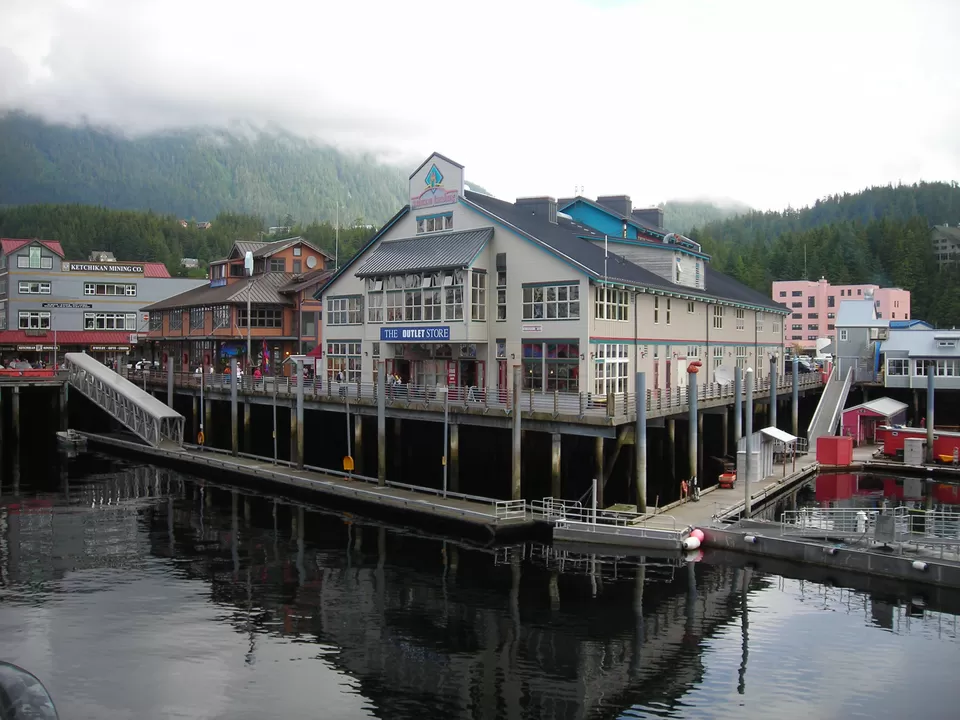 It feels like time actually stood still in this little town, and though modern in every way, it still retains some of the quintessential old American classic appeal. I visit little shops and buy local charms, trinkets, and other memorabilia to take back home.
In the evening, we are all back in the ship and make it just in time for a whisky tasting session at the gift shop. I also attend a session on footprint posture analysis, which is helpful after all the walking I did during the day. In the evening, an elegant Cirque du Soleil performance by an extremely talented couple is staged, which the audience relishes.
We reach the lovely town of Juneau and after my daily routine of the gym, breakfast, and bath, I'm all set for sightseeing. Known as Alaska's summer capital, Juneau has many vintage shops selling everything from jewellery to souvenirs and other little baubles.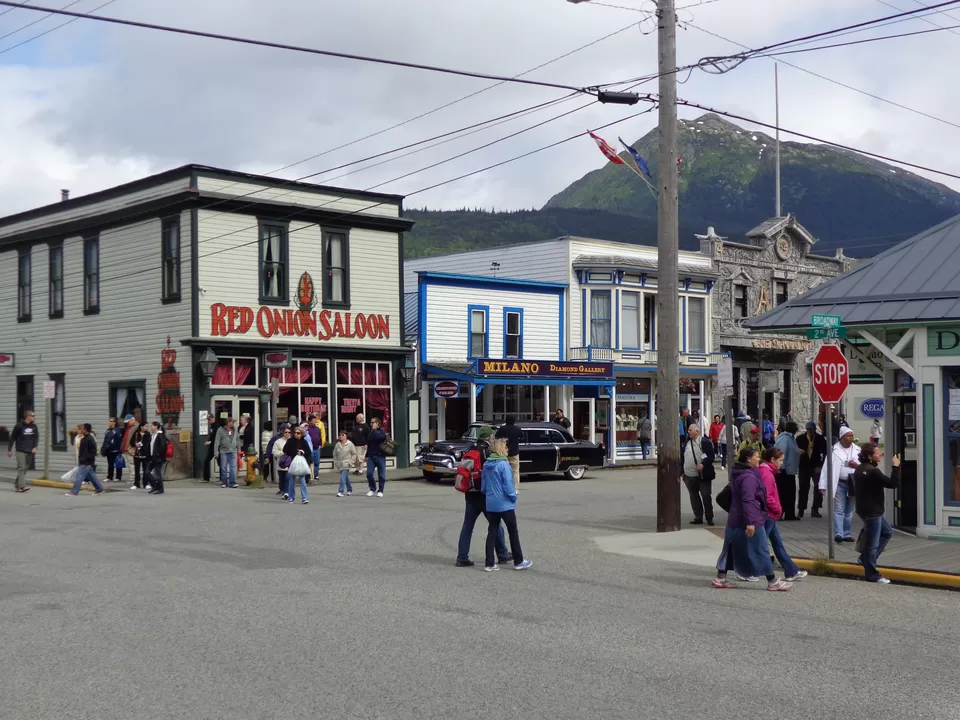 The view of the colossal glacier from atop the ship's deck is spectacular, and has everyone gasping, exclaiming, and clicking pictures. The weather too is noticeably chilly here.
In the evening, there is cardio salsa, rum tasting at the gift shop, and a merengue dance class. Later, I watch the day's show, another theatrical feast, followed by a dance kick-off at the Spinnaker lounge.
I'm up early and all excited to discover Skagway, where the ship will be stationed for about 10 hours today. At Skagway, I decide to do the 40-mile round-trip summit excursion of the historic narrow gauge White Pass and Yukon Route railroad. Climbing nearly 3,000 feet in elevation all the way up to the US-Canadian border in the comfortable coaches is an unparalleled experience. Watching the unsurpassed splendour around me—the mammoth vista of mountains, glaciers, gorges, waterfalls, tunnels, and historic sites—makes me feel like I could almost live here.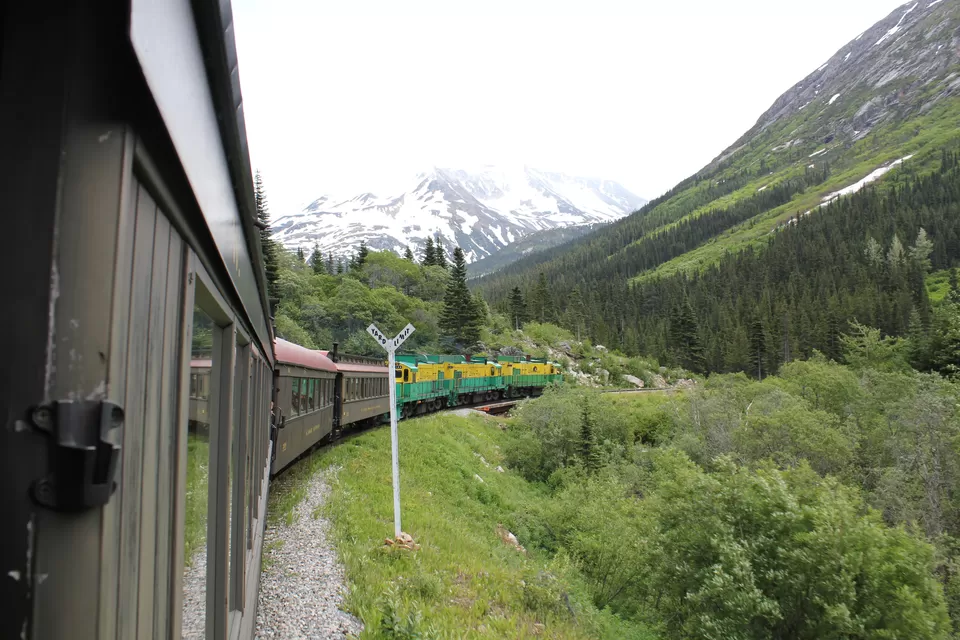 After that panoramic delight, I head back to the ship. There is a cha-cha-cha dance class that I make it just in time for. The night's recreation is a fascinating magic show, which everyone thoroughly enjoys.
This is to be our last day of the cruise, so I indulge in all the activities on offer. After my usual morning routine, I go to watch a show staged by the ship's entire crew—including the cooks, cleaners, as well as the Captain himself. It is interesting to note that the ship has a whopping total of 1,100 crew members from more than 60 countries. The crew is also extremely talented and performs a number of dances, songs, and other acts. For lunch, there is a scrumptious salmon barbecue, followed by a documentary film screening, a comedy show, a thriller dance act, and Latin dance lesson, all of which are fun. In the evening, there is a delectable all-chocolate buffet, which is appealing to all the senses! Later at night, passengers are treated to a unique 'white hot' party, in which the dress code is all white.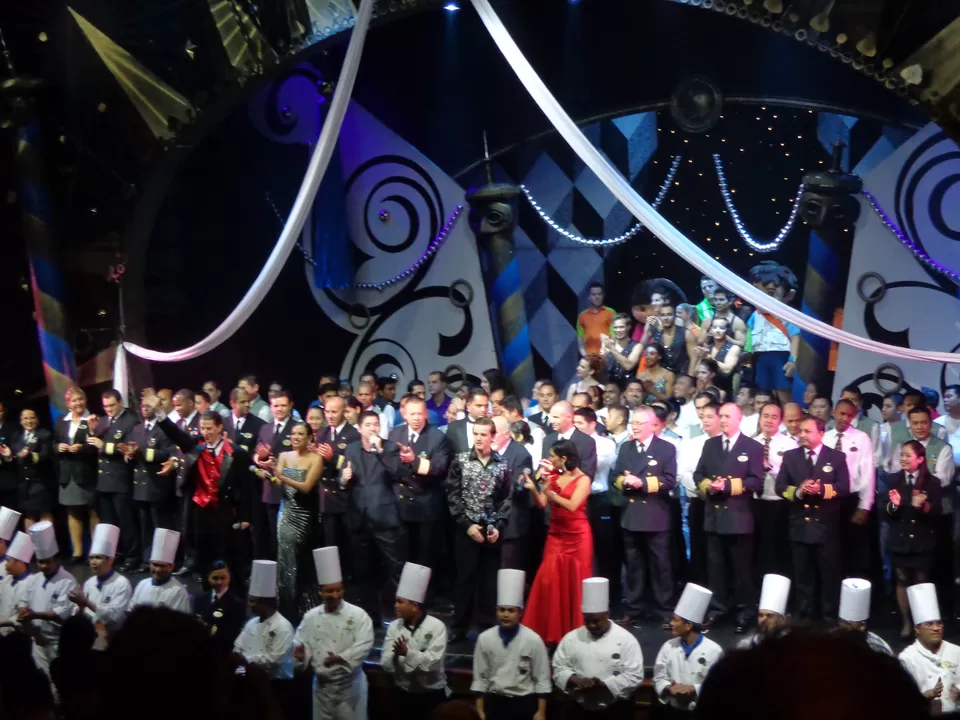 The ship has entered Canadian waters overnight and I am thrilled to learn that we will be docking at Victoria, B.C. for the day. The capital of British Columbia, this gorgeous old city is also known as the city of gardens. I visit, first of all, two of the city's most celebrated landmarks, the British Columbia Parliament Buildings and the Fairmont Empress hotel.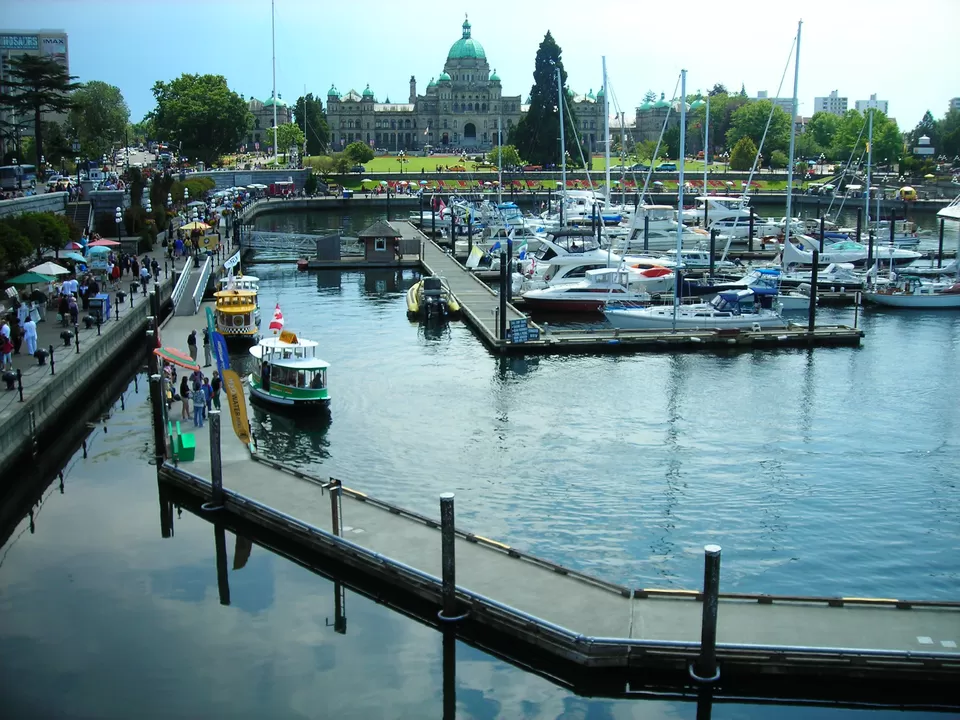 The Empress is stunning, owing mostly to its timeless elegance, grand tradition, and lasting impression. After that, I buy tickets for and take a bus to the world-famous Butchart garden and the Butterfly garden. The Butchart garden is a wonder and I spend several hours meandering through its various parks—the sunken garden, the rose garden, the Japanese garden, the star pond, the Italian garden, the Piazza, and the Mediterranean garden.
I savour the feel of the city—ably combining a cosmopolitan outlook with culture and tradition. It's also buzzing with young university students and offers several avenues for amusement. I take one quick round of the downtown market, where I pick up T-shirts, key chains, and other momentos.
Back in time on the ship, there is an amusing family circus show, followed by a melodious Fire & Ice tribute to Tina Turner.
I'm up early with my bags all packed as we get ready to de-board the ship in Seattle. I'm taking back with me so many wonderful moments. Just before I exit, I notice something displayed on a screen. I take back with me the words from this most creative ad that appropriately captures the global appeal of the cruise:
Love like a Venetian.
Dine like a Parisian.
Surf like a Hawaiian.
Chill like a Jamaican.
Play like a champion.
Shop like a maven.
Party like a Brazilian.
Live like a bohemian.
Feel like a million.
Cruise like a Norwegian.