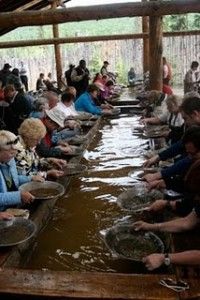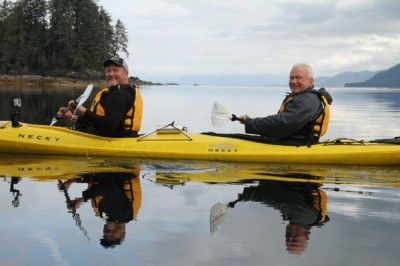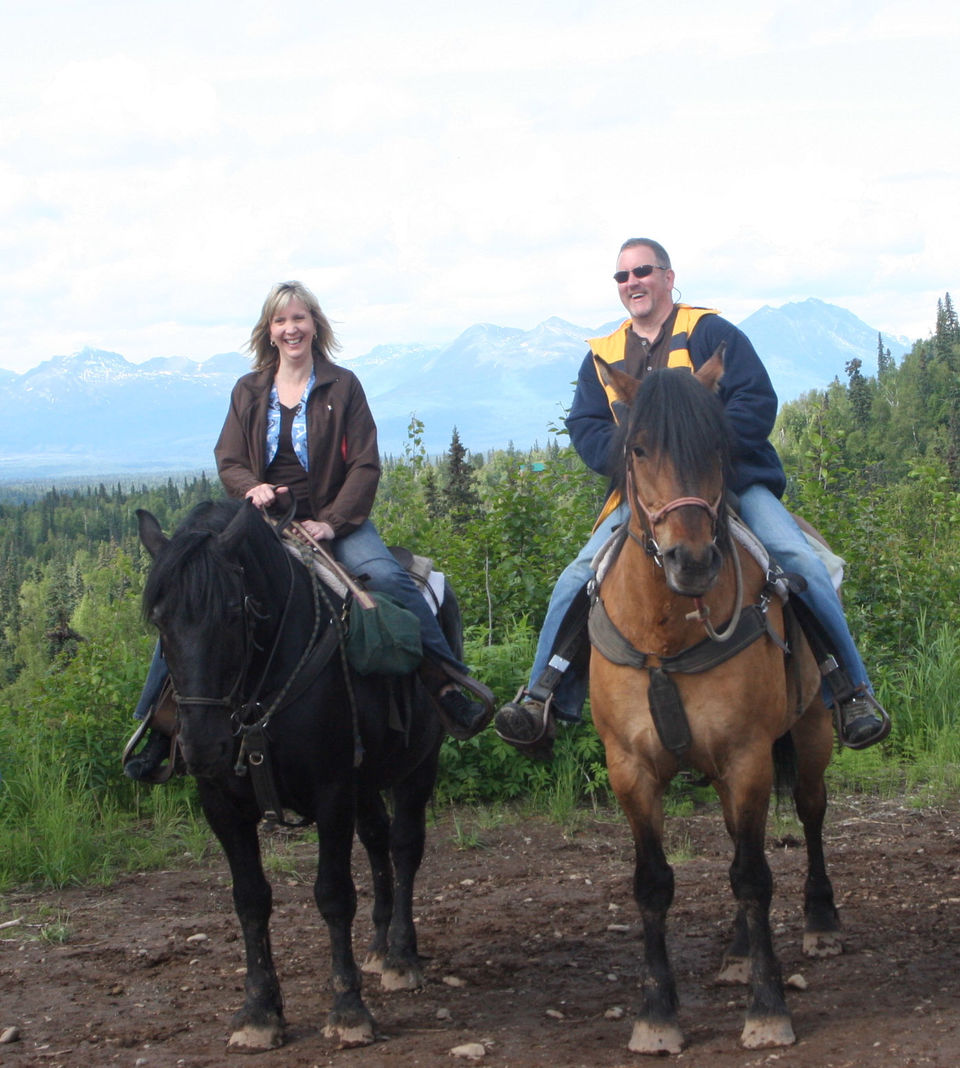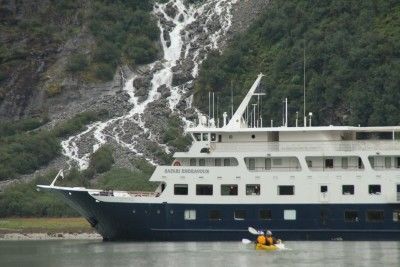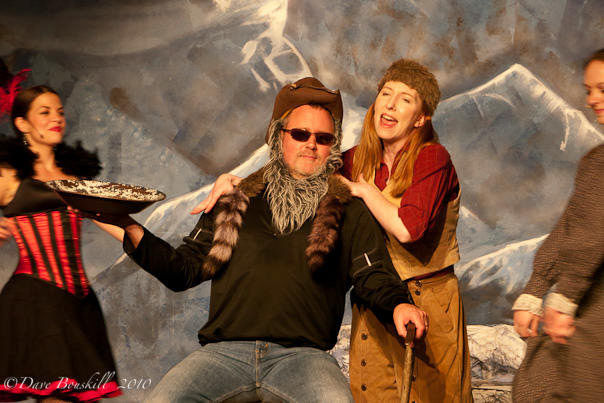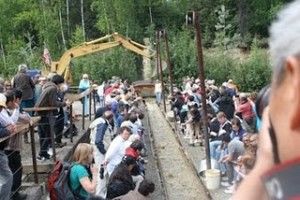 There was no shortage of entertainment on our Alaska Twitter trip sponsored by Princess Cruises. After returning from an incredible helicopter ride and glacier landing, we attended a fun filled dinner theatre. The same wait staff who served our BBQ, were the cast members in the musical, "The Music of Denali". Somehow the cast coaxed me up on stage – thankfully for the audience they didn't ask me to sing anything. I just had to sit there and look good:) Now I can check "starring in a Musical" off my Bucket List After the show, the entourage of twitteratti walked across the street and was treated to a round of Duck Farts an Alaskan favorite consisting of Crown Royal, Kalula, and Baileys Irish Creme.
We also learned the international sign for "I saw a moose today"
The next morning we took about a three hour bus from the Denali Princess Lodge to the McKinley Princess Lodge. where we saddled up and road through the trails taking in the beautiful Alaskan landscape. I didn't actually get saddle sores from the horse-ride adventure, but I did walk like a bow-legged cowboy for the next two days. If you take a horseback excursion and you're over 40, I highly recommend that you stretch before mounting up.
It's that time again when winter is almost a distant memory and summer vacation planning is just around the corner. One of our very favorite summer vacations last August (and perhaps of all time) was a trip aboard the Un-Cruise Safari Endeavour giving us an intimate look Alaska's inside passage. Uncruise specializes in small group travel. In other words, each ship carries under one-hundred passengers making it easier for them to get in and out of places large cruise ships can't go. moose On our cruise we got to explore Alaska's inside passage without ever stopping at a port for the week we were on board. While at first we thought we might lose our minds being unplugged for seven days, we quickly embraced the notion and were able to experience the real Alaska. Life on board the ship was like no other. The passengers and crew became acquainted quickly and everyone seemed more like friends than strangers. One of the beauty's of an Uncruise and the small ship is experience is flexibility. If there is something really awesome happening, and with nature that is most often unpredictable, the captain can swing the boat around to capture those once in a life time memorable moments. On our trip we were able to spend hours in a spot, surrounded by dozens and dozens of whales that put on a spectacular show for us breaching, fluking and feeding as we bellowed "Thar she blows". It lasted for hours and the captain made sure we got to experience every awe struck moment. We were on the go throughout the week, really getting to explore nature up-close and personal in small groups, hiking, kayaking and on skiff excursions. There was even a polar plunge in freezing cold glacier waters. This was one of the most jaw dropping, scenic destination we have to date experienced and think it's the perfect way to unwind from a demanding schedule. It is a week that will create a tapestry of memories. It is perfect for a multi-generational family trip and they provide an educational expe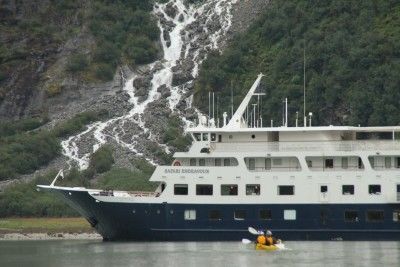 As part of Prince Cruises #FollowMeAtSea Alaska Twitter trip, we took an excursion to the Eldorado Gold Mine to do a little panning for gold. Our tour was conducted by a Fiddle playing conductor who entertained us with songs and a wonderful narration of the history of the Alaskan gold rush. The Eldorado Gold Mine employs a colorful cast of characters who showed us how to pan for gold. Once you see a few of the shiny nuggets in your pan, it doesn't take long to catch "Gold Fever". We could have sold our gold back to the mining company, but instead opted to purchase a necklace with a glass locket displaying the gold chips we panned. On the way back to the lodge, we saw some of the state's modern day gold – the 800 mile long Alaska Pipeline! Nearly 500,000 barrels of oil pass through the pipeline each day. We saw the pipeline near it's halfway point at the 450 mile marker.