Impressions on the trip
I loved the trip. Period.
Everything worked well, which always helps. Of course, it started with the fact that it was so easy to just rent a car and drive around, which right after my trip to India felt even more easy:).
There was something about Canada that I just loved. It was the first country I had visited outside India, maybe thats why. But there was a feeling of freshness and openness there which I just loved. There were much less people than most other places that I have visited, there was just so much empty space all around. It felt awesome even without all the touristy stuff. (As an aside, I thought it would be the perfect place to take in the refugees that are being displaced from Syria! Isn't it?)
The parks were so magnificent, so stunning, so untouched, so green, and so absolutely amazing. And the infrastructure was great too - there were lodges at every tourist place, trails were well marked and it was very easy to get around. There were loads of places to camp too - next to every river and creek and mountain I think:).
Also, I was amazed by the train services in the park. We saw train tracks everywhere. And the trains are so long (on one count, it had 120 coaches)! We twice got stuck while leaving Field and Jasper because a train was crossing the road, which went on forever!
There is a huge and diverse wildlife to be spotted in the parks. If you are a wildlife buff, you should go on a wildlife watching trip itself to the Rockies. We saw a lot of it by chance just next to the roads - a black bear, porcupine, mountain goats, a young white wolf, couple of elks and a moose trying to run itself down:). We also saw countless varieties of birds and squirrels too (really - we saw black, dark brown, brown lined, golden headed squirrels and chipmunks among many other varieties which are difficult to remember). A funny thing I noticed though was that there were no ducks in any of the lakes. Anyways knows why?Wildlife - mountain goat, wolf, elk and a running moose!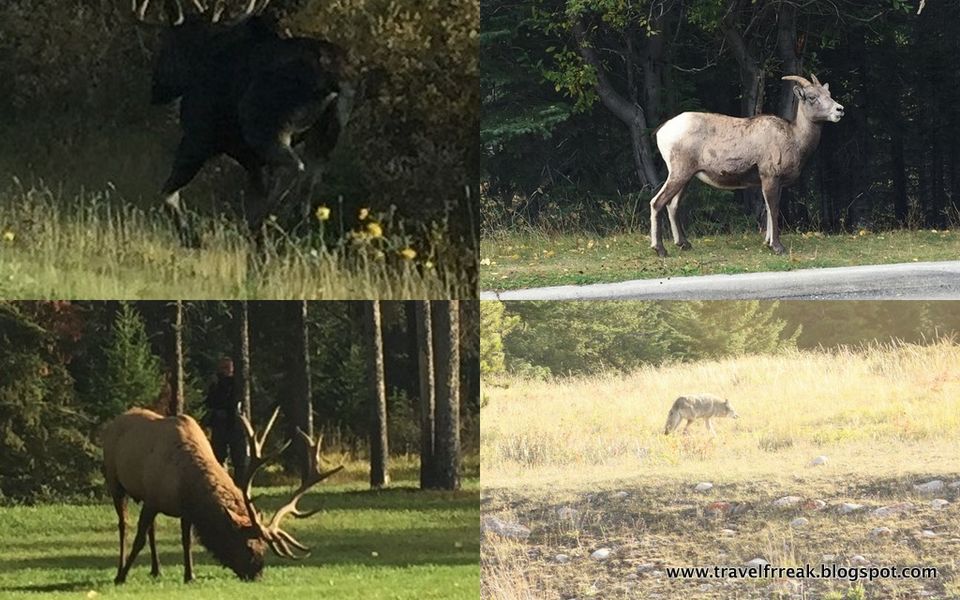 Driving was relatively easy, though it was tough to focus on the road rather than the views around:). People do drive faster than the speed limit though which I found surprising, especially in the mountainous roads.
Overall, the people were quite friendly. We did not run into many Indians though, other than Lake Louise and a petrol pump owner on the way to Edmonton who was from Haryana:). We did see a lot of Chinese tourists though, wonder if Banff/Jasper are more well known in China than in India?
The trip also made me wonder (yet again!), why is the camera so important in all my trips? Can I ever leave it behind and just enjoy the moment rather than always trying to capture it? Its a question I still have to answer but I hope the answer would be yes. Someday...
Anyways back to the trip, I don't have enough words to describe my feelings. It was one of the best trips I have been on - the beauty, the freshness, the green, the waters, the reflections. Its all imprinted in my mind and has reinvigorated me for a long time to come.
Food and Accommodation
Calgary - The Hotel Clique Calgary Airport next to the airport was perfect for stopping before driving off to the Parks.
Banff - We stayed in Field in a B&B called Canadian Rockies Inn, which was quite cosy and comfortable. Field felt quite non commercial and we liked the experience. Most of the houses there were B&Bs though and very prettily done up. These places are not on the internet still and you need to call them up to book. Our owner mentioned that he is quite progressive in this regard as compared to the others around; he had tie ups with booking.com and was signing soon with Expedia too. Only thing I would mention here though is that wifi was quite slow there.
In terms of food, we ate at Truffle Pigs Bistro and the local Field Cafe both of which were tasty. Mountain Cafe in the Lake Louise village was the usual while the Teahouse on the Lake Agnes trek was ok but felt better due to the long trek up in the rain! The Emerald Lake Lodge seemed to offer fine dining but the hot chocolate there was definitely not good!
Jasper - Alpine Village was absolutely divine. Located in the woods, with hills all around and the Athabasca river in front, I think this would have been one of the best bookings I have ever made:). The cabins were all log cabins and very cosy. And they also had a hot tub near the reception for rest after a long day trekking. Again wi-fi was slow here like in Field.
In terms of food, we ate in the city at Jasper Kebab and Curry House and Famoso Pizzeria, both of which were nice. We also had lunches at the Maligne Lake Lodge and the Fiddle River cafe, both of which were located well.
Edmonton - We ate Indian food at Khazana and lunch at the Royal Glenora club cafe in the sports centre, both of which were nice again.
Tips
On the whole, I don't really have any major tips to give. Just one - Go to Banff and Jasper at least once! It will be the trip of a lifetime and you will remember it forever.
Some things you can still keep in mind are: - There is a charge of about 10CAD per person per day for being in the park. So carry cash:) - Plan your treks beforehand. We did not do that in Banff and so we ended up visiting too many places but spending less time at each - Take trekking shoes with proper grips and enough warm clothes with you. Some of the trails can be slippery and its always colder on the summit. Trails can get a bit tricky and it always helps to be prepared - Plan to buy food beforehand if you stay far off and always get petrol when you can, as petrol pumps are limited in the area, especially on the IceFields Parkway - Stay in the Alpine Village in Jasper, you won't regret it - If possible, leave your camera behind. Enjoy the place, not taking the pictures!
Itinerary and Map
Day 0 - Landed in Calgary; stayed at Hotel Clique Calgary AirportDay 1 - Drove to Banff/Field; stayed in Field at Canadian Rockies Inn Visited Lake Louise; half-day hike from Lake Louise to Lake Agnes Teahouse; Morraine LakeDay 2 - Stayed in Field at Canadian Rockies Inn Visited Yoho National Park - Spiral Tunnel viewing point, Takakkaw Falls, natural bridge over the Kicking Horse River, Emerald Lake; Morraine LakeDay 3 - Drove to Jasper on Icefields Parkway; stayed in Alpine Village in Jasper Visited Bow Lake; Peyto Lake; Columbian IcefieldsDay 4 - Stayed in Alpine Village in Jasper Visited Maligne Lake; trekked on Bald Hills trek and Valley of Five Lakes trekDay 5 - Drove to Edmonton Visited Miette Hot Springs; trekked to Sulphur skyline