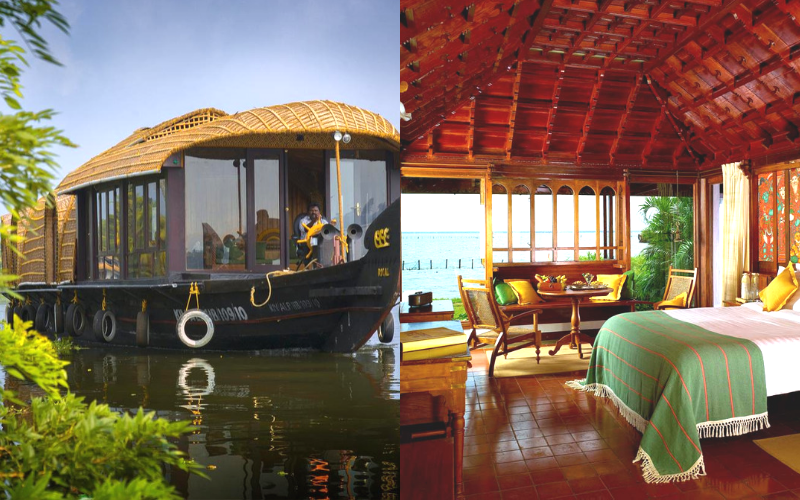 A houseboat stay is all about the breath-taking view of the untouched and otherwise inaccessible rural Kerala, while you float!
The Kettuvallam or 'boat with knots' is called so because coir ropes tied in knots hold the entire structure of the boat together.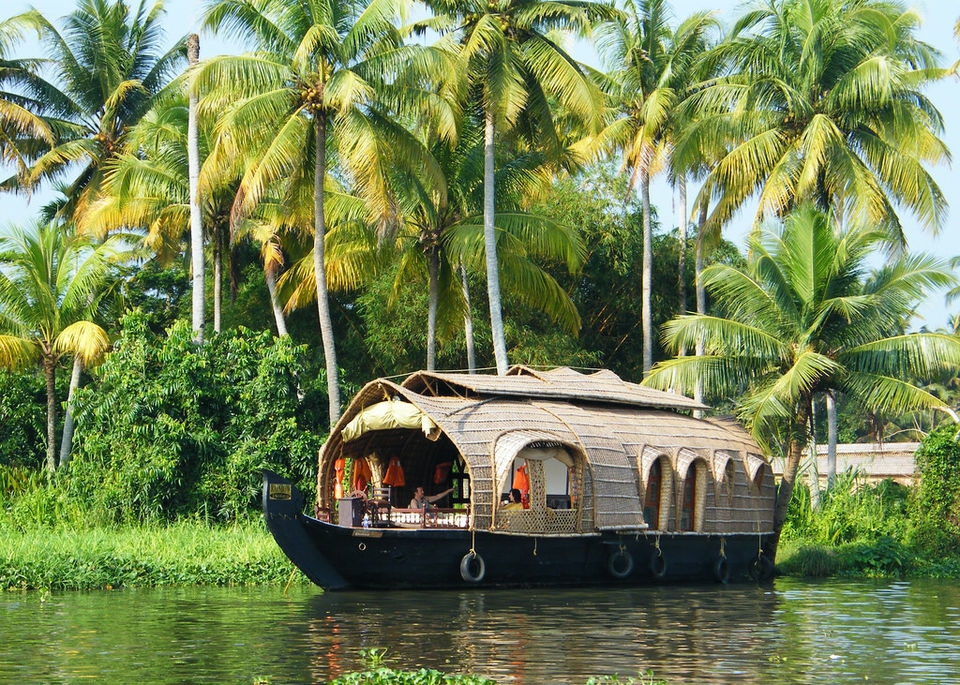 During the entire assembling work of the boat, not a single nail is used.
The boat is made of huge planks of Jack wood (Artocarpus hirsuta) or 'Aanjili' and joined with coir.

Alappuzha /Alleppey, Kumarakom is internationally acclaimed for houseboat cruises and I have compiled a list of some of the best Kettuvallam options for overnight stays.
1. Xandari Riverscapes
Xandari Riverscapes is a fleet of houseboats which sails along Vembanad Lake and in the backwaters of Alleppey. The houseboats are docked near Pallathuruthy Bridge.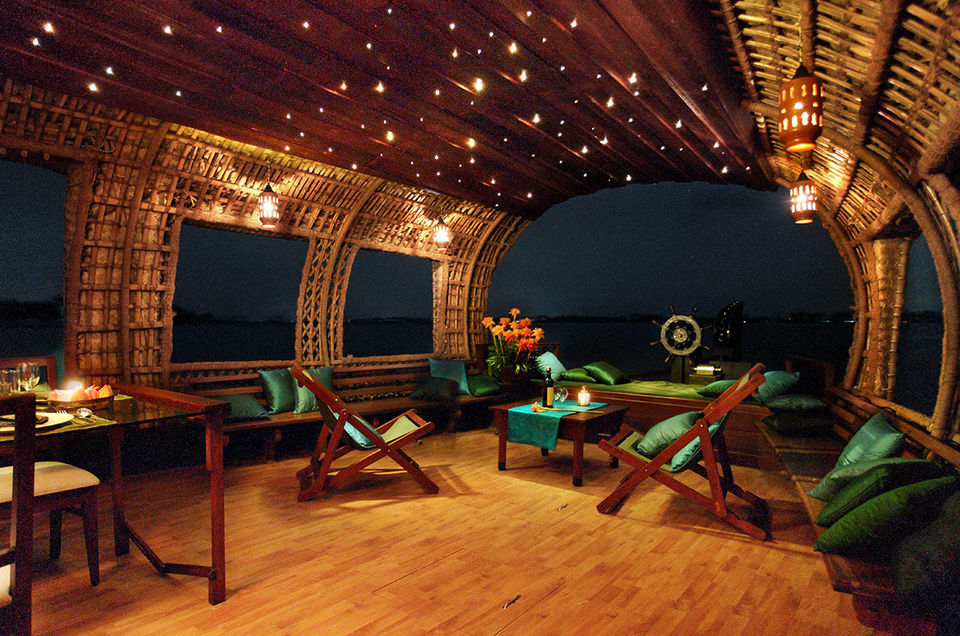 Where: Near Pallathuruthy Bridge, Alleppey, India.
Highlights:
Witness stunning scenic views from the boat's viewing deck, through the bedroom's picture window and the attached balconies of the rooms overlooking the lake.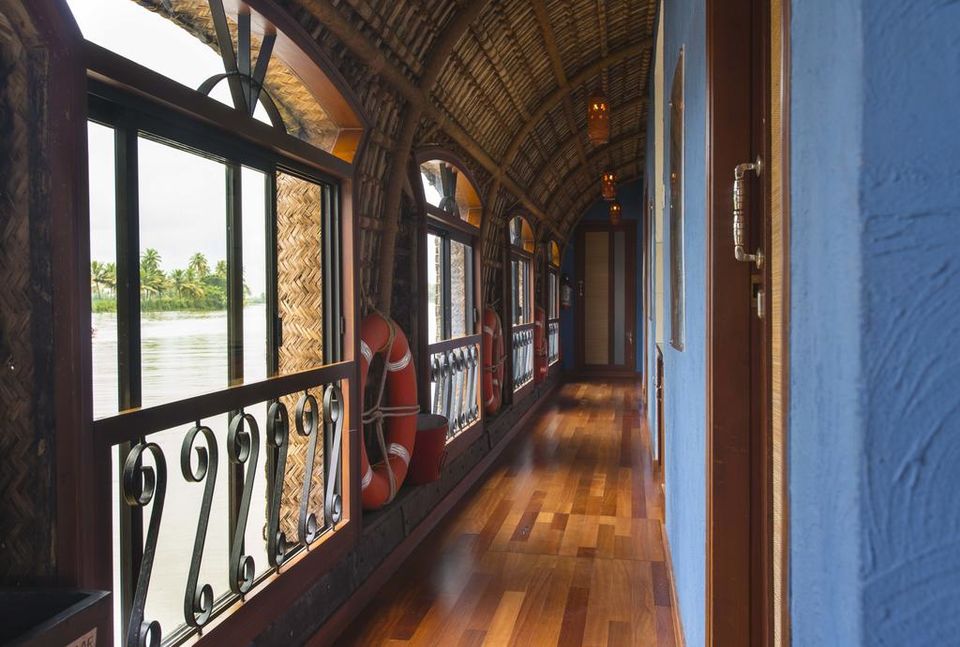 Enjoy a ride on a canoe through the backwaters, glide through the centuries' old traditions of Alleppey village life in an hour long wooden canoe exploration through backwater canals.
Play indoor games in the houseboat.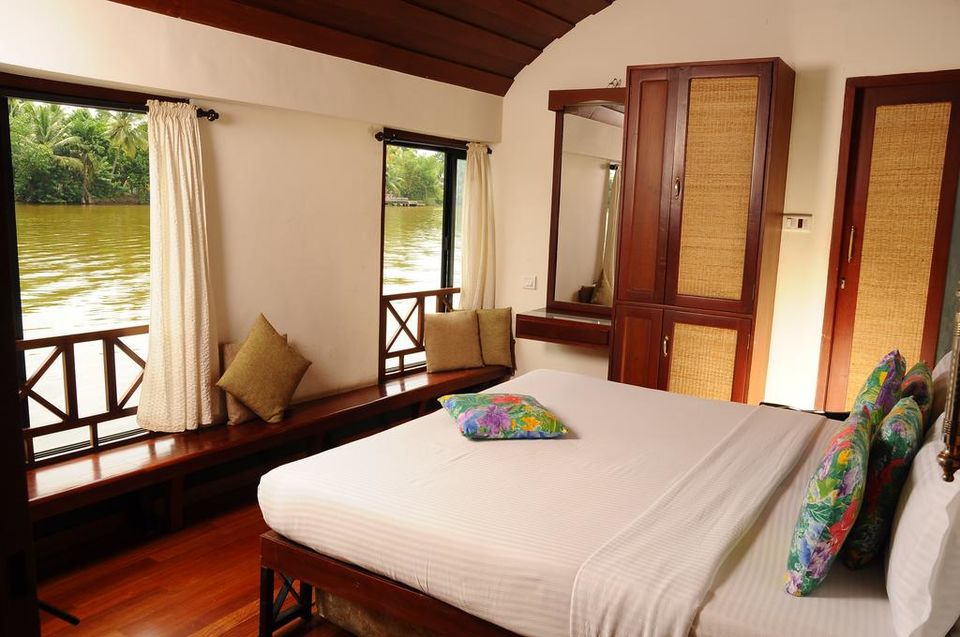 Rooms:
They have three different types of accommodations – one bedroom, two as well three-bedroom air-conditioned rooms. All of their rooms have an open-air living area, a balcony overlooking the lake, a fully-equipped kitchen and an en-suite bathroom with free toiletries and hot water supply.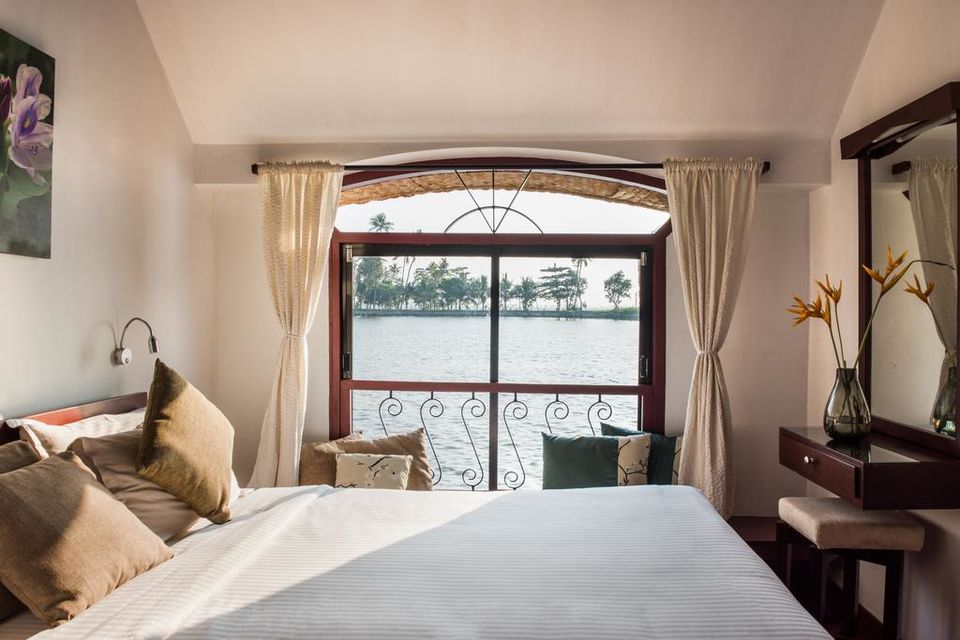 Food:
They have chefs on board who cook up delectable classic Malayali dishes (vegetarian as well as non-vegetarian)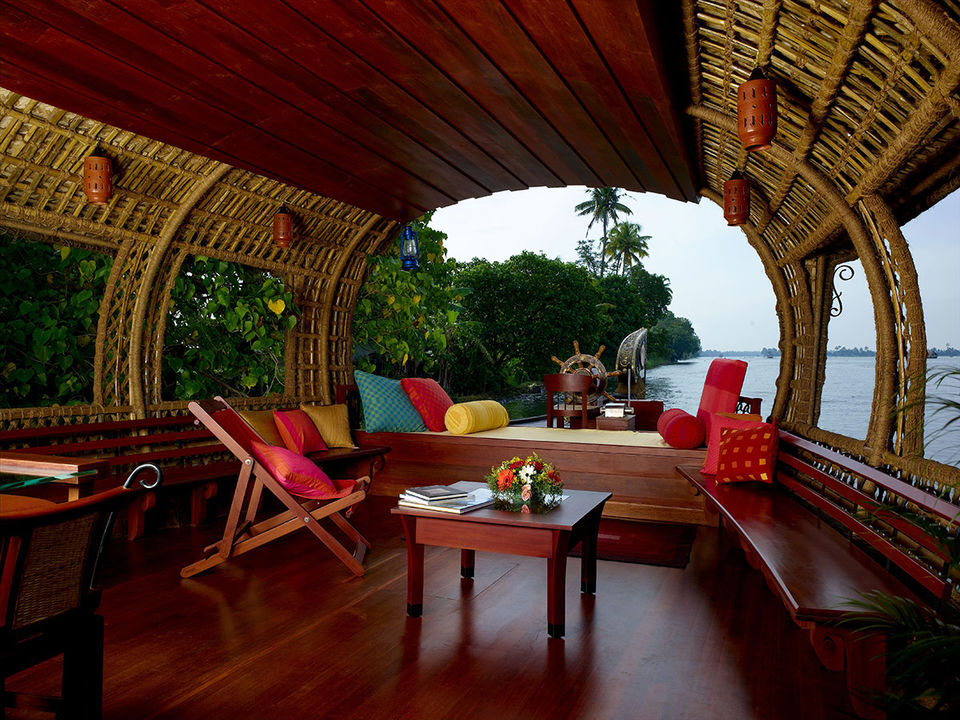 Cost: The one-bedroom houseboat will cost you around 23,000 INR for a night and the two bedroom suite will cost you 27,300 INR. ((Including taxes and all meal: breakfast, lunch, and dinner)
Book here.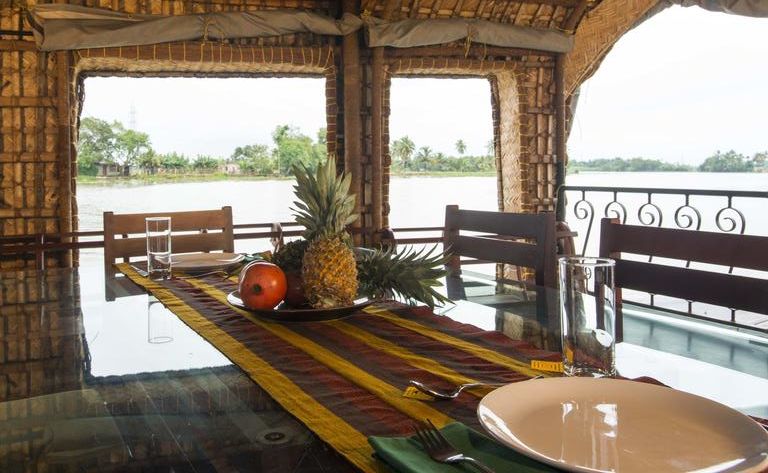 2. Our Houseboat
Our Houseboat lies on the backwaters with picturesque canals, backwaters, beaches, and lagoons.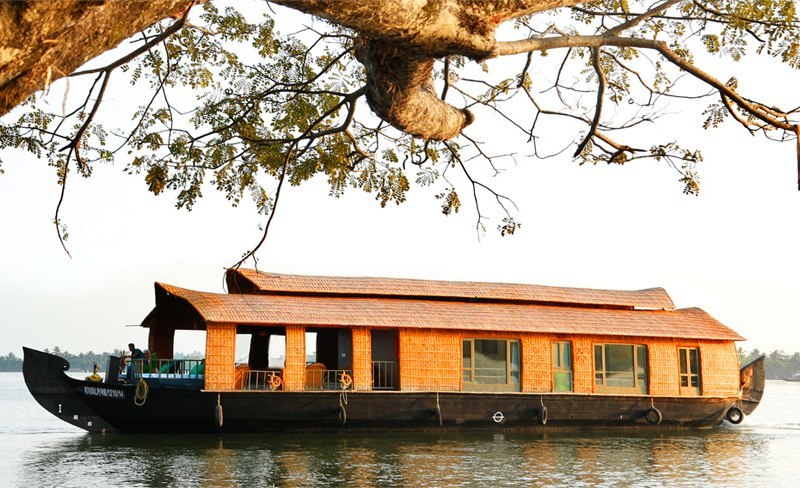 Where: Karimbavalavu, Punnapira, 688004 Alleppey, India.
Highlights:
The route taken by the boat allows you to see plenty of daily life along the backwaters.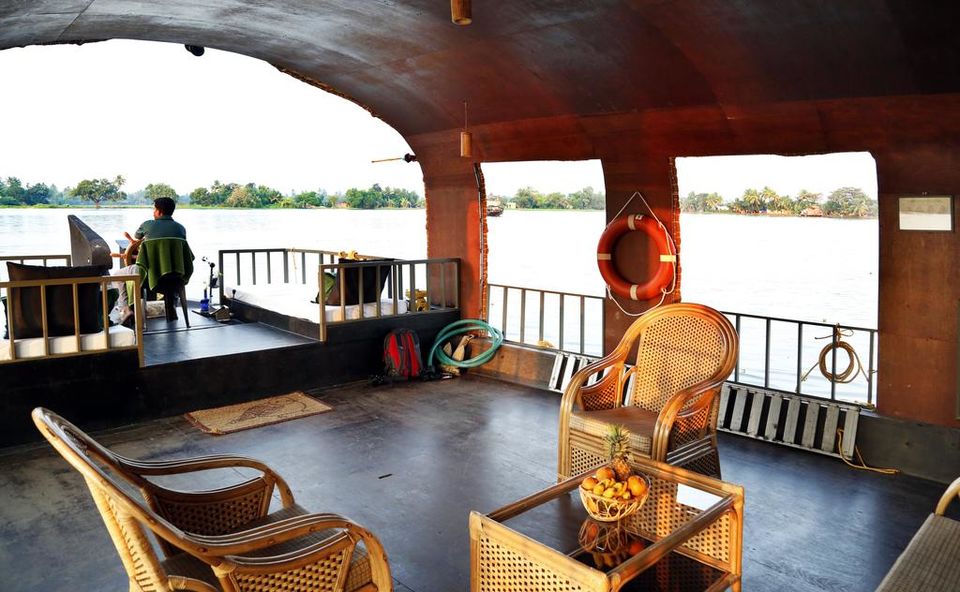 Watch the sunrise right from your bed over coffee!
Full moon nights, where moonlight dances on the ways fmake it the most wonderful memory.
Day beds at the front were particularly nice to relax and bask in the sun.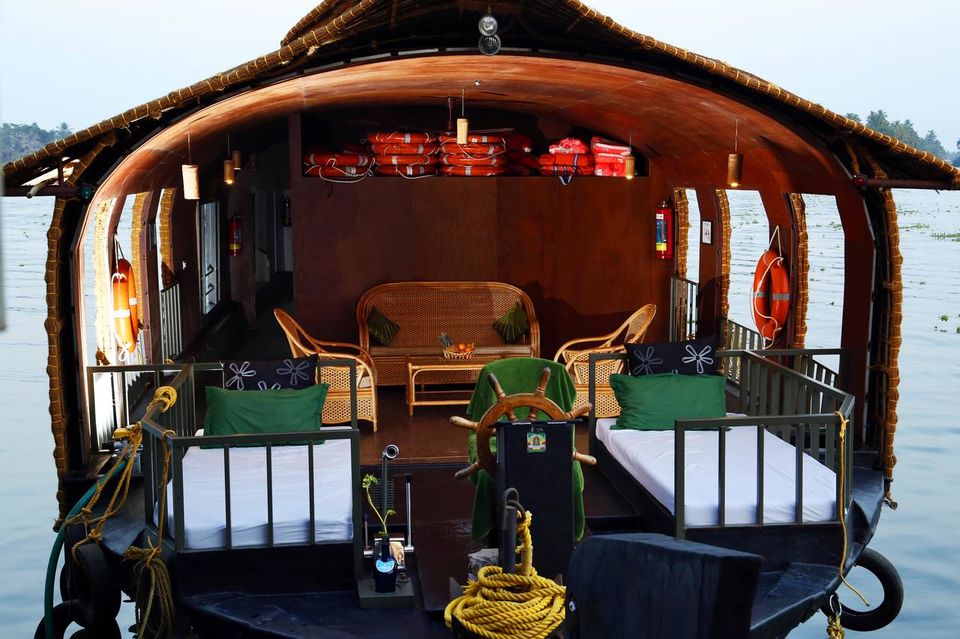 Rooms: They have double rooms with lake views. These rooms come with a lake-facing kitchen, a refrigerator, dining table, air-conditioner, and attached bath & shower.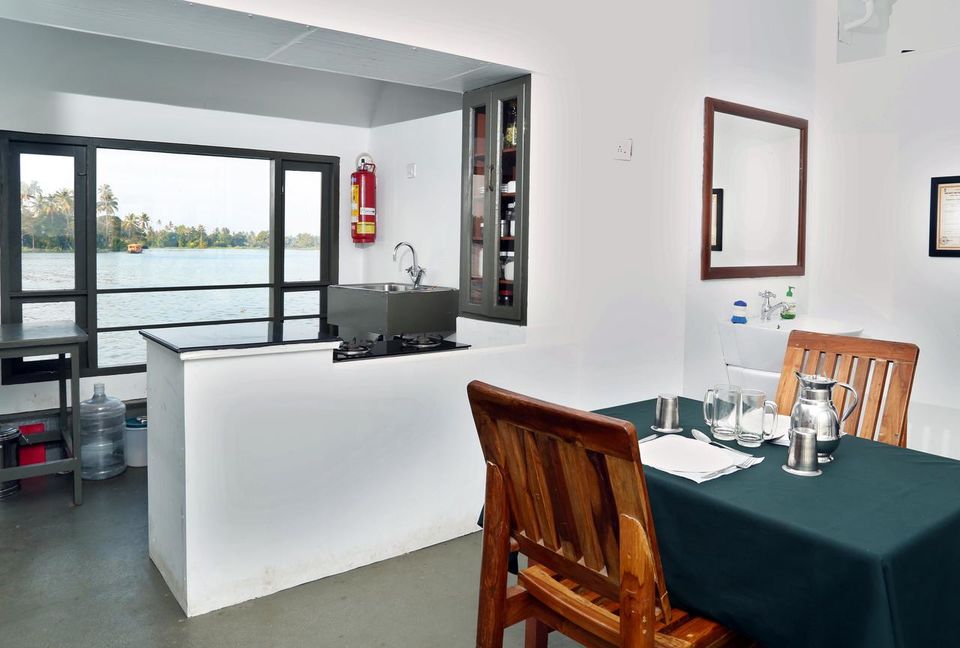 Food:
They have an in-house restaurant which serves delicious Kerala cuisine.
Cost: 7,395 INR for the deluxe ac room. This includes all three meals breakfast, lunch and dinner, and taxes.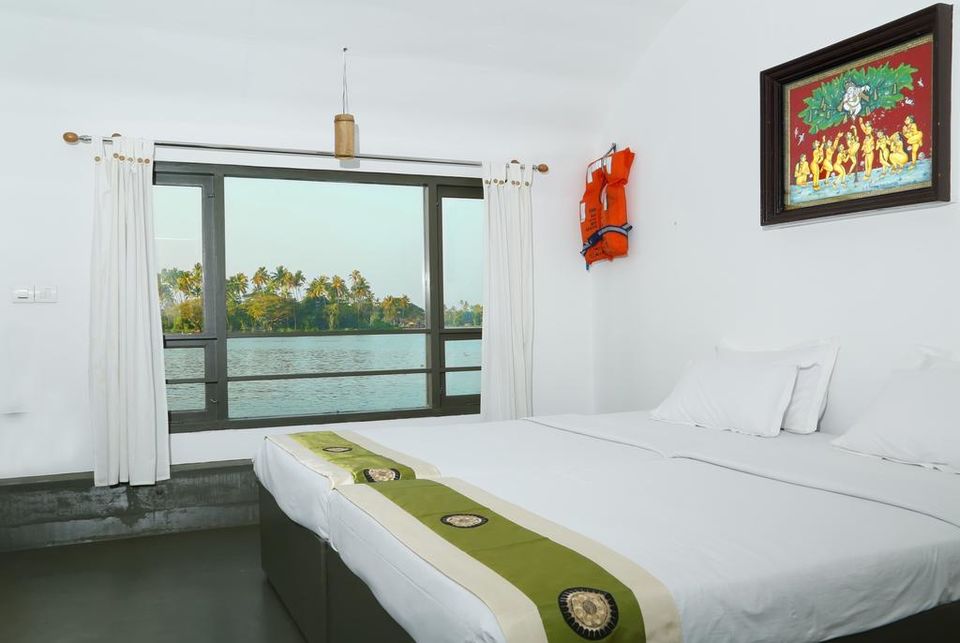 3. Lakes And Lagoons
The cool breeze. The swaying leaves. And a cruise through paradise at Lakes and Lagoons houseboats. Lakes & Lagoons is the first & only ISO 9001 - 2015 certified Houseboat Tour Company in Kerala.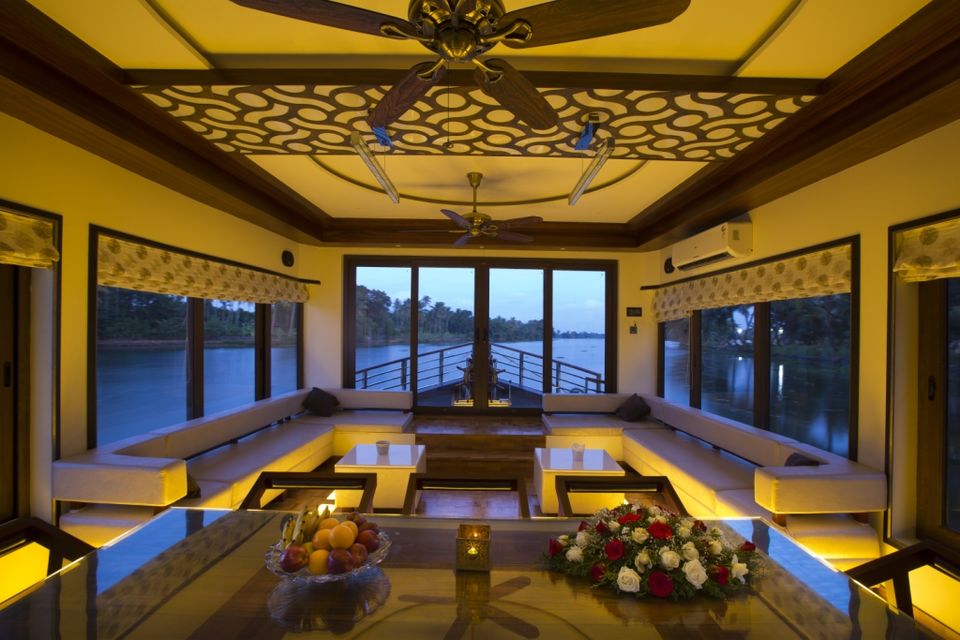 A professionally managed company with a fleet of luxury Houseboats, Lakes & Lagoons offer the best in backwater cruise journeys.

Where: DTPC Building, Pallathuruthy, Sanathanapuram P.O., Alleppey.
Highlights:
Complimentary canoe ride complimentary for an hour.
Houseboats virtually loaded with luxury; well-appointed with plush interiors, all modern amenities, and cutting-edge safety features.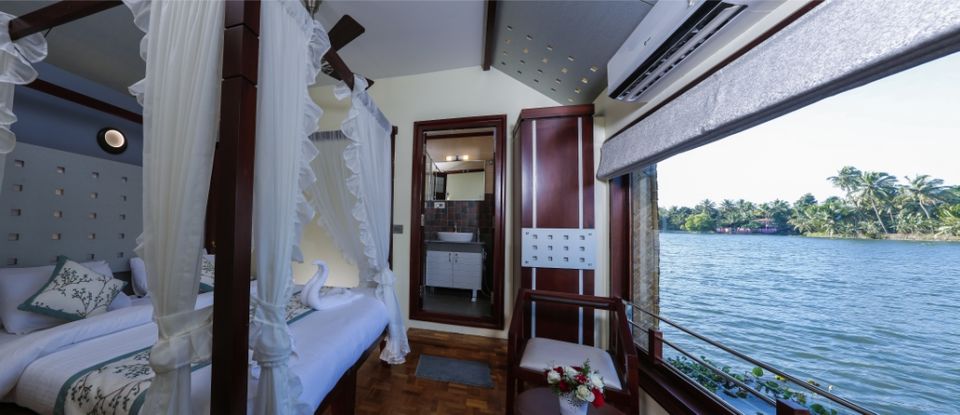 Rooms:
Choose from 1, 2, 3- or 4-bedroom houseboats depending on your need. Each complete with all modern amenities including fully furnished bedrooms, toilets with WC, sundecks & kitchen. They have a variety of houseboats ranging from deluxe to Lake Royale, Ultra-Luxury and Super-luxury.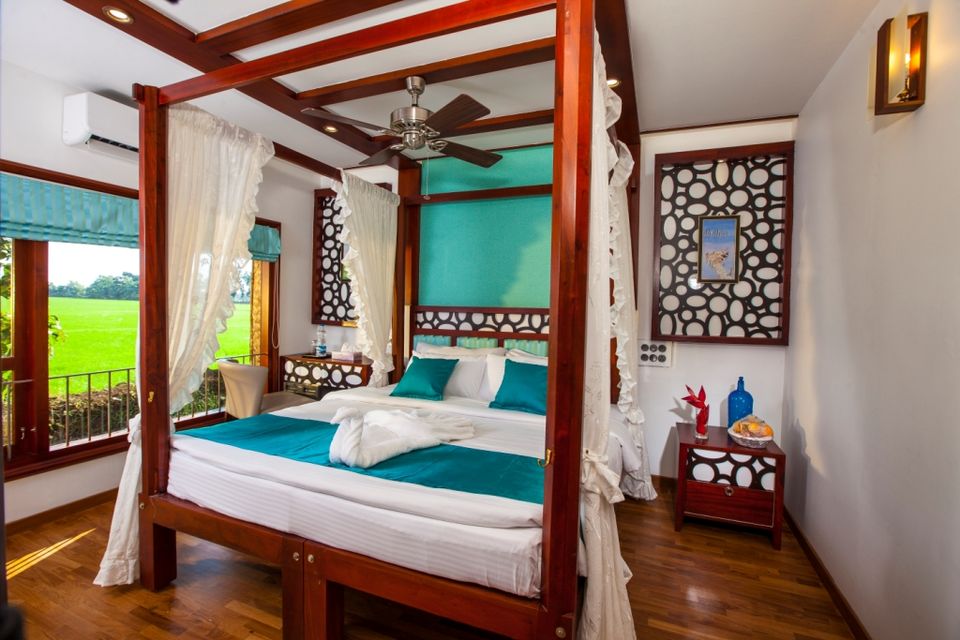 Food:
The menu includes steaming freshly cooked rice, curries with locally grown organic vegetables, Pearl Spot (Karimeen) fry, the starchy Cassava (Tapioca) and fish curry - a veritable tropical feast for your palate. They also prepare other authentic south-indian delicacies.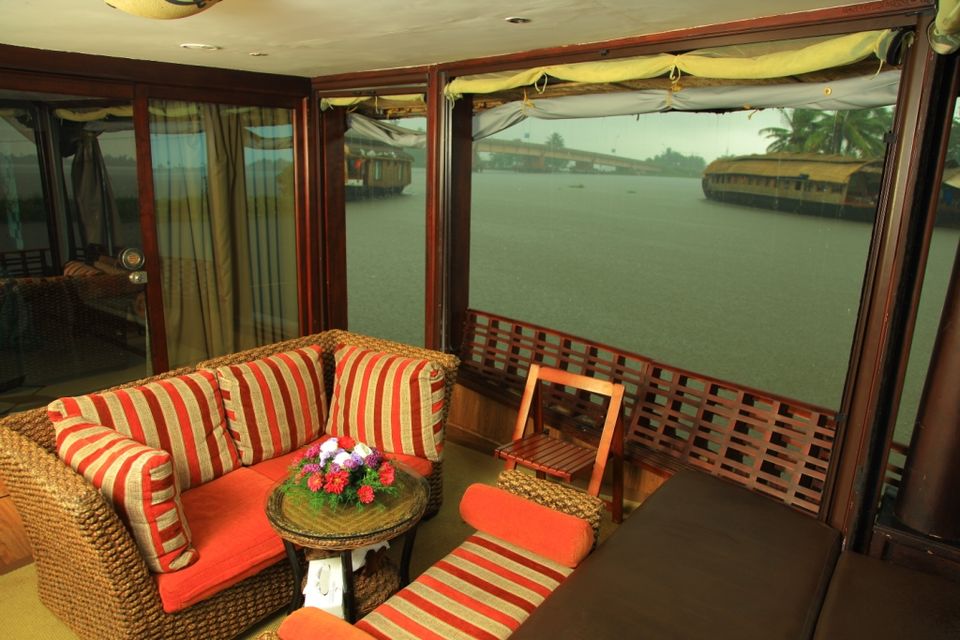 Cost:
A deluxe three-bedroom houseboat will cost you 26,700 INR including taxes and three meals – breakfast, lunch, and dinner.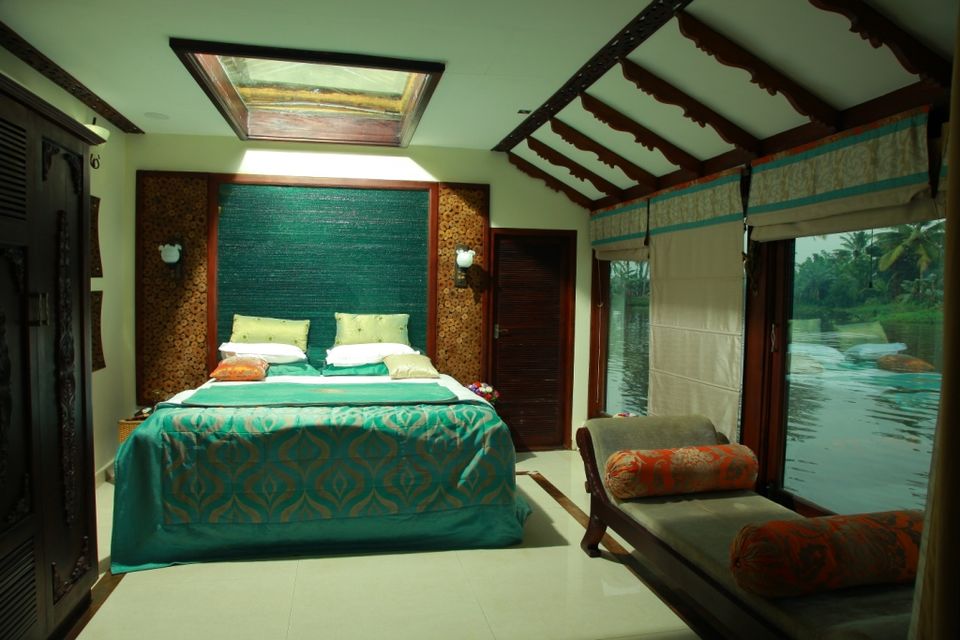 4. Punnamada Houseboats
Stationed at Kerala's pristine backwaters with palm fringed coasts and intermittent paddy fields , these house-boats offer surreal views to the eyes of the admirer.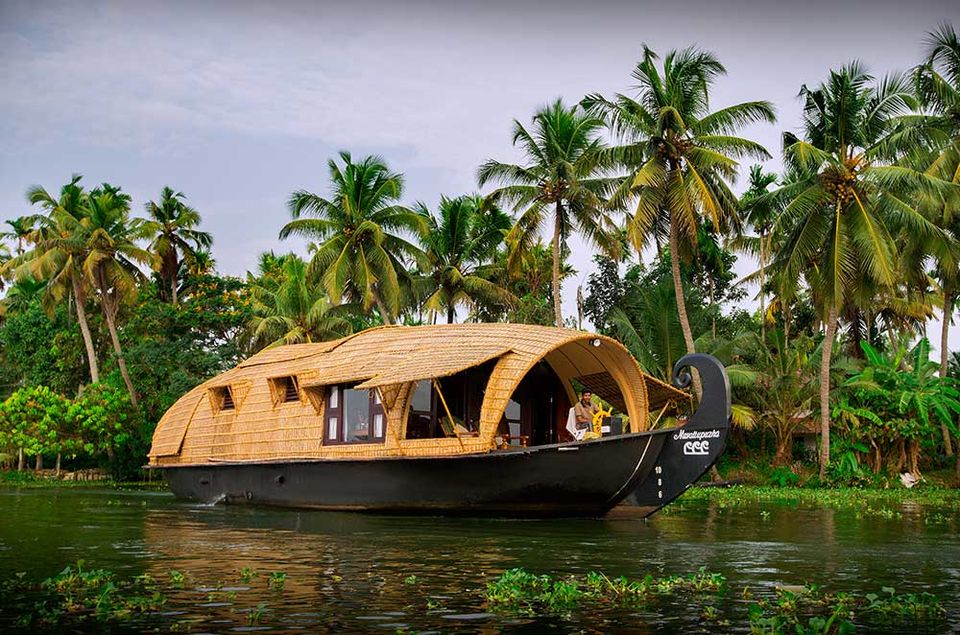 Punnamada Houseboat is one of the most preffered houseboats to watch the Nehru Trophy snake boat race from close quarters.
Where: Punnamada, Alleppey, Kerala.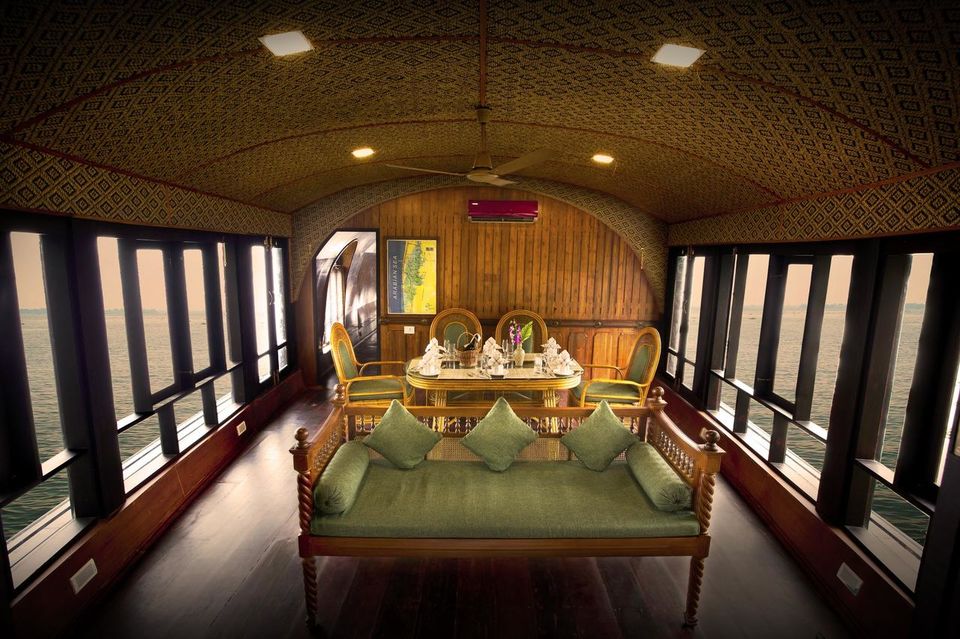 Highlights:
Cycling in the surroundings and the property can arrange a car rental service.
Mullakkal Rajarajeswari Temple is 3.2 km from the boat, while Alleppey Lighthouse is 5 km from the property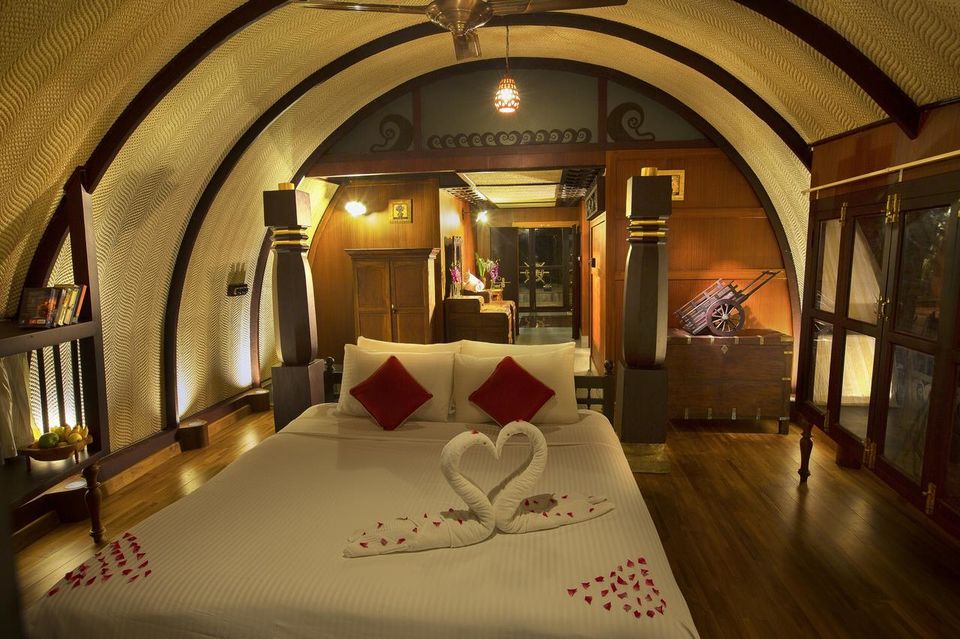 Rooms:
Punnamada Luxury backwater resort has two categories of houseboats for the tourists- Premium and Ultra luxury. While the former is a larger boat with more capacity, the latter is meant for housing a lesser number of people. The ultra-luxury houseboat is a single bedroom boat that is sized approximately 200 square feet. This single bedroom boat is most ideal for overnight cruises; it is also fully air-conditioned.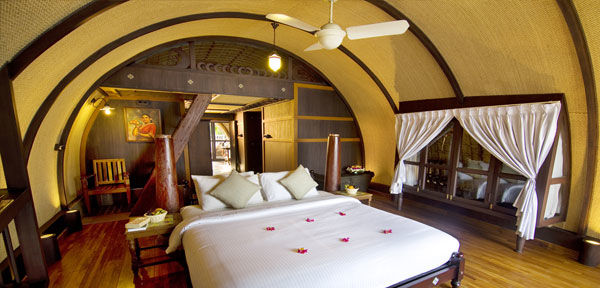 Food:
A full-fledged floating kitchen managed by a chef on board, a sheltered deck, and dining area to watch the scenic backwaters as you cruise through the serene Punnamada lake. One can avail continental breakfast, snacks as well as the local cuisine.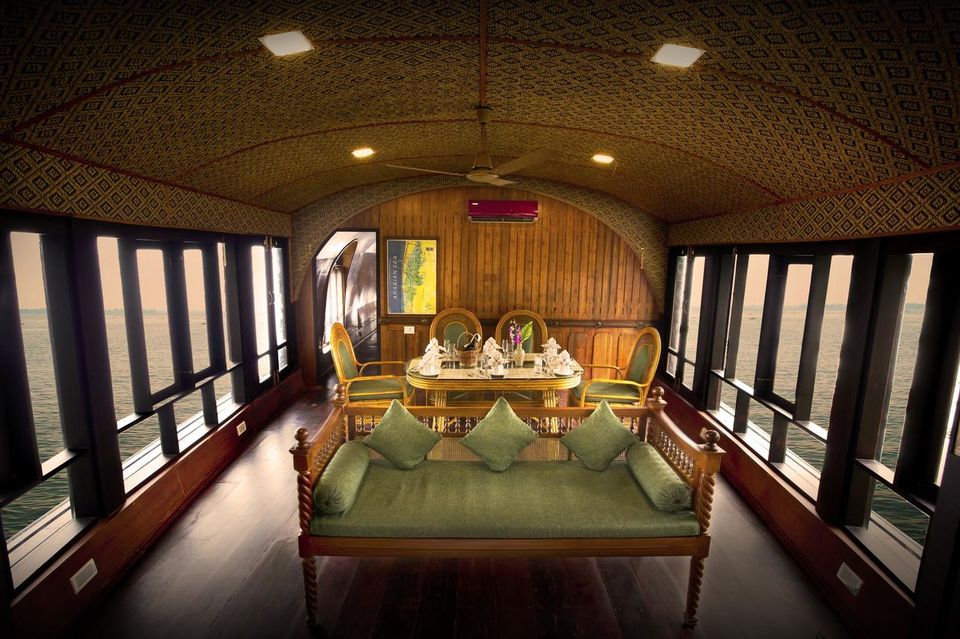 Cost:
One-bedroom luxury houseboat will cost you 23,400 INR including taxes and free breakfast, lunch, dinner.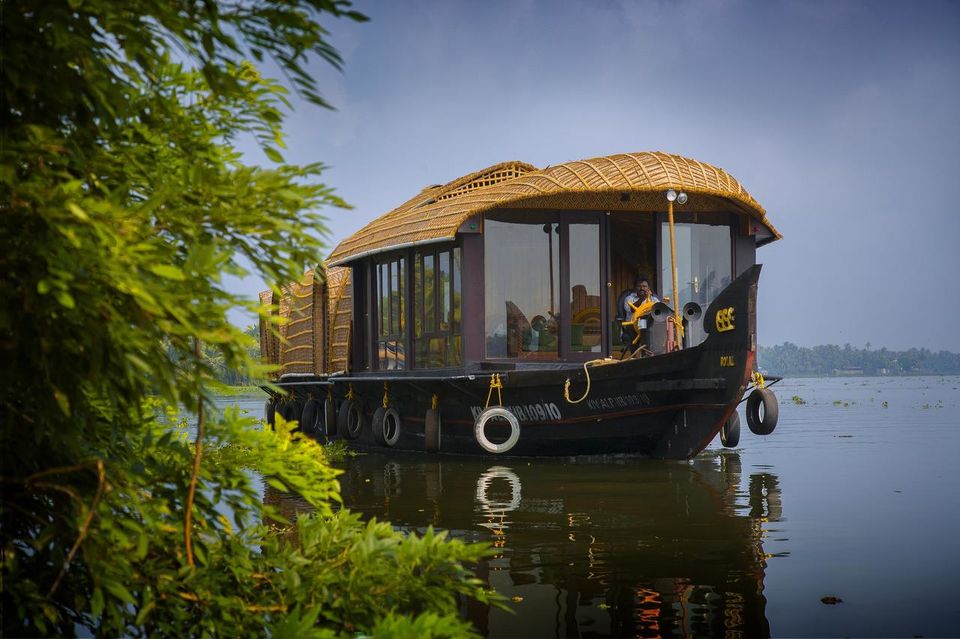 5. Spice Routes
Spice Routes houseboats are fitted out with state-of-the-art amenities and modern conveniences like sun decks, living rooms, dining rooms, bedrooms, uninterrupted water supply, and a well-stocked kitchen and skilled crew who ensure you have a luxurious experience.
Every houseboat has a three-member crew consisting of a driver, assistant, and a cook.
Where: Kainakary Pooppally Road, Pallathuruthy, Ponga, Kainakary South, Kerala.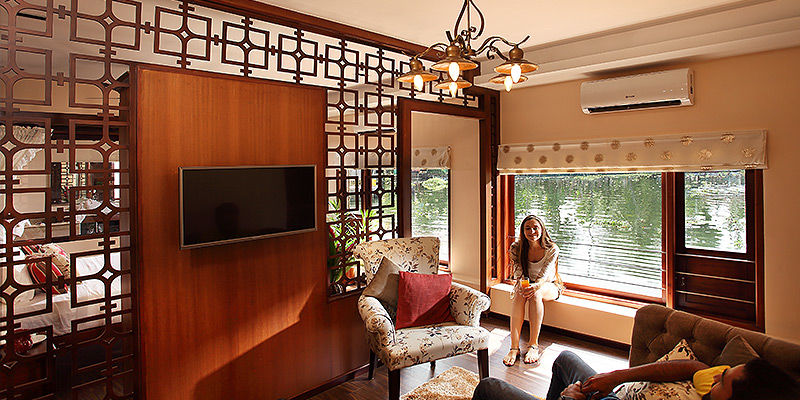 Highlights:
Glass-paneled and furnished rooms provide the grand full view of the countryside outside.

Guests can rest in the quietude of the rooms and enjoy the simple rustic beauty of Kuttanadu. Spice Routes Luxury Cruise in Punnappira has a garden and a shared lounge.
Rooms:
They have the following categories of rooms. Every room is equipped with a private bathroom.
Spice Routes Saffron: A one-bed room Presidential Suite fitted with all the luxury required to have a relaxed holiday, living rooms, upper deck dining rooms, bedroom with Jacuzzi, sundeck, mini-bar, Private A/c Dining on the upper deck etc.
Spice Routes Clove & Cinnamon: Super luxury houseboat built with three spacious rooms that are fully air-conditioned, fabulously decorated and replete with all the modern amenities.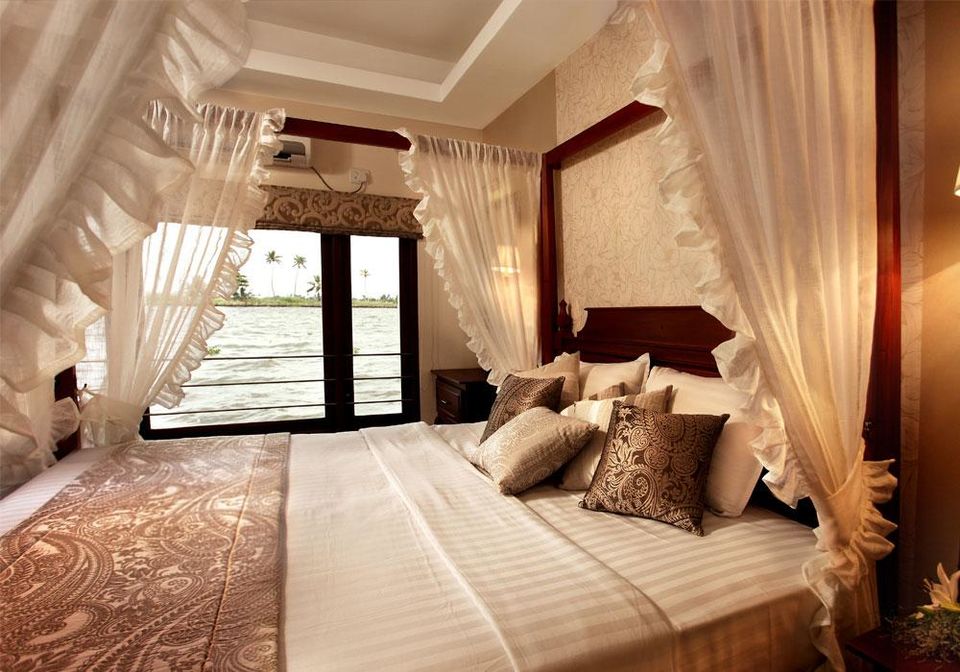 Spice Routes Pepper: Built with two spacious rooms which are fully air-conditioned and splendidly decorated, has all the modern amenities.
Spice Routes Cardamom: A premium houseboat with five-star facilities. Cardamom is large and convenient with trendy decor and a charming and cozy ambiance.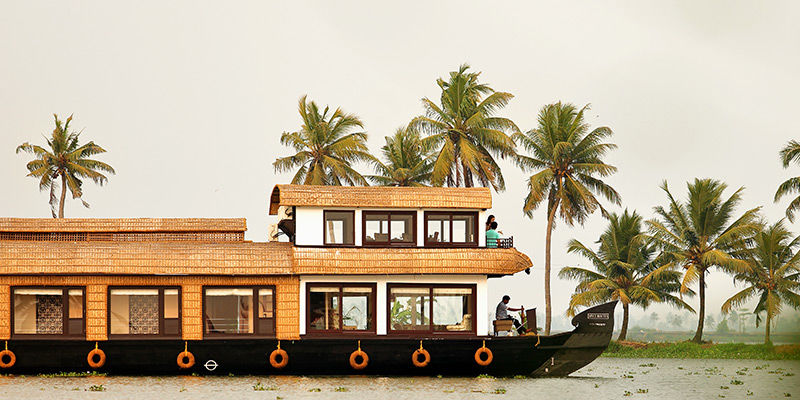 You can check out in detail the type of rooms with the images here.
Food:
Every houseboat comes with its own personal cook who dishes out the tantalizing local cuisine.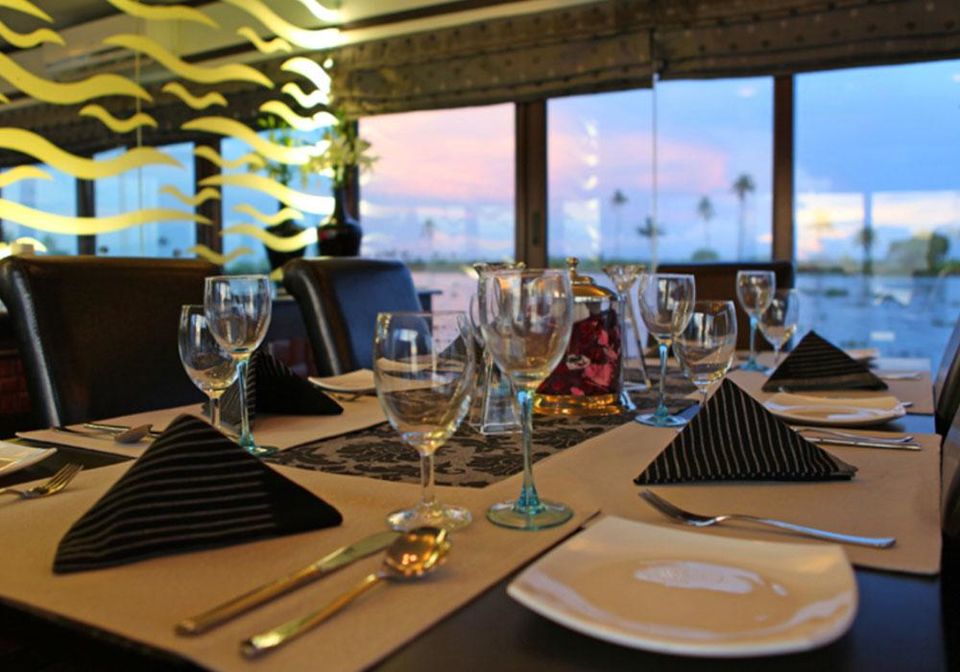 Cost: The clove houseboat will cost you around 33,400 including taxes and free breakfast, lunch, dinner.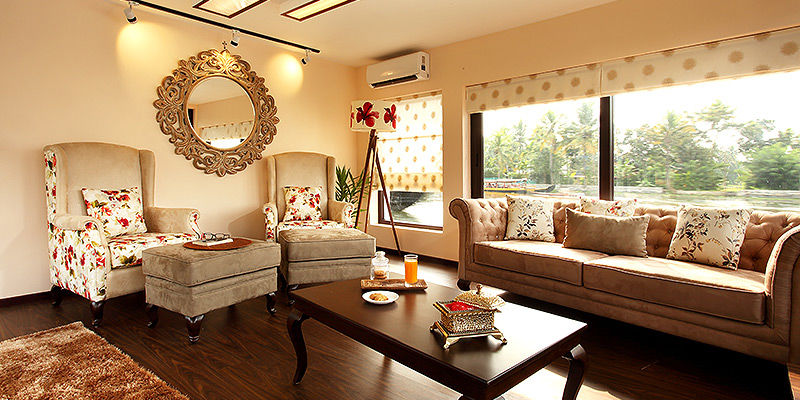 6. Marvel Cruise
While converting kettuvallams into houseboats at Marvel Cruise, care is taken to use only natural products. Even for lighting solar panels are used.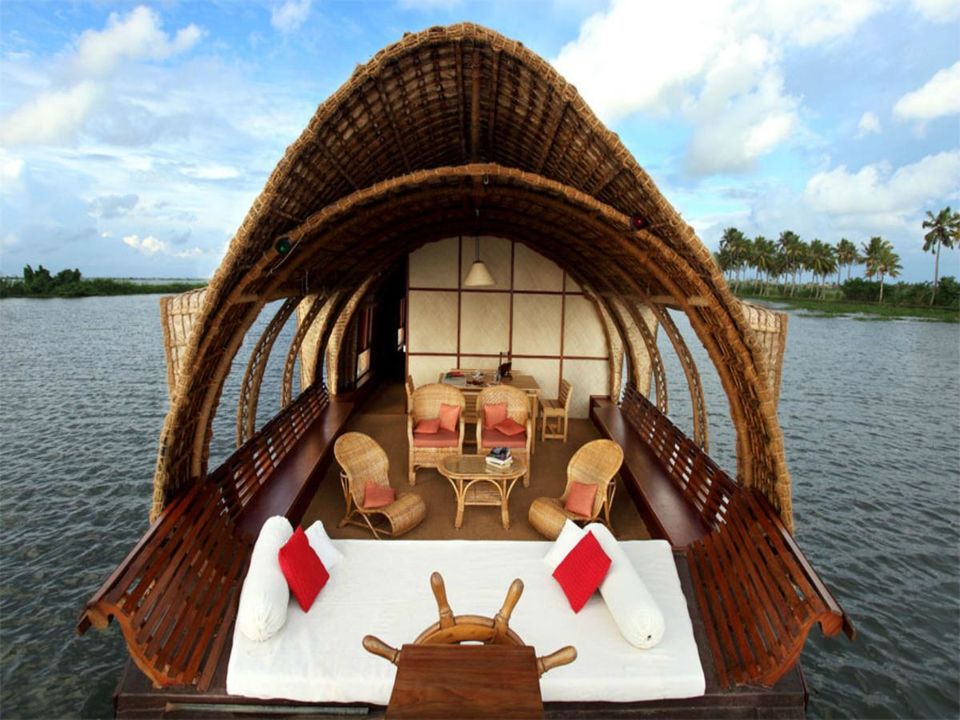 Today, the houseboats are fitted with all the creature comforts of a good hotel including furnished bedrooms, modern toilets, cozy living rooms, a kitchen and even a balcony for sunbathing or angling.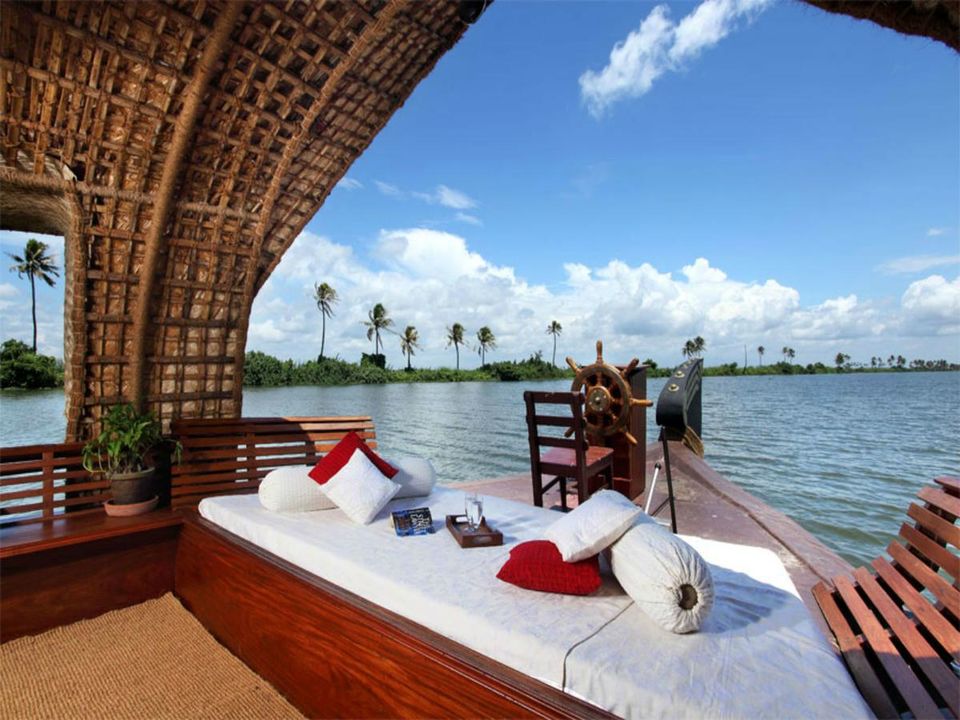 Where: Marvel Cruise, Pallathuruthy, Alleppey, 688011 Alleppey, India Marvel Cruise is located on the backwaters of Alleppey. The Alleppey Beach is 6 km from the cruise.
Highlights:
Star-gazing from the open-air deck that gives an unparalleled view of the clear skies.
Breath-taking full moon nights.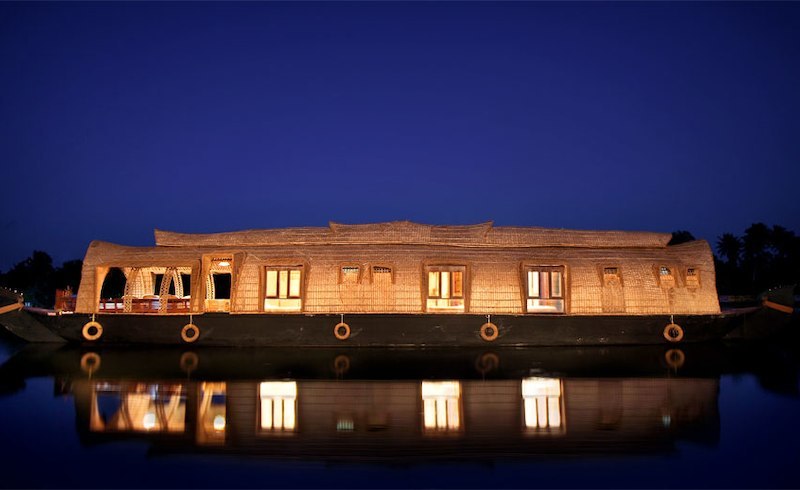 Rooms:
Most of the houseboats have 2 twin bedded rooms, with attached toilets (with Western closet, hand - shower, washbasin), kitchen with an LPG stove, sit-out with chairs and a sundeck. They have two categories - Golden and Silver. The Golden category houseboats have more spacious rooms, tiled toilets, hand - shower, kitchen, sit-out, and superior amenities.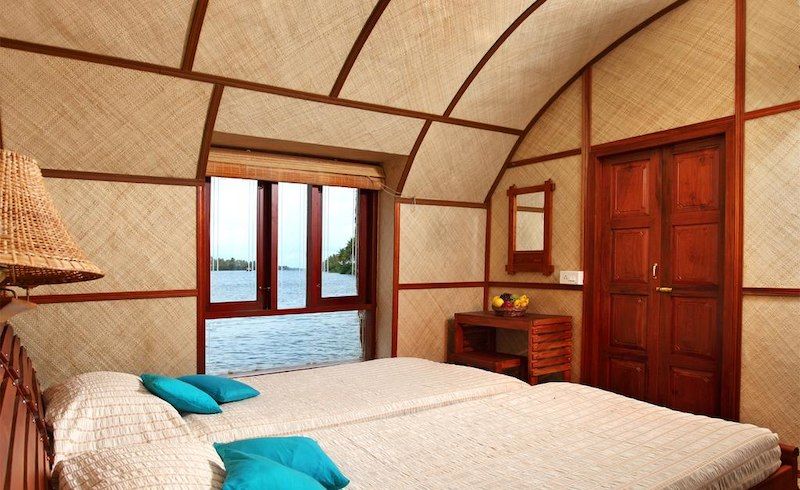 Food: Wake up to the smell of fresh-brewed tea emanating from a well-equipped kitchenette; stop by and watch your personal chef work up your breakfast, lunch and dinner.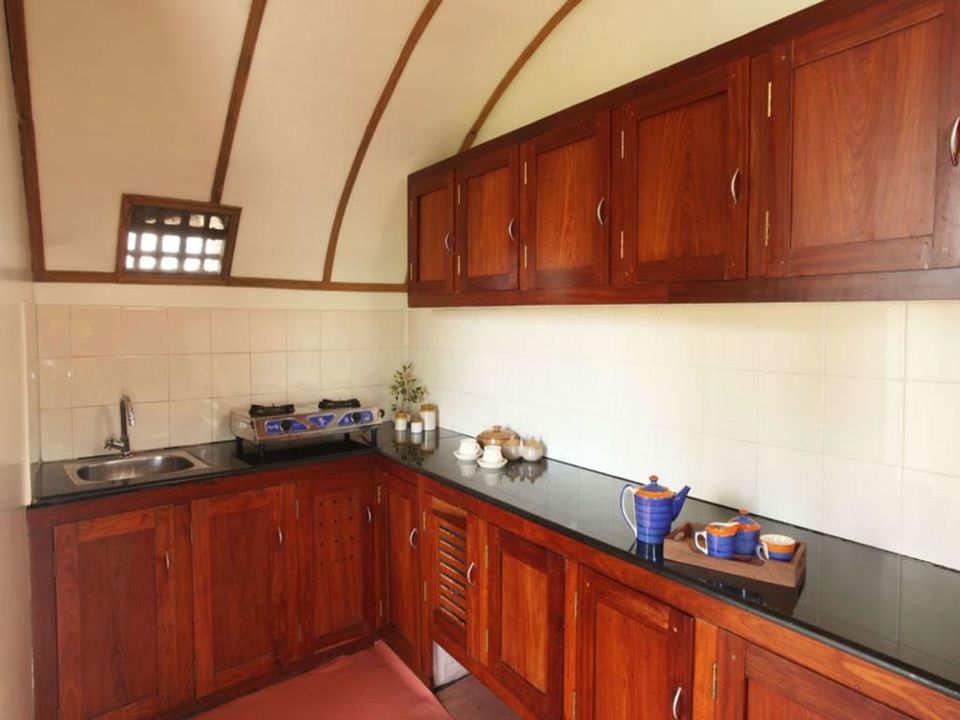 Cost: The Three-bedroom Houseboat will cost you around 21,756 INR. This is including all three meals: breakfast, lunch, dinner, and taxes.
Book here.
7. WhyNot Houseboat
With three different types of houseboats - deluxe, premium and traditional, WhyNot has been acclaimed by every visitor who's been there. One can check all their reviews on the various portals, every review speaks highly of this houseboat accommodation.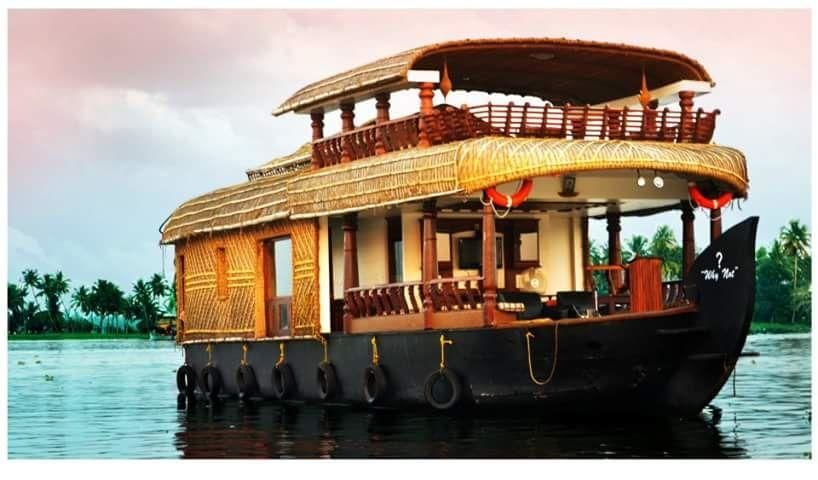 The boats float through the most offbeat spots in the and you can witness everything from canals, islands, villages, lagoons, a plethora of indigenous flora and fauna all from your room window. etc. In the evening the boat stations at a village where you can go for walks in the local market, try kayaking and canoeing.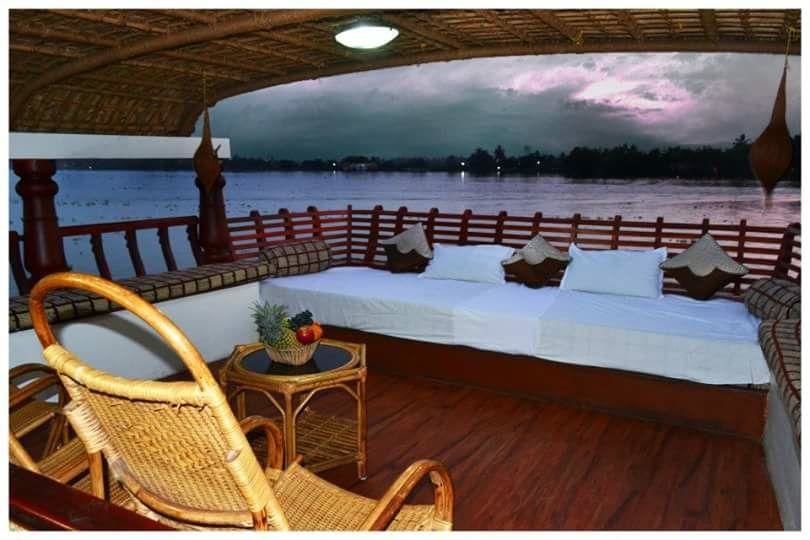 Where: Finishing point Alleppey, 688013 Alleppey, India.
Highlights:
A large 2nd floor sitting area with great breeze.
Music system to party or dance the night away.
They also have books and DVDs for children.
The rooms have a pretty balcony that has a stunning view of the lagoons and backwaters.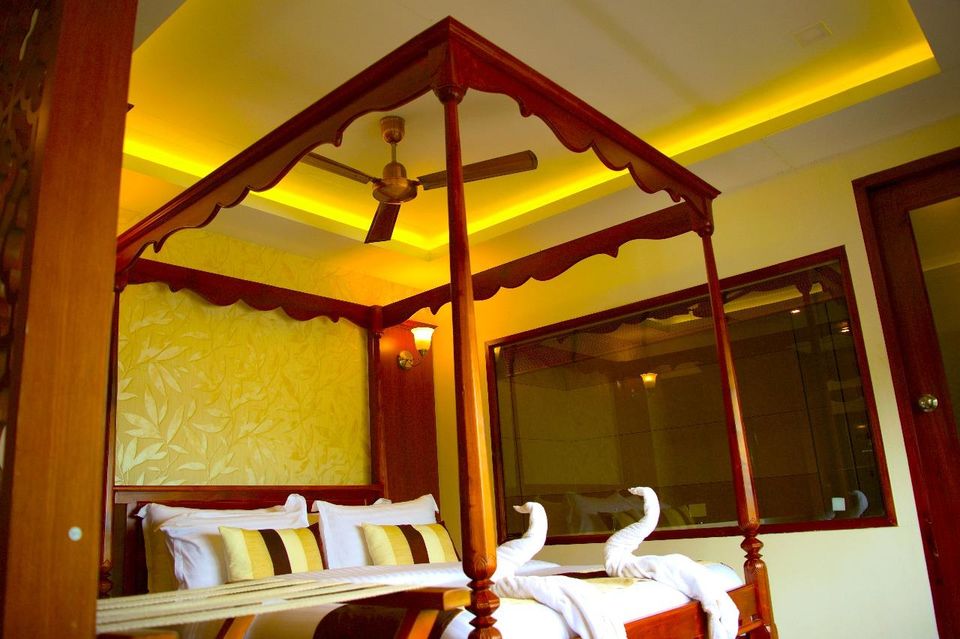 Rooms: The boat consists of 1 separate bedroom, 1 bathroom with free toiletries and a living room. A flat-screen TV is featured. You get the whole boat to yourself since it only has one room hence ensuring privacy.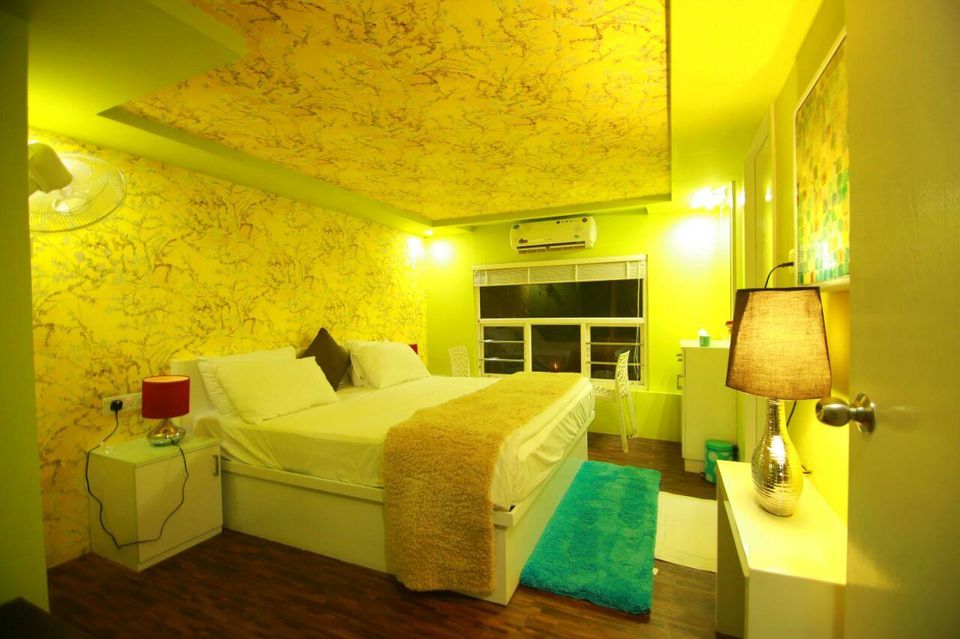 Food: The boat offers a continental or American breakfast. Banana fritters served as an afternoon snack and fresh prawns from a local store.
Cost: The cost of a private houseboat with sun-terrace will be around 12,000 INR including taxes, breakfast and dinner.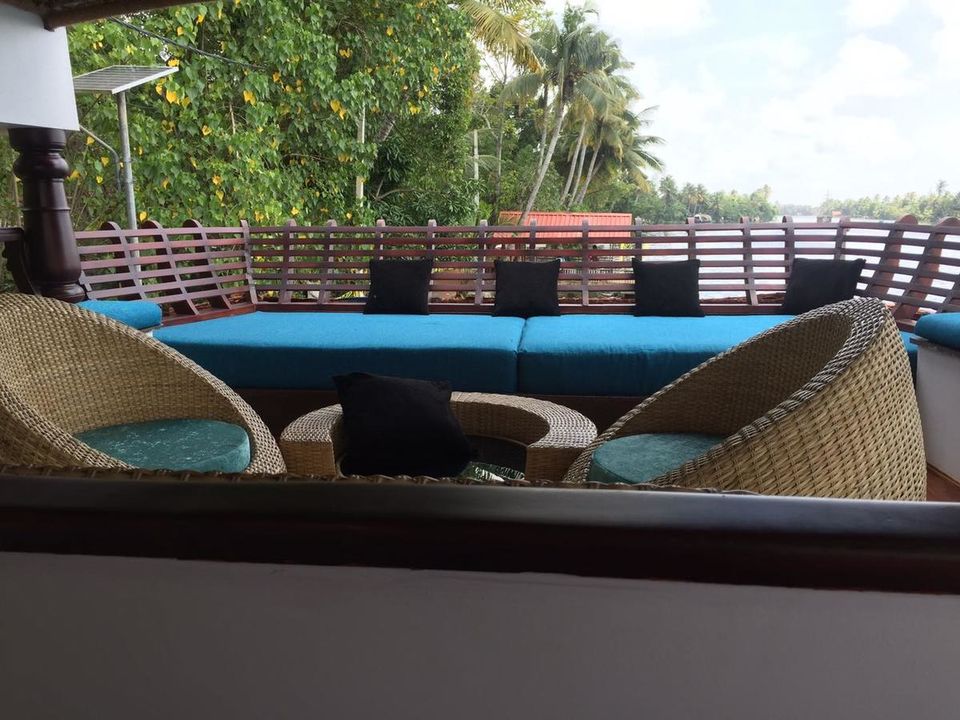 8. Angel Queen
Angel Queen offers rooms on board a Kettuvallam, a traditional Kerala house boat. Exploring the backwaters of Alleppey and Kumarakom.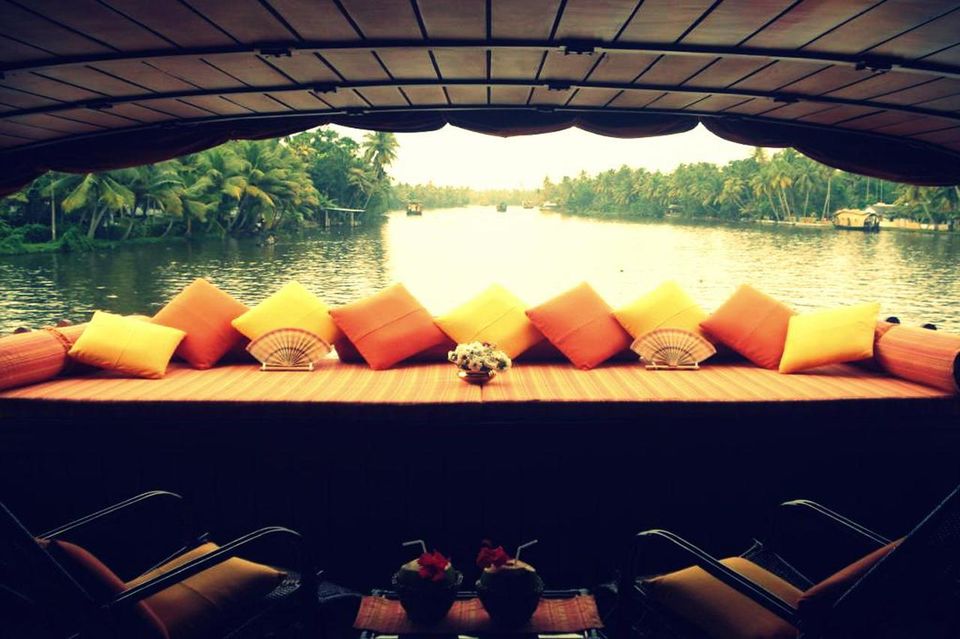 Where: Shop No 03, Pazhayampally Building, Near Pathil Bridge, Kainakary, Alappuzha, Kerala 688501. Departing from the Alleppey boatyard, Angel Queen House Boats is a 5-minute walk from the bus station. It is 5 km from Alappuzha Railway Station.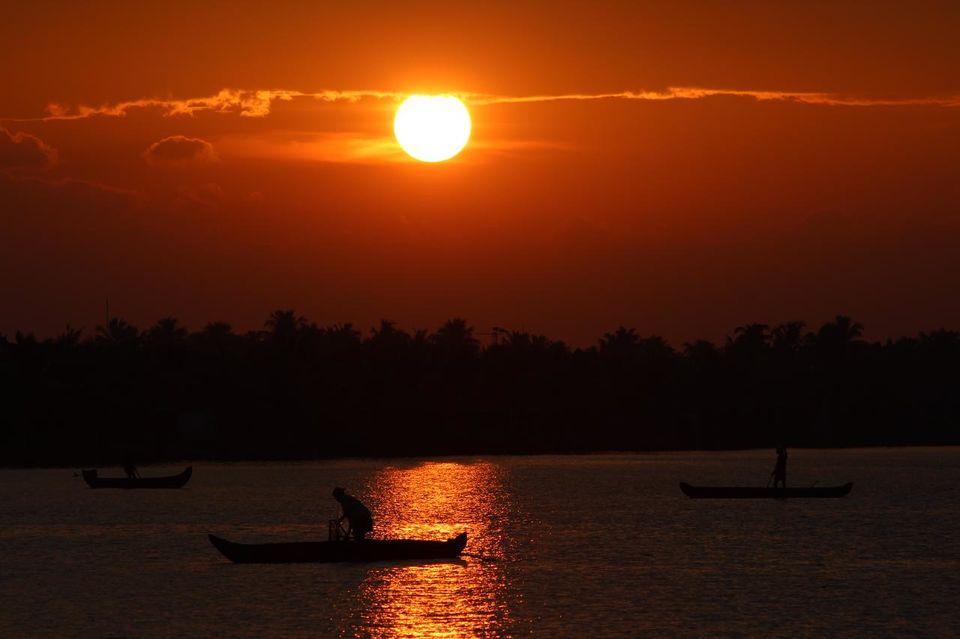 Highlights:

The sunrise canoe trip is highly recommended.
An upstairs lounge area so you can relax and take in the views.
The boat is out of Allepey (about 30 min by Tuk-Tuk) it means the waterways are quiet and you don't see many other houseboats till you get to the main section.
It is pet-friendly and has on-site water-sports facilities.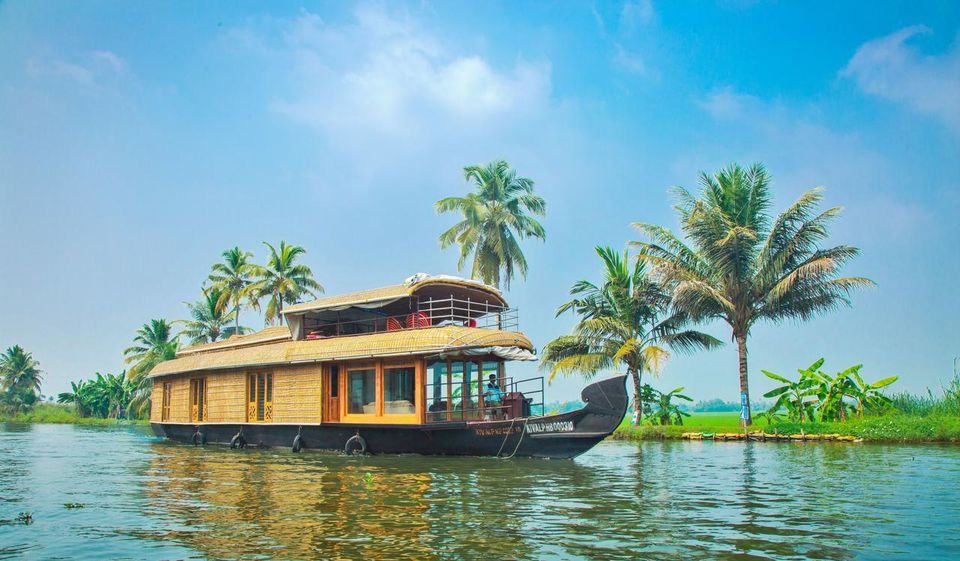 Rooms:
Rooms are air-conditioned and is equipped with a flat-screen TV. Some units have a terrace and/or balcony with river views. There is also a dining area and a kitchen fitted with a fridge and stove-top. There is a private bathroom with a shower and free toiletries in each unit. They have different types of suites like one-bedroom, two-bedroom, three bedroom suites, suites with a river-facing balcony.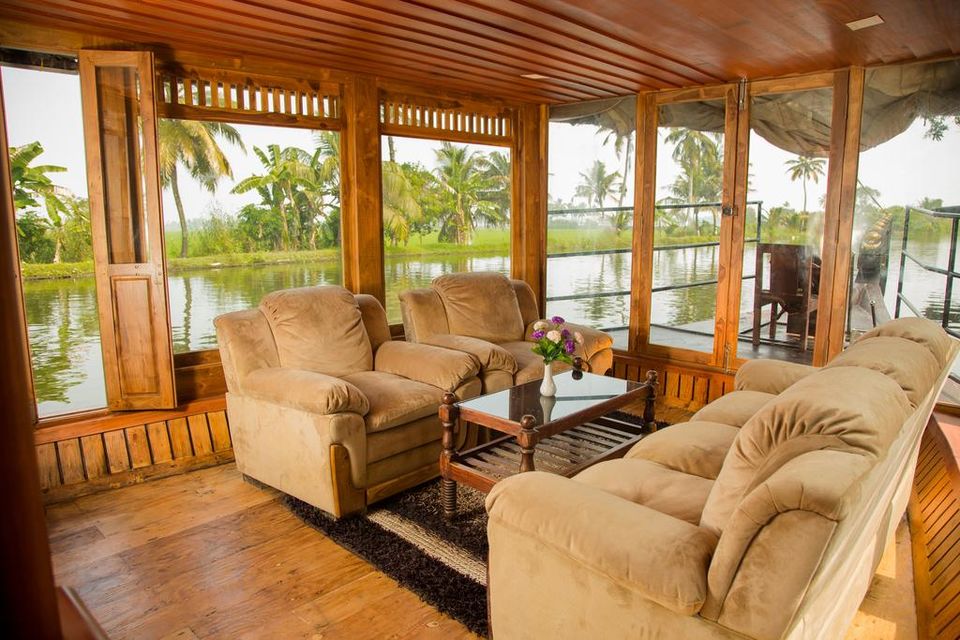 Food: The boat provides full board Kerela traditional meals for all guests through its Indian restaurant and 24-hour room service. A chef on board prepares traditional Kerala cuisine with local spices, organic food, and fresh seafood. Barbeque facilities are available in the lounge area. An assorted catering menu including beverages and picnic baskets are available.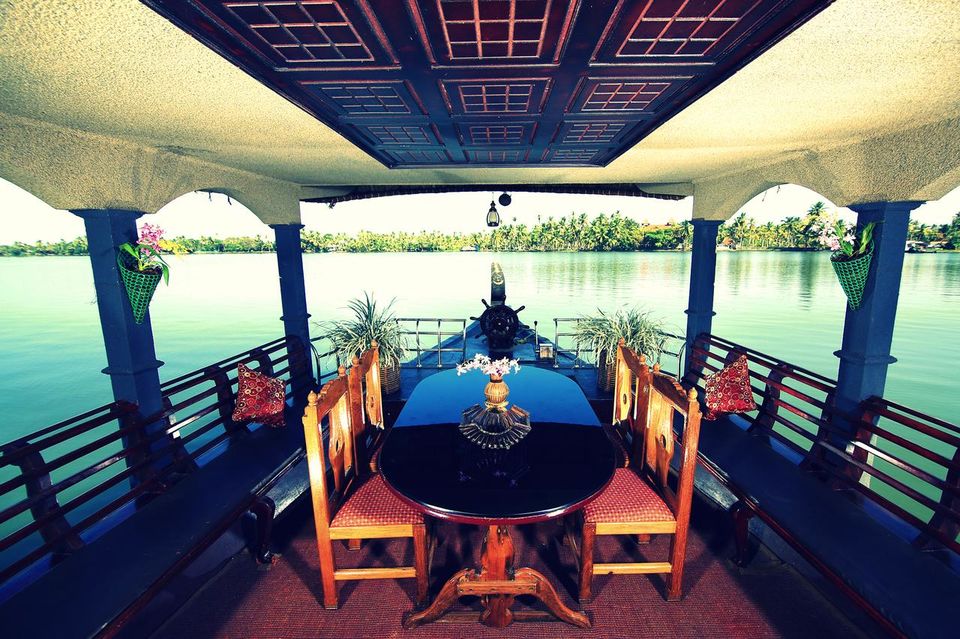 Cost: The tariff of a one bedroom suite is 15,000 INR per night and the suite with balcony is 18,000 INR. (This includes taxes, breakfast, lunch, dinner, a Village Tour, Complimentary Candle Light Dinner on Request and a Free Fishing Experience)