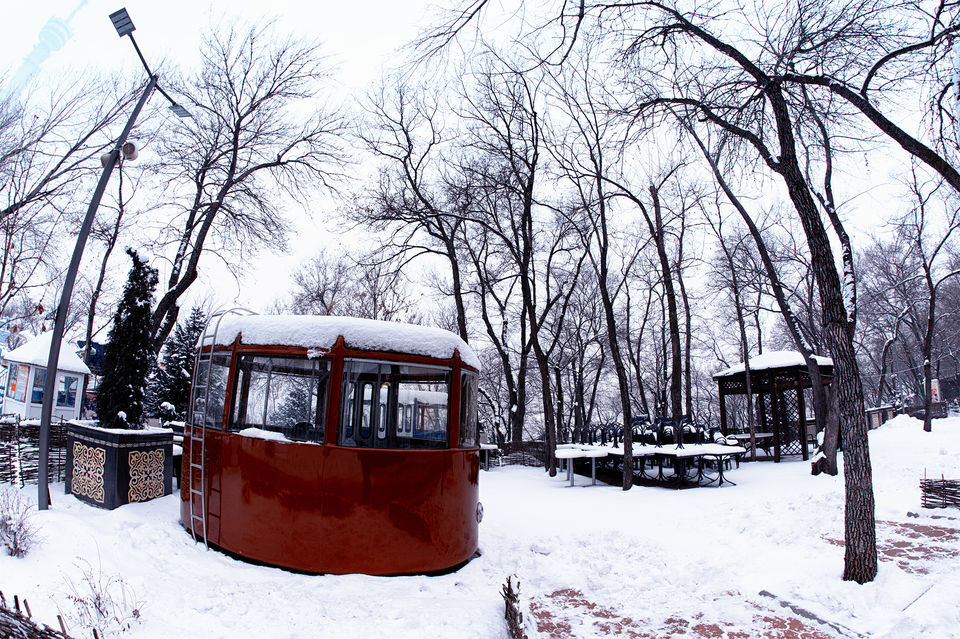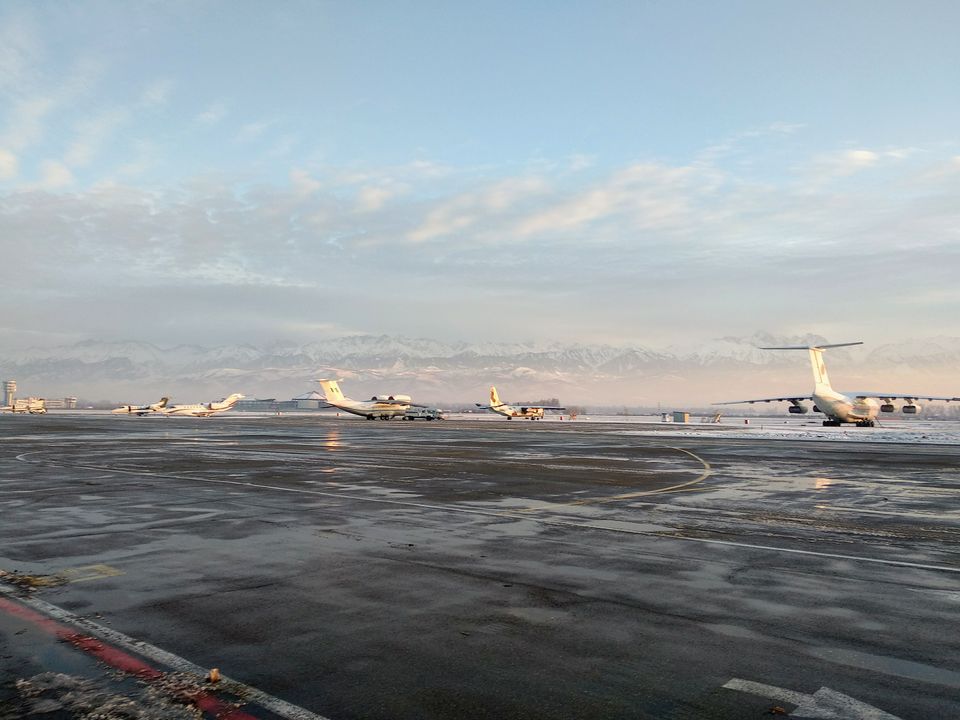 It was 28th of December, 2017. I boarded my flight, of Air Astana, from IGI (Indira Gandhi International) airport. The flight was 3 hr. 50 minutes long. Around 4 (Local Almaty time), my flight started to descend and the city the Almaty became more and more visible. The snow covered cityscape was a delight to the eyes. Here starts my one month long travel of the country.
Almaty Airport
The Almaty Airport is relatively small and you can see various Soviet era and Russian made jets in front of the mountains landscape of the City. For non Russian speakers here the fun starts. The language of the region is Kazakh and Russian, Russian being the dominant one almost everybody speaks it. Even at airport you are likely to not find one single English speaking staff. Even though signs are posted in all three languages (Kazakh, Russian and English) prefer to learn a little bit of Russian before taking the tour.
It was dark by the time I came out of the airport. Since I had read about it, I walked a little bit outside the airport premise and took a cab for 1300 tenge (around 4 US Dollars) to my Hostel near Abai Square.
Almaty – The city of apples
Since half of my trip I knew I was going to stay in this city. It was the centre point for my whole itinerary. And I plan to learn the city from a local's perspective
So I checked in the Hostel at around 8 in the evening. The Owner of the hostel 'Shakir' of Almaty Hostel Dom is person you surely would want to be your first point of contact. He is Helpful, courteous, professional and a friend indeed. The hostel has a family vibe and if you are a people person this should be your first stop. Since it was late I went out for dinner and tried Shashlik at 'Shashlychny Dvor'. The place has a nice vibe, the food was decent and price you can't complain
Travelling the city you will feel a strong soviet vibe. From the metro rail to monuments and hotels a lot of construction is heritage of the past soviet Era. The city is pretty much dotted with soviet architecture and monuments.
Kok Tobe: It is the highest point of the city and from here you can have a awesome view of the city as well as enjoy the 'Trans lli Altau' mountain range. It is a nice place where you can get a nice view of the Sunrise/Sunset over the city.
Panfilov Park: It is a memorial park raised in owner of the Panfilov division of World War 2. You will find monument here, raised in owner of them, as well as many other dedicated to the war heroes from this region. The famous wooden "Zenkov's Cathedral' is located here as well.
Medeo: I heard of it a lot before my travel so going here was of course on my list. I took a bus from near my hostel for 150 tenge (80 is you have the card). The place is uphill from the City centre. It is basically the foothills of the mountain range and a fun place to explore the mountains. The area is covered with pine and spruce trees with a ravine flowing across the area.
The famous Medeo Ice skating ring is located here as well. It is known as the world's highest skating ring. I went there with a bunch of local friends, and since it was winter half of them of course had skating in their mind. So we went. The entry ticket is 1800 Tenge and 2000 tenge more for a pair of Skates. During winter the place is jam packed with people and it took us two hours to finally reach the arena. For me, coming from a warm country, everything was an experience. I fell off my feet even before I began to skate so I have to pay another 1000 Tenge to rent a crutch like support that will help me stay on my feet. 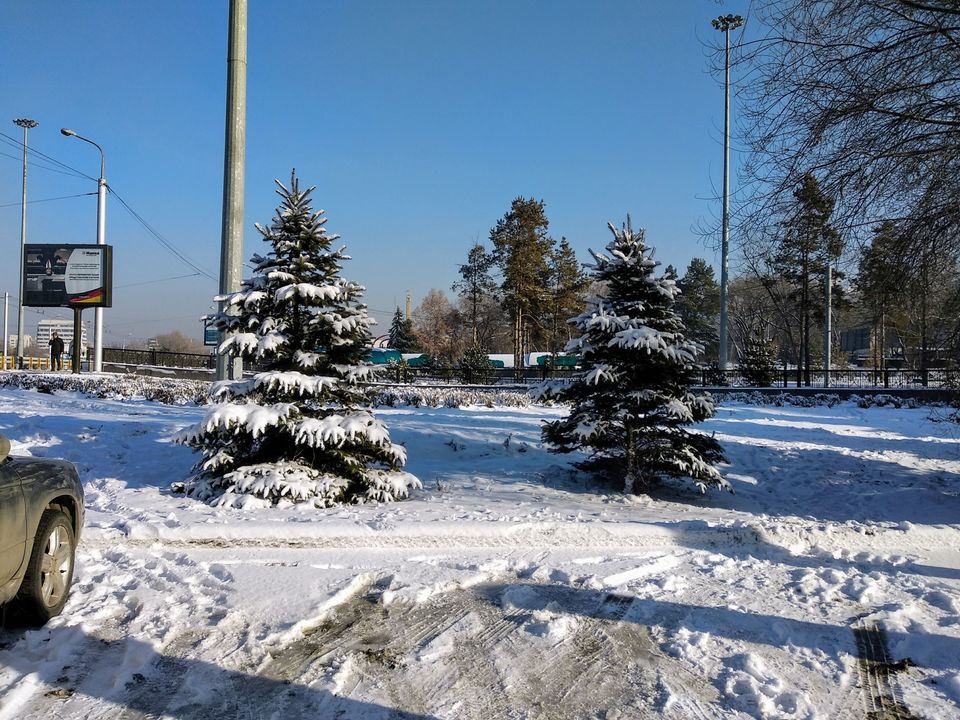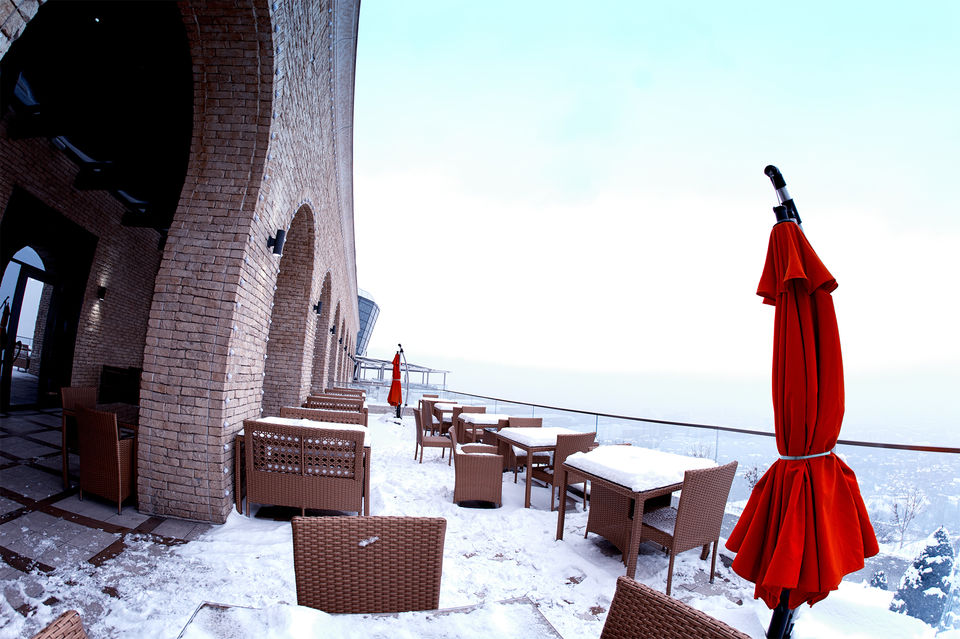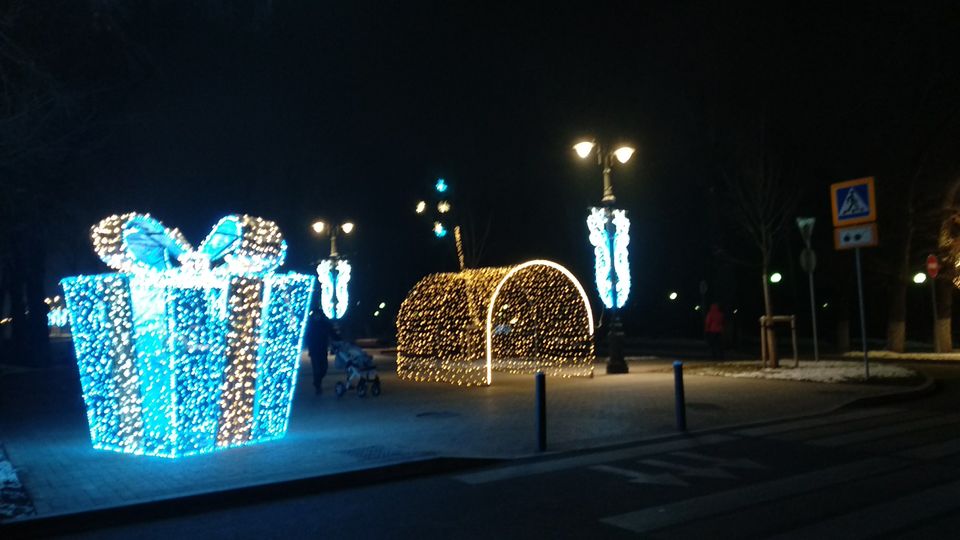 Shymkent
Since Astana was almost unreachable for me due to the snow storm going on, I settled for a train journey to Shymkent.
I took a train from 'Alma-Ata 2' railway station to Shymkent for the night. The trains here are mostly from the soviet times and feel a bit old. The travel time was around 15 hours, and it cost me around 9500 Tenge (USD 30 approx.) for a return journey on Sleeper. The snowfall on the way helped me get some breath taking pictures. The station here is big and nicely decorated in leu of New year and Christmas.
The city of Shymkent has a relatively less modern feel to it than Almaty, and felt more like a big town than a city. Even though I was told that people here are less friendly than Almaty, I felt no difference. Walking through the city, a non Russian/ Kazakh speaker, I saw people equally eager to help as in Almaty.
I visited the famous Aina Bazaar here. You can get pretty much everything here, from shoes, apparels to food; everything is sold in a large quantities. The best thing I enjoyed in the city is food. It felt much well prepared and tasty in comparison to Almaty.
There are a lot of local site seeing to be done here as well, but since I was on a short time I had to settle for only few. But surely as a tourist there is not much Shymkent has to offer over Almaty. I returned to Almaty on train again.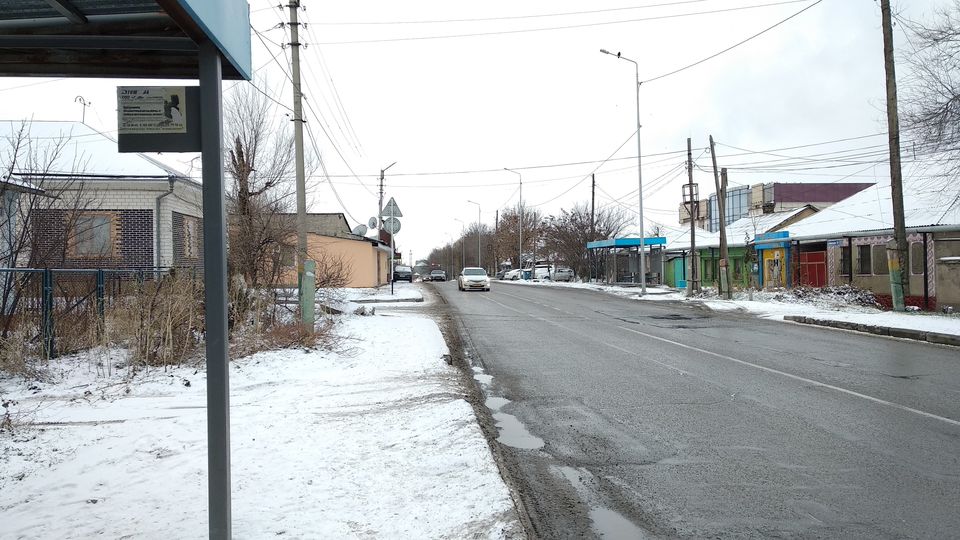 Saty
This is a small settlement around 300 kilometres South-East of Almaty. If you want to visit the Kolsai and Kaindy lakes this is the centre point. With a small mountain river and area surrounded by mountain range, this place itself is worth a visit.
We took a mini bus early in the morning from Sayakhat and paid 2500 Tenge/ person till Saty. It took us around 4 hours to reach the destination. Charyn Canyon falls on the way and is visible for a short period of time. The road is mostly good and the journey is wont take a toll on you.
Since it was the winters, Yurtas were out of question so we had to settle at a local house for our overnight stay. We paid 5000 Tenge/ person per night, including food. The local people are being taught by the government to be more tourist-friendly and open minded. So the place is said to be safe and welcoming for the tourists.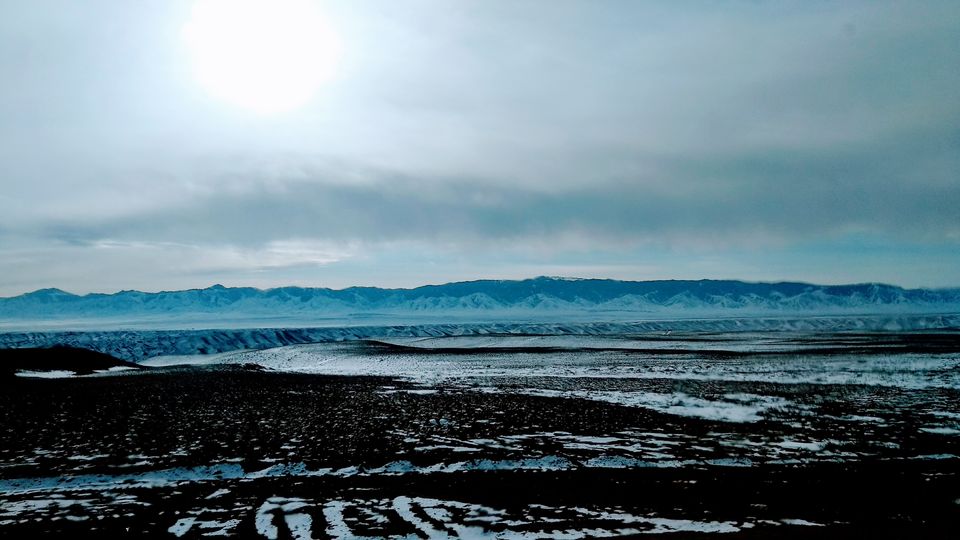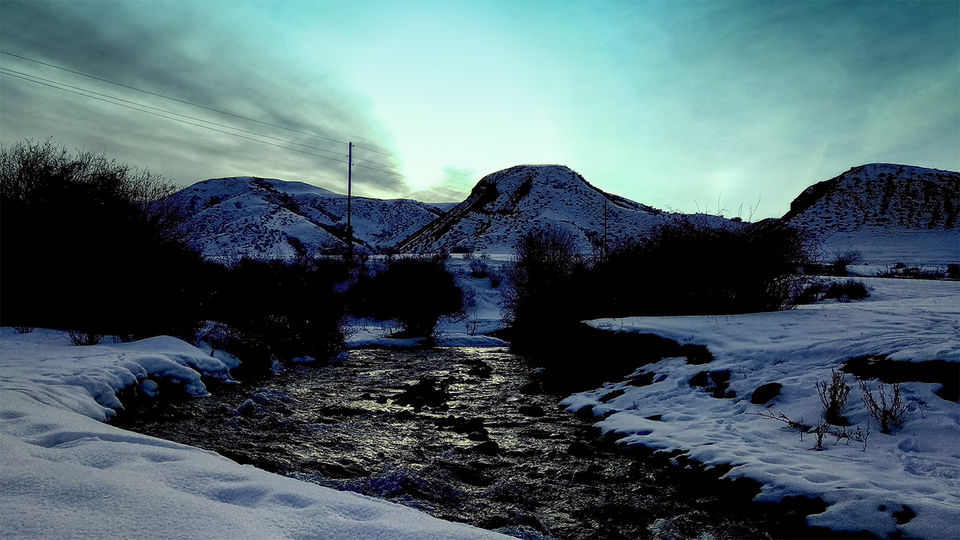 Kolsai Lake National Park
Our plan was to visit the Lakes of Kolsai and Kaindy, so we hired a local SUV for the same. After little bargaining, our driver agreed to take us to both lakes for 10,000 Tenge. We started early around 10 in the morning.
Our first halt was to be the Kolsai Lake. It is around 30 minutes from Saty on car. There is a entry fees for everything here. It is around 750 Tenge/ person to enter. For Fishing you need to pay 900 Tenge/ person extra. Same if you want to put up your own camp inside. The whole National Park consists of 3 lakes each at a higher altitude for the first one. The first one is the easiest accessible by vehicle, and since it was winter was frozen solid to happily walk over it. It took us around 30 minutes to walk across the lake, on the longest side. The surroundings are a beauty and ecology here feels pretty undisturbed. The air feels fresh and the flora feels astounding.
The other two lakes are 5 kilometres and 6 kilometres apart from the first one. The second one is biggest and much more beautiful and you can reach there after a hike of around 1 hour through a wild untouched trail left by other hikers. We walked around the lake for around 2-3 hours coming across random groups of people doing ice fishing and drinking Vodka in leisure.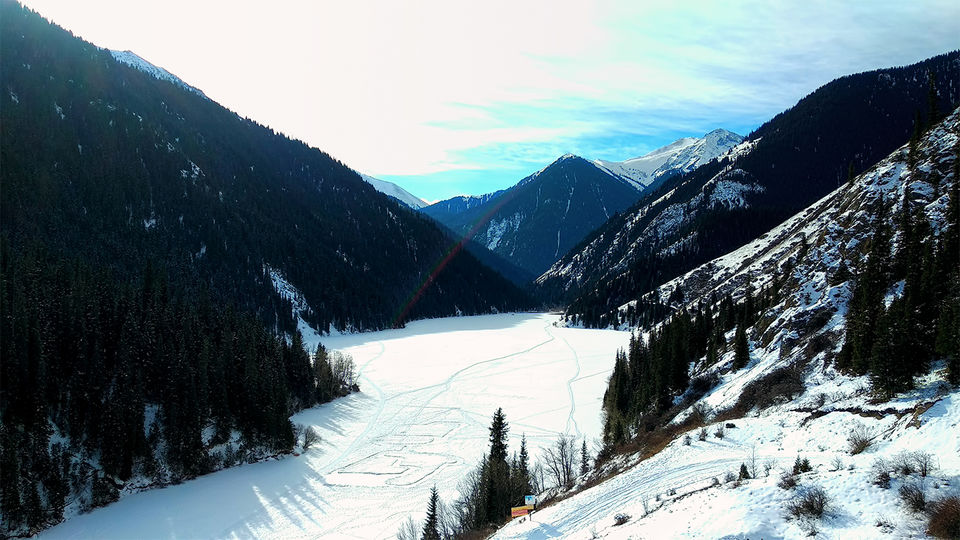 Kaindy Lake
Here also you need to pay and entry fees of around 750 Tenge/ person for entering. These check points are more like rag tag outposts run by the government to preserve the ecology as well maintain safety for tourists.
This lake is exactly on the opposite side from Kolsai and you will have to go through the Village of Saty again to reach Kaindy Lake. The road towards the lake is more of a gravel road and is far more uneven. We had to leave our car much far before the lake since there was talks of an accident in which a car over turned. Leaving our car we hiked uphill for around an hour to reach the Lake. This place is much more mountainous and cramped than Kolsai and gives more of a jungle vibe. The lake itself is situated in a gorge and you have to go down from the trail to reach it. In terms of beauty, this lake is far more picturesque than the Kolsai. The Asian spruce trees coming out of the base of the lake creates an awesome photography point as well as mystique for the travellers. You can hike around the lake on the trail and look for beautiful locations. Here you will spend around 2-3 hours as well including the roughly 1 hour hike to and back from the lake.
We stayed there for two days and took a car back to Almaty on the third early morning. It was lovely experience to the countryside of this vast country.
Green Market (Zeleny Bazaar), Almaty
This is the place to go in Almaty if you want to buy fresh fruits, honey, food anything you need. It is a huge indoors Bazaar (Market). Shoes, apparels, vegetables, fruits, bakery, electronics, household items pretty much everything is available in this Huge market. The price is pretty much the same as in any shopping centre but locals claim eatables to be fresher here than other places.
My one month tour concluded with lovely memories and a lot of photographs and experience to share
Locals (People): Kazakhstan, like most modern countries, is a multi cultural, multi ethnic country with Kazakhs and Russians constituting the bulk of it. Locals are generally very helpful and friendly. Though it is really difficult to find English speaking crowd, locals nevertheless will take out time from their everyday work to help you as best they can. The centre of Almaty is pretty safe and I have walked on the streets as late as 1 and 2 in the after night at many many occasions and never faced any trouble.
Food: There are many Uzbek, Korean and Indian restaurants available all around. Some of the most famous dishes here are Shashlik, Beshbarmak, Baursaki, Doner, with loads of tea. Tea seems much more popular than Vodka as a drink. Being from India, I noticed that Indian tea is rather very popular among the masses.
Kaganat (КАГАНАТ), a cheap self serving chain of restaurants is very popular in Almaty. It is relatively cheaper and food is decent, if not finger licking-good at this place. The best part for me was it being open 24 hours.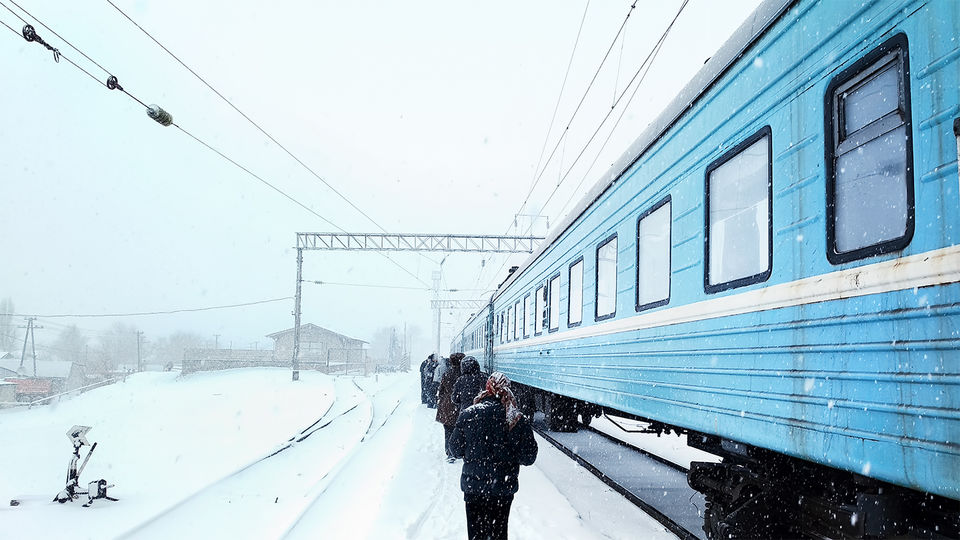 Also, it is common to get invited to a local's house for dinner, or lunch. The locals are very serious about their hospitality. 
Getting Around: common means here is taxi, Uber is available also a new service called "Leader Taxi" is available. Locals mostly wave down random cars working as taxi here since they are cheap, but only go for it if you speak and understand Russian.
Apart from it most common and easy means of transportation, as per me, is bus. Buy the Onai card from any Caravan Shop (караван магазин). A ticket on bus in Almaty costs 150 Tenge (80 Tenge if you have Onai card. In Shymkent the flat price is 70 Tenge.
Metro Rail service is only available in Almaty and it only covers the central part of the city.
Economy: The local currency is Tenge, 1 Tenge = 5 Indian Rupees (3 cents USD). Eating is really cheap here generally. Travel is also cheap if you use bus or hail down taxis. Stay is relatively costly, but there are some nice and cheap hostels if you are game for it.
The country is lovely, and the locals are friendly and helpful. Though it's always good to be aware of your surroundings and know little bit of the local language. Kazakhs hold a sense of pride about their language, even most of them don't even speak it, and so if you can use even few words of Kazakh while speaking they will be very happy about it.
Also keep in mind your own attitude is the key to make your trip worthwhile. I am a professional tour organiser working with fotofoyer.com, and have decent experience of completing such tours.
Best time to visit South Kazakhstan, in summer, is from end of May to End of August and in Winters it is from end of December to Mid of February.