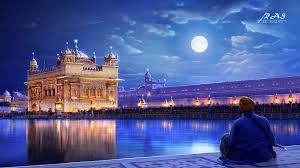 Amritsar historically also known as Rāmdāspur and colloquially as Ambarsar, is a city in north-western India which is the administrative headquarters of the Amritsar district - located in the Majha region of the Indian state of Punjab.
Place to visit in amritsar:
1.) Golden Temple: The temple is a visual treat, as it is actually made of gold and precious stones (the ceiling is a masterpiece). The air around the temple reverberates with a magnetism, and is open to all public, resonating with the ideology of Sikhism. One can also see Sikh men carrying bejeweled swords, with elaborate mustaches, who paint the picture of valor in our minds.
2.) Jallianwala bagh :The Jallianwala Bagh tragedy, which occurred during the time of India's freedom struggle with the British has gone down in history as one of the most brutal massacres where the British troupes closed the gates of the garden and gunned down peaceful civilians who were there celebrating the Punjab National Day. The monument to memorialize the event is a sight to see and the bullet marks left from this tragedy can still be seen.
3.) Mata Lal Devi Mandir: This temple is in honor of a saint in the 20th century who rose to prominence after she helped many women to conceive. Today, the temple attracts thousands of women, who hope to experience her magic. The temple is like a catacomb of waterways, burrows, side pathways and even caverns! It is an immersion just to visit this temple, watch the vibrant colours all around and meet the people, each more unique than the other.
4. ) Wagah ceremony: Wagah is the border crossing lying on the grand trunk road between Pakistan and India. The Wagah Border ceremony is an elaborate ceremony that happens here everyday at 5pm, during the closing of the border gates. It beings with the marching of soldiers, who end it by lowering the flags together, as a sign of unity, in diversity. It lights a flame of patriotism in every Indian who watches it and people are said to be moved to tears at the sight.
5.) Heritage Street/ Market
6.) City on Pedals (Bicycle Tour)
7.) Maharaja Ranjit Singh Museum
8.) Fort Gobindgarh
9.) Interpretation Center