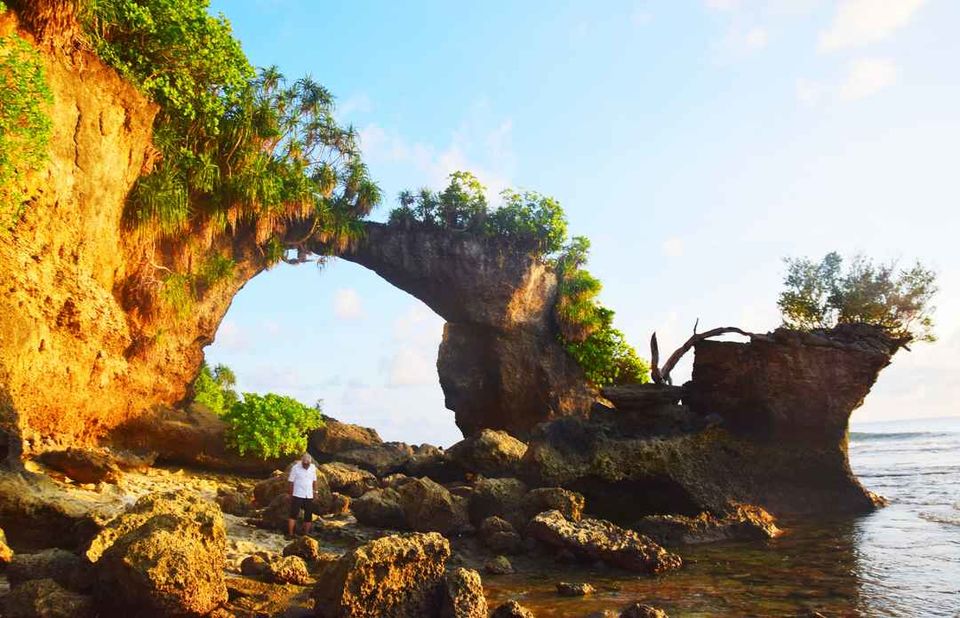 Andaman and Nicobar Islands is perhaps on the bucket list of many travelers from around the world. However, travelling solo to this beautiful island is not that common yet. Honestly, traveling solo, especially being a woman, often becomes a bit daunting. Right from "Log kya kehenge" to selecting places that are safe enough and do not burn a hole in the pocket at the same time, or choosing places that are mostly frequented by group travelers or couples over the ones that are friendlier towards solo travelers, the whole process becomes too overwhelming at times.
But, having my fair shares of solo travels, I can assure you that it's not that daunting as it seems - a well chalked out plan and following some basic safety measures are all that you need! But, here is some good news for all my fellow solo travelers, Havelock and the other islands in Andaman are very safe for all travelers alike.
I had traveled solo to Andamans, and apart from the occasional "Are you traveling alone?" questions from fellow travelers, there were hardly any hiccups in my entire trip, especially when it came to safety.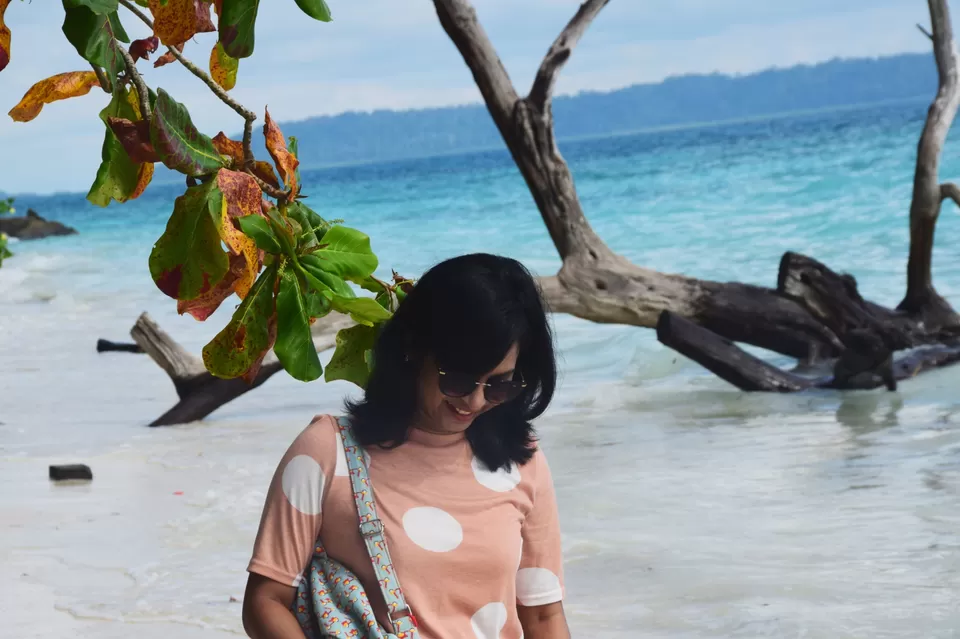 How To Reach Andamans and Nicobar Islands?
The easiest and fastest way to reach Andaman and Nicobar Islands is to take a direct flight from cities like Kolkata, Chennai or Bangalore to Port Blair, the capital city of Andaman and Nicobar Islands. But, in case you are up for some adventure and do have some extra time in hand, you can even take a passenger ship from the port cities of Kolkata or Chennai. However, due to the pandemic, don't forget to enquire in advance about the bookings from the Shipping Corporation of India.
On reaching Port Blair, I would highly recommend heading straight to the hotel from the airport and getting ready as soon as possible to step out to explore the city of Port Blair.
There are many options of commuting within Port Blair ranging from private cabs to even local buses, stopping right outside the airport, or you can even ask your hotel to pick you up from the airport.
For moving in and around the city, you can even rent a two wheeler or a cab.
Also, in case you want to book your Ferry tickets to Havelock or any other island in Andaman in advance, you can do that here at the airport as there are counters of Makruzz and Sea Link at the airport.
There are many things to do in Port Blair from trekking at Chidiya Tapu to catching a beautiful sunset or exploring the Ross Island.
Here is a list of things that you can do while in Port Blair.
Since, I was on a comparatively tight schedule, just half a day to be honest, I preferred to visit only those places that I wanted to explore and leave the rest for another time.
Well, traveling solo has an advantage to pick and choose according to one's own whims.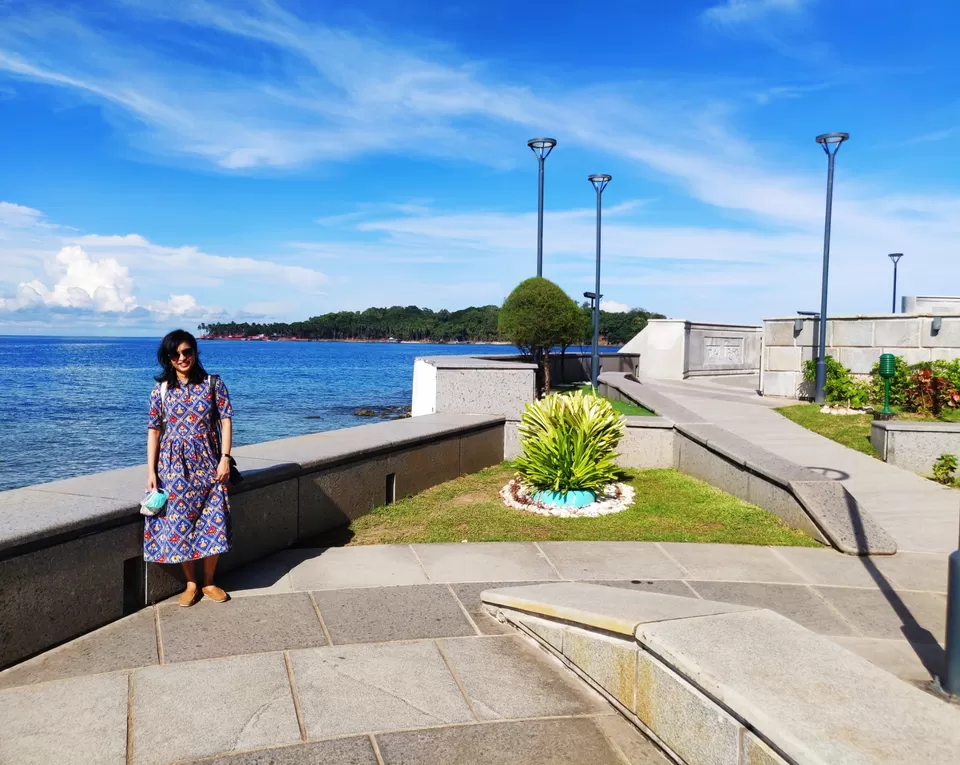 Cellular Jail: The history enthusiast in me always wanted to visit the infamous Kala Paani aka the Cellular Jail since the time I read about India's freedom movement and how some of the freedom fighters were imprisoned here in the Cellular Jail as political prisoners. The museum, the sound and light show helped me recollect all their extraordinary deeds to free our country from colonial rule, that I had once read as a young girl back in school.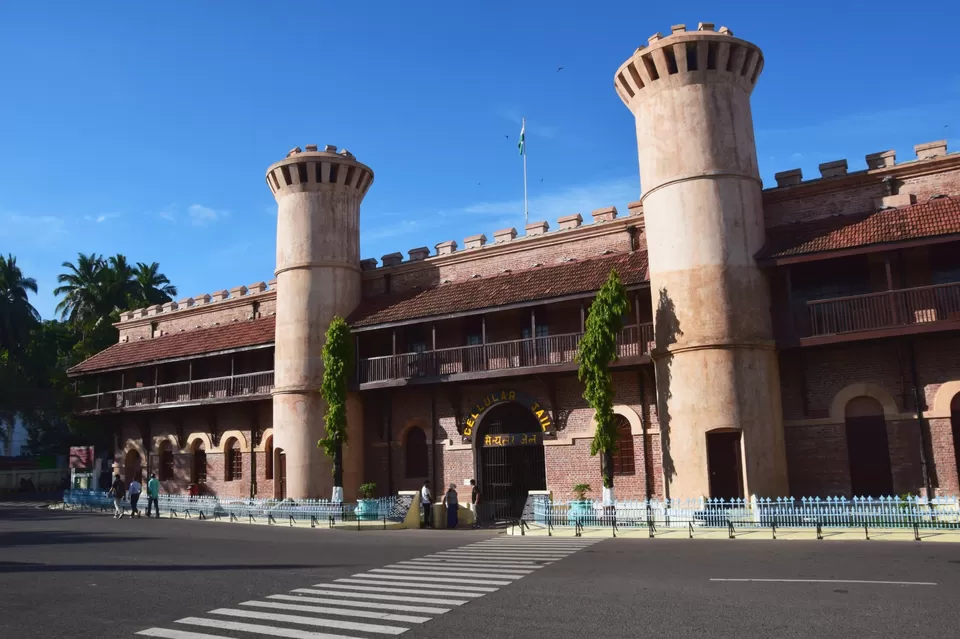 Where to eat in Port Blair?
Post the 'Sound and Light Show' at Cellular Jail, I wanted to grab a quick dinner before I could call it a day. Port Blair has a plethora of eating joints specializing in seafood and hence it becomes immensely difficult to choose from.
My top picks for a good meal post exploring the city are:
1. Amaya: Location: Marine Hill, Hotel Seashell
2. Lighthouse Restaurant + New Lighthouse Location: Rajiv Gandhi Nagar
3. Food Trucks like Dugout, Happy Belly: Location: Marina Park - The Food Truck
4. Annapurna (Mostly For South Indian Cuisine): Location: Aberdeen Bazar, DAG Colony
Where to stay in Port Blair?
Port Blair offers a lot of options ranging from high end resorts to budget stays when it comes to hotels and homstays since travelers from all walks of life come here.
Here are some options (from a low to high budget) for stays in Port Blair:
1. Aqua Horizon
2. Hotel Marina Manor
3. Hornbill Nest Resort
4. The Seaview Residency
5. Seashell Port Blair
6. Sinclair's Bay View
1. Carry cash to avoid standing in long queues outside ATMs.
2. Carry postpaid BSNL or Airtel sim(s) as network here is not guaranteed for other pre-paid sims.
Well, Day 2 started quite early since I had an early morning ferry to Havelock. I had my breakfast packed from the hotel since most of these hotels here are well aware of the ferry timings and quite accommodating when it comes to breakfast on the go.
How to reach Havelock Island?
It takes approximately 2 hours to reach Havelock Island from Port Blair.
Now, I had already booked my ferry to Havelock online, well in advance to avoid last minute rush because availability of seats in these ferries becomes difficult during peak seasons. But, one can book at the counter too after reaching the harbor, or even at the airport, right after landing at Port Blair.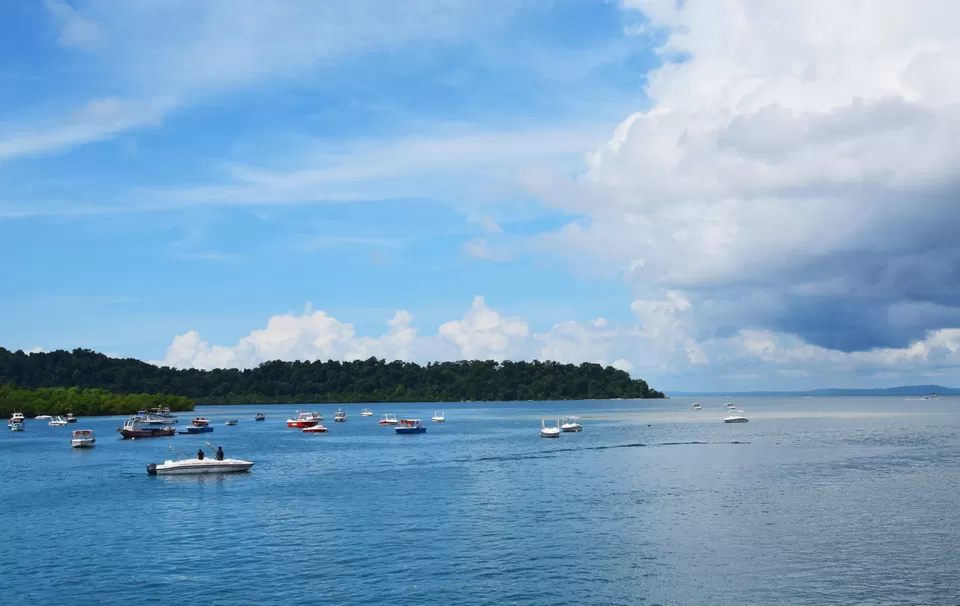 There are three options to choose from when it came to taking a ferry to Havelock Island -
1. Coral Queen - Government operated Ferry, price of tickets is comparatively lower than the private ones, open area to stand and enjoy the view.
2. Makruzz - Most popular, privately operated, prices are high, punctual.
3. Sea Link - Privately operated, comparatively newer and smaller but well maintained, punctual.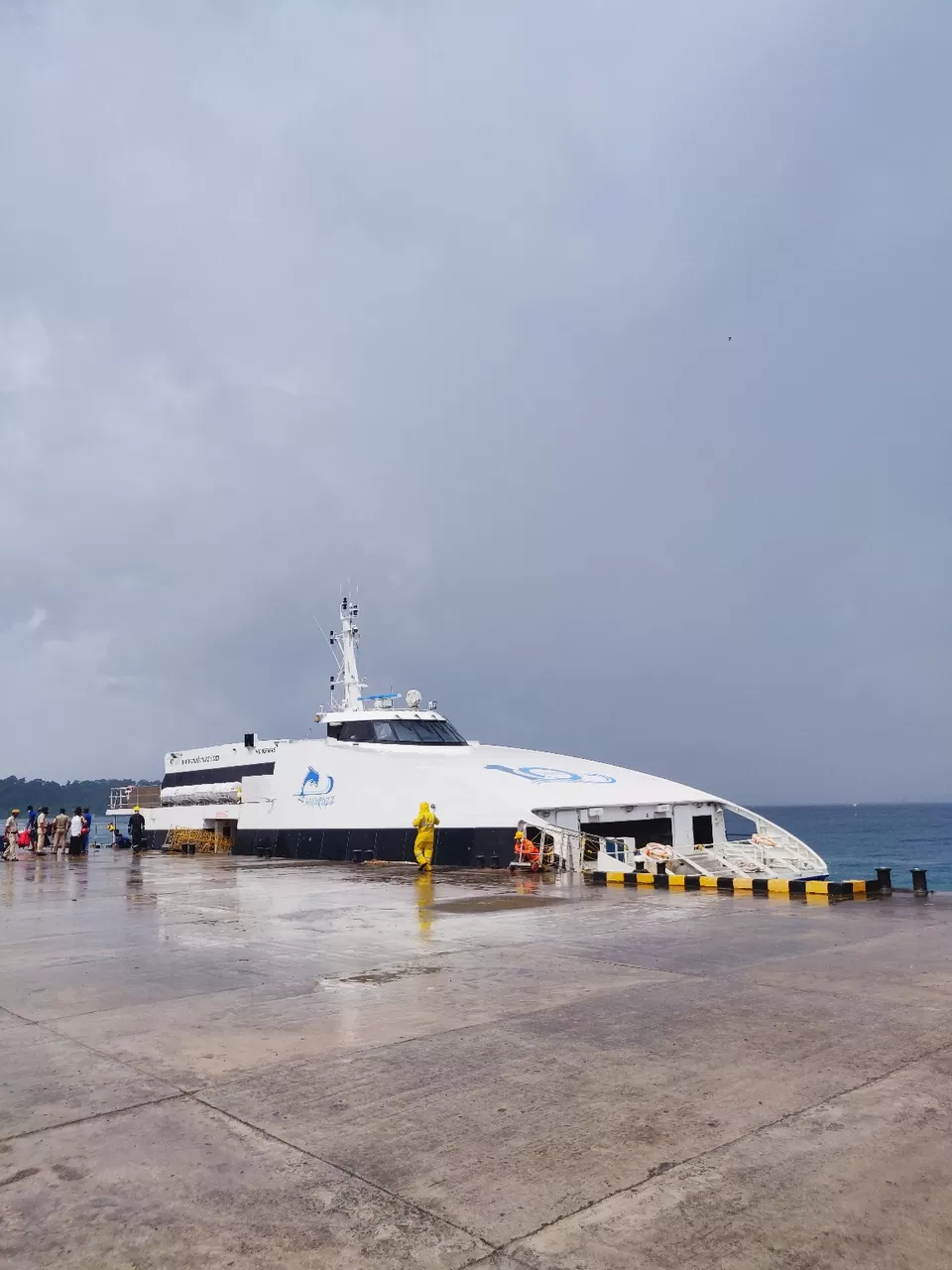 On reaching Havelock, you will find the taxi stand once you walk out of the harbor. Again, you can ask your hotel or resort to send a cab to pick you up or you can just hop into one of these taxis that are waiting outside the harbor.
Where to stay in Havelock Island?
Havelock is quite popular for its beach resorts and hence finding a perfect stay here that suits your budget is absolutely not a big deal.
You can choose from the following options depending on how much you want to spend (low to high budget):
1. Outback Resorts
2. Dolphin Resort
3. Blue Island Beach Resort
4. Symphony Palms Beach Resort
5. Coral Reef Hotel & Resort
6. Taj Exotica Resort & Spa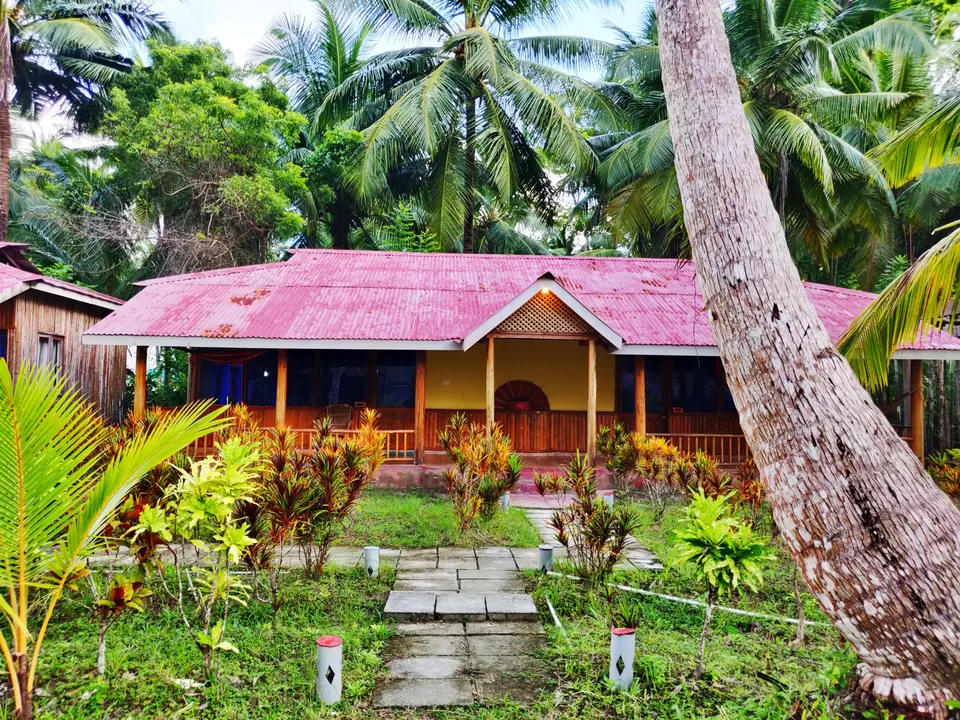 Now coming back to what to do in Havelock - post reaching your hotel, grab a quick lunch and get ready to head out to visit one of the most popular beaches in the entire island.
Radhanagar Beach - This blue flag beach in Havelock is not only one of the most beautiful beaches in Andamans, it is also one of the most beautiful beaches in the world. Tourists from different parts of the world come here to enjoy its pristine blue waters and relax on the shore while witnessing spectacular sunsets.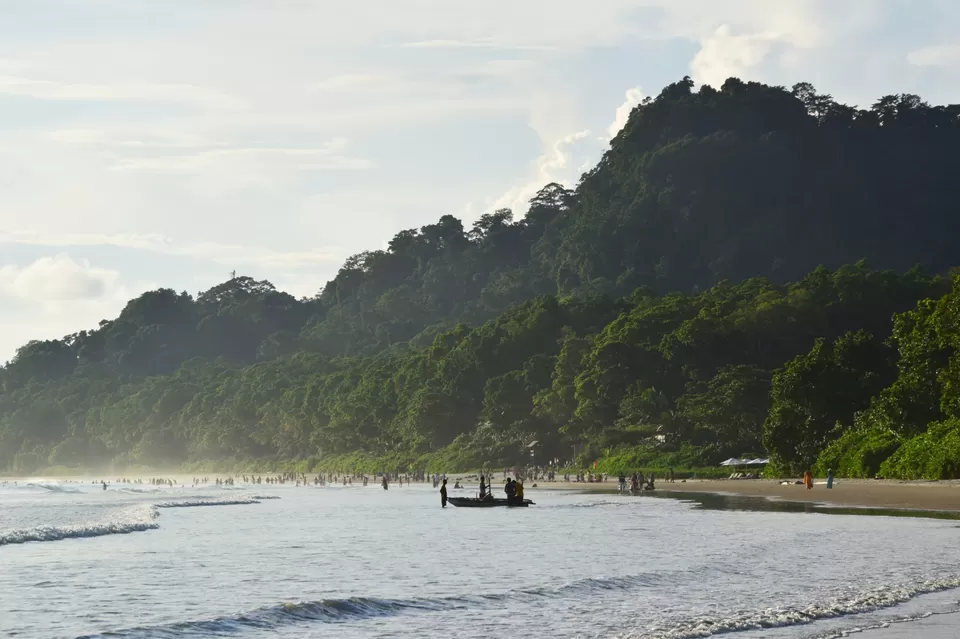 Where to eat in Havelock Island?
Post sunset, indulge in some finger licking dinner from one of the many cafes and restaurants that this island hosts. The options here will spoil you enough and here is a list of some of my favorites cafes and restaurants in Havelock :
1. Full Moon Café
2. Café Salt Water
3. Something Different
4. Bonova Café and Pub
5. Anju Coco Resto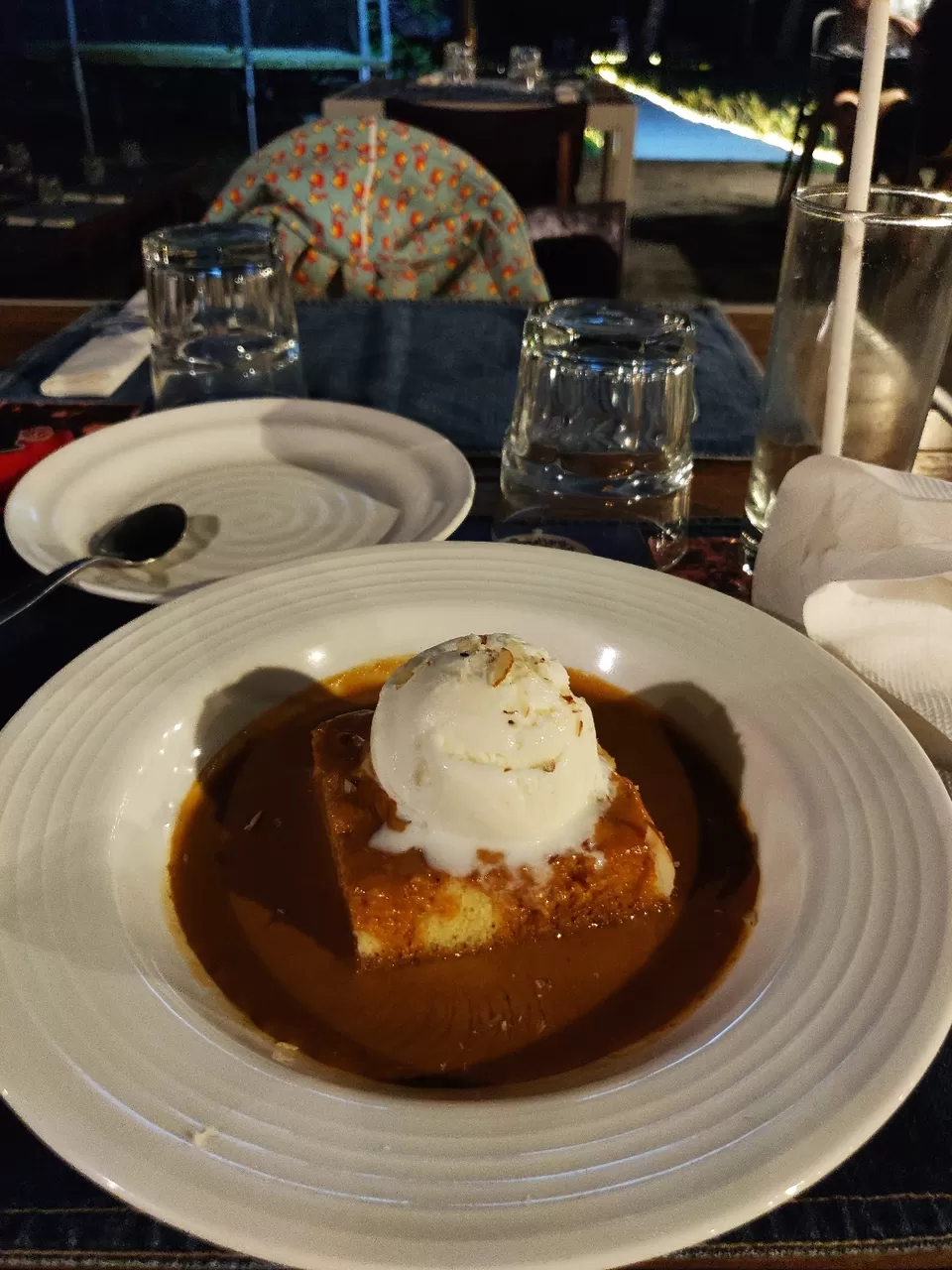 Well, Day 3 of my trip was all things fun since it was about experiencing the underwater life in Elephant Beach that Andamans and Nicobar Island is famous for.
But, before exploring the underwater life, do not forget to visit the Kala Pathar Beach before leaving for Elephant Beach.
1. Kala Pathar Beach - This beach is famous for its clear blue waters and black boulders (hence the name Kala Pathar) and is also the perfect spot for witnessing stunning sunrises from behind these black boulders, a sight worth million dollar. I can safely let you in on a secret that this beach has now made it to my list of favorite beaches and I am pretty sure it will become yours too.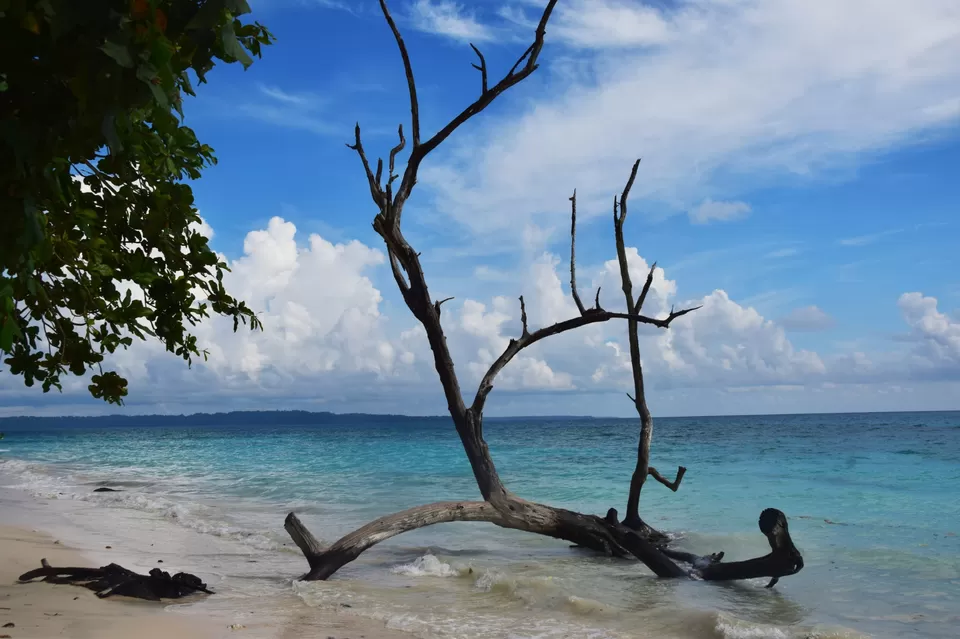 2. Post sunrise, grab a quick breakfast from one of the many cafes or get it from the hotel you are staying at in the island and head straight to the harbor to take a boat to the Elephant Beach.
3. Elephant Beach - Buy your two way tickets to Elephant Beach since it is located in a secluded part of northern Swaraj Dweep, which has to be reached either via a boat or trekking through the forest; where you can have the time of your life exploring underwater since the sea is crystal clear and allows for an ample underwater view. The corals and underwater diversity in the deeper seas here are unmatched by any other spot at Swaraj Dweep. With the combination of both hard and soft corals housing colorful fishes of varied species, the beach is one of the best places for activities like Sea Walk, Glass Bottom Boats, and Snorkeling.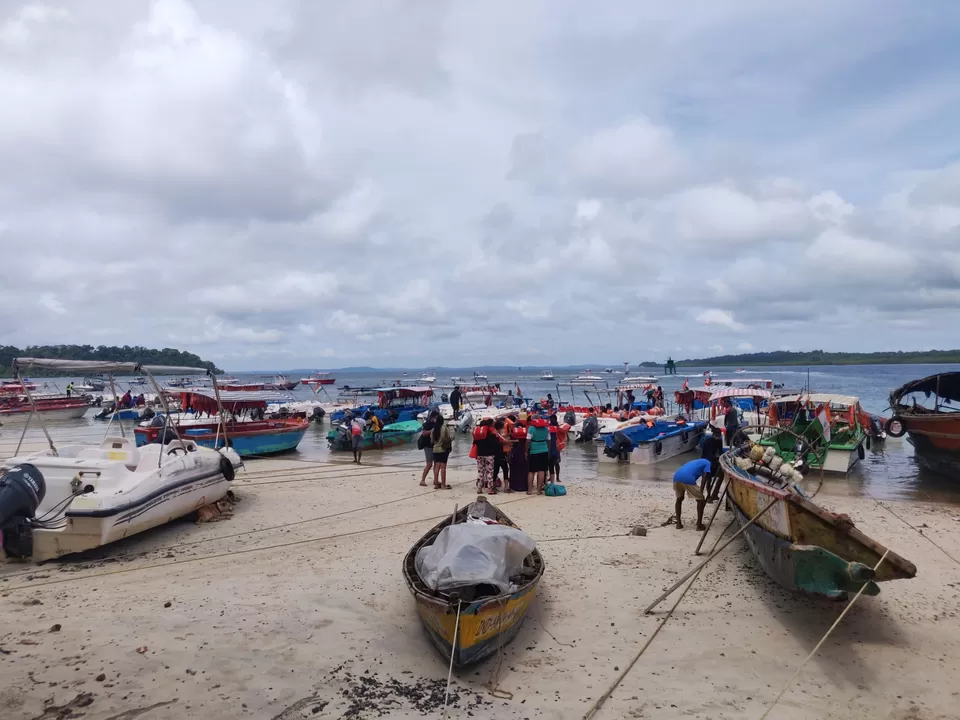 4. Elephant Beach is also considered to be an adventure enthusiast's paradise when it comes to water sports.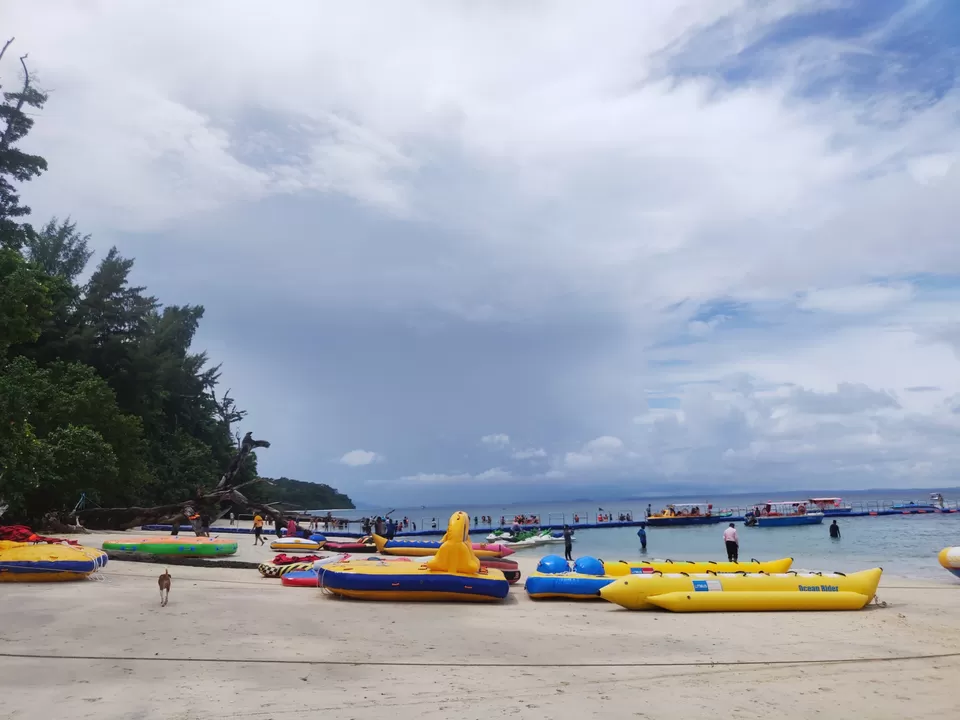 5. You can even relax and enjoy your time here by either reading a book or just napping on the beach. Well, don't forget to pack a brunch (if you didn't get enough time to have a good breakfast) to have a picnic on the beach.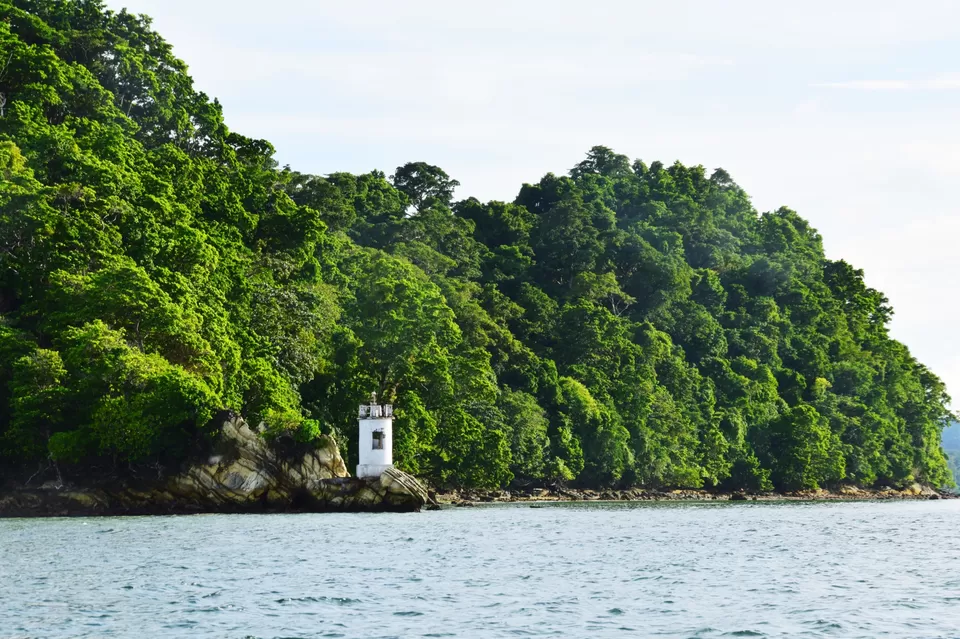 Do keep in mind that this island operates only during day time and that too one cannot go into the deeper ends of this island due to government restrictions. Post an adventurous day in Elephant Beach, on returning to Havelock, indulge in a good spa and sumptuous dinner from one of the many eateries and restaurants this island has to offer.
Expert Travel Tips:
1. Carry cash since there would be no network in the Elephant Beach for online transactions.
2. Carry extra pair of clothes to change into post all the water activities and underwater dives.
3. Food and beverages might be costlier than other places as the shop keepers have to bring in everything from either Havelock or Port Blair.
4. Smoking in this beach is prohibited by the government and is punishable offence.
On Day 4 of my trip, I woke up early to go for a walk along the coast of the Vijayanagar Beach that was a 5 mins walk from my hotel.
This beach remains mostly empty and also a perfect spot for scenic sunrises.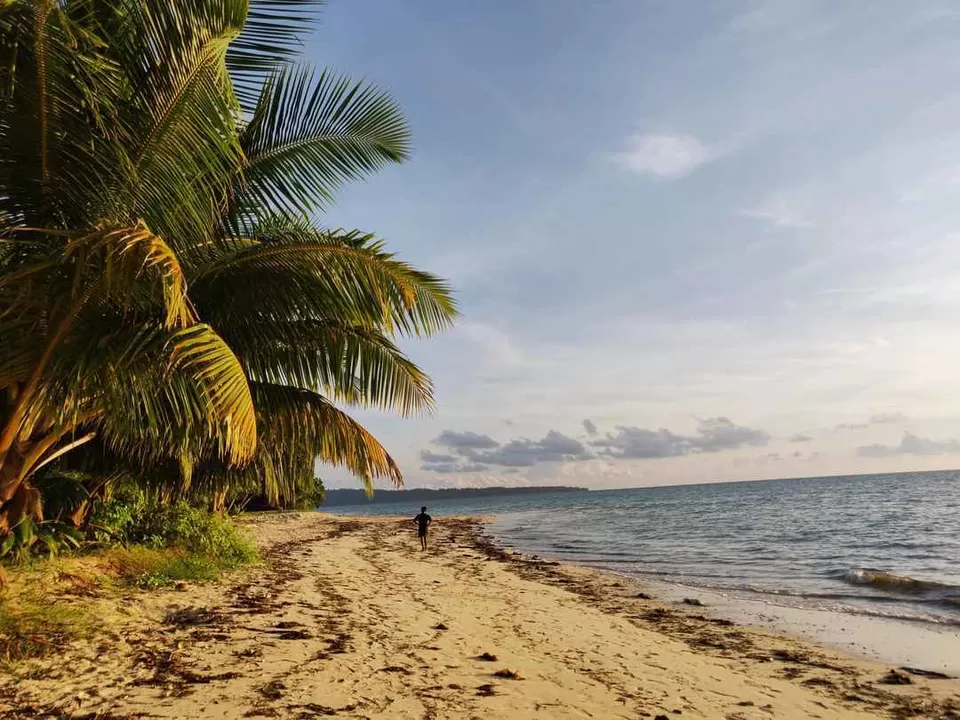 Next, after checking out of the hotel in Havelock, I went straight to the harbor to catch my ferry to Neil Island. Neil Island, also known as Shaheed Dweep, is famous for its serenity, unparalleled biodiversity, white sand beaches and dense tropical forests.
How to reach Neil Island?
There are ferry services from Port Blair as well as other islands like Havelock to Neil Island.
There are many popular tourist attractions in Neil Island, however on reaching Neil Island I decided to explore the island life first by visiting one of the villages here instead of going to the popular tourist spots straightaway.
Expert Travel Tips:
1. Always, respect the privacy of the locals while visiting the villages in the island.
2. Knowing the local language is an added advantage to strike a conversation with the locals, hence knowing Bengali might just help here.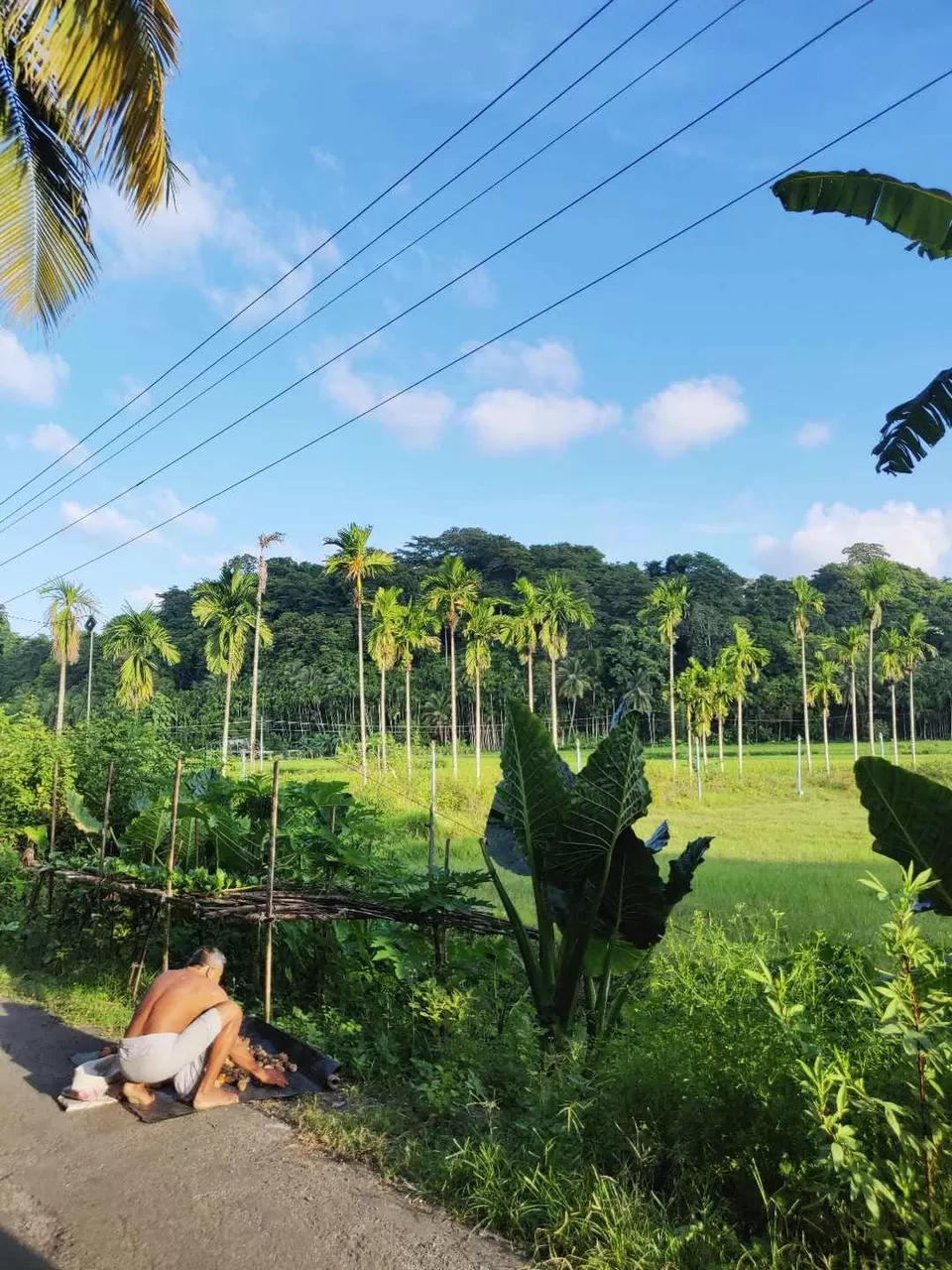 Natural Bridge - This is a naturally built coral bridge where a rock is jutting out from the main wall with a giant hole in it, created by the continuous lashing of waves. It definitely is one of the most popular tourist attractions in Neil Island as many come here in the late afternoons during low tides to witness this natural wonder.
Expert Travel Tips:
1. Visit during low tides and wear comfortable shoes as you need to walk on a rocky path till you reach the natural bridge.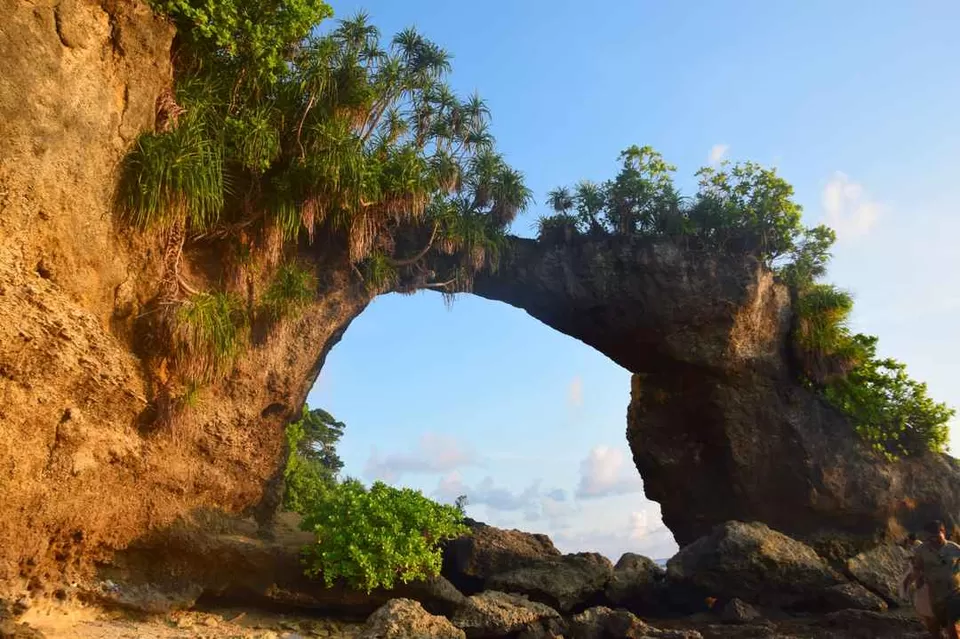 Ramnagar Beach - This beach is located between the market and Sitapur Beach. This beach is mostly deserted but it offers nice snorkeling with great visibility of colorful fish and coral reef along with captivating sunset views. People who seek privacy, this is a great alternative for sunset views.
Laxmanpur Beach - The perfect end to my day was watching the sky change into all shades of blue, pink ad red while bidding good bye to the sun at Laxmanpur Beach. Post sunset, instead of heading back to the hotel, I decided to have a plate of maggi and some pakodas from the shacks here at the beach while sitting under the star studded open sky. This is also a perfect place for some quiet, candlelight dinner as you can hear the waves crashing against the shore while feeling the sea breeze in your hair.
Where to stay in Neil Island?
Since, tourists from all over the world visit Neil Island, finding hotels and resorts to stay is not that big a problem.
Here are some of my favorite options (low to high budget) to stay in Neil Island:
1. Neil Banjara
2. Coral Garden Resort
3. Pearl Park Beach Resort
4. Reef Valley Resort
5. Symphony Summer Sands
6. Taj Exotica Resort & Spa
Well, I was quite tired by now, so, I called it a day by having an early dinner back at my hotel.
Expert Travel Tips:
1. Carry a postpaid BSNL sim for connectivity as network here is almost not available.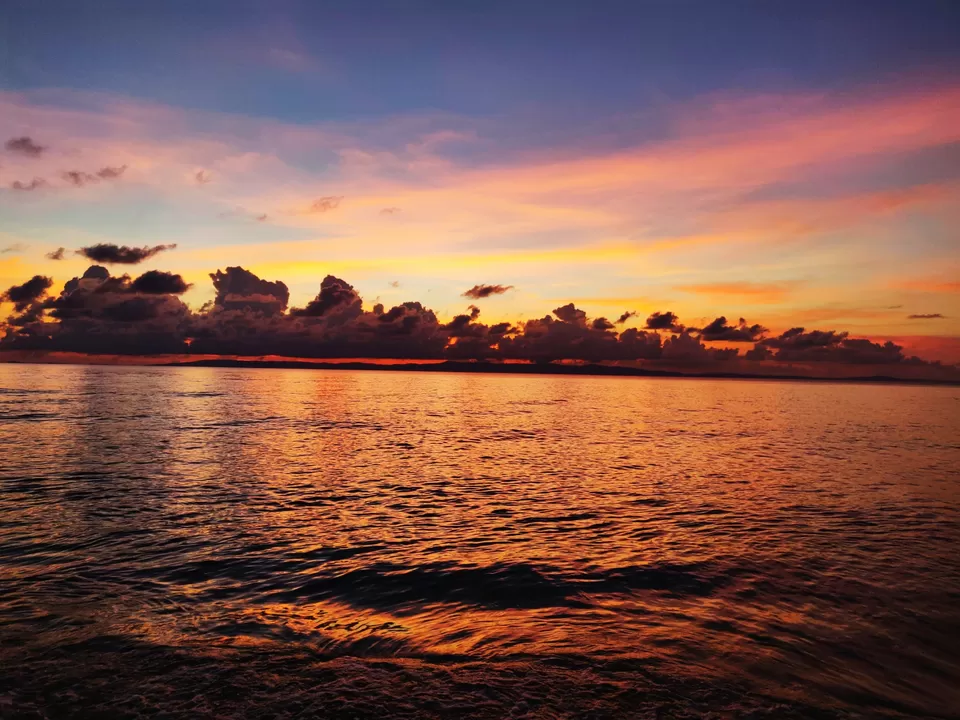 Day 5 began by waking up at 3 a.m. in the morning to head out to Sitapur Beach in pitch dark.
Sitapur Beach - This postcard perfect serene beach is famous for its turquoise blue waters and breathtakingly beautiful sunrises and I can vouch that. When in Neil Island, a visit to this beach at sunrise is a must for all photography enthusiasts as well all travelers in general as you get a front row seat to watch the sun rise from the horizon, making it a sight to remember for the days to come.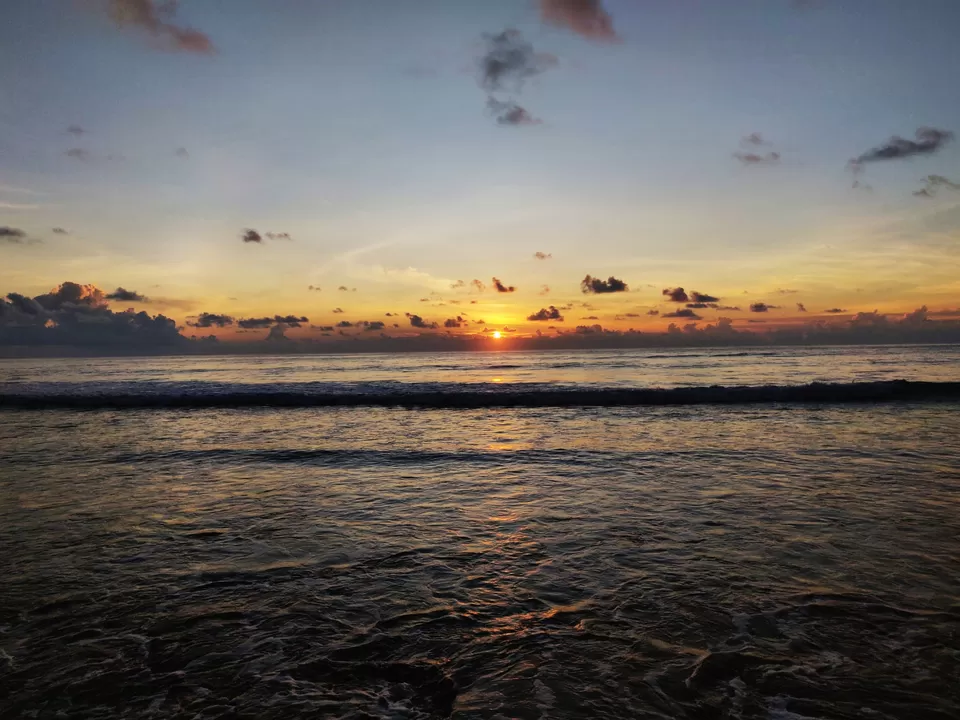 Post watching the sun rise at Sitapur Beach, I decided not to go back to my hotel and dive back to my bed, rather I went for a walk along the coast in the Laxmanpur Beach which was a 2 minutes walk from my hotel. I can happily admit that this was one of the best decisions that I took on this trip, since I got the beach entirely to myself and it was such a much needed refreshing walk for me.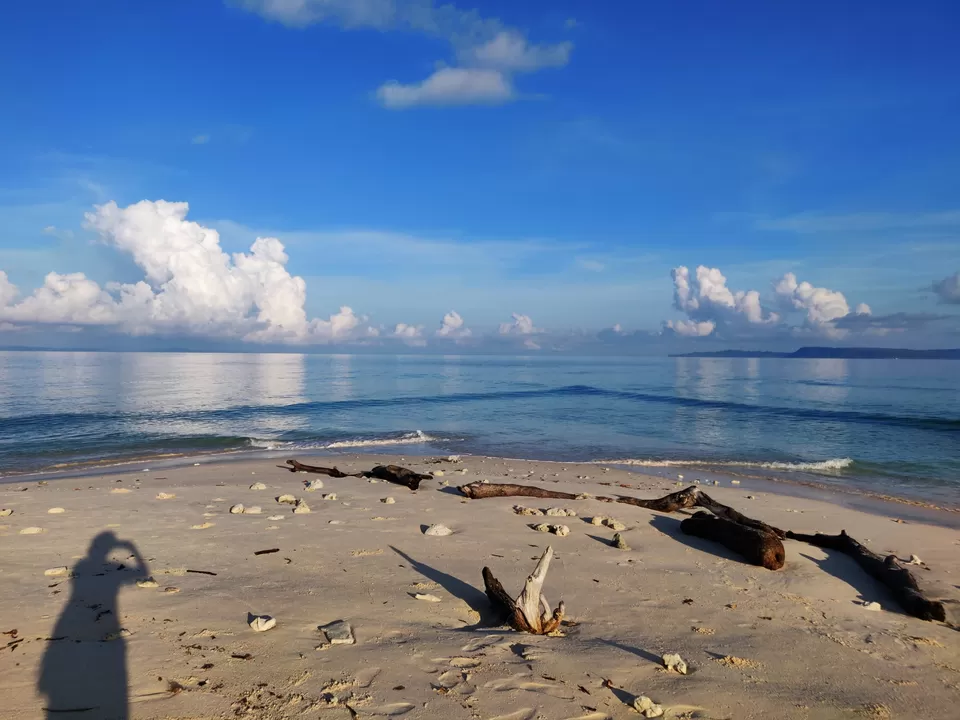 Bharatpur Beach - After breakfast, I checked out of the hotel to proceed to Bharatpur Beach. Bharatpur Beach in Neil Island is again a tourist favorite for its clear water and sighting of coral reef. This beach is also quite famous for its water sports as well as underwater exploring. So, in case you have missed out on all the fun at Elephant Beach in Havelock, you can still have a slice of it here in Neil Island.
But, if you are not in the mood for any water sports or underwater dives, you can just sit by the coast and relax while sipping some coconut water.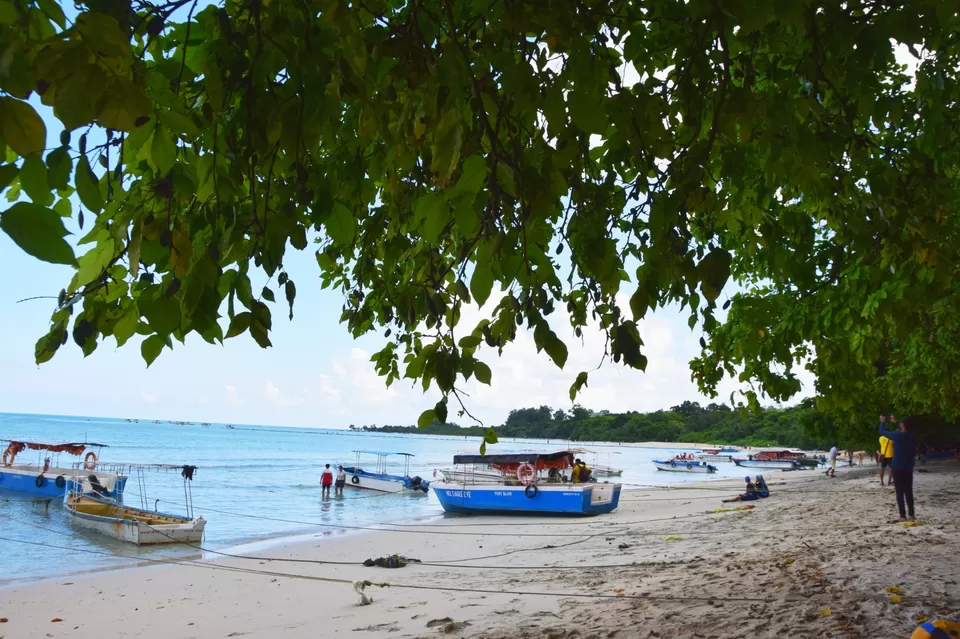 Where to eat in Neil Island?
For lunch there are small shops here by the beach which offers a wide range of food including some delicious sea food but you can even head out to have lunch from one of the following restaurants:
1. Vibes and Dives
2. Dugong
3. Shakahaar Pure Vegetarian
4. SeaShell, Neil
5. Kiran Restaurant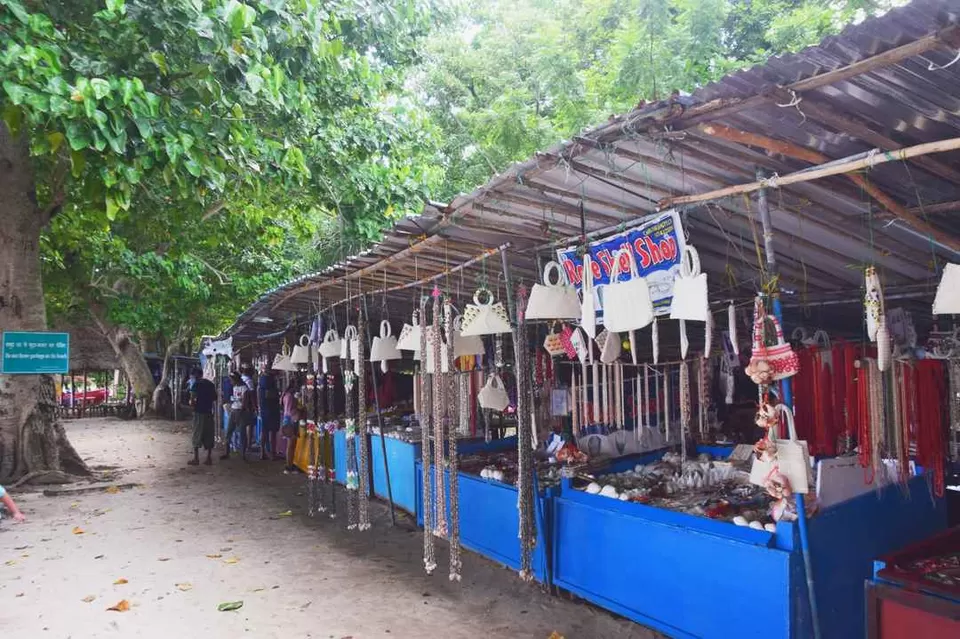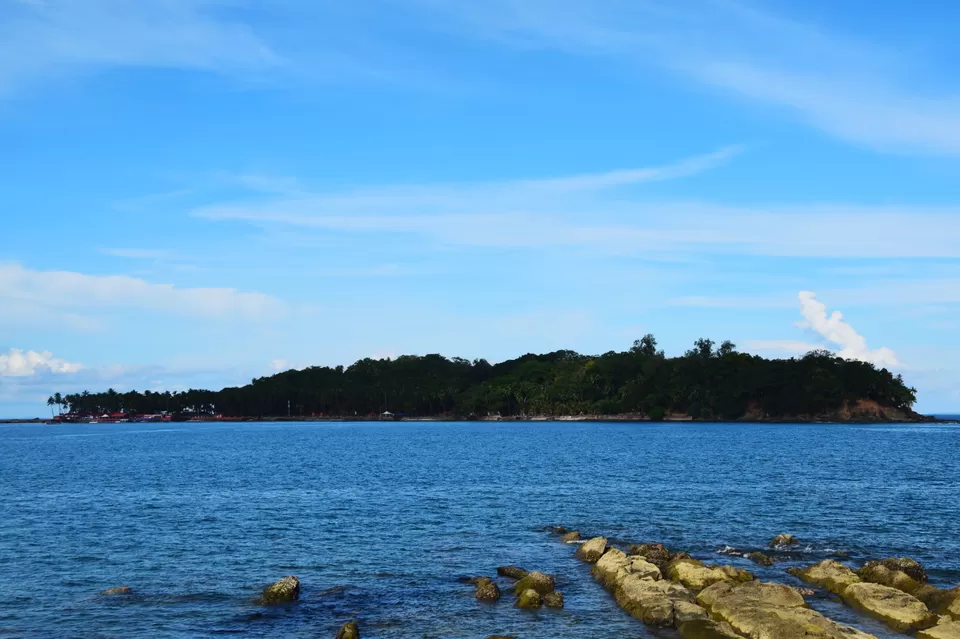 Post lunch, I went to the harbor for my ferry back to Port Blair. It took about 3 hours to reach and was almost evening by the time I reached Port Blair. After reaching Port Blair, one can either go out for some souvenir shopping or just relax back in the hotel.
Well, Day 6 was the saddest day for me in the entire trip since it was the last day of the trip. I decided to wake up early and take an auto in and around the city one last time before I left for the airport to take my flight back home.
To be honest, I was quite apprehensive at the beginning of this trip since Andaman and Nicobar Islands is mostly visited by families or honeymooners. But, after my solo trip for 6 days in Andamans, I can happily and confidently share that Andamans is equally welcoming to all travelers alike, especially solo women travelers.
Let me know in the comments what did you like the best from this trip and when are you planning to visit this beautiful, one of kind tropical island if you haven't already.
You can connect with me and follow my content at Tripoto and Instagram.
Ready to travel for free? Earn credits and redeem them on Tripoto's weekend getaways, hotel stays and vacation packages!
Explore the best of travel inspiration on Tripoto Instagram!