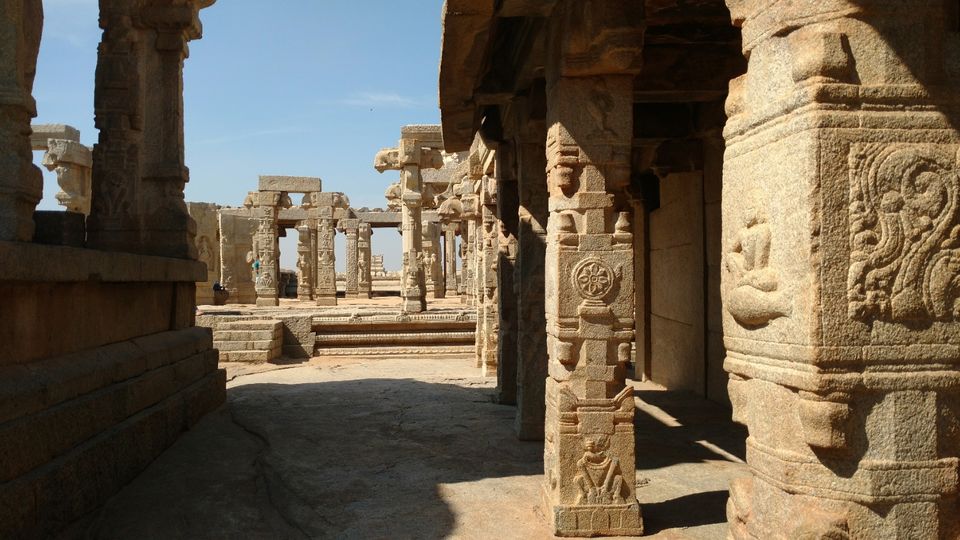 Trip over view:
Destination : Lepakshi and Makalidurga Trek




Mode of Transport : Bike (FZ 2.0)




Km from Bangalore : 300 Km (two way)




Duration : 15hrs (returned room back)




Navigation (Google Maps):

sri veerabadra temple, Lepakshi

and

Makali durga Trail.


Cost : 500 per head.
As usual the weekend came and looking for a good place to explore. The full Saturday passes by only planning with my friend and its all in my PG over a phone call. My thoughts was to experience some thing different and adventurous but my friend wishes to go some historical place. Finally we had no proper option and we left out with only one day (Sunday ).
Then suddenly I remembered about lepakshi. Then immediately called up my friend and said about it, he was kindof ok but not sure. Simply he said he will response soon to my plan then he pinged "Yes" around 11 PM of the day.
I am so happy and waiting for a night to pass by to visit the Lepakshi Linga which is on my bucket list for a long time.
Lepakshi a small intro,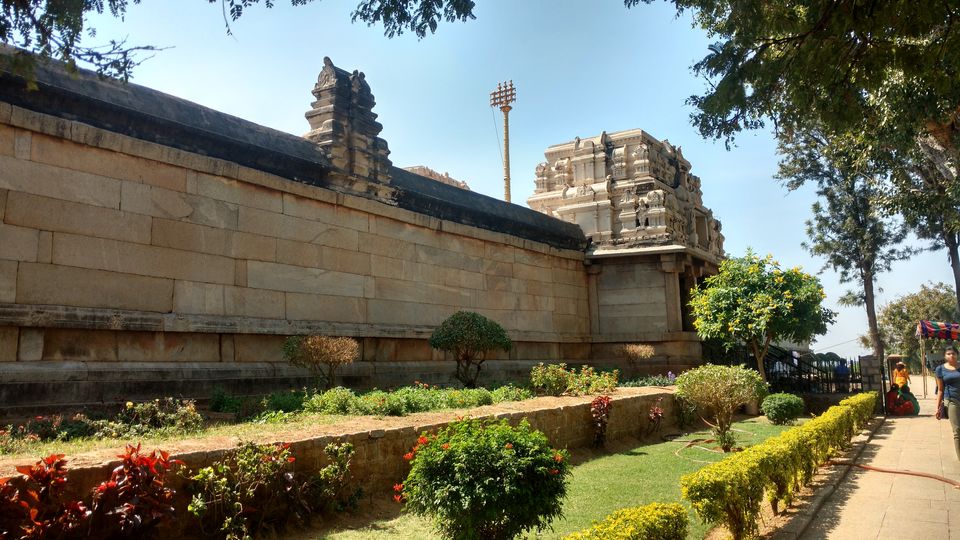 The Veerabhadra temple is in Lepakshi in the Anantapur district of Andhra Pradesh. Built in the 16th century, the architectural features of the temple are in the Vijayanagara style with profusion of carvings and paintings at almost every exposed surface of the temple. It is one of the centrally protected monumemts of national importance. The paintings are particularly detailed in very bright dresses and colors with scenes of Rama and Krishna from the epic stories of the Ramayana and Mahabharat. There is a very large Nandi(bull), mount of Shiva, about 200 metres (660 ft) away from the temple which is carved from a single block of stone, which is said to be one of the largest of its type in the world.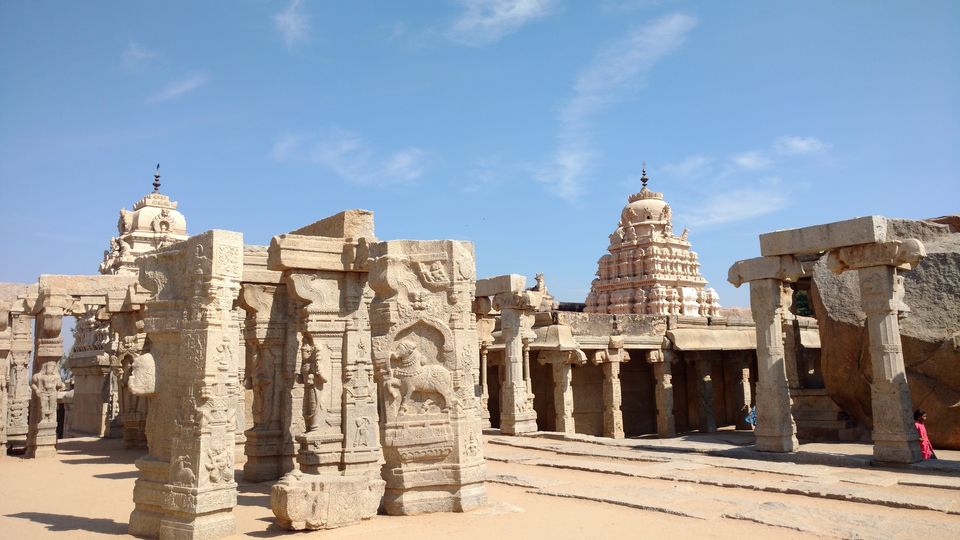 Hey...., history lesson is over, we can go back to our story.. we planned to start on sunday early morning 5am. Somehow i know my friend Prabu will be late.. i expected him to reach by 6am but he reached at 7am.
Then its all started, with my friend in a FZ 2.0 bike on marathahalli road which has filled with cold (fog). Really hard to drive on those chillness but excitement was full about visiting the wonderful place. It's 130 km from marathahalli.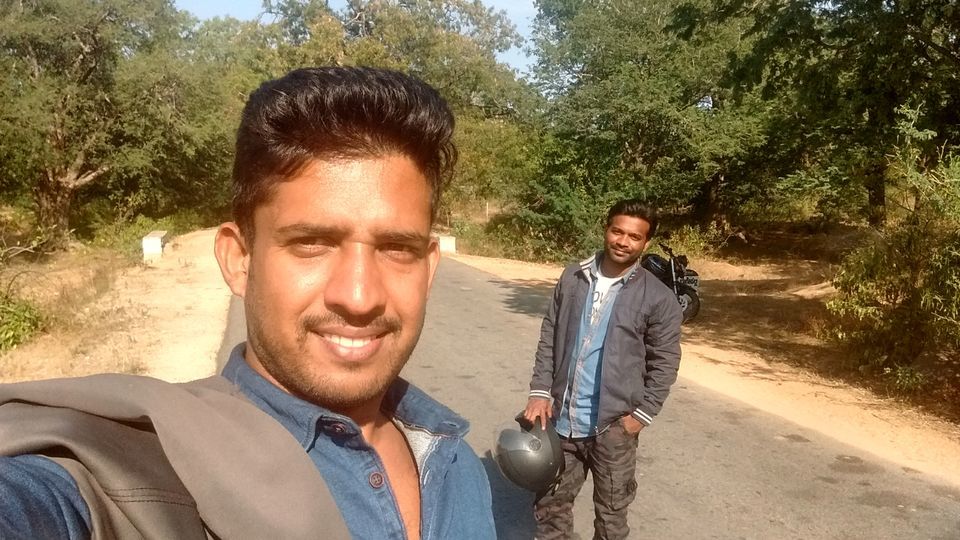 We stopped in two places for a tea and breakfast. We used google map for nagivation and its useful too.

We reached around 9.30 am there.. parked our vehicle outside to the garden where the nandi is carved in stone (world largest monolithic bull statue). Visited and took pics with Nandi. This nandi is about 1.5km away from the temple and facing towards to the linga inside the temple. This is carved in granite rock and that too in a single rock.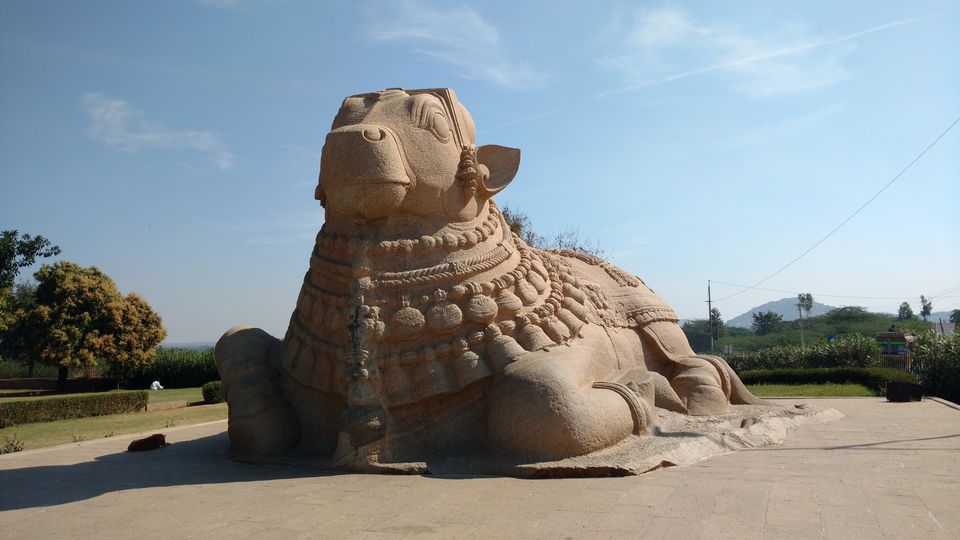 Then walked from here to veerabadra temple. Temple has parking space and shops for buying pooja things like coconut etc.,
Temple is simply a piece of marvelous architecture work. We can find Paintings are in ceiling and they are unique.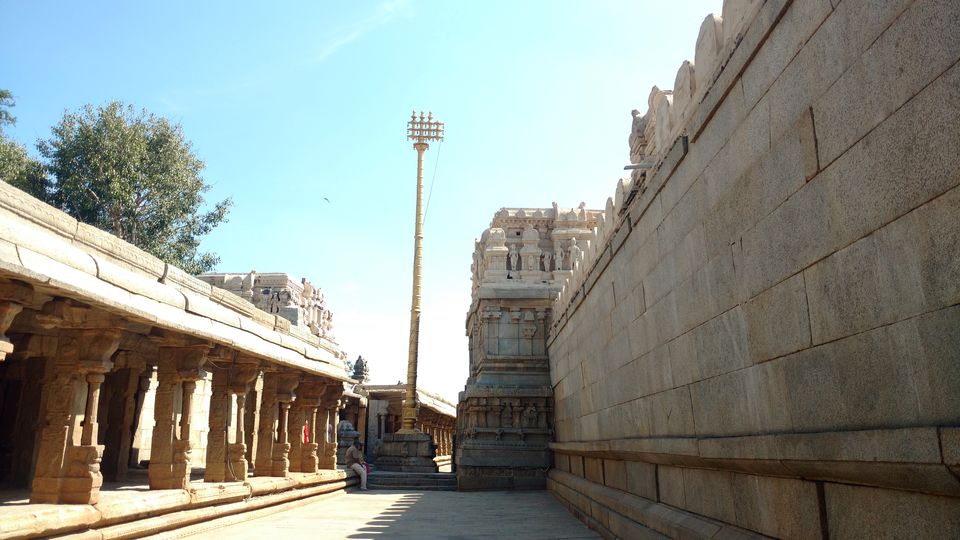 We made dharsana with veerabadra and durga devi and roamed around the temple, enjoyed each and every work they done. We have not taken any pic for around 1 hr.. jus enjoyed and excited of art work of the temple. We spent around 4 hours in temple and clicked some beautiful pics.
Then around 1.30 pm had our lunch in the Lepakshi village and i remembered about the Makali durga Night trek. As i know its on the way to bangalore from here. Luckly we have plenty of time in our hand so i asked my friend Prabu about trying the sunset treking there. He also interested in it.
Once we done with lunch, using google map we searched for "Makali durga trail" ( as my earlier homework for trips helps me in this. This place came tp picture from yesterday research on trips.. ) Google shows some off road route to reach trek trail as 70km from here.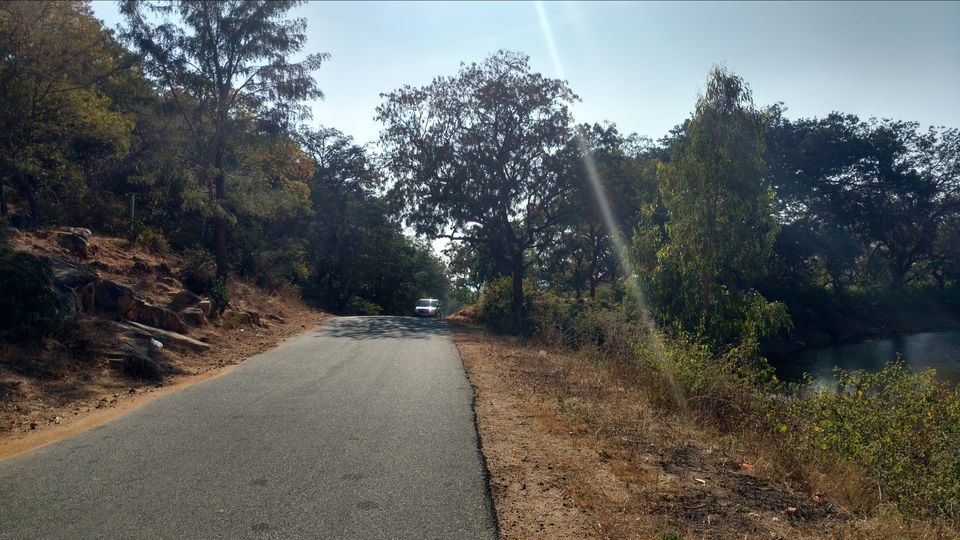 We taken it with full heart and followed the map, the route was not a NH instead its a remote path. really enjoyed on the way we traveled.. i loved to ride bike in those kind of place.. some of pics taken our ride. We stopped on more places where all we able to connect with nature.
After this wonderful road trip, we reached trail around 5pm. We have an hour for sunset. We parked and without wasting the time started for trek, few other trekker (3 of them ) also started along with us.. we had a intro and started as 5 mountaineers.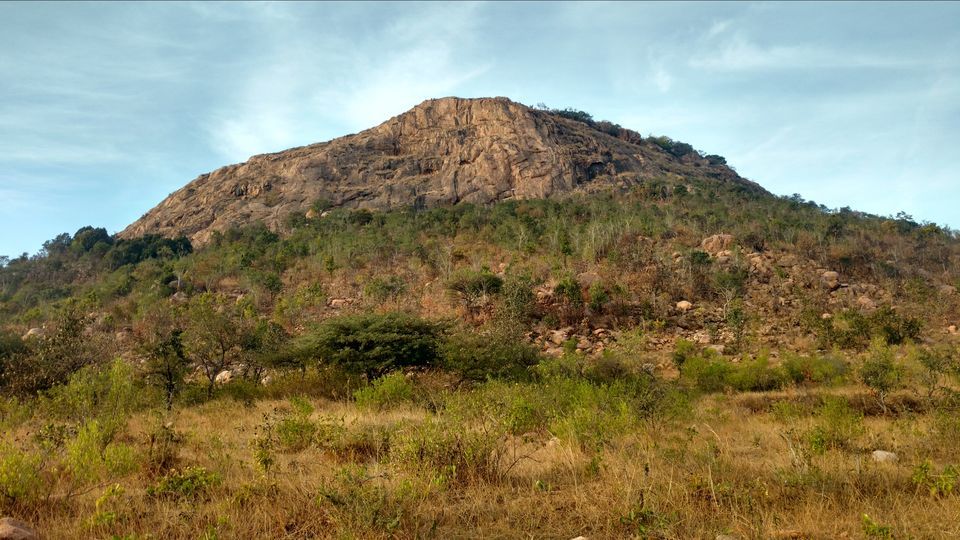 The trek was only 5 km and there is ruined fort and a temple. Our new friends got tired and seated for sunset in the half way.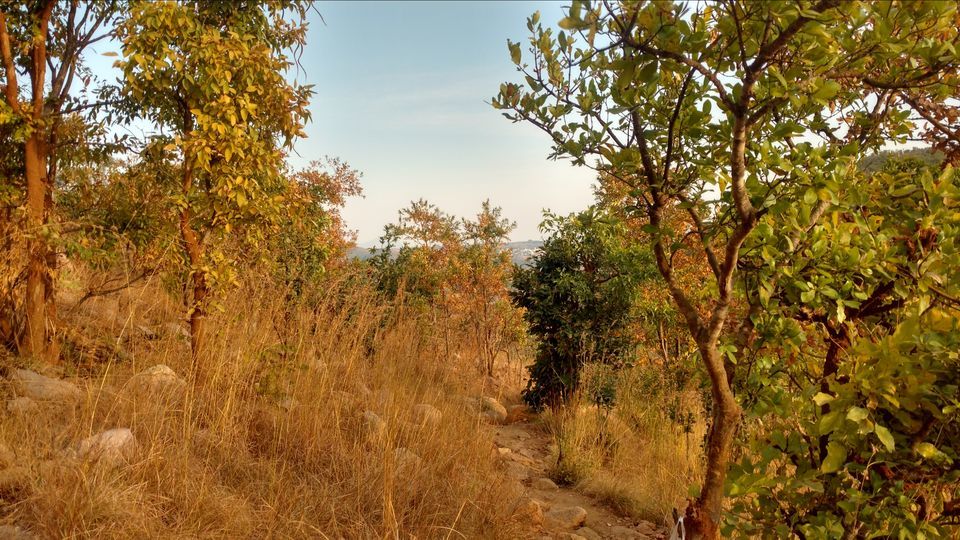 Me and my friend reached the top and seated for sunset with more happiness.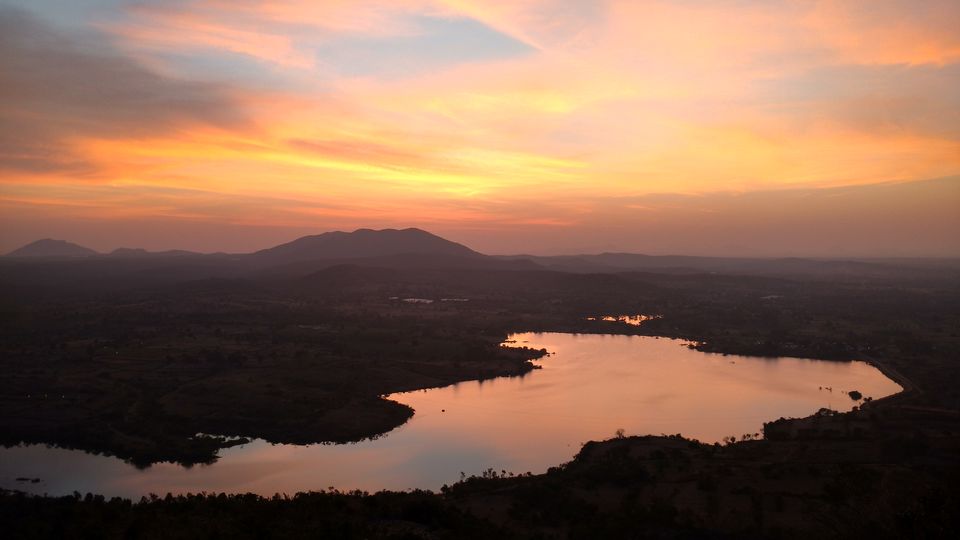 we love the view, its about sun, sky and river.. those orange colored sky is really gorgeous.
we spent some time enjoying the sunset and felt happy about this awesome trip. The trek is easy and beginners also can do this.
Total cost includes petrol, food, snacks and parking. There were no entry fee on both. Its a budget weekend gateway from bangalore with "cheap in expense and rich in satisfaction".