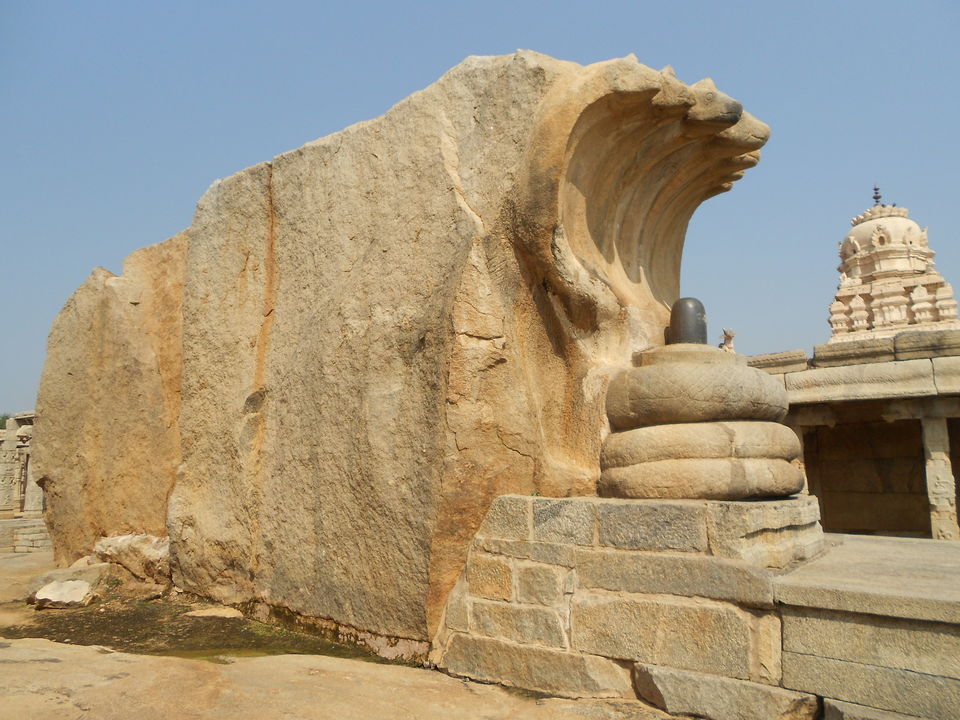 An unplanned day outing to Lepakshi from Electronic City, Bangalore.
We were thinking on Thursday night to visit a temple since we didn't get time to visit any temples during the days of Deepavali - Festival of lights (a grand festival in India). So I thought to go some where which we didn't visit yet and can complete in a day. Finally our browsing stopped on two choices Sri Veerabhadra Swami temple, Lepakshi and Sri Ghati Subramanya Swamy temple (will be sharing a separate blog on this).
Started at morning 6:30am from our house near on our Kwid and continued via Sarjapur Road, Marathahalli ORR and from there on NH44. Our entire navigation was completely based on the google maps navigation app. It shown approx. 145 kms. from my location to our destination and we got ready to dashed through the broad NH44.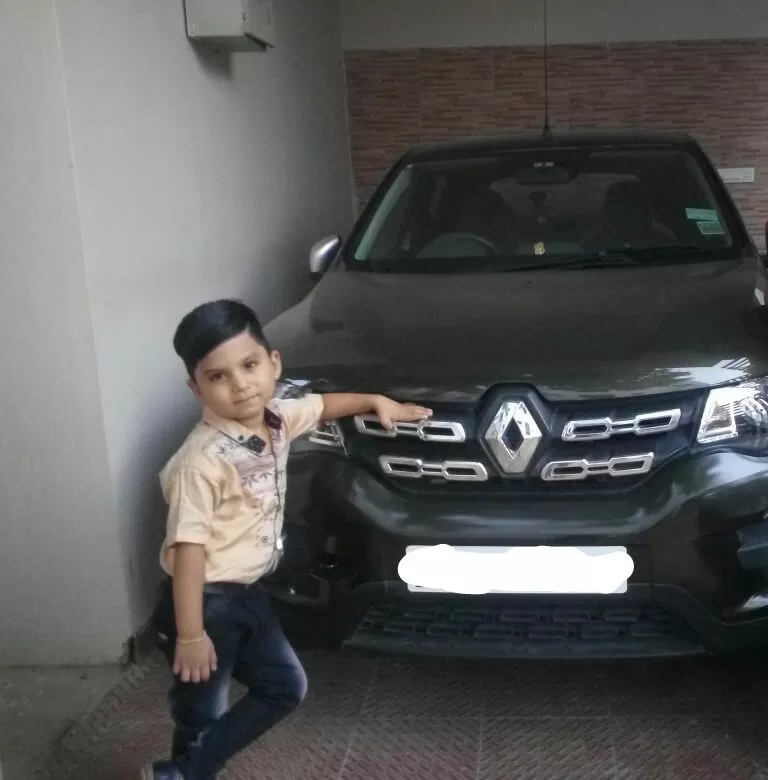 Along with the morning breeze and the free roads of Bangalore (which we get very rarely) we started our journey to Lepakshi. We took our first break @ Swagath delicacy, a nice hotel with good parking and food options for breakfast. Commonly you will get only veg options. A budget friendly hotel with good facilities. We spend around 30 mins. there and continued our trip.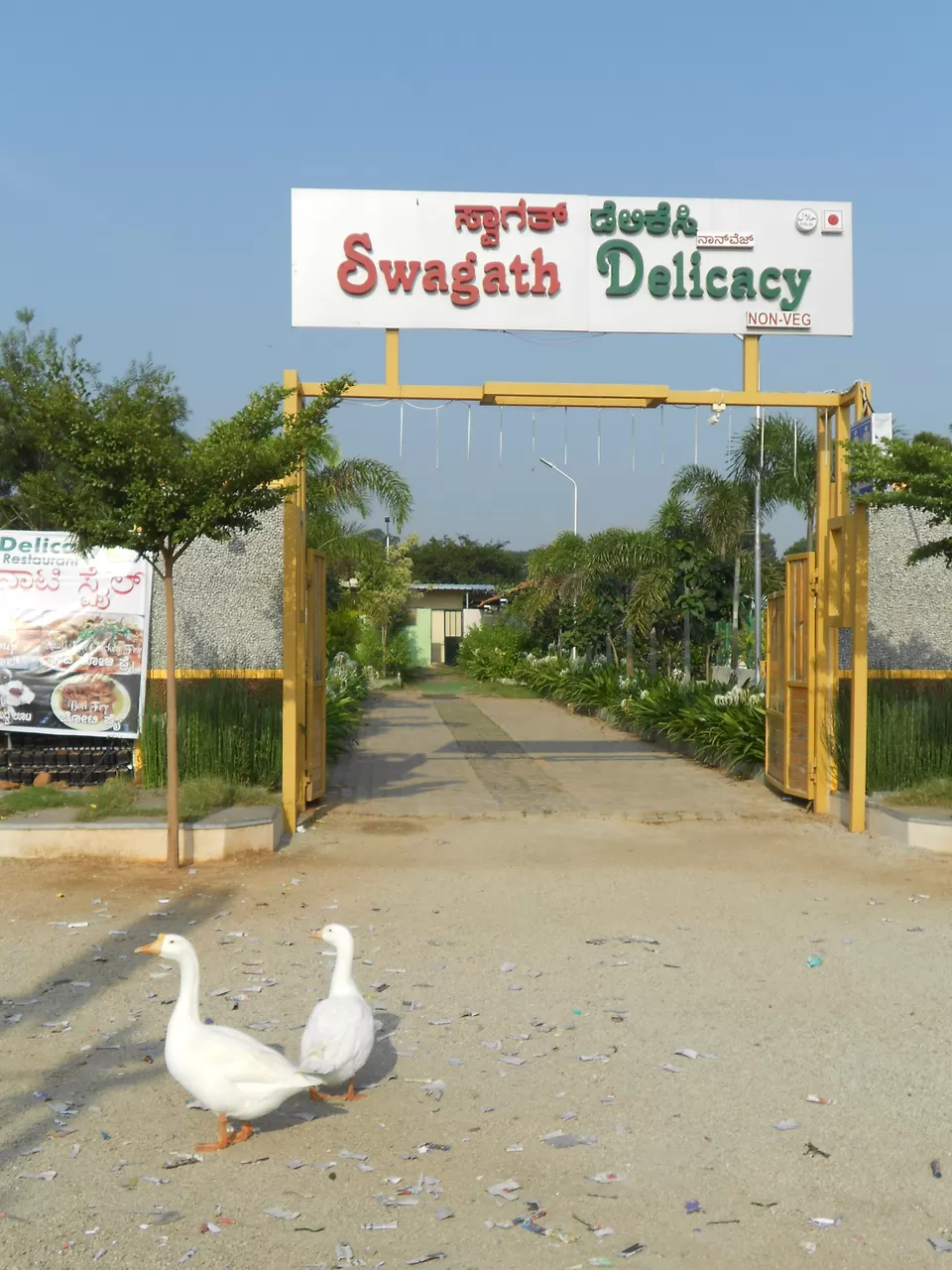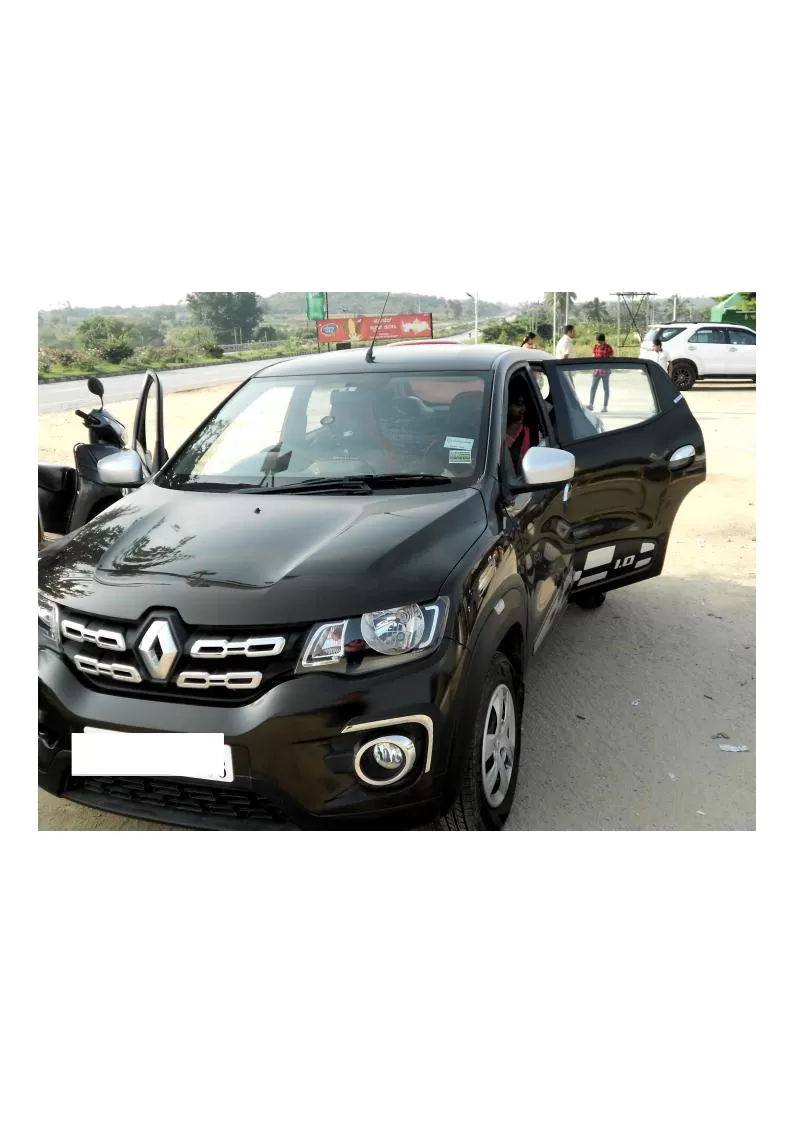 As i mentioned earlier the roads are too good, you can even test the top speed of the vehicle. I was keeping very good pace which helped me to reach the destination by 8:40am. After the highway ride of 125 kms, we need take a left to Lepakshi road. Road is narrow but both the sides are having greeneries and vegetations. Drive a bit slow on the way you will find "Monkey Zone", better don't stop :) . The entrance welcomed us by the big Nandi statue which is located around 200 meters before the temple.
After a quick visit we continued to the Sri Veerabhadra Swamy temple, Lepakshi. If you reach early parking won't be an issue else you may need to park near the road. We offered the pujas in the main temple and continued to the great temple complex. We got immersed into the beauty of the pillars in the temple complex and the hanging pillar is unbelievable. Each pillar is an art of classical architecture. Sharing a few images of the same: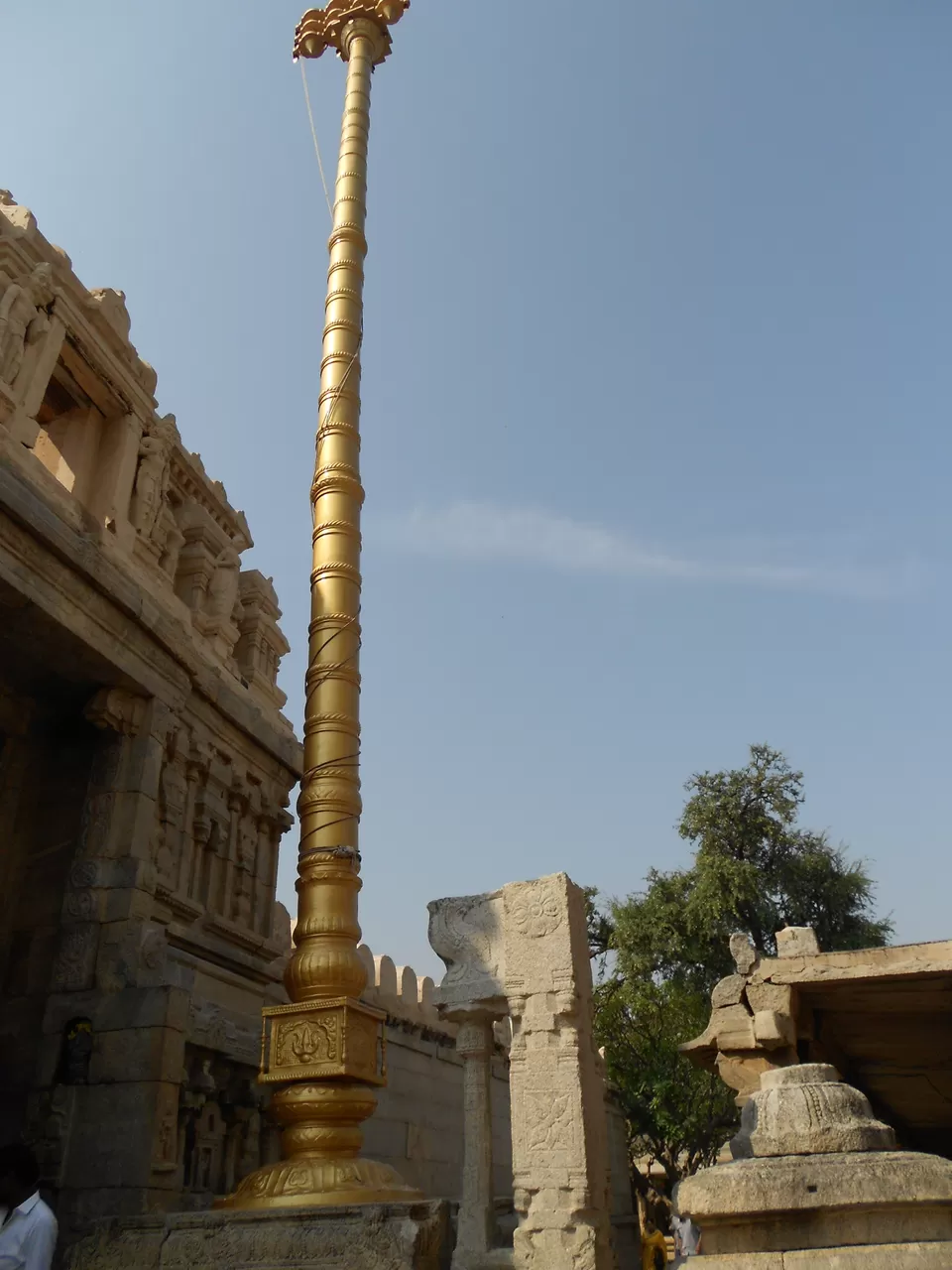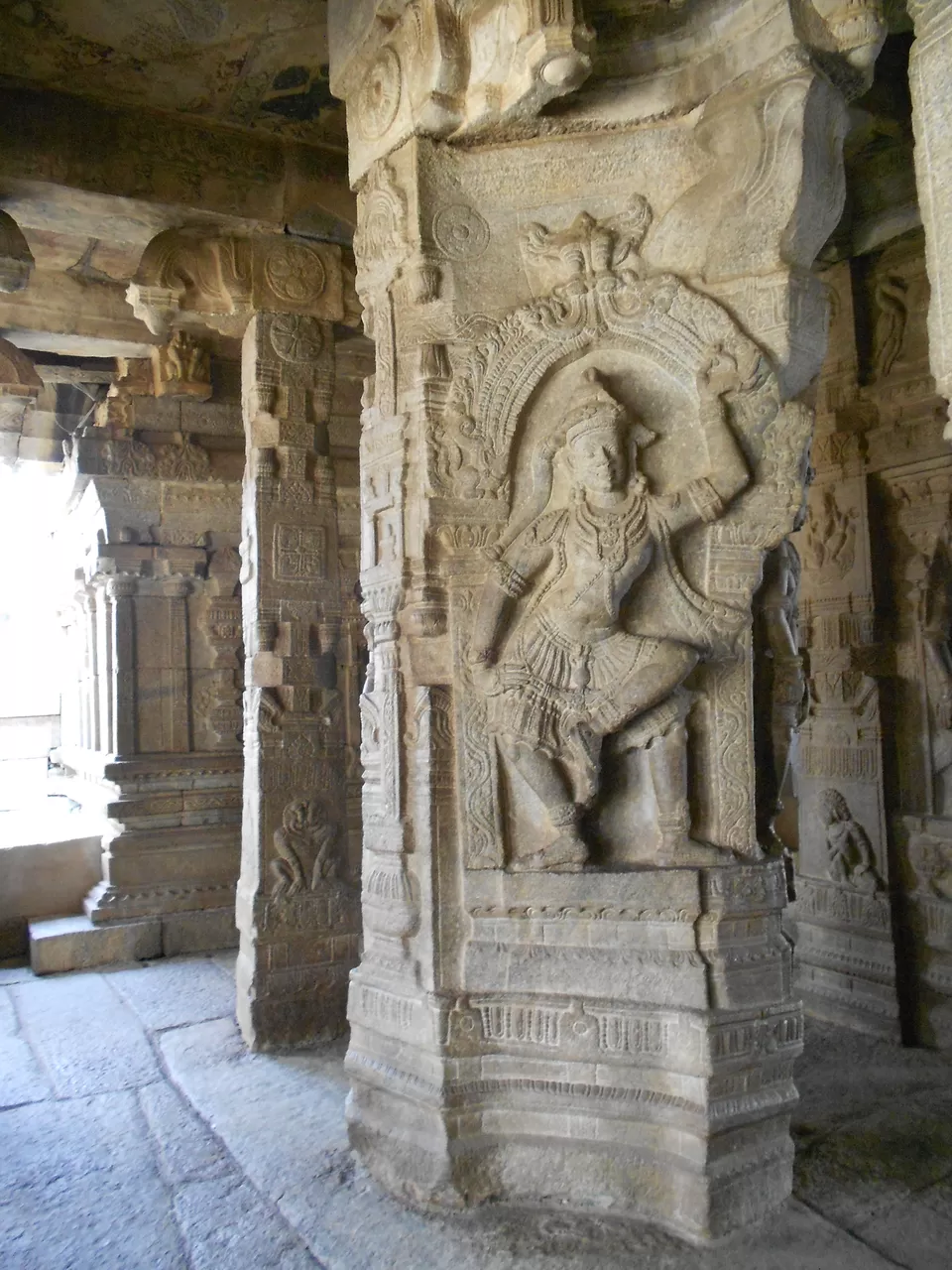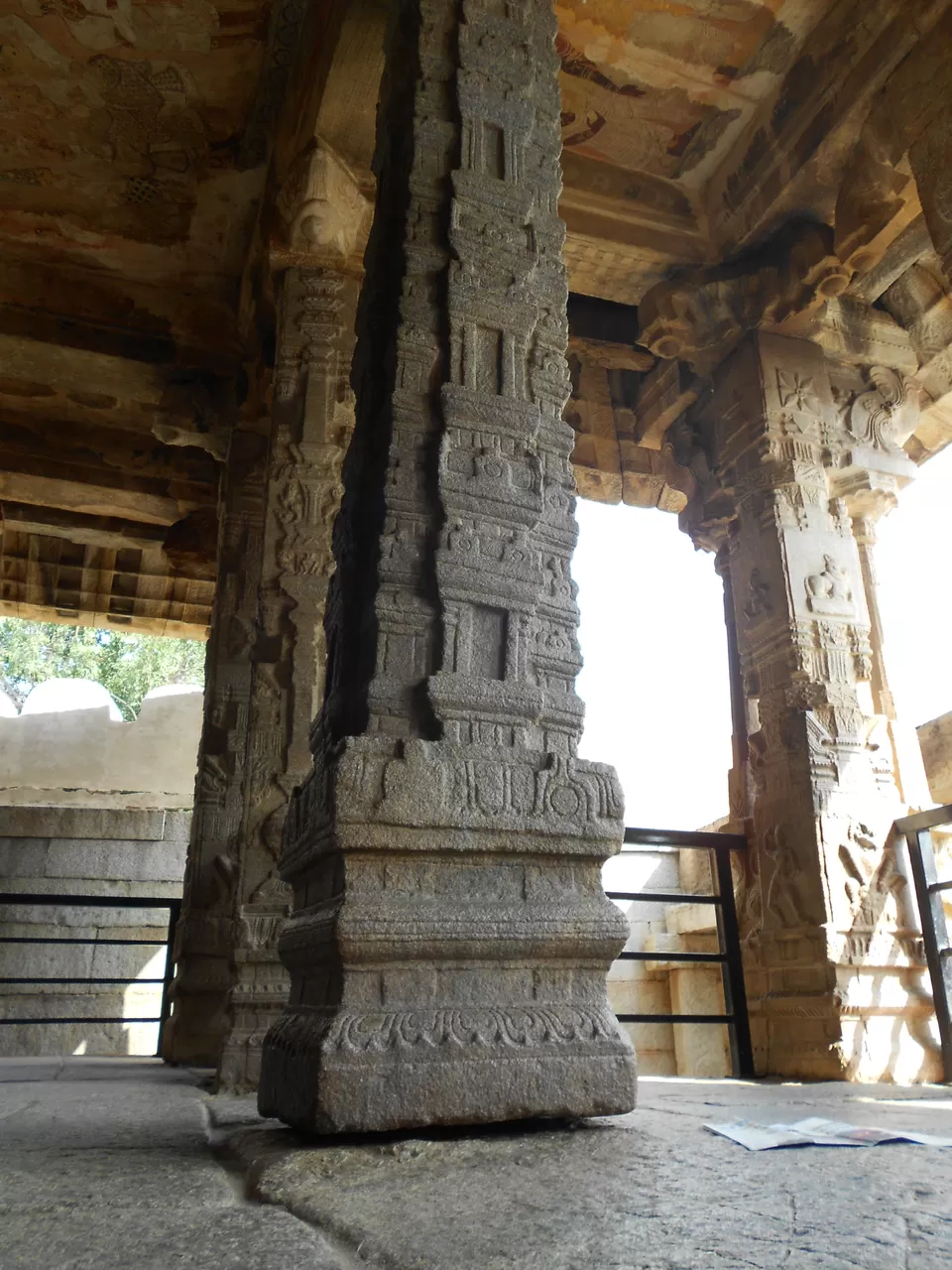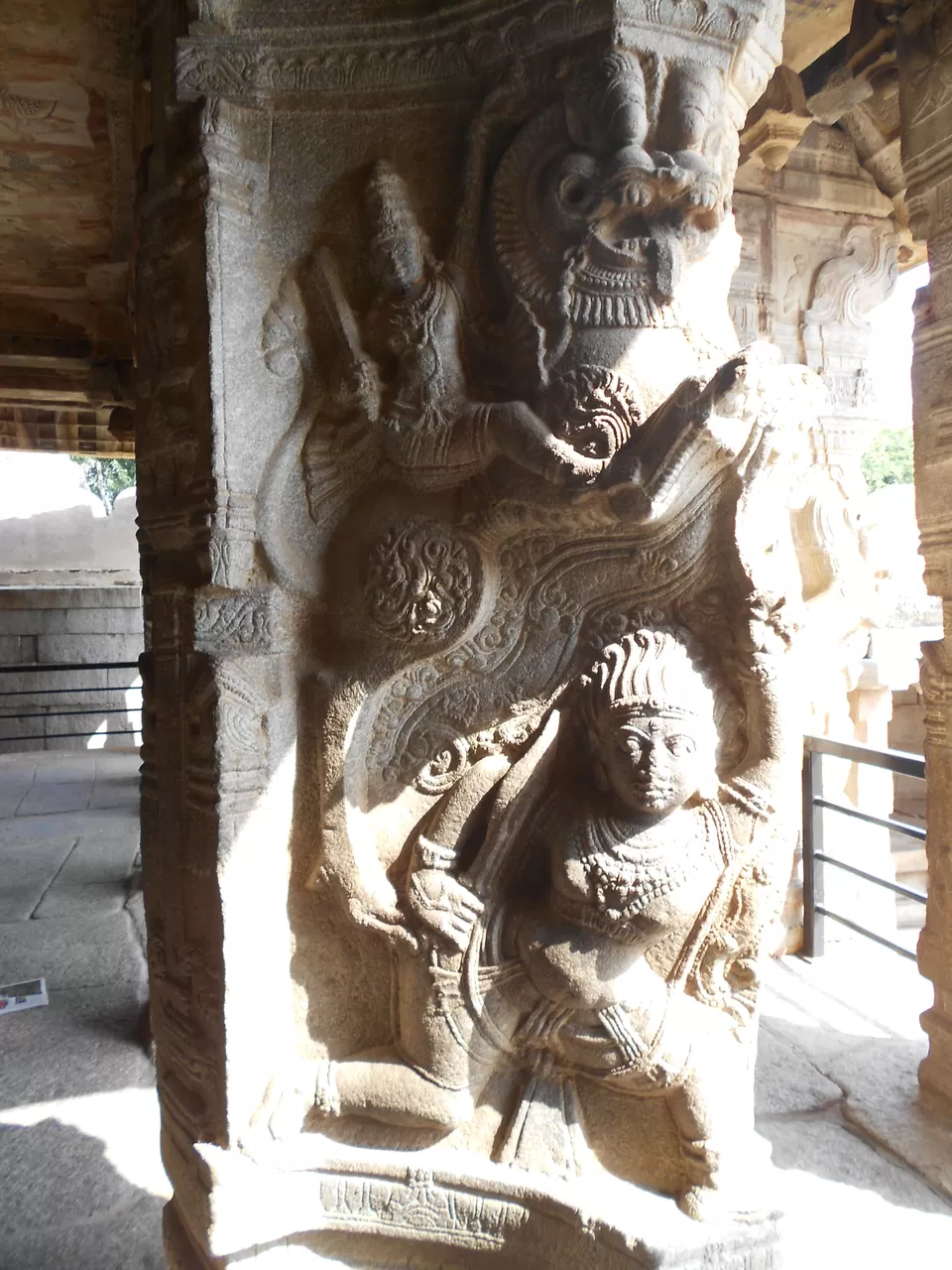 The whole temple is constructed on a single rock which is having a shape of tortoise and it is known as "Kurmasila".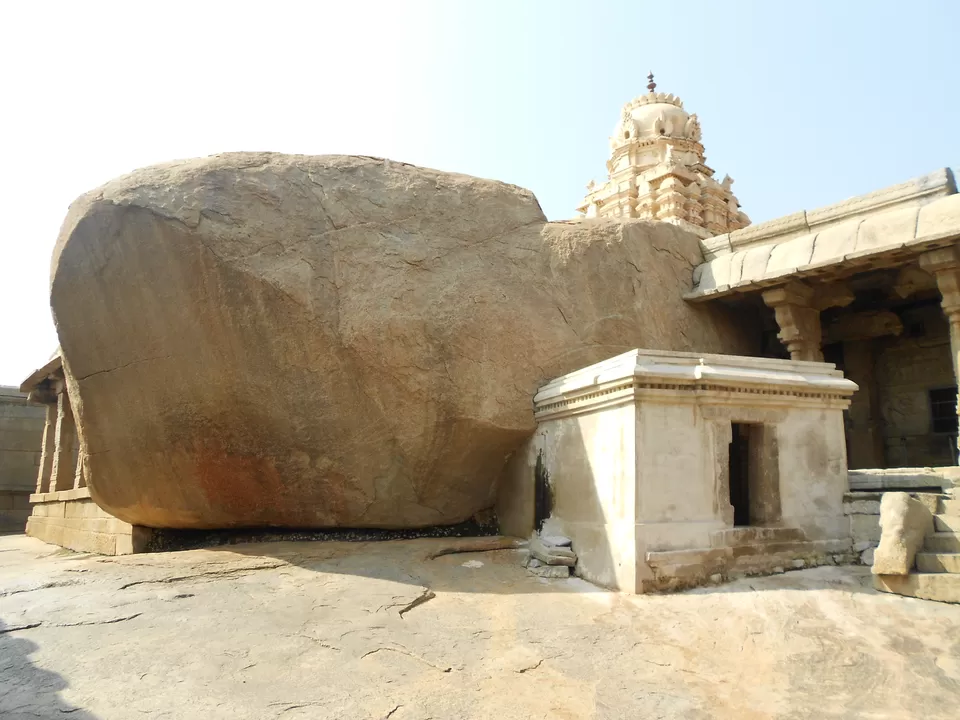 From there we went to see the majestic Nagalinga statue beside the main temple.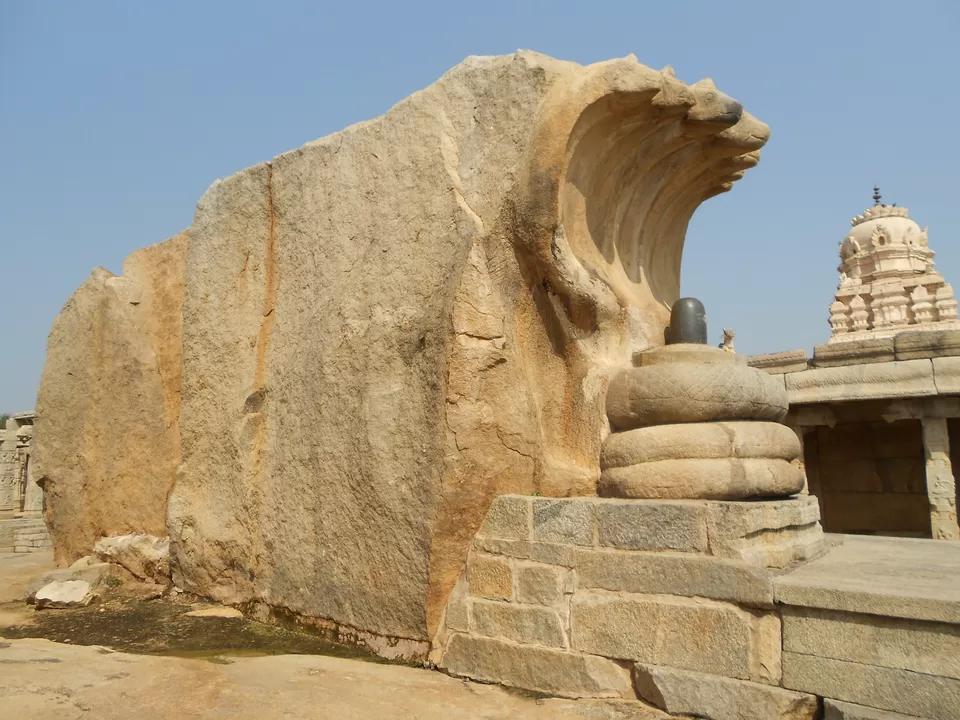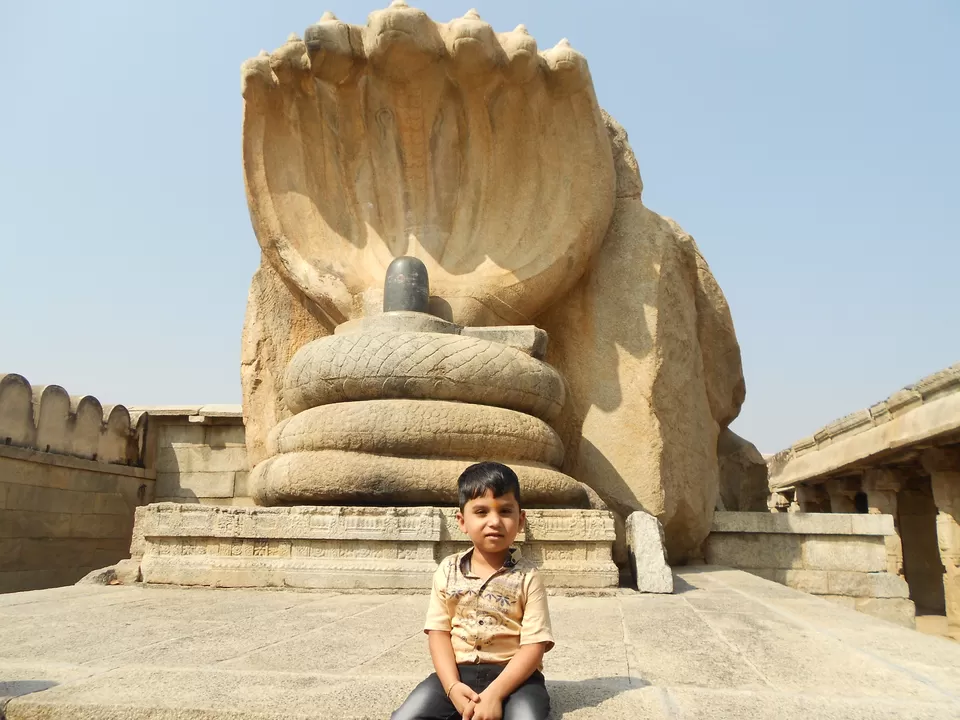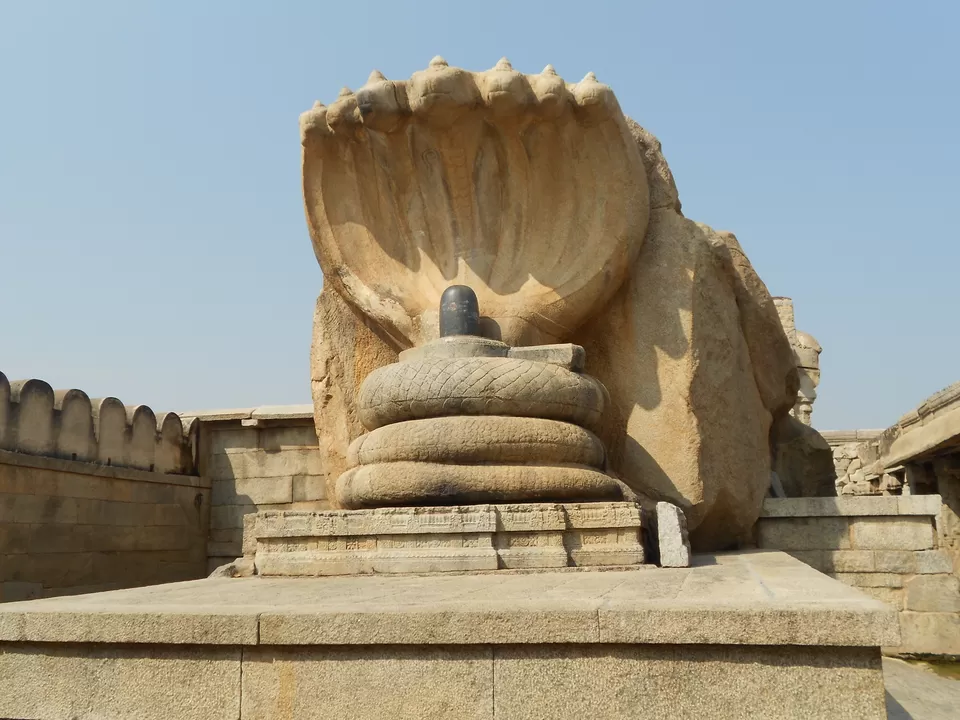 After that we proceeded to the kalyana mantapa, an open air theater which is very famous for the outdoor shots, textile ads, etc... If it is a sunny day it will be better to carry hat, umbrella and sunscreen lotions depends on your need.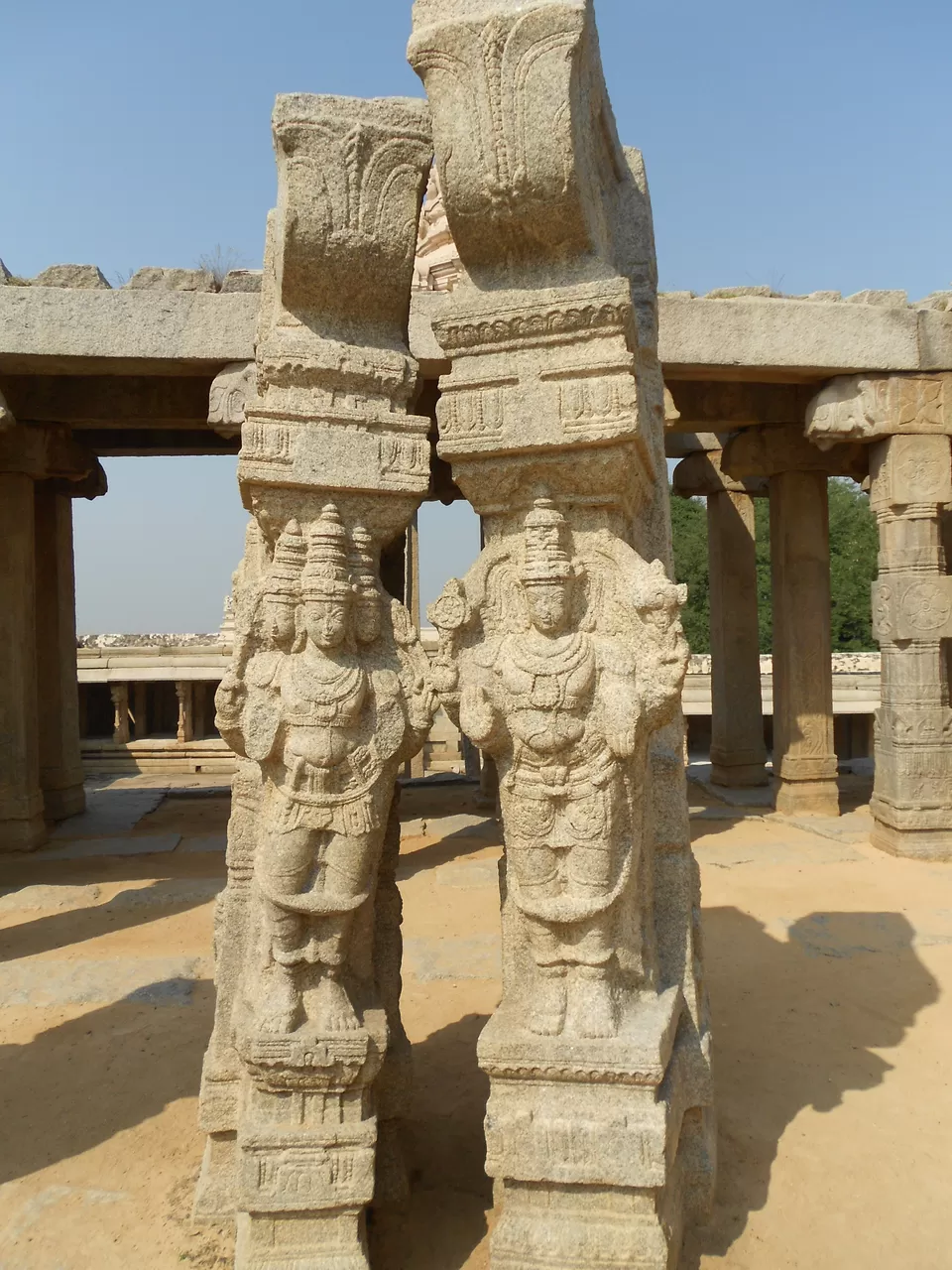 We spend almost one hour in the temple complex and started to our journey to Ghati Subhramanya temple.
Visiting Lepakshi is worth, if you love historic places, temples and ancient architecture. It is around 140 kms from Bangalore/Bengaluru city and 100 kms from the Bengaluru International Airport.
Toll fare:2 Toll plazas/ fare collection centers are there, prefer to take inclusive of return journey if no other destinations planned (INR 250.00).
If you are planning to visit Ghati Subhramanya while returning take only single journey tickets because the route is in opposite direction via Hindupur. If you need to use the same highway to Ghati you need to drive an extra of 40 kms. The road is ok but certain areas are bad, manageable. Another one thing i want to update about this route is, it have a couple of railway crosses, where you may get stuck.
So finally concluding my travelog, we had a wonderful day out. After visiting both places we reached back home @ 2:30 pm.
Every travel is worth to share!! happilyy my wandering continues