If you are traveling by the east coast railway, about an hour before entering Hyderabad, you will come at a place where the rail-track goes around a huge hill in an almost perfect semi-circle. On top of the hill, sits a fort. The whole vista is quite striking with a giant, egg-shaped hill dominating the landscape with a commanding presence.
That hill is Bhuvanagiri, a name that would literally translate to the "hill of the earth" in some Indian languages. Interestingly, the geological origin of the hill would also connote something very similar.
A mark from the ancient earth. The world's largest batholith outcrop.
Much of the Deccan plateau in South India is home to a landscape which often bears the marks of time immemorial. Geologically, it would not be an exaggeration to say that this plateau is an unending book of time and that in that book, the hill of Bhuvanagiri or Bhongir is a small, but significant page. Here are some reasons why it is so:
1. With a circumference of about 9.63 Kms and rising up to a maximum elevation of 1,410 feet, this batholith outcrop is considered considered to be bigger than Uluru, currently the most famous granite batholith in the world and a UNESCO World Heritage Site.
2. It is marked by uniquely striking features. From some angles, it might look like a giant, egg-shaped dome. However, as you roam around the hill and climb it, it would seem many other things. Like a giant lying with its legs put one upon the other, two ancient faces staring at each other, an ancient creature crouching upon...
3. It is more than 2.5 billion years old and till date, this geological wonder retains its stark, subterranean features.
4. It's stark, majestic, commanding presence. With steep falls, intriguing crevices and a hard wall of rock that makes its textures, the Bhuvanagiri hill stands out amidst its surrounding landscape of greenery, smaller hills and a reddish earth.
5. The presence of life within its stark exterior.
6. And last, but not the least, a remarkable, wind-swept view of the surroundings that gradually opens up as you climb up the hill.
Here are some impressions from this magnificent rocky abode.from ancient earth that stands firm even now.
A stark, blended beauty. Dry branches and twigs stick out and get almost blended into the backdrop of a stark, dry wall of rock. You could argue that there was a sense of something surreal lingering there.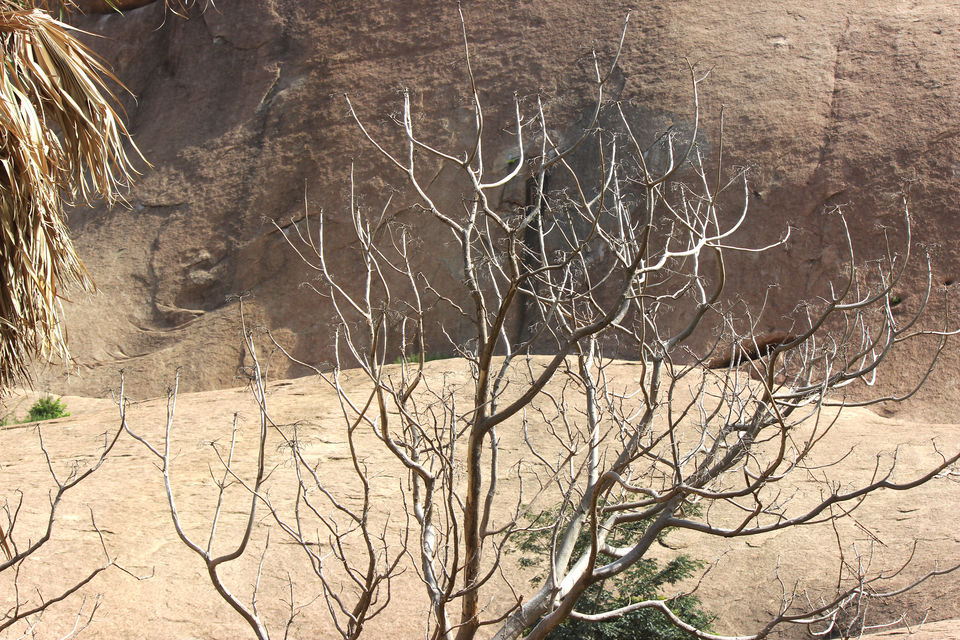 The faces in the rock. The Bhuvanagiri hill stretches well beyond the fort's periphery. And into those endless stretches, you will find intriguing shapes created by billions of years of erosion by wind, rain and heat. Such as this. I saw an eye and a nose and may be a face. What else do you see?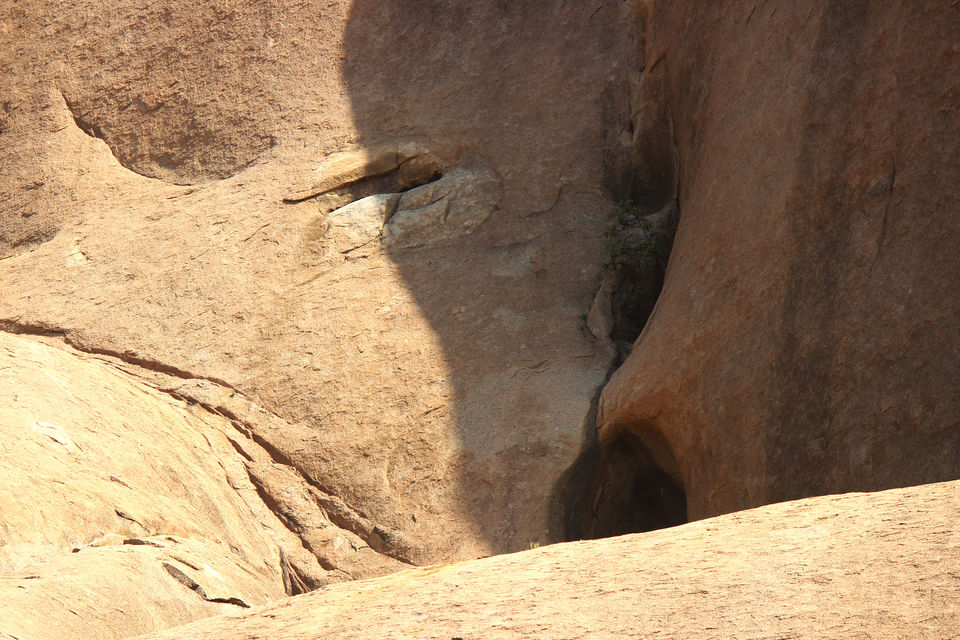 The giant's legs. From a distance that's how it seemed, the legs of a giant lying within the cradle of a green earth and an immense, endless azure above.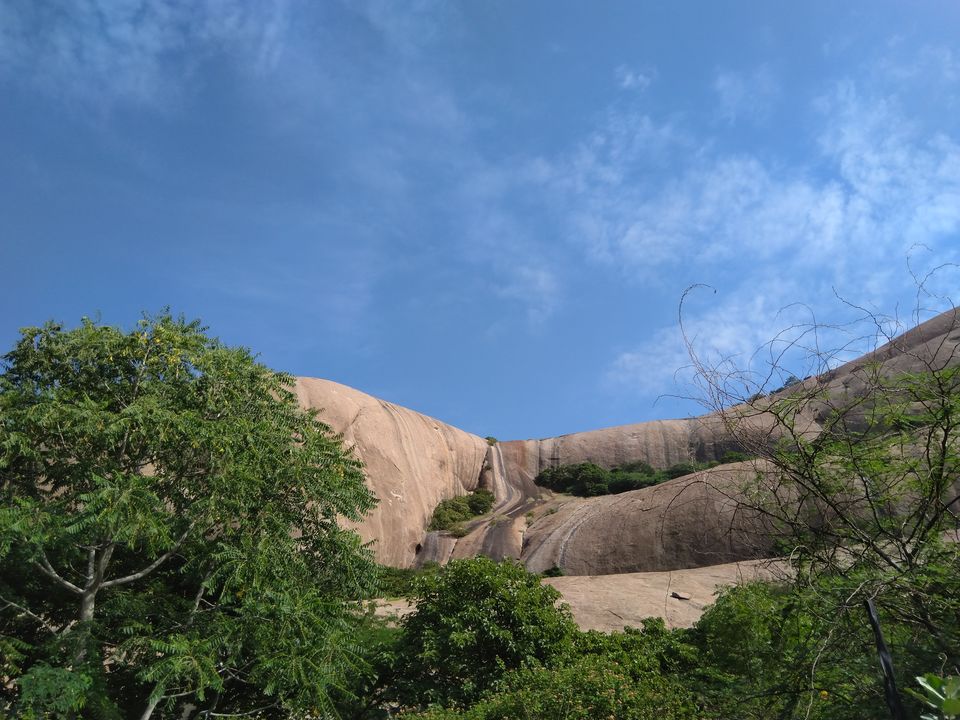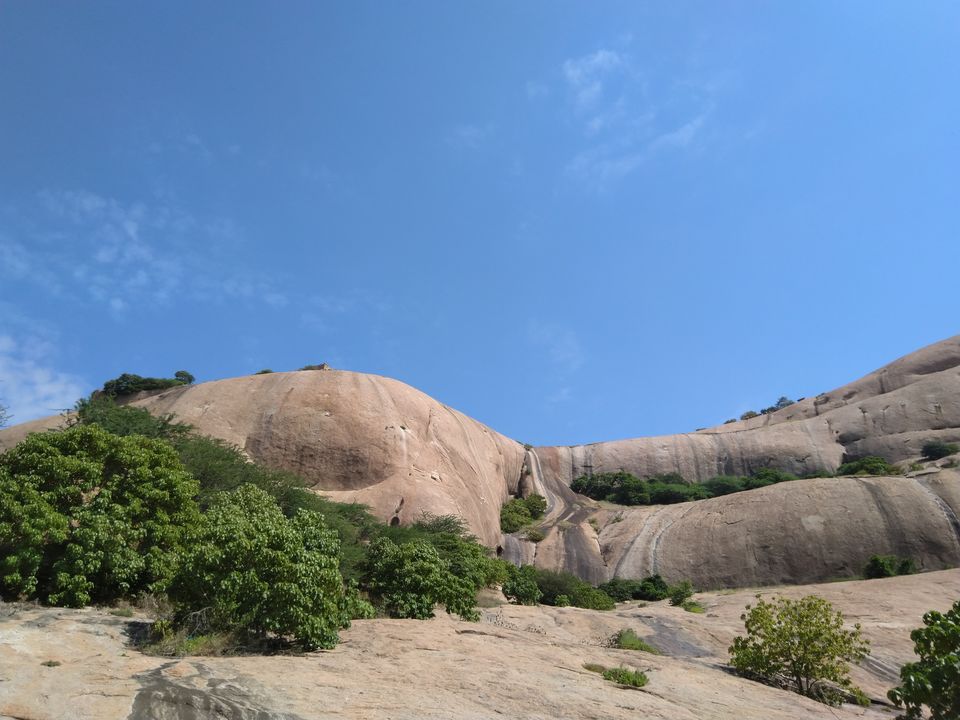 Nature's brushes. More than 2.5 billion years of rain, wind and erosion created their very own patterns of intricate art on the hill's surface. Like this pattern on the hill's western end, which looked like a painted waterfall.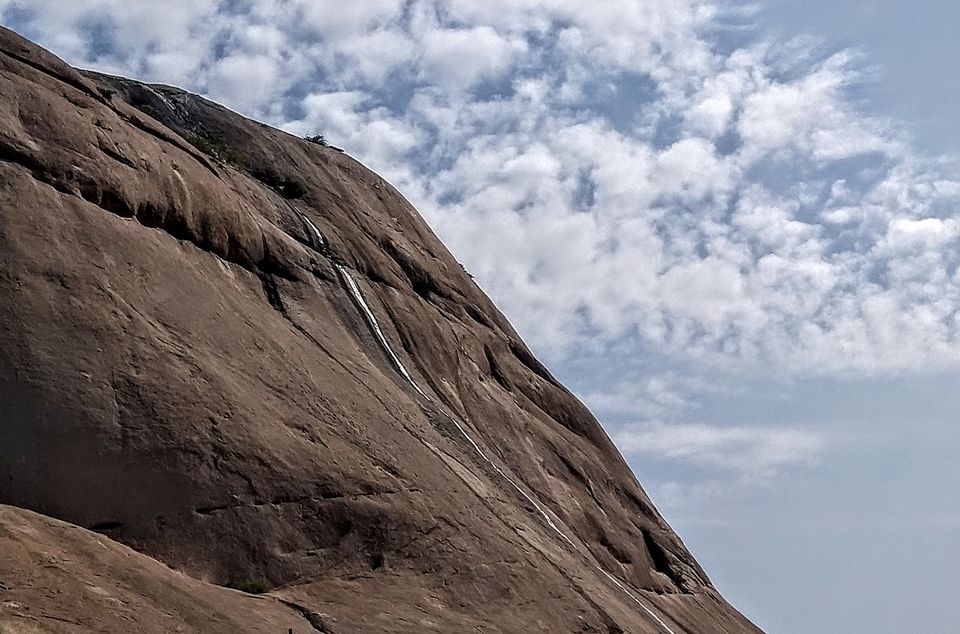 Or a surrealist painting. A painting that is created by the strokes of nature. A painting that bears the marks of time and blends with the space around.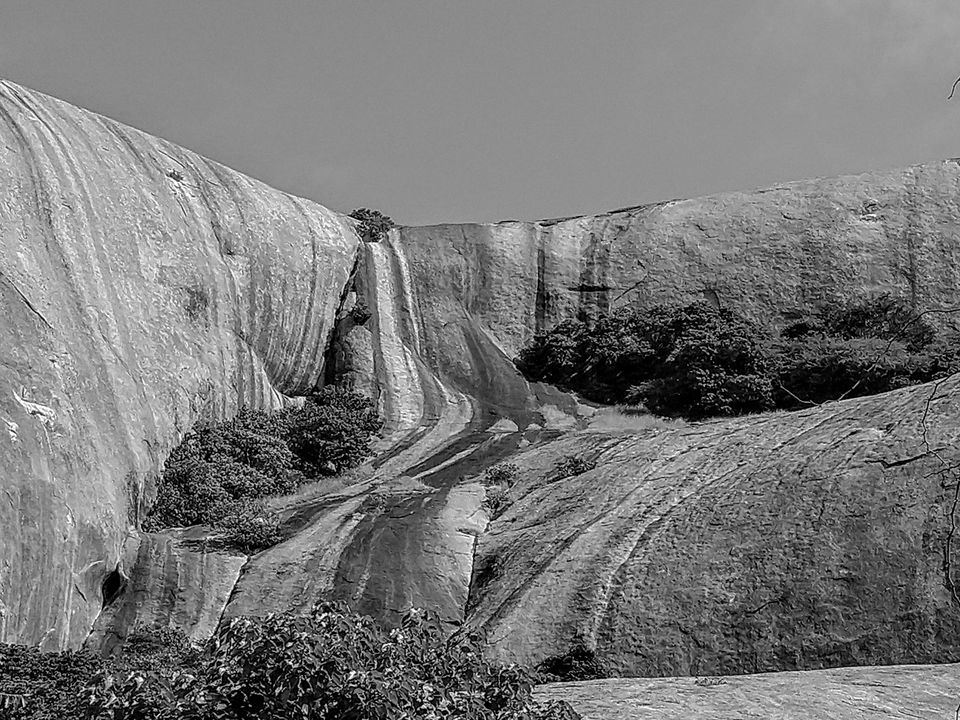 The unlikely oasis within the rocky world. Given the stark rocky exterior of the hills you won't think that anything tender exists in this batholith mound. However, within the hill, there are certain areas, certain nooks, that have small natural pools of water. And those places, astoundingly, work as spaces that host a variety of life forms.
Such as a colonies of water lilies and their very own world of enigmatic colors, lights, shadows and reflection.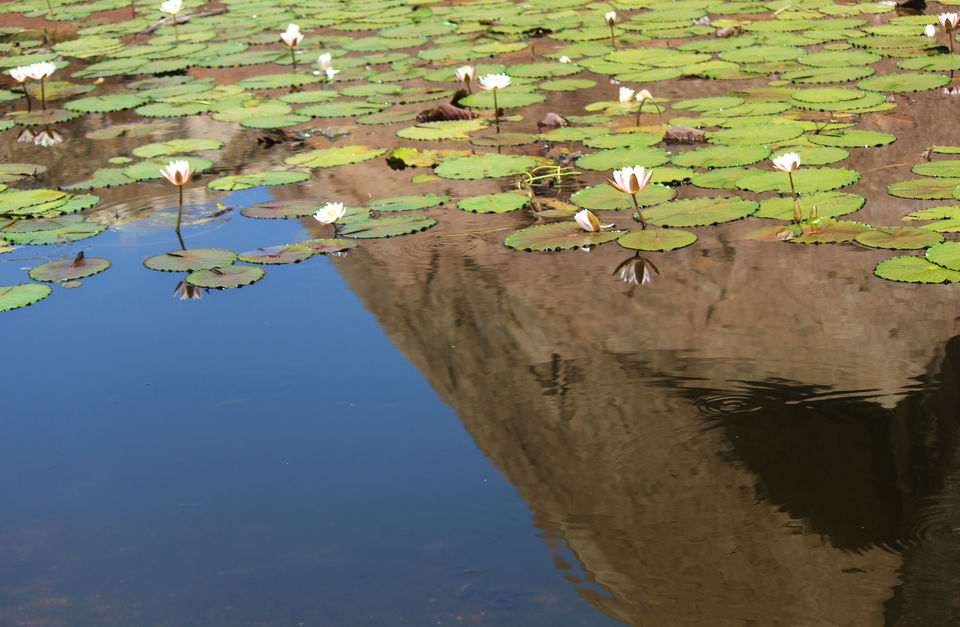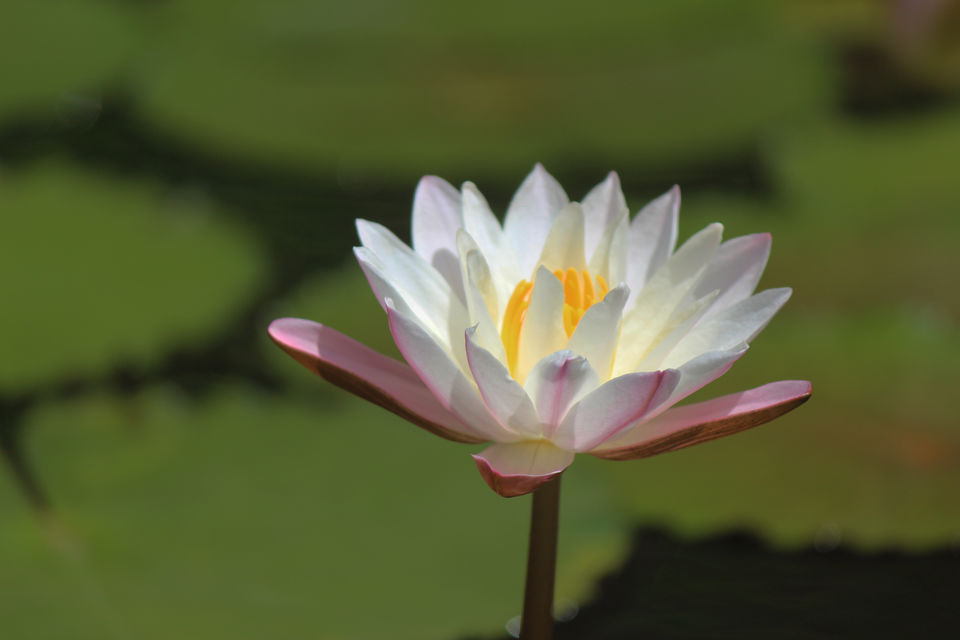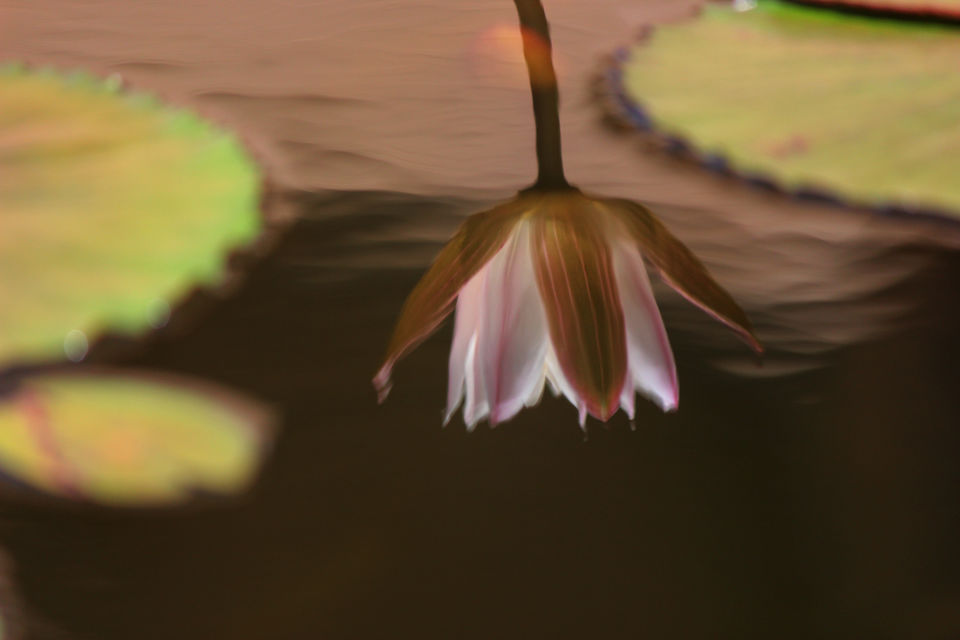 As well as a shoal of small fishes.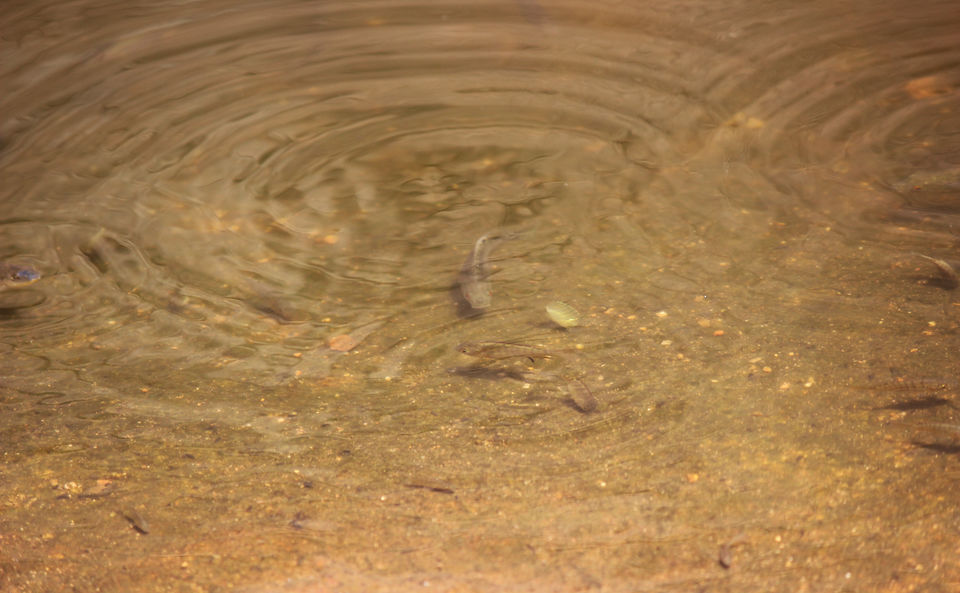 All of these would probably seem even more remarkable when seen in context. Here are some glimpses at the 360 degree surrounding of Bhuvanagiri hills, vistas that open up on all sides as you climb up.
A surrounding that is in stark contrast to the granite texture of Bhuvanagiri. The color and texture of the Bhuvanagiri hills stands in stark contrast to the landscape around. Something that stands in stark contrast in terms of color, tonality and texture, shades of green, patches of water and a much less arid surface.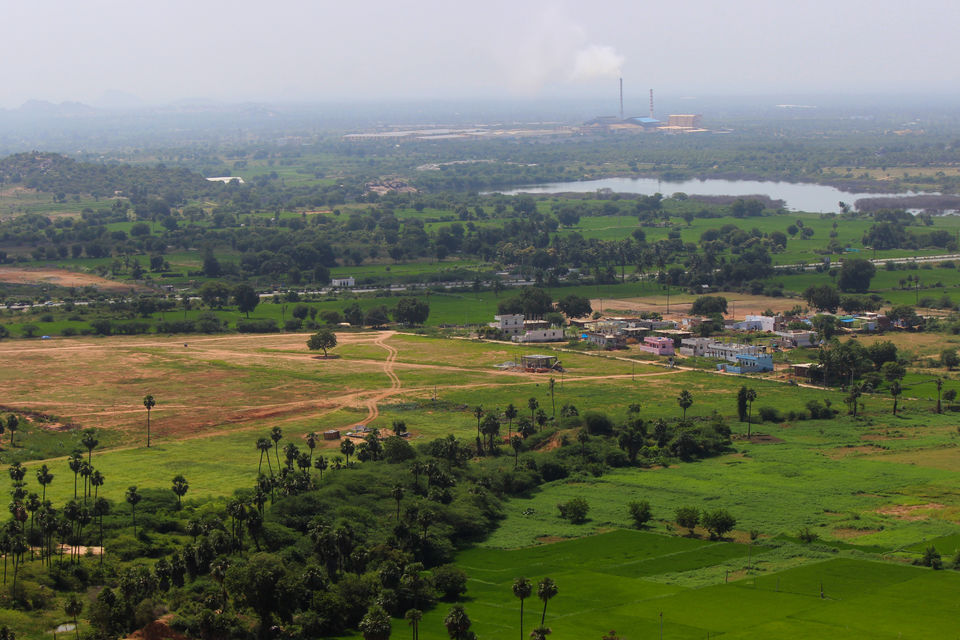 Smaller hills and a tilled earth around. Or the read earth that comes up if the surface is scratched just a tad bit.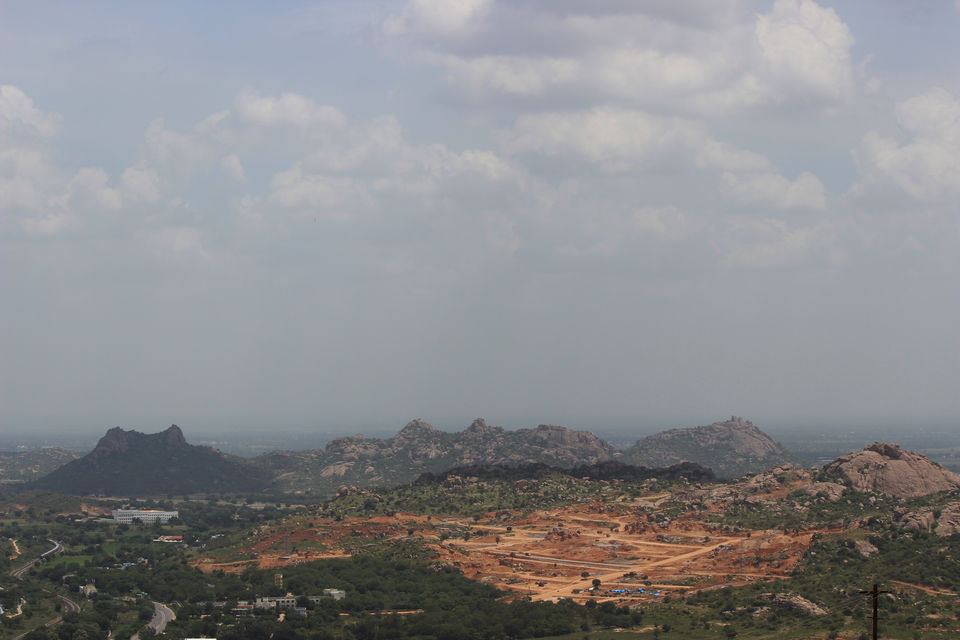 Overlooking the surrounding landscape. The remains of the fort well, into the landscape below, smaller surrounding hills a slight ahead. And then beyond all of that.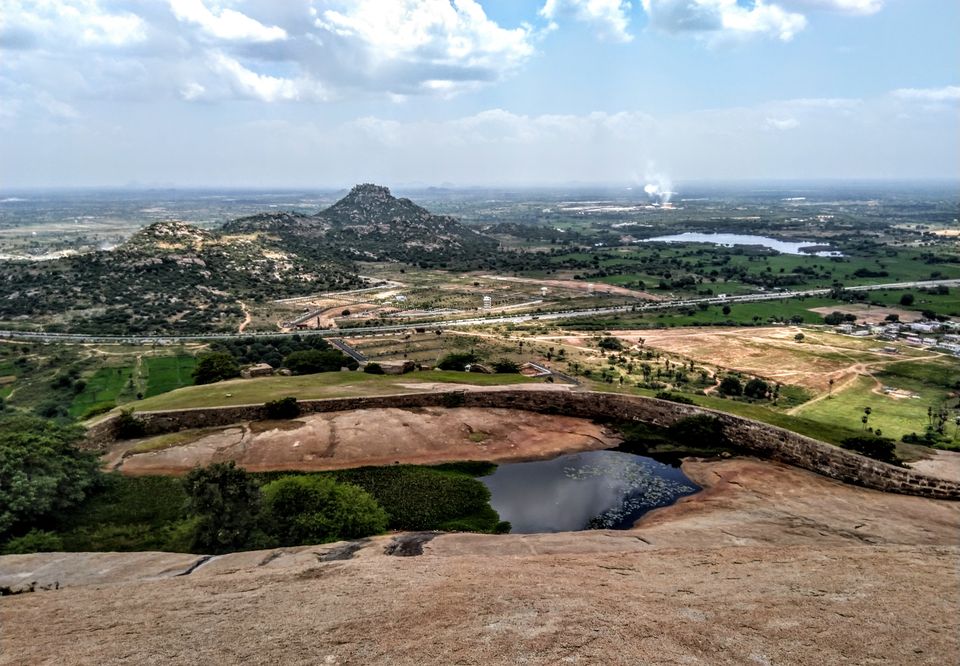 The train, train line and the station far below. The train, the blue platform shades and an invisible train track far below. Within the larger vista of undulating hills and a scattered townscape, it would almost look like a thread that has been blended into the whole canvas so exquisitely that the thread becomes part of the canvas itself.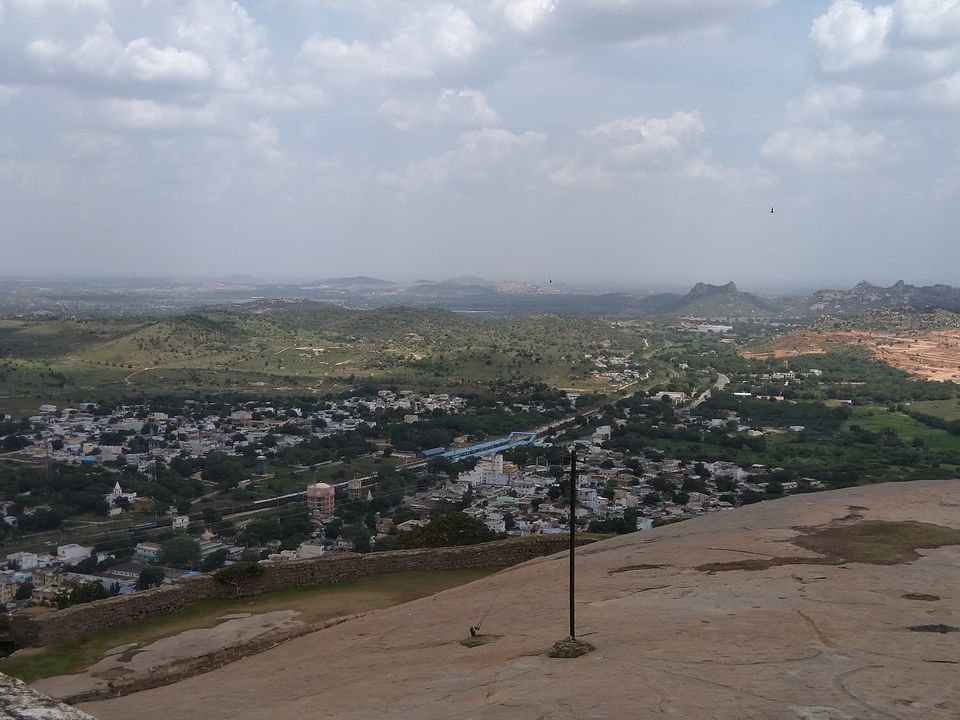 The town of Bhongir as seen from Bhuvanagiri. Like an ancient creature crouching and lording over its territory, the Bhuvanagiri hill provides a commanding view to the town below. In that perfect autumn day with huge cumulonimbus clouds floating lazily over the town of Bhongir below and in the azure sky above, the only thing that looked timeless and impregnable was this vast dome of rock and the remains of the fort wall on it.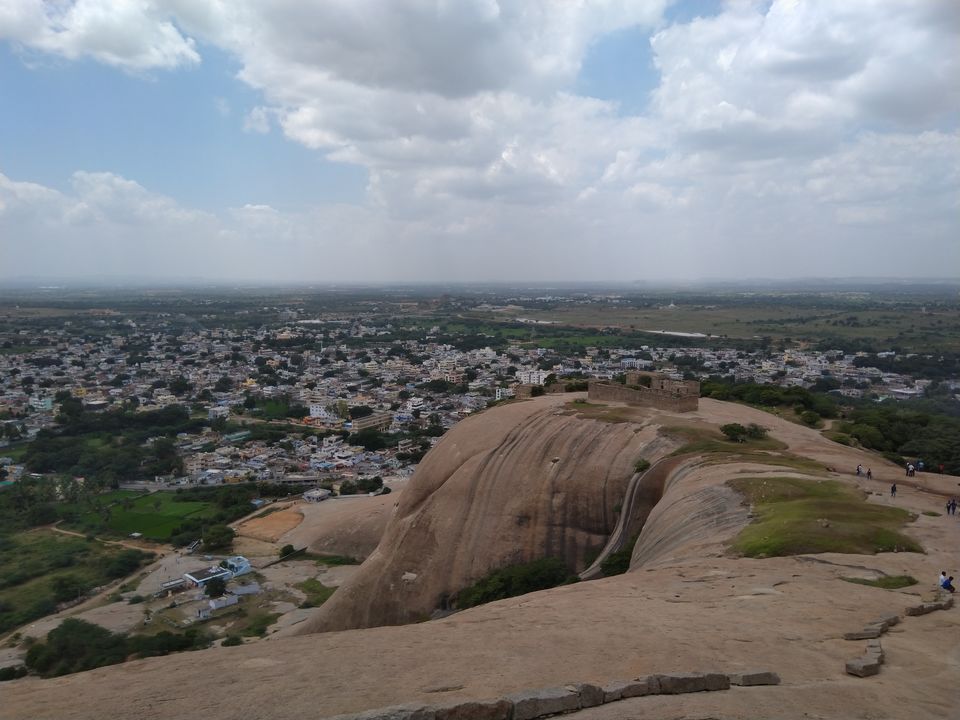 Or just the endless expanse. Floating clouds create fleeting shadows and changed the palette of the landscape completely. At moments like this, you will have to marvel at nature's art and how we humans are hell bent upon destroying it.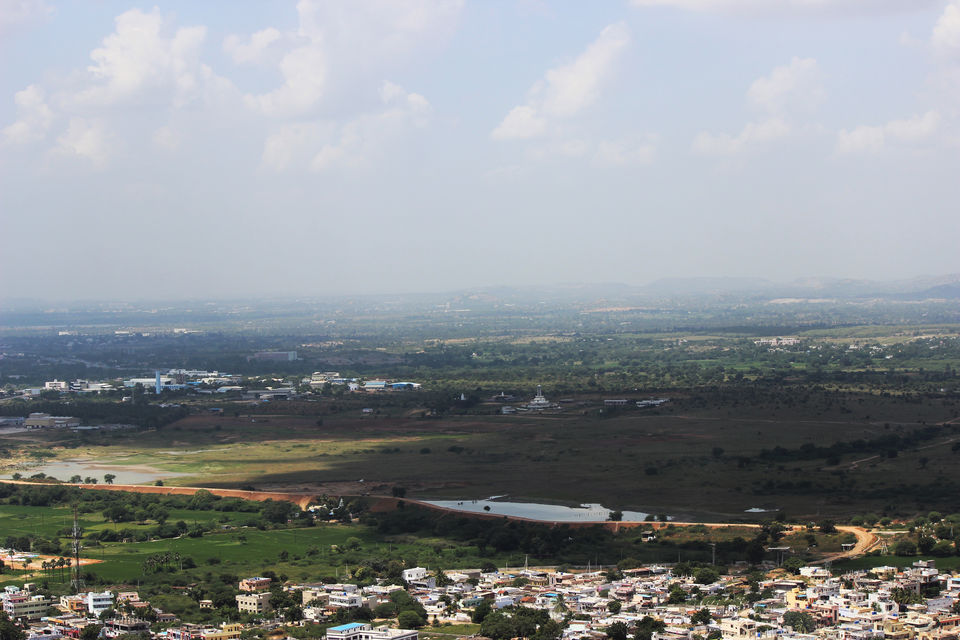 I can go on. But you get the idea. In a nutshell, the majestic and commanding batholith, that is the Bhuvanagiri hill, is a complete world within itself - from its imposing rocky walls and expanse, to the views it provide, the life it hosts and the 2.5 billion years old geological time that it condenses.
...
If you are staying in Hyderabad, Bhuvanagiri is hardly a hour and a half's leisurely drive. Try it out for a day out if you are a history buff, adventure sports enthusiast, a geology student or a traveler with the knack for exploring slight off-beat places.