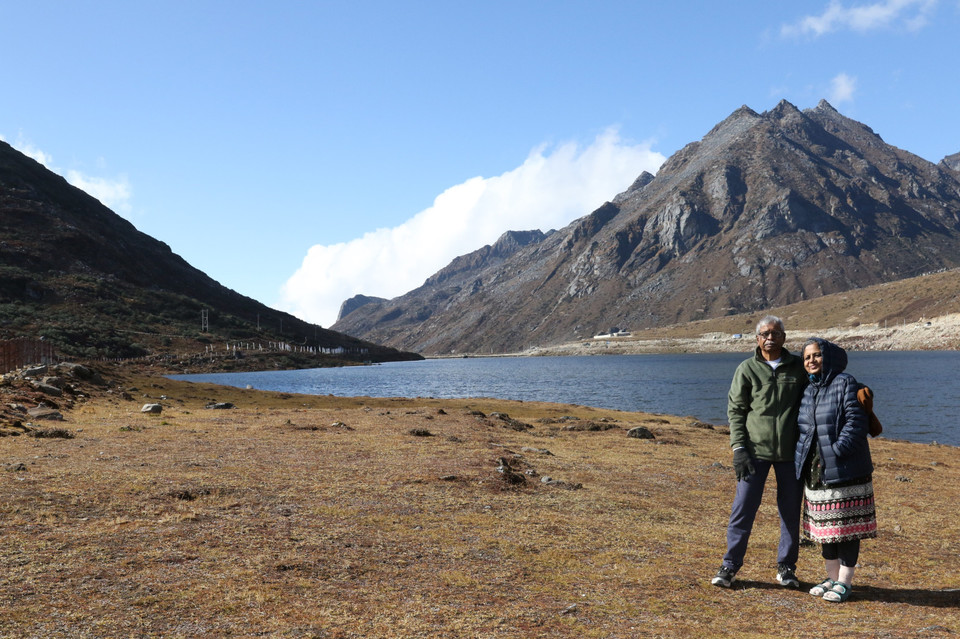 A Subtle beauty
Enroute Tawang Day 4
Travelling on the roads, in the midst of mountains felt like, we were crawling infants amidst meditating monks. Green mountains interlocked the valley making the place very scenic. Tt was a pretty steep climb, and we also got sneak peak of snow caps. Each hairpin bend gave us a new view, different face of mountains. With increasing altitude, we saw change in vegetation, Lush green had become dull red bushes with pale patches of green here and there. Pranav and Aarushi were very excited and they use to shout out when they see a snow peak. Couple of people in the vehicle had motion sickness, hence we were little worried about this journey, but this is the only route to Tawang.
Taking curves and bends, finally we reached top of the mountain.
Tawang is been on Avi's bucket list for quite some time now, we actually wanted to do a biking trip to Arunachal, going with a compass north and south ???? as they say, ' Half the fun in the travel is the esthetic of lostness'. But on the way to tawang, if you are feeling 'the lostness', it may be the serine beauty of tawang or the high altitude. ???? so keep yourself hydrated, or take some medicine if you have high altitude sickness.
The culture of Tawang is highly influenced by the Tibetans and the Buddhist way of life, inundated with a number of monasteries. Tawang has a serene and pacifying ambiance. It was a 4.5 hour drive with two major climbs and we had to cross Sela pass which was 13680 ft. Many people travel, Guwhati (180 ft) to Tawang (8575 ft) via sela pass (13680 ft ) in one day, thats' too much of altitude change in a day. As we had infants and senior citizens with us we decided to go slow, acclimatizing ourselves to altitudes, hence less chance of getting altitude sickness.
Most thrilling curves! i call it.
Here comes the godly Sela pass.
Sela Pass is one such beauty in the state of Arunachal Pradesh which is undoubtedly a piece of heaven on earth. You will definitely be awestruck after witnessing the majestic appearance of the perennial lake. Sela looks best on a bright sunny day, we were lucky to witness her at her best. Weather was very kind to us in this trip. Deep blue water and a bridge connecting two mountain at the horizon, mind bowing it was!
A mountain pass is a navigable route through a mountain range. Since many of the world's mountain ranges have presented formidable barriers to travel, passes have played a key role in both human and animal migration throughout Earth's history.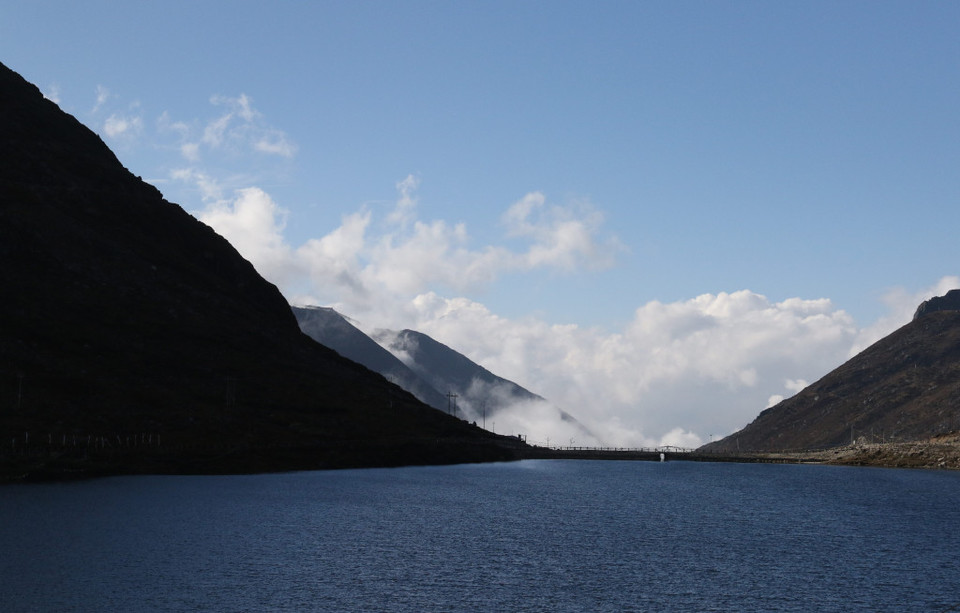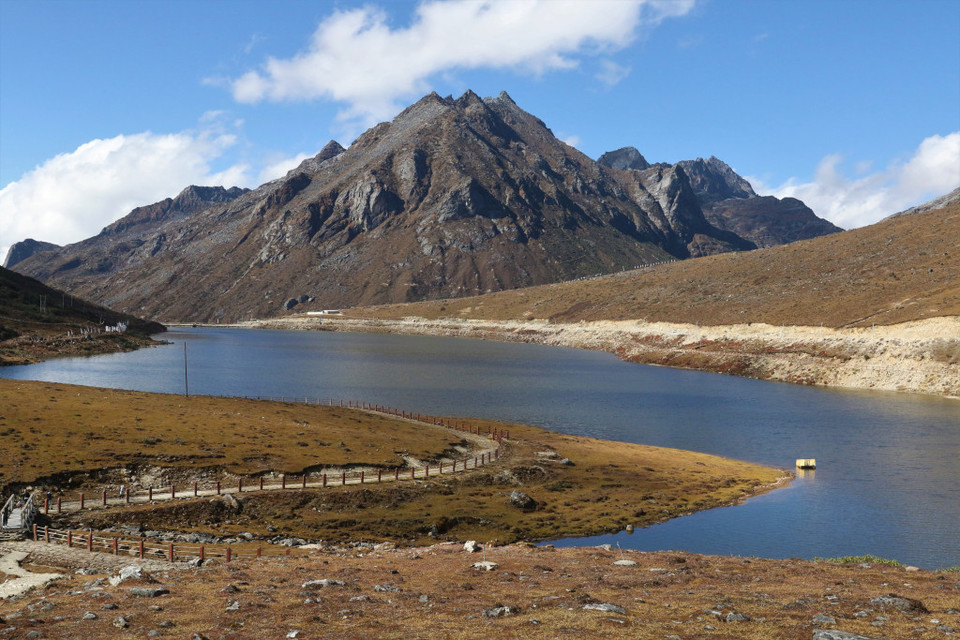 As we opened windows we felt a strong cold wind, it was super cold. Thermals plus a sweater plus a jacket kind of cold. we stepped down with the gloves on, but Atharv (1.3yrs) refused to wear gloves and was already cranky. There are about 100 steps to get down to the lake, and a well-paved pathway to walk along the shore. As we went near the lake Atharv started to cry loud and started pulling his clothes, he was not feeling comfortable. I was really worried if his discomfort was due to altitude? Couldn't pose to a single photo, in spite of Avi calming me down. Now seeing Atharv, the other infant, prabhav( 2 yrs) started crying, and leaving the scenery behind, we all helplessly started walking towards the vehicle. As soon as we reached the vehicle, I removed his sweater. That instant, he picked up the sweater, threw at Aarushi, and laughed. And the next moment, which he was fine!! I was perplexed! later I realized, his discomfort was not because of altitude but because I made him wear his sister's sweater. As it was very cold, I made him wear an additional sweater which he did not like. ????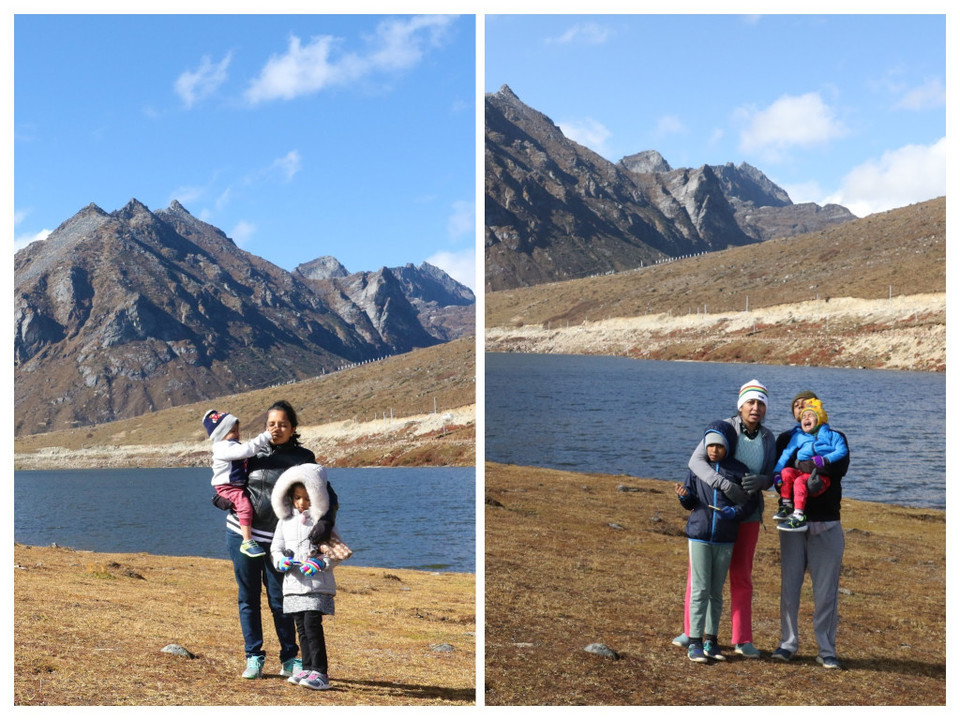 Thus bidding bye to Sela pass! we moved on. we started downward journey again, this probably was the windward side of the mountain, it had a lot of pine trees, with cascading streams, and thick fog covering the head of the mountain. it was a great place to stop and take a pic. Avinash ( the eye behind the lens, who took all these photos) finally posed for a pic.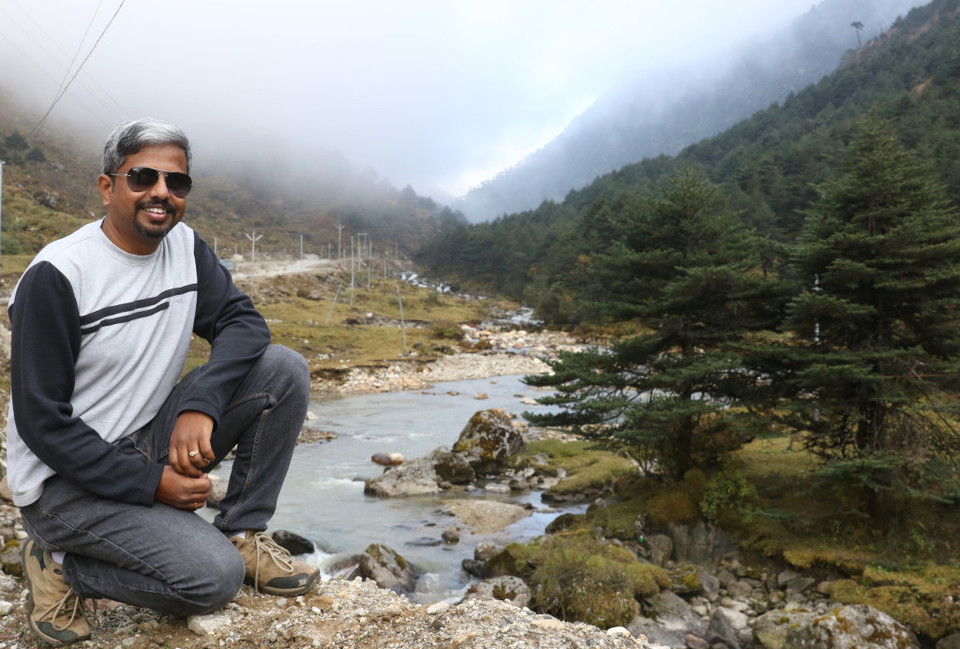 By this time, we all very hungry, the only option for eating near Sela pass is a couple of military canteen. Driver told us, one canteen here serves us free tea, in the memory of a war hero, we stopped there, to know more about him, aannnnnd explore what can make our tummy happy.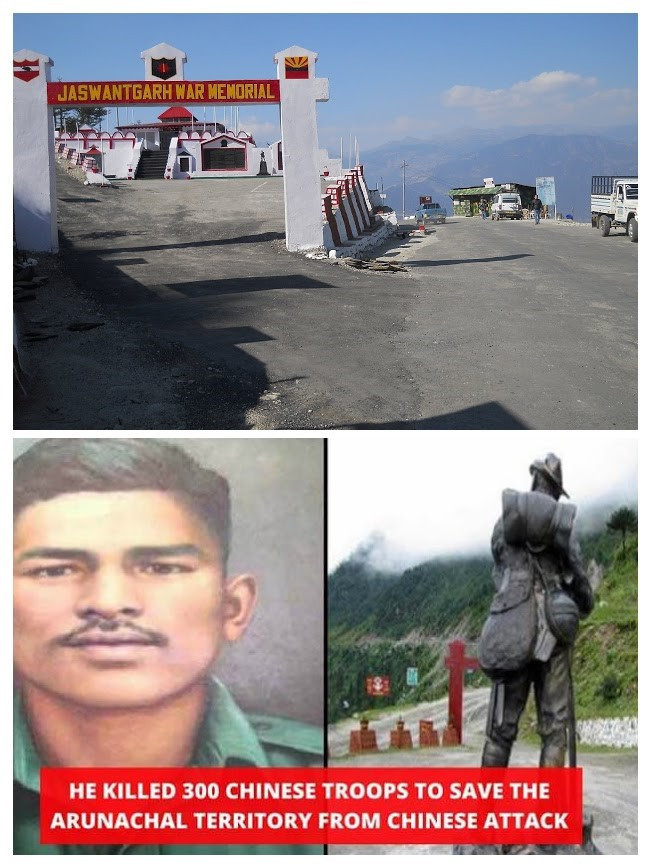 further towards Tawang,
1)Some kind of berries we found on the way, but we did not dare taste them.
2) Nice place to lock kids up and peacefully click a few pics, I strongly recommend these kind of kids friendly view points. ????
Finally, we reached Tawang, it was 5pm and it was totally dark and chilling cold. we were all sitting in the living room, the host helped us with room heater and hot case full momos and tea. we savored all of them and ready to call it a day. But kids got bounced back with energy!! Pranav and Aarushi started demanding board games!! They managed to keep us awake till 9 pm even though we had plans to go to Bum la pass the next morning.
Room heaters were saviors of the day!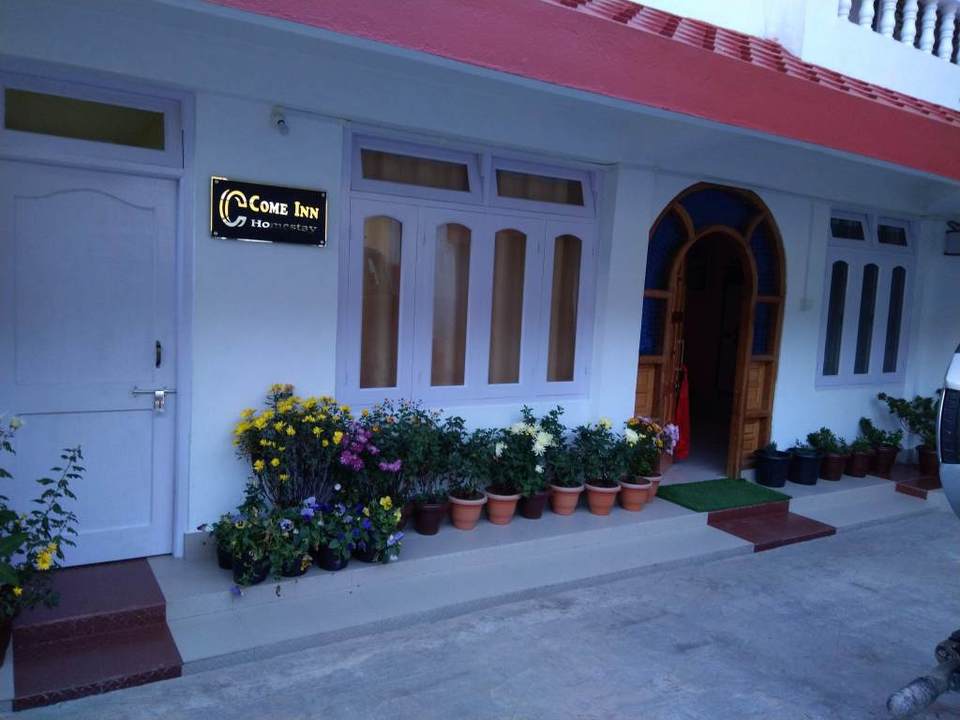 The next day began with Avi waking me up, wishing me Happy birthday. ???? it seldom happens, that we are awake and kids are sleeping! so, we ran to the balcony, to witness the sunrise. Next few minutes, we just enjoyed the quiet time and the change of colors!

Cold breeze descends to the valley in the night, hence valley will be covered by clouds at sunrise. As the day gets brighter, clouds get cleared, the valley is seen. By evening, again there are clouds covering the valley. Below is the video of, the dance of clouds.
Tawang! Deeper, as you explore!