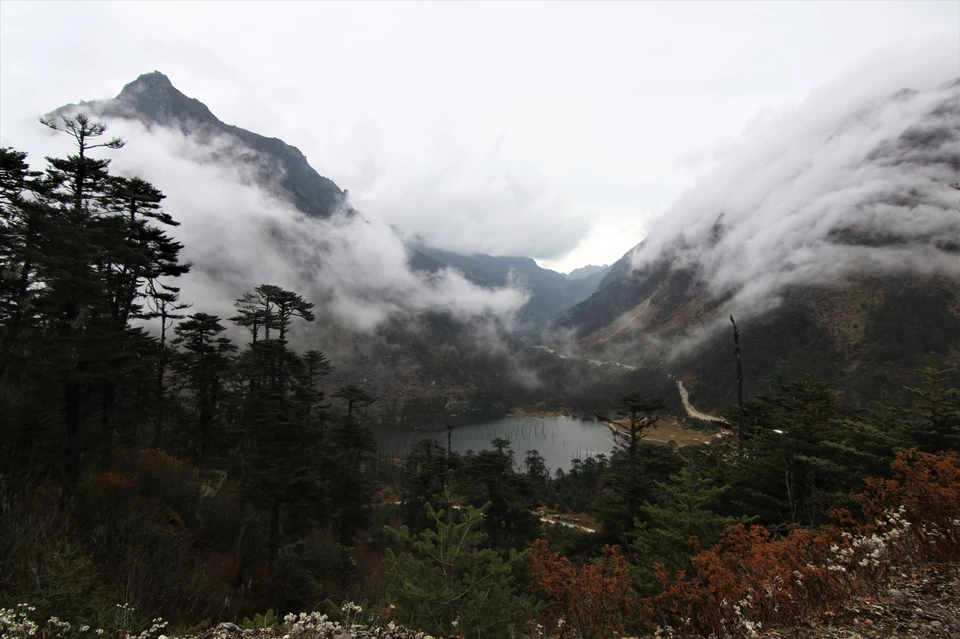 Day 5
The day began, with Avi waking me up, wishing me Happy birthday. ???? It seldom happens, that we are awake and kids are asleep! so quietly, we ran to the balcony, to see the sunrise. Next few minutes, we just enjoyed the quiet time and the change of colors!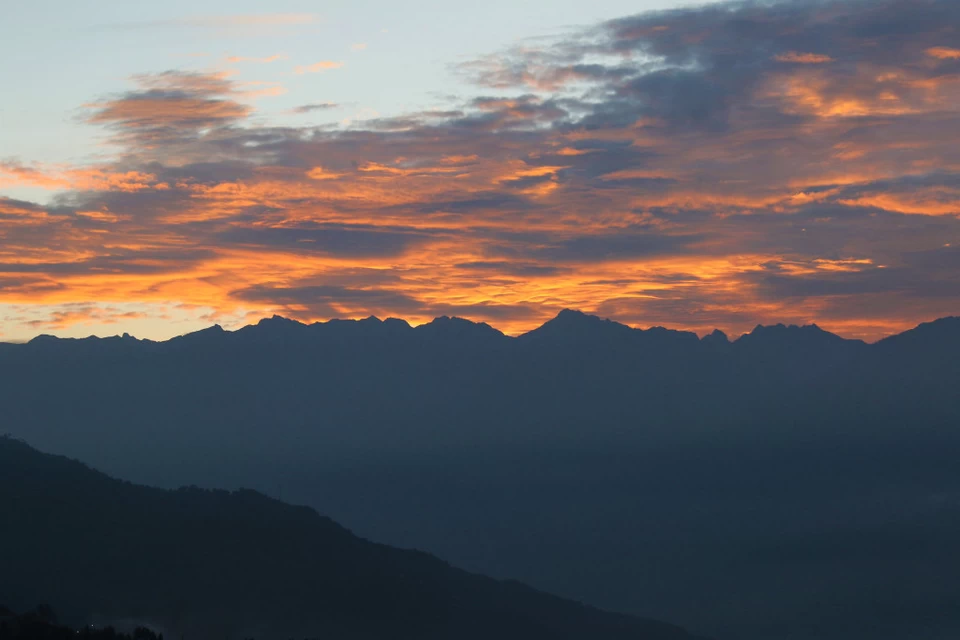 Cold breeze descends to the valley in the night, hence valley will be covered by clouds at sunrise. As the day gets brighter, clouds get cleared and the valley is seen. by evening again there are clouds covering the valley. Below is the video of the dance of clouds, the whole day.
The much-awaited Bumla pass was planned for day 5.
Only Arunachal registered, small vehicles can go north of Tawang. Hence we had to book another vehicle, leaving behind our tempo traveler. These agencies charged us 5000/- per vehicle for two places. initially, we thought that is too much for a 60 km drive, but later we realized it is very nominal for such tough track. There were no well-paved roads, some roads looked like walkways, where no vehicle can go. Puddles, muddy pools on road, through which our Tata sumo sailed! Just imagine, this is a daily route for our army personals. These roads get a touch of cement every year, but 2/3rd of the year, it is covered by snow and while snow is shoveled the cement gets shoveled too, and the road gets back to its crude state. By the way, this is the road that connects the Chinese border to Indian civilians! it better be in a crude state.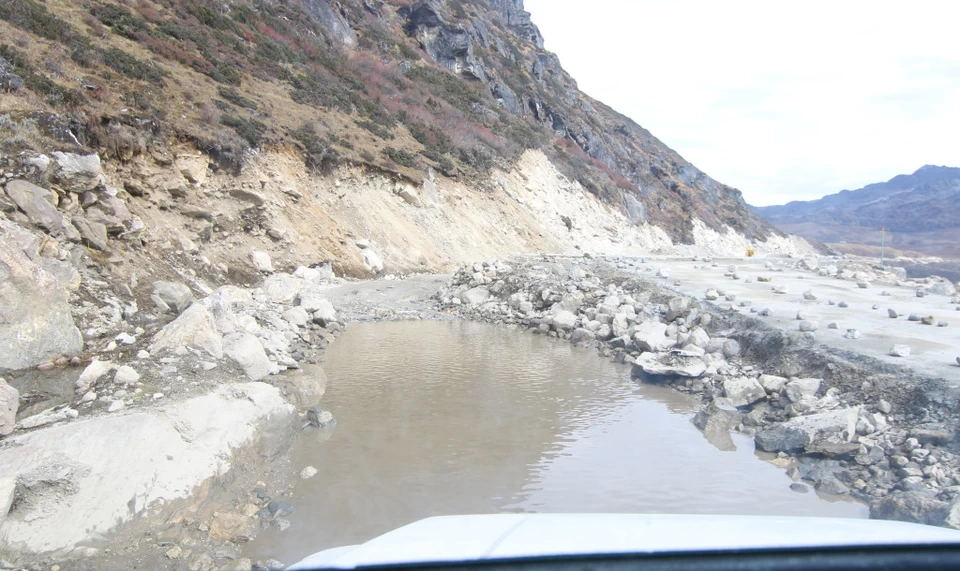 Permits
we have to get permits to go to the bumla pass in the local DC office, usually vehicle rental agencies will take care of the permit. So we need to carry our documents and copies, when we travel to Arunachal. (Driving license or Aadhar card will do.) Permits to be applied a day or two before the journey. This permit is to be stamped by army check post, without the army stamp, you will not be allowed through the numerous check posts on the way.
More than permit, they look at all the faces in the car, sometimes that gives more information than the permit in hand, and that is what they are trained for.
Timings
Since the road to Bumla may not be in the best of conditions throughout the year, the ideal time to visit would be from May to October. There is a time restriction in both places bumla pass and Sangetsar lake (Madhuri lake), because of sudden weather changes and other security reasons. We have to be back, to cross the army check post before 3:30. so if you have planned to see both places, you need to start early in the morning.
Roads are very bumpy, but your mind will be awestruck with the mesmerizing landscape.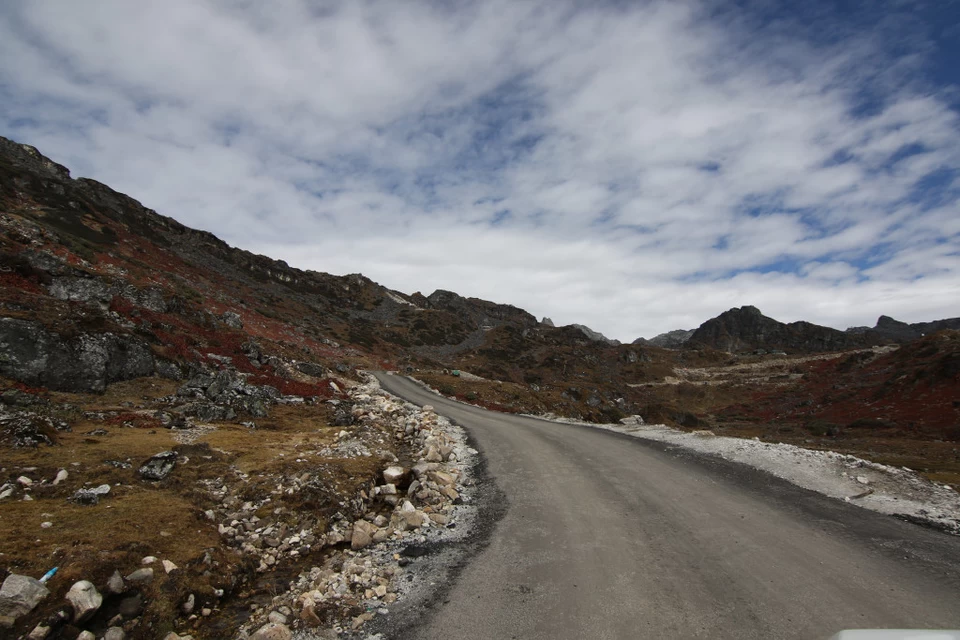 lucky us, got a stretch of tar road.
The place is inundated with lakes, we saw around 20-25 small lakes, while we traveled amidst these beauties. The spectacular frame of the clear blue sky in the background and the mountains and hills in the foreground will amaze you.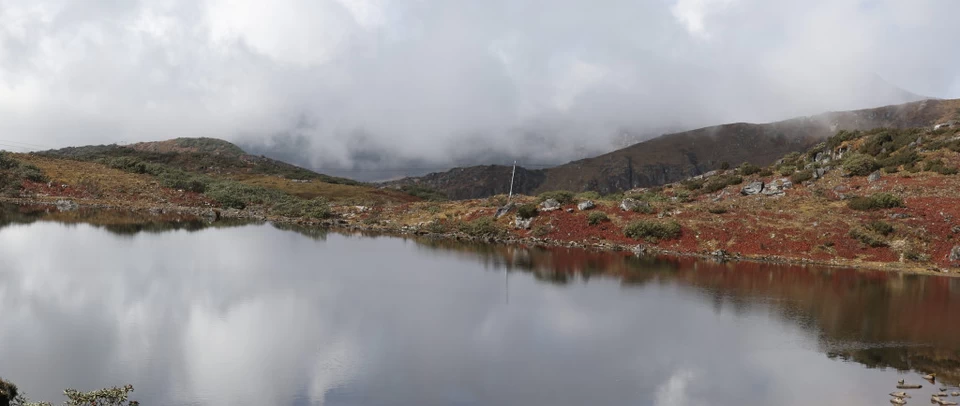 The driver did not care to stop the vehicle, for us to click pictures, even after several requests. Every turn had a colorful and mind-blowing view. we clicked these pictures with great difficulty, as our car jiggled on the road like a frog. kids slept the whole time as they were frustrated with this roller-coaster experience. Infant (Atharv) was startled with no idea about what's happening! we were skeptical of taking the infant to high altitude, in fact, infants and kids acclimatize faster than adults. They tend to be more sleepy due to low oxygen. we should keep them hydrated, keep snacks handy.
Travel tip: Drinking too much water can make us nauseous, so small and frequent sips can help us better.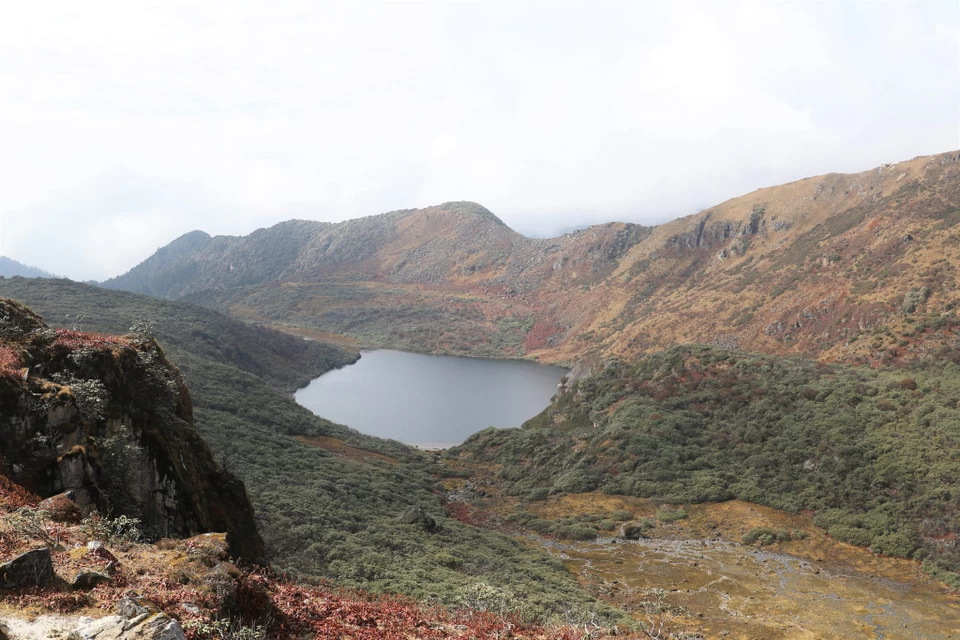 Tip: Start your journey early, say 7:30 am, Reach Bum la, do not spend more than 40 min there. it is usually very cold and the military canteen serves very comforting Maggi noodles and tea, which is a reason to get late :). Drivers there make this a reason to skip the second destination. so, be on time to cover both destinations.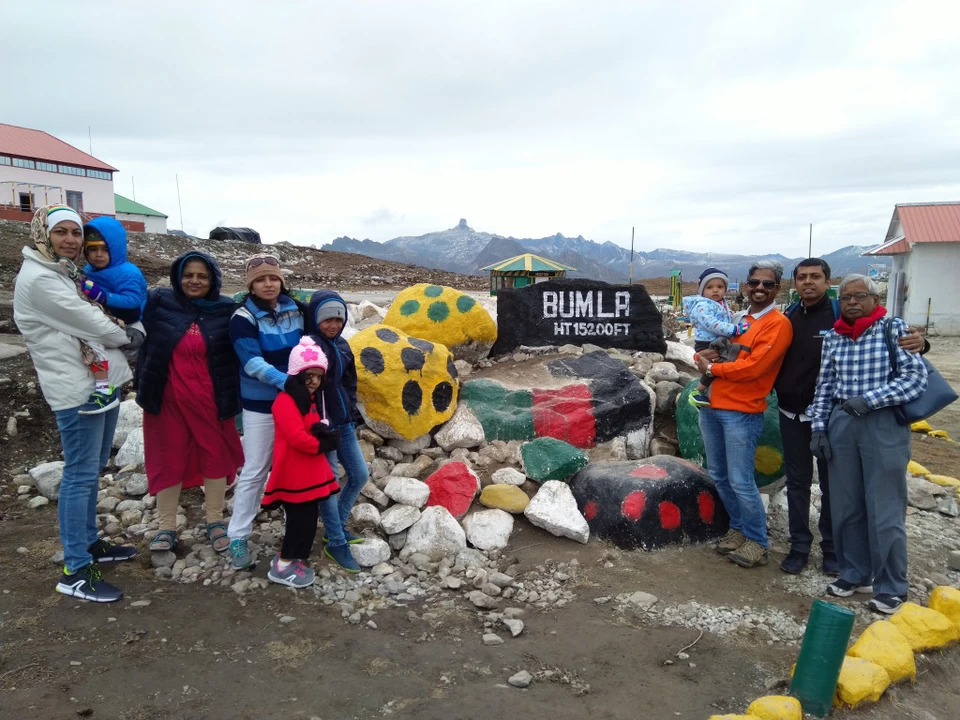 The road to Bum La is also a historical route, where the Indian army confronted aggressively defiant Chinese army during the 1962 Sino-Indian war. Such mighty snow mountains and purest of water streams then turned red in the saga of drawing borders. In 2006, Bumla pass was re-opened to traders for the first time in 44 years. Traders from both sides of the pass were permitted to enter each other's territories. You feel you are traveling inside an army camp even you are 5 km away from Bumla. Bunkers everywhere, military trucks and a board saying 'You are under enemy's observation. Definitely, my heart skipped a beat there.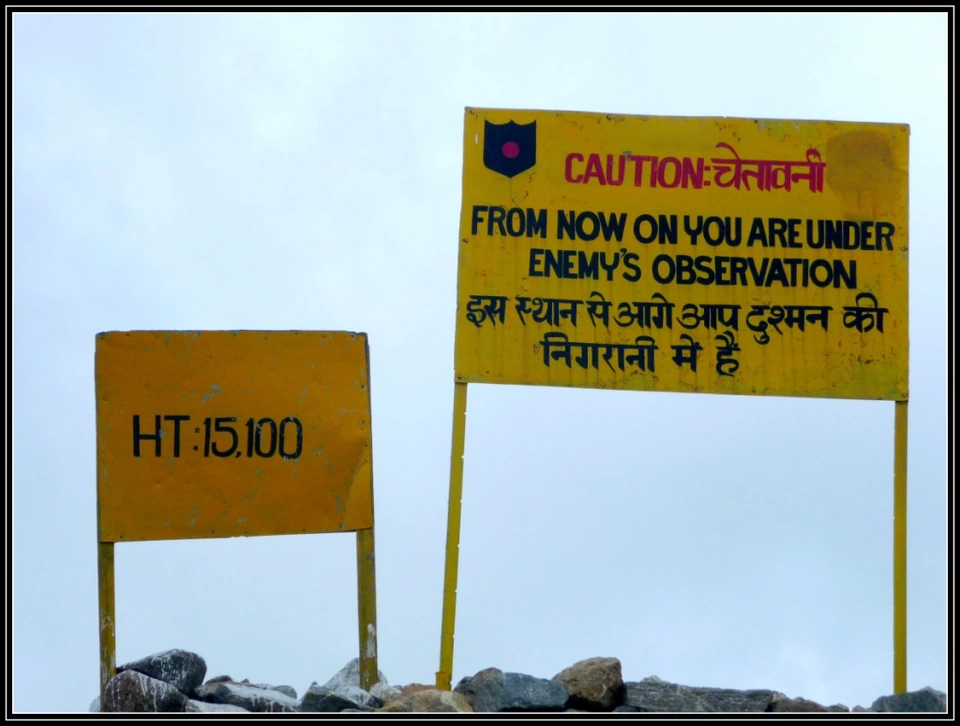 As we reached Bum la pass, the driver asked us to leave all mobiles and camera equipment inside the car, to reduce the extra entry procedures. yes! if you carry any of them, you will have to deposit it near the entrance, giving id proofs and stuff. From this point, an army personal takes people batch by batch to tell us about the place.
Bum la pass is where the Chinese army barged into our territory in 1962 Indo china war. This pass has seen the most fierce war in history.
By then, it was 11:45 am and we came back to the vehicle and started the descent. After 25 minutes, we just asked the driver about, how much time will it take to reach the next destination? The driver told us, we were very late, and he cannot take us to Madhuri lake. we were really upset and argued with him, we did not know anything about the time restriction. Then he changed his version saying, his manager told him, to take us to only one destination. we were pretty sure, we had discussed two destinations.
It was already noon, and then he told us, the army check post wont let us take deviation after 12 noon. we decided, we shall go till the army check post and check the same. At the check post they asked us to caom back before 3, which was barely 25 minutes in madhuri lake.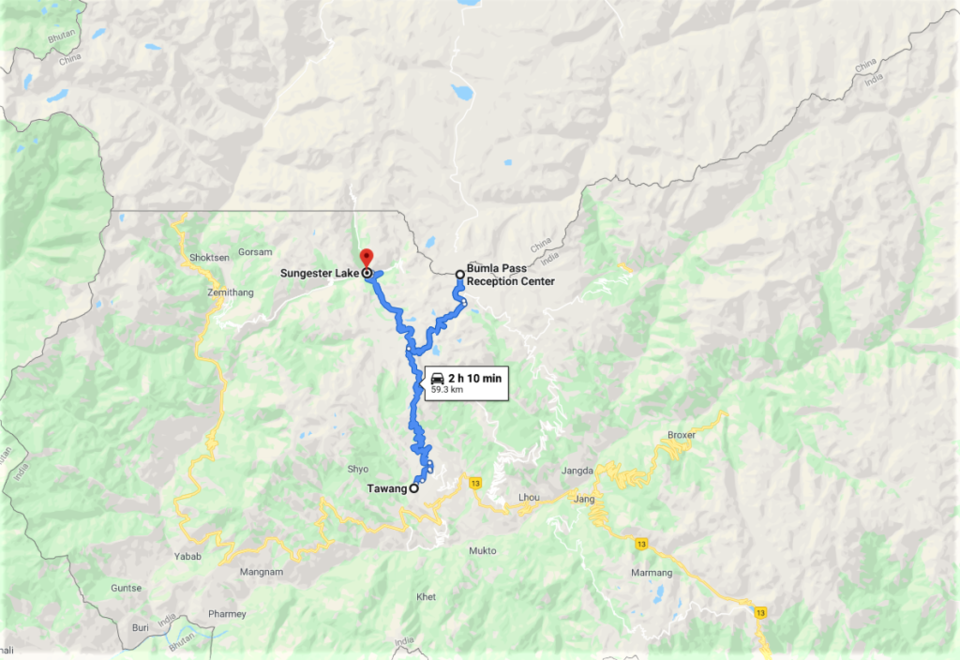 Shungestar is another spectacular natural wonder wouldn't want to miss. it about 20 km from tawang town, a deviation from Cona, which is 7 km before we reach Bum la. They will not let you enter this route, post 12 pm for security reasons. This lake is formed by falling rocks, boulders and trees in an earthquake, the dries trees remains of the former valley, make the lake more scenic.
A song in Bollywood movie Koyla featuring Madhuri Dixit was shot here in Shungestar lake, as a result, this lake is also called Madhuri lake. The lake is about 20 km from Tawang town,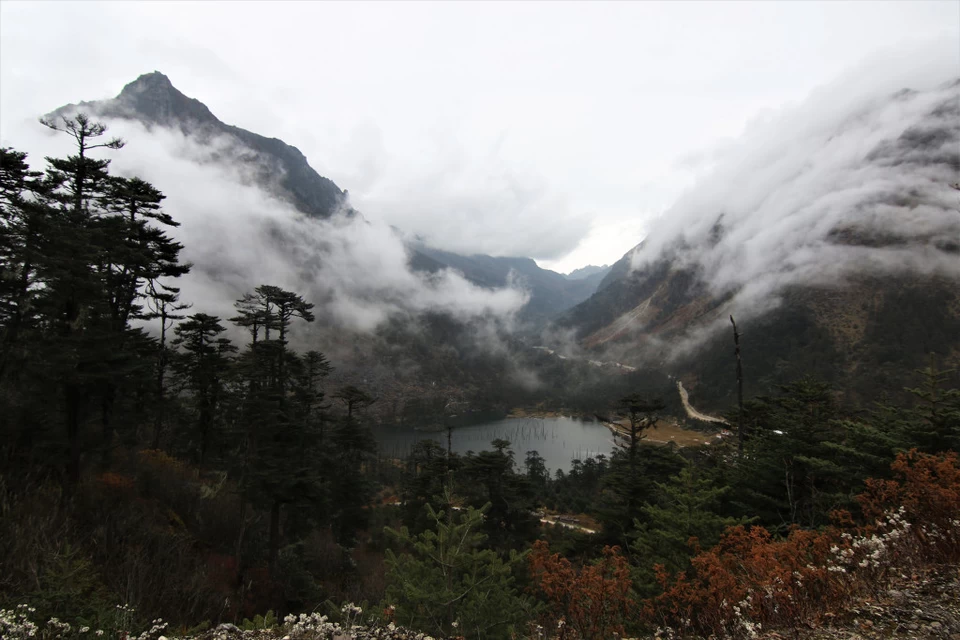 The beautiful Madhuri... lake
The military canteen here serves Maggi, tea, and Idlis. surprisingly we got idlis, in all the military canteens ???? Very picturesque lake with bright flora and with sleepy mountains, wearing a blanket of clouds. we were lucky again, the lake looked stunning as the weather was great.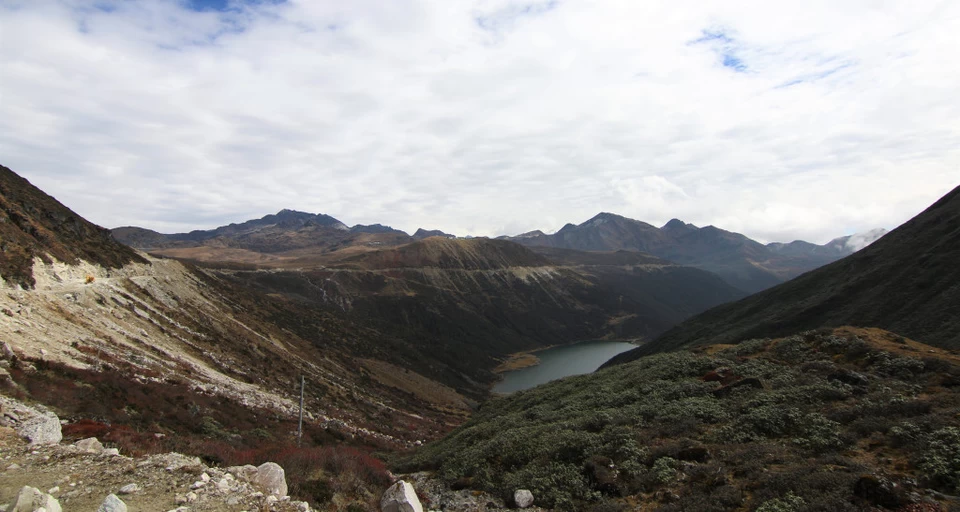 we could not spend much time there, as it was already 2:15 pm we had to rush back. The way back looked totally different because of thick fog, and visibility was less than 10 m. Thus we understood the reason behind time restriction. The drive becomes more dangerous when there is snow. The driver said, we will not let us cross the check post 3:30pm and will have to stay back in Army camp, till next day morning. The ride was so bumpy, Aarushi and Pranav were bouncing in the back seat. By the time we came back,I couldn't feel my legs, as I was carrying the baby on my lap the whole time.
Travel tip: Keep more time for Madhuri lake, especially, if you are a person who loves photography. Also, you get to spot Tibetan birds which migrate during October.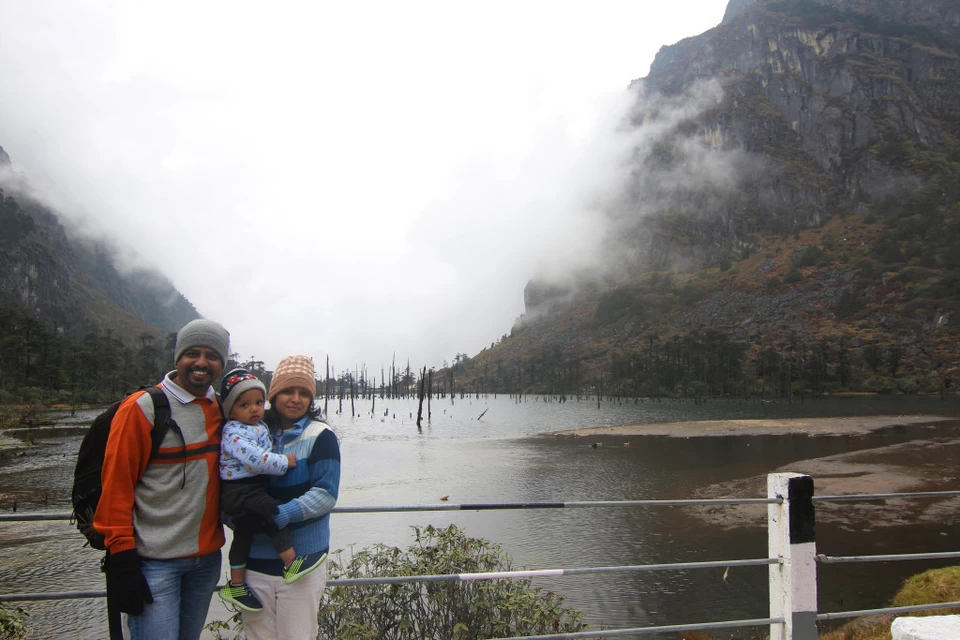 it was so cold, we couldn't come out of the vehicle to take a pic. I wonder, how our soldiers sit in these bunker for hours or may be days to protect our country. can you guys spot a camouflaged bunker in the pic?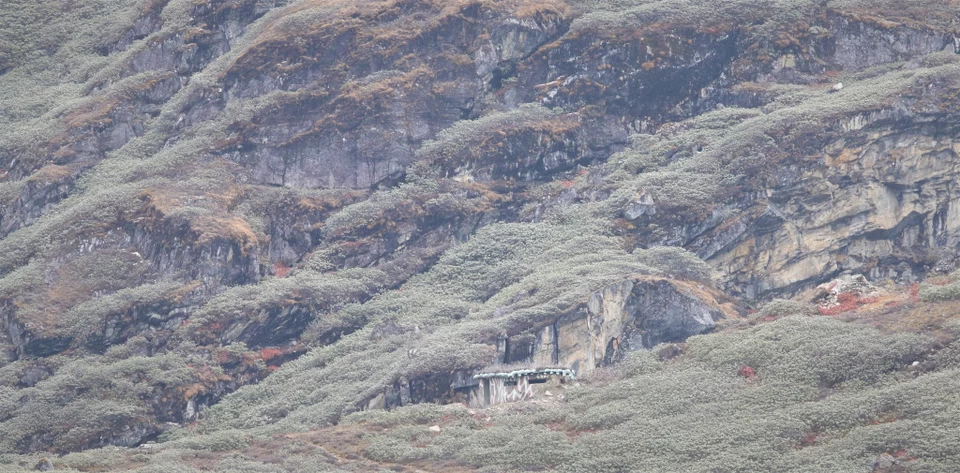 We came back home by 4:45 pm, got a warm welcome from our host with hot corn soup and veg momos. There was a old school kerosene room heater, placed in the center of the hall. It made the place warm but, was very difficult to manage as kids were running around all over the place. Pranav and aarushi wanted to play, we all were tired and wanted to sleep, the host entered and told us about a Monpa tribe dance show which begins in ten minutes. we all looked at each other's face and smiled.
Host said " Go out, turn right and walk till you see the light." That is the most amazing directions, I have ever got. Guess what? we grabbed our gloves and started walking towards light. It was pitch dark and we had to use our mobile phone to see if we were walking on the road or something else. Glad we went, we all rejoiced it. here is a small video of the dance show.
Travel tip: if you are in and around Tawang, do not miss cultural program organised by Shyo village welfare association which is near the Monestry. Every day evening 6 pm, costs about Rs 100/- per person.
It was a long day, which soaked us in the culture of Tawang!