I've to admit that Macao was never under my travel radar, but the more I find out about Macao, the more I think it's a great idea. Here's why.
1. Visa
I usually prefer the laborious process of applying for a visa. Sorting out all my documents from ITR returns, bank statements, to travel bookings -- I get a kick just thinking about it.
Well, I'm no weirdo! I was just kidding of course!
I feel like a country or a destination is more hospitable already if it offers a free visa or visa on arrival. It feels more welcoming even before I set foot in the destination. Isn't that always nice? In that sense, Macao is a welcoming destination for Indians for sure.
2. The Venetian Macao
Cobblestone streets, Renaissance buildings, canals, and gondola rides - Venice much? You'd be forgiven for thinking you're actually in the floating city. Of course, Venetian Macao is modeled after this very city and millions of dollars have been spent to create this illusion!
What's most impressive is that it's located inside a shopping mall of a hotel and rightly one of the most expensive buildings in the world.
3. Parisian Macao
While apart from Venice, in Macao, you can find replicas of yet another romantic city - Paris, of course! Strolling around the Cotai Strip would make it impossible to miss another interesting landmark - the remarkable lookalike of Eiffel Tower in Paris. I think it's interesting to be in a city and feel like you're in another!
4. Macau Tower
Well, who wants to jump from a 300 m tower when you can pretty much get the same experience from the ground looking above? Haha! For sure!
You must be insane to go knock on death's door jumping around 200m down taking a leap of faith. And letting gravity take care of the rest.
Insane. Yes. But not mentally insane. There's a fine line, but there's a line, alright!
It just takes a different kind of insane to have the guts to jump from the Highest Commercial Bungy Jump in the world.
It's as thrilling and exciting as life can get. And I'd definitely like to try this to get high on life!
5. Hac Sa Beach
Who doesn't like a city with beaches? Almost everyone. Sunrises, sunsets, and the beaches are pretty boring; there's nothing much to do except laze around in sandy beaches -- said no one ever.
One thing you can expect from a port city is a good beach. And I think Macao more than lives up to its expectations with nice sandy beaches welcoming people from all over the world. Which is why it makes to my top 20 things I love about Macao.
6. Taipa Village
Authentic food seekers are those who don't have a delicious cuisine of their own. Hear, hear!
Well, that was sarcastic, for those who didn't get it!
I think food is such an essential part of the culture, you learn so much about a particular place through their food. So, trying authentic food is always recommended. And fortunately, Macao has just the place -- Taipa Village.
When you're looking for a lip-smacking variety of food in Macao, you know where to go now!
7. Seac Pai Van Park
While not all Pandas are as wise as Kungu Fu Panda (at least as far as I can tell), they are sure bundles of fun and entertainment all wrapped in big fluffy creatures. Who wouldn't want to mindlessly watch Pandas scratching their butts, falling off branches, or dozen other things only a Panda can pull off better than any human can?!
While Hong Kong is quite a popular spot to watch the big white Pandas, it's seldom known that Macao also has its own Giant Panda Pavillon - an ecological park that takes care of one of the endangered species in the world.
After a long, tiring or rather depressing day, I would definitely like to visit this park to lift up my spirits.
8. House of Dancing Water
The more I read up about Macao, a common denominator becomes quite evident -- Macao takes its entertainment very seriously!
It has many laurels to its name. Apart from boasting one of the most expensive buildings in the world, Macao also hosts one of the world's largest water extravaganza complete with 3.7 million gallons of water (whoa!).
Escapism?
Check.
Quirky?
Check.
Grandiose?
Check. Check.
9. Senado Square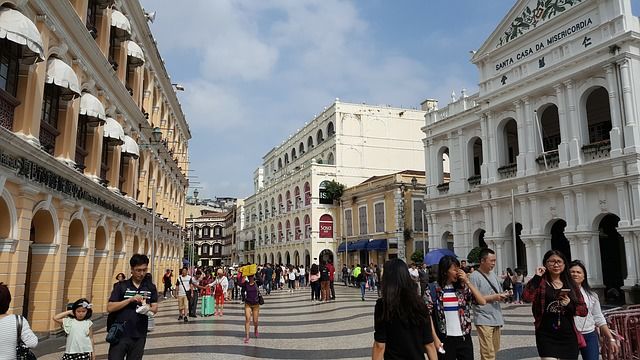 I heard someone saying, "If you haven't been to Senado Square, have you been to Macao after all?" While it'd appeal to someone who likes to go off the beaten path, I probably wouldn't do this blasphemy in Macao as Senado Square is probably something that would delight my senses.
The epicenter and the symbol of Macao -- I guess Senado Square exemplifies and represents Macao in a way only it can!
Crisscrossing through maze-like streets while admiring the old Portuguese architecture and decade or century-old shops might take you back in time. And there's a good chance that you might start wondering about the transformative journey the city has been through!
10. Ruins of St. Pauls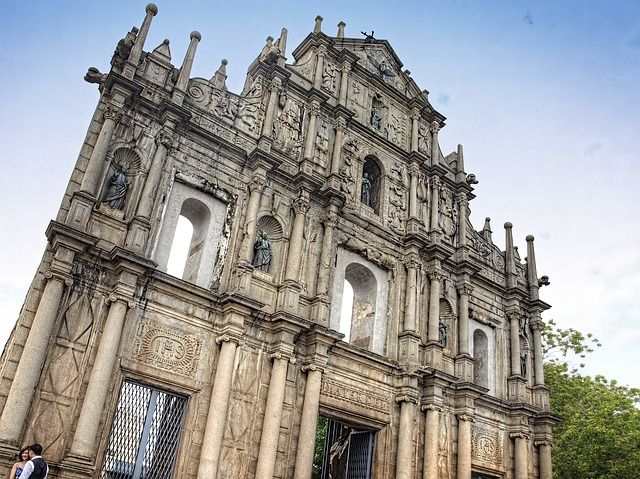 Macao may seem like a city for someone with deep pockets, but looks like there are plenty of budget things to do in the city as well. That is if you just know where to look!
Ruins of St. Pauls is probably the most popular free thing to do in Macao, and for a good reason.
I'd especially like to visit this location during Chinese New Year where the annual eye-dotting ceremony is held.
11. Sample Macanese cuisine
It'd be interesting to sample some traditional Macanese cuisine - a blend of southern Chinese and Portuguese ingredients, spices, and cooking techniques from Macao's colonial days. Always yay for fusion!
12. Take a Sangria bath
Trust Macao to come up with a bigger than life solution for all Sangria lovers! After a long day wandering and getting lost in the streets of Macao, I wouldn't mind going for a sangria bath -- as outrageous as it may seem, it's probably the right dose of Sangria I need in my life right now.
Indulgent, and therapeutic, is probably what I'd tell my saner friends when they question me on my life's choices.
13. Ride Ferris wheel
If there's one thing I've learned about Macao, it's that it has an affinity towards making even the simplest of things more grandiose and just a tad eccentric. And it doesn't escape the Ferris wheel either.
It's the only one of its kind with a figure of 8 Ferris wheel with 17 pods going around the track and built at 425 feet. Definitely not for the faint-hearted!
Most popularly known as the Golden Reel Ferris wheel - it even has a nice ring to it, don't you think?
14. Tea tasting
While tea may not be everyone's cup of tea (see what I did there!), for those who adore it as I do, this grandiose city sure could be your Mecca. Also, Macao has an enriching history that helped spread the Chinese tea culture to the western world and coupled with an interesting tea museum, it brings a whole new dimension to understanding the tea culture like no other.
For those who like to savor and sip teas, Macau Tea Culture House could be the right rendezvous!
15. Go Karting
While Michael Schumacher can't really hold any real candle to me when it comes to driving, I prefer to keep my skills private.
Well, I say whatever it takes to make me sleep at night.
I think Go-karting at Macao Motorsports Club on the 1.2km long track would be ideal to chase the speed of light, or something closer.
16. Cruising Macao
Who would like to cruise through the city of Macao in a junk?
Ummm, it doesn't sound too appealing if you don't have a death wish!
Well, it isn't as bad as it sounds though.
Once renowned for its fishing industry, many ships and fishing boats have Macao stamped on its birth certificate. The traditional boats are called junks, and they are pretty safe, from what it looks like!
Exploring a city through its waterways is always fun for a water baby like me, and I'd definitely like to try it when in Macao!
Water babies - say aye!
17. View of Macao
I must admit, I'm a sucker for views! Give me a good view, and it makes me ponder over life, the universe and everything in between. And a city like Macao has many interesting vantage points to gape over the cityscape. Watching the sunset from Our Lady of Penha Church or hiking around Guia Fortress is just what I need to bring the Socrates out of me.
18. Watch a Water Fountain Show
Isn't it fun to be stunned by the water fountain shows right in the city? I think water fountains make the city more captivating. And Macao, of course, has shows every 15 minutes right at the Wynn Macao property for all its visitors. And like all the best things in life -- it's free!
19. Lotus Festival
It'd be nice to see lotuses in thousands especially at Lou Lim Ieok Garden or on the wetlands near Taipa Houses Museum.
Maybe on a lucky or rather a blurry day, I might even spot Goddess Lakshmi or Lord Bhrama sitting on their beloved chairs (I hope you got it). Maybe, just maybe!
20. Watch celebrations in Chinese temples
No trip to Macao is complete without a visit to the colorful Chinese temples especially Ah Ma and Na Tscha temples. Well, at least for me! Striking wall art, incredible architecture, and legendary stories. What's not to like, right? Better yet if it's a celebration time, it would be just fabulous!
I hope I find myself in this entertainment city someday, and it helps me fulfill my luxuriant dreams. Till then, I'll laze around in my armchair, and daydream!
#20ThingsILoveAboutMacao
So, tell me, what do you like about Macao?
This article is also published on - https://therovingheart.com/20-things-i-love-about-macao/